These steamed turkey dumplings with butternut squash puree sprinkled with pomegranate seeds are a comforting and delicious way to enjoy dumplings this fall. There is nothing better than these juicy ground turkey dumplings wrapped in homemade dumpling wrappers that gently rest upon a bed of butternut squash sage puree.
If someone asked me what my favorite holiday is, I'll always say THANKSGIVING. It is the only holiday that revolves around a gigantic feast with a large spread filled with all the sides, desserts, and meats. I also love that Thanksgiving gathers family and friends together and serves as a reminder to give thanks for all that we have. This year, I am especially thankful to be out of complete quarantine and be able to see my family and friends again.
My contribution to this year's Thanksgiving feast will definitely be these turkey dumplings in a butternut squash puree. It takes a classic dumpling recipe for a spin with a ground turkey, garlic, ginger, and cabbage filling. The butternut squash puree resembles a butternut squash soup that consists of butternut squash, browned butter, sage, rosemary, ginger, and cinnamon but has a slightly thicker consistency. The sweetness of the butternut squash puree with tart pomegranate seeds pairs perfectly with the savory turkey dumplings.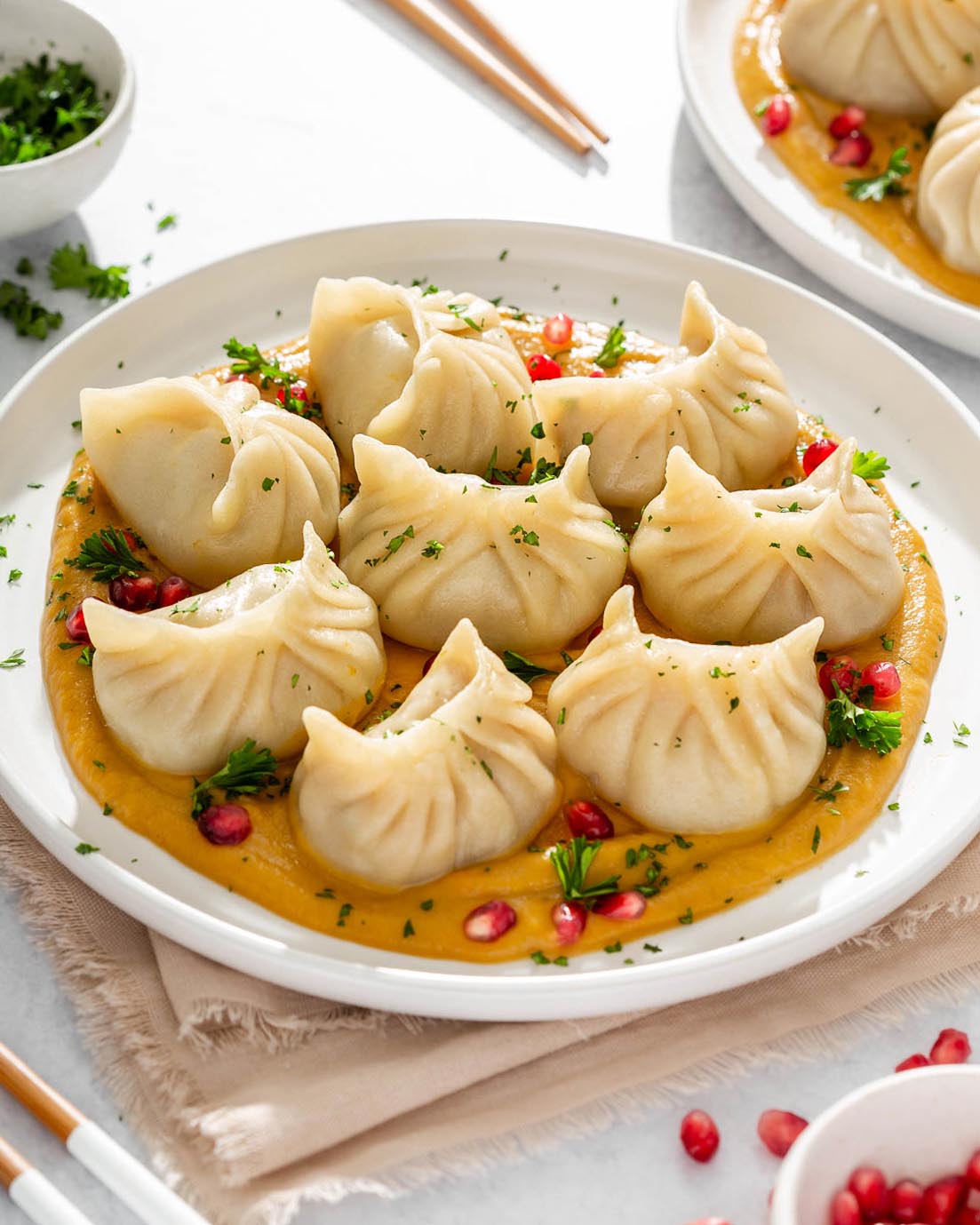 If you love switching up traditional American classics, check out my miso scalloped potatoes, sticky rice stuffing, kimchi mac and cheese, and Chinese garlic green beans!
Jump to:
Kitchen Equipment For This Recipe
Small Rolling Pin: the

small rolling pin

allows you to have more control over the thickness of the dumpling dough. You want the rim of the disc to be slightly thinner than the center of the disc.
Mixing Bowls: nesting

glass mixing bowls

are a must have kitchen essential for everything. They are perfect for measuring out all the ingredients. I use it them for baking and cooking almost every single day.
Medium Saucepan: this will be used for the butternut squash puree. You will need a large enough saucepan to hold your butternut squash.
Blender: a blender will be necessary to puree the butternut squash into a smooth and creamy sauce. My go-to blender is my

Vitamix blender

. It is an investment, but is 100% worth it.
Steamer: for this recipe, these dumplings are steamed so you will need a steamer. I personally love my

stainless steel steamer

for easy cleanup but if you have a

bamboo steamer

that works as well.
Ingredients For This Recipe
Most of these ingredients for these turkey dumplings with butternut squash puree can be found at your local grocery store or Asian grocery store.
Dumpling Wrapper
All Purpose Flour: plain all purpose flour is used to make the dumpling dough.
Salt: the salt adds subtle seasoning to the dumpling dough
Boiling water: the boiling water activates the all purpose flour to form it into a dough. The dough needs time so that the flour can adequately absorb all the water.
Turkey Filling
Ground turkey with 15% fat: since turkey is a leaner meat opt for a higher % of fat to prevent from having a dry dumpling.
Napa cabbage
Garlic
Ginger
Green Onion
Granulated Sugar: brings in a little sweetness that balances out the salts and savory ingredients.
Salt and white pepper: used to season the dumpling.
Light soy sauce: light soy sauce is less over powering than most regular soy sauces. My go-to is

Lee Kum Kee's light soy sauce

. You can find this online or at your local Asian grocery market.
Fish sauce: Fish sauce always adds that touch of umami flavor no other sauce can compare to. A little goes a long way! You can find

fish sauce online

or at your local Asian grocery market.
Sesame Oil: sesame oil brings a nutty aromatic flavor to the dumpling. A little goes a long way. You can buy

sesame oil online

or at your local Asian grocery store.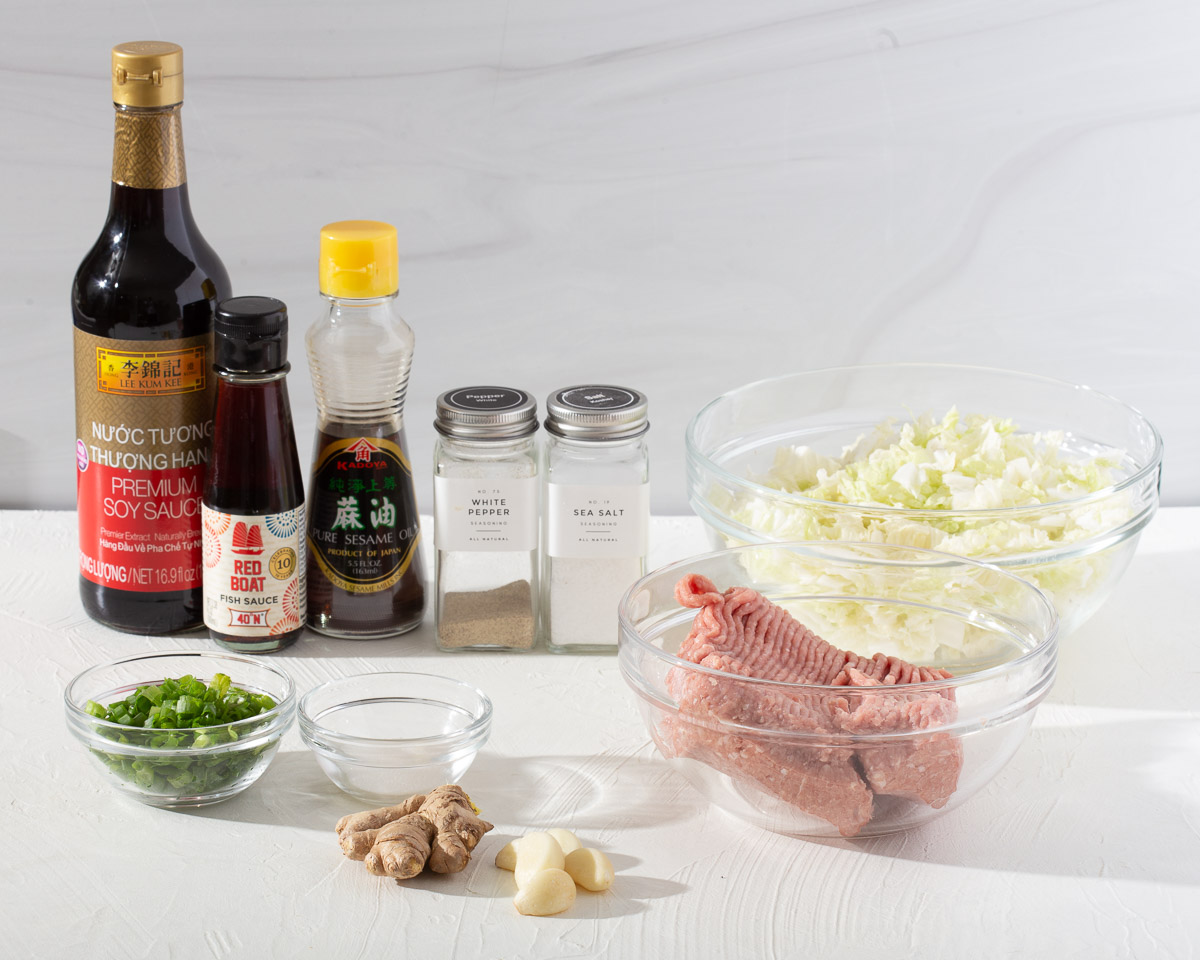 Butternut Squash Puree
Butter: the butter acts as the fat that sautes the onion and garlic.
Yellow Onion and Garlic: are the aromatics of this puree. They bring out the flavors of the butternut squash
Butternut Squash: is the main vegetable for this dish. The butternut squash pairs beautifully with turkey.
Brown Sugar: the brown sugar is used to sweeten the butternut squash
Salt and pepper: to season the puree
Fresh Sage and Fresh rosemary: these herbs bring out the butternut squash flavor
Fresh Ginger: the ginger adds a layer of spiciness to the puree
Ground Cinnamon: cinnamon and butternut squash just screams fall.
Low sodium chicken stock: is the base of the flavor in the butternut squash. Try to find low sodium chicken stock. This allows you to control how much salt goes into the puree.
How To Make This Recipe
This recipe calls for a few moving parts that come together to a sweet, savory, autumn perfection on a plate. All you will need to do is 1) make the dumpling wrappers, 2) prepare the filling, 3) cook the butternut squash puree, and 4) steam the dumplings!
Make Dumpling Dough
Mix the flour and water together. Add flour and salt into the bowl of your stand mixer with a dough hook attachment or a large mixing bowl and mix with chopsticks. While the mixer is on low, slowly pour in the boiling water. Mix until water is absorbed and the dough is combined and formed. The dough may be a little crumbly and dry at this point.
Knead the dough. Transfer to a well floured cooking surface and hand knead for another 5-8 minutes until dough is round and smooth. The dough should be soft, smooth, springy, and not sticking to the bowl and not too tender. Add flour if the dough is too soft and doesn't hold its shape. Add water if the dough doesn't come together.
Rest the dough. Place dough in a covered greased bowl or a medium ziplock bag, seal, and allow to rest and hydrate for at least 30 minutes. Dough can rest for up to 2 hours before being used.
Turkey Filling
In a large mixing bowl, mix together with your hands the turkey, napa cabbage, minced garlic, minced ginger, green onions, sugar, salt, white pepper, dark soy sauce, and sesame oil until homogenous, and sticky. Cover with plastic wrap and set aside in the refrigerator.
Butternut Squash Sauce
Slice the squash in half and remove out the flesh and seeds with a spoon. Roughly dice one half of the squash into small 1 inch cubes.
Using a heavy bottomed pot, heat the butter on medium heat until melted. Next saute the minced garlic and onions until browned and the onions are translucent for about 4-5 minutes.
Add in the cubed squash, sugar, salt and pepper. Cook the squash on medium heat for about 8 minutes to softened and charred brown stirring occasionally.
Add the sage, rosemary, ginger and cinnamon. Stir and cook for 30 seconds until the squash is coated and fragrant. Then add chicken stock. Bring to a boil, cover and reduce to medium low heat to simmer. Simmer until squash is tender and can be easily pierced with a fork, about 20-25 minutes. Blend until pureed taste and season with more salt and pepper as needed. Set aside.
Assemble
Divide the dough. Lightly flour your work surface. Remove dough and cut the dough in half and keep one half in the bag/bowl. Roll out one half of your dough into a 1" thick rope. Cut into 16 equal pieces about 2 cm long.
Roll dough into a disc. Place all the pieces of dough in the ziplock bag to prevent drying out. On a floured work surface, roll 1 piece of dough into a circle and then flatten it out with a small rolling pin into a 3.5"-4" disc. The dough will be very thin. Try to roll the dough out so the edges are slightly thinner than the center.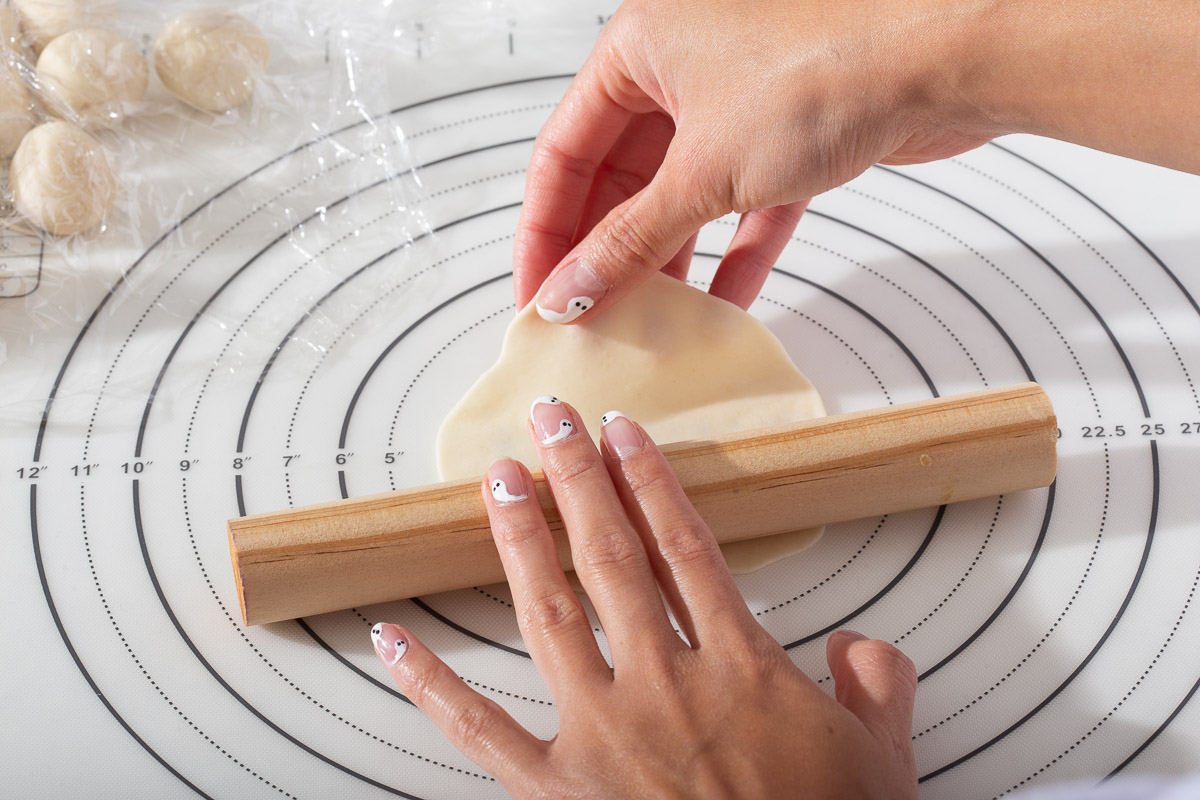 Fill and pleat. Place a tablespoon of filling in the center of your round dumpling wrapper, avoid over filling. Fold the dumpling in half like a taco and pinch together in the center leaving the sides not pinched. Start pleating to the left of the center pinch and seal it to the right. Continue gathering dough and sealing pleats until you reach the end about 4 pleats. Repeat on the right side sealing the pleats to the left with another 4 pleats to form a "V" shape. Repeat with remaining dumplings and place dumplings on a lightly floured baking tray covered with a towel until ready to be cooked.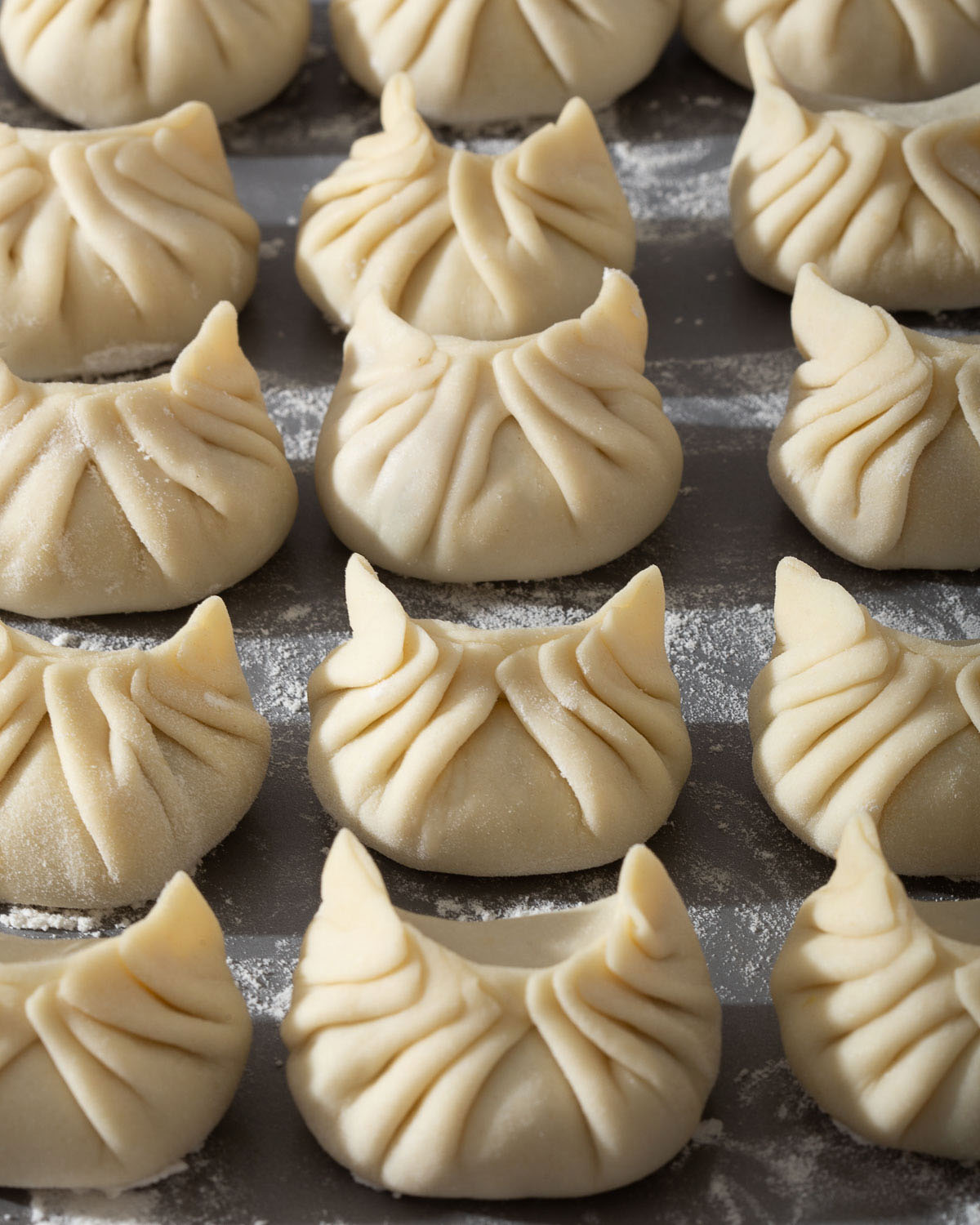 Steam and Serve
Steam the Dumplings: Prepare your steamer by boiling about 2 inches of water to your steamer. If you are using a wok, boil the water in the wok up just below where the steamer sits. Line your steamer with perforated parchment paper. Fill the steamer with dumplings, spaced ½ inch apart. Cover the steamer with the lid and steam on medium heat for 10 minutes or until completely cooked through. Try not to peak in the steamer until after 10 minutes or you will release the steam.
Plate the butternut squash sauce into a shallow bowl. Top with salt and pepper.
Place the dumplings in the bowl, garnish with parsley and enjoy!
Tips For This Recipe
Homemade dough always > store bought. Homemade dough creates a fresher dumpling that holds in the flavors of the filling better than a thin store bought wrapper. It is also made with only 3 pantry essential ingredients and is incredibly simple to make at home. Alternatively, you can use a thicker store bought dumpling wrapper.
Make sure to use boiling water for the dumpling wrapper. The flour needs the hot boiling temperature (~212°F or 100°C) of the water to react properly and create the pliable dumpling dough that we need.
Do not overfill your dumplings! Use just enough to place in the center of the dumpling wrapper leaving enough room to pinch along the sides. You will know how much is too much with practice. If there is too much filling it will be hard to seal the dumpling without the filling oozing out.
Make sure to tightly pinch the edges of your dumpling to seal in the filling to prevent it from bursting. You don't want any rogue filling to be oozing out of your dumpling too early!
Trouble Shooting Q&A's
Why is my dumpling dough too sticky and wet?
This may be due to not measuring the right amount of flour or the dough has not been kneaded for long enough. Simply continue kneading for another minute or so and if it is not coming together knead in 1 tablespoon of all-purpose flour at a time until the dough reaches a manageable tacky but not overly sticky consistency.
Why is my dumpling dough too dry and crumbly?
This may be due to over-measuring the flour or the dough does not have enough water. Simply continue kneading for another minute or so and if it is not coming together knead in 1 tablespoon of boiling at a time until the dough reaches the right consistency.
Why do I need to rest the dumpling dough?
Resting the dumpling dough is a crucial step in allowing the flour and water to absorb together to form a cohesive pliable dough. The time allows the dough to become more moistened over time. Make sure to wrap your dough in a ziplock bag or in a plastic wrap-covered bowl to prevent the steam from escaping the dough.
Do I have to make the butternut squash puree?
Of course not! You don't have to do anything you don't want to. I thought a butternut squash puree would go nicely with these turkey dumplings and give it that Thanksgiving feel. But if you want to opt-out of that you can and simply use a chili oil sauce or a soy garlic vinegar dipping sauce from my crispy skirt dumpling recipe.
Storage Instructions
These turkey dumplings are best served immediately after steaming. You can always freeze the turkey dumplings on a sheet pan in the freezer and then in a freezer-proof container for up to 3 months. To re-heat you can simply steam them from the freezer. No need to thaw.
The butternut squash puree can be stored in an airtight container in the refrigerator for up to 5 days or in the freezer for up to 1 month.
You May Also Love...
👩🏻‍🍳 Recipe