Create new family traditions with this savory and delicious sticky rice stuffing. This Asian fusion stuffing is made with glutinous sticky rice, Chinese sausages, chicken sausage, shiitake mushrooms, carrots, and celery. This is the perfect side dish to pass around the dinner table for this year's Thanksgiving feast!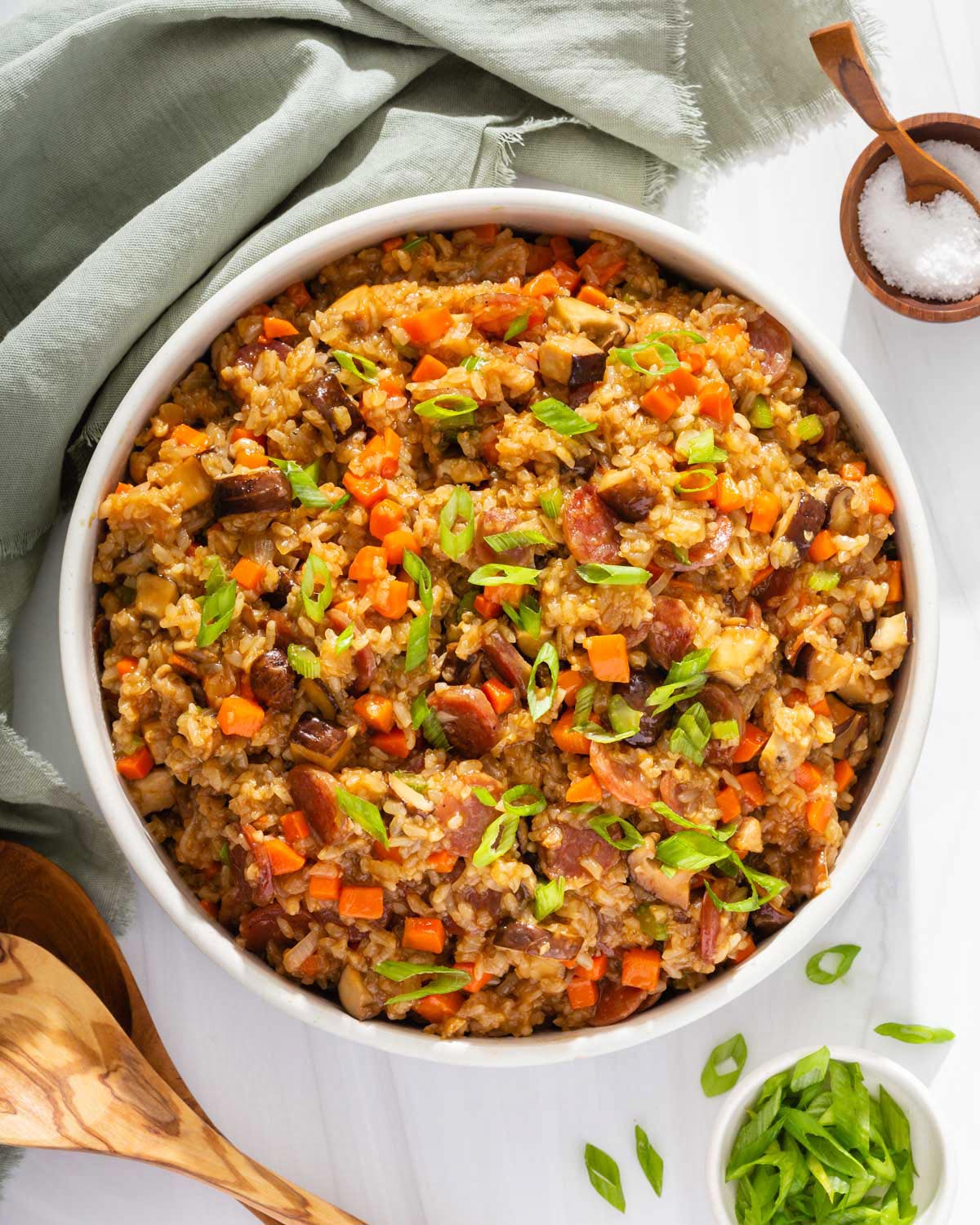 Thanksgiving is my favorite holiday because it centers around family and a ton of delicious food. To be honest, sticky rice stuffing is the only type of stuffing that I have ever known. It is incredibly savory, hearty, and filled with irresistible Chinese sausages. My mom and grandma have been making sticky rice stuffing every Thanksgiving and it is the one side dish that I crave year-round.
So let's make some new traditions this year with this sticky rice stuffing paired with some Turkey Dumplings, Chinese Garlic Green Beans, Miso Scalloped Potatoes, and Kimchi mac and cheese. You will have the most memorable and delicious Asian Fusion Thanksgiving feast.
Jump to:
What kind of rice do I use?
Sticky rice is also called glutinous rice, or sweet rice. They are three names for the same type of rice. Sticky rice does not contain any gluten. When cooked, it yields a more opaque color than regular white rice. It also has a sticky, firm, and chewy texture. You can buy sticky rice online here or at your local Asian grocery store.
Why do I need to soak my sticky rice?
Sticky rice has thicker grains than regular jasmine white rice. Soaking the rice ensures the grains cook and absorb moisture evenly. Once cooked, the grains of glutinous rice is evenly tender and maintain a slight chewiness. There are dozens of recipes out there that insist that sticky rice does not need to be pre-soaked. Don't trust them. Soaking the sticky rice will make sure the grains cook evenly and maintain their tender stickiness.
Kitchen Tools For This Recipe
Rice Cooker (Optional): I am team rice cooker all the way. It is quicker, easier and more consistent in producing the right texture for my sticky rice. I have been using my

Tiger Rice cooker

since college and it is my absolute favorite kitchen appliance.
Wok: a deep

stone wok

makes this dish 100x easier. It can hold all the vegetables and rice together so I can toss everything with ease.
Ingredients For This Recipe
This sticky rice stuffing is a gluten-free alternative to traditional bread stuffing. If you want to make this dish vegetarian, you can simply omit the sausages and add in some toasted pecans or pine nuts and swap out vegetable stock instead of chicken stock.
Glutinous sticky rice: this is different than regular white rice. Make sure the label says the rice is glutinous, sweet, or sticky rice. You cannot substitute

sticky rice

with any other rice. The texture and flavor would not be the same.
Salt: soaking the sticky rice in salt water adds a touch of flavor to your rice.
Shiitake Mushrooms: make sure to wash and remove the stems from your shiitake mushrooms. You can alternatively use any other mushrooms of your choosing.
Celery and Carrots: adds a subtle crunch and some vegetables to your stuffing.
Chinese Sausage and Chicken Sausage: this sausage mixture may seem odd but comes together quite nicely. You can find Chinese sausage at your local Asian grocery store. For the chicken sausage, make sure to use raw uncured chicken sausage so that you can break open the skin and break apart the sausage into small bits.
Yellow Onion, Shallot, Garlic: these are the aromatics of the dish. Make sure you sauté them long enough so that they are translucent, browned and fragrant.
Chicken Stock: Opt for a low sodium chicken stock so that you can control the amount of sodium in this dish. The chicken stock is used to flavor and separate the sticky rice so that it will be easy to toss.
Light soy sauce: Light soy sauce is thinner and lighter in color and adds a gentle saltiness to the dish. I like to use

Lee Kum Kee's Premium Soy Sauce

.
Dark soy sauce: Dark soy Sauce has a more intensity in flavor, saltiness and is much darker. Also, dark soy sauce has a sweeter flavor due to it being aged longer with molasses. My go to is

Lee Kum Kee's Dark Soy Sauce.

Granulated Sugar and Honey: the sugar and honey brings some sweetness into the dish and balances out the saltiness from the soy sauce.
Green Onion: used for a garnish.
How To Make This Recipe
This sticky rice stuffing is a really simple yet flavor-packed dish that will surely impress all of your guests! All you need to do is 1) soak and cook the sticky rice, 2) sauté the meat and vegetables, and 3) toss everything together.
Soak and Cook the Sticky Rice
Cook the sticky rice. Rinse the rice until the water runs clear. Place the rice, water and salt in a bowl or the bowl of your rice cooker and soak for a minimum of 2 hours or preferably overnight. If using a rice cooker, cook your rice as you would regular rice. Alternatively, you can strain the rice and steam the rice for 40 minutes or until softened. If the rice is overly sticky, the rice out in a large bowl to dry out for about 30 minutes before tossing with the vegetables.
Sauté the Meat and Vegetables
Prepare the vegetables. Dice the mushrooms, celery, carrots and onion. Make sure to remove the stems from the mushrooms. Slice the shallots, mash and roughly chop the garlic.
Soften the carrots. In a medium pot, boil water on high heat. Boil the carrots for 4 minutes. Strain and set aside.
Sauté the shallots, garlic, onion and sausages. On a wok, on high heat place a few tablespoons of vegetable oil and fry the onion, shallots, and garlic until fragrant and lightly browned. Then cut open the chicken sausage and add the meat into the pan. Using a wooden spoon separate the sausage into small bits and sauté until cooked about 1 minute. Next, add Chinese sausage and toss for about 1-2 minutes.
Sauté the vegetables. Next, add in the carrots, celery, mushrooms and chicken stock and simmer to reduce for 5 minutes. Add in 1 teaspoon sugar and honey mix until combined. Continue tossing until the vegetables are softened.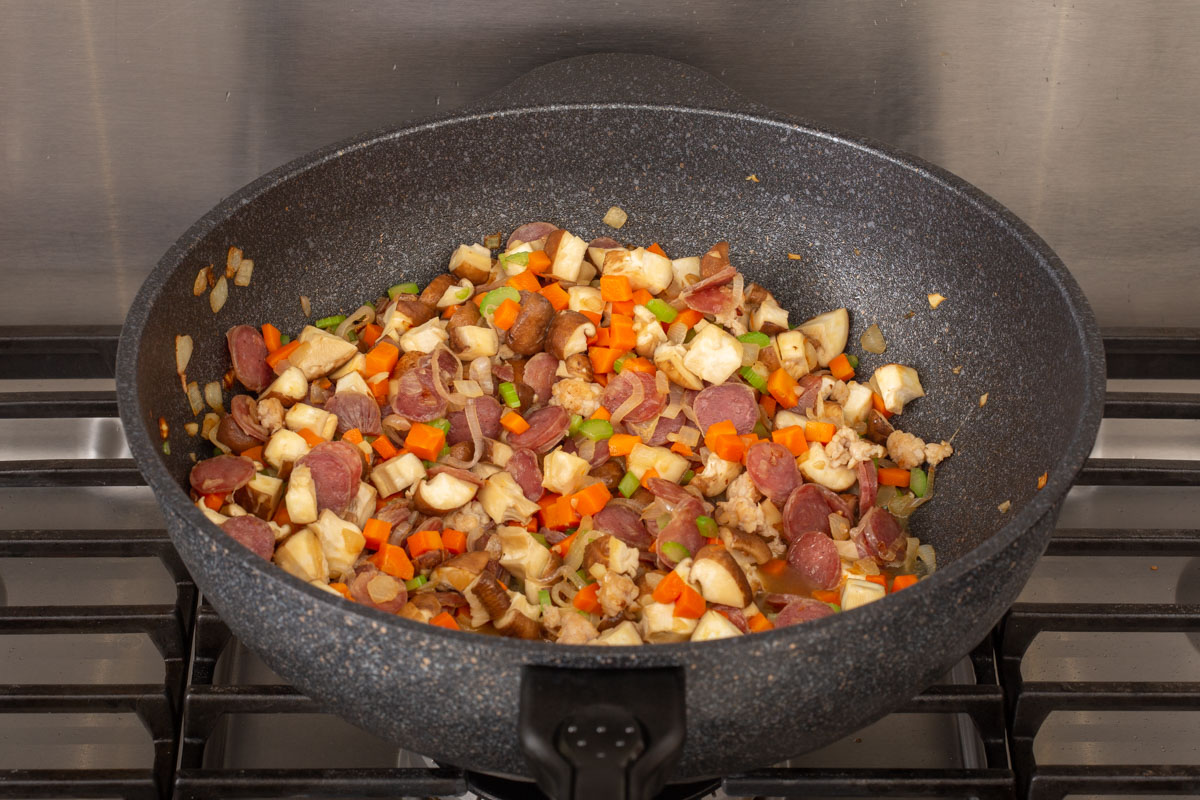 Toss everything together
Add in the rice, soy sauce, dark soy sauce and thoroughly mix. Top with green onions and enjoy!
Tips For This Recipe
Soak your sticky rice! To ensure, the grains cook and absorb moisture evenly you need to soak your sticky rice in advance. If you don't, then you may risk having some hard grains of rice that don't absorb water when they cook.
Prep out all the ingredients before you start to cook. Chopping all the vegetables and laying out the flavor ingredients in advance will keep you organized and make the cooking process seamless.
Use a wok to sauté everything together. A wok is seriously the best kitchen tool there is for Asian cooking. I use it almost every time I am cooking anything that requires tossing a large volume of vegetables and rice.
Storage Instructions
You can store this sticky rice stuffing in an airtight container in the refrigerator for up to 3 days. To re-heat, simply cover the food with a wet paper towel (to steam the rice), and microwave until warm.
You may also love...
👩🏻‍🍳 Recipe