Cheesy, creamy, miso scalloped potatoes (potato au gratin) made with two types of cheese is an incredible side dish that will please everyone. This miso scalloped potatoes recipe consists of thinly sliced tender potatoes, smothered in an umami miso cream sauce, sprinkled with Gruyere and mozzarella cheese that is baked to golden perfection.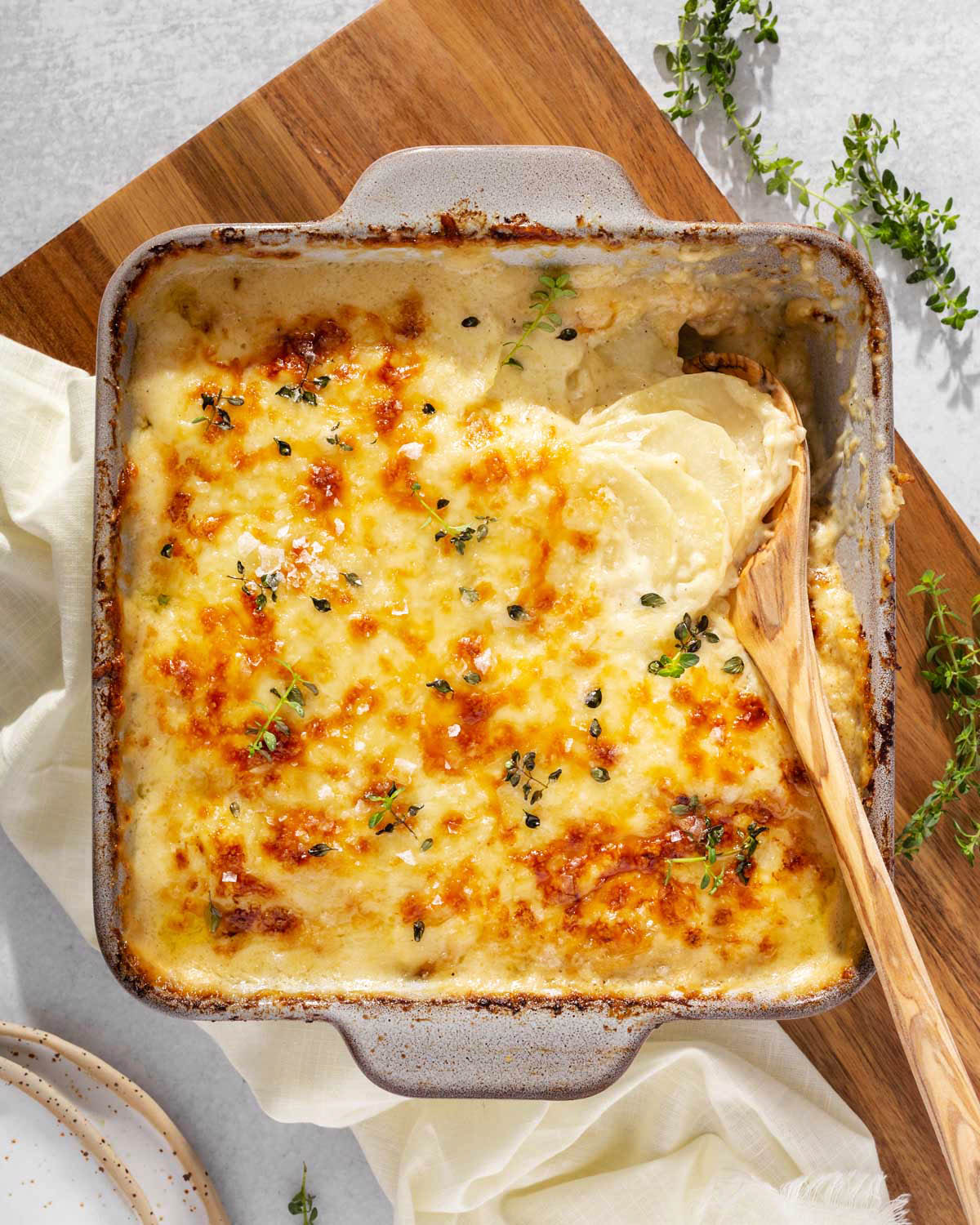 Nothing is more comforting than a dish of cheesy potatoes. It is absolutely essential for Thanksgiving. These miso scalloped potatoes are what I look forward to the most every Thanksgiving. I fight so many of my family members for an extra-large serving. It has everything that I could ever want in a dish—creamy, cheesy, umami deliciousness.
This recipe is adapted from the queen of French cooking herself Julia Child. In her cookbook, she called this recipe, Dauphinoise Potatoes aka Potato Au Gratin. Plus it's the ideal recipe to make in advance for your Thanksgiving meal. Pair these miso scalloped potatoes with some Kimchi Mac' N cheese, Chinese Garlic Green beans, and Sticky Rice Stuffing for the ultimate Asian Fusion Thanksgiving meal.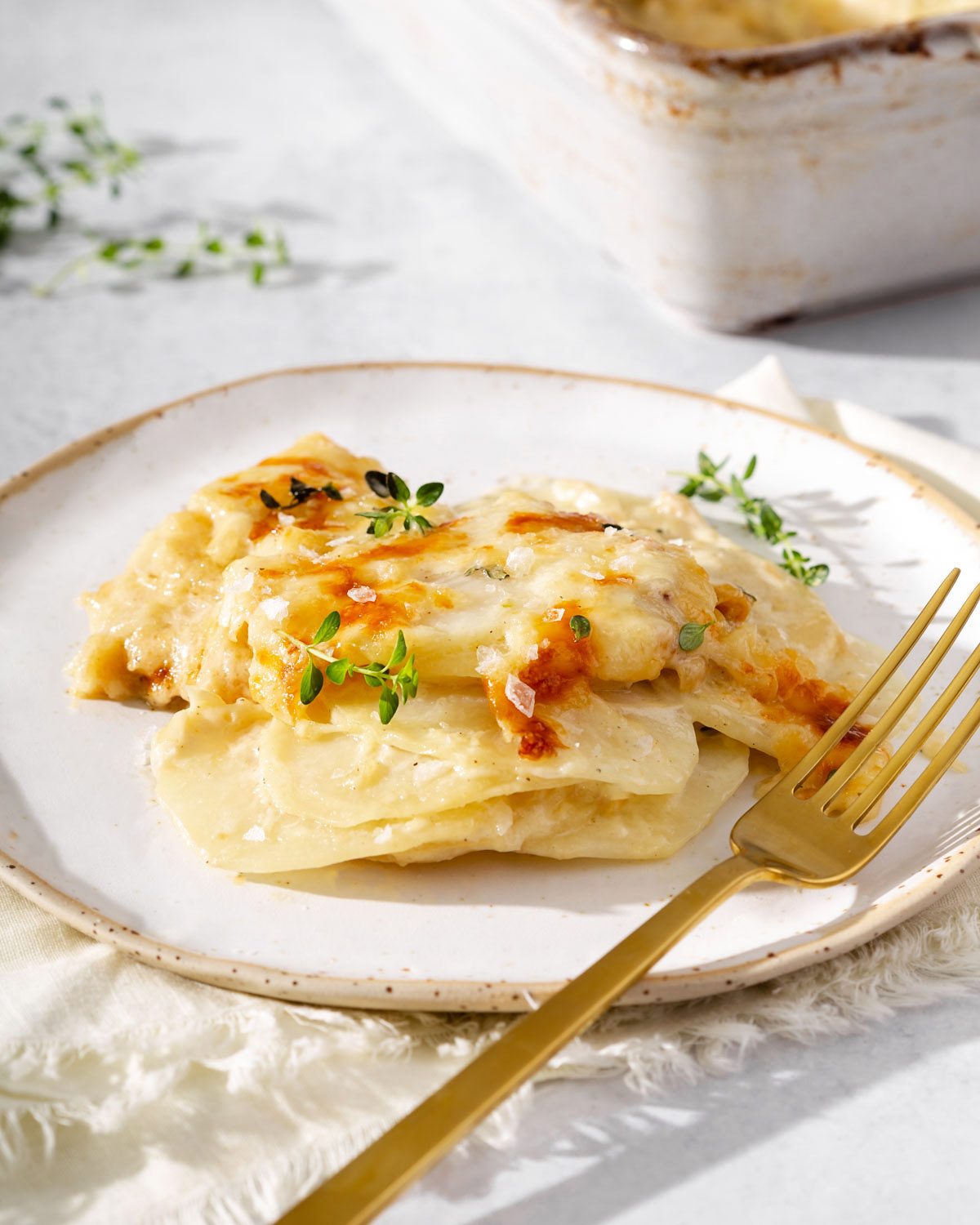 An Introduction to Miso
Miso is a fermented paste that is made by fermenting a mixture of soybeans and a mold called kohi. Over weeks, the enzymes in the koji and microorganisms in the environment will break down the structure of the beans and grains into amino acids, fatty acids, and simple sugars. The result yields a salty, earthy, umami paste that can only be made with nature and time.
There are multiple kinds of miso, white miso, yellow miso, or red miso. White miso is also known as sweet miso is the mildest. They are made from soybeans and a high percentage of rice which creates a slightly sweet taste. Yellow falls in the middle it is fermented with a smaller amount of rice than white miso and is fermented longer than white miso. Red miso is made from soybeans, barley, and other grains and is fermented the longest. It has a mature taste, rich umami flavors, and is the most pungent type of miso.
For this recipe, I will be using white or sweet miso for a soft mild miso flavor. You can buy miso online or at your local Asian grocery store in the refrigerated aisle.
Kitchen Tools For This Recipe
Mandoline: a

mandoline

makes slicing the potatoes a breeze and you will have perfectly thin and even sliced potatoes which allows them to bake evenly
8x8 Baking Dish: I used a

8x8 casserole dish

for this recipe. You can alternatively use a 9x11 dish as well.
Large deep skillet: you will need a skillet that is wide enough to saute the garlic and onions and deep enough to hold the heavy cream without spilling over. I used a

10 inch skillet

that is about 3 inches deep.
Ingredients For This Recipe
The ingredients for these miso scalloped potatoes use a lot of kitchen pantry staples. You can find most of these ingredients at your local grocery store.
Unsalted butter: using unsalted butter allows you to control the saltiness of the dish.
Yellow Onion, Garlic Cloves: these are the aromatics for this dish that give it a rich savory flavor.
All-Purpose Flour: thickens up the cream which makes it easier to layer.
Low Sodium Chicken Stock: deepens the flavor of the cream
Heavy Cream: heavy cream + butter+ garlic+ miso is seriously a match made in heaven. It has a thicker consistency than milk which yields a richer and creamier finish.
White/Yellow Miso: Miso's umami flavor and richness enhances the entire dish. Choose a white or yellow miso so that the flavor is not overpowering.
Black Pepper: seasons the potatoes
Thyme: adds a subtle hint of herb flavor that cuts through the richness
Russet Potato: or any other starchy potato (Idaho, Yukon Gold) is perfect for this recipe. They hold enough starchiness to hold their own without falling apart. Do not use a waxy potato-red skin, new potato or fingerling. They will slip apart and not hold together when layered.
Gruyere and Mozzarella cheese: if you haven't had this pair already you HAVE to try it. Gruyere has a similar flavor the cheddar but is more subtle and pairs deliciously with a gentler mozzarella cheese. This cheese combo is perfect to add a touch of cheesiness without overwhelming the potatoes. I use a block of gruyere and mozzarella cheese from Trader Joe's.
How To Make This Recipe
Miso scalloped potatoes are really simple to make and extremely satisfying to devour. All you need to do is slice the potatoes, prepare the heavy cream sauce, layer and bake!
Prepare the oven and baking dish: Pre-heat the oven to 375°F. Grease an 8x8 inch or 7x11 inch baking dish with cooking spray, and set it aside.
Slice the potatoes. Peel the potatoes and slice them into ⅛ inch thick slices. Use a mandolin for easy and even slices. Soak the sliced potatoes in a bowl of water in the refrigerator to prevent them from turning brown.
Mix the cheeses together. In a large bowl toss the grated gruyere cheese and mozarella cheese together until thoroughly combined.
Sauté the onion and garlic. In a large sauté pan, melt the butter over medium-high heat. Sauté the sliced onion until softened and translucent. Next, sauté the garlic until lightly browned fragrant. Stir in the all-purpose flour until combined.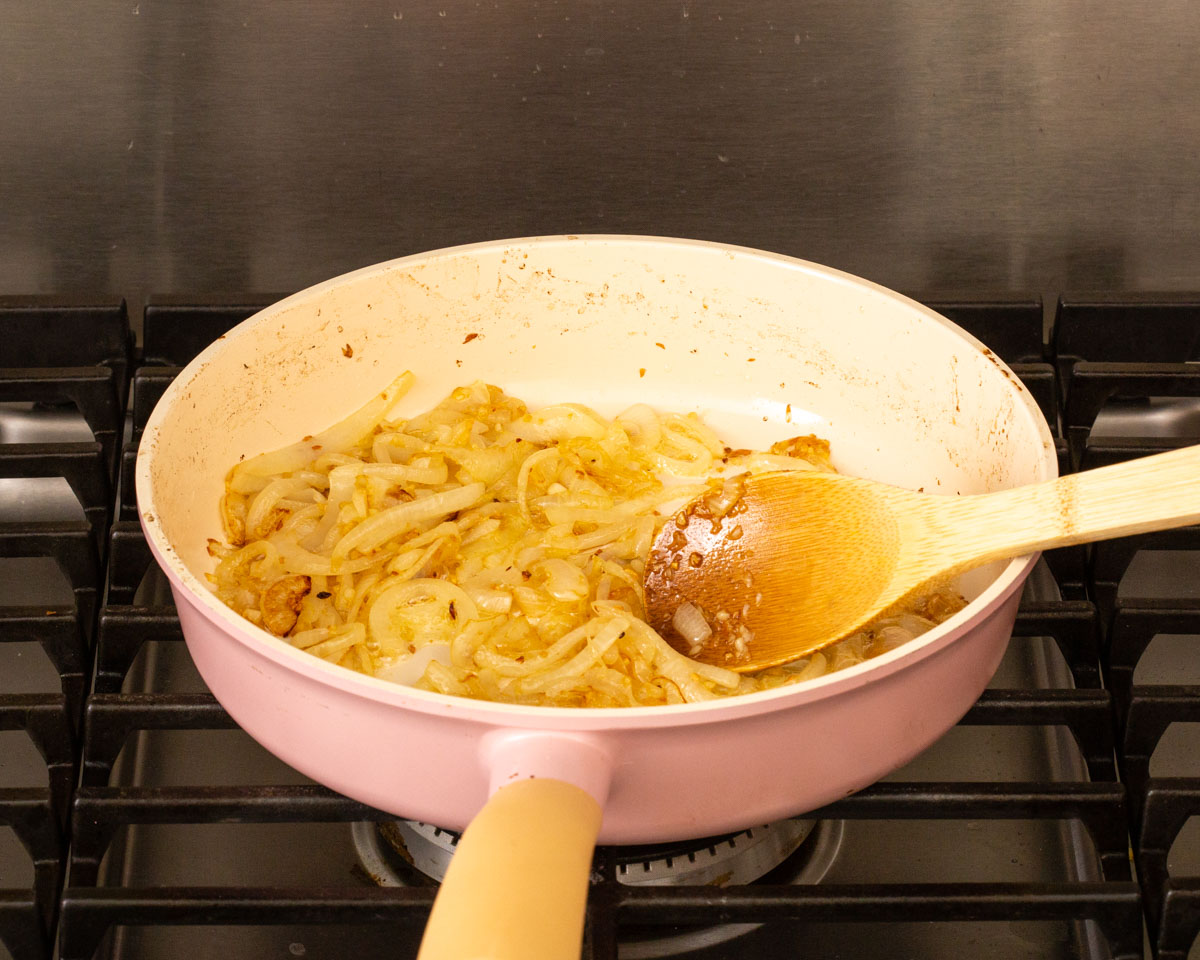 Simmer the sauce. Gradually pour in the stock, and whisk until combined. Add in the heavy cream, miso, pepper, and whisk until combined. Cook the sauce down until it begins to simmer and thicken. Do not let the sauce boil. Remove from heat and set aside.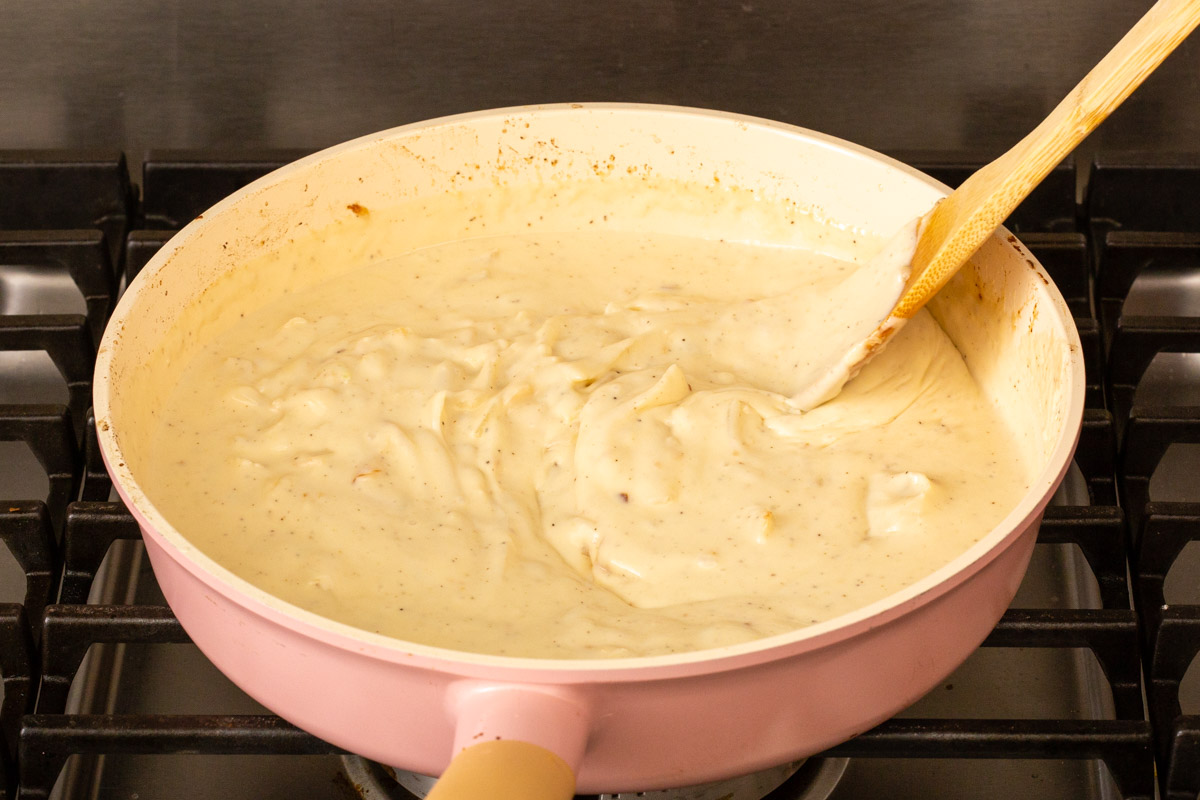 Layer of potatoes. Gently dry the potatoes and spread ⅓ of the sliced potatoes in an even layer on the bottom of the pan. Top evenly with half of the cream sauce.Then sprinkle evenly with ⅓ of the cheese and ½ of the thyme. Repeat for the second layer. But for the third layer only top with the heavy cream mixture and do not top with cheese just yet.
Bake the potatoes: Cover the pan with aluminum foil and bake for 1 hour and 15 minutes or until the potatoes in the middle are soft. The sauce should be bubbling around the edges. Then remove the foil, top with the remaining cheese and bake uncovered for 15-20 minutes, or until the potatoes are cooked through and the cheese is melted and slightly browned.
Cool and serve. Transfer the pan to a cooling rack, and cool for 5 minutes before serving. Top with fresh thyme and some flaky sea salt to finish.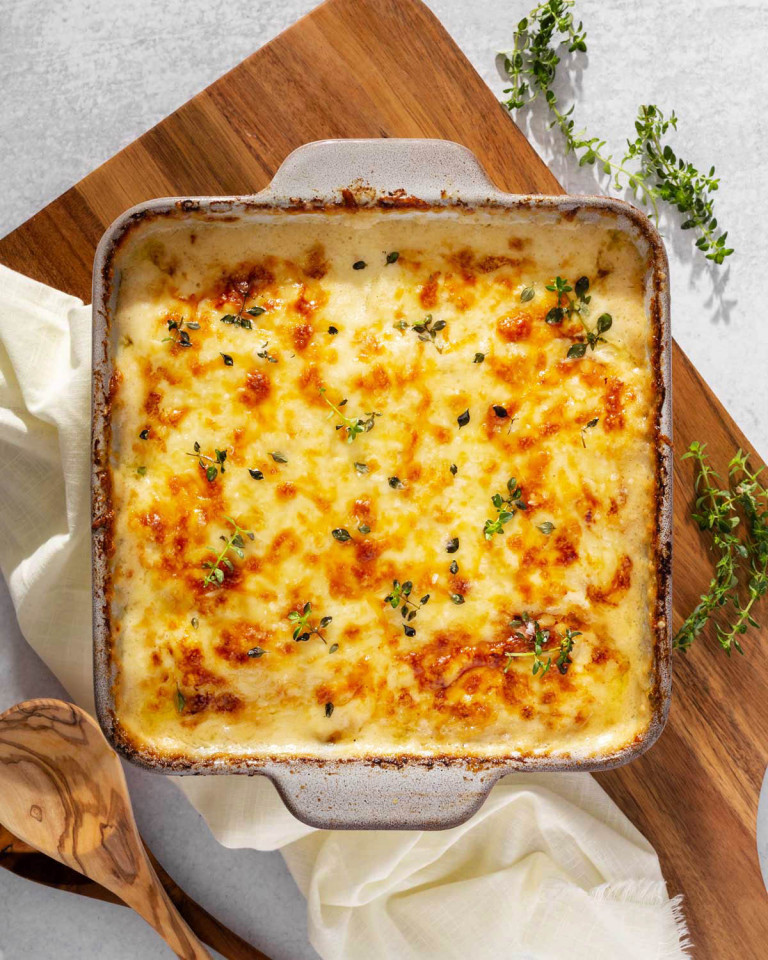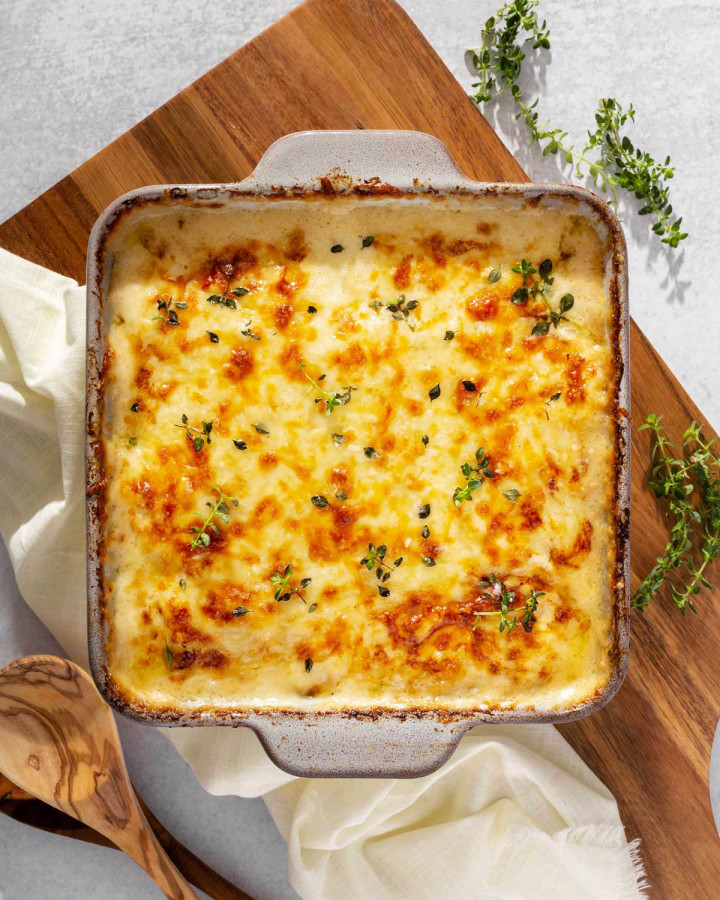 Tips For This Recipe
Type of potato: ideally a Russet potato any other starchy potato (Idaho, or Yukon Gold) is perfect for this recipe. They hold enough starchiness to hold their own without falling apart. Do not use a waxy potato-red skin, new potato or fingerling. They will slip apart and not hold together when layered.
Slice the potatoes evenly. This will ensure that the potatoes will cook evenly throughout the baking dish. If you have potatoes that are thicker, you may have to bake the potatoes for an additional 20-30 minutes depending on how thick the potatoes are.
Heavy Cream: any full-fat heavy cream will work well here. You can opt for a lighter dish by using half and half which is half cream and half milk. However, using just milk will make this dish a runny mess.
Cheese substitutions: gruyere is simply pairs the best with potatoes. Julia Childs uses gruyere. However, these days it may be expensive to come by. I use a block of gruyere cheese from Trader Joe's. Any other melting cheese will also work fine – Monterey Jack, cheddar, mozzarella.
Storage Instructions
You can store these miso scalloped potatoes in an airtight container in the refrigerator for up to 5 days. Alternatively, you can freeze the potatoes in a freezer-safe container for up to 3 months. Simply thaw the potatoes in the refrigerator for at least 24 hours before warming in the microwave.
You May Also Love...