Spice up a classic American dish with this deliciously creamy, cheesy, and umami-packed kimchi mac and cheese recipe. When you pair kimchi and cheese together you are met with an extraordinary flavor explosion in your mouth that is too good to pass up on.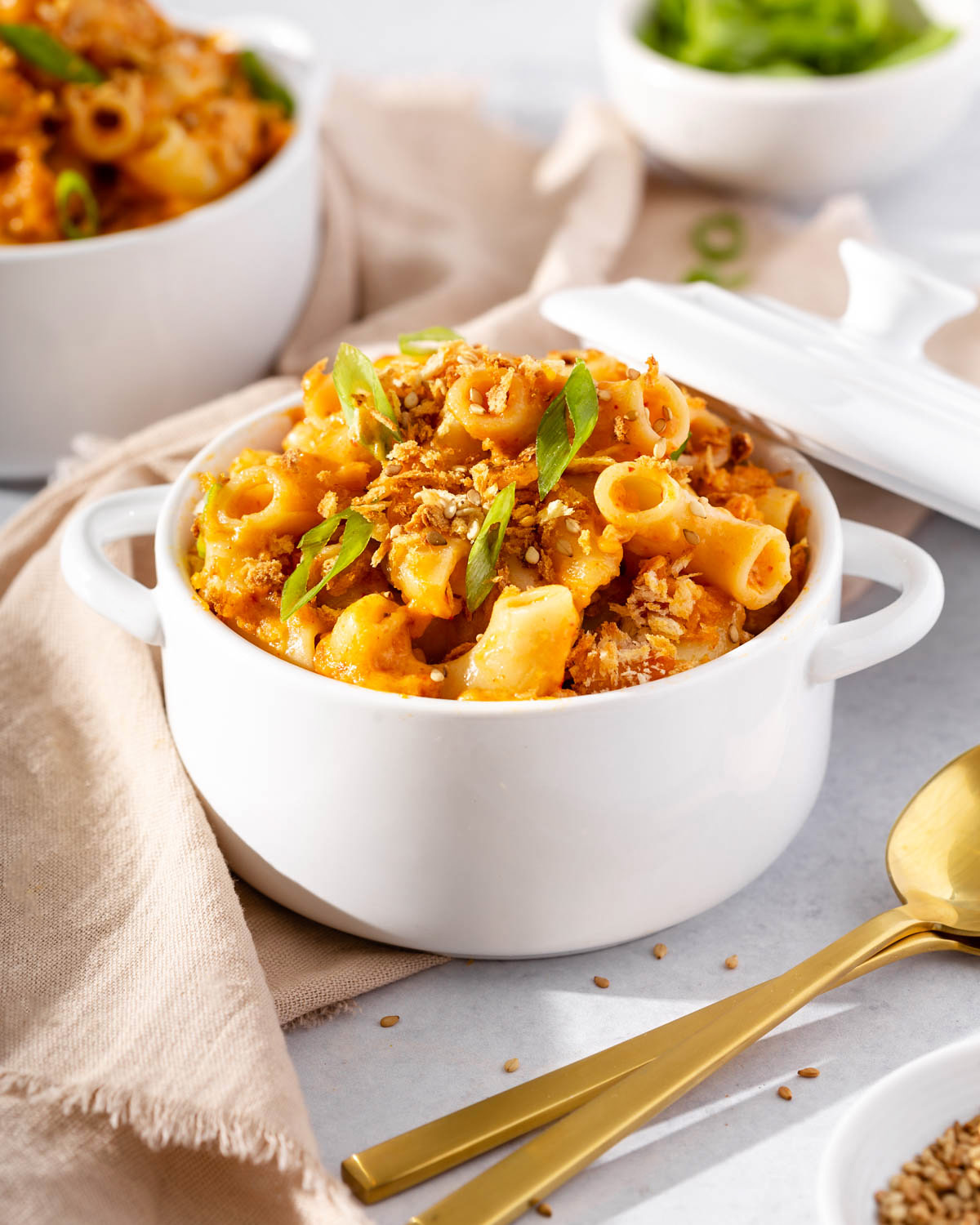 Growing up I was an incredibly picky eater. All I would say yes to was chicken nuggets and macaroni and cheese. Though my palette has broadened as years have passed, my love for macaroni and cheese still remains. I mean how can you resist that cheesy, creamy, perfection on a plate? Toss in some freshly pickled kimchi in there and BOOM. Game changer. The Korean flavors are bold and unapologetic. Kimchi is beyond compatible with the creamy mix of cheeses. Combined all together, they create an unforgettable dish that is cheesy, comforting, and delicious.
Also, this kimchi mac and cheese recipe is the perfect side dish for your Thanksgiving dinner along with some sticky rice stuffing, and Kimchi mac n cheese if you are deciding to make some new Asian Fusion traditions this year. Check out our mini pumpkin basque burnt cheesecake or apple cider mochi donuts for a delicious Thanksgiving dessert!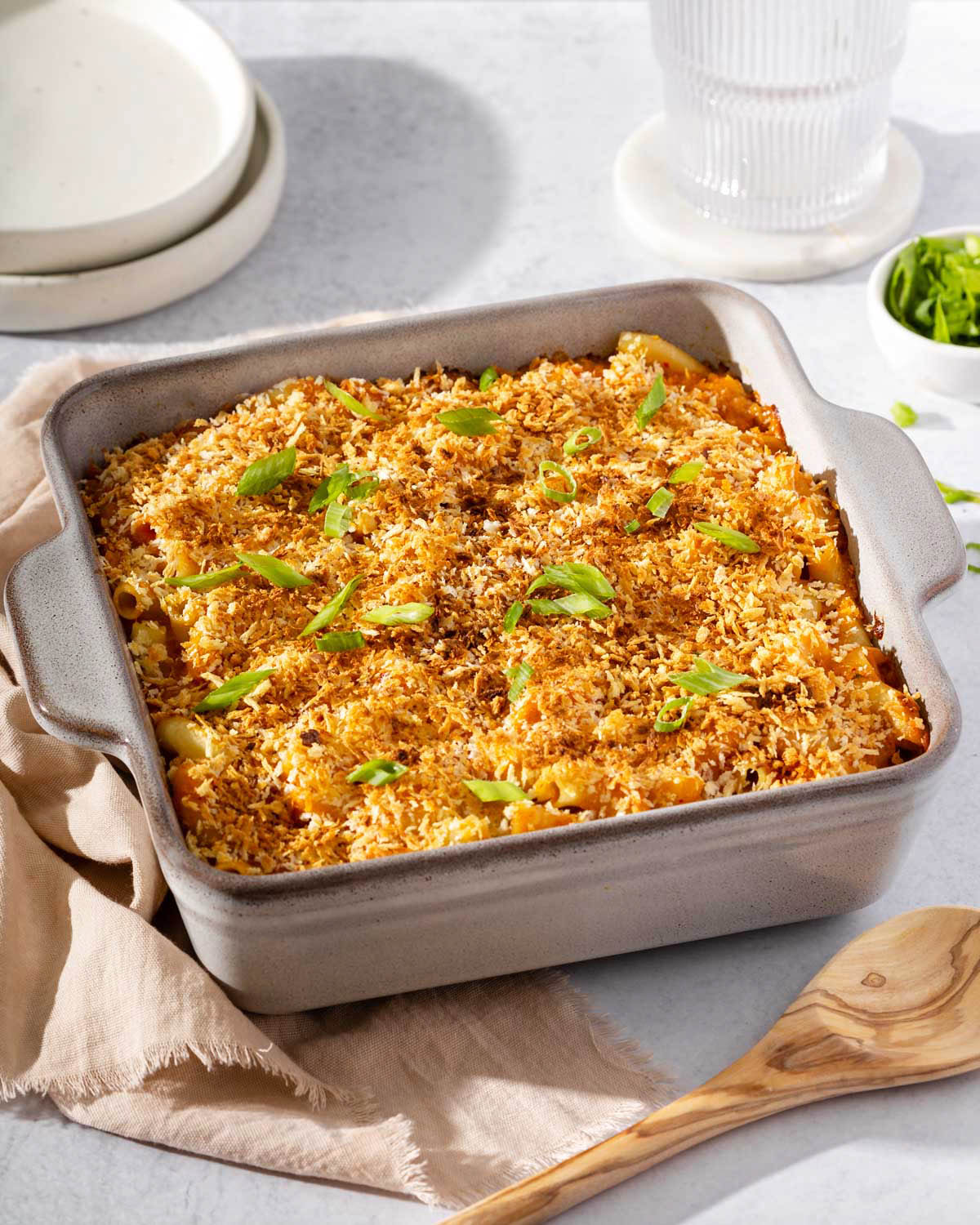 What is Kimchi?
Kimchi is a traditional Korean dish with varying components that usually includes some combination of vegetables, garlic, ginger, chili peppers, salt, and fish sauce. All of these ingredients are then pickled and fermented. Typically, cabbage is the most common vegetable used to make kimchi although carrots, radish, cucumber, and scallions are also used as well. There are hundreds of kimchi recipes that vary depending on the region and season in which they are produced.
Kimchi's flavor has multiple layers of complexity and varies widely depending on the recipe. The main flavor notes you'll find in kimchi include sour, spicy, and umami. The flavor varies depending on the vegetables, the length of fermentation, and the amount of salt or sugar used.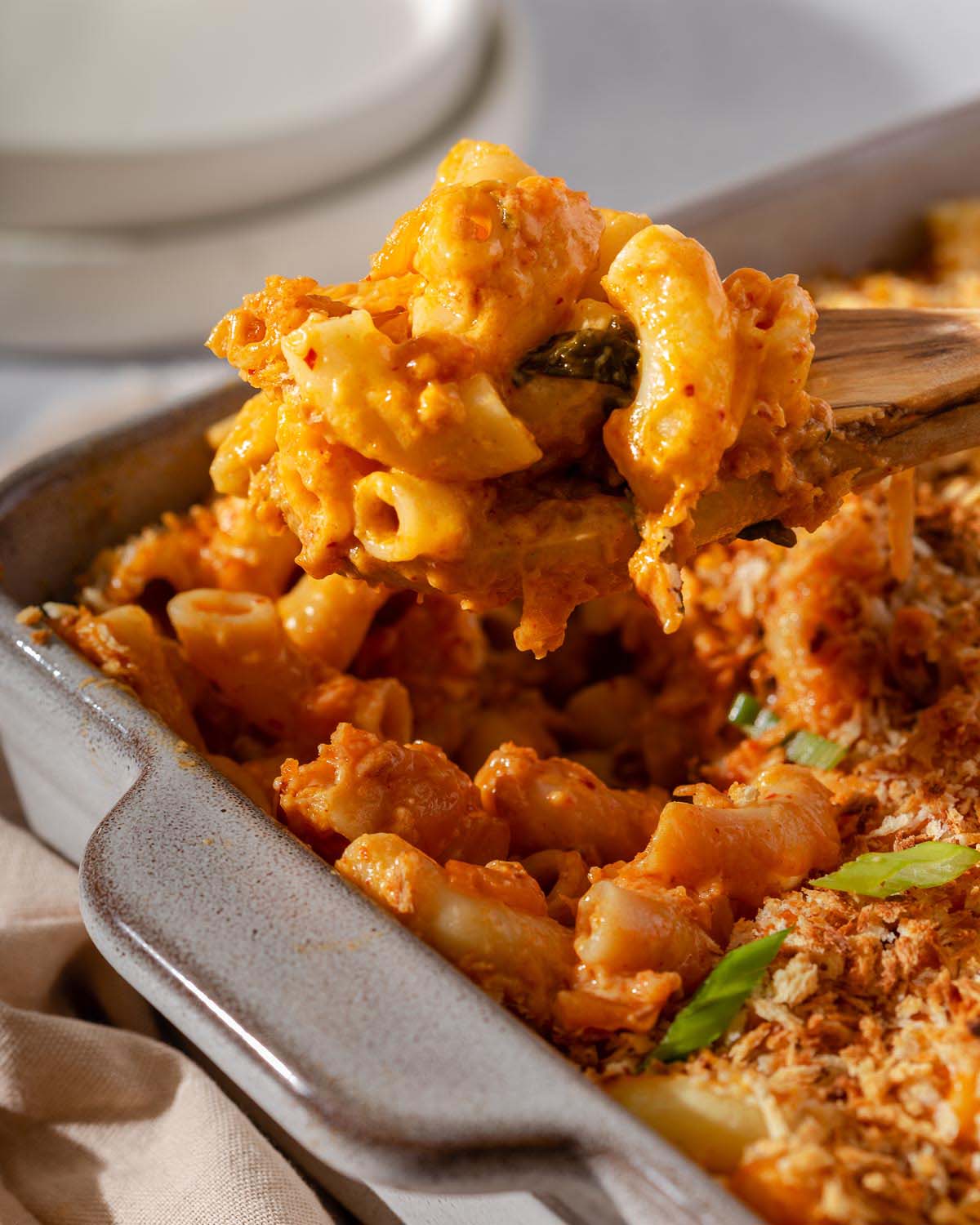 Kitchen Tools for This Recipe
Cheese Grater: I highly recommend you grate your own cheese with a

cheese grater

for this recipe. Grating your own cheese with a cheese grater guarantees fresh cheese without any added ingredients
Deep non-stick skillet: you will need a skillet large and deep enough to hold all of your macaroni.
8x8 Baking Pan: If you want to take the extra step to bake your kimchi macaroni and cheese like I did, you can use a casserole dish or an even a brownie pan for this recipe. For this recipe, I used an

8x8 casserole dish

.
Ingredients For This Recipe
This recipe comprises a fusion of bold Korean ingredients and traditional macaroni and cheese ingredients. You can find the Korean ingredients online or at your local Korean grocery market.
For the Bold Korean Flavors
Kimchi: you can find kimchi at your local Korean or Asian grocery market in the refrigerated aisle. Make sure to choose a jar with a lot of kimchi juice in it!
Gochujang: or red chili paste is a savory, sweet, and spicy fermented condiment popular in Korean cooking. It is made from gochu-garu, glutinous rice, meju powder, yeotgireum, and salt. You can find

Gochujang online

or at your local Korean grocery market.
Doenjang: Doenjang or soybean paste is a type of fermented bean paste made entirely of soybean and brine. You can alternatively use miso paste instead if you cannot find this paste. You can find

Doenjang online

or at your local Korean grocery market
Chicken Stock: chicken stock adds a richness of flavor to the Korean flavors. Make sure to use low sodium to avoid having an over abundance of saltiness in the dish.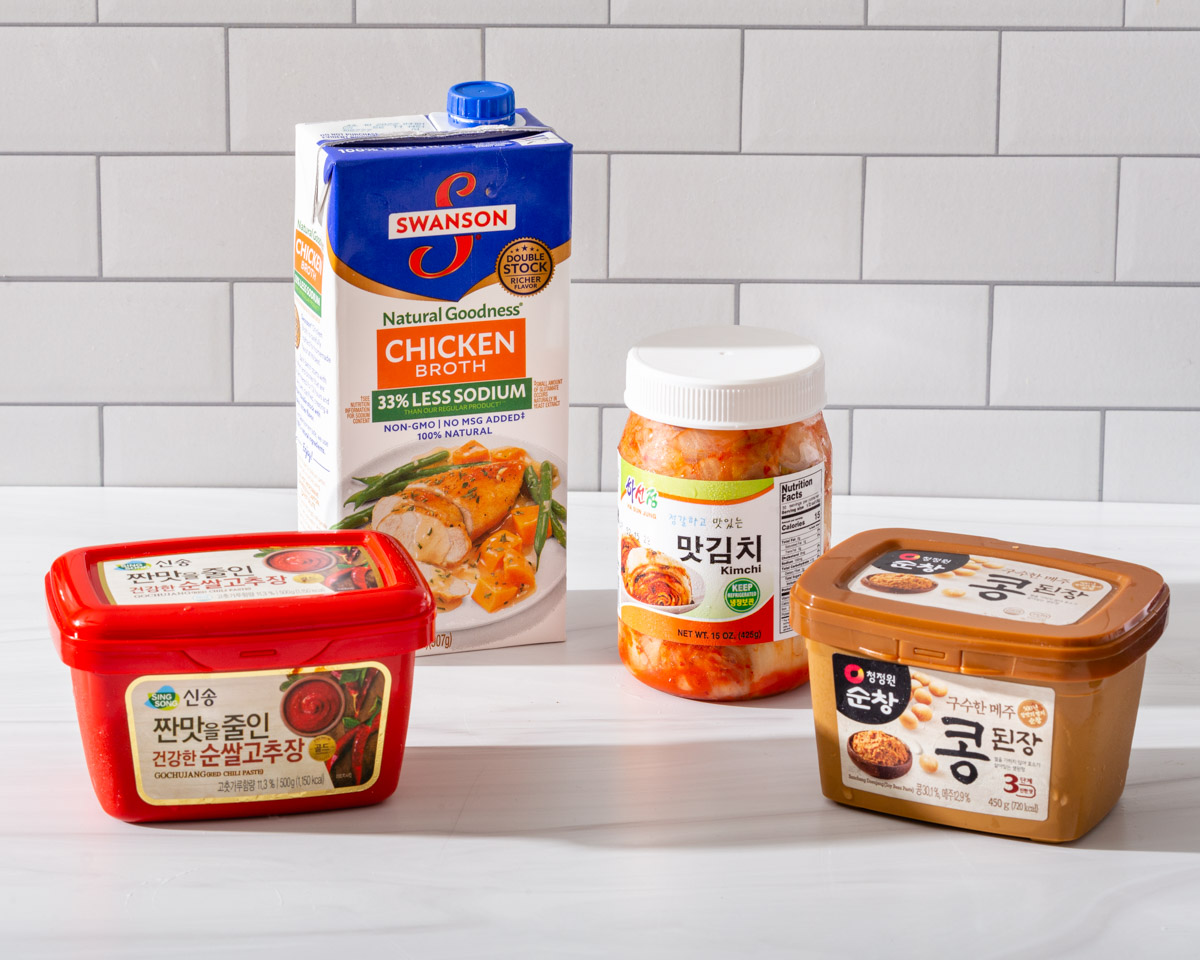 For the Macaroni and Cheese
Pasta: you can choose whichever type of pasta you prefer. I went with the classic elbow macaroni pasta.
Unsalted Butter: the butter is split into two parts: 1) to cook down the kimchi and 2)to coat the pasta to prevent it from sticking to each other and bloating while you are making the sauce.
All Purpose Flour: the flour thickens the milk and chicken stock so that the sauce is not overly runny.
Milk: the milk adds a creamy component to the dish and softens the Kimchi flavor
Gruyere: has the best flavor and melting quality for this recipe. It is similar to cheddar but not as sharp and melts with ease. You can alternatively use cheddar, Monterey Jack, or parmesan.
Mozzarella: It melts really well into the sauce, has that nice gooey stretch, and a subtle flavor that does not overpower the kimchi.
Panko breadcrumbs: is a Japanese-style bread crumb made from white bread without the crusts. This results in a lighter bread crumb that absorbs less grease and stays crispier for longer than regular bread crumbs. You can find

panko bread crumbs

online or at your local Asian Grocery Market.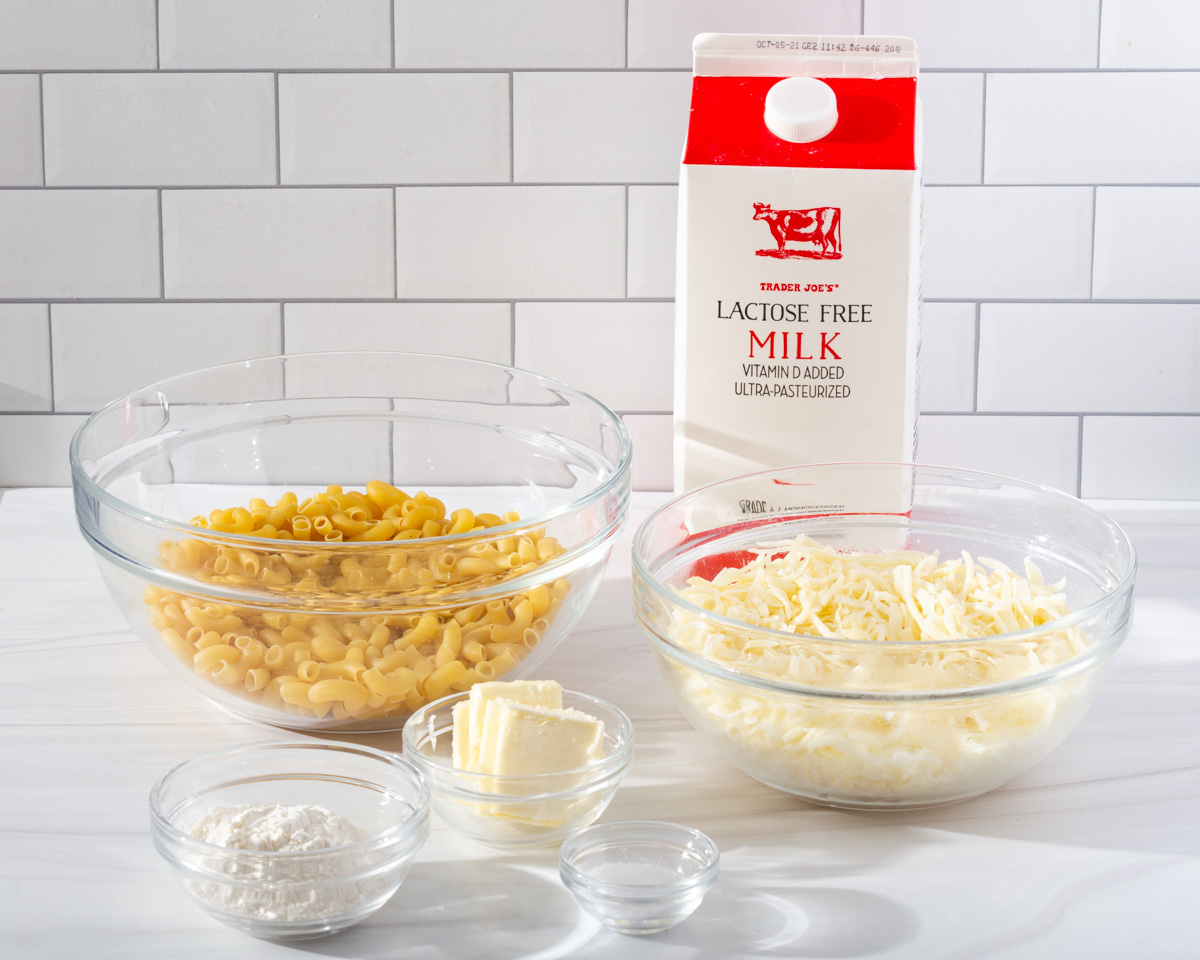 How to Make This Recipe
This kimchi mac and cheese recipe is really quick, delicious, and easy to make. All you need to do is cook the pasta, make the kimchi cheese sauce and mix it all together! Easy right? Let's get started.
Cook the Pasta. Boil your pasta in a pot of heavily salted water. Cook your pasta until al dente. Strain the pasta. Place the pasta back in the pot and toss with 2 tablespoons of butter until melted.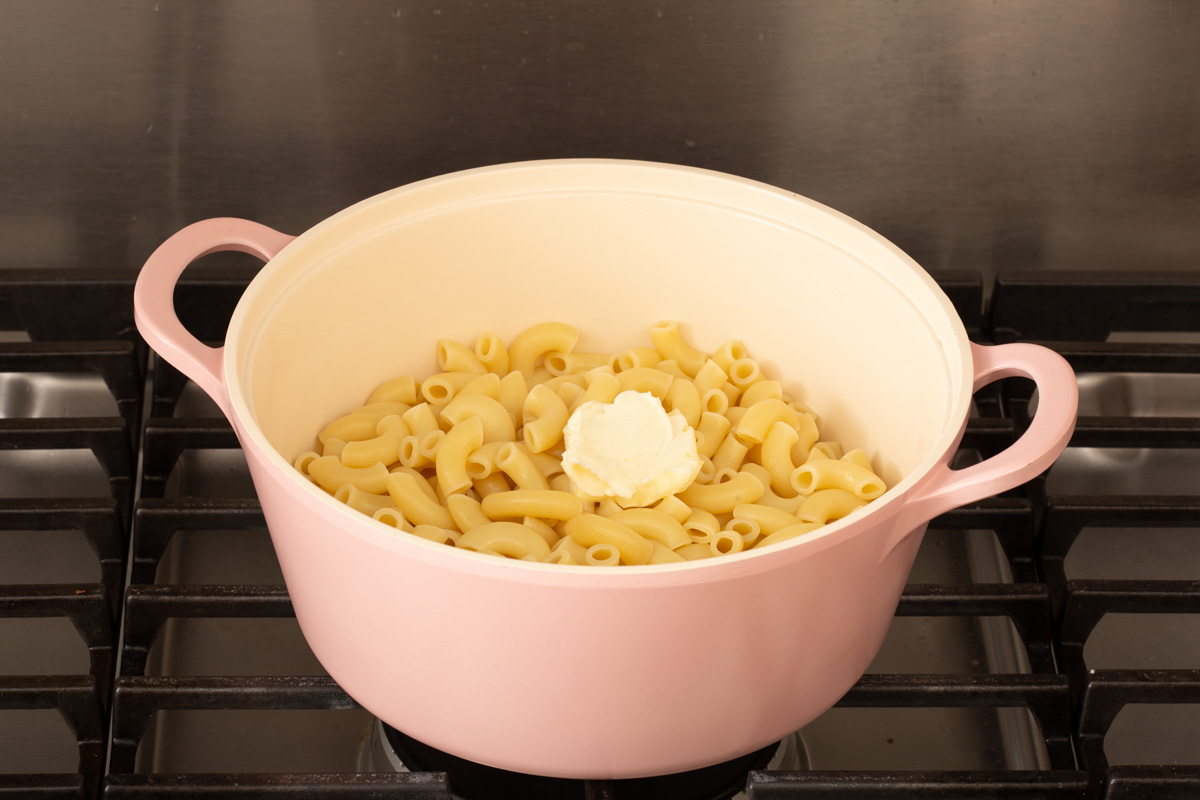 Prepare the oven. Preheat oven to 350°F (180°C).
Reduce the Kimchi and Gochujang. In a non-stick skillet, melt 2 tablespoons of butter over medium high heat. Add the chopped kimchi, gochujang and doenjang and simmer for 5 minutes. Next, add kimchi juice and chicken stock simmer and reduce for an additional 4 minutes.
Add the flour, milk and salt. Add in the flour and mix for 1 minute. Then slowly add the milk and stir until the mixture is lump free. Add in the salt and stir. Heat for about 5 minutes on medium high until the sauce thickens and coats the back of a wooden spoon.
Remove from heat and add cheese. Remove from the heat and stir in the cheese until combined.
For an extra crunch bake with bread crumbs. Pour the sauce into the pot with the macaroni. Stir quickly then pour into an 8x8 baking dish. Sprinkle with panko bread crumbs and bake at 350°F for 20-25 minutes or until the top is golden.
Serve Immediately. Top with green onion, sesame seeds and serve immediately.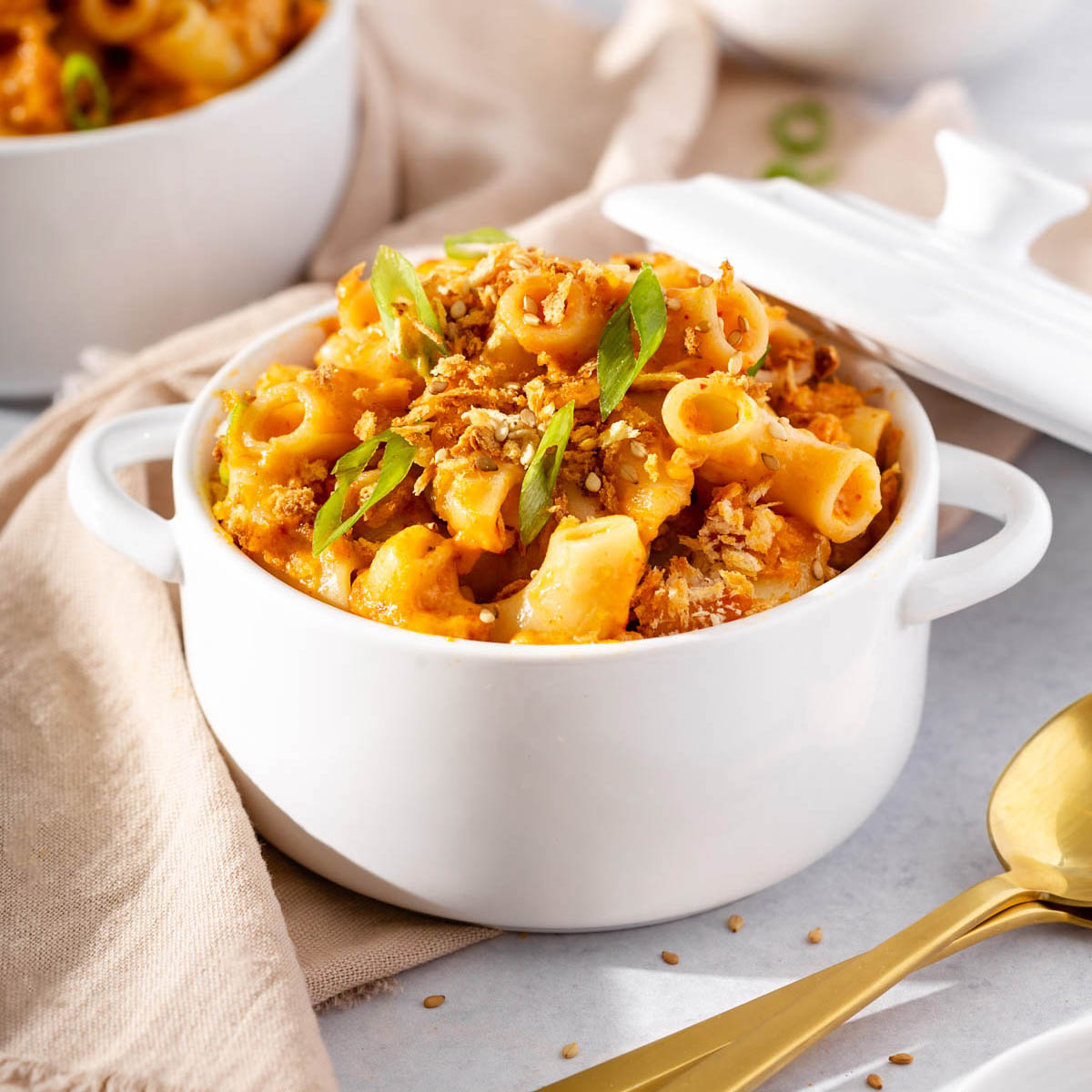 Tips For This Recipe
You can mix and match the cheese. You can use cheddar, parmesan, Monterey jack etc. Just make sure that you do not pick a cheese that is overly sharp with a overly rich taste because you do not want it to be competing with the Kimchi flavors.
Grate your own cheese! Grating the cheese makes a huge difference. Store bought includes anti-caking agents that can make your sauce a bit grainy or powdery.
Make sure the cheeses are at room temperature. If you add cold cheese directly into the hot sauce, you may risk the cheese curdling. To be safe, grate the cheese when it is cold and leave it out on your workspace so that it reaches room temperature before mixing it into the sauce.
Storage Instructions
You can store this kimchi mac and cheese in an airtight container in the refrigerator for up to 3 days. To reheat, simply microwave until warmed.
You can also make the cheese sauce ahead of time and it'll keep for up to a week in the fridge or 2 months in the freezer. Reheat it and fold in your noodles just before serving.
You May Also Love...