These Chinese garlic green beans are the most perfect side dish for basically every meal. The green beans are flash fried and quickly sautéed with a ton of minced garlic. This mouth-watering side dish will keep you coming back for more.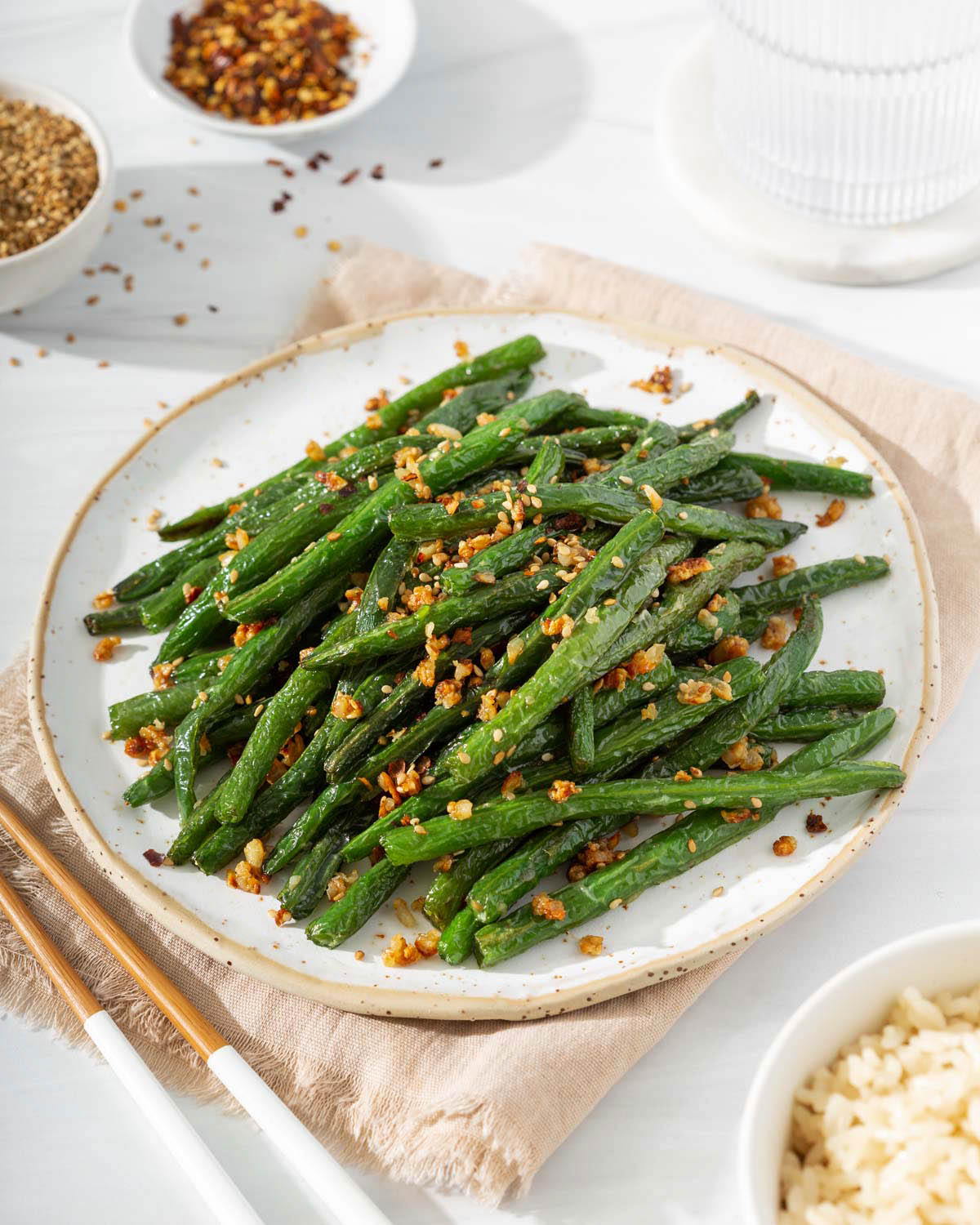 As a semi-responsible functional adult, I do my best to maintain a balanced healthy diet. In simplest terms, this means remembering to add greens to every dish. Every time I opt to cook a new recipe, I ALWAYS hear my dad's voice in the back of my head saying "you need to eat more greens." This recipe for garlic green beans has been my go-to recipe for my source of greens for years. It is quick, simple, delicious, and complements almost every main dish. What more can you ask for?
These Chinese garlic green beans are perfectly blistered with a crisp crunchy texture and are loaded with garlic flavor. This incredibly simple dish inspired by Din Tai Fung will satisfy all of your garlic cravings. Pair this with some Thai Basil or Honey Walnut Shrimp and you have got yourself a fully-balanced meal!
Chinese Garlic Green Beans
Chinese-style garlic green beans are all about wrinkled skin and crunchy texture. They are flash-fried for 1-2 minutes which tenderizes the center while maintaining a light crisp crunchiness.
This recipe was inspired by Din Tai Fung's garlic green beans. The flavor is incredibly simple yet delicious. All you will need is some salt and garlic.
This is Why You Should Make This Dish
It'll take 15 minutes or less
5 simple ingredients
Pairs perfectly with any dish
Can add other spices and seasonings to change the flavor
Kitchen Tools For This Recipe
Wok: Ideally, for this recipe you will use a wide brimmed

stone wok

. The deepness of the wok insulates the oil and prevents the oil from splattering. If you do not have a wok, make sure to use a pot deep enough to hold the oil and green beans.
Spider Strainer: a

spider strainer

is the most useful tool when you are deep frying. It allows you to work in batches and scoop out the green beans without the oil. You can alternatively use a slotted spoon instead.
Ingredients For This Recipe
This five-ingredient recipe can be found at your local grocery store.
Green Beans: opt for fresh green beans that are long and thick for best results.
Vegetable Oil: or Canola oil or any other neutral non-flavored oil that has a high temperature point will do. You want an oil that can withstand high heat but also neutral flavored so that it will not change the flavor of your green beans.
Sesame Oil: the nutty sesame oil + garlic flavor pairing is out of this world. Just a little sesame oil goes a long way. You can find sesame oil at your local Asian Grocery Store.
Minced Garlic: the main point of this dish! Freshly mince them yourself and add as much or as little garlic as you please. This recipe already calls for a lot of garlic, but I am a firm believer that there is no such thing as too much garlic.
Garlic Salt: the garlic salt adds more garlic flavor and salt. I used

Lawry's garlic salt

. You can alternatively use kosher salt as well.
How To Make This Recipe
This Chinese garlic green beans recipe can be done in under 15 minutes. This is my go-to recipe when I want to incorporate more greens in my diet but I am too lazy to do anything complex or fancy.
Prepare the green beans and garlic. Slice off the ends of the green beans and slice the green beans in half. Mince the garlic.
Heat the oil in the wok. Heat the oil in a wok over medium-high heat. The oil should cover about ½ to 1 inch of the bottom of the wok. Test the temperature of the oil by dropping in a green bean. It should start to bubble and fry immediately otherwise the oil isn't hot enough.
Fry the green beans. Working in 3 or 4 batches, fry the green beans for about 1-2 minutes, until the green beans start to wrinkle on the outside. Using a spider strainer, scoop out the green beans onto a plate lined with paper towel and gently dab the green beans with the paper towel to remove excess grease. Repeat until all the beans are fried. Turn off the heat. Carefully pour the used frying oil into a bowl.
Saute the garlic with the green beans. Heat the wok over medium-high heat. Add a tablespoon of oil and the minced garlic and saute it for about 30 seconds to 1 minute, until lightly browned and fragrant. Add the green beans back to the wok, along with the salt and sesame oil. Toss to combine for an additional 1 minute.
Serve. Turn off the heat and transfer the green beans to a serving plate. Garnish with toasted sesame seeds. Enjoy!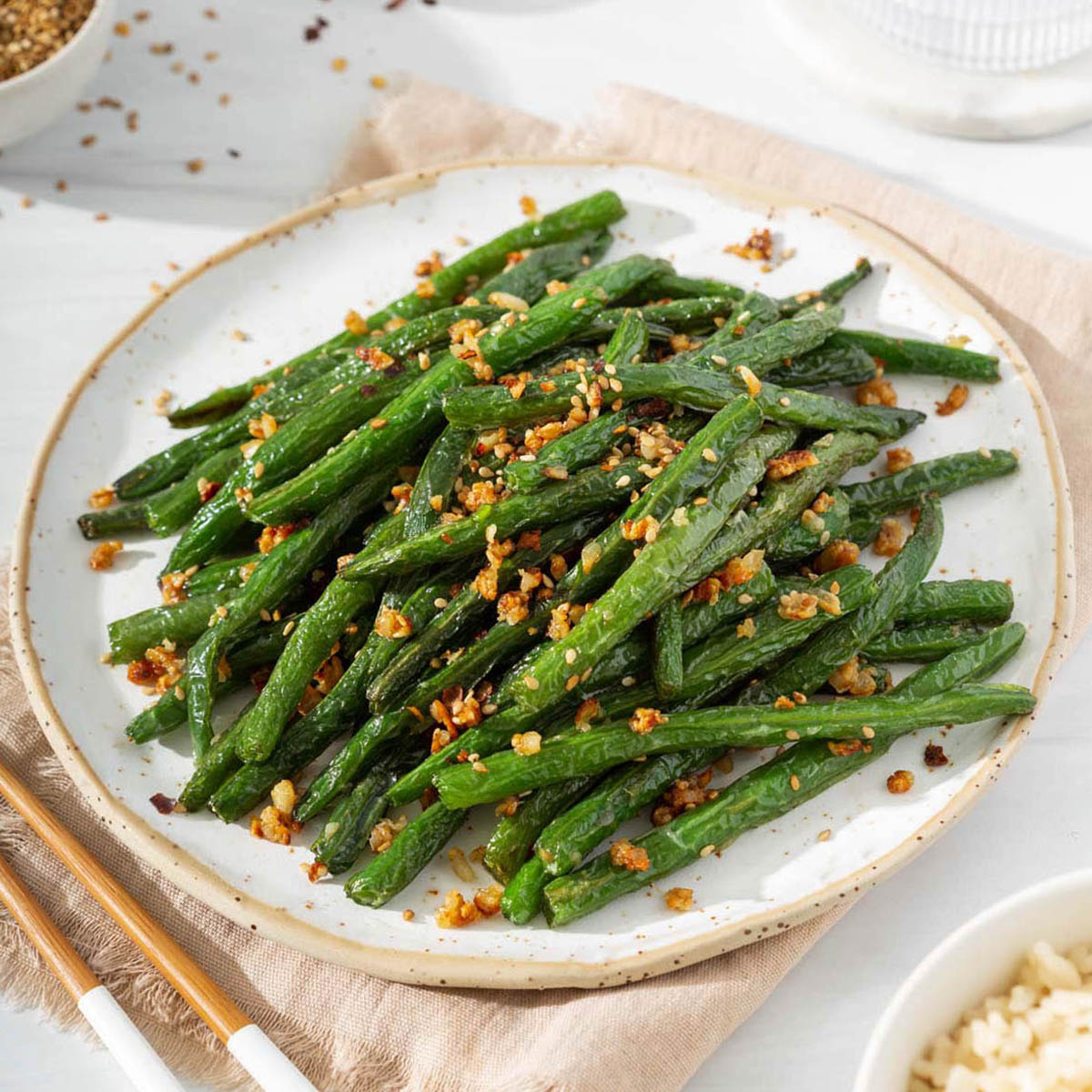 Tips For This Recipe
Pat dry the green beans. When oil comes into contact with water it will splatter. To prevent this as much as possible, pat the green beans dry before frying.
Use freshly minced garlic not pre-minced garlic. For best results, freshly mince the garlic yourself so that you will have a rich pungent garlic flavor.
Use a

wok

and a

spider strainer

! Trust me, these kitchen essentials will make your entire experience so much easier. Plus, I use both of these items in so many of my recipes.
Test the heat of the oil with a test green bean. When you toss the green bean in, you should see bubbles quickly surrounding the green bean. That is when the oil is hot enough to fry.
You want the oil hot enough to fry, so that the green beans do not absorb too much oil and become overly greasy.
Storage Instructions
These Chinese garlic green beans are best served immediately. You can store them in an airtight container in the refrigerator for up to 5 days. Keep in mind as more time passes the green beans will wilt and become less crisp.
How to Dispose of Leftover Frying Oil
After you fry your Chinese garlic green beans, pour the oil in a heat-proof safe jar, container or bowl and let it cool.
If you wish to re-use your oil you can strain the oil through a fine-mesh sieve to extract any burnt bits in the oil and store the oil in a jar in a cool dark place. It will last for a few weeks.
If you wish to dispose of the oil, DO NOT pour it down your drain in the sink. This will result in damaging your plumbing and is not good for the environment. Dispose of the oil in a tightly sealed container. Normally, I use unused plastic water bottles or take-out containers.
You May Also Love...