Who wants to make the quintessential Chinese condiment aka the Best Chinese Chili oil? Like everything else, Chinese Chili oil is better homemade. This recipe for Chili oil is incredibly easy and so versatile for so many dishes!
Nothing beats homemade Chinese chili. It beats any store-bought chili oil 100x. Also, making your own chili oil will last for months. You can personalize it with as many or little aromatics as you want. Plus, it goes with just about everything from eggs, rice, noodles to wontons, and even salads.
What is Chili Oil?
Chili oil is a vital condiment staple for most Chinese cuisine. It is used as much as soy sauce and vinegar. You probably have seen them on the tables of every Chinese restaurant next to the salt and pepper.
Trust me, once you're hooked you will want to spread it on everything. This one condiment will elevate your dish instantly. A plate of noodles or a bowl of fried rice just isn't the same without a spoonful of chili oil on top.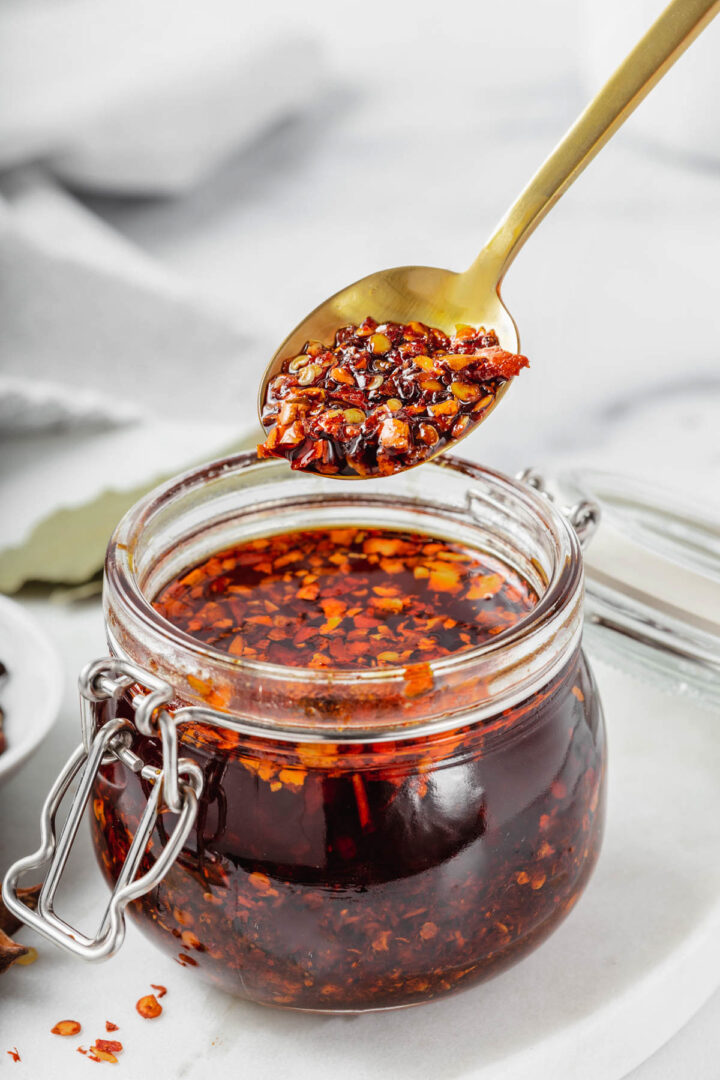 Ingredients in This Recipe
You can use up to as many aromatics in this chili oil recipe or none at all. The flavor is entirely up to you! The simplest version of chili oil uses only oil and chili flakes. You can find most of these ingredients in your local Chinese or Asian supermarket, but I have also linked them below if you do not have access to one!
Oil: Use a neutral-flavored oil with a high smoke point like vegetable oil, peanut oil, canola oil, or grapeseed oil.
Star anise, Whole Cloves, Black Cardamom pods, Bay Leaves: Whole star anise, whole cloves, black cardamom pods, bay leaves add complexity, and umami to the chili oil.
Cassia Cinnamon Stick: Cassia Cinnamon stick has a bark-like texture that can withstand heat.
Sichuan Peppercorns: Sichuan Peppercorns adds a subtle bit of nuttiness to the chili oil
Chinese Five Spice: I love adding Chinese Five Spice for that splash of umami flavor.
Garlic, Shallots, and Ginger: adds to the depth of the flavor.
Chili flakes: For best results, use Sichuan Chili Flakes. These chili flakes are made with premium chili peppers with a bright vibrant color. Also, this blend uses fewer seeds, making the chili oil not as spicy. Using crushed Italian red pepper flakes will not provide the same flavor or the deep red color you want.
Salt: Salt is necessary to highlight all the flavors from the spices and aromatics.
How to Make This Recipe
Making chili oil may seem daunting at first, but once you learn the steps, it is so simple to make the best tasting chili oil with a punch of aromatic fragrance and smokiness!
Prepare the oil and aromatics. Place oil, all the spices, garlic, shallot, and ginger into a small-medium-sized pot. Make sure that there are at least two inches of clearance between the oil and the top of the pot.
Cook the aromatics. On medium-high heat, bring the oil to a slow simmer around 225°F (107°C). There should be tiny bubbles surrounding the ingredients. When it reaches 225°F (107°C) lower the heat to maintain a constant temperature to avoid burning the ingredients. Cook for 30 min - 1hour **If it gets too hot on the lowest heat, take off the stove until it reaches the right temperature. Or if it is not hot enough slowly increase the heat, but monitor the temperature closely.
Place the Sichuan chili flakes into a heat-proof bowl.
Pour 225°F oil into chili flake bowl. After 30 mins, the oil needs to be around 225°F before pouring over the chili flakes. Using a fine sieve, carefully pour the oil onto the chili flakes. Stir and evenly distribute the oil. You can opt to test the oil in a small bowl of chili flakes to see if the chili flakes will burn, before pouring the oil on all of the chili flakes.
Stir in the salt. Then allow the chili oil to cool.
Store in an airtight jar or container in the refrigerator for up to 6 months.
Tips For This Recipe
Oil temperature must be 225° F (107° C) before pouring over the chili flakes. You do not want to burn the chili flakes! If you want the chili oil to be darker and more roasted you can use a higher temperature of about 250°F (121°C).
If you are unsure whether the chili oil will burn the red pepper, you can pour a small amount of oil over a test batch of chili flakes first.
The time you infuse the oil. The minimum amount of time you cook the oil should be 30 minutes. But if you want a deeper bolder flavor you can cook the chili oil for up to 1 hour.
Additional Mix-In Flavors
I've created a recipe for traditional chili oil, but if you want to change it up with some more ingredients go for it! I suggest adding 1 teaspoon at a time after the oil has been poured and adjust to taste. I've listed some additional ingredients you may want to consider:
Sugar
Chicken Bouillon Powder
Minced raw garlic (adding raw garlic will significantly shorten the shelf life of the chili oil to 1-2 weeks)
What can you eat Chili Oil with?
Honestly anything you can imagine.
Storage Instructions
You can store this chili oil in an airtight jar or container in the refrigerator for up to 6 months.