This fried rice will make you forget about all the other fried rice you have ever eaten. It is THAT GOOD. This easy fried rice loaded with char siu pork, Chinese sausages, eggs, and veggies will make your tastebuds soar. PLUS, it takes less than 40 minutes to make!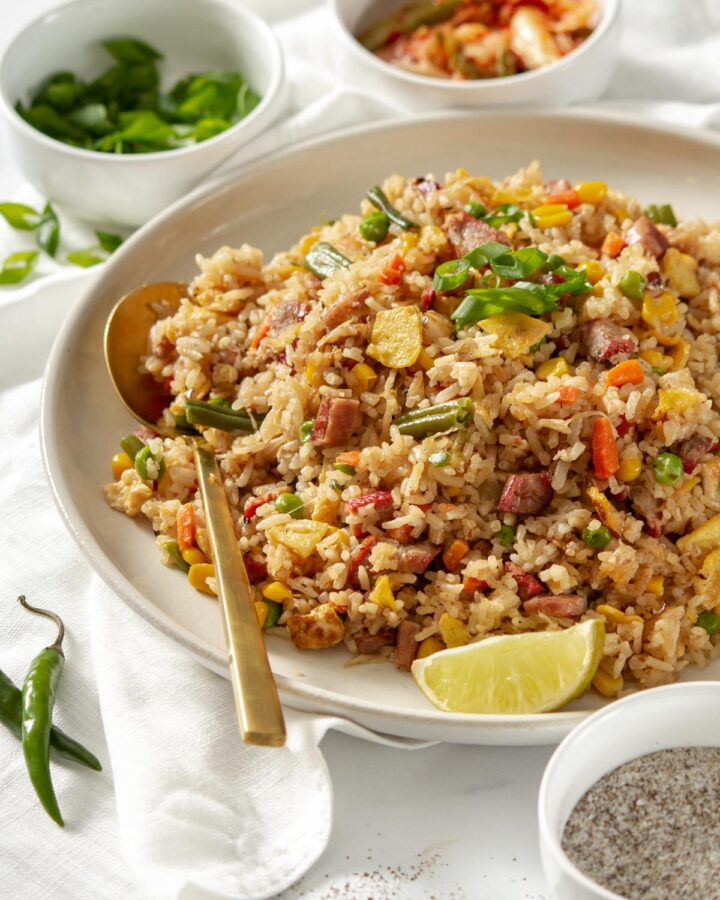 I packed this fried rice with delicious umami flavors from the char siu pork and Chinese sausages, a handful of vegetables for balance. What I love about fried rice is that it is 100% customizable. Don't like pork? Switch it out for beef or chicken. Want to make it Vegetarian sure! Throw in some tofu instead.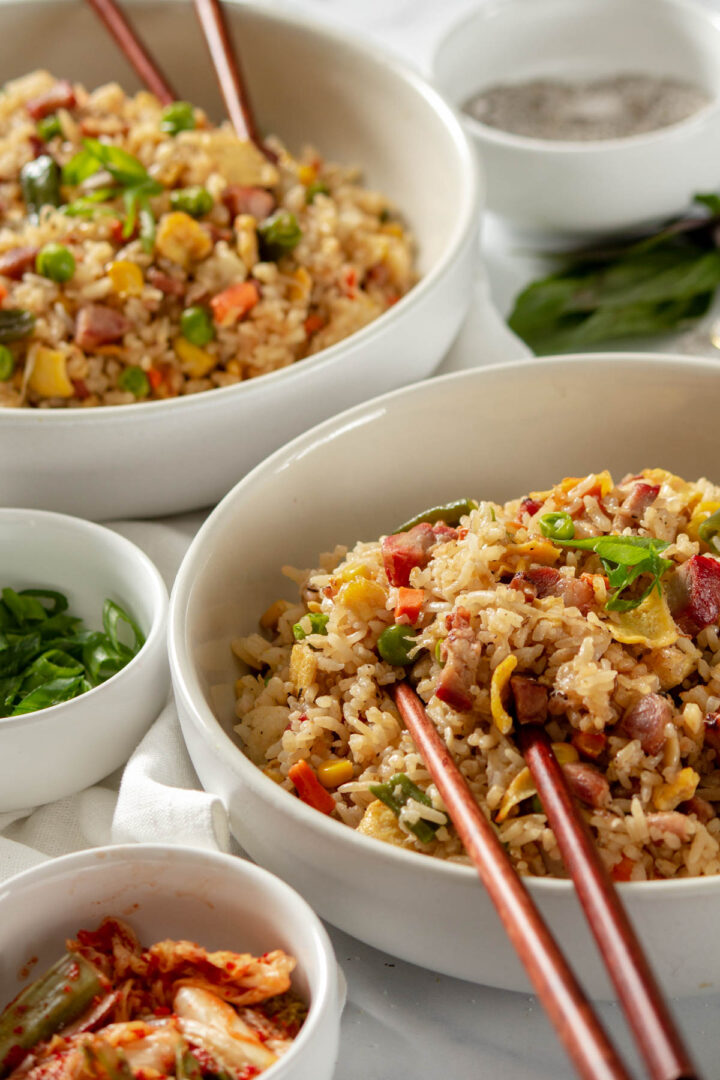 What is Fried Rice?
Fried rice is a dish cooked with rice fried in a wok or frying pan that is mixed with other ingredients like eggs, vegetables, seafood, or meat. Typically, it is a stir fry dish with rice and anything left you to have in your refrigerator.
However, for our recipe, we combined the best flavors in our ingredients for a perfect bite every time. We make this fried rice recipe almost once a month! We keep this fried rice recipe on our rotation for meal prep because we can make it in bulk, it is super easy to freeze and reheat, and it is 100% so delicious. This is my mom's famous recipe that is packed with Asian flavors and really simple to make! I hope you enjoy it as much as we do!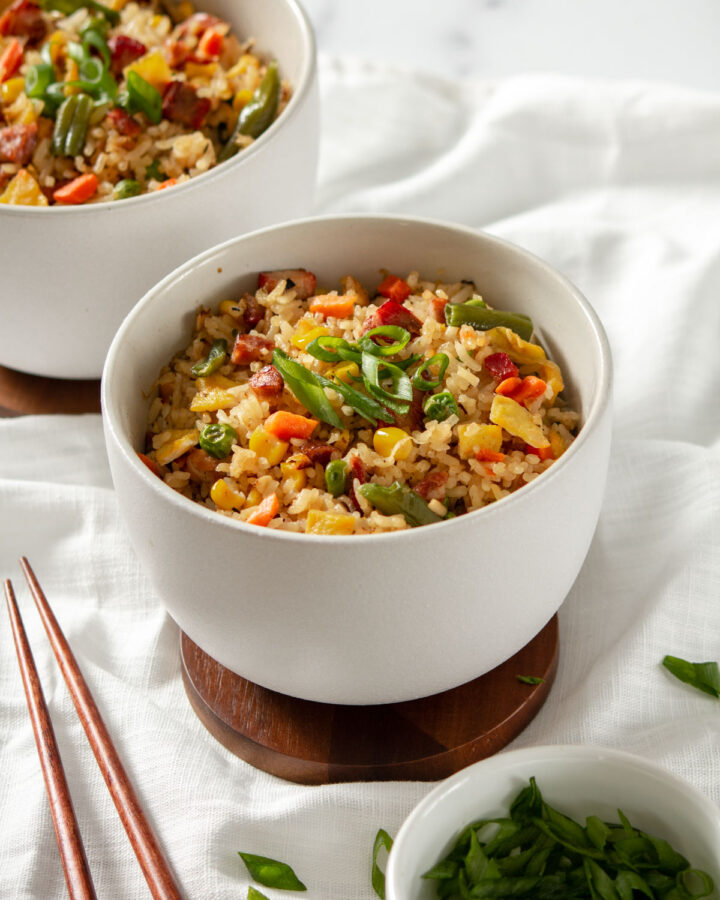 Ingredients for this Recipe
Char Siu Pork: I LOVE char siu pork. I usually buy it by the pound at my local Chinese takeout store. Alternatively, you can make char siu pork at home or substitute it with any other protein of choice!
Chinese Sausage: is a broad umbrella term that encompasses many types of cured and smoked sausages from all parts of China, Vietnam, and Thailand. The sausage is made from pork and fat. It has a sweet, salty, smokey, and savory flavor that you can't really get from any other type of sausage. You can find this sausage at your local Asian grocery store.
Eggs: adds the extra protein into the dish. In this fried rice, my mom taught me a method of how to get perfect thinly cut squares. It is pretty simple! All you need to do is make about a dozen egg crepes, pile them on top of each other and then dice them into 1 cm squares. Alternatively, you could also scramble the egg in when you toss the rice with the sauces which also works as well.
Frozen peas, corn, green beans, carrots: this is where I get a little lazy and buy everything all chopped up and ready to go. You don't even need to thaw the veggies you can just throw them in the wok and they are ready to go. You can totally use fresh vegetables if you want!
Umami Flavoring Ingredients
Shallots/Garlic: My mom always asks me "DID YOU, COOK, THE SHALLOTS AND GARLIC UNTIL BROWNED AND CRISPY?" This is the KEY step to making this fried rice fragrant and delicious. You need to add at least 5 large shallots and 10 garlic cloves and sauté them until they are browned, rich and fragrant.
Chicken Bouillon Powder: Chicken Bouillon Powder is a pale yellow powdery seasoning that is salty and has a concentrated chicken broth flavor. This flavor enhancer is widely used in Asian cooking especially in stir fry. You can buy the Chicken Bouillon powder here or at your local grocery store.
Soy Sauce: for this dish, I used Maggi Soy Sauce. This Maggi soy sauce is rich in umami flavors and really brings out all the other flavors in the dish. Its flavor is deeper and richer than any other grocery market brand soy sauce.
Fish Sauce: I would not be Vietnamese if I didn't add a little fish sauce in everything. Fish sauce is a salty, fishy, umami bomb that takes any dish from 0-100 in seconds.
Black Pepper: balances out the saltiness from the soy sauce, and the fish sauce.
Best Type of Rice
Fried rice typically uses a jasmine white long grain rice. However, you can make this rice with any type of cooked, chilled rice such as basmati or brown rice.
The rice needs to be semi-dried out so that when you toss it in your wok or frying pan the rice is not too mushy and clumps together. This can be done in two different ways.
Typically, other recipes call for refrigerated, day-old rice since the rice dries out in the refrigerator. I have seen some people buy the rice at a Chinese takeout restaurant and simply store it in their refrigerator overnight.
Alternatively, you can simply cook the rice with less water and I have had good results doing so. Usually, a 1:1 ratio of rice to waterworks for me. For example, if I cook 3 cups of rice I will add 3 cups of water. After the rice is cooked, I lay the rice out flat in a tray in the refrigerator to cool while I prep the other ingredients. This step chills the rice and dries it out enough to avoid clumping.
How to Make This Recipe
Cook the rice. Cook the rice in a rice cooker with a 1 to 1 ratio of rice to water for drier rice. Alternatively, you can use day-old rice that has been sitting in the refrigerator.
Prep the char siu pork and Chinese sausages. Thinly slice then dice the char siu pork and the Chinese sausages into small cubes
Prep the shallots and meat. Thinly slice the shallots. Smash whole cloves of garlic and roughly chop.
Cook eggs. For the eggs, whisk the eggs in a mixing bowl. When the pan is hot pour in about 2-3 tbsp of egg and spread out thinly in a pan about 6-inch diameter like a crepe. Cook for 30 seconds and then flip the egg crepe. Place on cutting board in a full circle. Continue with the rest of the mixture and pile the eggs on top of each other. Slice into 1 cm strips and then dice into 1 cm squares
Stir fry the Chinese sausage and char siu pork. Heat a wok on high heat. Add Chinese sausage and cook for 1 minute. Then add char siu and cook for another 1 minute.
Add in vegetables and chicken powder. Stir for 2 min.
Mix in eggs and pepper. Cook for 2-3 minutes. Mix thoroughly. Then empty the wok onto a large tray.
Sauté the shallots and garlic. Add olive oil on the wok and heat on high. Add shallots and garlic on high heat until very brown, fragrant, and crispy.
Mix in the rice and sauces. Then turn off the heat and mix in the rice, soy sauce, fish sauce, and 1 tablespoon of chicken powder.
Lastly, add in the vegetables and meat and mix.
Serve with fried egg, sriracha, or chili oil, and enjoy!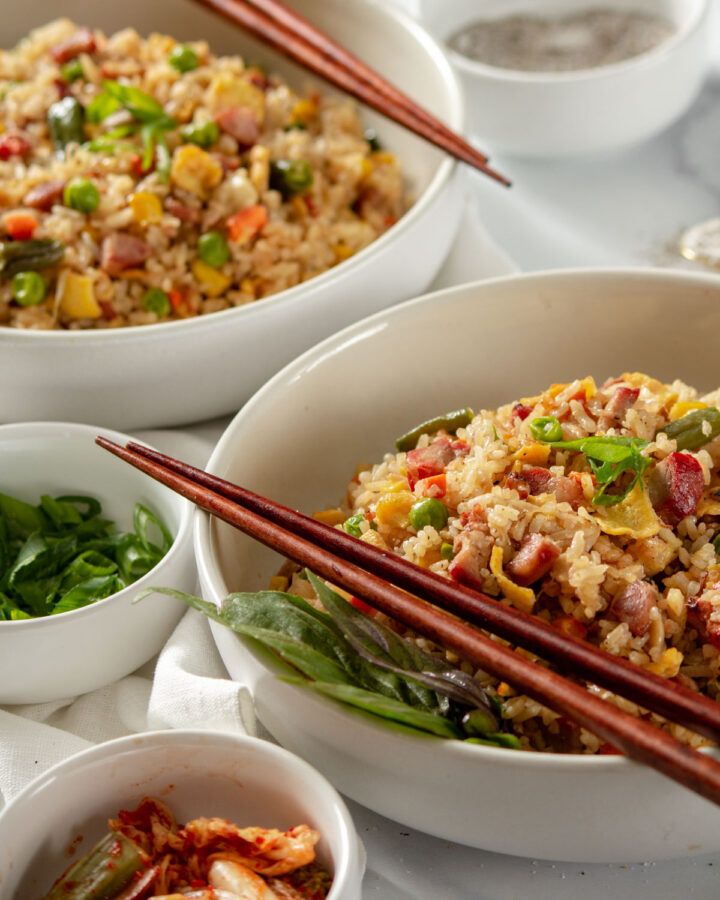 Tips for making this recipe
Use day-old rice or cook the rice with less water. The texture and dryness of the rice are important so you don't have a mushy, clumpy, and unevenly distributed fried rice.
Sauté the shallots and garlic until brown and fragrant. This is a very important step that makes the flavor of this fried rice off the charts.
Use a wok or alternatively a really large frying pan. The skillet just needs to be large enough to toss all the ingredients without it flying everywhere.
Use two large wooden utensils for mixing. I have found that using two wooden utensils, one in each arm to be the most efficient way to toss the food on the pan.
Storage and Reheating Instructions
You can store this Chinese sausage fried rice in an airtight container for up to 1 week. Alternatively, you can store it in an airtight container in the freezer for up to 3 months. Before eating, thaw the rice in the refrigerator overnight. To warm, cover with a wet paper towel and microwave it.
You may also love...