SUNS OUT! BUNS OUT! These delicious Vietnamese fusion banh mi hot dogs are loaded with pickled carrots and daikon, jalapeños, cucumbers, cilantro, and sriracha mayo. Trust me they will be your next backyard barbecue favorite.
Raise your hand if you are a banh mi lover! 🙋🏻‍♀️🙋🏽‍♂️ There is something so classic, comforting, and delicious as a banh mi. Nothing beats the taste of fresh ingredients and these banh mi hot dogs are loaded with them. Pair these banh mi hot dogs with a refreshing cup of brown sugar milk tea boba and you have got yourself a well-balanced meal. So grab some hot dogs and buns and fire up your grill because it's time to eat some hot dogs!
What is a banh mi?
Banh mi is a Vietnamese sandwich that was inspired by French colonialism. The literal English translation of banh mi is simply "bread" in Vietnamese. Traditionally, what makes a banh mi is the French-style baguette. A banh mi will always include pickled vegetables and fresh herbs like cilantro, cucumber, and cilantro. Together with the meat, you will get a spicy, salty, savory, sweet, and aromatic bite every time.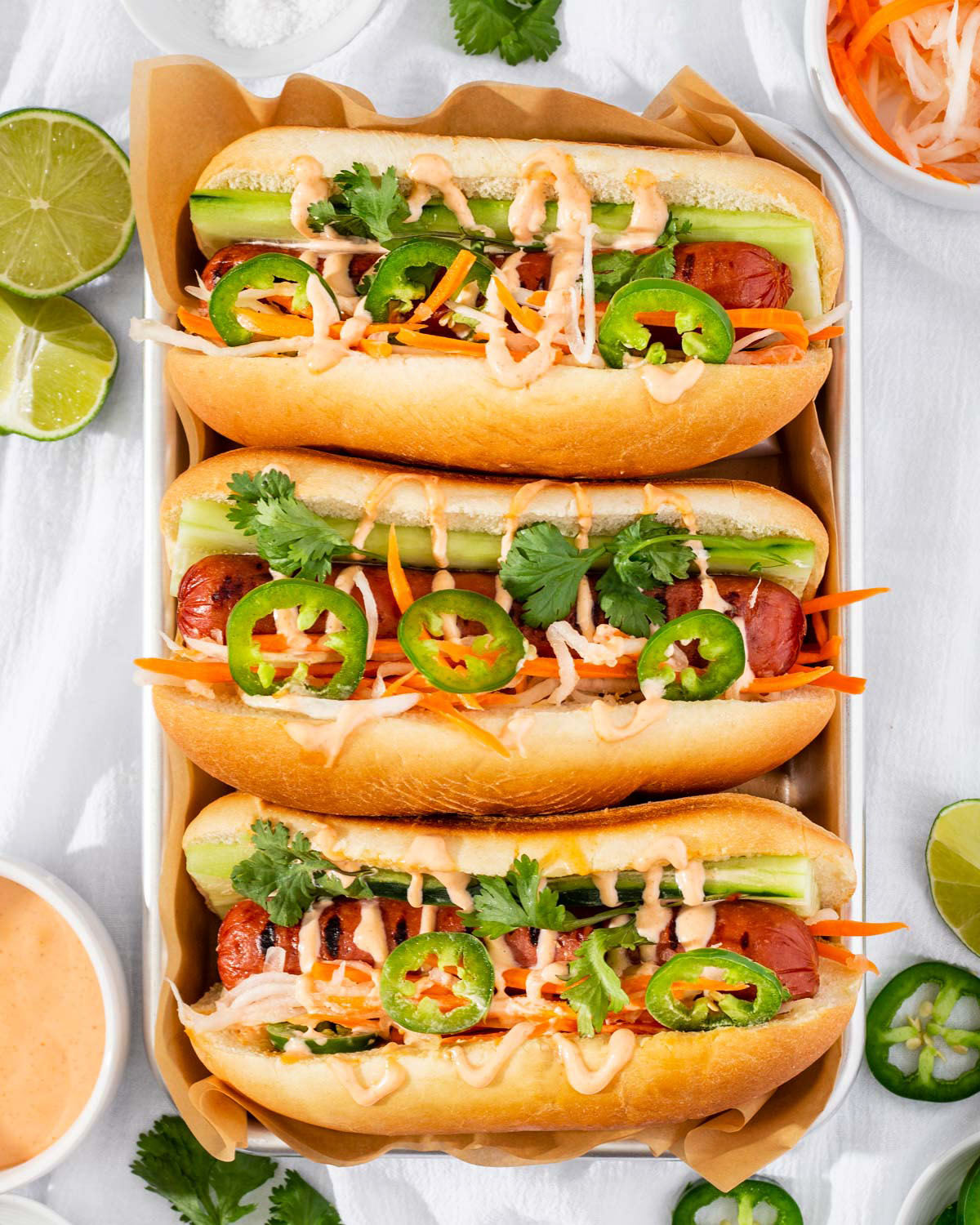 Ingredients For This Recipe
Everything you will need for these banh mi hotdogs can be found at your local grocery market. No fancy or complicated ingredients are needed!
Pickled Daikon and Carrot
Carrot: provides the crunch and bright beautiful orange color in the banh mi.
Daikon: also known as white radish is a long thick white radish. If you cannot find a daikon you can substitute this with more carrots.
Salt: balances out the sugar.
Granulated Sugar: the sugar cuts out the acidity from the white vinegar.
Distilled white vinegar: is used to pickle the carrot and daikon.
Sriracha Mayo
Mayonnaise: I always use Hellman's Real Mayonnaise. To me it has the best flavor profile, but that is just my personal preference. You can use whatever your favorite mayonnaise is for this recipe.
Sriracha: I used the classic

Huy Fong Foods Sriracha.

It is a classic for a reason. It is the best. Period.
Lemon Juice: it is always best to use freshly squeezed lemon juice.
Garlic Powder: used to bind the mayonnaise and sriracha flavors together.
Hot dogs and Garnishes
Hot Dogs: be sure to buy your favorite brand of quality hot dogs. We used polish dogs for this dish and we absolutely loved it. Polish dogs have a little bit more garlic in them which is probably why we favor them over traditional hotdogs. Choosing your favorite hot dog is vital for the recipe to taste delicious!
Buns: make sure that the buns you choose are long enough for the hot dogs.
Soy sauce: typically banh mi's are served with

maggi soy sauce

, but you can use any mild type of soy sauce for this recipe. It is also an optional garnish if you prefer the banh mi to not have the extra layer of saltiness.
Cucumbers
Jalapeño
Cilantro
How to Make This Recipe
This recipe requires three very simple steps and with the right planning in advance, you can whip up these banh mi hotdogs in under 20 minutes! All you need to do is 1) make the pickled carrot and daikon up to 2 hours in advance, 2) mix the sriracha mayo, 3) cook the hotdogs and serve!
Pickled Carrot and Daikon
Prepare the carrot and daikon. Peel and shred the carrots and daikon.
Mix the pickling juice. In a mixing bowl, mix together the salt, sugar, distilled white vinegar, and lukewarm water. Mix until the sugar and salt dissolves.
Pickle the carrot and daikon. In a pickling jar, add the shredded carrots and daikon until ¾ full. Pour in the vinegar mix until the carrots and daikon are completely covered in the liquid.
Cover the jars and pickle in the refrigerator overnight. The pickles can last up to 3 weeks in the refrigerator.
Sriracha Mayo
In a mixing bowl, mix together the mayonnaise, sriracha, lemon juice, garlic powder and salt until combined.
Hot dogs and Buns
Grill the hotdogs. Heat up the grill on medium high heat, place the hot dogs on the grill and cook until golden brown, around 5-7 minutes flipping half-way.
Toast the buns. Toast the buns in the oven or on the grill until slightly crispy.
Serve. Place the hotdogs in the buns, layer on the sriracha mayo, soy sauce and add the pickled carrot and daikon, sliced cucumber and sliced jalapeños and enjoy!
Tips For This Recipe
Make the pickled carrots and daikon in advance. The pickled carrots and daikon taste best if you pickle them overnight. However, if you are in a pinch you can always pickle them for at least 1-2 hours in advance.
Preheat your grill. This is an important step to clean off the grill using the heat. Moreover, placing the hotdogs on a hot grill will provide those gorgeous grill marks we all love and deserve on your hot dogs.
Adjust the sriracha mayo to your taste. Some people prefer a spicier kick to their hot dogs, whereas some people prefer a milder taste. You can adjust the levels of sriracha based on your flavor profile.
Storage Instructions
You can store the individual ingredients separately in an airtight container in the refrigerator for up to 1 week. To re-heat the hot dogs, you can either place them in the microwave or heat them up in the oven. The pickled carrot and daikon will last in a pickling jar for up to 1 month in the refrigerator.
You May Also Love...