The drink that started it all—the brown sugar milk tea. Avoid waiting in those long lines and crowded little boba shops by making your very own brown sugar milk tea at home! BONUS: You will only need 5 ingredients.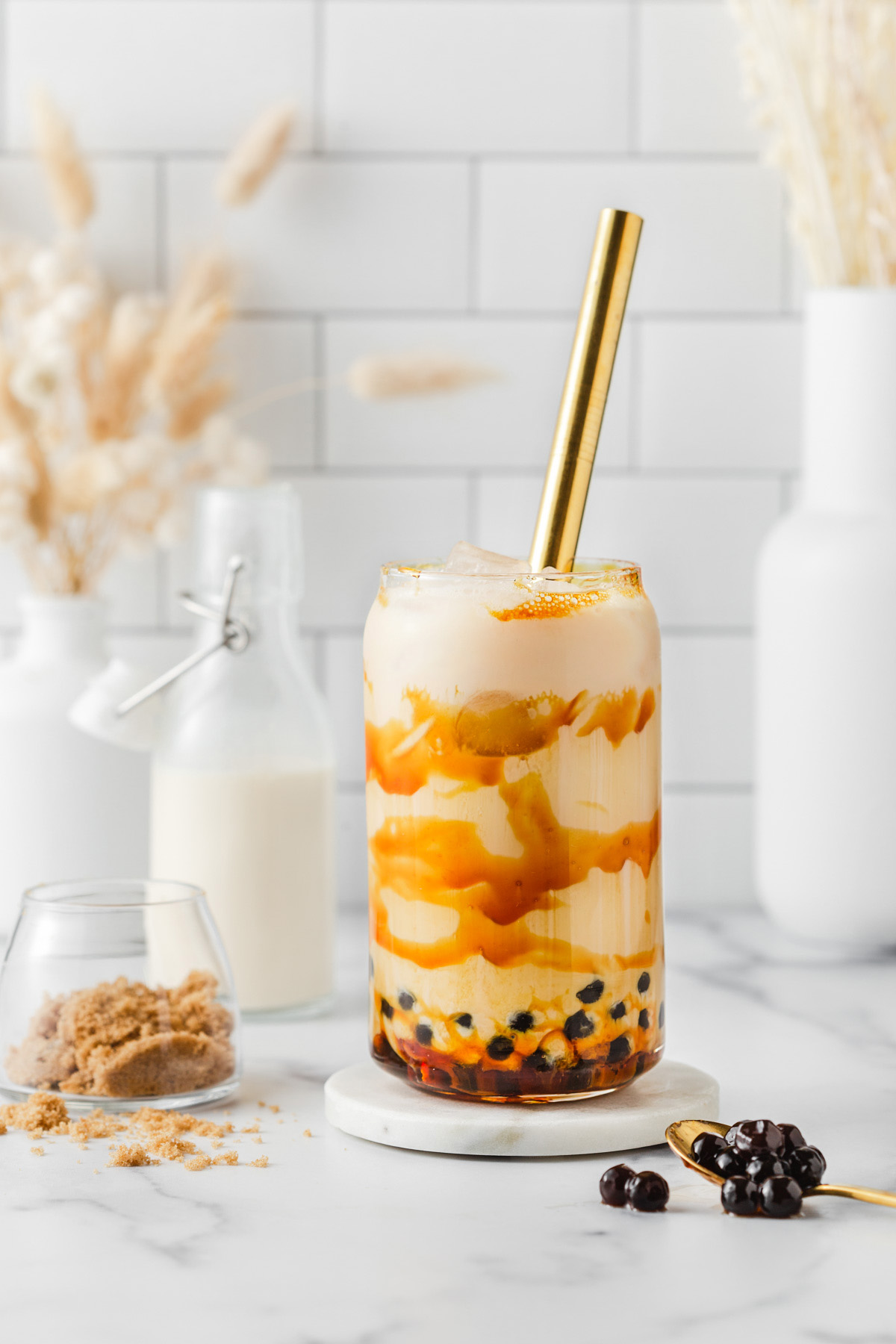 Something about walking inside a boba shop and taking in that first whiff of warm caramelized brown sugar makes me so happy. Taking that first sip of boba tea always makes me nostalgic. In high school, instead of partying and drinking alcohol, I was slurping boba teas with my best girlfriends in the parking lot (please don't judge us). My hope for this recipe is that you will create your own memories drinking this sweet, creamy, and refreshing drink with the ones you loved.
Jump to:
🔍 What is Brown Sugar Milk Tea?
Brown sugar milk tea is a classic drink that has gained a cult following in Taiwan and the surrounding Asian countries. It has permeated through almost all the Asian communities in the Western countries as well. This drink contains three main ingredients—Milk, tea, and brown sugar. By themselves, the ingredients seem lackluster but when combined, the drink becomes a culinary masterpiece.
In 2017, Tiger Sugar, a Taiwanese Boba Shop, opened with its signature brown sugar boba milk. The brown sugar along the cup provides the sweetness that results in a creamy, refreshing drink, with a deep caramel flavor. Though Tiger Sugar did not invent the drink, they are most likely responsible for popularizing the drink and making it Instagram famous.
🛒 Ingredients For This Recipe
Black Tea: my advice to you is to buy the best quality tea. This recipe has only a handful of ingredients and its shining star is the tea. If you use low-quality tea you will have low-quality milk tea. Strong broken leaf black teas are usually the best choice because their robust flavor will blend well with additional ingredients. My favorite teas to use are Taiwanese Sun Moon Lake Black Tea or Assam black tea.
Boba or Tapioca Pearls: this topping is completely optional. I recommend using traditional Taiwanese boba pearls found in Asian groceries that are not instant. Instant boba, doesn't have the same bouncy chewy texture and doesn't hold the brown sugar as well as the traditional boba. But if you are in a hurry, the instant 5-minute boba works too!
Brown Sugar boba bath: This syrup sweetens the boba pearls as well as the drink. I usually steep the boba pearls in this syrup for about 30 minutes before serving. Also, I use about 1 tablespoon of this syrup to sweeten the entire drink altogether. However, the sweetness level depends on your personal preference. You can add more or less syrup based on taste. This is made with a 1:1:1 ratio of dark brown sugar (or muscovado sugar): granulated sugar: boiling water. For instance, if you use ½ cup dark brown sugar or muscovado sugar then you will also use ½ cup granulated sugar and ½ cup boiling water.
Caramelized Brown Sugar Syrup: This syrup provides that sticky sweet caramelized texture on the outside of the glass. It is made of caramelizing sugar (granulated and brown sugar) and water over a stove.
Milk of choice: I used lactose-free dairy milk to add that bit of creaminess to the latte. You can substitute this with whatever milk you prefer (i.e. oat milk, almond milk, soy milk, etc.)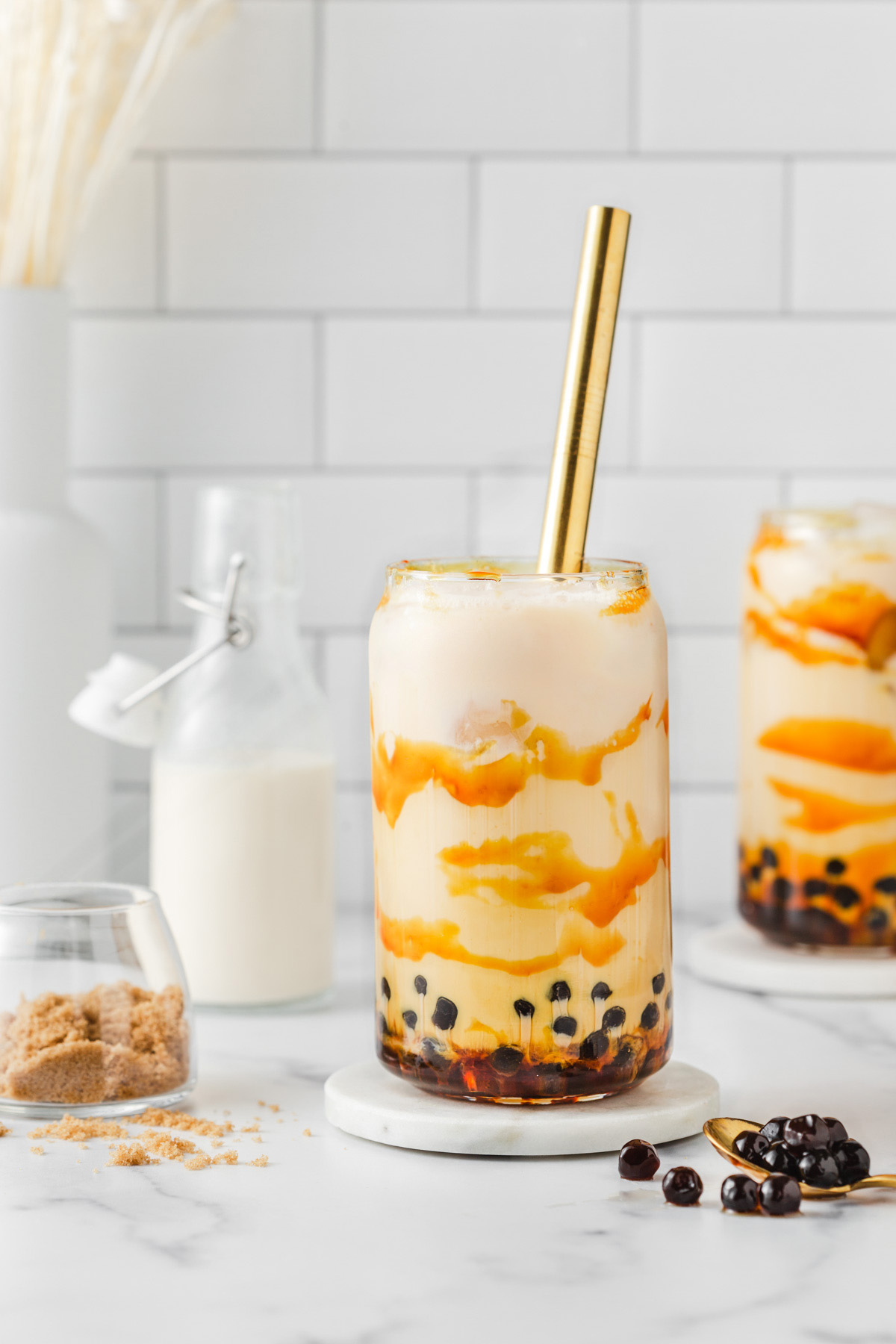 📝 How To Make This Recipe
Steep the milk tea: In a small saucepan, over medium-high heat the milk and brown sugar until simmer. Turn off heat and steep black tea for 20 minutes. Pour into a large bowl or cup and refrigerate until chilled.
Prepare the boba pearls. In a saucepan, cook the boba following the instructions on the packaging. If the packaging says the boba is not instant boba, heat the water on high heat to a boil. Pour the boba in and mix until the boba floats to the top. Reduce to medium heat and simmer with the lid on for 25 min. stirring occasionally. Then turn off the heat and let the boba sit in the saucepan for 25 min and then drain stir occasionally.
Steep the boba in the brown sugar boba bath. In a heat-proof bowl, mix ½ cup hot water (around 190F), ½ cup dark brown sugar or muscovado sugar, and ½ cup granulated sugar and carefully steep in cooked boba for 30 min. This will allow the sugar to seep through the boba.
How to Make Caramelized Brown Sugar Syrup
Cook the caramelized brown sugar syrup. In one small saucepan pour in 1 cup granulated sugar and ½ cup water and whisk until sugar is dissolved. Then turn on medium-high heat until it begins to boil. Then turn down the heat to medium and let it simmer until the sugar water is caramelized and turns brown about 15-20 minutes. DO NOT WHISK. Frequently lift up the saucepan and swirl the mixture so it doesn't burn.
While the granulated sugar cooks, in a second saucepan, boil the ½ cup of water. When the water boils, turn off the heat and immediately mix in the brown sugar or muscovado sugar until dissolved. Set aside.
When the white sugar pan is caramelized, add the brown sugar mixture into the white sugar saucepan and quickly whisk. Simmer for 5 minutes and then turn off the heat to cool.
Serve. Line the outside of the cup with the syrup, add the boba, ice, milk tea, add in 1-2 tablespoon of the brown sugar boba bath to taste and enjoy!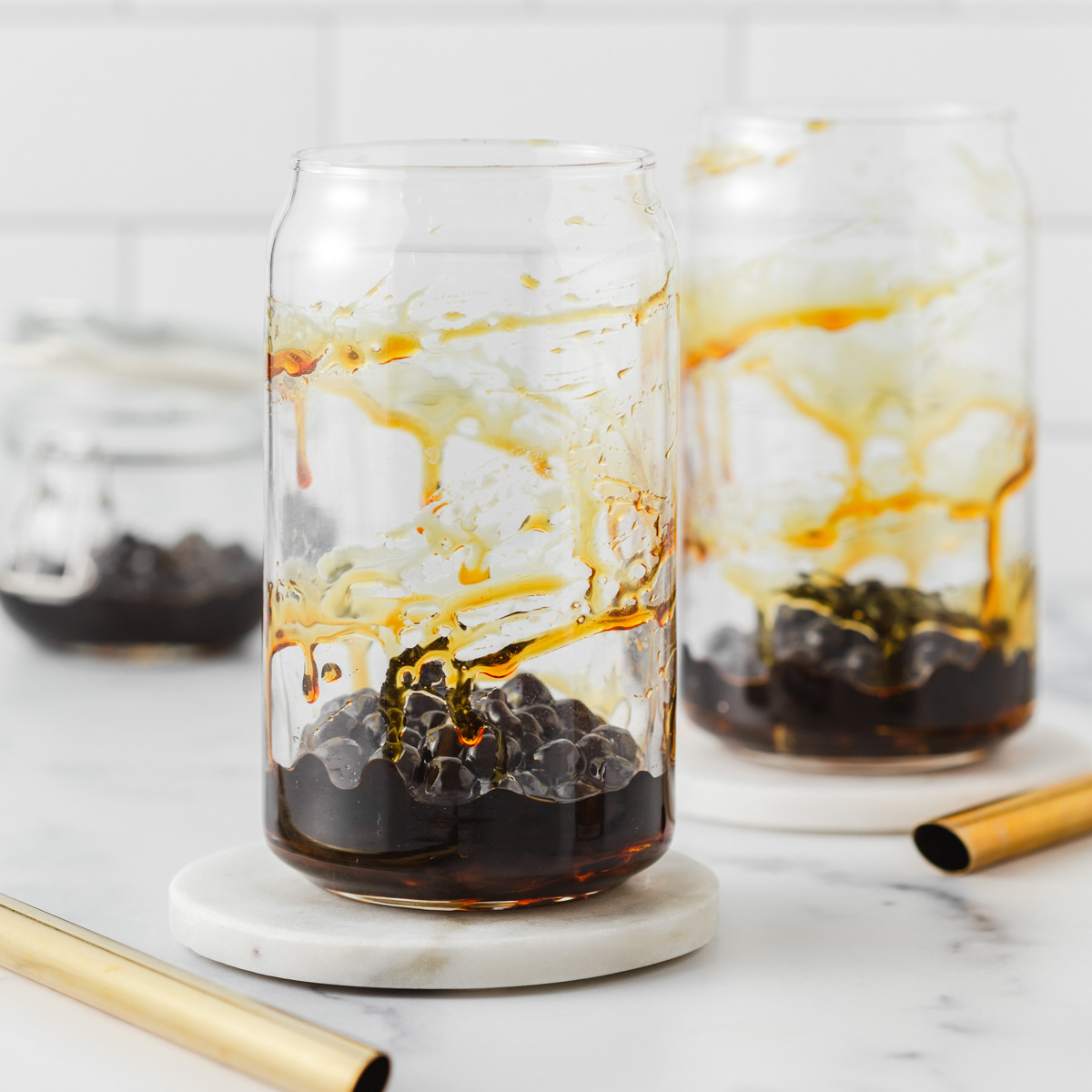 ⭐️ Tips For This Recipe
Stir the boba occasionally while on the stove. This prevents the boba from clumping together and making a massive boba glob.
Watch the sugar as it caramelizes closely and do not whisk! I lifted and swirled the granulated sugar quite frequently to prevent the edges from burning. Do not whisk! This prevents the sugar from crystallizing properly. When it browns, immediately turn off the heat and add in the brown sugar water.
You can alter the sweetness. I know boba tea shops always have the option for more or less sweetness and you can now too! Simply mix in 1 tablespoon of the brown sugar boba bath at a time to taste for your desired sweetness.
If you want a bolder richer caramel flavor use dark muscovado sugar instead of dark brown sugar. Muscovado sugar is less refined than brown sugar meaning it retains much more of its molasses component which contributes to a deeper sweet flavor.
🥡 Storage Instructions
You can store the milk tea without the boba pearls in an airtight container for up to 3 days. The brown sugar syrup can be stored in an airtight bottle in the pantry for up to a month. Unfortunately, the boba will not have a longer shelf life of 4 hours and must be consumed immediately when they are cooked.
💕 You may also love...
If you loved this classic milk tea recipe, you may also love the ever-so-famous strawberry matcha latte and many others! Check them out!
If you made this dish and loved it, please leave a review and comment below. We would greatly appreciate it!

Share your dish with us on Instagram, tag us @takestwoeggs—we'd love to see and share your delicious creation!

Hungry for more? Follow us on Instagram, Pinterest, and Facebook for more tasty creations and updates 🍜
👩🏻‍🍳 Recipe