Want to learn how to make homemade boba from scratch? Now you can! These warm, chewy, boba pearls coated with delicious deep brown caramelized sugar will light up your tastebuds and instantly elevate your teas or desserts.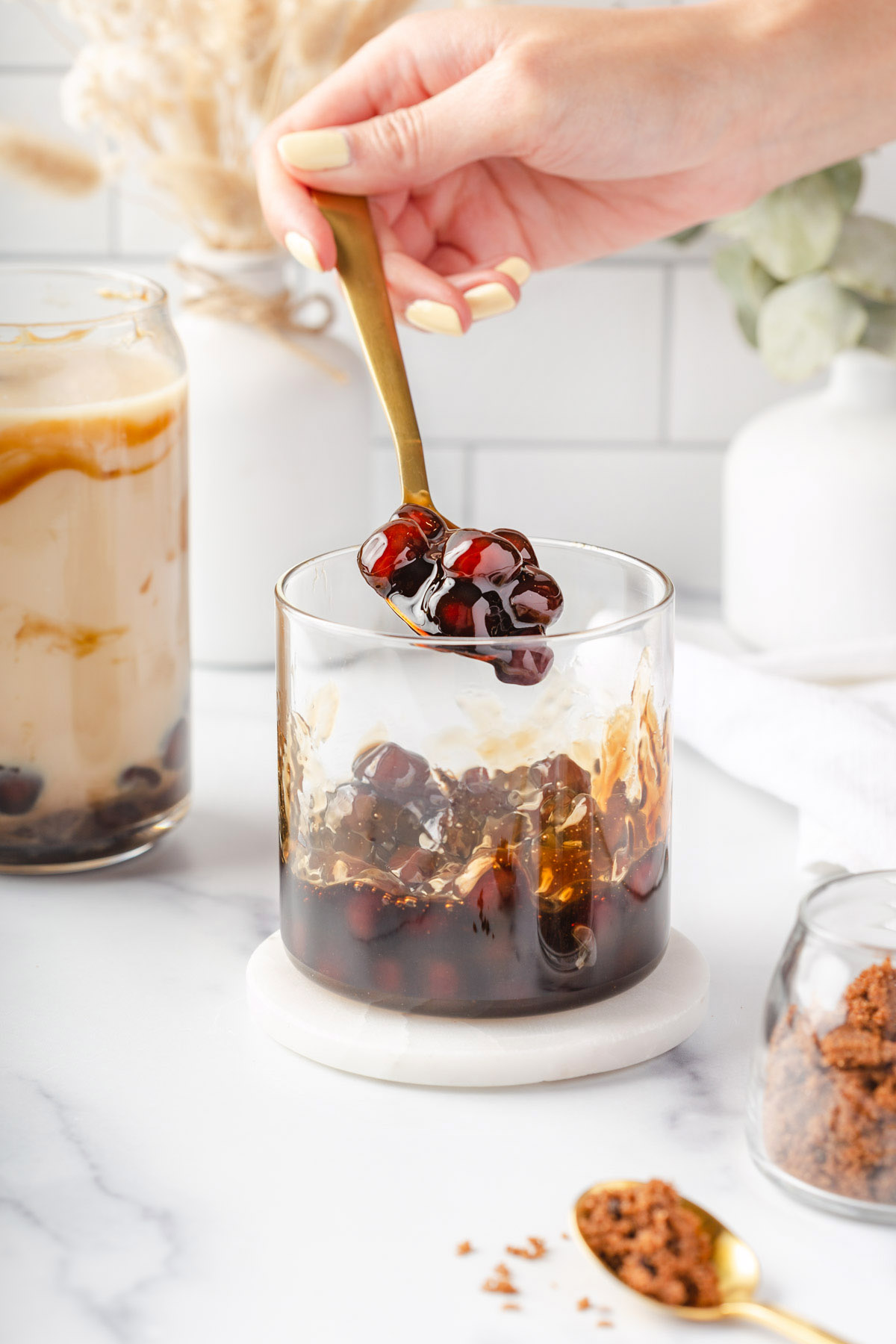 I cannot go an entire week without drinking boba tea. Some may say I have an addiction, but it is one I do not want to stop. Recently, Boba Guys made an announcement that the United States faced a boba shortage and I panicked. What will I do without my boba fix???
Great news, this boba addict over here carefully crafted a homemade boba recipe so that you can create this delectable treat in your very own home! No need to fear any boba shortage! You can add these boba pearls to make a classic brown sugar milk tea, mango matcha latte, or a strawberry matcha latte. You can top off some sweet cakes, ice cream, and desserts with these homemade boba pearls.
What is Boba?
The word "boba" refers to a category of drinks that includes everything from iced tea with tapioca pearls to fresh juice infused with fruity bits or simply the tapioca pearls themselves. Boba tea, bubble tea, pearl milk tea are all different names for the same thing. The drink in its most basic form consists of black or green tea, milk, ice, tapioca pearls, shaken with ice, and served with a fat straw to slurp up the chewy boba pearls.
The boba pearls are made from tapioca starch, an extract from the South American cassava plant which came to Taiwan from Brazil via Southeast Asia during the period of Japanese rule between 1895 and 1945. The drink originated in Taiwan in the 1980s and became popular in the U.S. in the 1990s
To us, boba tea is more than a drink—it's a lifestyle. It's hanging out with our friends when we're not studying or playing the piano. It's bringing our non-Asian friends to boba shops and them loving it too. Boba creates shared memories and bridges cultures. Drinking boba fills our hearts and stomachs in more ways than one. Now with this recipe, you can make homemade boba and create more beautiful memories at home!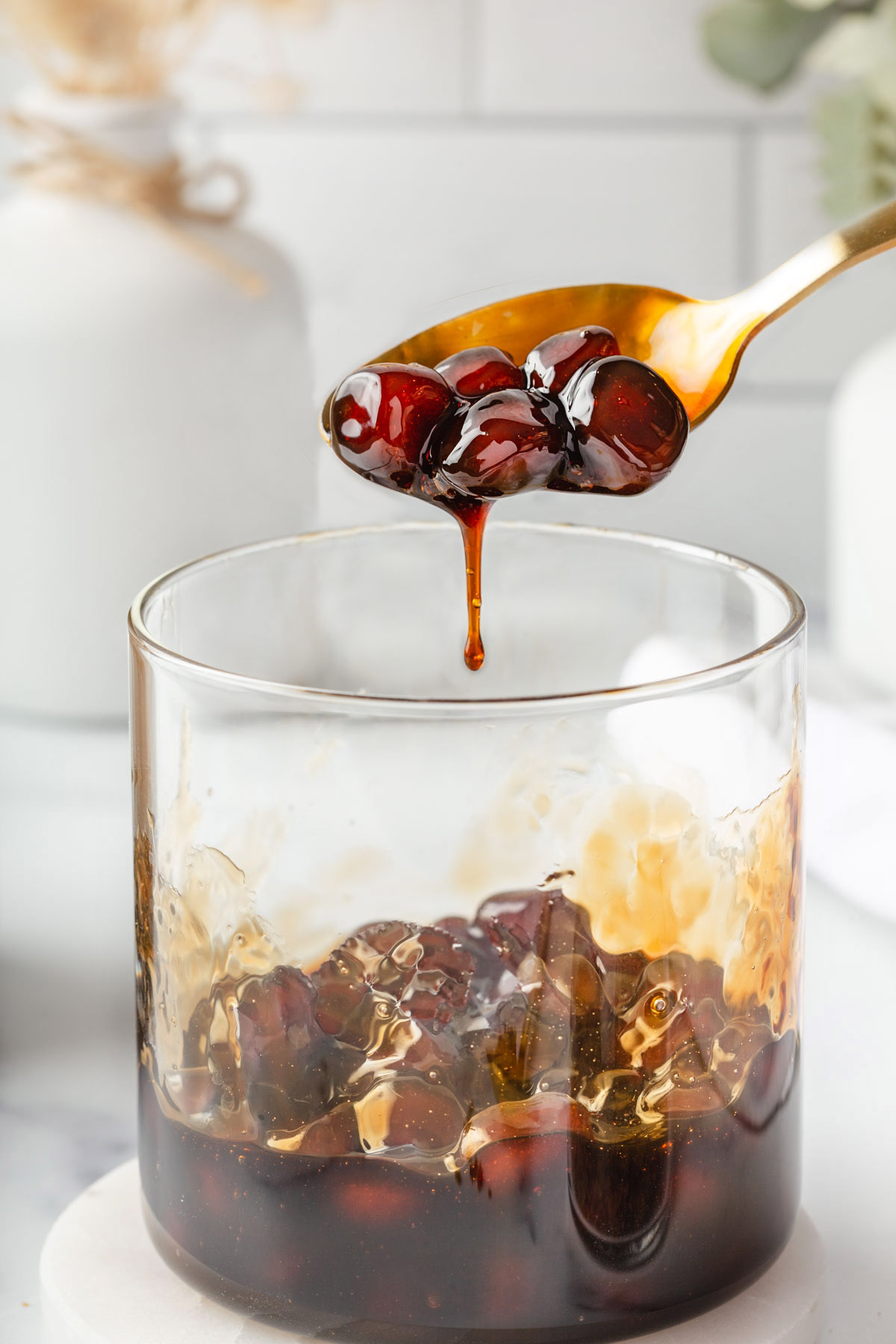 Ingredients for This Recipe
This recipe only requires 3 ingredients—tapioca starch, sugar and water all of which you can find at your local grocery store or online.
Tapioca Starch: tapioca starch is what gives the boba its chewy texture. Tapioca starch is made from the crushed pulp of a cassava root, a woody shrub native to South America and the Caribbean. It is gluten-free, has a neutral flavor, and is primarily used as a thickening agent. There are multiple brands of tapioca starches out there. I use the Erawan brand tapioca starch I bought at the Asian grocery market, but recently I've discovered that Bob's Red Mill's Tapioca Flour is the same as Tapioca Starch. But beware not all brands' Tapioca Flour can be substituted as Tapioca Starch.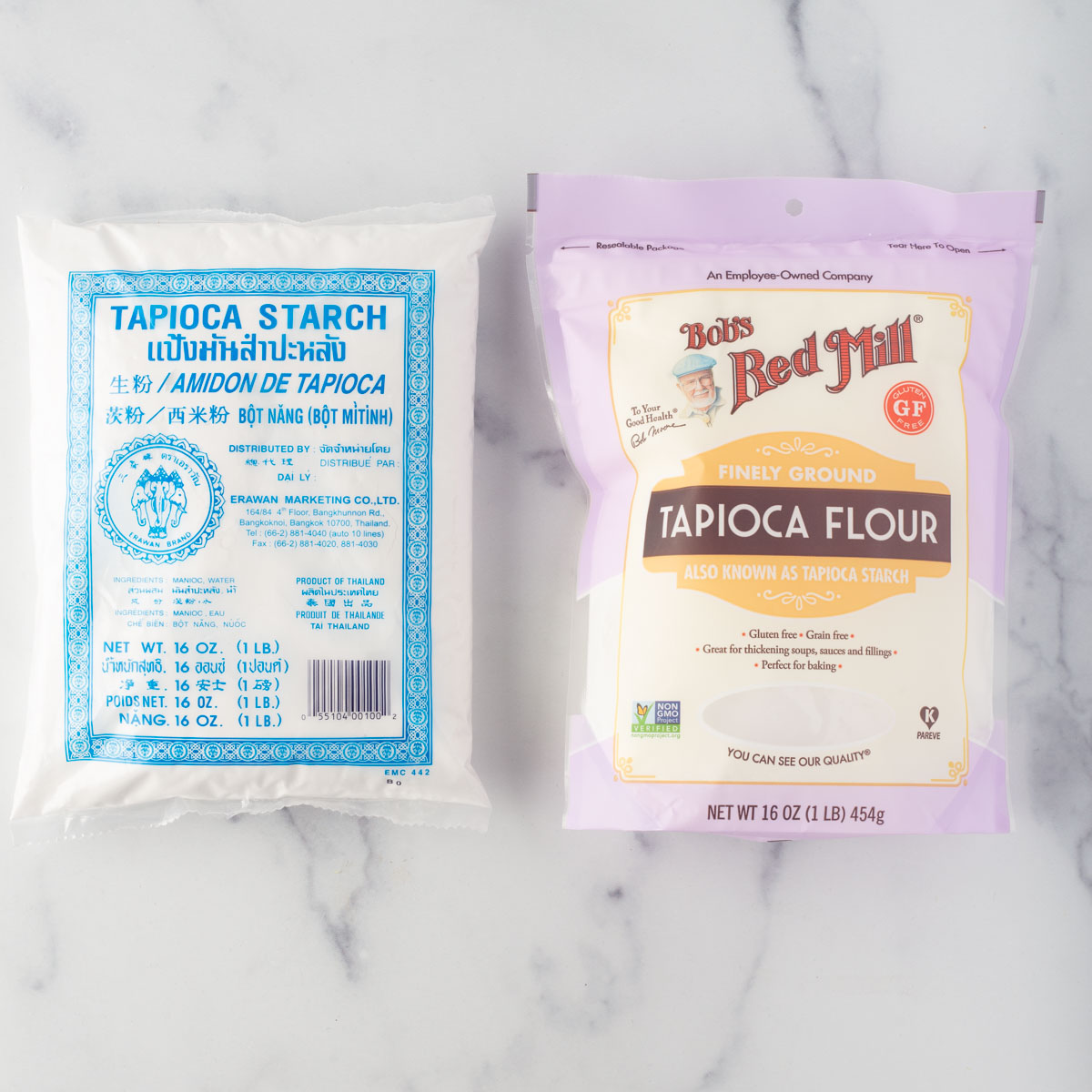 Muscovado sugar or dark brown sugar: the sugar adds a deep brown color to the tapioca pearls. You can find muscovado sugar online here or at your nearest Wholefoods.
Water: the water combines the tapioca starch and sugar together forming the dough.
What is the difference between Muscovado Sugar and Brown Sugar?
Brown sugar is refined white sugar with molasses added back to it. Whereas, muscovado sugar is less refined, so it retains more of its molasses component. The darker the sugar, the more molasses it contains. The main difference between the two is taste. Muscovado contains a deeper complexity of flavors, specifically with more pronounced caramel and toffee notes. When you are creating a recipe with only three ingredients and the sugar is the star, it's crucial that you use the best flavored and quality ingredients out there.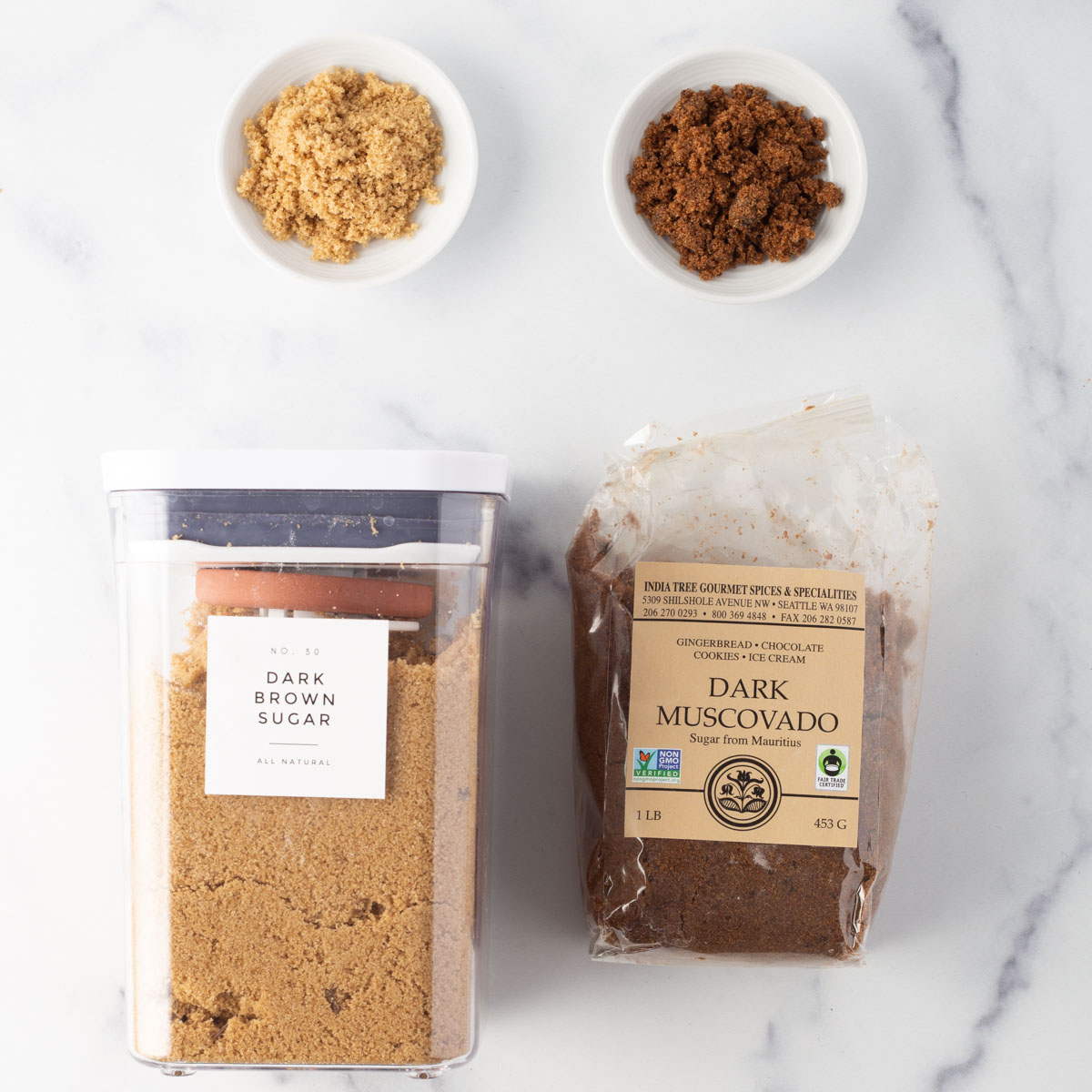 How to Make This Recipe
1. Make the dough: In a mixing bowl, sift the tapioca starch and make sure no large lumps remain.
2. Pour the water and sugar into a small pot or saucepan and mix to dissolve the sugar.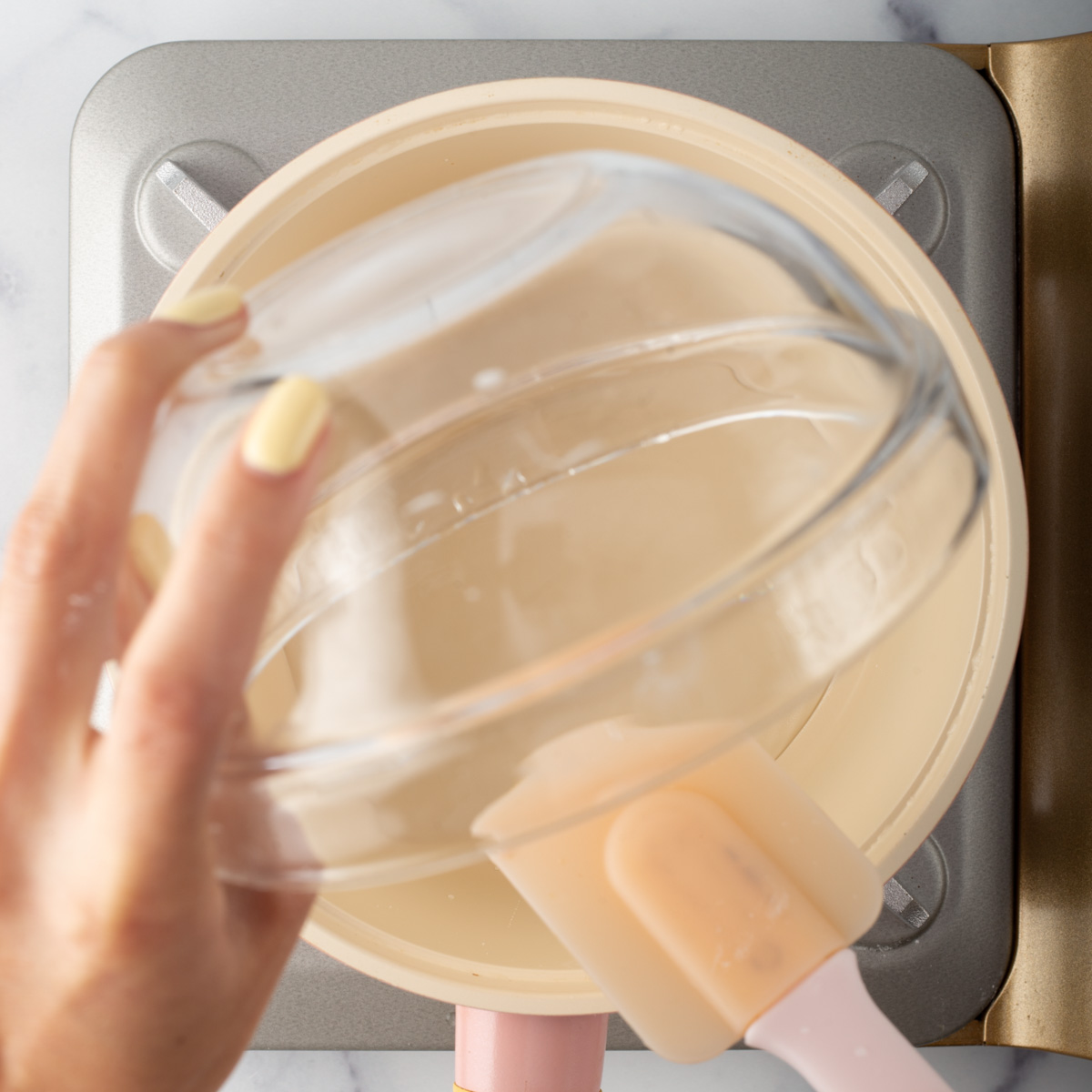 Then turn on the stove to medium heat and bring it to a boil and cover with a lid to prevent the moisture from leaving. The second it begins to boil, turn the heat to low and carefully pour the tapioca starch into the pot.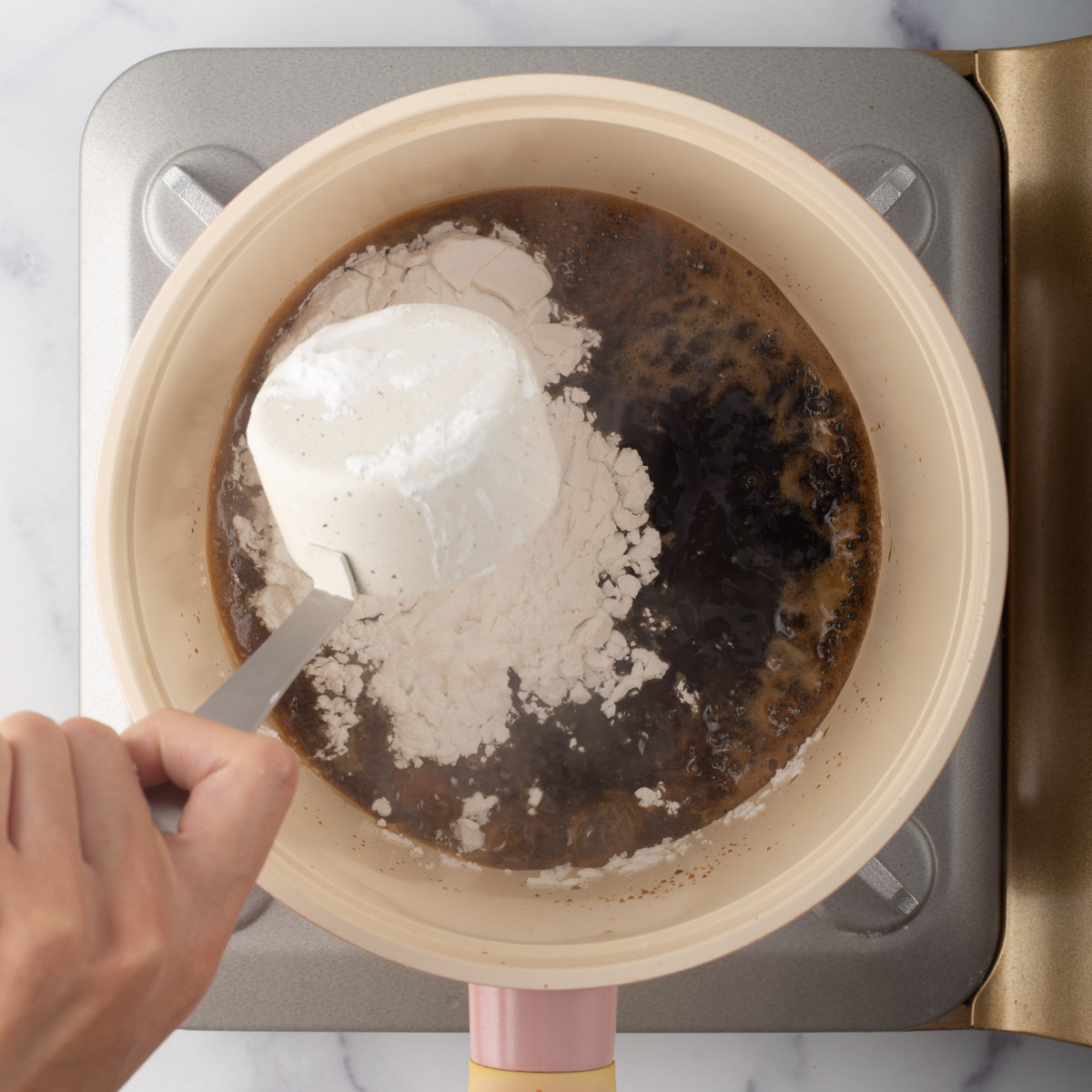 Using a firm spatula, immediately stir the pot until everything is evenly mixed and a sticky brown dough forms about 5-7 seconds.
3. Once incorporated, turn off the heat and add the remaining tapioca starch and mix quickly until incorporated. Take out the dough and knead the dough on a tapioca flour-dusted surface. It may be crumbly at first but as you knead the dough it will form together. Speed is your friend here.
I. Option 1: Form the pearls using a wire cooling rack
I have included two different options in this recipe on how to shape the pearls efficiently. Personally, I love using the wire cooling rack method because it saves so much time.
4. Form the dough into pearls. Roll out the dough into a 1 cm thick disc.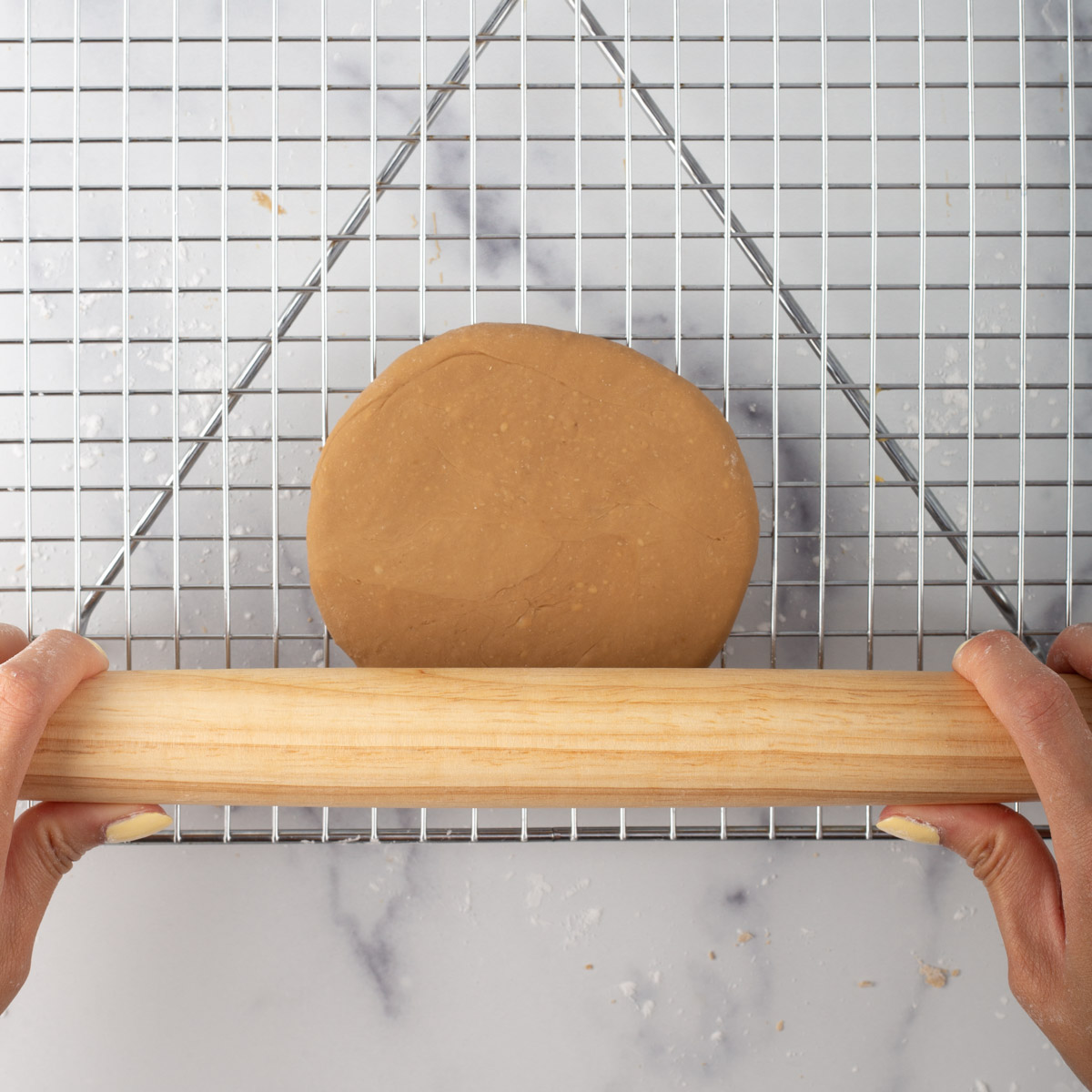 Then using a grid wire rack take a rolling pin and roll the dough on the grid, smushing the dough through the rack forming small squares.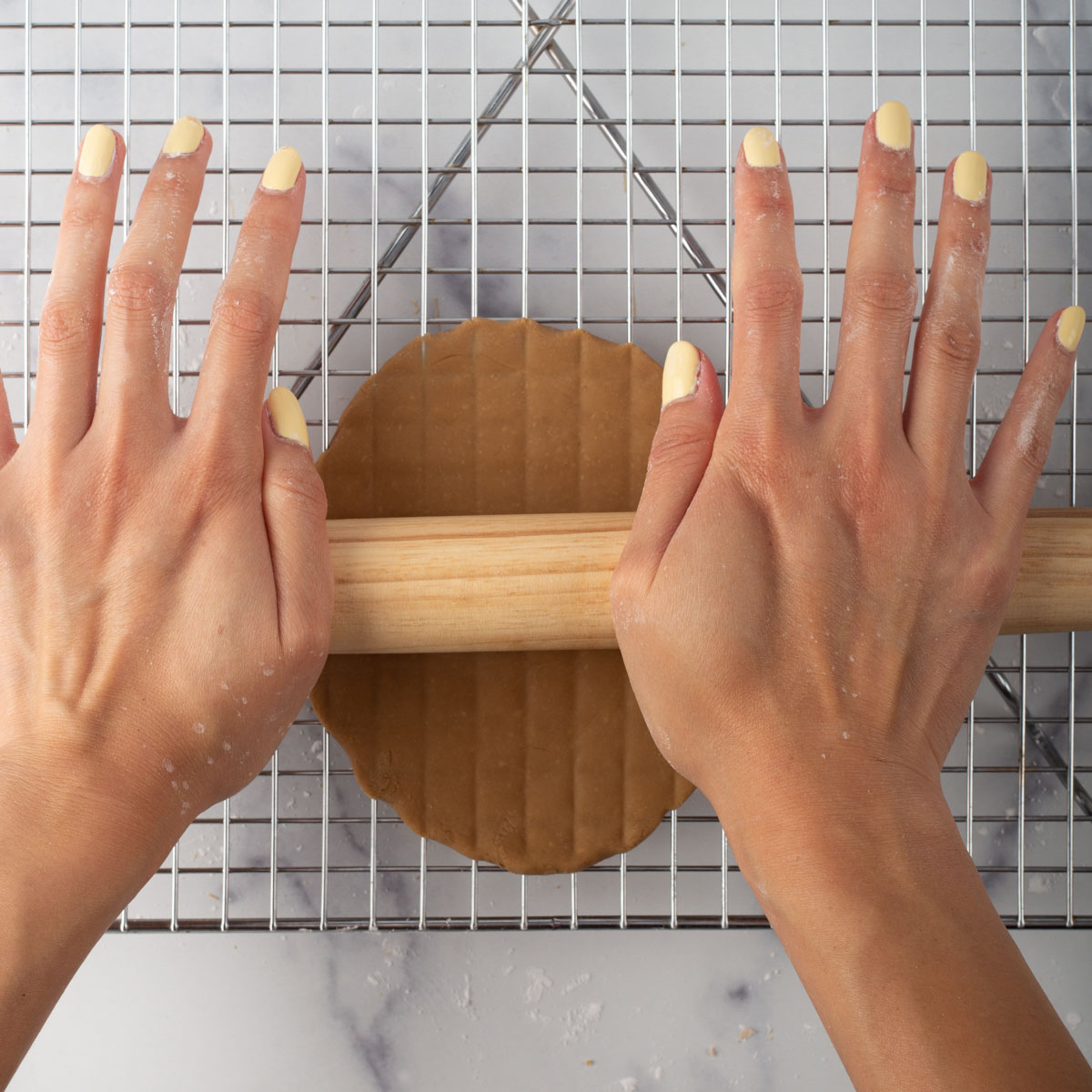 Use your fingers to push through any remaining dough.
Then roll the pearls into circles and coat them with tapioca starch to prevent them from sticking.
II. Option 2: Form the pearls individually
4. Form the dough into pearls. Scrape the dough out onto a clean work surface, and split it into three equal portions. The dough will be a little sticky to start with but should get easier to handle as it cools slightly. (If it's still super sticky, knead in 1 tablespoon of more tapioca starch.) Take one of the doughs, and cover the rest with plastic wrap to prevent them from drying. Then, roll out the piece you have into a long rope, roughly ¼-inch thick.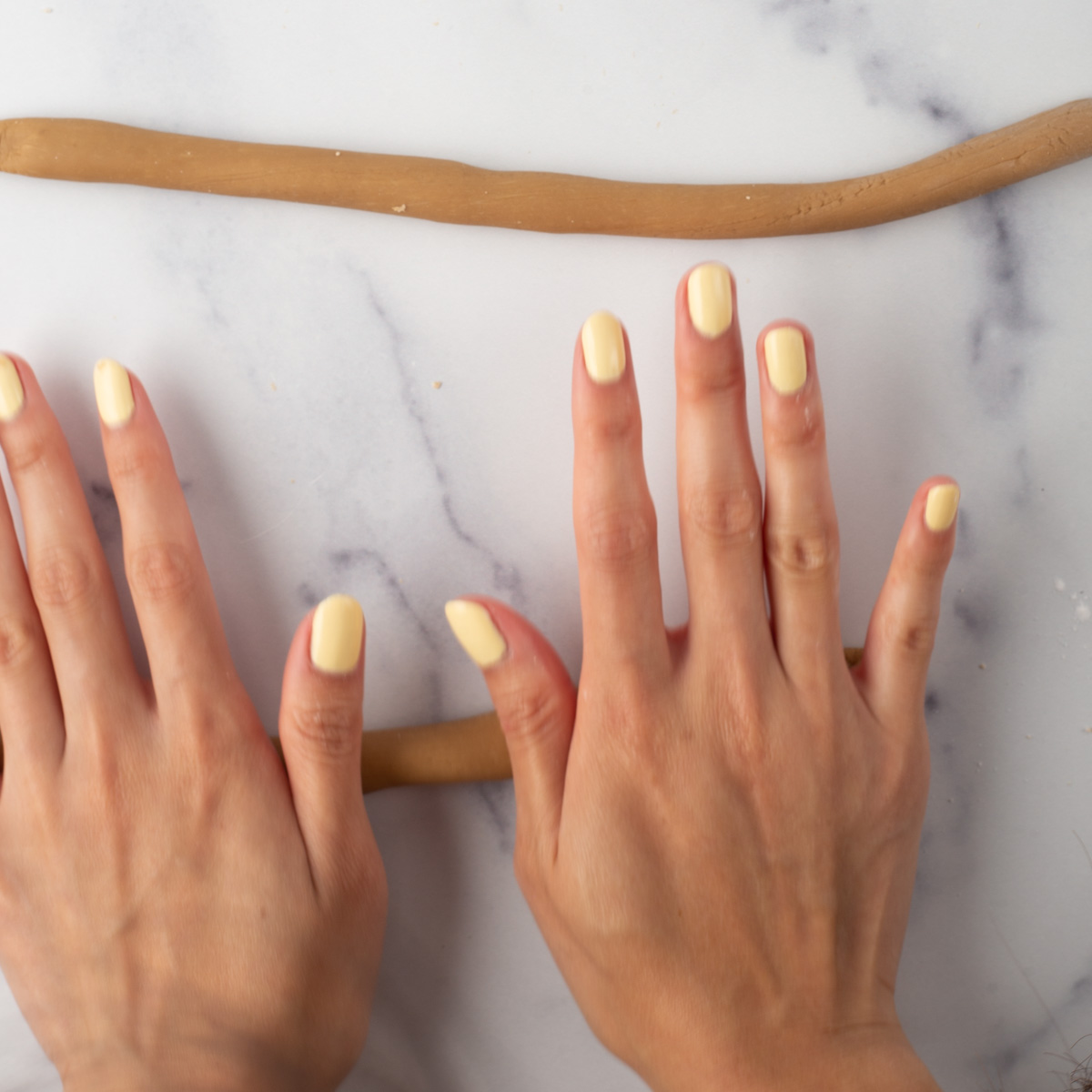 Using a bench scraper, cut the rope into ¼-inch pieces.
Roll each piece of dough with the palms of your hands and shape it into mini spheres.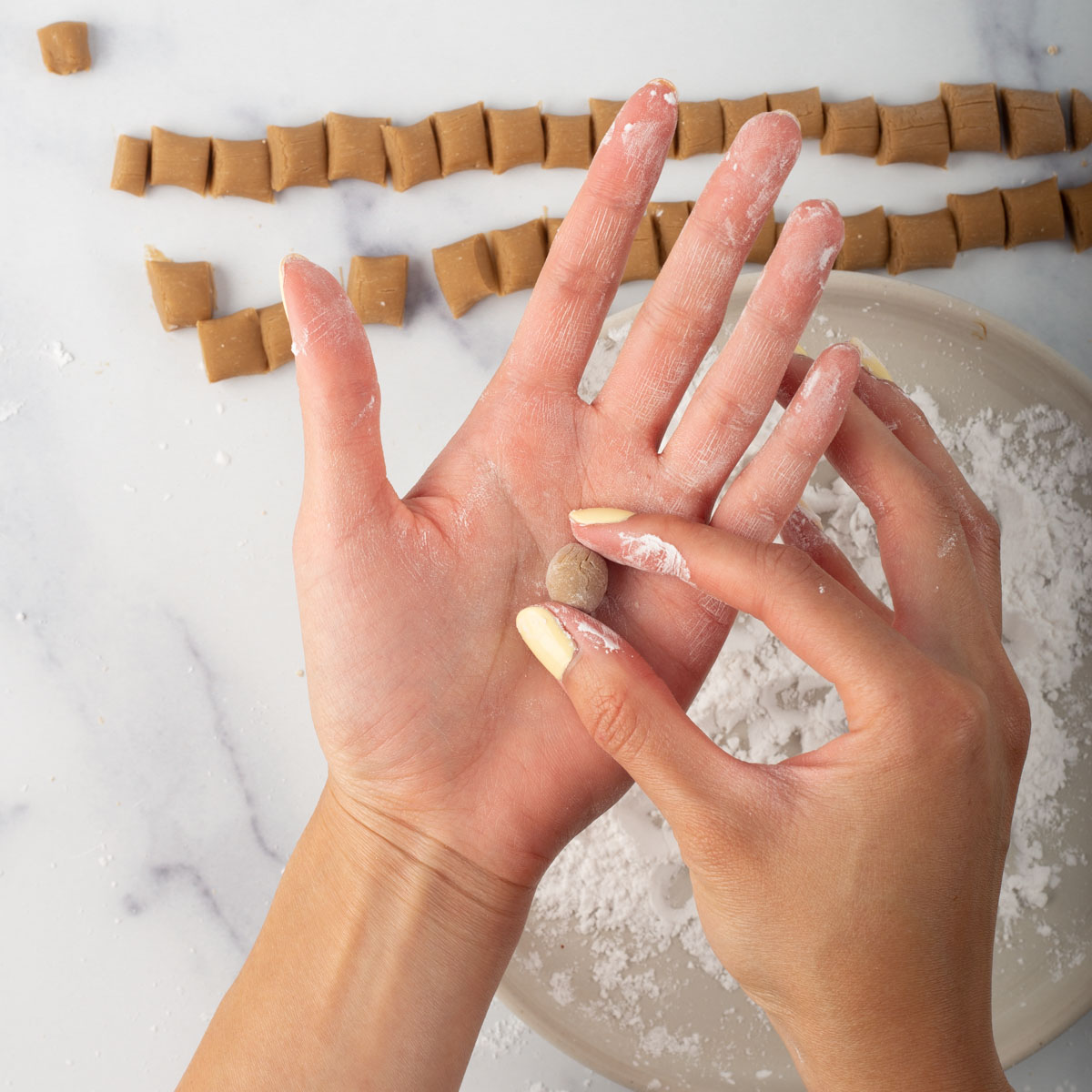 After you roll each ball, coat them with tapioca starch to prevent them from sticking.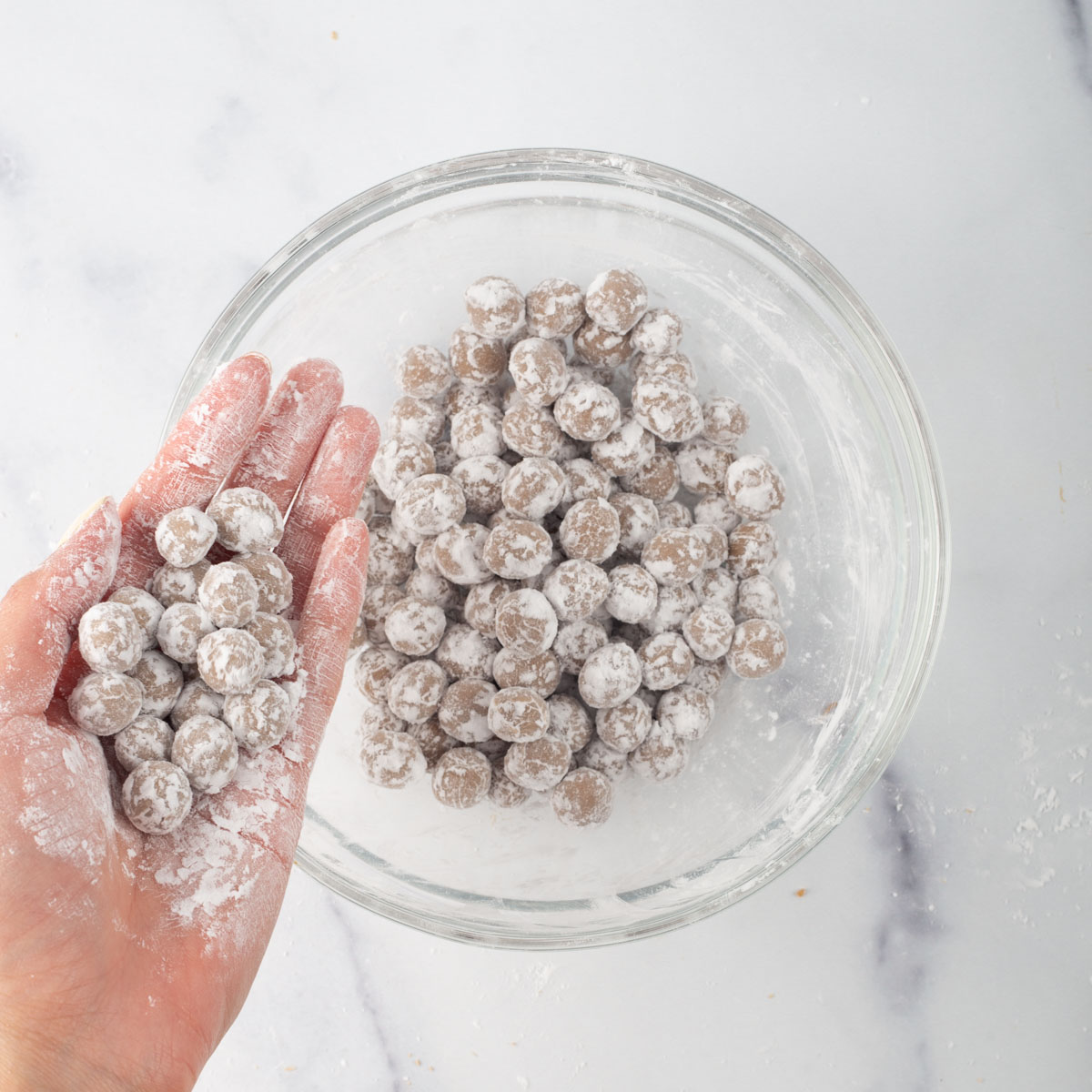 Repeat until you've rolled out all the dough.
5. Cooking the boba: Bring a large pot of water to a boil. Add in the tapioca pearls, and keep the water on a rolling boil for 20-25 minutes until the boba is cooked through. Stir quickly, in the beginning, to prevent the pearls from sticking until they begin to float then you only need to stir the pot once every few minutes.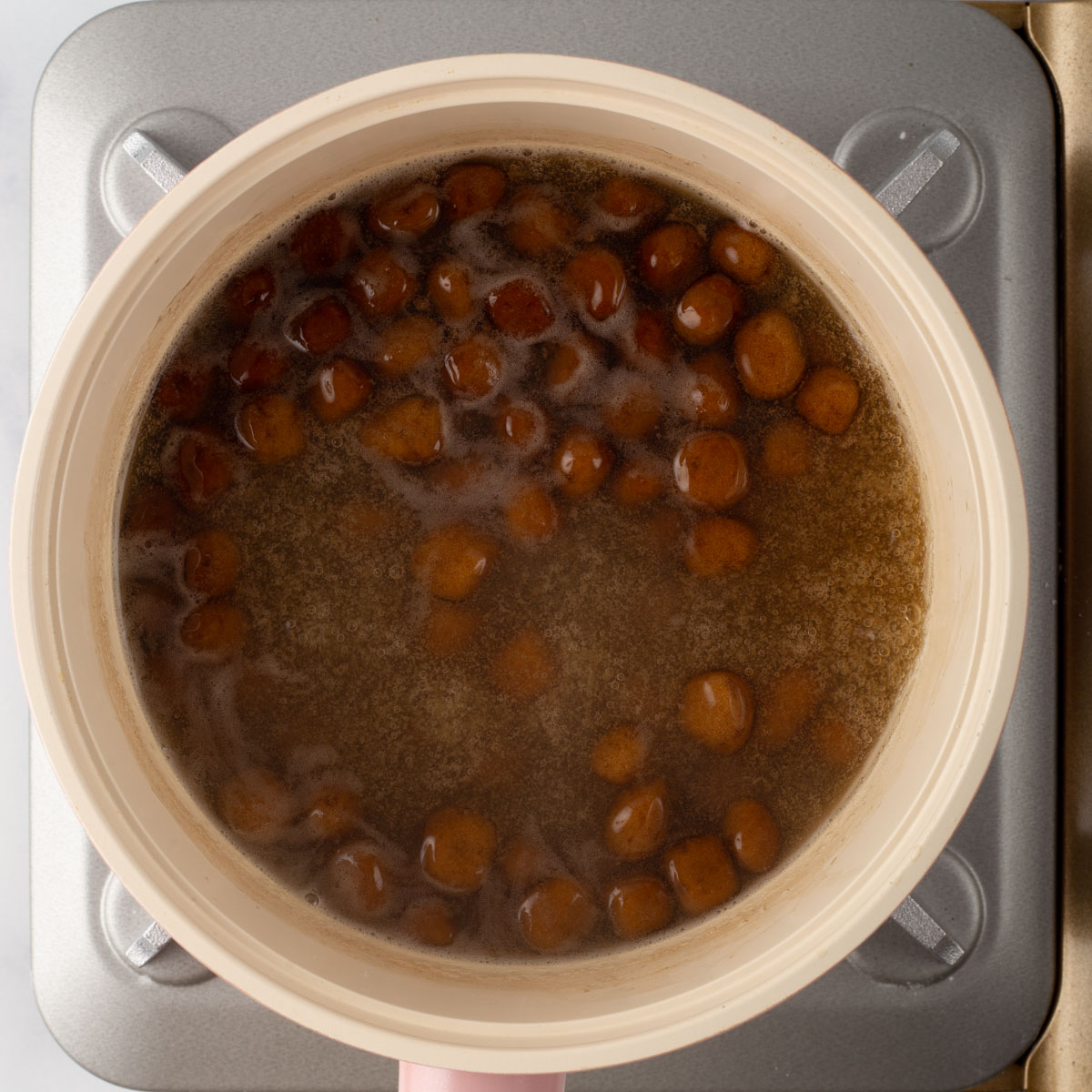 Once the pearls are cooked, drain the water and transfer them into a bowl of ice water to stop the cooking process and firm up slightly.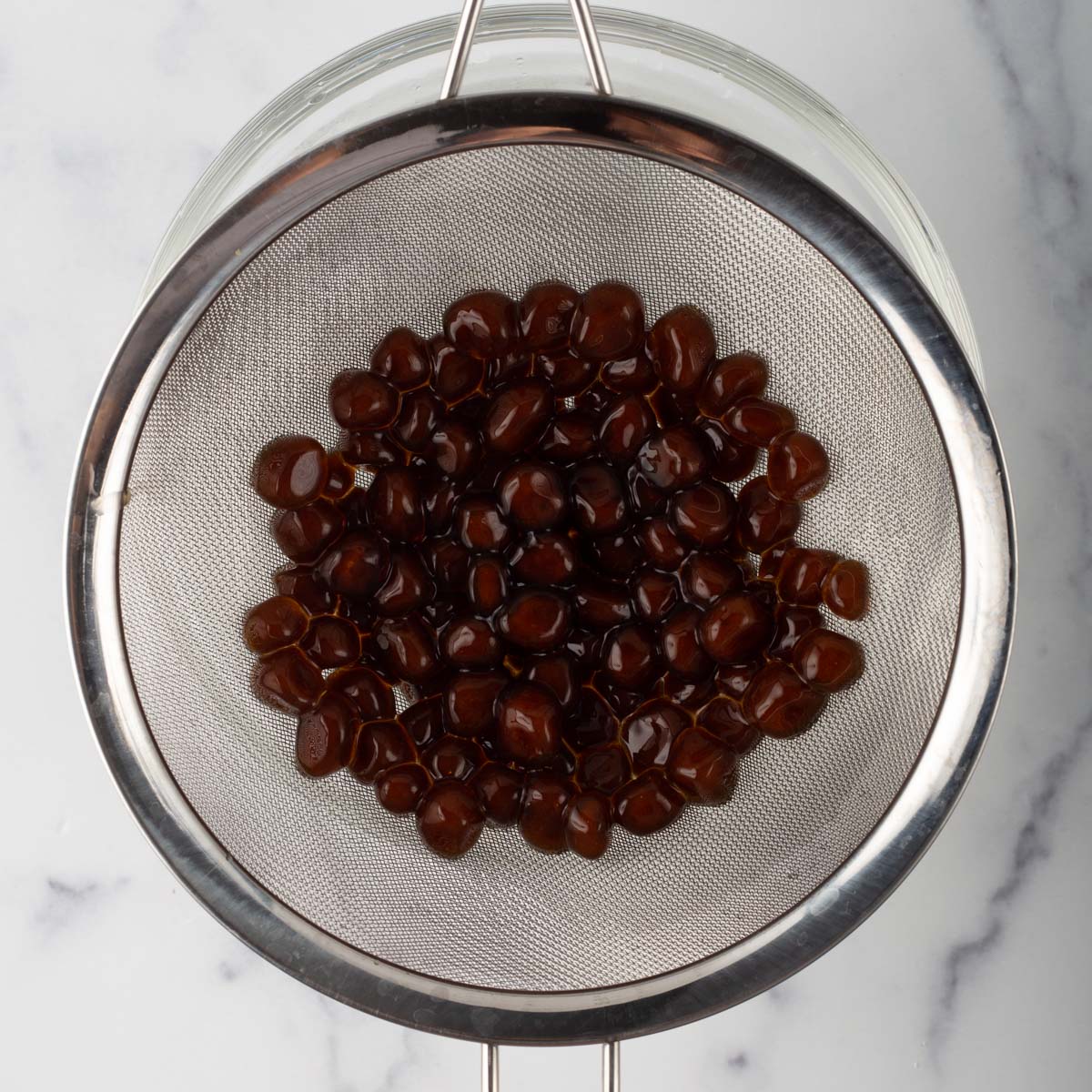 6. Caramelizing the boba: To make the caramelizing syrup, mix the water and muscovado sugar in a small pot, and bring to a boil.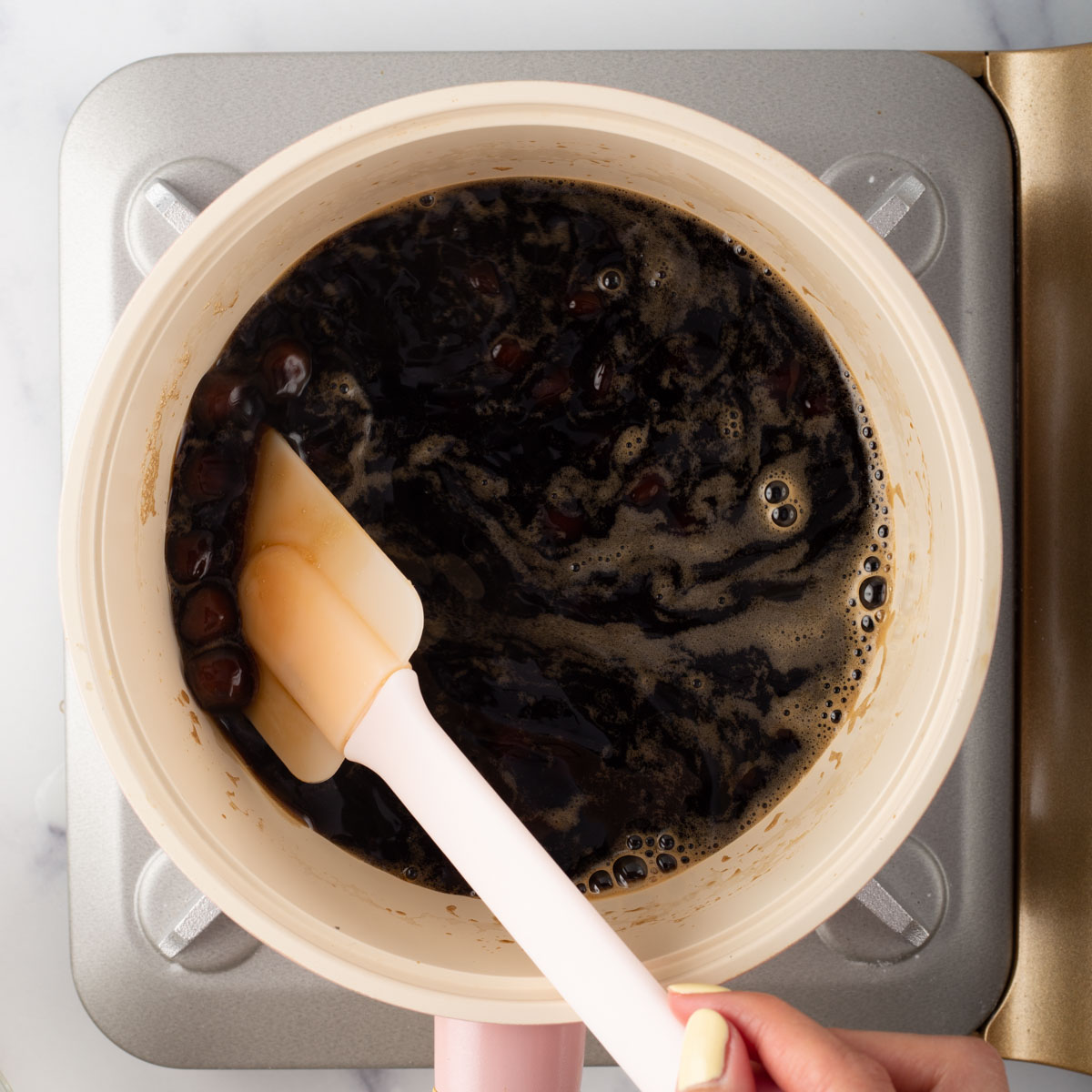 Add in the chilled tapioca pearls, and simmer the boba for 20 minutes until thick and syrupy.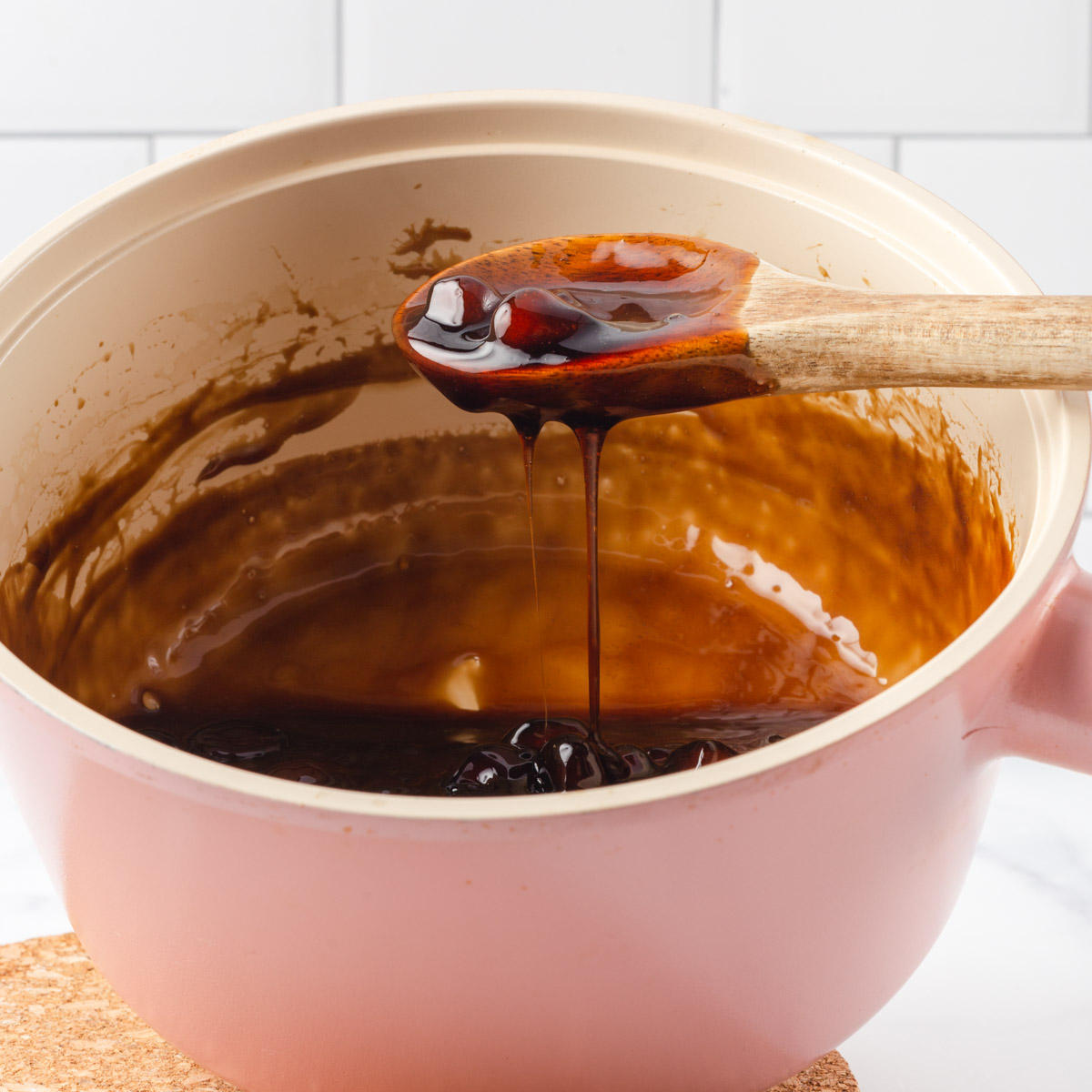 7. Serve with your favorite tea or dessert!
Tips for This Recipe
Work quickly! Once you melt the sugar into the water and incorporate ⅓ of the tapioca powder and form a paste it is crucial that you knead the rest of the tapioca flour in quickly before the dough hardens when it cools.
If the dough gets dry or crumbly, moisten your hands with water to rehydrate the dough. Keep a bowl of water handy for lightly moistening your hands while you roll out the boba.
For quickest results, use a grid wire cooling rack. This allows you to form the perfect-sized boba pearls instantaneously without having to cut and roll out each pearl. This is the wire rack I use.
Ask a friend for help. For this recipe, speed is your friend so the more hands the better.
Use muscovado sugar. Since this recipe calls for only 3 ingredients, the best flavor will come from the best ingredients. Muscovado sugar has a deeper and richer flavor profile than dark brown sugar and you will be able to taste the difference.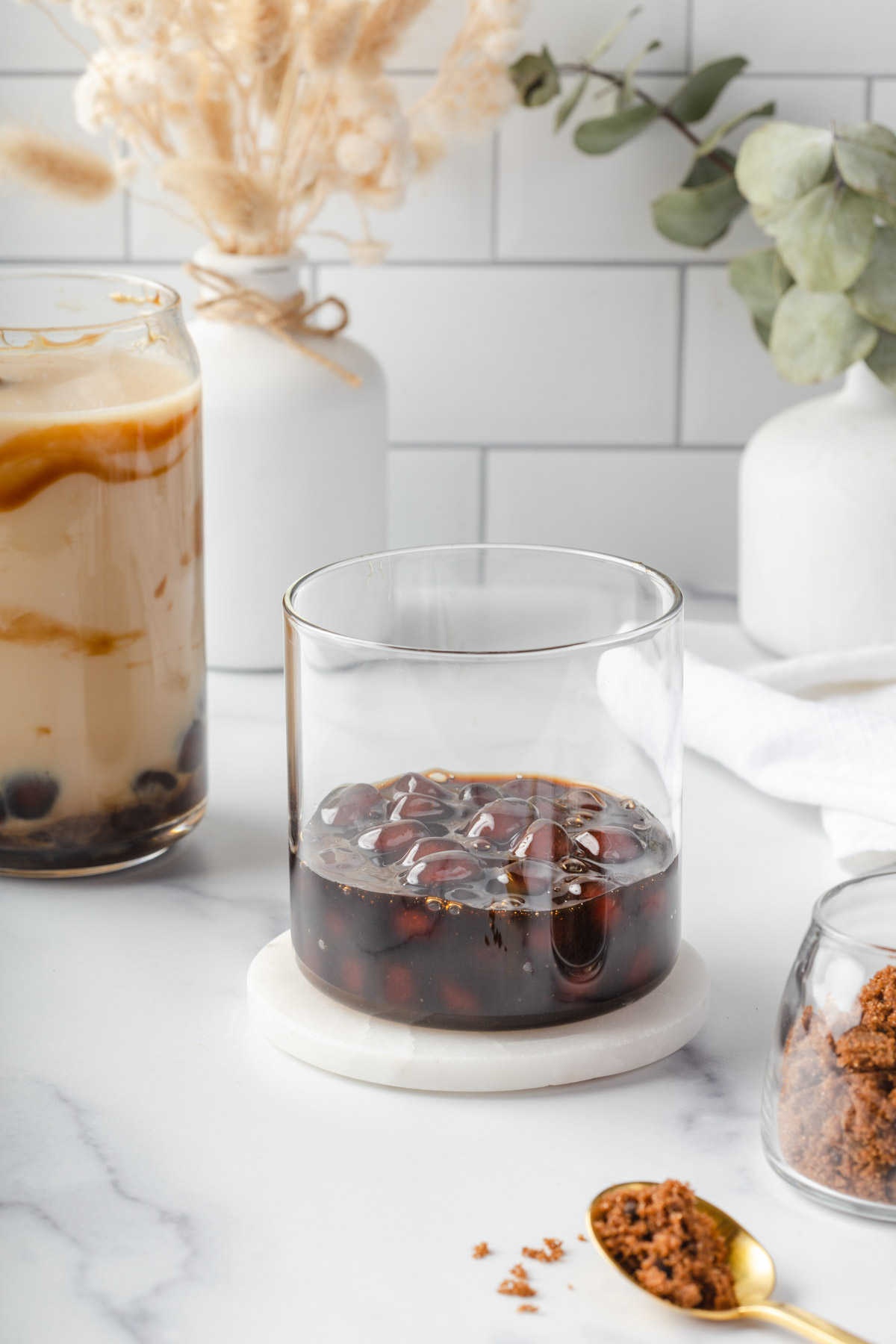 Storage Instructions
These homemade boba pearls are best served immediately. But, you can package the uncooked homemade boba pearls in air-tight vacuum-sealed bags and freeze them.
How to serve warm brown sugar boba?
Serve this homemade boba with your favorite tea drink of course! Take a look at some of our favorites.