Looking to take your grilling to the NEXT LEVEL? These Japanese hot dogs are drizzled with teriyaki sauce and wasabi mayo then topped with seaweed, scallions, and bonito flakes. Plus, these hot dogs can be whipped up in under 20 minutes!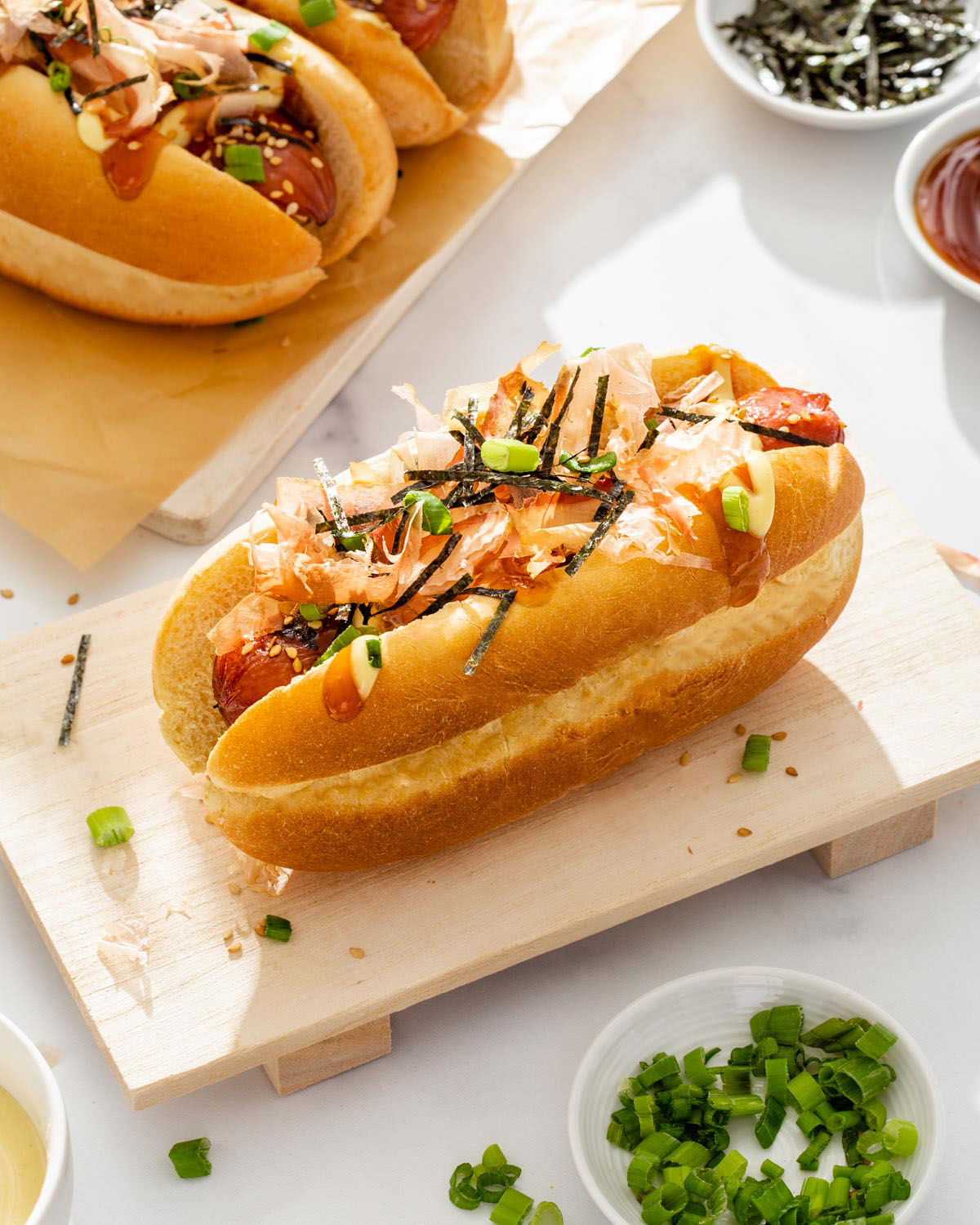 Take your ordinary basic American hot dog and dial it up a notch with these delicious Japanese-inspired sauces and toppings. These hot dogs have everything you could ever ask for in a backyard bbq treat. Take one bite you will taste sweet, salty, spicy, and so much deliciousness. Pair this with your favorite matcha latte (matcha dalgona, strawberry matcha boba latte, mango matcha boba latte) and you have got yourself a well-balanced meal!
When it comes to the summer months my ALL time favorite thing to grill is always hot dogs. I don't usually eat hot dogs at any other time of the year, so when it's grilling season I go all out on my hot dogs. These Japanese-style hot dogs are so simple to whip up and are bursting with delicious flavors that will send your tastebuds to the sky like the fireworks on the 4th of July.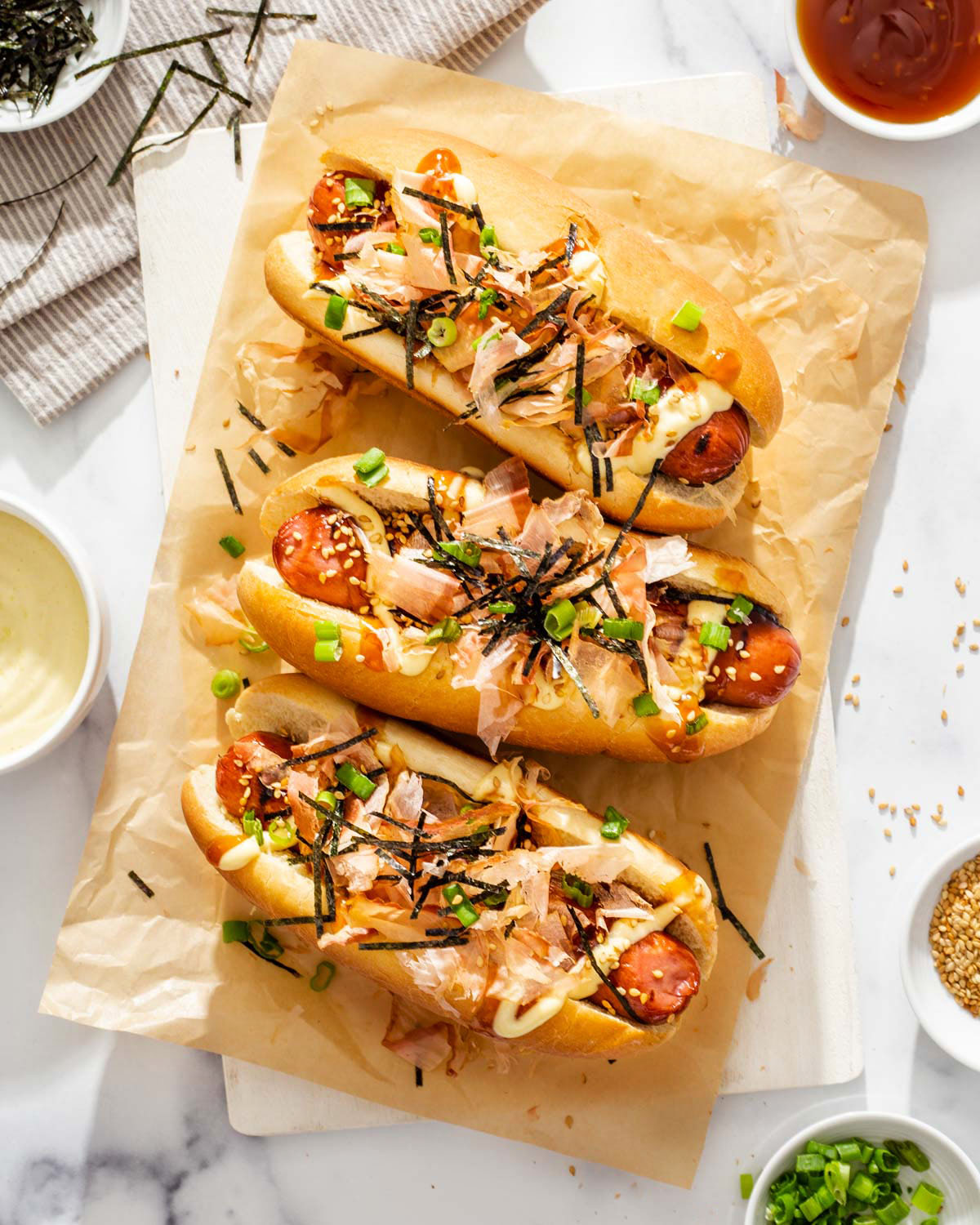 Ingredients For This Recipe
You can find most of these ingredients for these Japanese hot dogs at your local Japanese grocery market or online on Amazon.
Teriyaki Sauce
Soy Sauce: since the majority of the flavor in teriyaki sauce stems from the soy sauce it is important to use a high-quality soy sauce that only uses natural fermentation or "naturally brewed." For this recipe, I used Koikuchi soy sauce. It is the most common Japanese soy sauce and is made from wheat and soybean. You can buy

Koikuchi soy sauce online

, at a Japanese grocery store, or at your local Asian grocery store.
Mirin: is a type of rice wine that is a popular ingredient in Japanese cooking. It is similar to sake but has a lower alcohol content and a higher sugar content. You can find

mirin online

or at your local Asian grocery store in the sauce aisle.
Sake: try to find cooking sake. See the photo for the brand I opted for. Cooking sake provides a more mild flavor that doesn't overpower the sauce. You can find sake at your local grocery store or Japanese grocery store.
Granulated Sugar: the sugar is used to cut through the saltiness from the soy sauce.
Garlic: the freshly minced garlic is optional but adds a delicious depth of flavor to the teriyaki sauce.
Ginger: the freshly grated ginger is optional but I like to add the ginger to cut through the saltiness of the soy sauce.
Cornstarch: cornstarch is used to thicken the teriyaki sauce.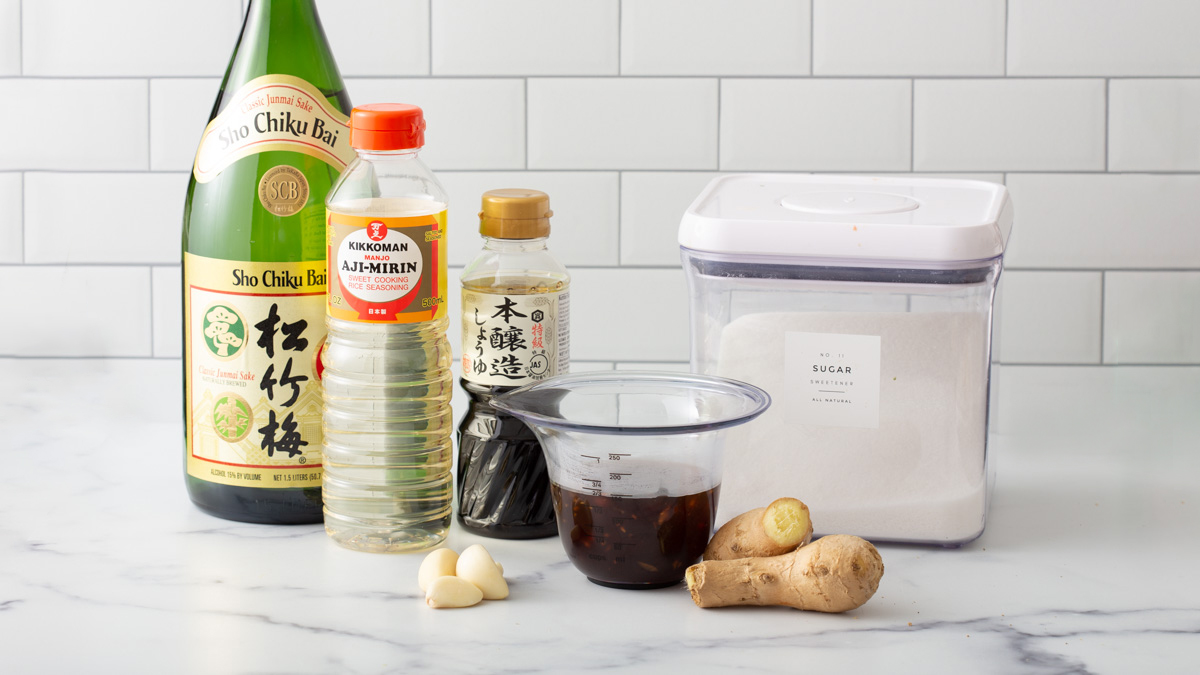 Wasabi Mayonnaise
Kewpie Mayonnaise: Kewpie mayonnaise is Japanese mayonnaise. It is made with egg yolks rather than whole eggs in regular American mayo. It has a unique blend of vinegar and has an umami flavor that is so delicious. You can find Kewpie mayonnaise online or at your local Asian grocery store.
Wasabi Powder or paste: you can use either wasabi powder or wasabi paste. If using wasabi powder make sure to mix the powder with water first to form it into a paste before mixing it in with the mayonnaise. You can find

wasabi powder

or

wasabi paste

online or at your local Asian grocery market.
Ground Ginger: the ground ginger adds a richer flavor profile to the mayo.
Lemon Juice: The lemon juice brightens up the flavor of the mayo.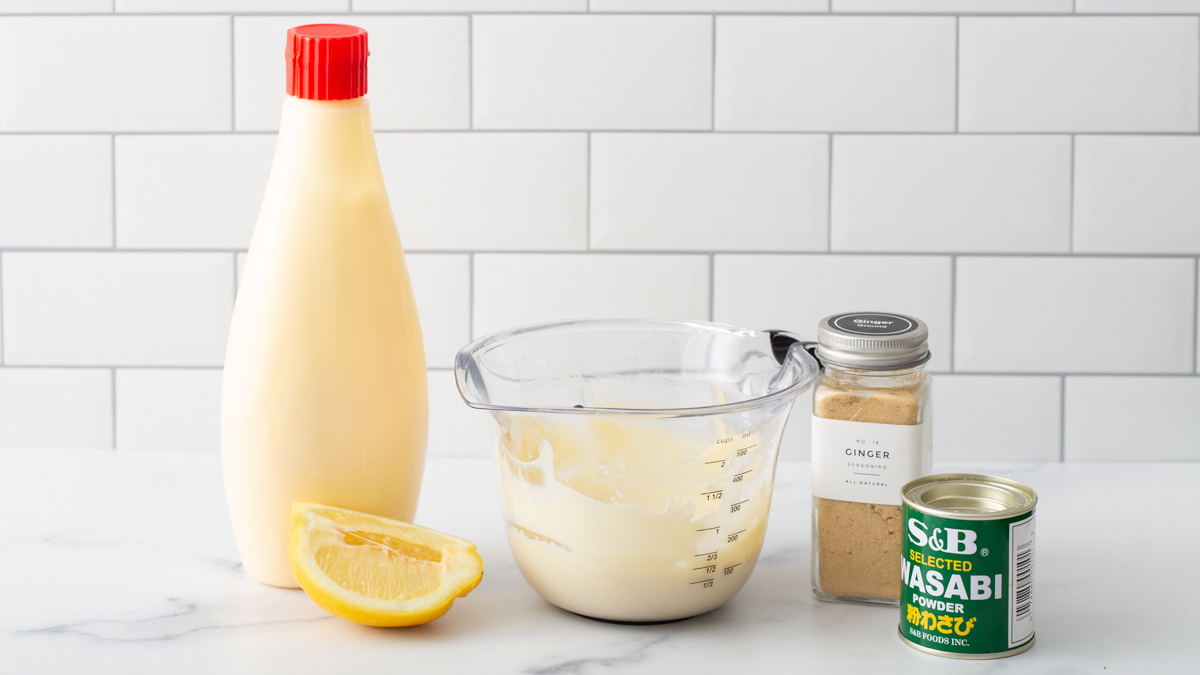 Hotdog and Garnishes
Seaweed flakes: provide a little salty texture on top of the hot dog. You can find seaweed flakes at Trader Joe's or your local Japanese supermarket.
Bonito flakes: or Katsuoobushi are shaved pieces of dried fermented tuna. You can find

bonito flakes

online or at your local Japanese supermarket.
Green onions: act as a garnish.
Toasted Sesame seeds: act as a garnish.
Hot Dogs: be sure to buy your favorite brand of quality hot dogs. We used polish dogs for this dish and we absolutely loved it. Polish dogs have a little bit more garlic in them which is probably why we favor them over traditional hotdogs. Choosing your favorite hot dog is vital for the recipe to taste delicious!
Buns: make sure that the buns you choose are long enough for the hot dogs.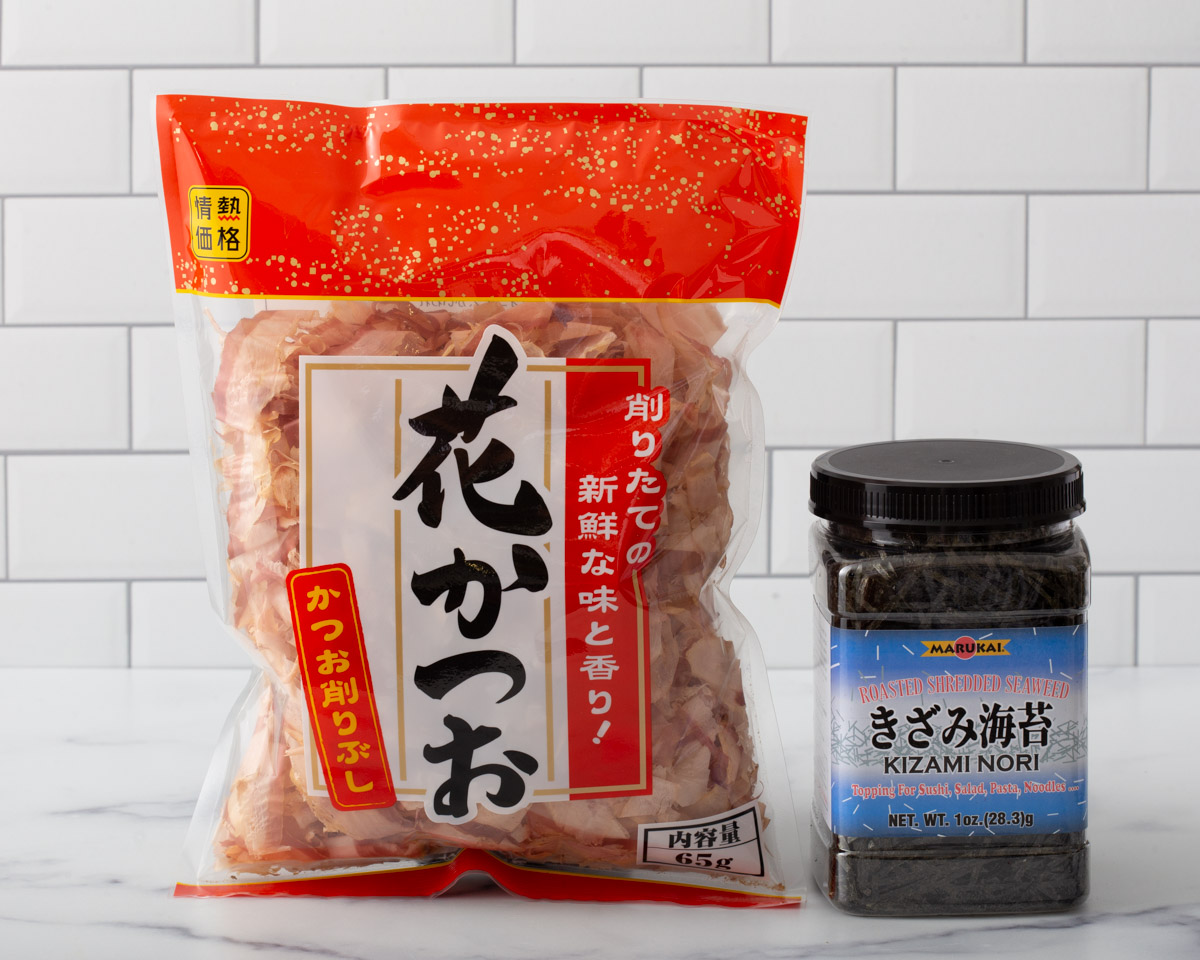 How to Make This Recipe
These Japanese hot dogs are extremely easy and delicious it is 100% worth it every time. All you will need to do is 1) make the teriyaki sauce, 2) mix together the wasabi mayo, and 3) heat the hotdogs and buns and serve!
Teriyaki Sauce
Simmer the ingredients. Mix together the soy sauce, mirin, sake, sugar, garlic, ginger together in a small saucepan and cook over medium-high heat until it simmers.
Pour in the cornstarch slurry. Mix together the cornstarch and water in a small bowl to remove all clumps. Pour the cornstarch slurry into the simmering saucepan and simmer for about 3 minutes until thickened. Remove from heat and pour into a sauce bottle. Set aside.
Wasabi Mayo
In a medium-sized mixing bowl, mix together the kewpie mayonnaise, wasabi paste, ground ginger, and lemon juice until thoroughly combined. Pour into a sauce bottle. Set aside.
Hotdogs and Buns
Grill the hotdogs. Heat up the grill on medium high heat, place the hotdogs on the grill and cook for about 7-10 minutes flipping half-way.
Toast the buns. Toast the buns in the oven or on the grill until slightly crispy.
Serve. Place the hotdogs in the buns, layer on the teriyaki sauce, wasabi mayo and top with bonito flakes, shredded seaweed, sesame seeds and green onion. Enjoy!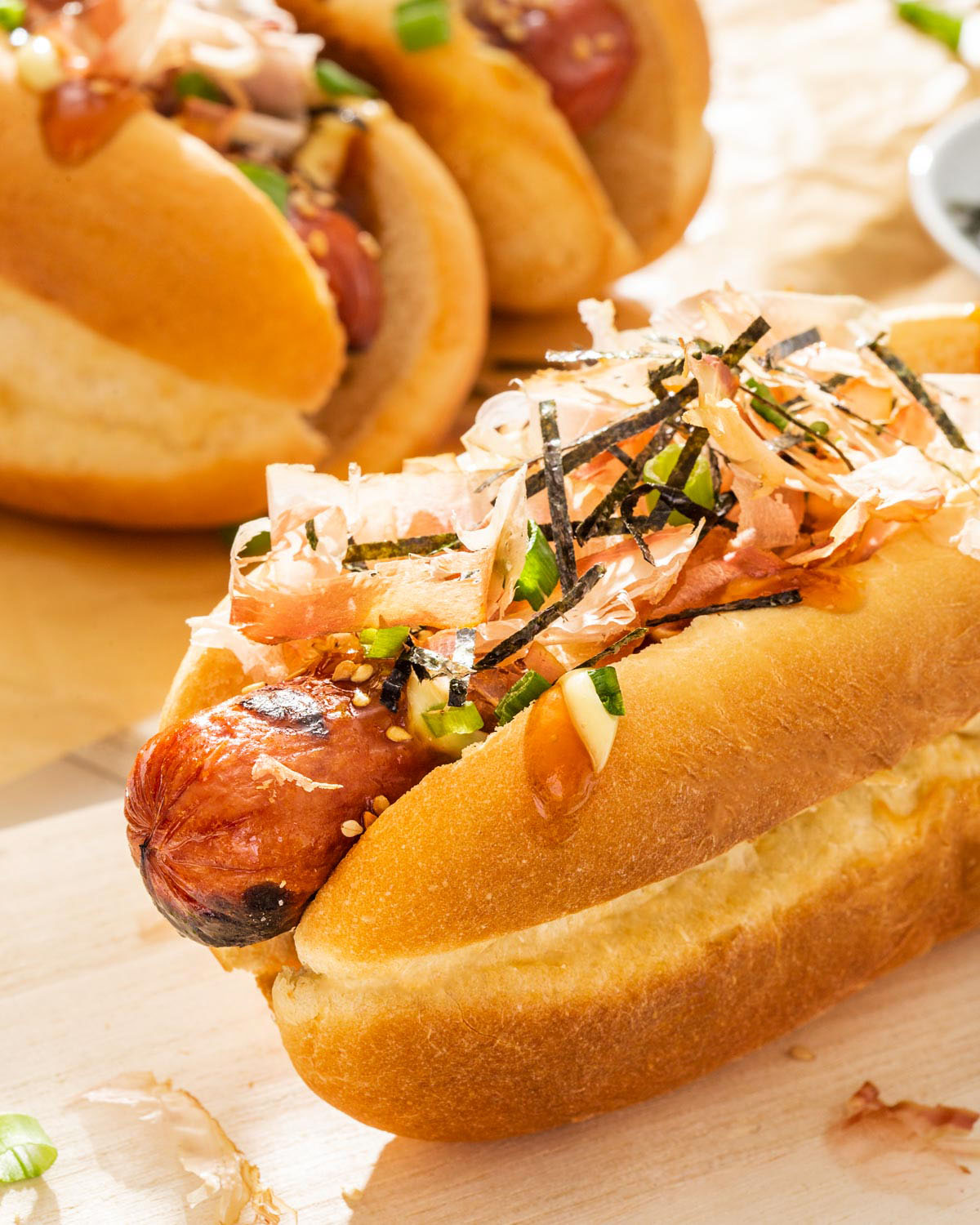 Tips For This Recipe
Make the cornstarch slurry before adding it to your teriyaki sauce. Mixing the cornstarch in water beforehand will prevent the headache of trying to de-clump the cornstarch in your teriyaki sauce. The cornstarch is necessary to thicken up your teriyaki sauce so that it is not too runny when you drizzle it onto the hotdog.
Be careful not to overcook your teriyaki sauce. Cooking down the teriyaki sauce thickens the sauce but it also heats off the water and will reduce into a saltier sauce if you cook it down for too long. Immediately remove from heat when the sauce thickens.
You can alter the amount of wasabi based on preference. Since I am a bit of a spice wimp, I tend to go on the more mild side. If you want to increase the heat, go ahead and add more wasabi!
Preheat your grill. This is an important step to clean off the grill using heat. Moreover, placing the hotdogs on a hot grill will provide those gorgeous grill marks we all love and deserve on your hot dogs.
Storage Instructions
You can store the individual ingredients for these Japanese hot dogs separately in an airtight container in the refrigerator for up to 1 week. To re-heat the hot dogs, you can either place them in the microwave or heat them up in the oven.
You May Also Love...