Here are two different yet equally delicious ways to make the viral Tiktok trend dalgona matcha. This fluffy cloud matcha latte will instantly upgrade your daily morning routine.
If you really are what you eat then I should be 50% matcha by now. I love including matcha in my drinks, cakes, ice cream, bread, and anything else I can think of. Since I saw how aesthetic the coffee dalgona was, I had to find a way to incorporate matcha into this drink. Both methods use under 5 ingredients which means you don't really have an excuse not to make this.
What is the Dalgona trend?
Dalgona coffee became a viral trend that originated in South Korea during COVID quarantine. It comprises of equal proportions of instant coffee powder, sugar, and hot water until it becomes creamy. It has also been coined "the quarantine drink."
Dalgona matcha is a whipped matcha cream that gracefully floats on top of your favorite milk of choice. It derives from the Tiktok dalgona coffee sensation that has been remade all over the internet. This matcha version in my opinion is even better.
What are the two ways to make Dalgona Matcha?
When I researched dalgona matcha, I discovered 1) the egg white method and 2) the heavy cream method. I know that some people are not entirely comfortable consuming raw eggs (aka my father) so I decided to add in the heavy cream method too. Ultimately, the choice for which route to travel down will remain entirely up to you. But don't worry there is no wrong answer in this case. Both methods are equally delicious and you will 100% get your matcha fix.
Ingredients for Egg White Method
Egg whites: the egg whites create that beautiful frothy whipped matcha texture. When whipped with sugar they create a fluffy meringue that allows it to float on the milk. Make sure to use fresh egg whites and not packaged or processed egg whites.
Granulated Sugar: white granulated sugar is the key ingredient here to make the egg whites frothy. You cannot substitute it with brown sugar or honey it will not react the same as granulated sugar.
Matcha: Matcha is a powdered green tea made of top-quality tea leaves. It provides a deep, earthy green tea flavor. There are three grades of matcha: ceremonial, premium, and culinary. Culinary is generally sufficient but the premium and ceremonial grades will provide a richer green color.
Milk of Choice: Customize your matcha dalgona however you like with your favorite milk.
How to Make the Egg White Method
Make the sugar syrup. Mix the sugar with ¼ cup of hot boiling water until the sugar dissolves. Set aside to cool.
Whip the egg whites. Add the room temperature egg whites to a metal or glass bowl. Using an electric mixer, whisk the eggs at high speed until frothy.
Slowly pour in simple syrup. While whisking the eggs, very slowly pour in the simple syrup little by little. The eggs will turn white and form soft peaks.
Sift in the matcha powder. When the eggs are white and have soft peaks, sift in the matcha and continue whisking until the eggs are glossy and creamy. Careful not to over whisk
Serve. Fill two glasses with ice, your milk of choice, and top with a generous amount of the whipped matcha. Stir and enjoy!
Tips for Egg White Method
Use fresh egg whites. Do not use packaged egg whites.
Use room temperature eggs. Make sure the eggs are at room temperature to be able to make the best meringue.
Don't let yolk into the whites. Adding the yolks in the whites will prevent the eggs from frothing up to get that fluffy texture.
Don't use a plastic bowl. A plastic bowl retains a film of fat from the previously mixed items that will deflate the meringue.
Be careful to not overwhip your eggs. Immediately stop whipping your eggs when the meringue has formed stiff peaks.
Ingredients for Heavy Cream Method
Heavy whipping cream: so basically the only difference in the ingredients is egg whites v. heavy cream. The heavy cream method is synonymous with making a matcha whipped cream. I like using heavy whipping cream as opposed to regular whipping cream because it holds its shape better.
Granulated sugar: the granulated sugar here is not used to froth up the heavy whipping cream. Instead, it is used as a flavor component. You can alternatively use vanilla extract instead.
Matcha
Milk of choice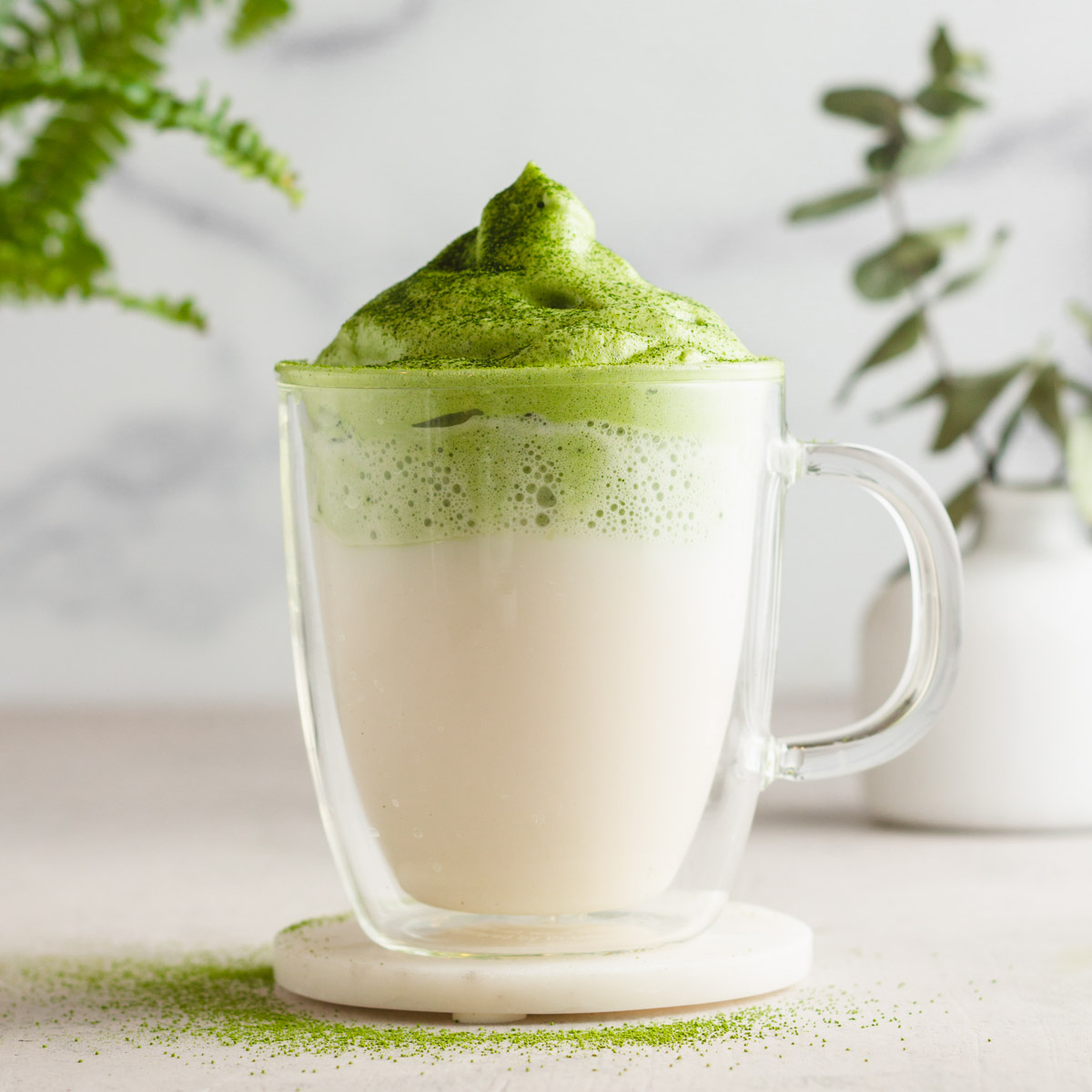 How to Make the Heavy Cream Method
Whip the cold heavy whipping cream. Using an electric mixer, whip the heavy cream on high until frothy.
Add in the sugar. Slowly add in the sugar while the cream is mixing.
Sift in the matcha powder. Sift in the matcha powder and continue mixing until soft peaks. Careful not to over whip the cream because that will cause the cream to curdle and clump.
Serve. Fill two glasses with ice, your milk of choice, and top with a generous amount of the whipped matcha. Stir and enjoy!
Tips for Heavy Cream Method
Use COLD heavy whipping cream. The longer the fridge has been out of the refrigerator the longer it will take to whip the cream.
Chill your bowl in the freezer for 20 min. This helps cool the whipped cream and allows the cream to become fluffy faster.
Use heavy whipping cream. Heavy whipping cream holds its shape longer than regular whipping cream.
Storage Instructions
This must be served immediately. Unfortunately, the whipped matcha cannot be stored because it will deflate over time back to a liquid.
You may also love...
To really treat yourself, add some homemade boba to your latte!