Fresh, fruity, creamy and ultra refreshing perfectly describes this Strawberry Matcha Boba Latte. Strawberries and Matcha are a match made in heaven. Don't believe me? Try it out for yourself.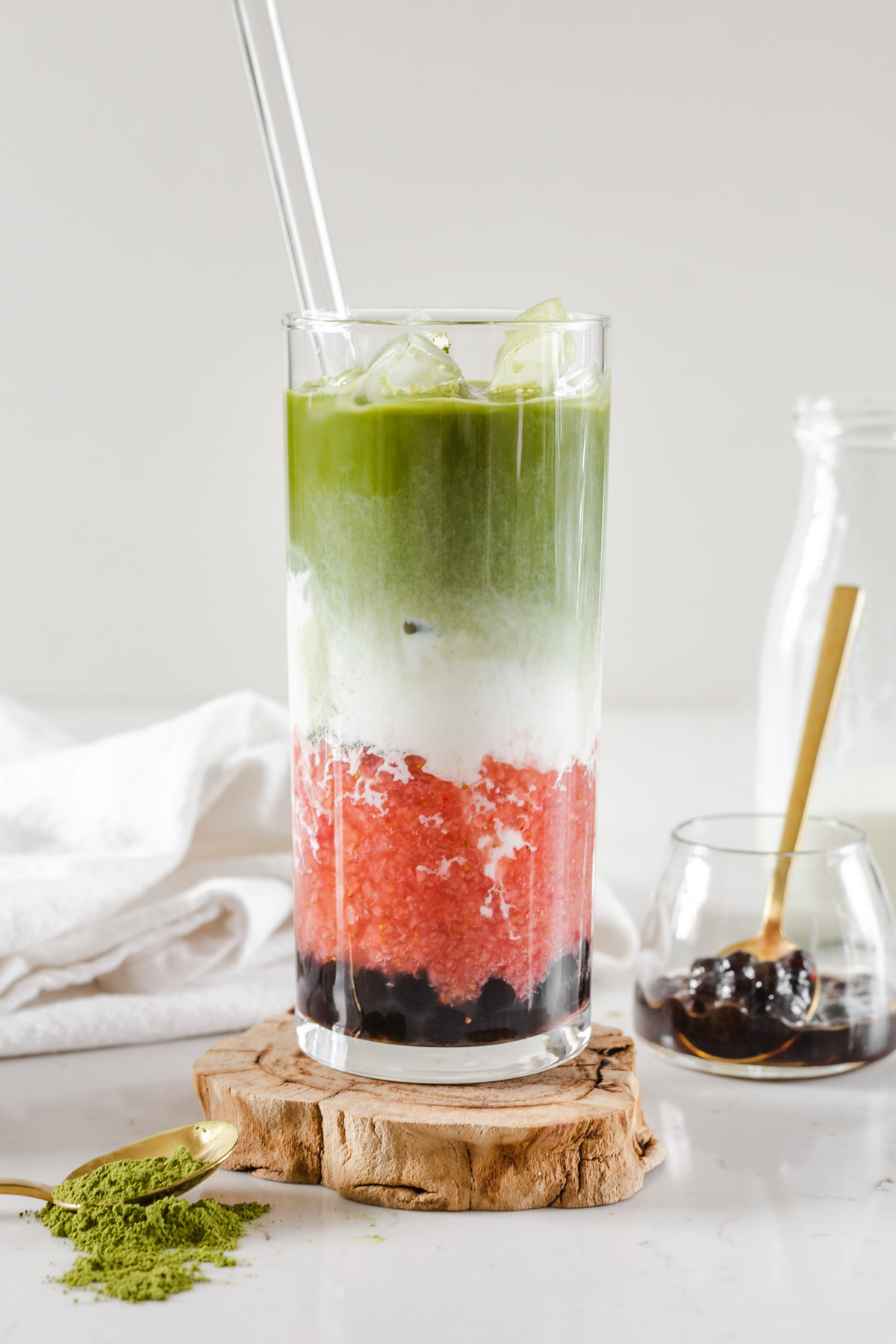 I don't know about you but drinking a beautiful and fresh layered boba drink ALWAYS brightens up my day. Boba Guys, the famous San Francisco boba shop, inspired this three-layer Strawberry Matcha Boba Latte recipe. If you come across one of their shops go check them out! They are one of my favorite boba shops out there which is a high compliment considering I've tried them all. This incredibly easy recipe takes less than 30 minutes to make and it is both so satisfyingly aesthetic.
What is Boba Tea?
The word "boba" refers to a category of drinks that includes everything from iced tea with tapioca pearls to fresh juice infused with fruity bits or simply the tapioca pearls themselves. Boba tea, bubble tea, pearl milk tea are all different names for the same thing. The drink in its most basic form consists of black or green tea, milk, ice, tapioca pearls, shaken with ice, and served with a fat straw to slurp up the chewy boba pearls.
The boba pearls are made from tapioca starch, an extract from the South American cassava plant which came to Taiwan from Brazil via Southeast Asia during the period of Japanese rule between 1895 and 1945. The drink originated in Taiwan in the 1980s and became popular in the U.S. in the 1990s
To us, Boba tea is more than a drink. It's hanging out with our friends when we're not studying or playing sports. To us, boba tea means bringing our non-Asian friends to boba shops and them loving it too. It's the shared memories and the bridging of cultures that make it so great. To put it simply, we are the boba generation.
On Takes Two Eggs we hope to build our own virtual boba shop where you can make all your favorite boba drinks and add in your go-to toppings from the comfort of your own home.
What is Matcha?
Matcha composes of Japanese green tea powder made from finely powdered dried young tea leaves. Matcha tastes slightly sweet and earthy. The matcha leaves are grown on green tea bushes and kept under shade. The shade increases the amount of chlorophyll content in the leaves, creating the bright green color packed with nutrients. Next, the leaves are picked by hand and their stems and veins are removed. The whole process to grind the leaves takes about an hour and is done in the dark to protect the nutrients.
What is the difference between Ceremonial Grade Matcha and Culinary Grade Matcha?
Ceremonial Grade Matcha is the highest quality tea grade. Japanese people use ceremonial Grade Matcha purely for drinking. For centuries, they drink ceremonial grade matcha during their traditional Japanese tea ceremonies. It is produced from the youngest tea leaves. Ceremonial grade has the most vibrant tea grade, a fine texture, naturally sweet flavor, and the purest taste. Also, it is the more expensive grade of matcha.
Culinary Grade Matcha is most commonly used for baking and cooking. Culinary grade matcha is not a lower grade product, it is just prepared differently and for different use. This grade has a more robust flavor, less sweet and more bitter notes than ceremonial grade matcha. Moreover, Culinary Grade Matcha's color is less vibrant and has a more yellow hue to it. Furthermore, it is the most cost-efficient form of matcha.
Ingredients For This Recipe
Boba or Tapioca Pearls: this topping is completely optional. However, for us, it is a must. We are 100% in the boba gang and never pass on an opportunity to slurp down these chewy tapioca pearls. I avoid using the instant boba packs because they do not absorb the brown sugar and have a less chewy consistency than the traditional boba packs you find at Asian grocery stores.
Brown Sugar Syrup: This syrup sweetens the boba pearls as well as the latte. I usually steep the boba pearls in this syrup for about 30 minutes before serving. Also, I use about 1 tsp of this syrup to sweeten the entire latte altogether. However, the sweetness level depends on your personal preference. You can add more or less syrup based on taste. The syrup contains a 1:1:1 ratio of brown sugar: granulated sugar: boiling water. For instance, if you use ½ cup brown sugar then you will also use ½ cup granulated sugar and ½ cup boiling water.
Strawberries: Use freshly ripened strawberries. It is the best option for the most refreshing strawberry matcha latte.
Matcha Tea: I recommend sifting your matcha powder before adding hot water to minimize clumping. Moreover, after you pour hot water into your matcha powder whisk immediately. Traditionally, you can use a bamboo whisk, chasen, to make the matcha foamy, but you can also use an electric milk frother or whisk. For this latte, I used ceremonial grade matcha, but you can use culinary grade if you prefer.
Milk of choice: I used lactose-free dairy milk to add that bit of creaminess to the latte. You can substitute this with whatever milk you prefer (i.e. oat milk, almond milk, soy milk, etc.)
How To Make This Recipe
Prepare the Boba pearls. In a saucepan, cook the boba following the instructions on the packaging. If using non-instant traditional boba, simmer for 25 min., then turn off the heat and let the boba sit in the saucepan for 25 min and then drain.
In a heat-proof bowl, mix ½ cup hot water, ½ cup dark brown sugar, and ½ cup granulated sugar and carefully steep in boiled boba for 30 min.
Blend the strawberries. Place the strawberries in a blender and blend until the mixture is pureed but still slightly chunky.
Prepare Matcha Tea. Place the matcha powder in a bowl and add 1 tablespoon of the hot water. Then whisk vigorously to make a paste. It should have the consistency of peanut butter. Then add the remaining 2½ tablespoons hot water and whisk until any remaining clumps disappear.
To Serve: Put the cooked boba, if using, in a glass. Then, pour in the strawberry puree. Next, layer in the ice and the milk. Lastly, gently pour the matcha over the ice milk, aiming for the ice cubes to keep the layers cleanly separated.
Tips For This Recipe
Don't over-blend the strawberries! You want the strawberry puree to have some small chunks of strawberries to it so that the milk layer doesn't blend into the strawberry layer.
Whisk the matcha. When pouring the water into the matcha immediately whisk the matcha with a wooden matcha whisk or electric frother to prevent the matcha from forming chunks.
Hit the ice! When pouring the matcha layer over the milk, remember to pour the matcha directly on the ice or a spoon above the cup so the matcha layer has a smooth landing and doesn't immediately blend into the milk.
You may also love...
Pair this strawberry matcha boba latte with your very own homemade brown sugar boba! Or check out these other refreshing boba drinks.