Say hello to this Asian fusion masterpiece aka Korean Kimchi Cheese Dogs. These hot dogs slathered with a sweet garlicky gochujang aioli and topped with some freshly pickled kimchi and melted mozzarella cheese will light up your tastebuds. Take one bite and you will have a sweet, salty, umami flavor explosion in your mouth.
Summer is here and that means it is officially BBQ season! Since 2021 is going to be our year, it is the perfect time for your traditional hot dogs to get a major upgrade with these Korean kimchi cheese dogs. Trust me, these are going to be a crowd-pleaser. The gochujang aioli is spicy, sweet, and garlicky which is the ultimate trifecta when it comes to a good sauce for your hot dogs. Plus, kimchi and mozzarella cheese are a match made in heaven. Then, toss it all together on a nice warm toasted bun and you have got yourself the best Korean fusion hot dog you could ever imagine.
Pair these hotdogs with a delicious cup of Korean Strawberry Milk or some Korean Gochujang Chicken Wings, and you have got yourself a well-balanced meal. So fire up the grills and get your favorite hot dogs out because it's grilling time!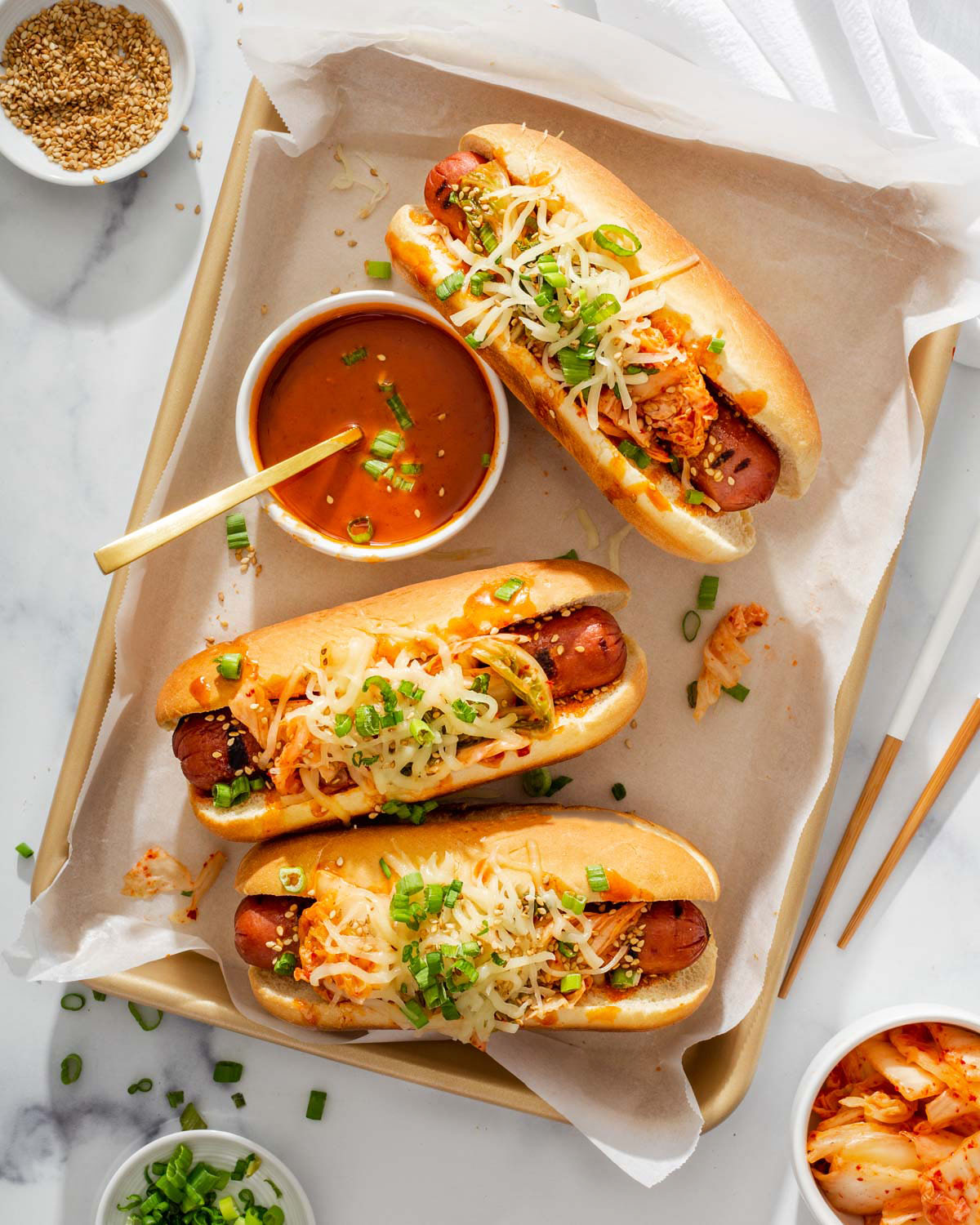 What is Gochujang?
Gochujang is a fundamental Korean ingredient that is a thick and spicy deep red paste made from chili pepper flakes, glutinous rice, fermented soybeans, and salt. It has a spicy, sweet umami flavor. Traditionally, it is fermented over years in an earthenware pot kept outdoors where the glutinous rice transforms into sugars which provide the underlying sweetness.
You can find gochujang paste in the sauce aisle in any Korean market, on Amazon, or maybe even in the Asian section at your local supermarket. They are sold in small red square plastic tubs of pure culinary magic. This Korean ingredient instantly elevates any dish and adds that special flavor that cannot be substituted by anything else.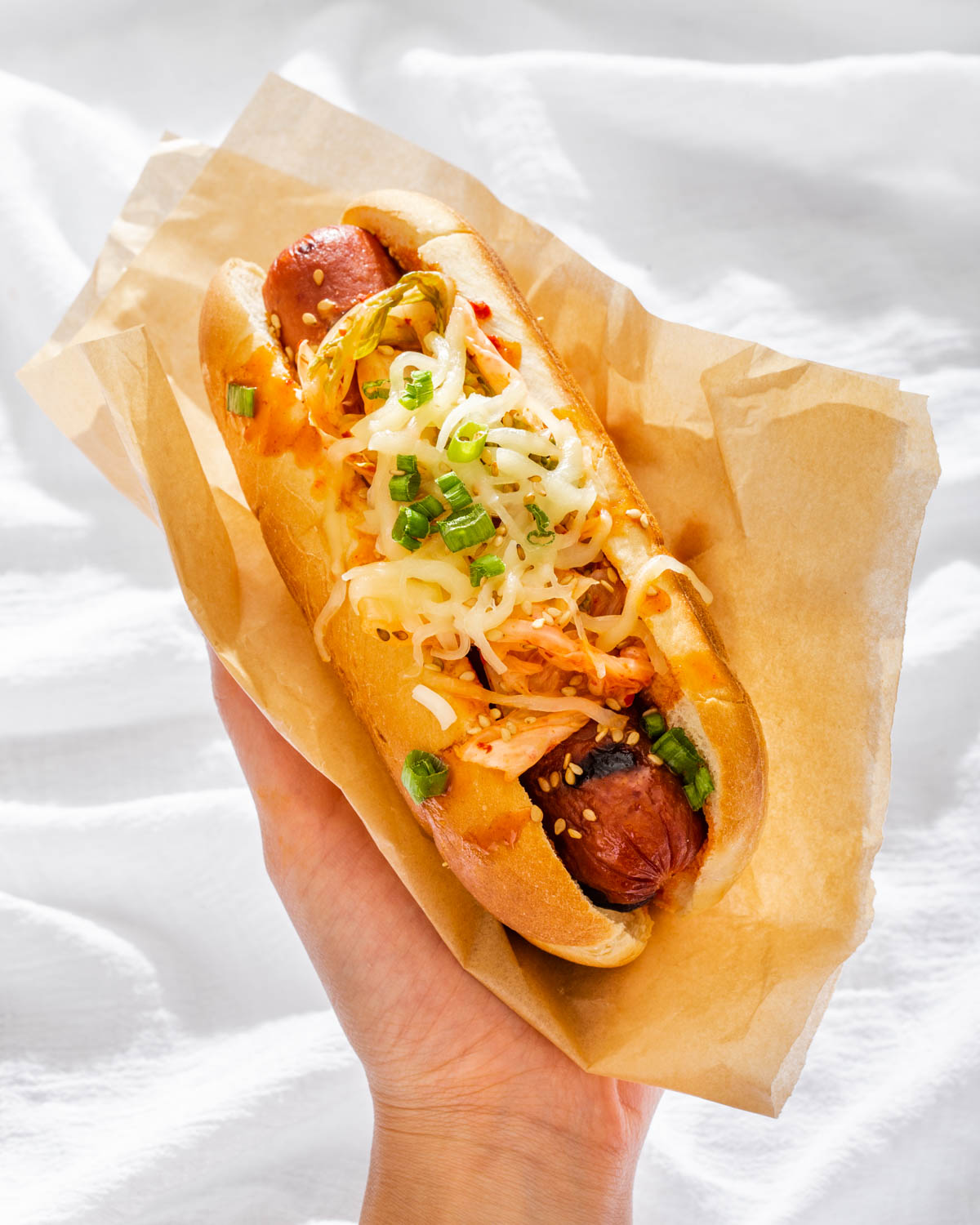 What is Kimchi?
Kimchi is also a staple in Korean cuisine. It is traditionally a side dish of salted and fermented vegetables, like napa cabbage and Korean radish. It is made with a variety of seasonings that include gochugaru (chili powder), fish sauce spring onions, garlic, ginger, and salted seafood. There are over 100 different varieties of this classic dish. You can find Kimchi in the refrigerated section in any Korean market, and sometimes in Chinese and Japanese markets as well. You will find Kimchi in pickling jars in various sizes.
Ingredients For This Recipe
Gochujang Aioli
Kewpie Mayonnaise: Kewpie mayonnaise is a Japanese mayonnaise. Kewpie comprises of egg yolks rather than whole eggs in regular American mayo. It has a unique blend of vinegars and has an umami flavor that is so delicious. You can find

Kewpie mayonnaise

online or at your local Asian grocery store.
Gochujang: This is the key ingredient for these wings. They add the sweet spicy chili flavor. You can buy

gochujang

online or at your local Korean grocery store
Brown sugar: brown sugar balances out the kick and adds the subtle warm sweetness.
Toasted sesame oil: the sesame oil has a strong sesame flavor so a little goes a long way. The smokey flavor in sesame oil is something you cannot replicate. You can find

sesame oil

online or at your local Asian grocery store.
Rice vinegar: Rice vinegar made from fermented rice wine, has has a mild, slightly sweet flavor that adds a tangy element to the marinade. You can find the

rice vinegar

online or at your local Asian grocery store.
Soy sauce: Use light soy sauce for this recipe to make sure it is not too salty. I used

Lee Kum Kee's Premium soy sauce

. This light soy sauce can be found online or at your local Asian grocery store.
Honey: honey adds the sweetness and acts as a binding agent that sticks the glaze together.
Garlic: use freshly minced garlic for the best results.
Ginger: the ginger balances out the intensity of the garlic and adds more layer and depth to the sauce.
Hot dogs and Garnishes
Sesame seeds: used for garnish
Green onions/scallions: used as a garnish.
Hot Dogs: be sure to buy your favorite brand of quality hot dogs. We used polish dogs for this dish and we absolutely loved it. Polish dogs have a little bit more garlic in them which is probably why we favor them over traditional hotdogs. Choosing your favorite hot dog is vital for the recipe to taste delicious!
Buns: make sure that the buns you choose are long enough for the hot dogs.
How to Make This Recipe
Making this Korean Kimchi Cheese Dogs recipe is as easy as 1, 2, 3. All you need to do is make the 1) gochujang aioli, 2) grill the hot dogs and buns, and 3) serve with kimchi and shredded mozzarella!
Make the gochujang aioli. In a medium mixing bowl, mix together the Kewpie mayonnaise, gochujang, brown sugar, toasted sesame oil, rice vinegar, soy sauce, honey, minced garlic and fresh ginger until thoroughly combined. Pour into a sauce bottle and set aside.
Grill the hotdogs. Heat up the grill on medium high heat, place the hotdogs on the grill and cook for about 7-10 minutes flipping half-way.
Toast the buns. Toast the buns in the oven or on the grill until slightly crispy.
Serve. Place the hotdogs in the buns, layer on the gochujang aioli and top with kimchi, shredded mozzarella, sesame seeds and green onion. Enjoy!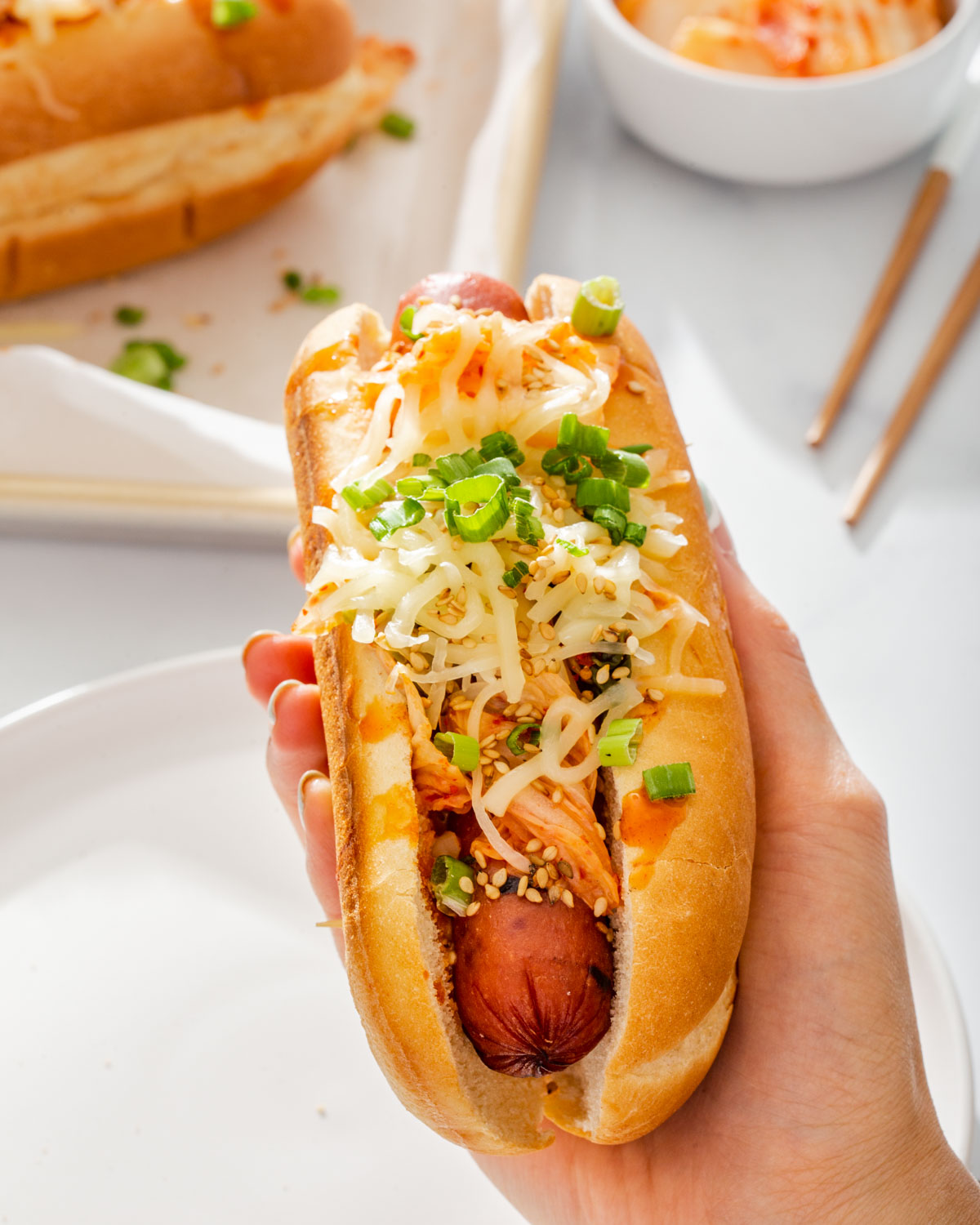 Tips For This Recipe
Use freshly minced garlic and ginger. Gochujang is a bold Korean flavor and it will require the bold flavors from freshly minced garlic and ginger to balance it out.
Preheat your grill. This is an important step to clean off the grill using the heat. Moreover, placing the hotdogs on a hot grill will provide those gorgeous grill marks we all love and deserve on your hot dogs.
Storage Instructions
You can store the individual ingredients for these Korean Kimchi Cheese Dogs separately in an airtight container in the refrigerator for up to 1 week. To re-heat the hot dogs, you can either place them in the microwave or heat them up in the oven.
You May Also Love...