This Korean cafe-style homemade strawberry milk is filled with fresh strawberry pieces and a homemade strawberry jam. This drink is equal to parts fresh, sweet and delicious!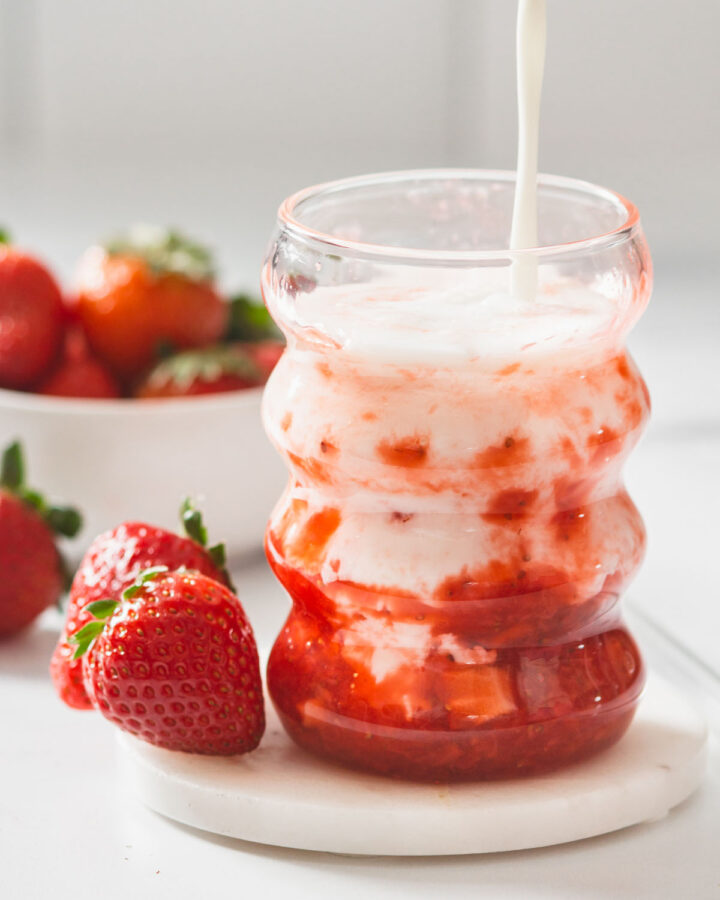 Does anyone else get random cravings for sweets or is it just me? For instance, some days I crave something fruity but, then I get too lazy to whip up an entire dessert.
Here's my solution for that self-made problem. HOMEMADE STRAWBERRY MILK. This is such an easy and delicious drink that you can whip up in a matter of minutes! Trust me, your tastebuds will thank you.
What makes this drink Korean?
Recently, this strawberry milk drink gained immense popularity a few years ago in Korea. This Korean strawberry milk is different from other strawberry milk because it composes of fresh strawberries and no artificial processed syrups.
Korean strawberry milk contains only a few simple ingredients --fresh strawberries, sugar, lemon, vanilla, and milk. The fresh strawberry chunks add a bit of fresh texture which makes this drink iconic. Moreover, cooking down the strawberry syrup creates a beautifully creamy consistency when mixed with the milk.
I first had this strawberry milk at the increasingly popular SomiSomi Korean Soft Serve Ice Cream shop. When I saw how pretty it was in the bottle I had to try it! It was $5.95 which is on the pricier side, but after tasting it I understood why.
Ingredients for this Recipe
Milk: the traditional Korean strawberry milk uses dairy milk. However, this can easily be substituted with coconut milk, almond milk, soy milk, oat milk, etc.

If you are lactose intolerant like us, we use a lactose-free dairy milk so we can still have the same dairy milk flavor without any of the after-effects!

Strawberries: Fresh strawberries are the easiest to work with when it comes to slicing the strawberries into smaller chunks. However, frozen strawberries will taste the same and works too.
Sugar: adding the sugar will give the drink that extra boost of sweetness if the strawberries are not fully ripe or in season. Also when cooking down the strawberries, the sugar acts as a binding ingredient that thickens the sauce.
Lemon Juice: The lemon juice cuts the sweetness of the sugar while also naturally complementing the strawberry flavor.

I suggest adding the lemon juice once the strawberries and sugar have cooked down and tasting to get your desired sweetness level. The amount of lemon juice varies by the sweetness of the strawberries you use.

Vanilla Extract: the vanilla extract adds that extra layer of depth and flavor you can't achieve with sugar alone. This ingredient is completely optional, but if you are anything like me I love adding a tiny bit of vanilla to everything for that extra oomph!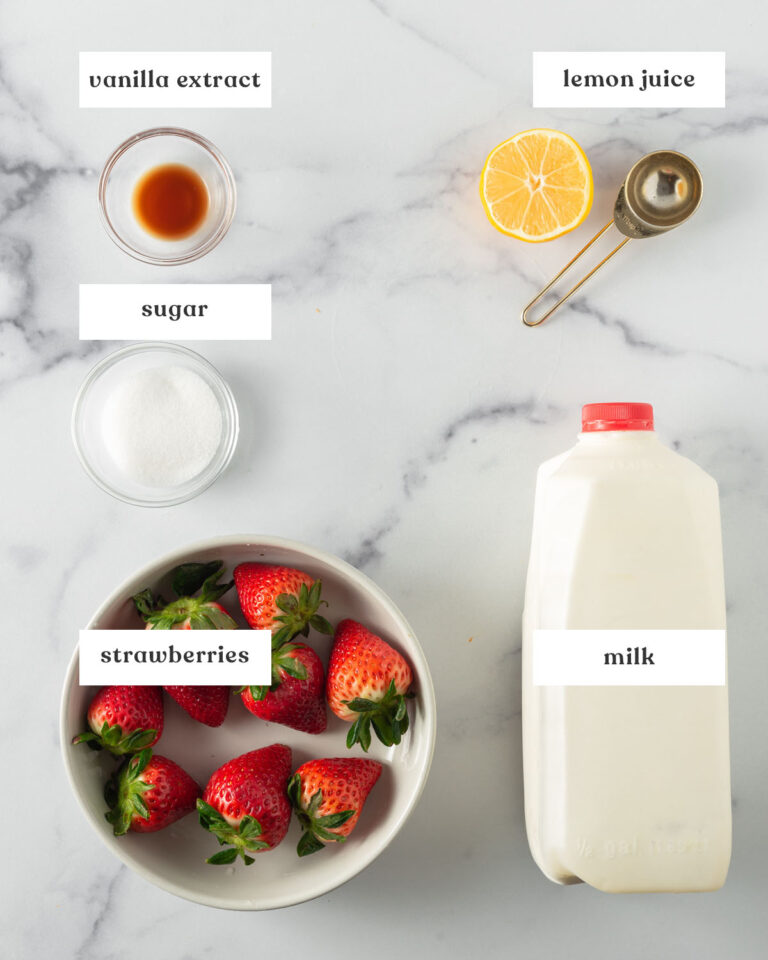 How to make Homemade Strawberry Milk
Prepare the strawberries. Wash and cut the stems from the strawberries
Dice the strawberries into small pieces. If you are using a straw, dice the strawberries small enough to fit through your straw.
Cook down the strawberries. In a small saucepan, mix together ½ of the strawberries sugar, lemon and vanilla extract (optional). Save the other ½ of the strawberries to add to your cup or bottle. Cook over medium-high heat until it reaches a boil. Turn down the heat to medium and simmer for 10-15 min stirring occasionally until the strawberries cook down and thickens.
Chill the strawberry sauce. Transfer to a small bowl and chill the strawberry sauce in the refrigerator about 1-2 hours or until cooled.
Serve. Pour in 3 tbsp of the strawberry sauce, add in fresh diced strawberries, then pour in milk. Mix thoroughly with a straw.
Enjoy!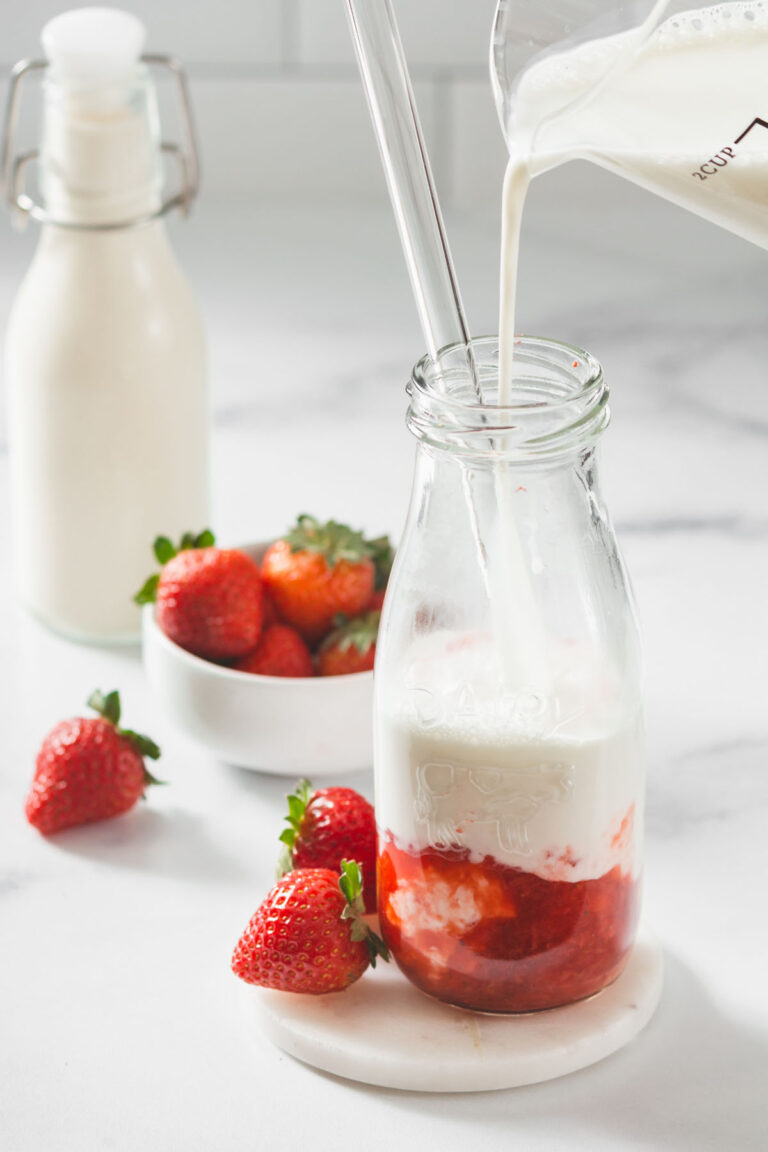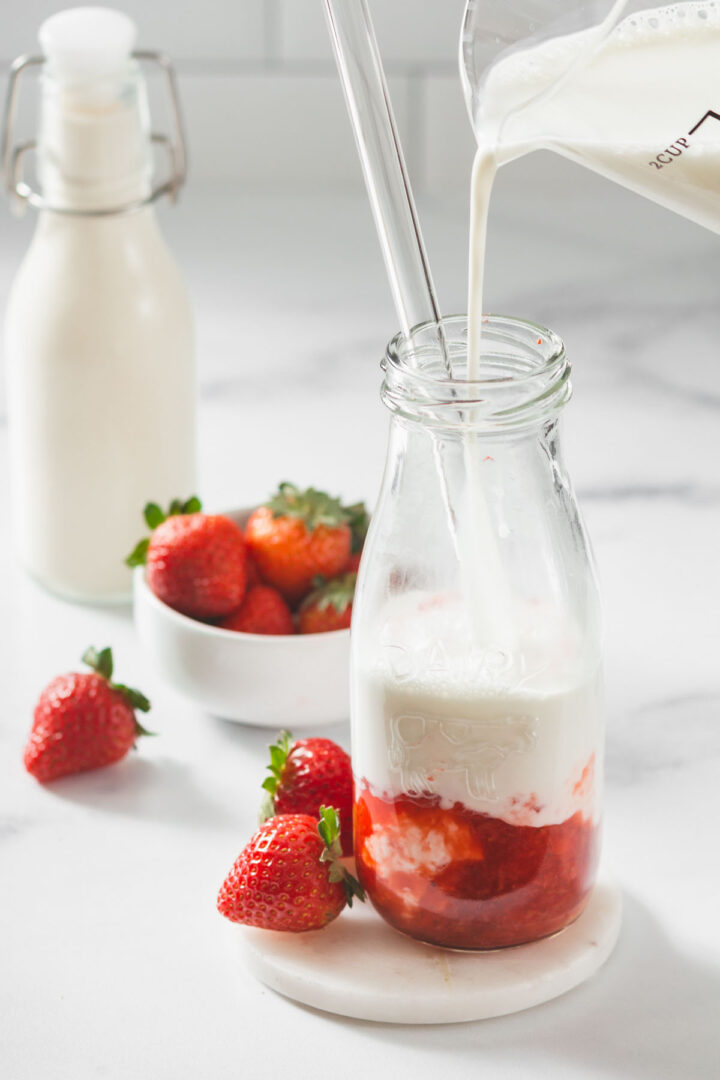 Tips for this recipe
Dice the strawberries. To achieve the best consistency avoid using a blender. Using a blender will make the sauce overly watery and will not bind and thicken as well as dicing into small pieces.
Personalize your level of sweetness. You can minimize the level of sweetness of your strawberry sauce by adding more lemon juice 1 tsp at a time or diced strawberries. Alternatively, if you want to add more sweetness, you can add more sugar 1 tsp at a time.
Chill the strawberry syrup. This will thicken the syrup and ultimately add more flavor to the milk.
Thoroughly mix the strawberry syrup in the milk. Make sure to mix the strawberry sauce completely into the milk for the richest strawberry creamy flavor.
You may also love...