This fruity, tangy and refreshing Strawberry Yakult Tea Refresher is the PERFECT pick-me-up drink for the warmer months. This Asian pink drink will make all of your pretty in pink dreams come to life.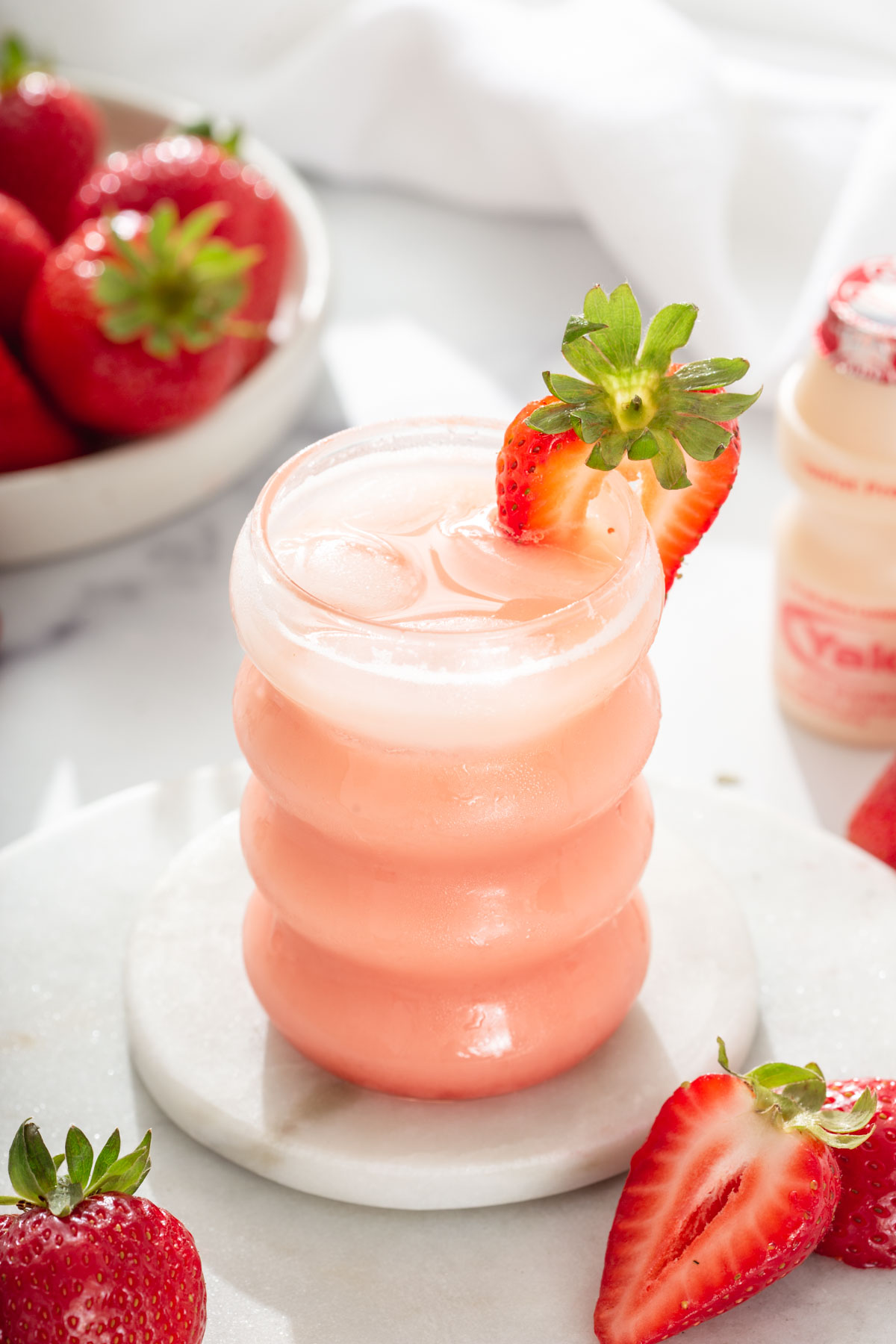 I don't know about you, but I am a SUCKER for pretty pink drinks. Nothing can describe that euphoric feeling of drinking the cutest pink drink that is equally as delicious as it is aesthetic. Full disclosure this is NOT the same Starbucks Pink Drink it is even better! This Asian fusion-inspired pink drink incorporates fresh strawberries, the ever-so-famous citrusy Yakult, and a floral jasmine green tea. There are no preservatives or artificial ingredients making this pink drink delicious and guilt-free.
So grab some strawberries, green tea, and Yakult and join me as I drink this pink drink poolside wearing my matching pink bathing suit!
What is Yakult?
Yakult is a probiotic yogurt produced by a Japanese company, Yakult Honsha, based in Tokyo. It is made by fermenting skim milk with a strain of bacteria, Lactobacillus paracasei shirota. It has a tangy and distinctive citrus flavor. Before it hit the shelves in grocery stores, a woman on a bicycle used to sell Yakult door-to-door on a bicycle in Japan, India, and Latin America. It did not arrive in the United States until 1999. Recently, Yakult gained immense popularity in 2018 when it was featured in the Netflix film To All the Boys I've Loved before, that the U.S. saw a rise to drink sales.
You can find yakult at your local supermarket in the yogurt section in single serving containers.
How to Properly Brew Green Tea
It is no secret that green tea is filled with health benefits. In China, India, and Japan, it is used as a healthy elixir used to control or prevent diabetes, aid weight loss, and help you live longer. In order to maximize the health benefits it is important to properly brew your green tea.
For green tea, if you do not brew it properly it could taste harsh, grassy or even bitter. The perfect cup of green tea should have a light color and minor astringent flavoring, but not bitter.
Green tea flavor compounds are sensitive to high water temperatures and should be brewed using water at lower temperatures. As a general rule of thumb, the ideal temperature for green tea ranges from 175°F to 185°F. You can measure the temperature by using a temperature gauge or a thermometer.
To develop the best flavors, after you add the tea to the hot water cover the tea kettle or teacup and steep for 3-5 minutes depending on your flavor preferences. After 3 minutes, the green tea will develop a deeper flavor and the bitterness comes through around 5 minutes.
Ingredients For This Recipe
Jasmine green tea: Jasmine green tea is my favorite green tea. Jasmine green tea is a subtype of green tea that has been flavored and brewed with jasmine flavors. This is just a personal preference. Any good quality green tea will work here. I recommend using

Rishi Jasmine Green Tea

. They have a deep, rich, and smooth green tea flavor.
Yakult: Yakult is a key ingredient in this refresher. The distinct citrusy flavor pairs perfectly with the strawberries. You can find Yakult in any Asian grocery market and I have even found it at my local American grocery market in the yogurt section as well.
Strawberries: the strawberries can be either fresh or frozen. Cooking down the strawberries will allow the sauce to have a deeper and richer strawberry flavor.
Granulated sugar: the granulated sugar caramelizes the strawberries and creates the sauce texture. It also sweetens the strawberries.
Lemon juice: the lemon juice cuts through the sugar and brightens up the strawberry flavor.
Vanilla: the

vanilla

adds a subtle layer of depth and sweetness.
How To Make This Recipe
Making this strawberry Yakult tea refresher is SO EASY. All you need to do is 1. Steep the tea, 2. Make the strawberry sauce and 3. stir together and serve.
Steep the jasmine green tea in 185°F water for 3-4 minutes. Take the teabag out and chill in the refrigerator until cool.
Make the strawberry sauce. Wash and chop the strawberries into small pieces. In a small saucepan, mix together the strawberries, sugar, lemon juice, and vanilla.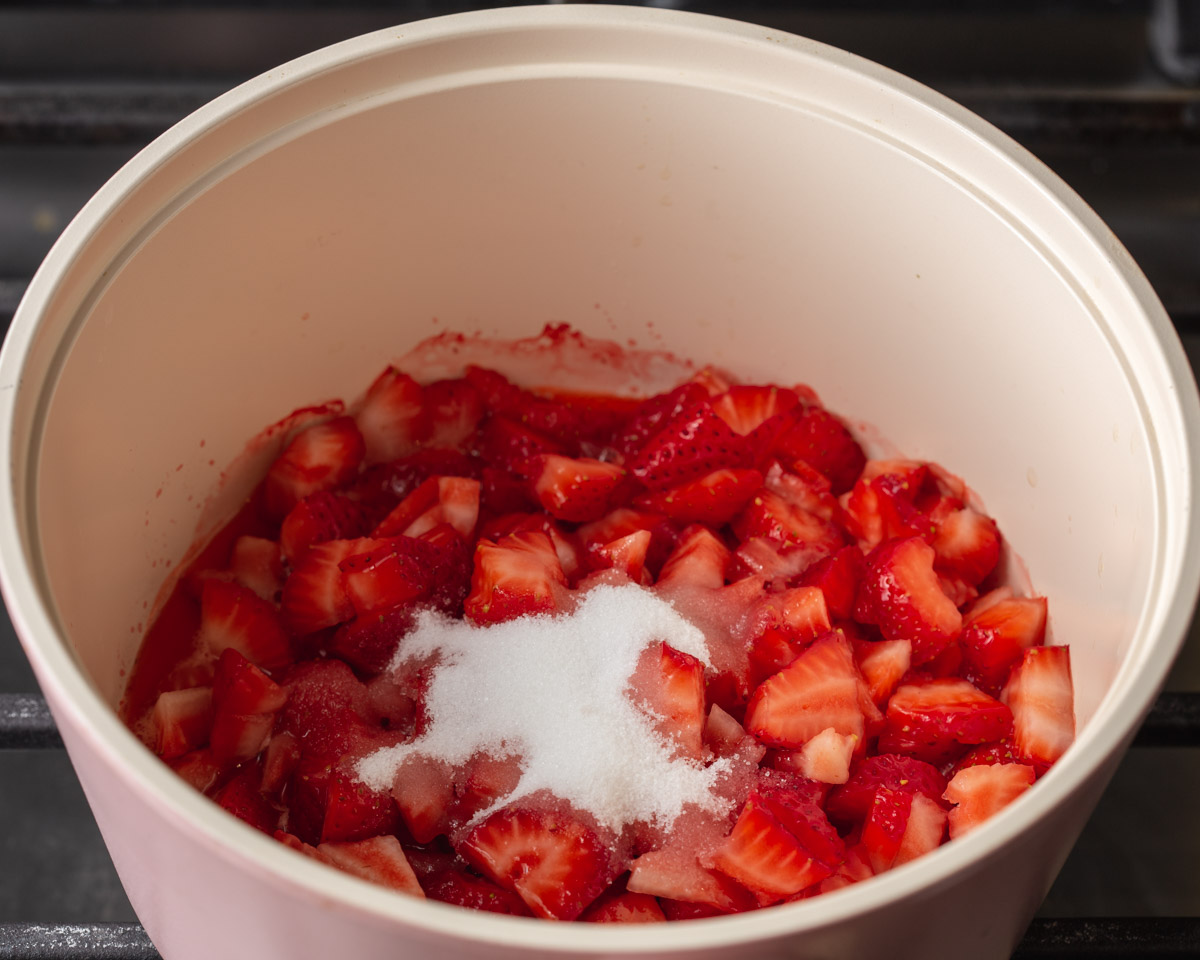 Heat over medium-low heat until simmers. When it begins to bubble turn down the heat and simmer until the sauce turns into a puree. Continually mix with a rubber spatula to prevent burning and to smash the strawberries. Cook for about 15-25 minutes or until desired consistency.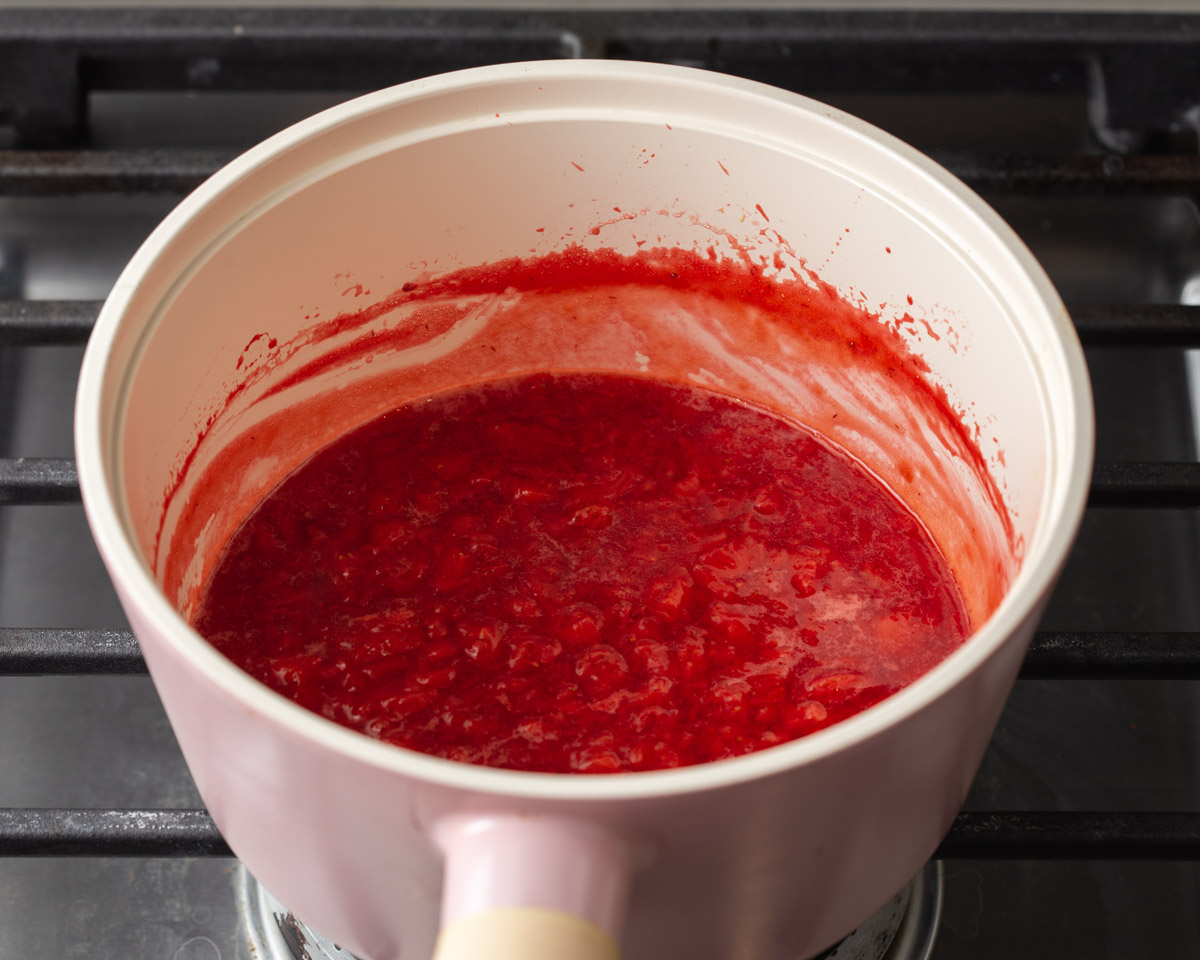 Strain the sauce over a finely meshed sieve into a mixing bowl to remove seeds.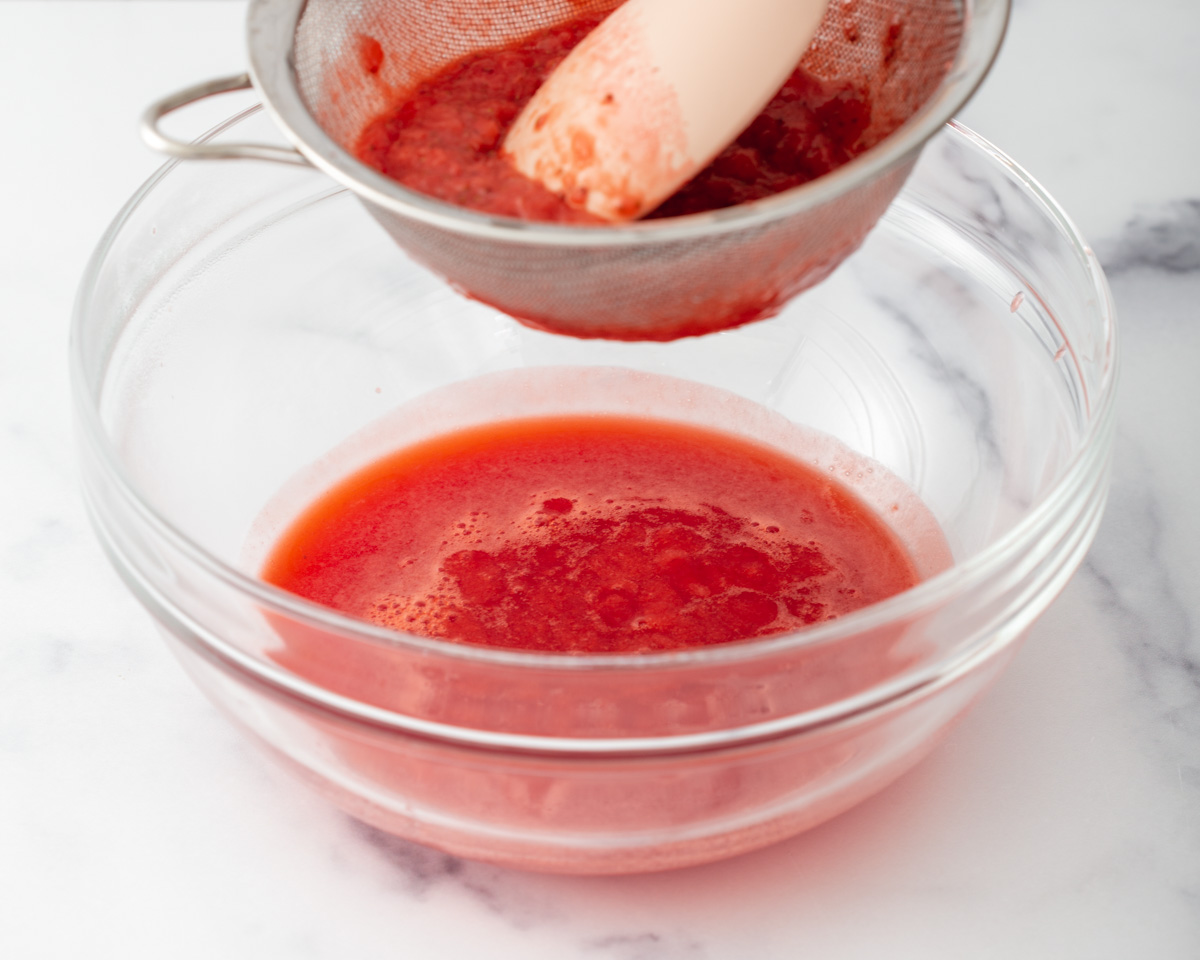 Serve. Pour the jasmine green tea, strawberry sauce, Yakult in a glass stir together until combined. Add ice and boba (optional) and enjoy!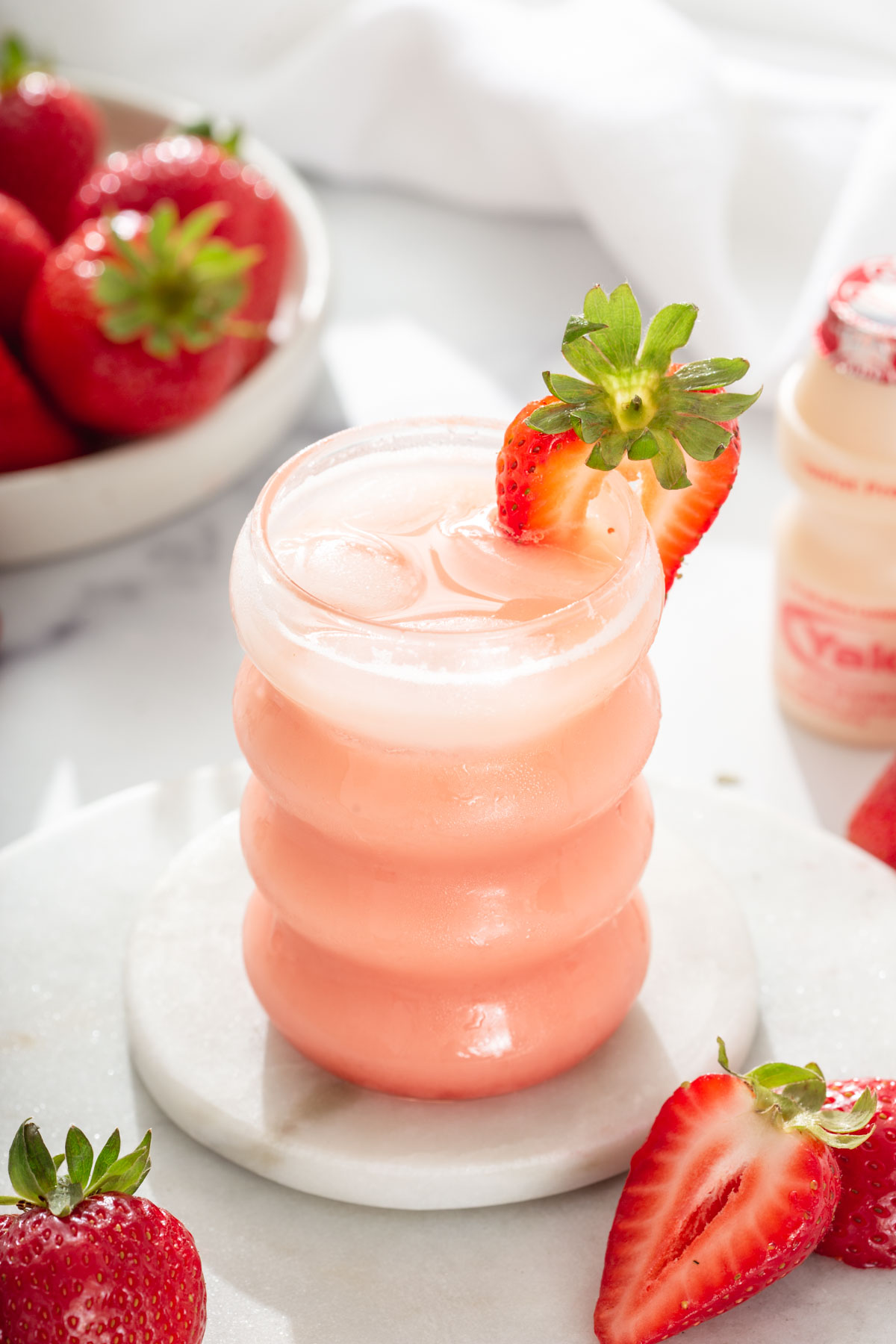 Tips for This Recipe
Steep the green tea in advance to chill in the refrigerator for at least 1 hour.
You may need more strawberry sauce based on your personal strawberry flavoring preference. You can find a more detailed description of how to make

strawberry sauce here

.
Storage Instructions
You can store this strawberry Yakult tea refresher in a bottle or pitcher in the refrigerator for up to 1 week.
You May Also Love...