This Starbucks-inspired Matcha Pineapple Drink has all the cool, fresh, and tropical vibes. Made with fresh pineapple, ginger, and coconut milk and topped with some ceremonial grade matcha, take one sip of this drink and you will be transported to paradise.
This week we are coming in hot with a delicious fruity matcha pineapple drink. This week we are exploring the marriage of matcha with pineapple, coconut, and ginger. This drink pairs together a sweet yet tart pineapple, a creamy coconut milk base, a dash of spicy ginger, and topped with a rich earthy matcha blanket. At this point, I am positive that matcha pairs with almost every fruit. I mean have you tried our Matcha Lemonade, Strawberry Matcha Latte Boba, or our Mango Matcha Boba Latte? All three of these drinks complement the flavors of matcha so perfectly.
So grab some high-quality matcha, pineapple, ginger, and some coconut milk, and let's get started!
Difference Between Ceremonial and Culinary Grade Matcha
Ceremonial Grade Matcha is the highest quality tea grade.

Ceremonial Grade Matcha

is created exclusively for drinking. It has been used for centuries in the traditional Japanese tea ceremonies. It is produced from the youngest tea leaves. Ceremonial grade has the most vibrant tea grade, a fine texture, naturally sweet flavor and the purest taste. Also, it is the more expensive grade of matcha.
Culinary Grade Matcha is most commonly used for baking and cooking.

Culinary grade

matcha is not necessarily a lower grade product, it is just prepared differently and for a different use. This grade has a more robust flavor, less sweet and more bitter notes than ceremonial grade matcha. Moreover, Culinary Grade Matcha's color is less vibrant and has a more yellow hue to it. Furthermore, it is the most cost efficient form of matcha.
How to Properly Brew Matcha
Brewing matcha requires three simple yet crucial steps to yield the best matcha.
Sift the matcha. Sifting is very important when making matcha. Sifted matcha will whisk into a soft, frothy consistency, while unsifted matcha will taste grainy and thin.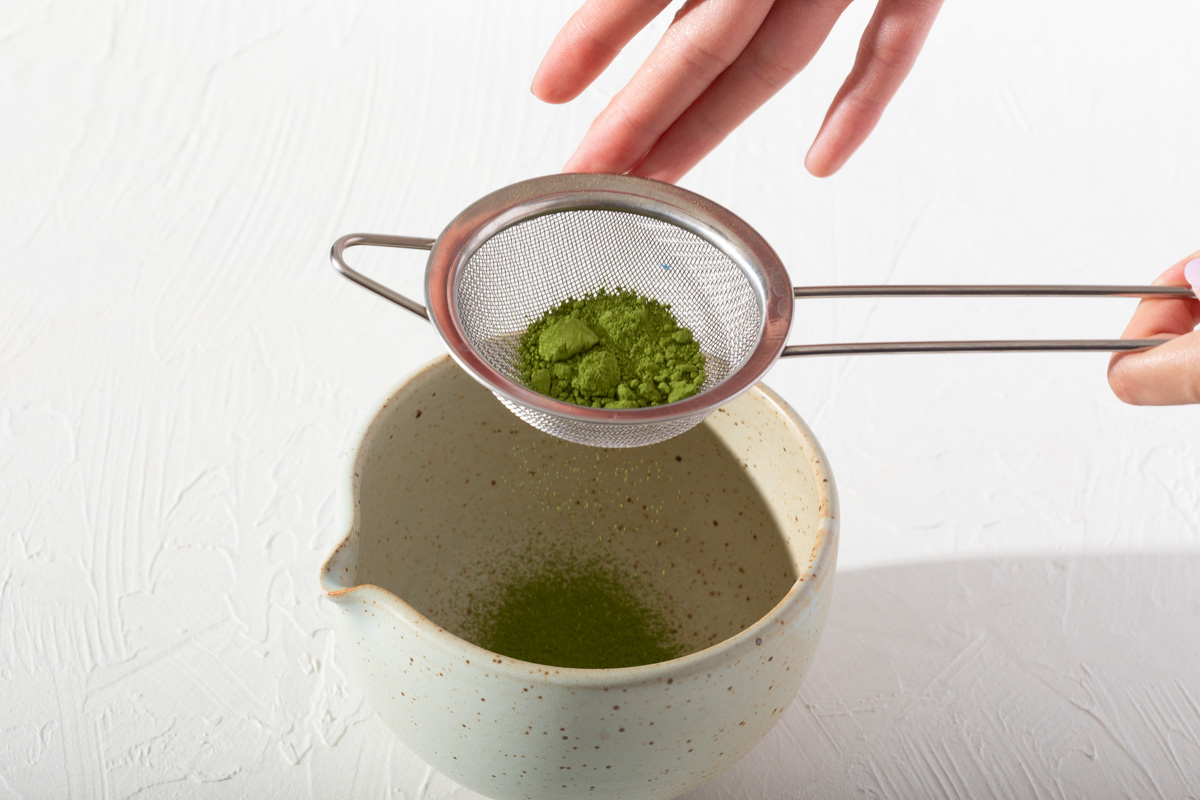 Pour in hot water 175°F or 80°C. Ideally, use hot water that is just under boiling temperature.Hot water enhances the delicate, fragrant taste of matcha
Whisk vigorously. Using a matcha whisk (chasen), whisk the matcha in the bowl vigorously until the tea is frothy and no clumps no longer remain.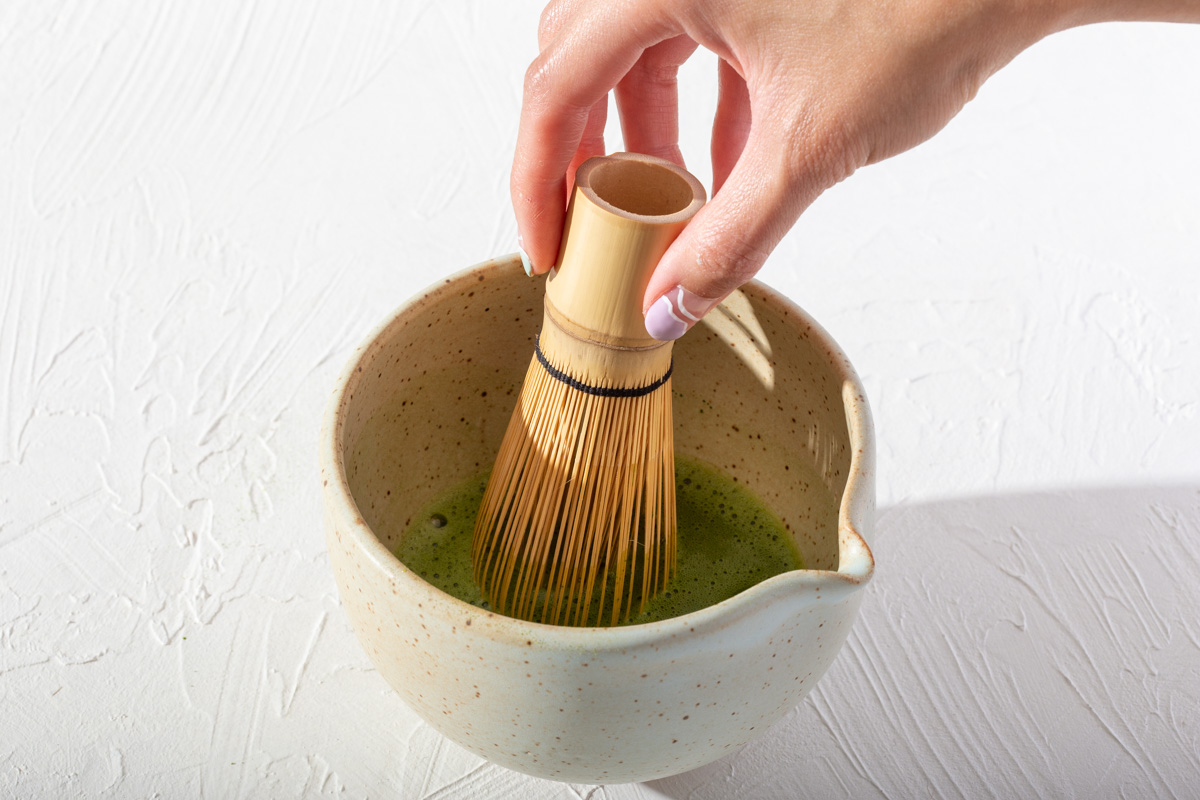 Ingredients For This Recipe
Pineapple: for the best results use fresh pineapples. Pineapples are in season right now during the summer months so it is the perfect time to grab a fresh pineapple for this drink!
Ginger: the ginger provides a layer of depth to the drink and balances the sweetness from the coconut water and the pineapple.
Coconut milk or coconut water: if you want to have a creamier drink opt for a

drinking coconut milk

which will be more in line with the Starbucks matcha drink. A drinking coconut milk is less dense then a canned coconut milk. If you like a lighter less dense drink, opt for the coconut water instead.
Matcha Powder: Use a high quality matcha brand that you trust! I always opt for

ceremonial grade matcha

when it comes to drinks. You can taste the difference between ceremonial grade and culinary grade. Also, ceremonial grade will yield a brighter and more beautiful green color. You can buy ceremonial grade matcha online or at your local grocery store in the tea aisle.
How to Make This Recipe
This matcha pineapple drink is really simple and incredibly refreshing. All you will need to do is blend the pineapple, brew the matcha and mix it all together.
Make the pineapple juice. In a blender, blend the pineapple and ginger and then strain the juice over a fine mesh sieve to remove the pulp.
Brew the Matcha. In a small mixing bowl, sift the matcha using a fine mesh sieve. Pour in 2 oz of hot water and whisk the matcha vigorously until frothy and no clumps remain.
Assembly. In a tall glass, add ice and pour in a ½ cup of pineapple juice, ½ cup of coconut milk, and ½ of the matcha mixture. Repeat for second glass. Serve and enjoy!
Tips For This Recipe
Sift and whisk the matcha: sifting the matcha is a crucial step in eliminating large clumps of matcha while also enhancing the flavor of the matcha. Whisking the matcha vigorously removes the remaining clumps of matcha when brewed with hot water.
Strain the pineapple and ginger using a fine mesh sieve. To have a smooth drink without any pulp, I recommend straining the juice through a fine mesh sieve.
Hit the ice! When pouring the matcha layer over the coconut water, remember to pour the matcha directly on the ice or a spoon above the cup so the matcha layer has a smooth landing and doesn't immediately blend into the coconut water.
Substitutions
You can swap out the coconut milk for coconut water. Using coconut milk will yield a drink more similar to the Starbucks Iced Matcha Pineapple Refresher. Whereas, using coconut water will yield a lighter and less dense refresher.
You can also substitute out the fresh pineapple for frozen pineapples or even canned pineapples. If you want to opt-out of blending, you can simply use pineapple juice as well.
The ginger is optional. This is purely based on taste preferences. You can substitute fresh ginger for powdered ginger as well. Simply add the powdered ginger to the matcha powder to brew instead of adding it to the pineapple in the blender.
You can also opt to add in mangos to add a more fruity flavor to the drink.
Storage Instructions
You can make the pineapple juice in advance and store it in an airtight bottle or pitcher for up to 1 week.
For the matcha, I recommend you do not make this in advance and brew the matcha when you serve this drink.
You May Also Love...