If you love mangos this is the recipe for you. This sweet and refreshing mango green tea will quench your thirst all year round! This fruity iced green tea is everything you never knew you ever needed.
What is your go-to boba order? I'll go first mango green tea, half-sweet with boba. I've been ordering this drink since I first discovered boba about 15 years ago. And every time I try to branch out and order something new I always regret it because mango green tea will always be superior in my mind. So let's just say I take drinking mango green tea very seriously.
In formulating this recipe, I did my "research" by trying all the different mango green tea's in all my local boba shops to find the perfect one to try to re-create. Breaking down this recipe was really a no-brainer. The best flavor always comes from using the highest quality ingredients without any artificial additives. Aka fresh fruit and premium green tea. So if you love mangos and green tea as much as I do this recipe is perfect for you. Also, if you are feeling extra adventurous, check out our homemade boba recipe to make your very own boba from scratch at home! Or try our other boba shop favorites like brown sugar milk tea, matcha pineapple drink, or grapefruit green tea.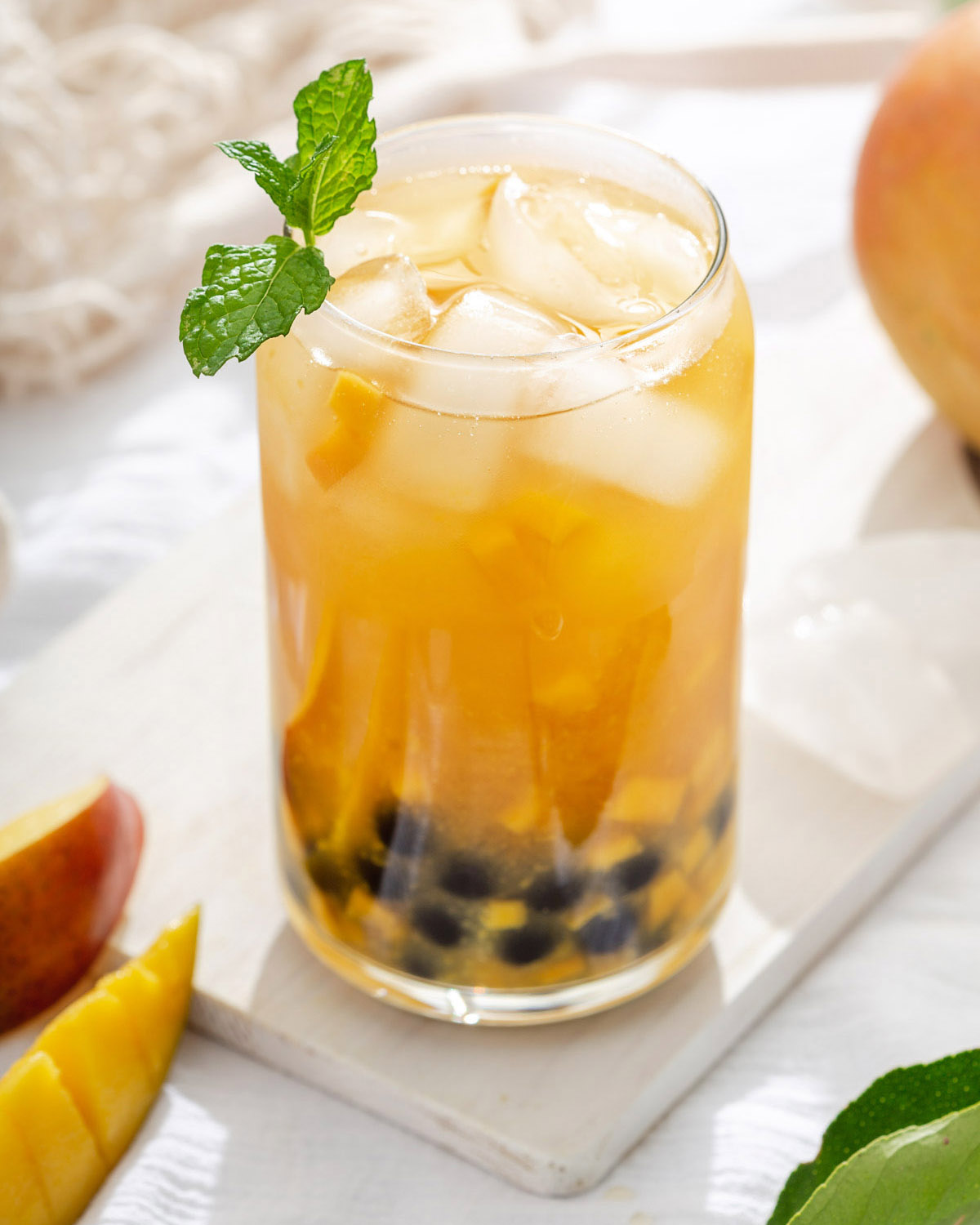 Kitchen Tools For This Recipe
For this mango green tea, you will need kitchen equipment that will soften and blend the mango into a soft puree.
Ingredients For This Recipe
Jasmine Green Tea: Jasmine green tea is my favorite green tea. Jasmine green tea is a subtype of green tea that has been flavored and brewed with jasmine flavors. This is just a personal preference. Any good quality green tea will work here. I recommend using

Rishi Jasmine Green Tea

. They have a deep, rich and smooth green tea flavor.
Water: used to brew the jasmine green tea.
Mango: choose a fresh juicy ripe mangos for this recipe. Since the recipe calls for few ingredients it is important to use a high quality mangos which will be the star of this dish. Alternatively, you if mangos are not in season you can buy frozen mangos which are usually frozen when they are ripe so it works as a great alternative.
Granulated Sugar: the granulated sugar acts as a sweetener for this tea.
Lemon Juice: the lemon juice adds a hint of acidity to break up the sweetness from the mango and sugar.
How to Properly Brew Green Tea
It is no secret that green tea is filled with health benefits. In China, India, and Japan, it is used as a healthy elixir used to control or prevent diabetes, aid weight loss, and help you live longer. In order to maximize the health benefits, it is important to properly brew your green tea.
For green tea, if you do not brew it properly it could taste harsh, grassy, or even bitter. The perfect cup of green tea should have a light color and minor astringent flavoring, but not bitter.
Green tea flavor compounds are sensitive to high water temperatures and should be brewed using water at lower temperatures. As a general rule of thumb, the ideal temperature for green tea ranges from 175°F to 185°F. This can be done using a temperature gauge or a thermometer.
To develop the best flavors, after you add the tea to the hot water cover the tea kettle or teacup and steep for 3-5 minutes depending on your flavor preferences. After 3 minutes, the green tea will develop a deeper flavor and the bitterness comes through around 5 minutes.
How To Make This Recipe
This recipe is really simple and quite satisfying to make. To break it down for you, all you will need is to 1) steep the green tea, 2) make the mango coulis and serve!
Steep the Green Tea
Steep the Jasmine green tea bags in a pitcher or large cup of hot water for 3-4 minutes. Remove the tea bags and squeeze out remaining liquid from the bag. Be careful it will be hot. Place in the refrigerator to cool about 30 minutes.
Make the Mango Coulis
Cube the mango. In a small saucepan, place the cubed mangos, sugar and lemon juice and simmer on medium low until the mangos soften. About 10 minutes. After the mango has softened, use a spoon or spatula to continue smashing the mango until it becomes a puree.
Place the mango puree in a blender and blend until smooth. You can alternatively use an immersion blender.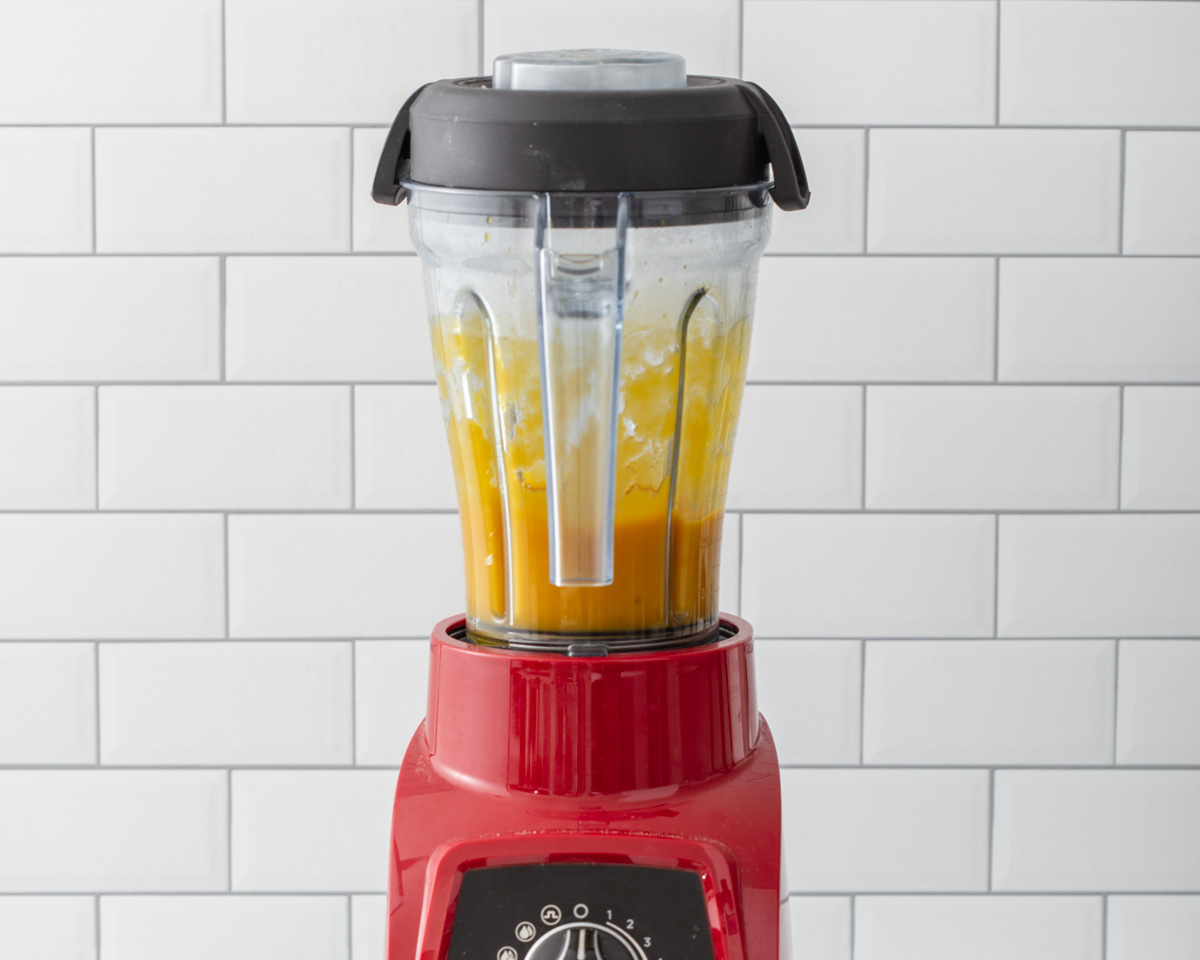 Sift the mango puree from the blender and set aside.
Serve
For each 1 ½ cup of green tea add 2-3 tablespoons of the mango coulis depending on your preferred sweetness. Add ice and your favorite toppings like boba and mango bits! Enjoy!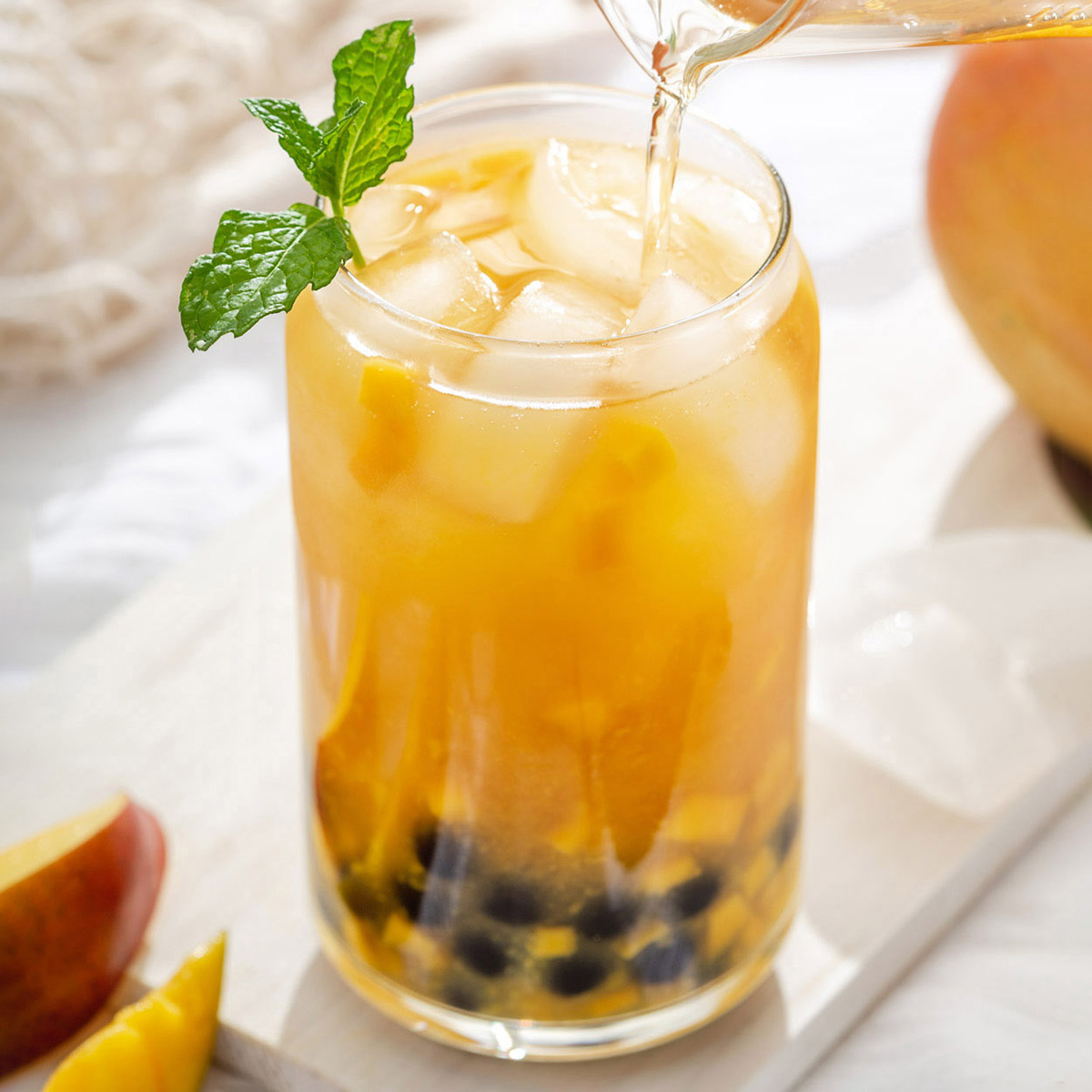 Tips For This Recipe
Use cold ingredients. Nobody loves a lukewarm drink that is meant to be refreshing. Make sure to have all the ingredients chilled in the refrigerator before making this recipe.
This recipe makes 2 cups. You can double or triple the recipe if you want to make this for larger groups of people.
You can change the sugar level. When it comes to drinks, I always err on the side of something that is not too dense and overly sweet. However, the sugar level is entirely up to you and you can alter the amount based on your sugar preference!
Add your favoring toppings. You can add in homemade boba pearls to make this recipe a full treat!
Storage Instructions
You can double or triple up the recipe to make a pitcher of this mango green tea and store it in the refrigerator for up to 2-3 days. Make sure to stir well before pouring it into a glass.
You May Also Love...