Revitalize your body and soul with this thirst-quenching Grapefruit Green Tea! This freshly squeezed refreshing fruit tea filled with Vitamin C will boost your immune system and brighten up your day in an instant.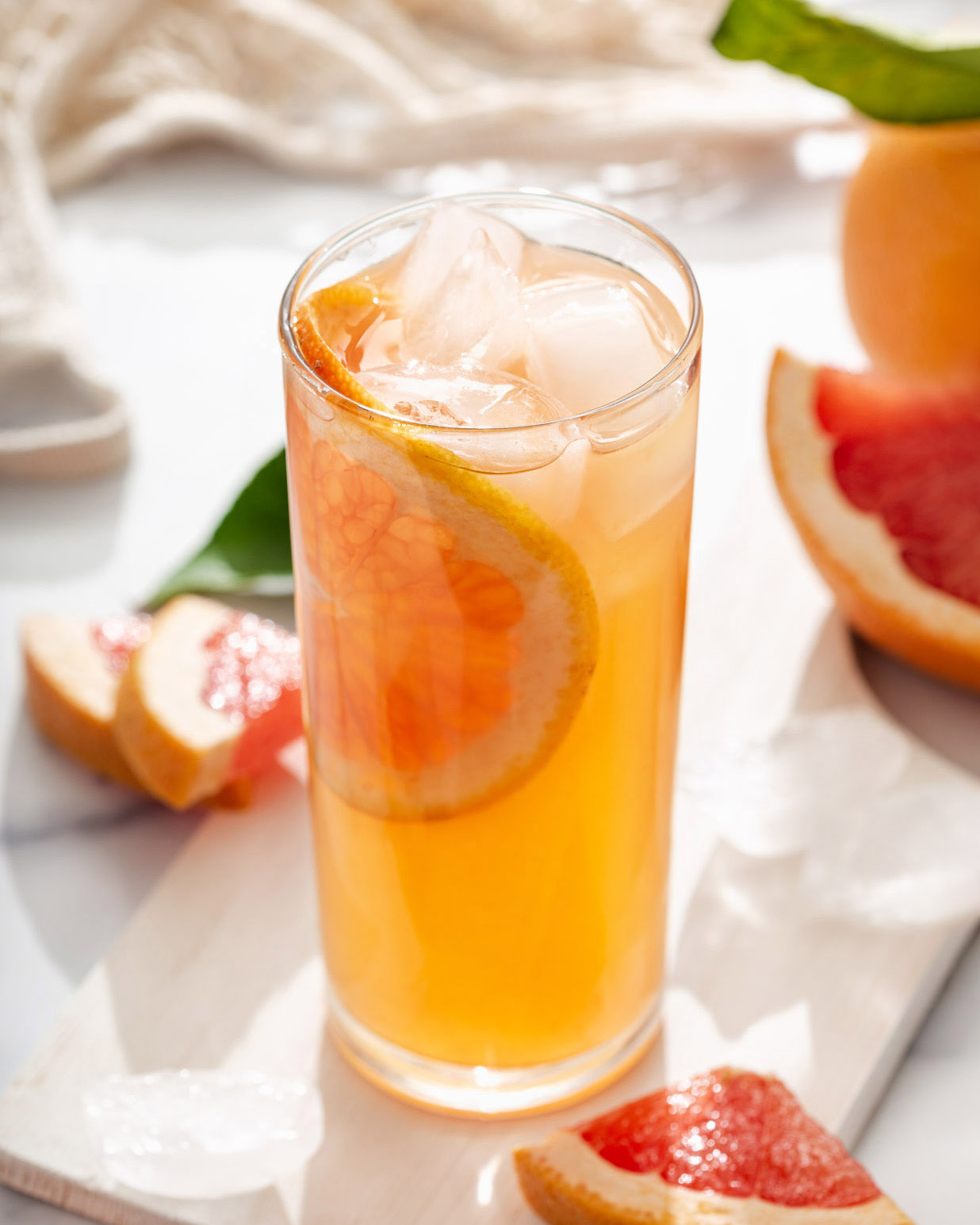 When it is hot outside, nothing beats that feeling of taking one sip into a cold grapefruit green tea. This sweet yet tart drink is the perfect pairing to your next family or friend party paired with a side of Vietnamese Chicken Wings and a slice of Japanese Strawberry Shortcake. What are you waiting for? Grab some grapefruit and green tea and let us begin!
Health Benefits of Grapefruit
Grapefruit is known as a nutritionally dense fruit. It contains very minimal calories but is loaded with nutrients that help your body thrive. Grapefruit contains a lot of vitamin C, which boosts your body's immune system. It also contains vitamin A, which also aids in immune function.
How to Properly Brew Green Tea
It is no secret that green tea is filled with health benefits. In China, India, and Japan, it is used as a healthy elixir used to control or prevent diabetes, aid weight loss, and help you live longer. In order to maximize the health benefits, it is important to properly brew your green tea.
For green tea, if you do not brew it properly it could taste harsh, grassy, or even bitter. The perfect cup of green tea should have a light color and minor astringent flavoring, but not bitter.
Green tea flavor compounds are sensitive to high water temperatures and should be brewed using water at lower temperatures. As a general rule of thumb, the ideal temperature for green tea ranges from 175°F to 185°F. You can measure the temperature with a temperature gauge or a thermometer.
To develop the best flavors, after you add the tea to the hot water cover the tea kettle or teacup and steep for 3-5 minutes depending on your flavor preferences. After 3 minutes, the green tea will develop a deeper flavor and the bitterness comes through around 5 minutes.
Ingredients For This Recipe
Jasmine Green Tea: Jasmine green tea is my favorite green tea. Jasmine green tea, a subtype of green team, is brewed with jasmine flavors. Any good quality green tea will work here. I recommend using

Rishi Tea Jasmine Green Tea

. They have a deep, rich and smooth green tea flavor with quality you can taste.
Water: hot water brews the jasmine green tea.
Grapefruit: choose a fresh juicy grapefruit for this recipe. Since the recipe calls for few ingredients it is important to use a high quality grapefruit which will be the star of this dish.
Granulated Sugar: the granulated sugar acts as a sweetener for this tea. It balances out the bitterness of the grapefruit.
How To Make This Recipe
This recipe is incredibly simple and ridiculously satisfying. All you need to do is brew the tea, mix the ingredients together and serve!
Brew the green tea. Brew jasmine green tea in hot water for 3-4 minutes. Then refrigerate until cool.
Stir together the ingredients. In a small pitcher, stir together the jasmine green tea, grapefruit juice and sugar. Make sure the sugar has completely dissolved.
Serve: serve with grapefruit slices inside the glass, ice and your favorite toppings! Our go-to is always boba.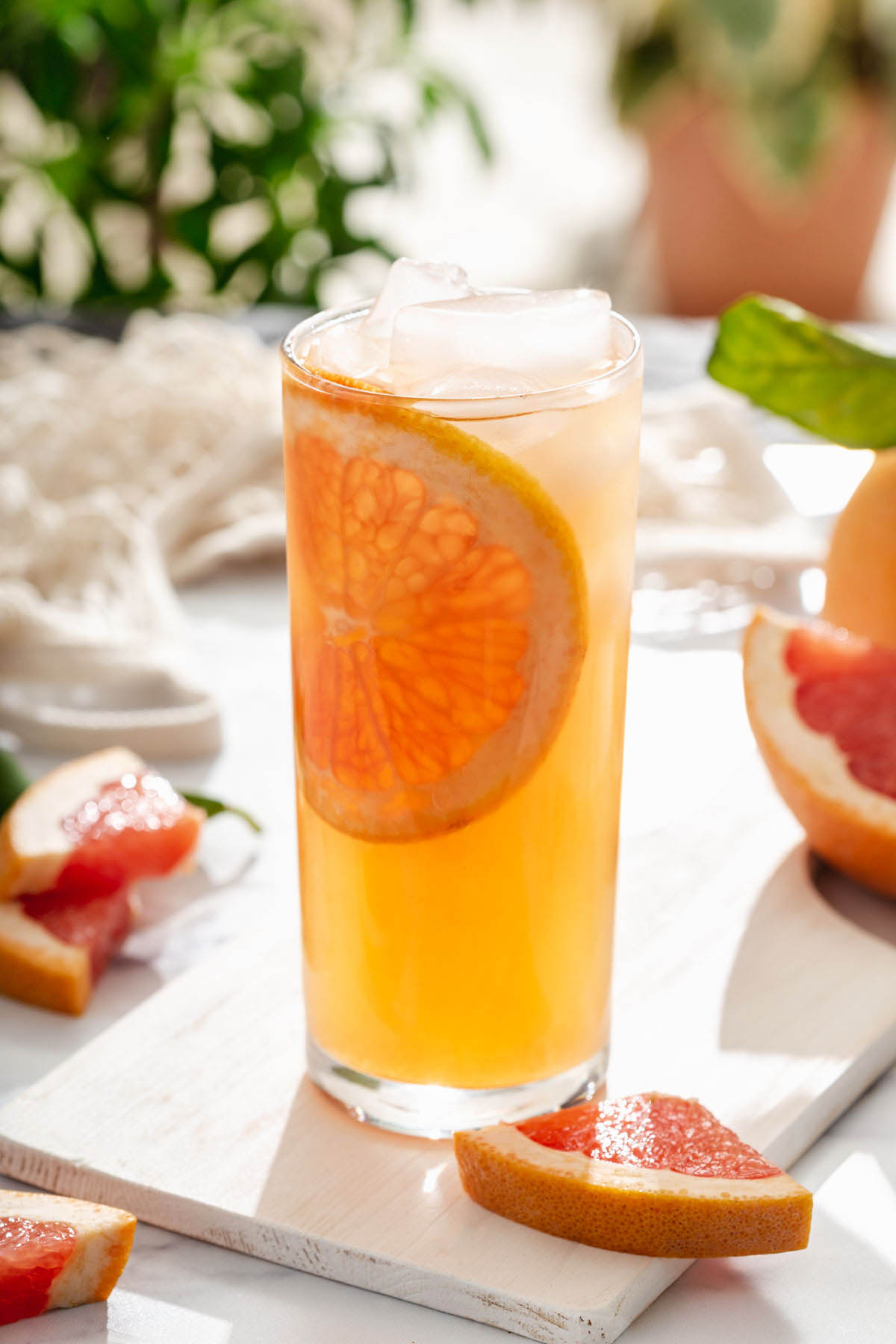 Tips For This Recipe
Use cold ingredients. Nobody loves a lukewarm drink. Make sure to have all the ingredients chilled in the refrigerator before making this recipe.
This recipe makes 2 cups. You can double or triple the recipe if you want to make this for larger groups of people.
You can change the sugar level. When it comes to drinks, I always err on the side of something that is not too dense and overly sweet. The seeming large amount of sugar in this recipe is necessary to balance out the bitterness of the grapefruit. However, the sugar level is entirely up to you and you can alter the amount based on your sugar preference!
Continue stirring until all the water dissolves. Alternatively, you can cook the water and sugar together in a saucepan over medium low heat to quickly dissolve the sugar into a simple syrup.
Add your favoring toppings. You can add in

homemade boba pearls

to make this recipe a full treat!
Storage Instructions
You can store this grapefruit green tea in a bottle or pitcher in the refrigerator for up to 1 week.
You May Also Love...