It's getting hot over here! Time to cool off from that summer heat with the most refreshing Watermelon mint tea. This delicious 5 ingredient and under 15-minute drink recipe is here to revitalize you from melting from this heat wave.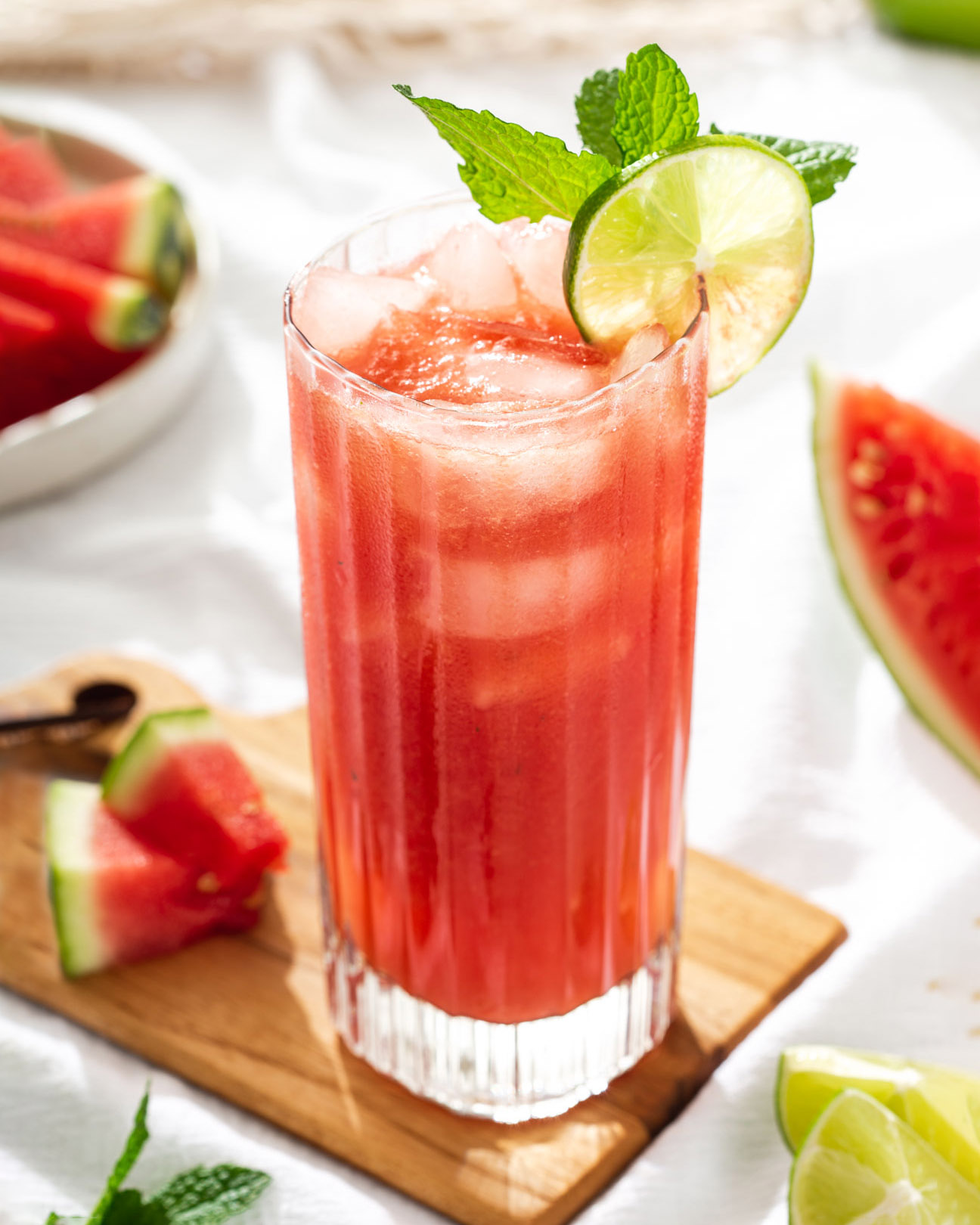 To be honest, the entire time I was blending this watermelon mint tea I was singing the Harry Styles' Watermelon Sugar song on repeat. This drink is one of my favorite drinks to whip up right now during watermelon season. It is light, crisp, and so refreshing. Just one sip and you will immediately sink into your chair and release the most satisfying *aahh.
This recipe is fancy enough to serve at your next backyard bbq but also simple enough that anyone can make it in under 15 minutes! Pair it with some Nem Nuong Spring Rolls or Chicken Katsu Curry Sliders and you have got yourself a delicious feast.
Ingredients For This Recipe
Jasmine Green Tea: Jasmine green tea is my favorite green tea. Jasmine green tea is a subtype of green tea that has been flavored and brewed with jasmine flavors. This is just a personal preference. Any good-quality green tea will work here. I recommend using

Rishi Tea

. They have a deep, rich, and smooth green tea flavor.
Lime Juice: freshly squeezed lime juice brightens up the watermelon and tea.
Mint Leaves: the fresh mint leaves adds a subtle herbal note that pairs beautifully with the lime and watermelon.
Honey: honey acts as a natural sweetener for this recipe.
Watermelon: choose the ripest juiciest watermelon for the best results
Light Rum (optional): if you want to make this a mojito, you can simply add in a light rum like Bacardi into your cup and swap out the tea for club soda and you got yourself a delicious cocktail!
How to Properly Brew Green Tea
It is no secret that green tea is filled with health benefits. In China, India, and Japan, it is used as a healthy elixir used to control or prevent diabetes, aid weight loss, and help you live longer. In order to maximize the health benefits, it is important to properly brew your green tea.
For green tea, if you do not brew it properly it could taste harsh, grassy or even bitter. The perfect cup of green tea should have a light color and minor astringent flavoring, but not bitter.
Green tea flavor compounds are sensitive to high water temperatures and should be brewed using water at lower temperatures. As a general rule of thumb, the ideal temperature for green tea ranges from 175°F to 185°F.
To develop the best flavors, after you add the tea to the hot water cover the tea kettle or teacup and steep for 3-5 minutes depending on your flavor preferences. After 3 minutes, the green tea will develop a deeper flavor and the bitterness comes through around 5 minutes.
How to Make this Recipe
This recipe is incredibly simple all you need to do is:
Brew the Jasmine green tea in hot water for 4 minutes. Place in the refrigerator to cool.
Juice the lime juice and muddle the mint leaves. Smash the mint leaves in the lime juice by using a mortar and pestle or a muddler. Next, mix in 1 tbsp of honey. Strain evenly into 2 cups to prevent the mint pieces from mixing in.
Puree the watermelon in a blender or food processor. This should yield about 1 cup of pureed watermelon.
Serve. Using a fine-mesh sieve, strain ½ cup of pureed watermelon into the honey, mint, lime juice cup. Then pour and mix in ½ cup of jasmine green tea, add ice and serve.
Tips For This Recipe
Use cold ingredients. Nobody loves a lukewarm drink. Make sure to have all the ingredients chilled in the refrigerator before making this recipe.
This recipe makes 2 cups. You can double or triple the recipe if you want to make this for larger groups of people.
Make the watermelon puree using a

blender

or

food processor

. This will allow you to have that perfectly smooth watermelon puree. You don't have to strain the watermelon if you like to keep the watermelon pieces in your drink.
Storage Instructions
You can store this watermelon mint tea in a bottle or pitcher in the refrigerator for up to 1 week. The watermelon will sink to the bottom of your container. Simply mix it back up before serving.
You may also love...