Enjoy a spice-filled Vietnamese Cajun Seafood Boil in your very own backyard! This Vietnamese Cajun seafood boil incorporates fresh shrimp, manilla clams, and king crab legs tossed in a homemade Cajun seasoning butter sauce that is finger-lickin' good.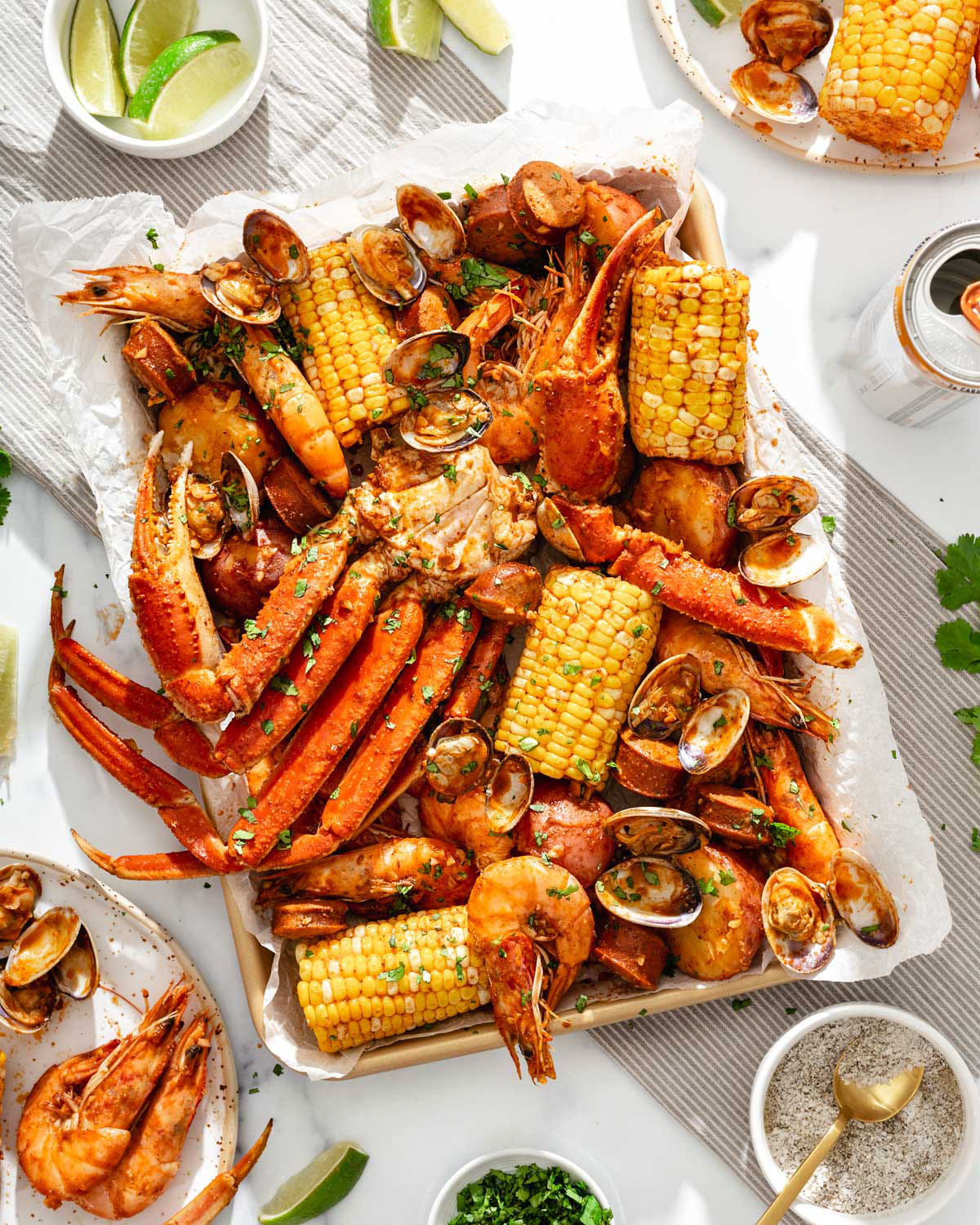 This is by far my favorite summer recipe. It is really simple to make and is packed with delicious and addictive flavors. If you are anything like me, you love to make eating an experience. With this recipe you get the best of everything: 1) delicious fresh seafood, 2) addictive spicy cajun butter sauce, and 3) memories that will last for a lifetime. I still remember all the times my large Vietnamese family would make a delicious seafood boil. The parents would throw pounds and pounds of seafood over the center of the table in the backyard and everyone would fight until the finish. Those who were fast enough at peeling and cracking got their fill, those who weren't had to fill up on potatoes and corn.
Now it is time for you to make your very own backyard memories with this delicious Viet-Cajun seafood boil recipe! So spread out the paper towels, pass around some refreshing watermelon mint tea and kill an afternoon by digging into this Asian fusion southern feast.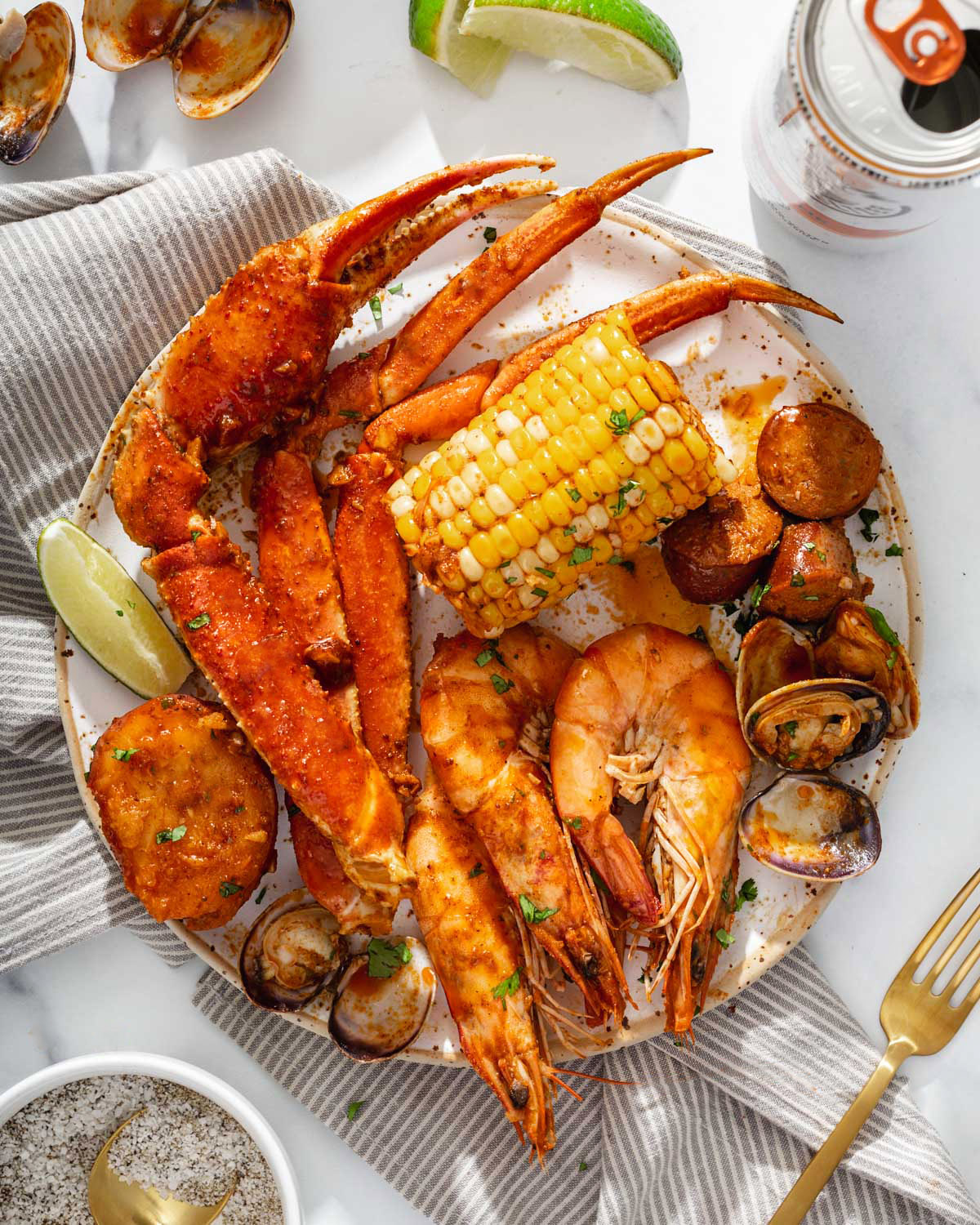 Short History of Vietnamese Cajun
Vietnamese Cajun Seafood Boil is a new kind of fusion. It merges the American South flavors with Vietnamese ingredients. Viet-Cajun emerged in the 1970s when Vietnamese refugees landed on the Gulf Coast. These Vietnamese people found that these outdoor crawfish boils in Louisiana were similar to the outdoor food markets in Vietnam. In 2008, in Houston, Texas, Trong Nguyen opened the very first Viet-Cajun restaurant. His restaurant has won many awards and he is now a two-time James Beard Semifinalist. Today, dozens of restaurants like Boiling Crab and Kicking Crab have popped up in Houston and the U.S. serving Viet-Cajun cuisine.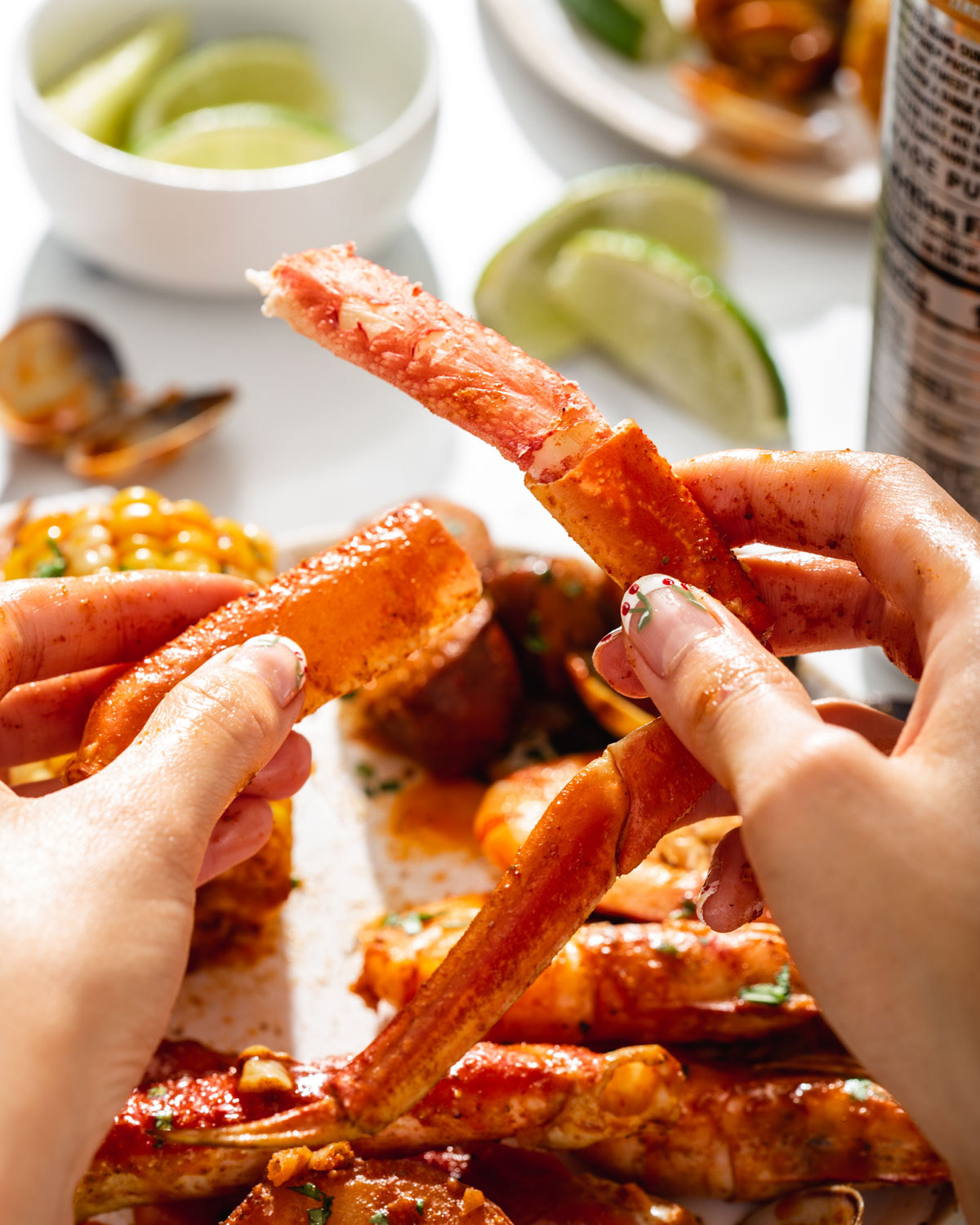 Ingredients For This Recipe
The ingredients for this Vietnamese Cajun Seafood Boil recipe are listed in three different categories to make it simpler for you. You will need ingredients for the 1) stockpot, 2) the seafood and vegetables and 3) the garlic butter sauce.
Stockpot Broth
Lemongrass: is a shrub-like herb with a distinct lemon aroma and flavor. It is a key ingredient in this recipe for that fresh marinade flavor. You can find lemongrass at your local Asian grocery store in the produce section.
Garlic: fresh bulb of garlic that is halved. You can leave the skin on the garlic to hold the pieces together.
Ginger: the ginger must be peeled and sliced vertically into thin strips
Fish sauce: Fish sauce is a MUST in Vietnamese cooking. It adds that subtle umami flavor that takes any dish from 0-100 instantly. My favorite fish sauce to use is Red Boat Fish Sauce or Three Crabs Fish Sauce you can find fish sauce online or at your local Asian grocery store.
Lemon: the citrus in the lemon cuts down the "sea" flavor of the seafood
Old Bay seasoning: my favorite seasoning to use for seafood is always hands down Old Bay. You can always substitute Old Bay with Zatarains Crab Boil, or Cajun seasoning.
Salt: a pinch of salt brings enhances all the flavors.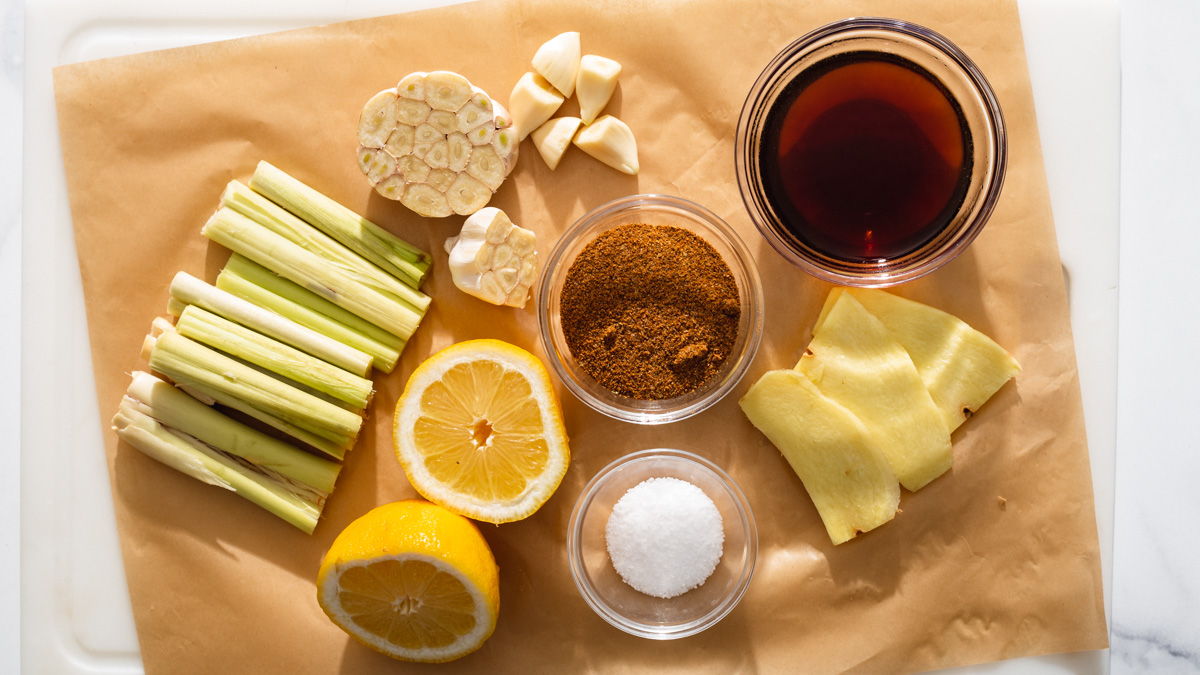 Seafood and Vegetables
This part is entirely up to you! I've listed below the seafood and vegetables that I chose because these are my favorite type of seafood. You can always mix and match based on your preference.
Manilla or Littleneck clams
Shrimp
King Crab Legs
Baby Red Potatoes
Andouille Sausages
Corn
Seafood boil seasoning
Unsalted butter: use unsalted butter to avoid too much salt in your sauce.
Garlic: use freshly minced garlic for the best garlic flavor explosion
Louisiana Hot Sauce: Louisiana hot sauce is much more mild than the typical Tabasco. It is bursting with a lot of salt and flavor rather than simply heat. I used

Crystal Louisana's hot sauce

for this recipe. You can find Louisiana hot sauce online or at your local grocery store.
Old Bay Seasoning:

Old bay seasoning

is the base for the seafood boil sauce. you can substitute Old bay with Zatarains crab boil, or any other cajun seasoning you prefer.
Paprika: You can use either paprika or smoked paprika for this recipe.
Cayenne Pepper: you can adjust the spiciness by adding more or less cayenne.
Sugar: a little sweetness balances out all the heavy spicy flavors
Pepper: adds a another layer of spice into the dish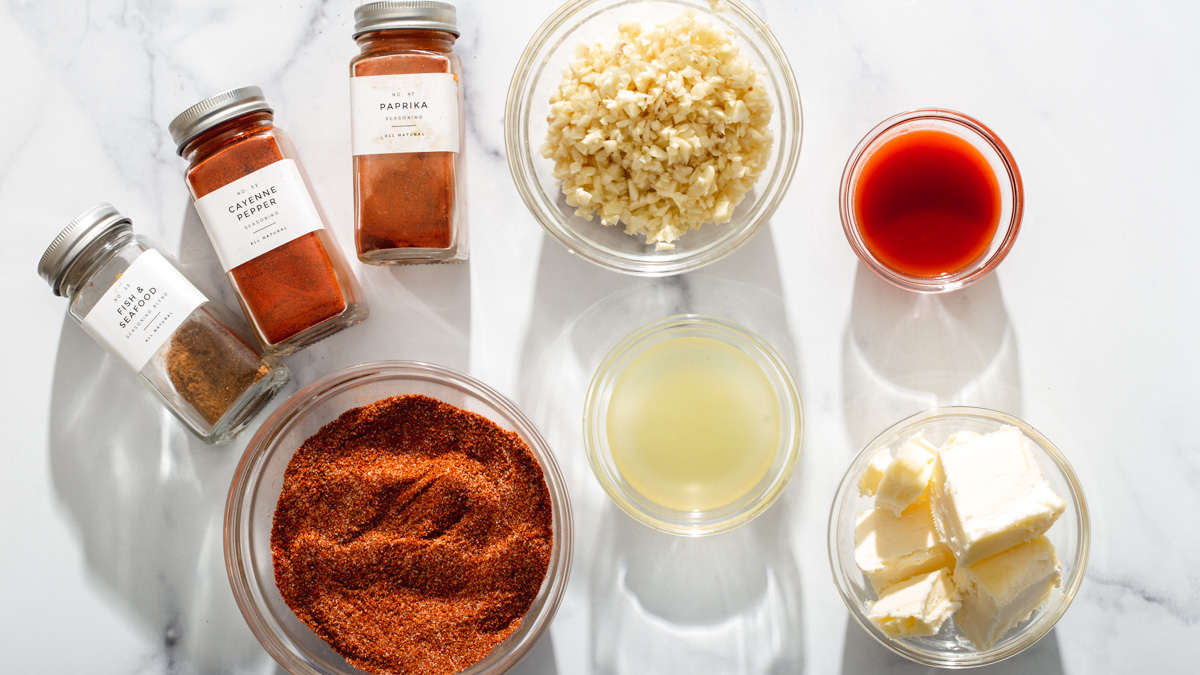 How To Make This Recipe
This Vietnamese cajun seafood boil recipe may seem intimidating at first but in essence, it is quite simple. This recipe tastes similar to my all-time favorite seafood boil restaurant--Boiling Crab. So if you are a fan of Boiling crab, you will be a fan of this recipe. Guaranteed.
Rinse the seafood. Rinse the shrimp and crab legs. Scrub and soak the clams in cold salted water for 30 minutes then rinse the clams until the water becomes clear. Set aside.
Make the broth. In a large (

~8 quart stockpot

) stockpot, fill the pot halfway (about 1 gallon) with water. Add the lemongrass, garlic, ginger, fish sauce, old bay, lemon and salt. Cover and bring to a boil over high heat. Then reduce the heat to medium-low and simmer for 15 minutes.
Add the seafood and vegetables. Add the potatoes and return to a gentle boil. Uncover and boil on medium high for 15 minutes. Then, add clams and sausage. Cover the pot and boil on medium high for 5 minutes. Then, add crab legs, shrimp and corn. Cover pot and cook on low for about 3-5 minutes. Then drain the seafood and discard the water. Discard the lemongrass, lemons, ginger and garlic. Set aside.
Make the garlic butter sauce. In a small mixing bowl, mix together the old bay, paprika, cayenne pepper, black pepper and sugar until combined. Next in a large skillet over medium heat, add the butter and minced garlic. Saute the garlic until fragrant. Then add the seasoning mix and Louisiana hot sauce. Stir until combined.
Mix together. Transfer the seafood and vegetables in a large mixing bowl and toss the seafood with the butter sauce evenly coats the seafood. Garnish with cilantro and serve with lemon and salt and pepper.
Tips For This Recipe
Raw Shrimp Storage: store the fresh shrimp in the coldest part of the refrigerator and cook it within 1-2 days of buying. The best way to store shrimp is to lay them on a bed of ice and cover them with a wet paper towel. In essence, let the shrimp breathe and do not wrap it in an airtight bag. Do not freeze fresh shrimp it will change the texture of the shrimp.
Raw Clams Storage: store the clams on a tray or plate in a single layer covered with a damp cloth or paper towel. They must be cooked within 1-2 days of buying. Never store clams covered or sealed in plastic. The clams should have an ocean sea aroma, and closed shells. Give any open shelled clams a tap and they should close. If they don't discard them.
Scrubbing clams: before cooking scrub the clams with a hard bristled brush and let them soak in cold salted water for 30-50 minutes to expel any extra sand and then rinse again.
Frozen king crab legs must be stored in the freezer until you are going to cook the legs. You must de-frost the crab legs before adding them to the pot.
You can use any seafood selection you please! This is YOUR seafood boil. Go all out and use whatever seafood makes you the happiest.
You can adjust the spiciness by adding more or less of the cayenne and Louisiana hot sauce. I am generally a spice wimp and err on the less spicy side of things.
Storage Instructions
This Vietnamese cajun seafood boil is best eaten immediately. You can store the seafood and vegetables in an airtight container in the refrigerator for up to 2 days. To re-heat simply re-heat in the microwave.
You May Also Love...