This Mì Xào Giòn or Crispy Noodle Stir Fry made with fresh seafood, chicken and a colorful variety of vegetables is my all-time favorite dish to treat myself with at high-end Vietnamese restaurants. Nothing beats that ultra-crispy golden noodle nest that is glazed in a rich garlicky soy sauce.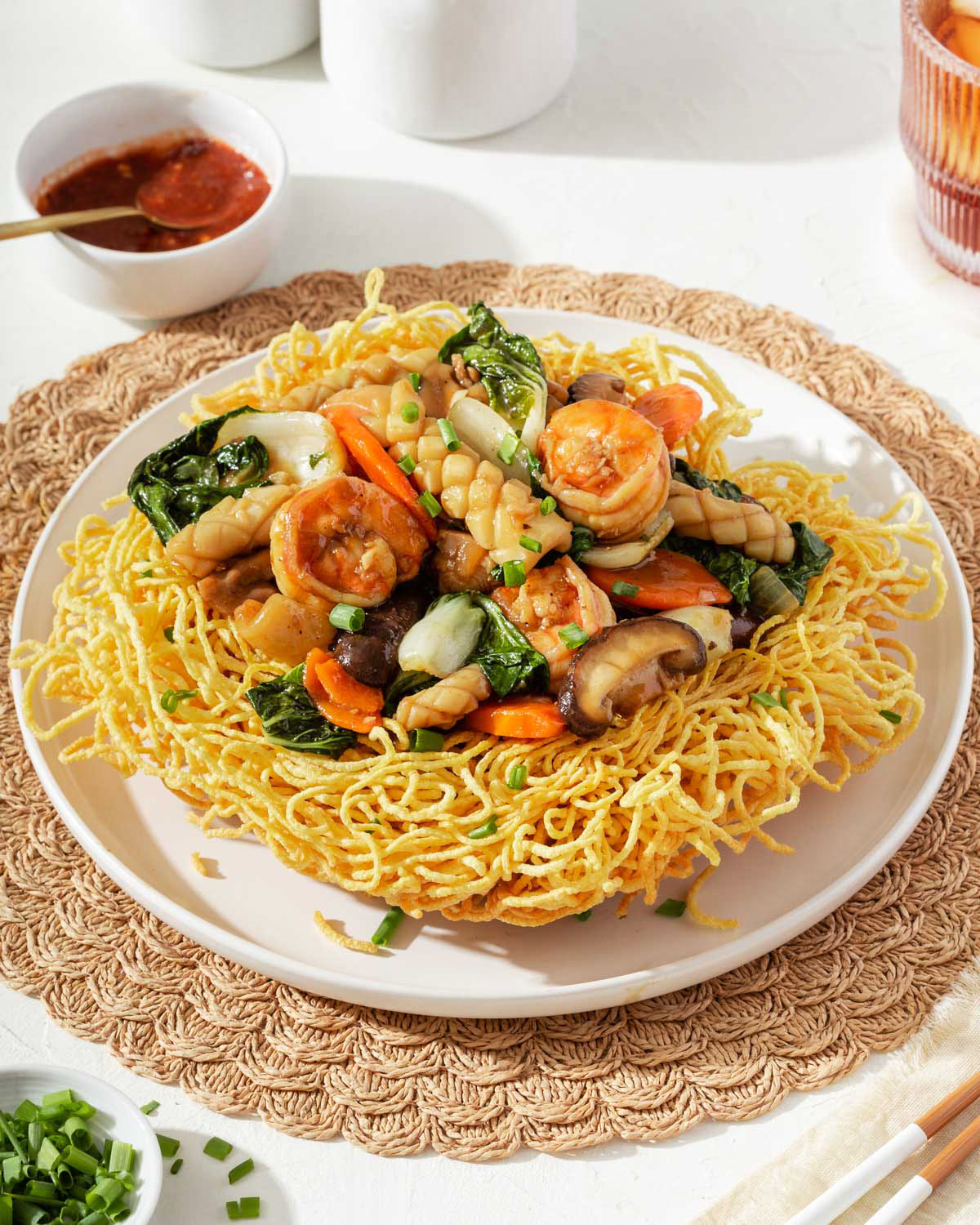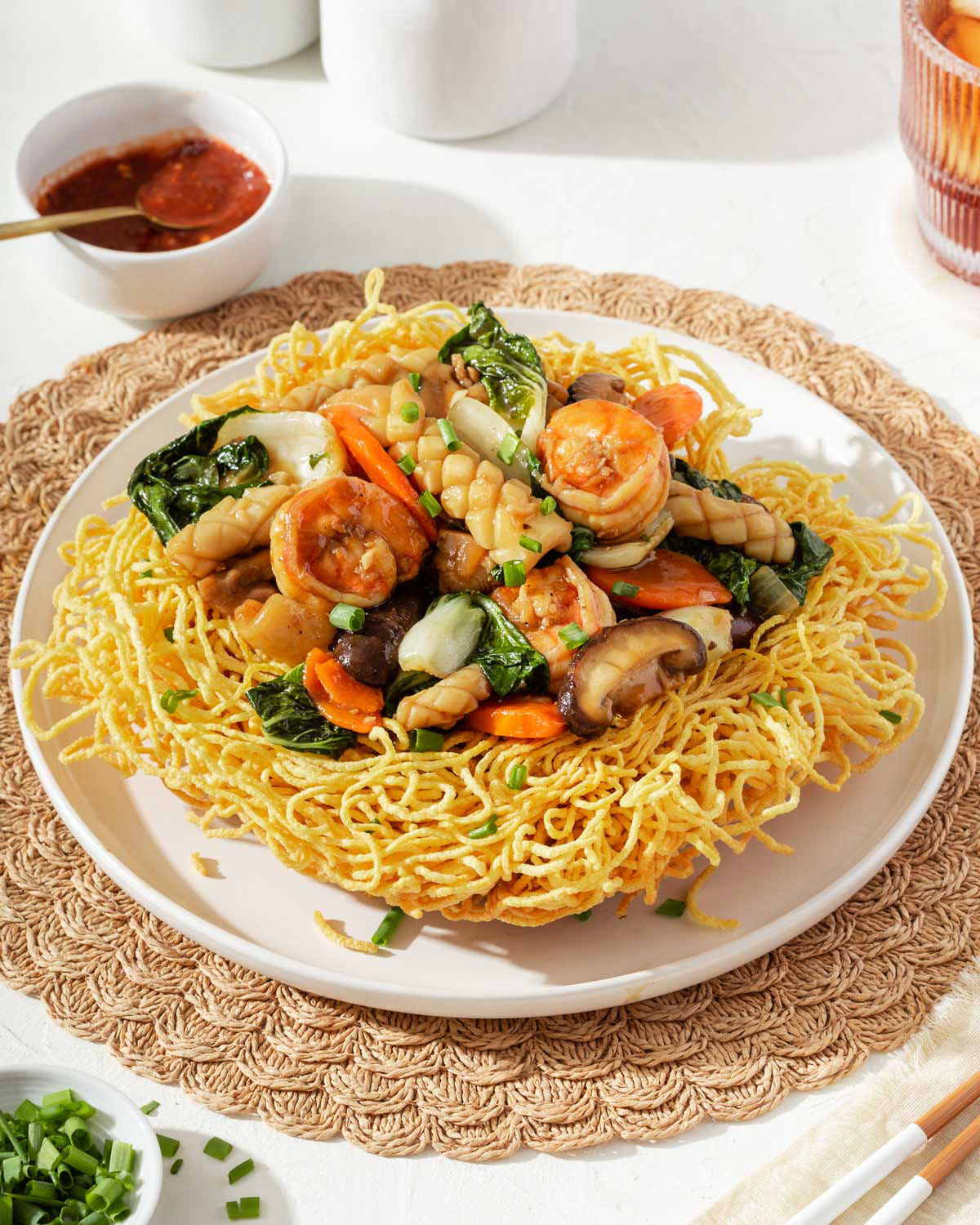 Whenever I go out to eat dinner with my parents, they almost always choose a new Vietnamese restaurant in town to try. If you have ever been to an authentic Vietnamese restaurant that is not mainly a Pho restaurant, you know that the menu is extensive and pretty overwhelming. When I scan the photos on the menu with my rusty Vietnamese, I always search for Mì Xào Giòn. Something about that crispy golden egg noodles shaped like a bird's nest and topped with a deliciously balanced stir fry filled with a medley of vegetables and proteins brings me to life! I love when I take a bite in the center of the nest where the sauce has softened the noodles and I get some soft and crispy noodles all in one bite. It is truly a culinary masterpiece.
This Mì Xào Giòn is incredibly simple to whip up and will 100% wow all of your guests at your next dinner party. Pair this with a beautiful Japanese Strawberry Shortcake and some Grapefruit Green Tea and you will have a delicious well-balanced meal.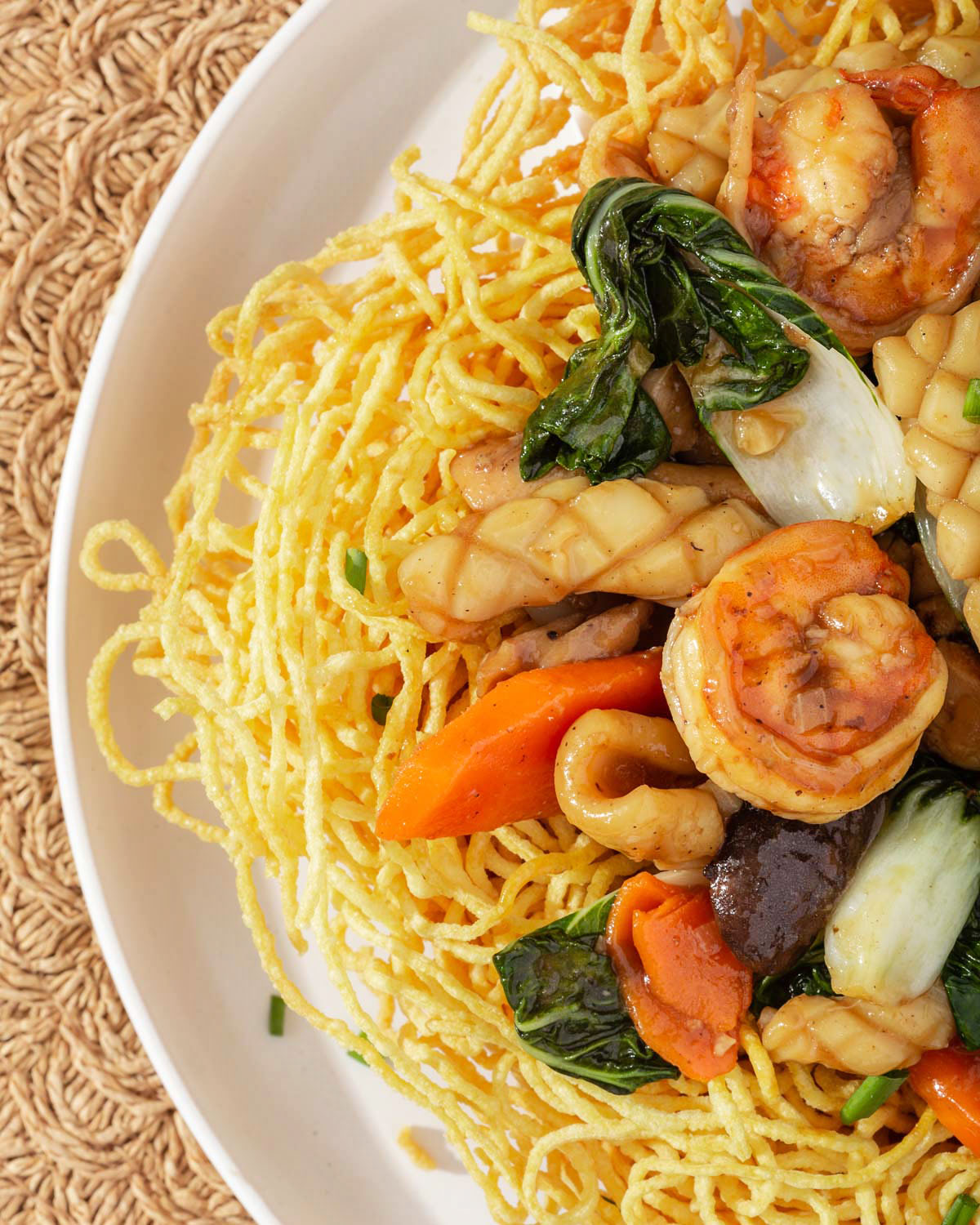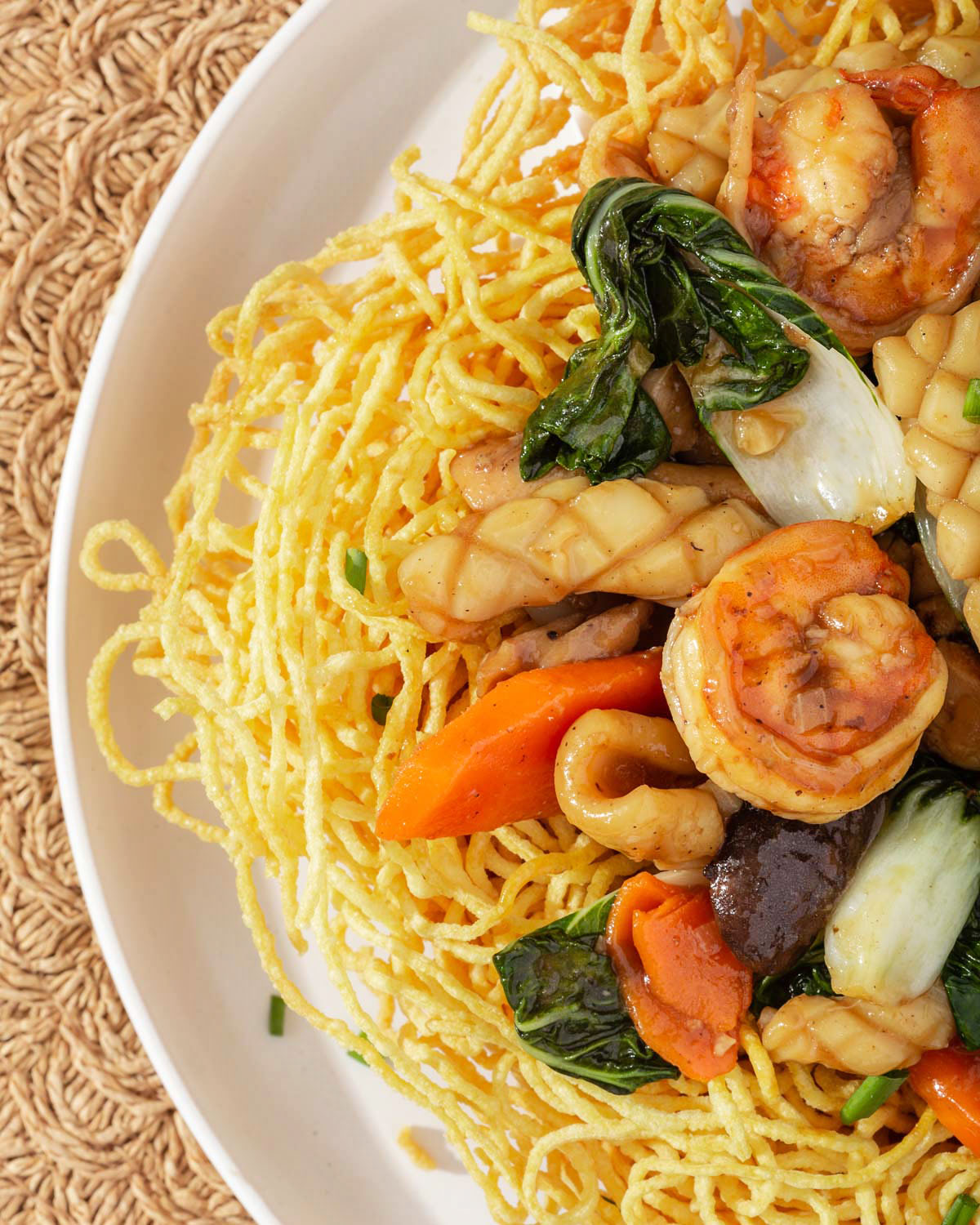 Kitchen Tools For This Recipe
Large Wok: With any stir fry dish, you will always need a reliable large wok. The high sloped edges of the wok allows you to easily toss the food around the surface without spilling it over the sides while cooking the food evenly. I use a

13 inch non-stick wok

that you can find online or at any Asian grocery store.
Thermometer: You will need a

thermometer with a pot clip

to attach to the side of the wok to measure the temperature of the oil. The temperature of the oil is crucial. Not hot enough the noodles will come out soggy and greasy. Too hot the oil will burn the noodles instantly. The right temperature to have the oil is at 380°F or 193°C.
Spider Strainer: The spider strainer is a must to get the right bird's nest shape for the noodles. You need to a strainer that is at least 7 inch in diameter to make a noodle dish large enough for a single serving. I used

a 7 inch and a 5 inch spider strainer

. The 5 inch noodle strainer is used to press a dip inside the noodles while the noodles are frying to create the nest shape.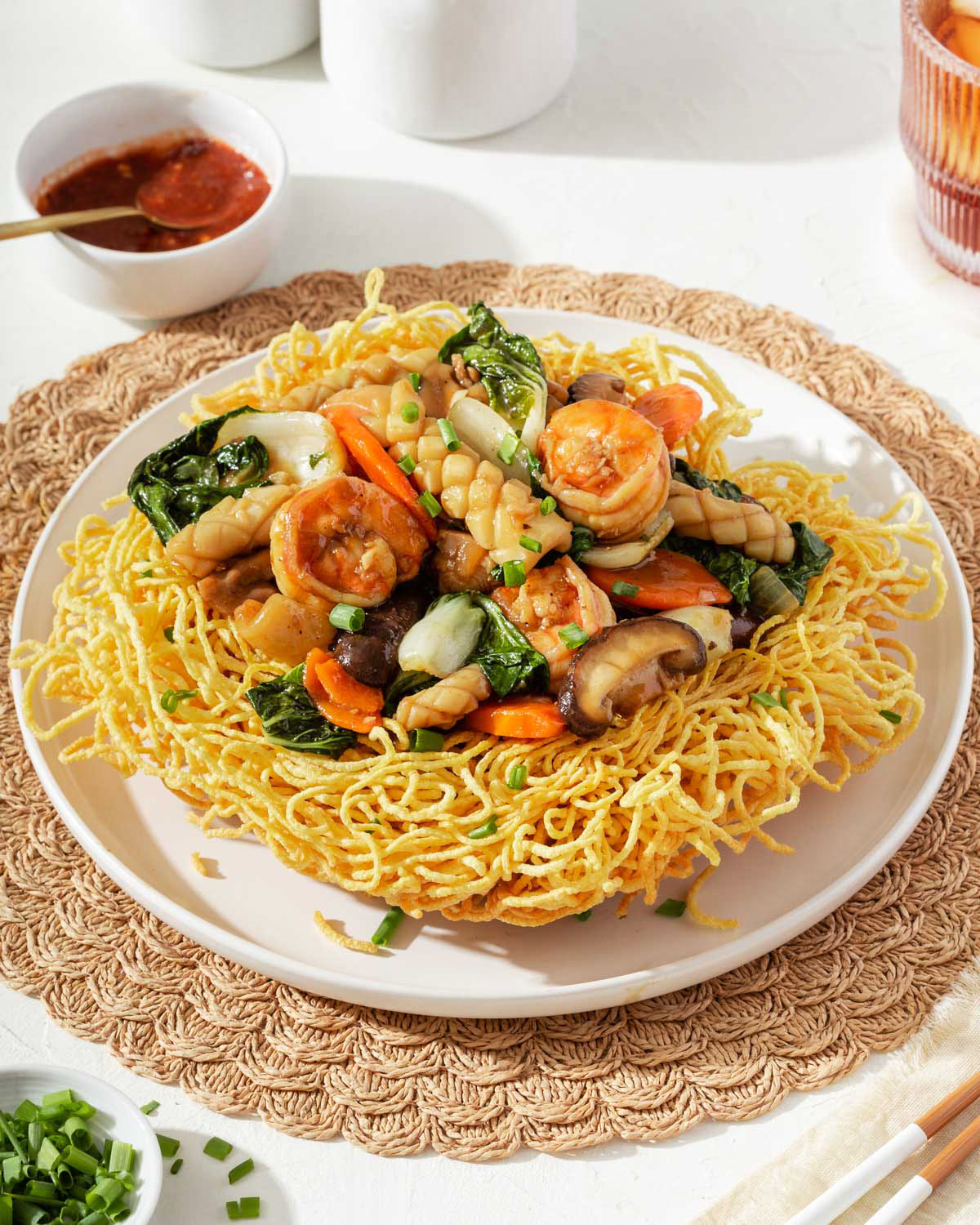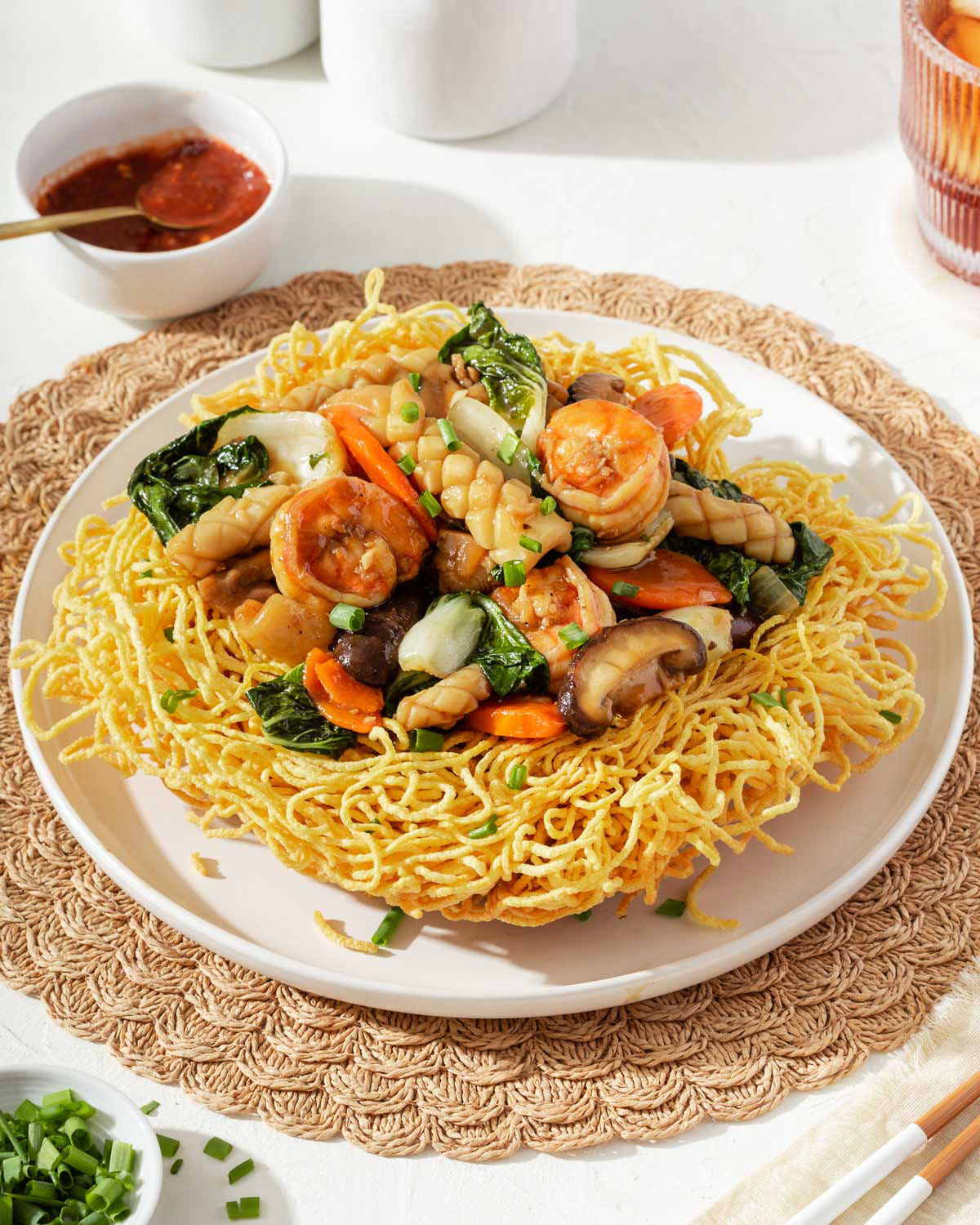 Ingredients For This Recipe
All of the ingredients for this Mì Xào Giòn recipe can be found at your local Asian, Chinese, Vietnamese grocery store or online.
Sauce Ingredients
Oyster sauce is a mixture of carmelized oyster juices, salt, sugar, and soy sauce. It adds an extra umami flavoring to the dish. You can find

oyster sauce

online

here or at your local Asian grocery market.
Light soy sauce: Light soy sauce is thinner and lighter in color and adds a gentle saltiness to the dish. For the most authentic flavor, I use

Lee Kum Kee Premium soy sauce

.
Dark soy sauce: Dark soy sauce has a more intensity in flavor, saltiness and is much darker. Also, dark soy sauce has a sweeter flavor due to it being aged longer with molasses. I used

Lee Kum Kee Dark Soy Sauce

.
Granulated Sugar: the granulated sugar balances out the saltiness from the oyster sauce, and soy sauces. You can alter the amount of sugar to your liking by adding or removing sugar 1 tablespoon at a time.
White Pepper: I like using white pepper in Vietnamese recipes because it yields a softer pepper taste than black pepper. However, you can substitute white pepper for black pepper.
Shaoxing Rice Cooking Wine: is a type of Chinese rice wine from Shaoxing, a city in China. Shaoxing wine adds depth and flavor complexity. You can find

Shaoxing Rice Wine

online or at any Asian grocery store.
Sesame oil: sesame oil is an edible oil derived from sesame seeds. It has a rich sesame flavor. You can find

sesame oil

online here or at your local Asian grocery store.
Chicken Broth: the majority of the stir fry is cooked in chicken broth. It dilutes the saltiness from the soy sauces and adds a gentle flavoring to the vegetables and protein. I used Swanson's chicken broth for this recipe.
Cornstarch: cornstarch is used as a thickening agent for the sauce so that it is less runny and evenly coats the vegetables and protein.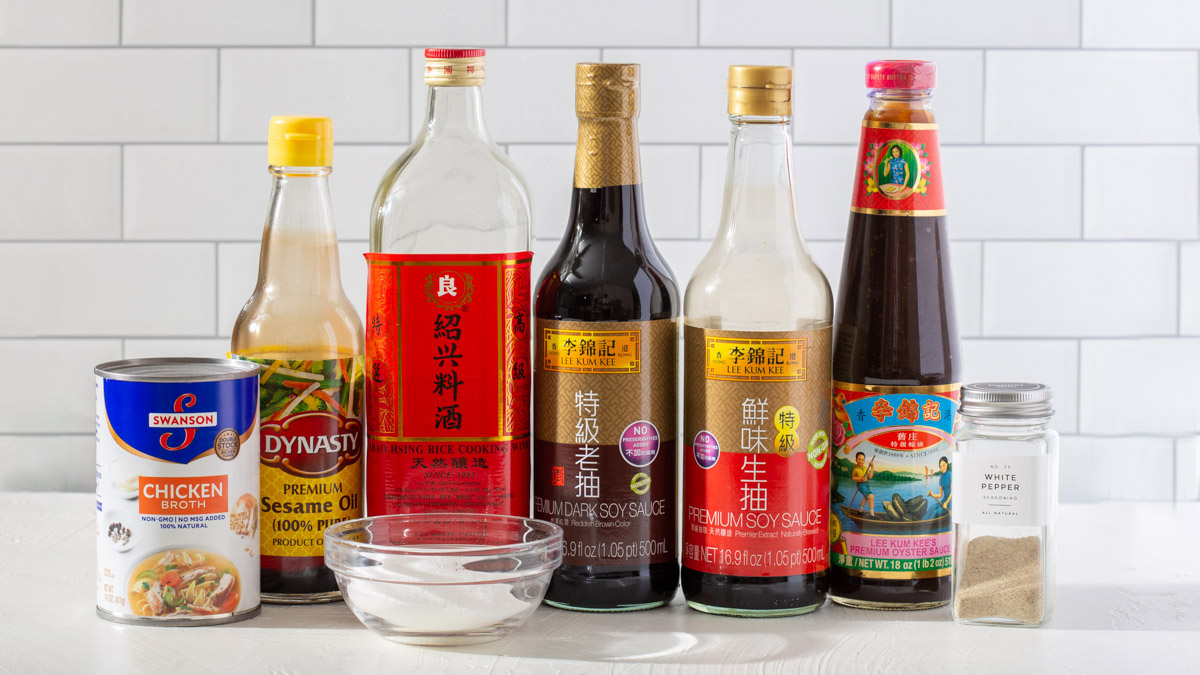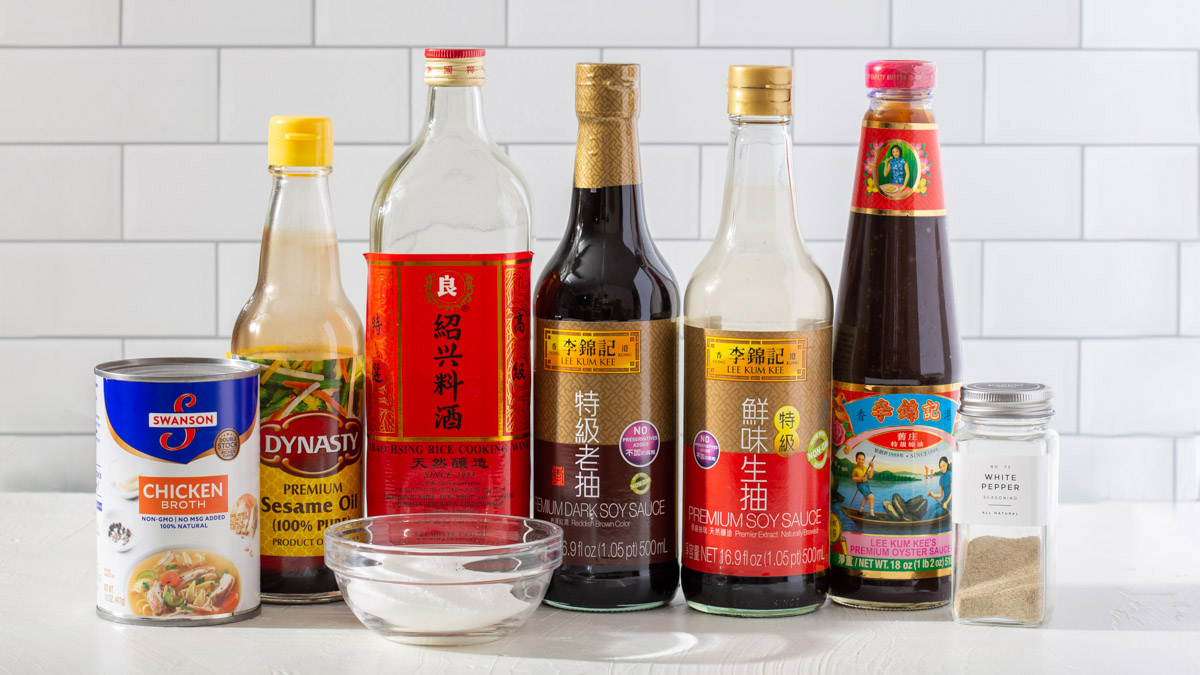 Crispy Noodles
Fresh noodles: using fresh wonton or chow mein noodles is a must to allow the noodles to puff up evenly and quickly. You can use dried noodles as well but you will have to cook the noodles and air dry them for at least 1 hour before frying. You can choose the thickness of your desired noodles. I chose the thin wonton noodles since the noodles will puff up when fried.
Neutral Oil: You must use neutral oil for this recipe because it has a high burning point. The best oil to use for frying these noodles is either canola, peanut oil, or vegetable oil. You will need a lot of oil depending on the size of your pot or wok. I used about 3 quarts of oil to fill my 14 inch wok.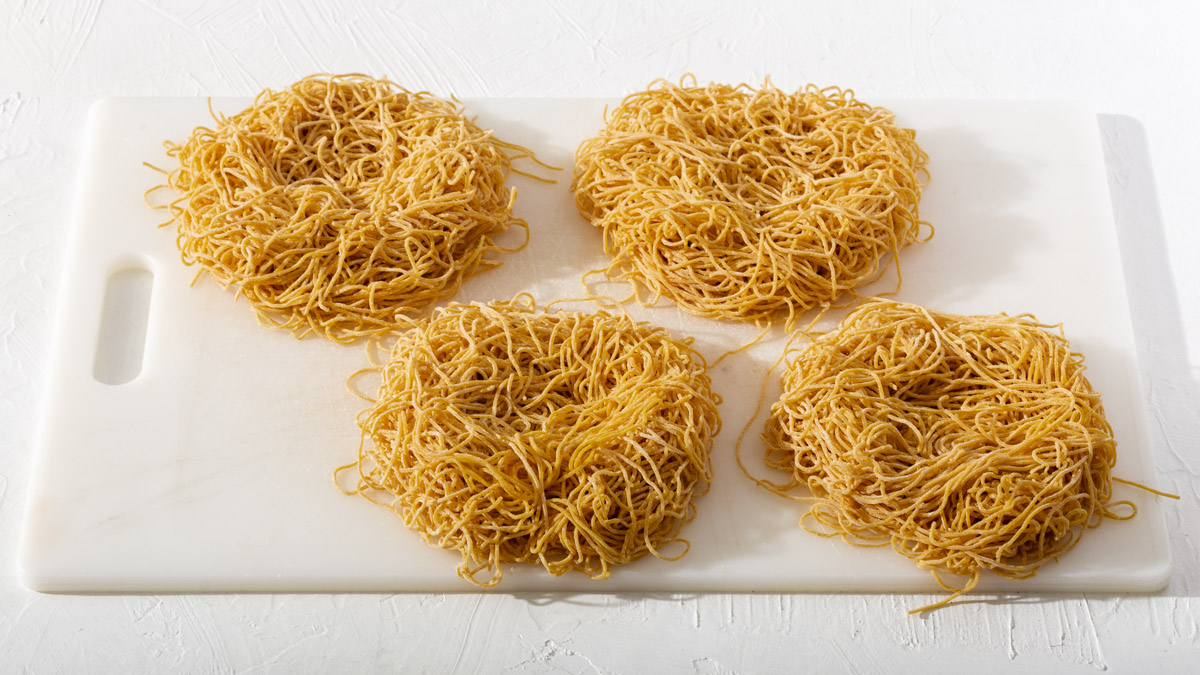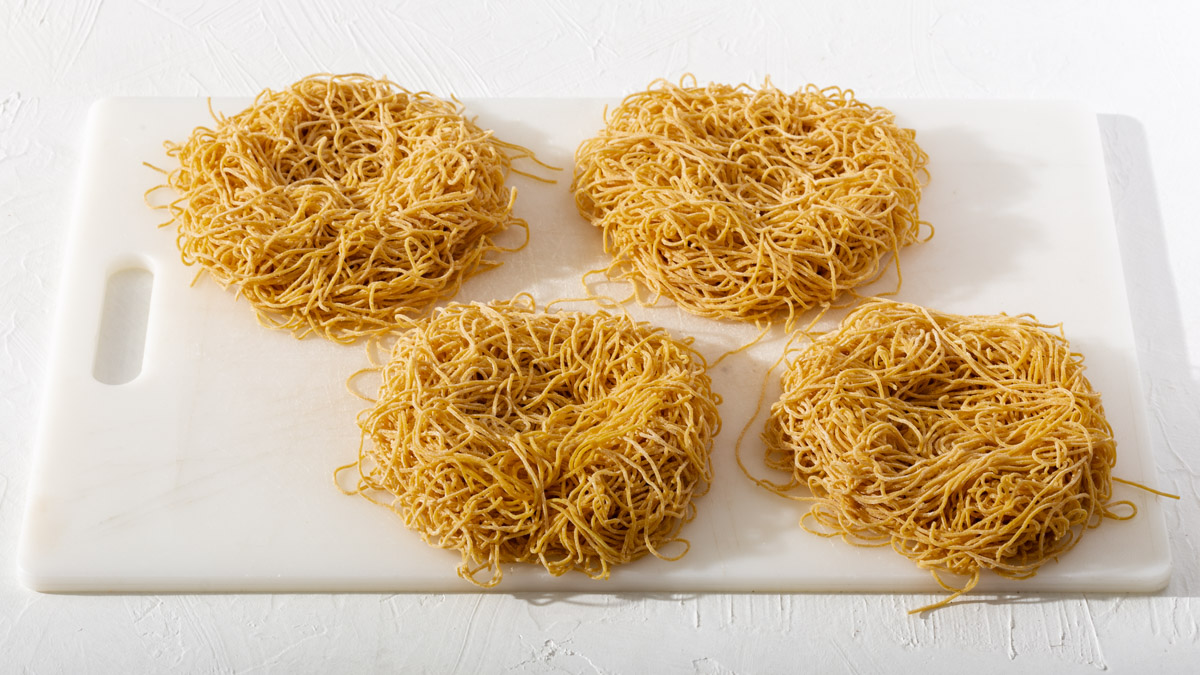 Stir Fry
For the stir fry portion, you can follow this recipe or choose your own protein and vegetables! The only thing that is a must is the onion, garlic, and shallots. This is YOUR meal make it however you'd like it. I've listed alternative vegetables and proteins you can select from.
Chicken (pork, beef, tofu, quail eggs)
Squid
Shrimp (scallops, imitation crab meat)
Yellow Onion
Garlic Cloves
Shallots
Carrots (baby corn, bell peppers)
Mushrooms (shitake, oyster, or button mushrooms)
Baby Bok Choy (brocoli, gai lan, snap peas, cabbage)
Green Onion
How To Make This Recipe
To make this Mì Xào Giòn recipe, I highly advise that you prep the sauce, vegetables, and protein in their respective bowls or containers before you begin cooking the stir fry. This will make the process so much more seamless and a lot easier than it looks.
Sauce and marinade
Mix the sauce. In a small mixing bowl, mix the oyster sauce, light soy sauce, dark soy sauce, sugar, white pepper, Shaoxing wine and sesame oil.
Marinate the protein. Marinate the sliced chicken and washed shrimp and squid with salt and pepper. Then take 2 tablespoon of the sauce and mix. Marinate for 10 minutes.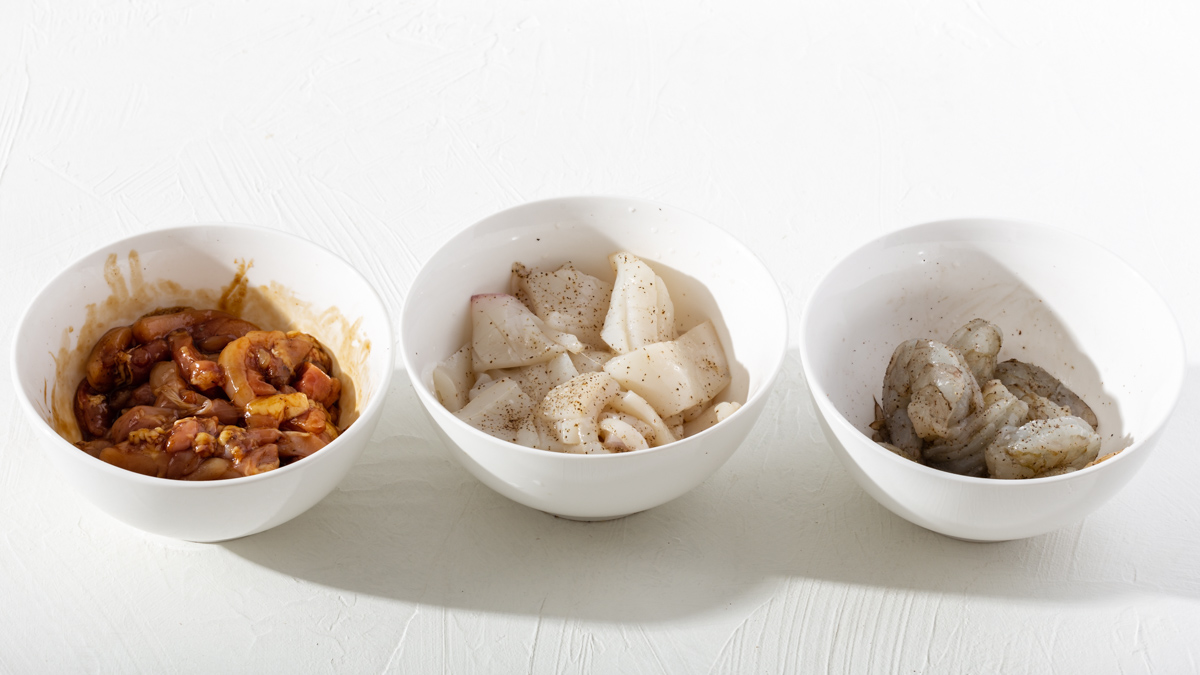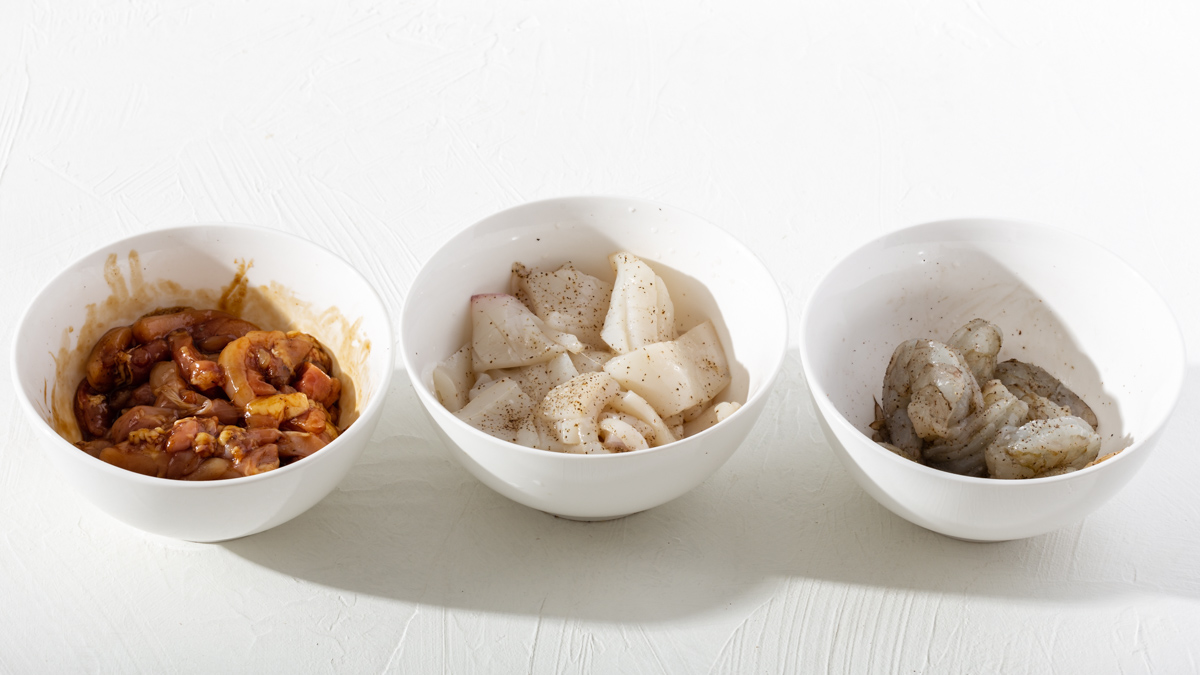 Crispy Noodles
Prepare the wok. Heat a large wok or deep pot with about 4-5 inches of vegetable or peanut oil to 380°F.
Working in groups, separate the noodles and shape them into a nest like shape on top of the spider strainer. Submerge the noodles into the oil for about 10-20 seconds or until the noodles puff up and become crispy. (Optional) If you want a more pronounced bird nest shape, place a smaller strainer on top of the noodles so when the noodles puff up they will puff around the smaller strainer creating a more pronounced bird's nest. Transfer the noodles onto a wire rack to drain excess oil and cool.
Stir Fry
Cook aromatics. In a large pan or wok, heat on high heat 1 tablespoon of vegetable oil and stir fry onion, garlic and shallots until browned and fragrant.
Cook the protein. When the aromatics are browned and fragrant, add in the chicken and stir fry for 1 minute. Then add in the squid and stir fry for an additional 30 seconds. Lastly, add in the shrimp and stir fry until pink.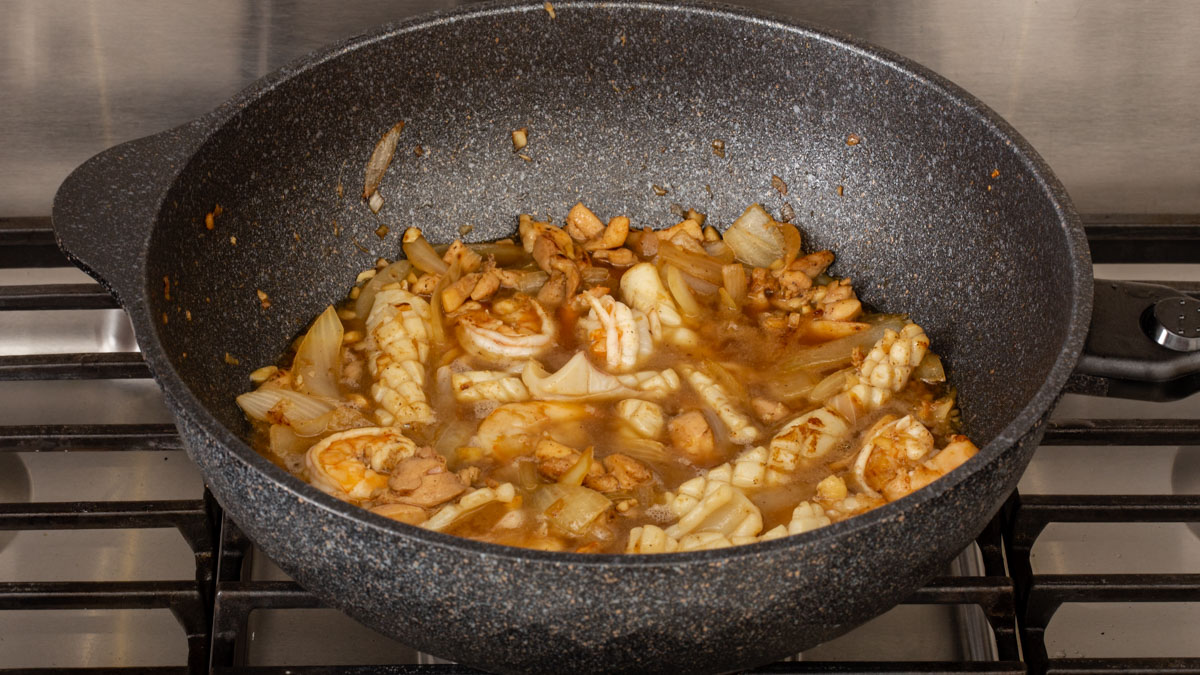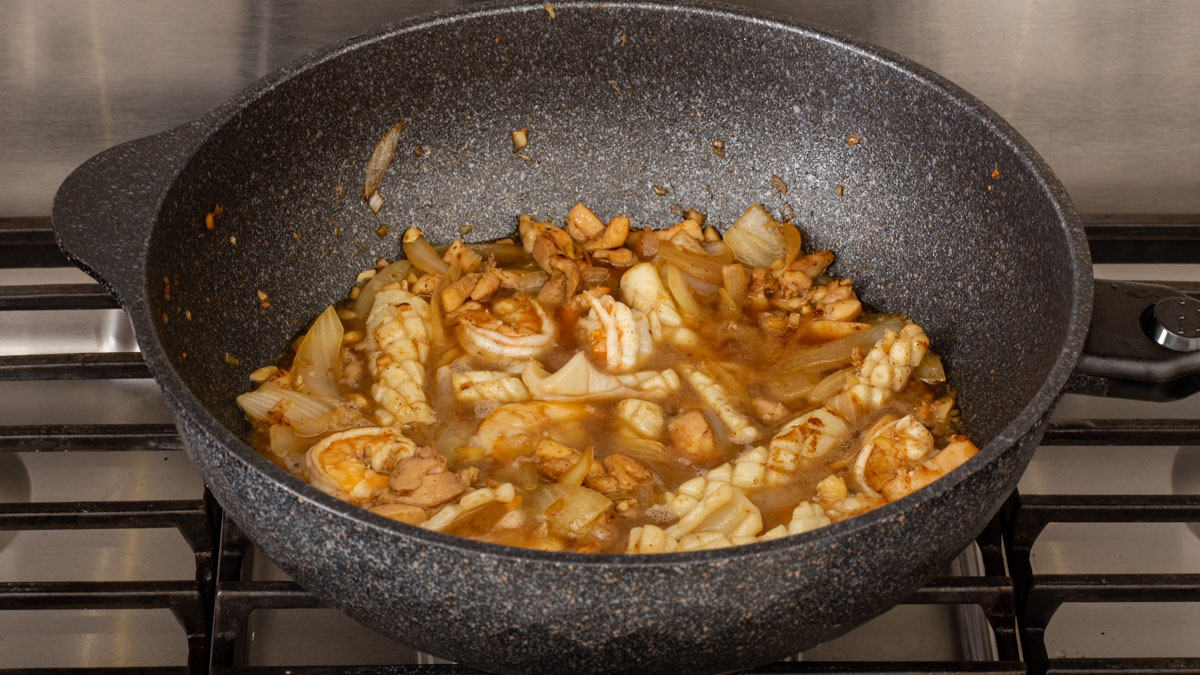 Add the chicken broth. When the protein is cooked, add the chicken broth and mix. Heat on high until the chicken broth reaches a boil.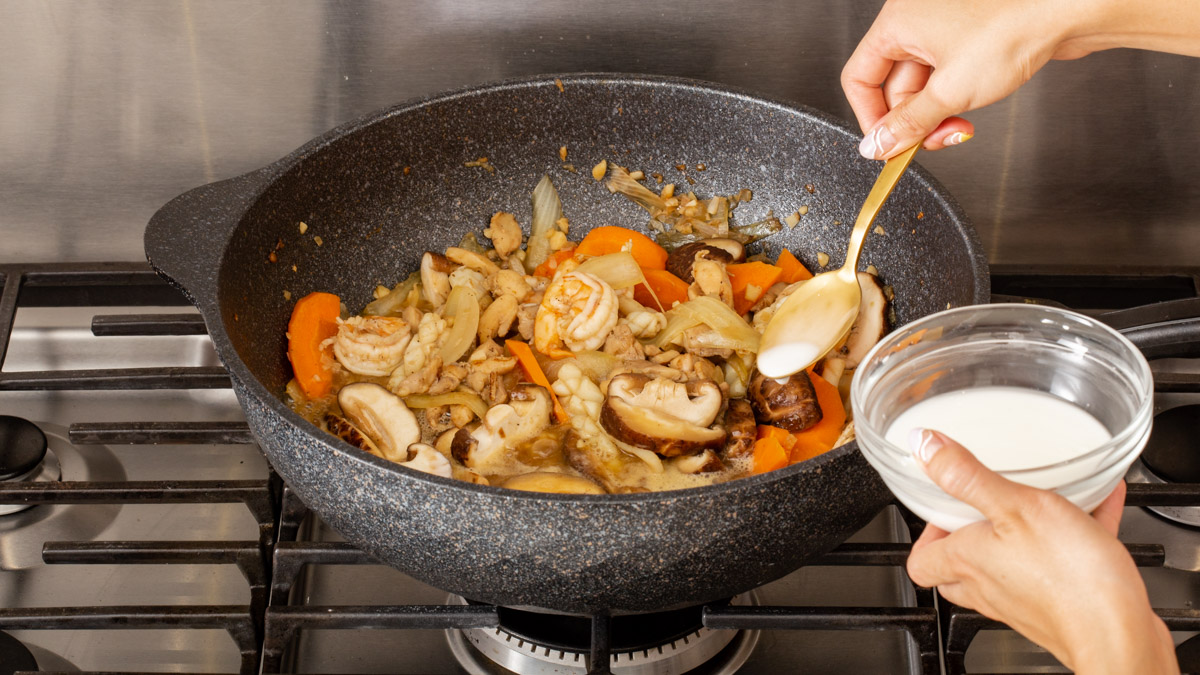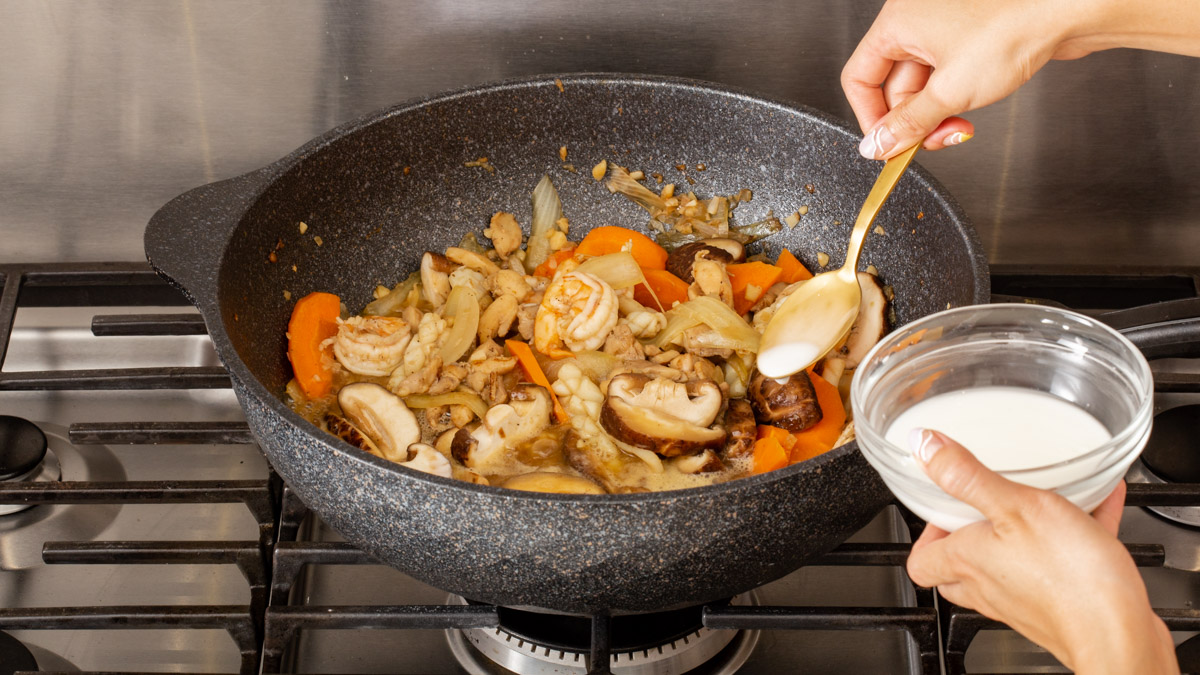 Add the vegetables and sauce. When the chicken broth reaches a boil, add the carrots and toss for 1 minute. Then add in the mushrooms and toss for another 1 minute. Next, slowly add the corn starch slurry 1 tablespoon at a time and mix for 30 seconds. Lastly, add 4-5 tablespoons of the sauce mixture and mix for 30 seconds and taste. Add more sauce 1 tablespoon at a time and taste to see if you prefer a more concentrated sauce. Lastly add the bok choy and green onion. Toss the vegetables until softened about 1-2 minutes.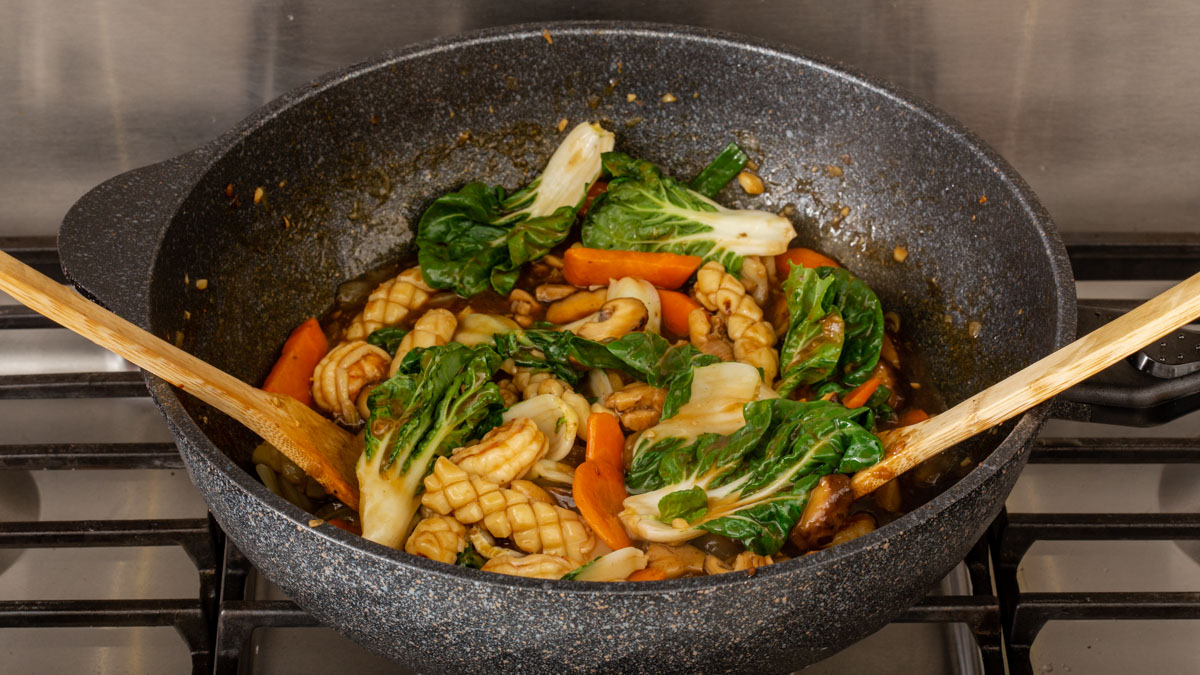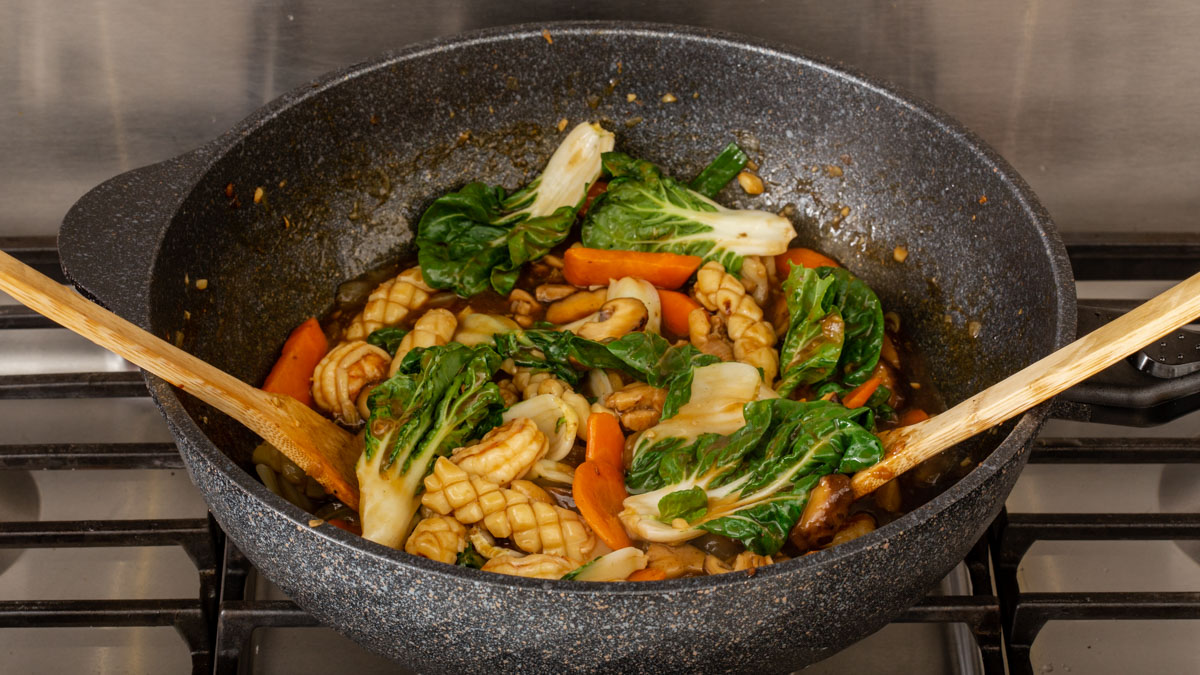 Assembly. Place the crispy noodle nest onto a large plate. Top with the stir fry vegetables and protein and pour in a few tablespoons of sauce. Enjoy!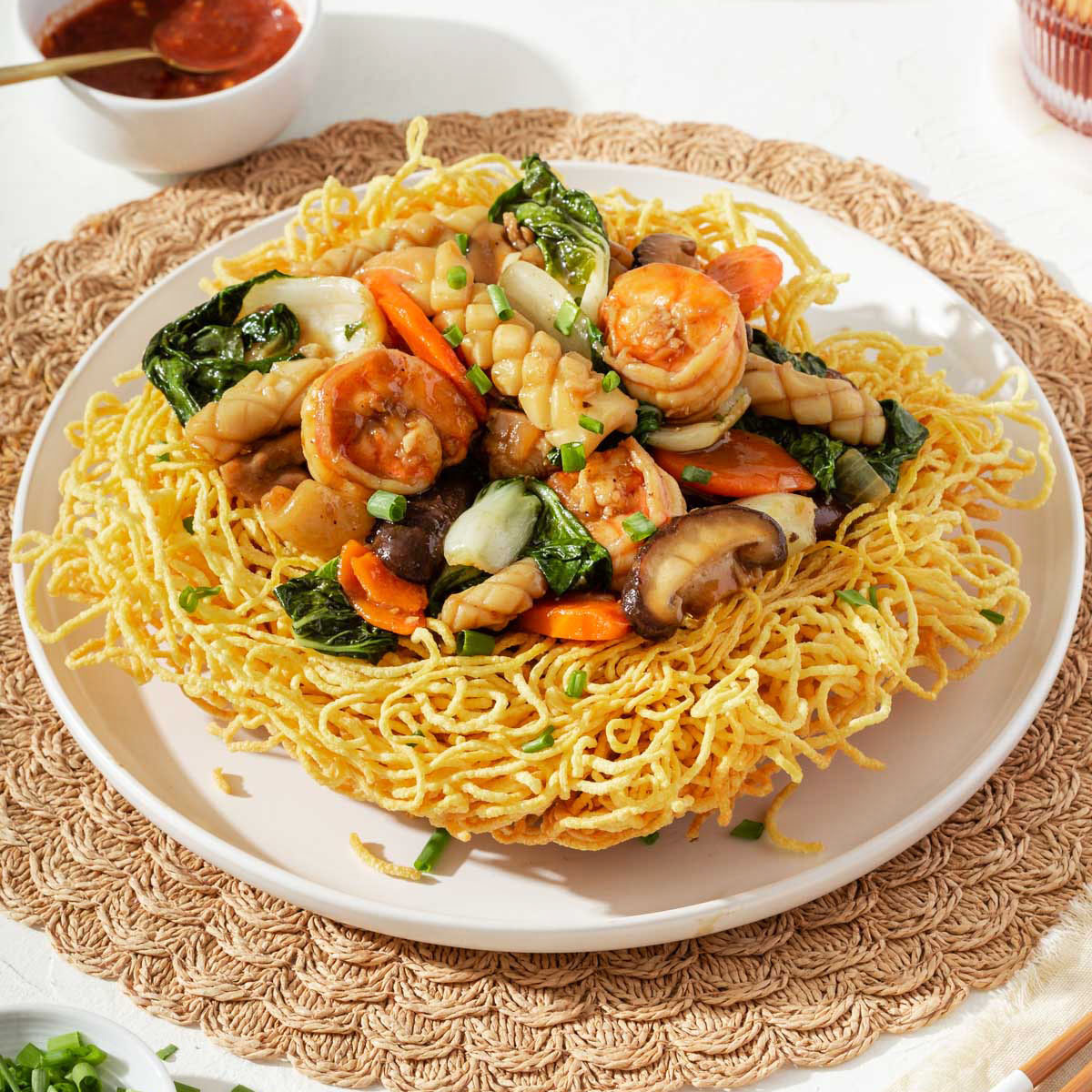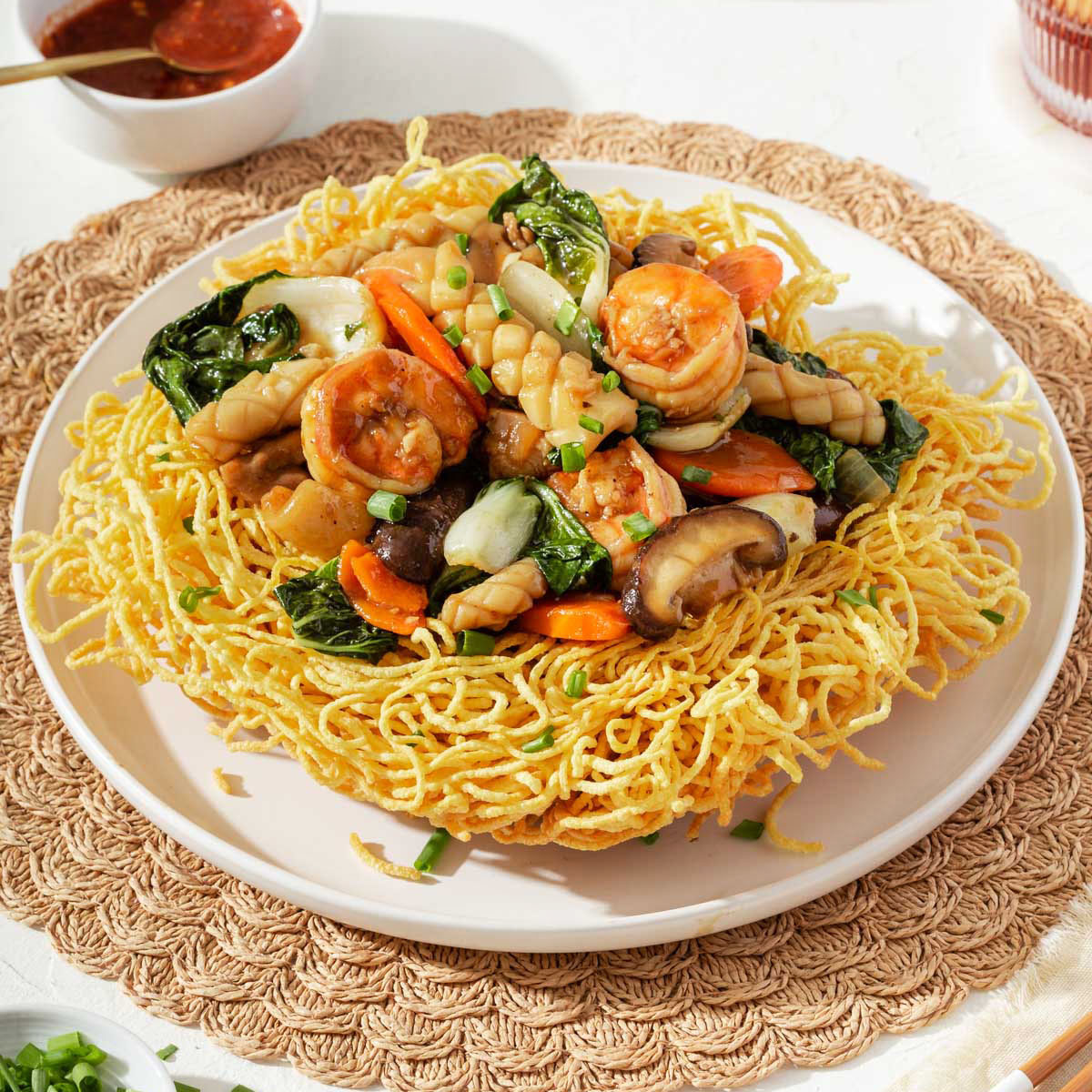 Tips For This Recipe
Prep all the ingredients before you start cooking. If you plan out the recipe ahead of time by making the sauce, the cornstarch slurry, prepping the vegetables, and marinating the proteins in separate bowls it will speed up and simplify the cooking process.
Fry the noodles at 380°F or 193°C. You do not want overly soggy noodles if the temperature is too low or burnt noodles if the oil is too hot. At 380°F the noodles will come out perfectly crisp and crunchy.
Pour the cornstarch 1 tablespoon at a time and mix. This allows the cornstarch to be evenly distributed in the chicken broth and thicken up the sauce. Pouring it all at once may result in once section of the broth that is coagulated and the rest overly watery.
Use enough sauce to taste. This recipe will make an excess of sauce. DO NOT USE ALL THE SAUCE. This will yield an overly salty sauce. Make sure to add the sauce 1 tablespoon at a time and toss to reach your desired saltiness. I used about 5 tablespoons of the sauce in this recipe.
Storage Instructions
You can store the stir fry apart from the noodles in an airtight container for up to 5 days in the refrigerator. If the noodles and stirfry are already placed together, the noodles will lose their crispiness over time and have a regular stir fry texture.
The separated noodles will lose their crispiness within 24 hours and will turn stale/harden. I recommend freshly frying up the noodles when you want to serve.
You May Also Love...