This Vietnamese grilled pork noodles or Bún Thịt Nướng is the heart of Vietnamese cuisine in a bowl. This recipe combines sweet caramelized bbq lemongrass pork with fresh herbs, rice noodles, pickled carrots, and daikon and is topped with a fresh garlic-lime fish sauce. This is the quintessential Vietnamese dish and the perfect introduction to Vietnamese cuisine.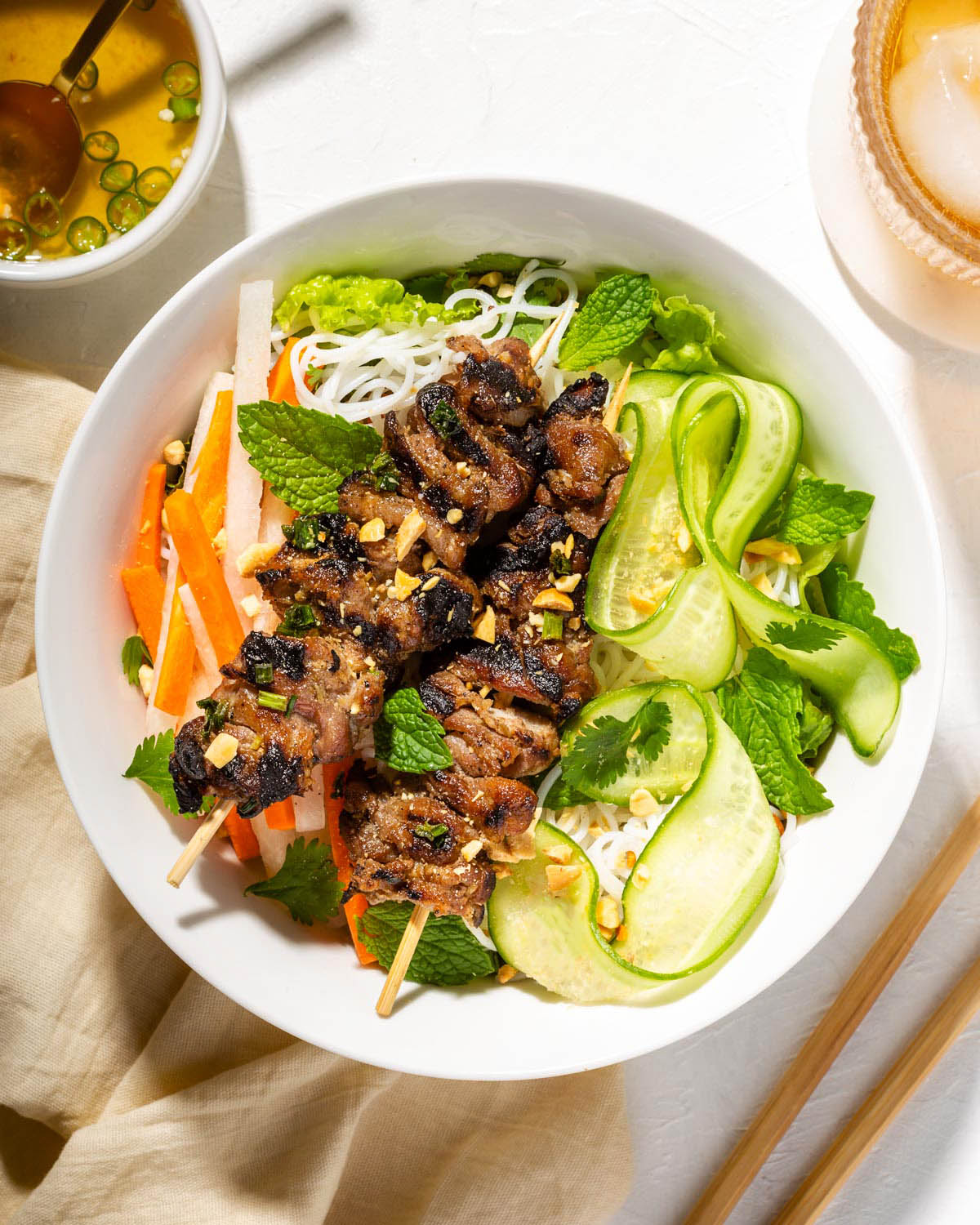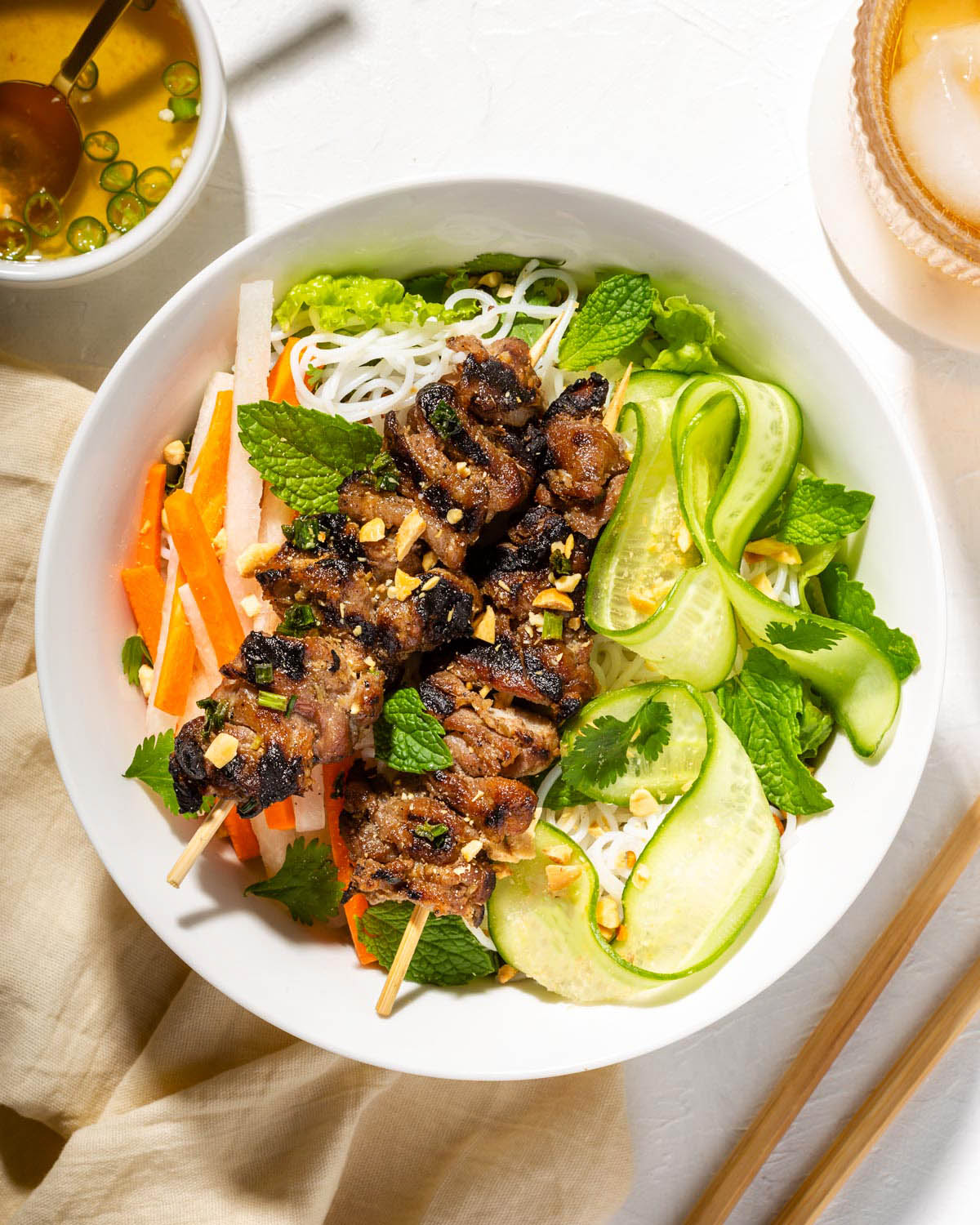 Vietnamese food is part of my identity. I grew up eating Vietnamese food every single day. If I do not eat Vietnamese food for longer than a few weeks, I would start to intensely crave it. This became a very important criterion for me when it came to dating. I would only seriously consider a guy who enjoyed Vietnamese food as much as I did.
Since Vietnamese cuisine centers around fish sauce, I administrated the "Fish Sauce taste test" to Eliezer early on in the relationship. Fish sauce is in almost every Vietnamese dish. If he could not eat it, I would've reconsidered the trajectory of our relationship. I watched my cousins marry men who could not stand even the thought of fish sauce and knew a life of avoiding fish sauce was NOT for me. So when Eliezer poured extra garlic fish sauce into his bowl and finished every last drop, I knew he was my perfect match.
This bún thịt nướng recipe is a great starter dish to introduce someone to Vietnamese food. It has all the components and ingredients that are in most Vietnamese dishes and is as healthy as it is delicious. Check out my Vietnamese Chicken Wings and Bún bò Huế recipes for other Vietnamese favorites.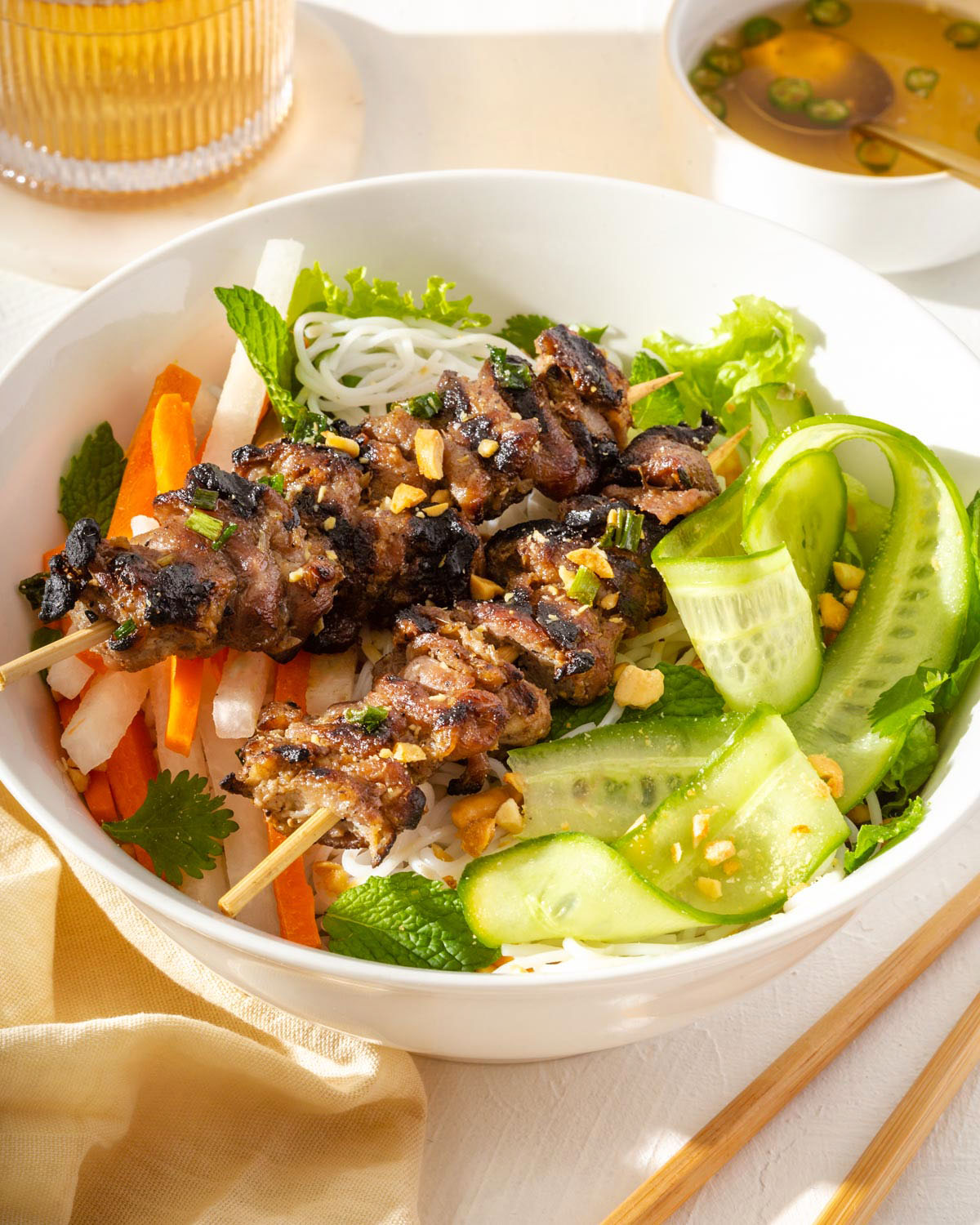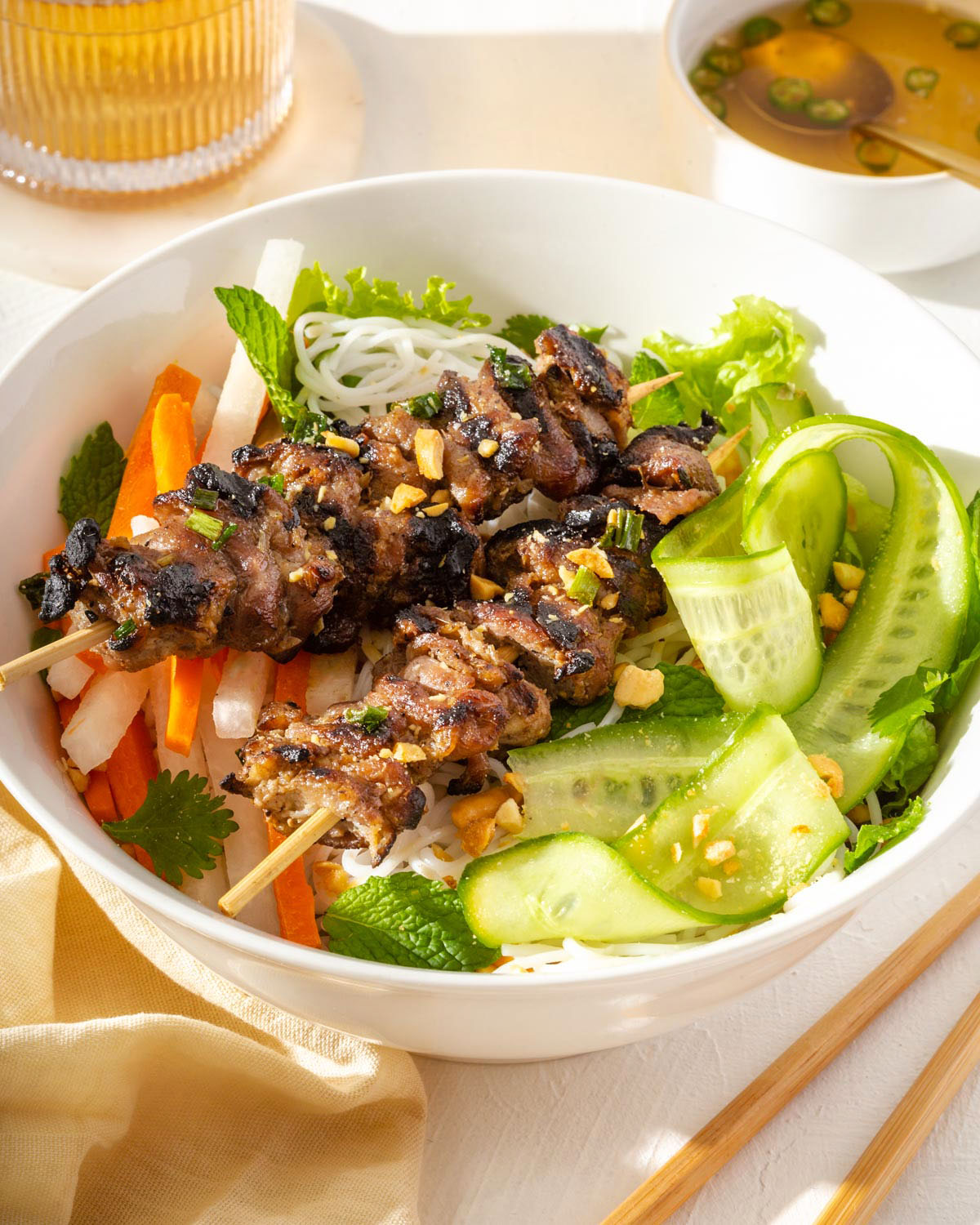 What is Bun Thit Nuong?
Bún thịt nướng literally means noodles and grilled meat. It is a popular Vietnamese dish that comprises of vermicelli noodles, grilled pork, fresh herbs and vegetables (mint, lettuce, cilantro, cucumber), topped with crushed peanuts, pickled carrots, and daikon, and is dressed in nước mam garlic fish sauce also known as nước chấm. Bun thit nuong is popular in all regions of Vietnam.
North and South Vietnamese people eat this dish in different ways. In the South, all the ingredients are served in a bowl and mixed together so the flavors and textures are all incorporated and thoroughly combined. In the North, the noodles and vegetables are presented on separate plates and the meat is placed in a bowl swimming in the prepared fish sauce.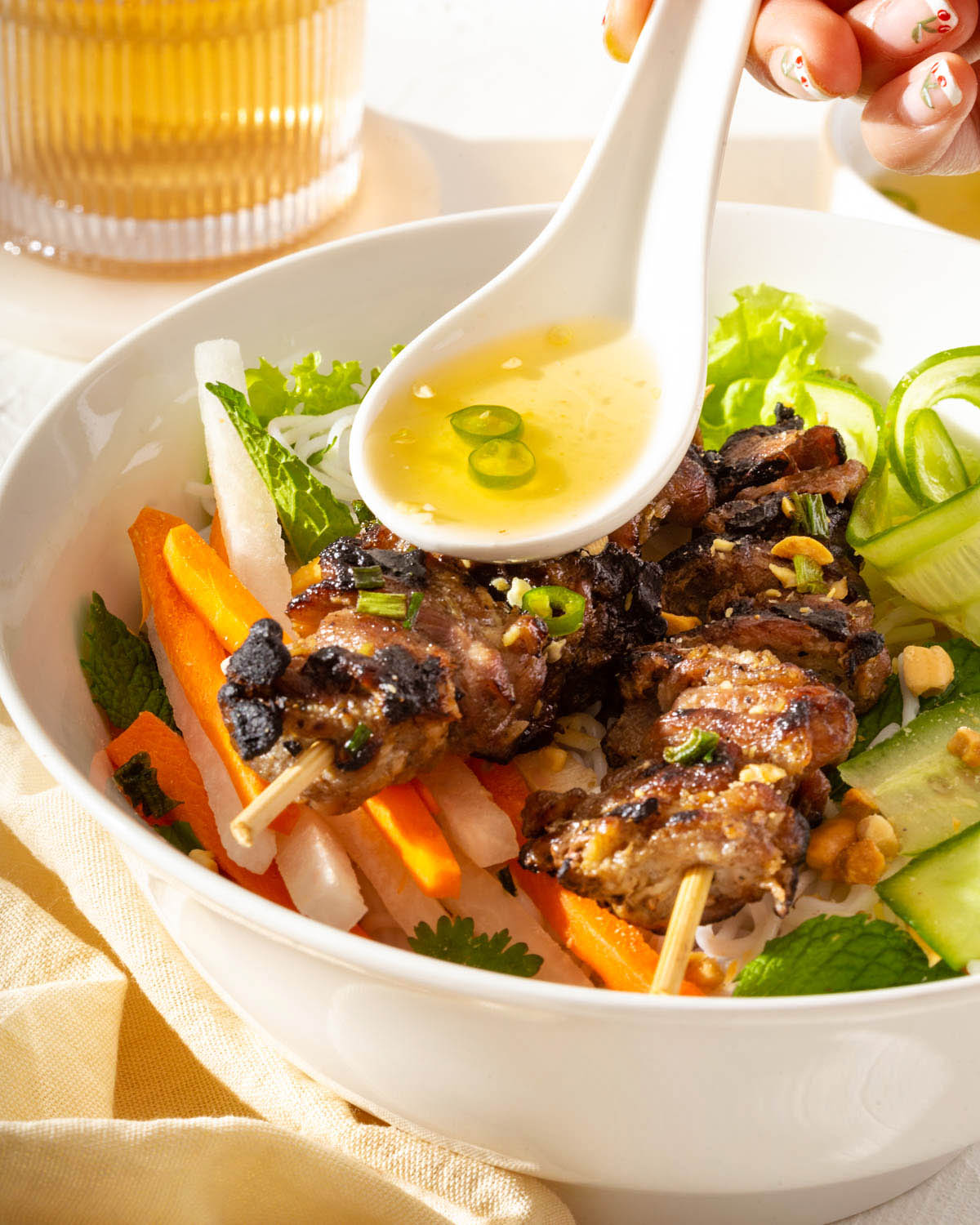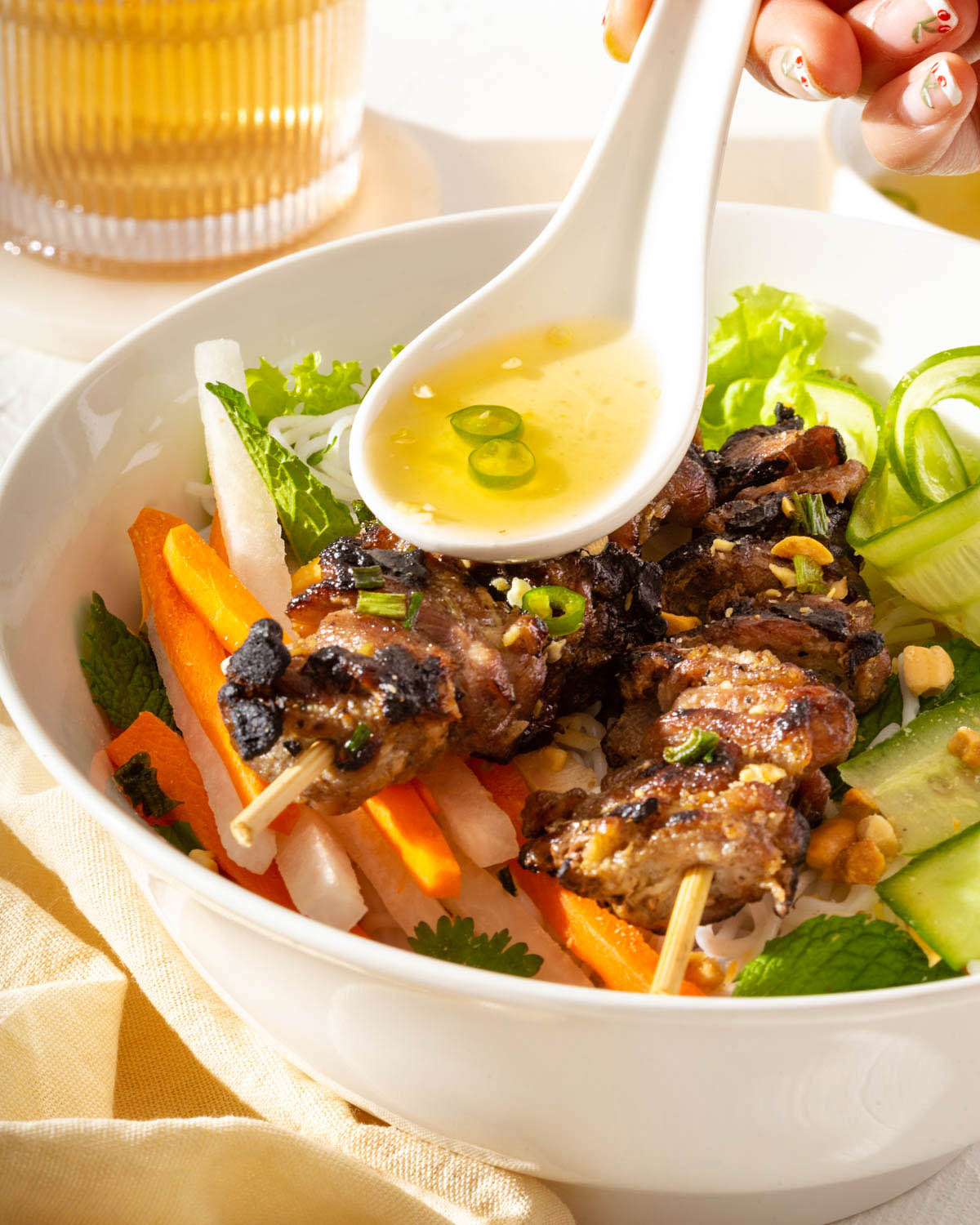 Ingredients For This Recipe
All of the ingredients for this recipe can be found at your local grocery store or Asian grocery store. There are no hard-to-find ingredients in this recipe.
Lemongrass Pork Marinade
Pork Shoulder: choose a pork shoulder that has more length than width. This will help with slicing the pork to skewer.
Fish sauce: Fish sauce is an absolute must in Vietnamese cooking. Ketchup is quintessential to American cooking as Fish Sauce is to Vietnamese cooking. You CANNOT and will not have Vietnamese chicken wings without this ingredient. My favorite fish sauce to use is

Red Boat Fish Sauce

or

Three Crabs Fish Sauce

you can find fish sauce online or at your local Asian grocery store.
Garlic powder: You can sub garlic powder for freshly minced garlic as well.
Five spice: five spice is a ground mix of cinnamon, fennel seeds, star anise, Sichuan peppercorn and cloves. It is a predominant mixture in a lot of Vietnamese and Chinese cuisines. You can find

five spice

online or at your local grocery store.
Light Brown Sugar: the brown sugar caramelizes the wings in a subtle sweetness that brings out the five spice and garlic powder.
Lemongrass: is a shrub-like herb with a distinct lemon aroma and flavor. It is a key ingredient in this recipe for that fresh marinade flavor. You can find lemongrass at your local Asian grocery store in the produce section.
Black Pepper: adds a bit of spice to the marinade.
Vegetable Oil: vegetable oil is necessary as a neutral flavoring oil that has a high burning point.
Sesame Oil: the sesame oil has a strong sesame flavor so a little goes a long way. The smokey flavor in sesame oil is something you cannot replicate. You can find

sesame oil

online here or at your local Asian grocery store.
Honey: the honey sweetens the marinade but also acts as a binding agent that connects the flavors together.
Pickled Carrot and Daikon (Đồ chua)
Carrot: choose a large thick carrot to make slicing easier.
Daikon: daikon is also called a white radish. It is quite large. A daikon is roughly 1 foot long and can be 3-4 inches thick. It has the shape similar to a carrot and its flavor is similar to a mild red raddish. It is used commonly in most Asian cuisines.
Salt: the salt balances out the sugar in the pickling.
Sugar: the sugar sweetens the vinegar and makes the pickling less harsh.
Distilled White Vinegar: the vinegar is the base of the pickling juice which gives the vegetables that signature tart flavor.
Garlic Fish Sauce
Fish Sauce: fish sauce is the base for this sauce.
Granulated Sugar: the granulated sugar is necessary to sweeten and dilute the fish sauce in the glaze.
Lime Juice: lime juice can also be substituted with lemon juice. The citrus brightens up the fish sauce and adds acidity to the wings.
Chili Garlic Sauce: Huy Fong Chili Garlic Sauce is an Asian pantry staple. It is added to almost everything for a little garlic-y kick. You can find this Chili Garlic Sauce online
Garlic Cloves: you will need freshly minced garlic for the boldest flavor.
Noodles and Vegetables
Vermicelli Rice noodles: Thin vermicelli rice noodles is a common staple in Vietnamese cuisine. You can find the Three Ladies Brand Rice Noodles online or in your local Asian grocery store.
Mint
Cilantro
Green Onion
Cucumber
Peanuts
How To Make This Recipe
This bún thịt nướng recipe can be broken down into 3 parts: 1) marinating and cooking the pork, 2) pickling the carrot and daikon, 3) and mixing the Garlic fish sauce dressing.
1. How to Make the Lemongrass Pork (Thịt Nướng):
Prepare the pork. Freeze meat for 30-45 min to make slicing the meat thinly easier. Thinly slice meat along the longest edge of the cut. Set aside.
Make the marinade. In a large mixing bowl, mix together fish sauce, water, garlic powder, sugar, five spice, finely minced lemongrass, black pepper, vegetable oil, sesame oil, and honey.
Marinate the pork. Add the sliced pork into the marinade mixture bowl and using your hands massage the meat until thoroughly coated. Marinate the meat for a minimum of 4 hours, preferably overnight.
Prepare the meat on the skewers. Soak the skewers in water for 30 min-1 hour to prevent from splintering and burning. Skewer the pork strips on the skewers. Leave 1 inch on each end for easy lifting.
Cook the pork (Option 1 Grill): Preheat your grill to medium high. Grease the grill with vegetable oil to prevent from sticking. Cook the pork on the open grill for 3 minutes on each side or until cooked/slightly charred.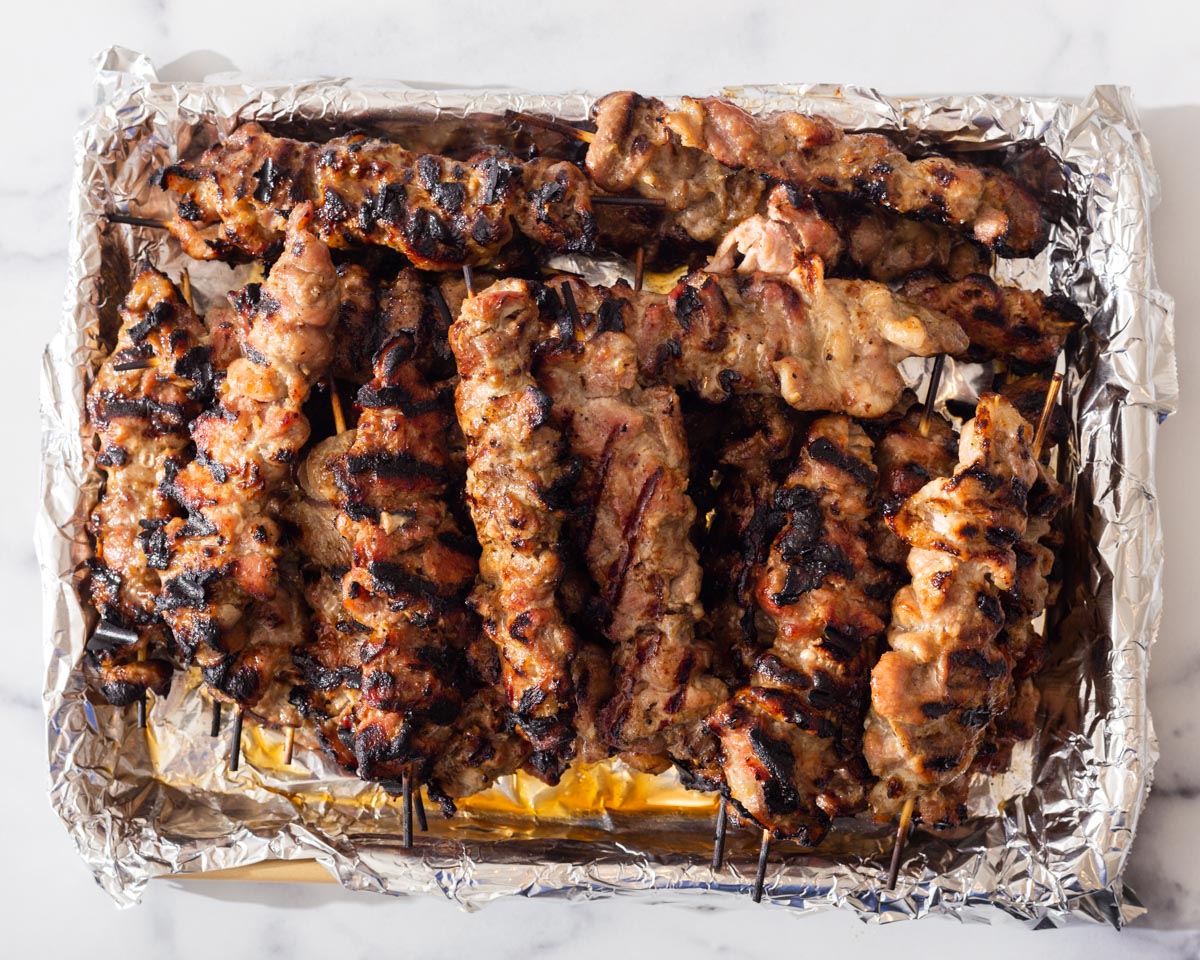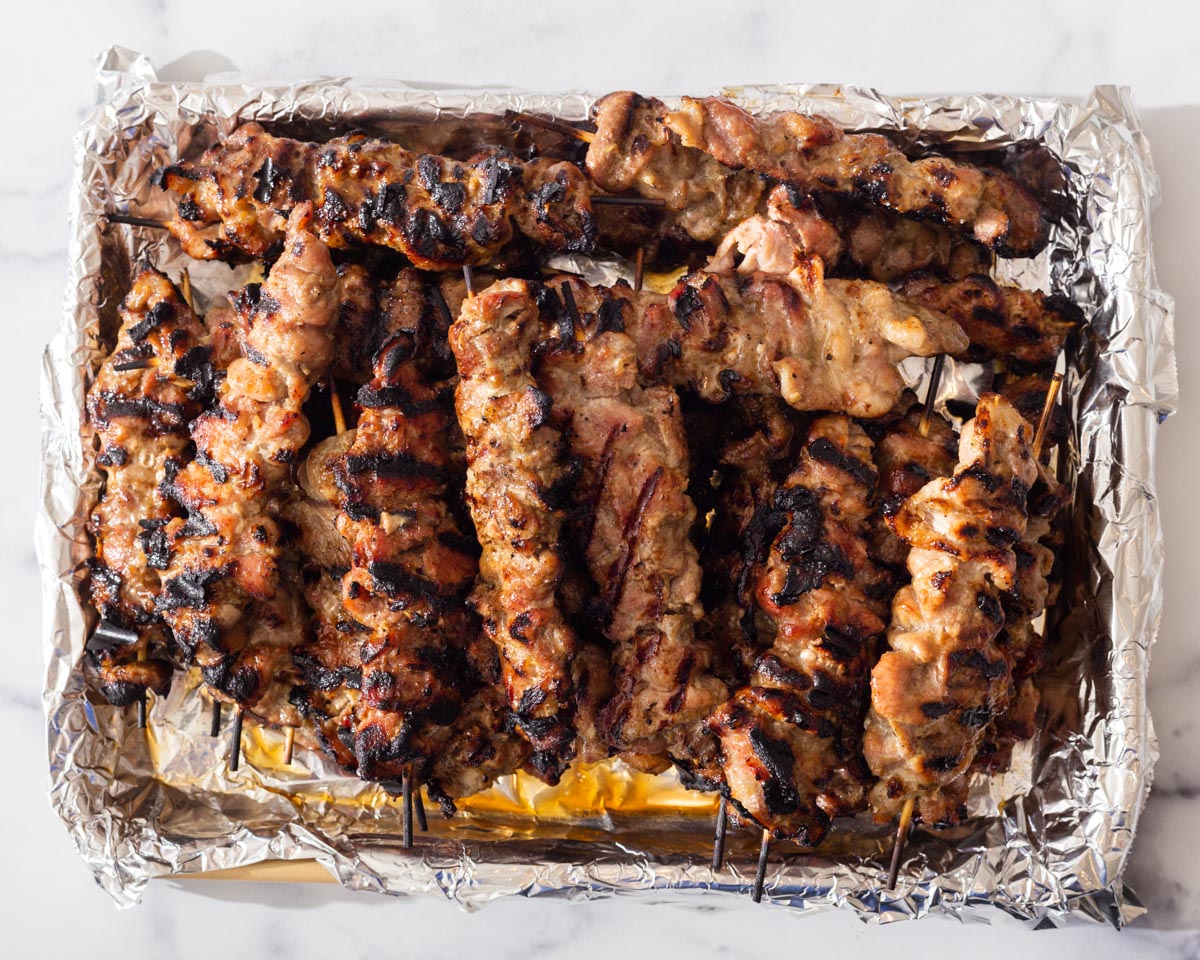 Cook the pork (Option 2 Broil): Preheat your oven to the broil setting. Wrap your baking sheets with aluminum foil and place the meat skewers on a metal wire drying rack over the foil lined baking sheet. Broil for 3-4 minutes on each side or until cooked/slightly charred.
Fry the green onion for garnish. In a small saucepan, place 1 tablespoon of vegetable oil and heat on medium high heat. Fry the sliced green onion for 1-2 minutes or until fragrant. Garnish the pork.
2. How to Make Pickled Carrot + Daikon (Đồ chua):
Prepare the carrot and daikon. Thinly peel and slice the carrot and daikon
Make the pickling juice. In a mixing bowl, mix together the salt, sugar, white vinegar, water until the sugar dissolves.
Pickle the carrot and daikon. In an airtight container, pour in the pickling juice and mix together the carrot and daikon. Pickle for at least 3 hours or preferably overnight.
3. How to Make Garlic Fish Sauce Dressing
In a medium mixing bowl, mix together fish sauce, water, sugar, lemon juice, garlic and garlic chili paste. Set aside.
Tips For This Recipe
Plan ahead. This recipe calls for an overnight marination for best results. The meat and the carrots & daikon needs time to absorb all the delicious flavors for the full flavor effect. So plan ahead and marinate the meat and make the pickled carrot and daikon the night before. This will also save you so much time the day of when you serve the dish.
Use a food processor for the lemongrass. Lemongrass is a tough herb with a thick root. It is difficult to chop unless you have strong muscles (that I do not have). The trick is to pulverize the lemongrass in the food processor for tiny minced pieces that will thoroughly and evenly coat the pork.
Mix the marinade in the bowl before adding the meat. This will ensure the marinade is absorbed in the meat evenly.
Soak the skewers before adding the meat. This is an important step to prevent the skewers from splintering when you stab the meat. This will also prevent the skewers from completely burning off on the grill/in the oven.
Storage Instructions
You can store the cooked pork in an airtight container in the refrigerator for up to 3-5 days. Alternatively, you can freeze the pork and store it in the freezer for up to 1 month. To re-heat, simply defrost the meat and either steam it on the steamer for 10 minutes or microwave until warm.
You can store the pickled daikon and carrot and the garlic fish sauce dressing in the refrigerator for up to 1 month.
You May Also Love...