Sweet and Savory and not too spicy Sichuan Chili Oil Wontons are one of those dishes that you can't help but do a little happy dance for. These umami flavor explosions in your mouth will keep you coming back for more. Guaranteed.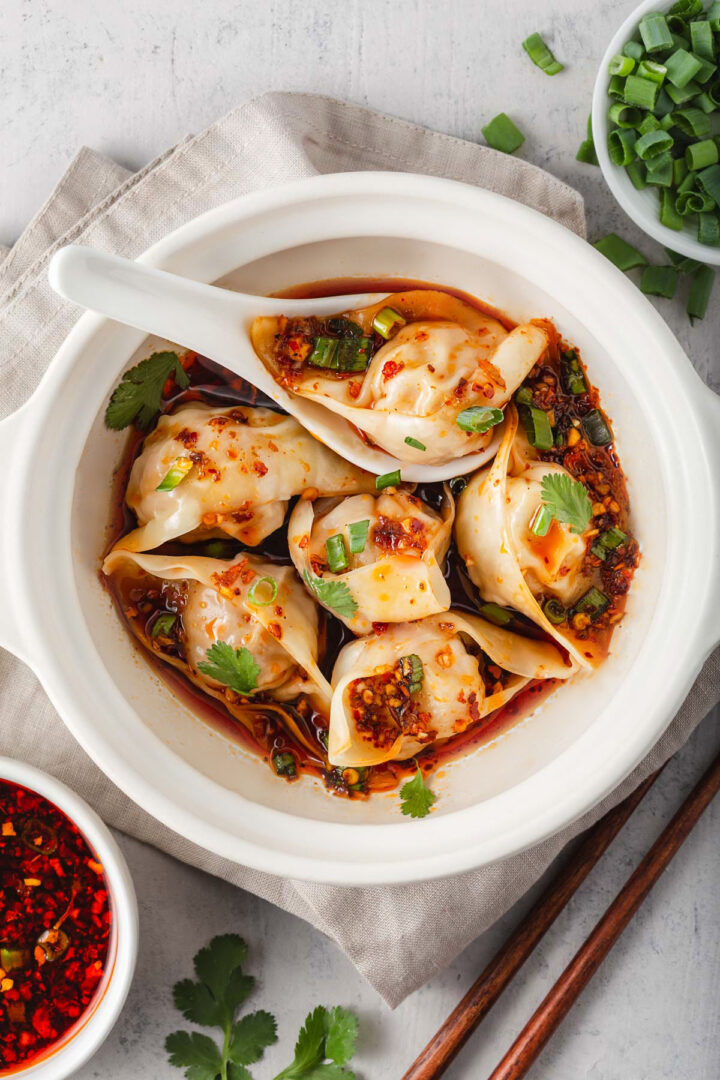 Every time I go to a dumpling restaurant (like Din Tai Fung) I ALWAYS make sure to get an order of Sichuan spicy chili oil wontons. Something about these lovely wontons warms my heart so much. They are sweet, savory, garlicky, slightly tangy, and not overly spicy. Trust me, I would not be able to eat them if they were truly as spicy as they look because I am a spice wimp.
Sauces Needed for Sichuan Chili Oil Wontons
All of these sauces can be found in your local Asian or Chinese grocery market.
Soy sauce: Use regular soy sauce for this dish. A good soy sauce should only contain the ingredients: soybeans, wheat, water, and salt. Avoid buying any soy sauces that contain syrup and alcohol. I love using the Kikkoman Soy Sauce.
Shaoxing wine: Shaoxing wine is a rice cooking wine that has a deep complex flavor. If you cannot find Shaoxing wine at the store, you can buy it online here.
Toasted sesame oil: sesame oil contains a pungent sesame oil that is always used as a marinade or in sauces and dips. If you cannot find toasted sesame oil in a grocery store, you can find the toasted sesame oil online here.
Chili oil: I highly recommend making your own homemade chili oil. It is super easy to make and you can customize the aromatics whichever way you'd like. You can use my chili oil recipe here. However, if you are in a pinch using store-bought chili oil also works as well. Don't worry I won't judge. I've done it before too and it tastes pretty close to using homemade chili oil. Keep in mind you will need both the chili oil and the chili oil-infused chili flakes as well for this recipe.
Black vinegar: Chinese black vinegar is made from various aged grains. It has a rich, tangy flavor with a hint of sweetness. For best results, use Chinkiang Vinegar.
How to Make Sichuan Chili Oil Wontons
I. Make the Chili Oil Sauce
Make Homemade Sweet Soy Sauce (Optional). Heat soy sauce into a small saucepan and add in brown sugar, rock sugar, ginger, green onions, bay leaves, star anise, cinnamon stick, fennel seeds, cloves, black cardamom. Turn heat down and simmer until the liquid reduces to ⅔ of the original volume for about 30 min-1 hour. Pour the sauce through a sieve to discard the solid ingredients. Let sauce cool.
Make Homemade Chili Oil. You can follow my fragrant homemade chili oil recipe here. Alternatively, you can buy chili oil and chili oil with flakes at the local Asian grocery store.
Make the sauce by mixing the chili oil, chili flakes, black vinegar, garlic, green onions, and sweet soy sauce together.
II. Make the Wontons
Make the wonton filling. In a bowl, mix together ground pork, ground shrimp, ginger, green onions, soy sauce, Shaoxing wine, toasted sesame oil, salt, sugar, white pepper. Use your hand and mix until combined.
Fold the wontons. (See image guide below) Take a wonton wrapper and place 1 tsp of the meat filling in the middle. Dip your finger into water and lightly wet the edges of the wrapper. Then fold the wrapper in half to form a triangle. Next, take the two far ends of the triangle and pinch together opposite of the 3rd triangle point to seal wonton into an Ingot or Boat shape.
Cook the Wontons. Bring a pot of water to boil. When the water is rapidly boiling, add in about 9-10 wontons at a time. Gently stir so they do not stick to the bottom of the pot. Cook for about 3-4 minutes. The wontons should float to the top and the wrappers will begin to look translucent. Cut one open to check if they are thoroughly cooked.
Using a slotted spoon, scoop the wontons up and drain any excess water.
III. Serve the Wontons in Chili oil
To serve, for every 7-8 wontons, mix in 2 tbsp of sauce with 2 tbsp of the wonton broth water. You can garnish with cilantro, green onions and toasted sesame seeds.
Tips for this Recipe:
Use homemade chili oil. Making homemade chili oil is a very simple process that seems more intimidating than it should be. Alternatively, you can buy the chili oil online here.
Use a homemade sweetened soy sauce. Homemade soy sauce is a thickened, reduced soy sauce mixed with sugar, aromatics, and spices that brings out the flavor in the wontons. Using the sweet soy sauce will produce a rich well-rounded flavor that coats the wontons beautifully. Alternatively, if you are short on time you can use 4 tbsp of soy sauce and 3 tsp of sugar instead.
Shaping the wontons: You can wrap the wontons in any which shape you want. Be sure to wet the edges with water and pinch tightly to prevent them from bursting open.
Make more wontons: the recipe calls for ½ lb of meat but normally I usually make up to 2 lbs of meat and freeze the wontons for later!
Make extra sauce: the sauce is what makes the dish so delicious. I recommend making an extra sauce to use in other dishes, stir-fries, etc.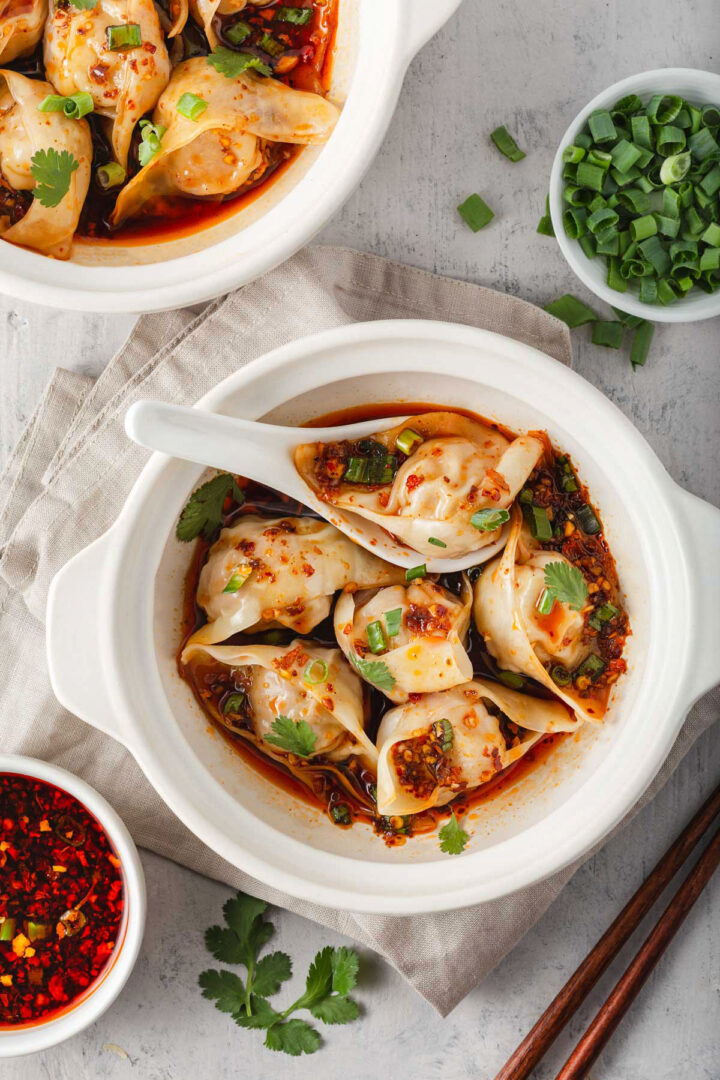 Storage Instructions
If you do not plan on cooking the wontons immediately, you can store them in the refrigerator for up to 3 days or you can keep them frozen for up to 3 months. Seal the wontons with plastic wrap in an airtight container or zip lock.
You may also love...