Easy homemade wonton soup is the epitome of comfort foods. These pork and shrimp wontons bathe in a warm and delicious chicken broth surrounded by your favorite leafy greens. Plus with a step-by-step photo guide on how to wrap wonton, you will be a wonton wrapping expert in no time!
The first dumpling I have ever made were these wontons. This soup was my all-time favorite soup growing up. I loved helping my mom pinch the wontons one by one until we had a small army of wontons that filled our kitchen table. These wonton soldiers would loyally march into the boiling water and sacrifice their lives to feed our hungry stomachs. I am eternally grateful for their service.
Now you can make my all-time favorite homemade wonton soup at home! This soup looks way more intimidating than it actually is. The steps are quite simple and the results are absolutely delicious!
What are wontons?
Wontons are Chinese dumplings that are filled with meat and wrapped with a thin wrapper. What makes wontons different then dumplings is that they are made with square wrappers. Wonton in Chinese means swallowing clouds. In this recipe, they look like tiny floating clouds swimming in a sea of warm delicious broth. You can serve wontons in soup or can as a snack drizzled in chili oil. My other favorite wonton dish is wontons in chili oil. The best wontons are always homemade. So, let's start cooking!
What does wonton soup taste like?
This homemade wonton soup is made up of a chicken broth base soup. For this recipe, I flavor the broth with chicken breast, onion, ginger, garlic, sesame oil, soy sauce, palm sugar, and a hint of fish sauce. Whereas, these wontons are stuffed with ground pork, shrimp, shallots, sesame oil, chicken bouillon powder, fish sauce, sugar, salt, and pepper.
There are about a million types of wonton fillings. Pork and shrimp wontons are the most common. There are all sorts of additions including mushrooms, water chestnuts, green onion, and carrots that you can add in as well if you prefer.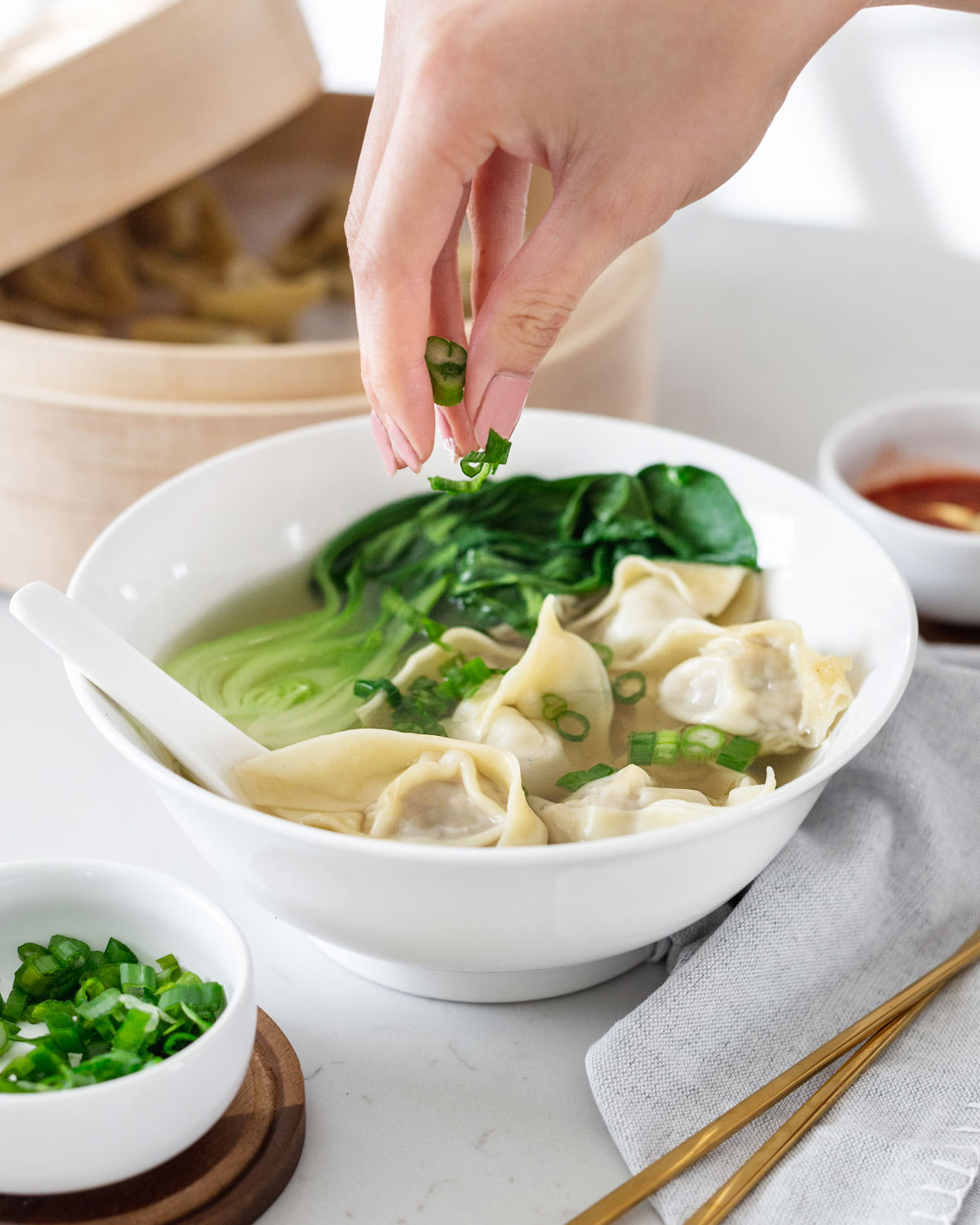 Ingredients For This Recipe
Shallots: grind the shallots in a food processor for best results.
Ground Pork
Shrimp: grind the shrimp in a food processor for best results.
Sugar, Salt, Pepper
Chicken bouillon powder: the best secret my mom ever told me is to add a little

chicken bouillon powder

for seasoning. It provides a well-balanced savory flavor to the protein.
Sesame oil: sesame oil is an edible oil derived from sesame seeds. It has a rich sesame flavor. You can find

sesame oil online here

or at your local Asian grocery market.
Fish sauce: Fish sauce always adds that touch of umami flavor no other sauce can compare to. A little goes a long way! You can find

fish sauce online

here or at your local Asian grocery market.
Light soy sauce: Light soy sauce is thinner and lighter in color and adds a gentle saltiness to the dish. For a lighter flavor, I chose the Golden Mountain brand soy sauce. If you are unable to find light soy sauce, you can substitute this with all-purpose soy sauce like Kikkoman.
Wonton wrappers: Choose square, medium-thick Shanghai-style wonton wrappers. More about wonton wrappers below.
Ginger and Garlic: peeled and sliced
Yellow onion: one large yellow onion peeled and wedge cut adds sweetness to the broth.
Chicken Breast: the chicken adds a deep rich flavor to the broth.
Chicken stock: If you can, buy no sodium chicken stock. This way you can control the level of saltiness of your broth.
Palm sugar cubes: The palm sugar adds a subtle sweetness to the broth without overpowering it. You can find palm sugar online here. Or in your local Asian grocery market.
Ingredients for the Bowl:
Sliced water chestnuts: you can find this in the canned vegetable aisle in your local grocery market.
Blanched leafy greens: bok choy, gailan, spinach, etc, green onion
Chili oil to taste:

Chinese chili oil

adds that touch of spice on top of a delicious bowl of homemade wonton soup. You can buy chili oil at your local grocery store or make your own homemade

Chinese chili oil

.
What is a wonton wrapper?
A wonton wrapper is a very thin sheath of dough that wraps around a dumpling filling. Wonton wrappers are made similarly to the way Italians make pasta, only with fewer eggs and more cornstarch. The cornstarch promotes the skin's stretchiness and provides a delicate, thin finish. Wonton wrappers are square-shaped about 3 inches.
Which Wonton Wrappers To Buy
The best pre-made wonton wrappers are sold at Chinese and Southeast Asian supermarkets. They always have a large selection of different brands and thicknesses. A few good wrapper brands I like are Dynasty, Nasoya, and Fung's Village. Typically, I think the Shanghai-style wrappers are the easiest to work with.
At an Asian market, wonton wrappers are refrigerated in a chill aisle near the egg and rice noodles, and tofu. Sometimes they may also be found in the freezer aisle.
Wontons come in various thicknesses, thin, medium, and thick. I recommend using the medium wonton wrappers if you are new at folding wontons. They are pliable, give room for error, and are not too doughy where it overwhelms the filling. I do not use the thinnest wrappers because they rip easily and explode in the broth.
How to Make This Recipe
There are three main parts in making homemade wonton soup: 1. Make the broth. 2. Prepare the wontons and 3. Serve.
I. Make the Broth
Prepare the ingredients. Peel and wedge cut the onion. Next, peel and slice the ginger. Peel and smash the garlic. Cut chicken breasts into thirds vertically. Then slice each of the long slices into 1 cm slices horizontally.
Add the ingredients. In a large soup pot, add the onion, ginger, garlic, chicken, chicken stock, light soy sauce, Chinese cooking wine, sesame oil, and palm sugar. Bring to boil.
Remove chicken after 3 minutes of boiling. Once it hits a boil, boil for 3 minutes, and then using a slotted spoon remove the chicken. Set aside.
Continue simmering then add salt, pepper, fish sauce to taste. After you take the chicken out, turn the heat to low, and simmer for 5 more minutes. Then turn off the heat. Remove the ginger, garlic, and onions. Add salt, pepper, and fish sauce to taste.
II. Prepare the Wontons
Prepare shallots and shrimp. Grind shallots in a food processor until mashed. Set aside in a large mixing bowl. Peel and devein shrimp. Next, grind shrimp in a food processor until mashed. Take out and place in the same bowl as shallots.
Mix in flavoring ingredients. Add ground pork, chicken bouillon powder, sugar, salt, white pepper, sesame oil, fish sauce. Mix thoroughly by hand.
Fold the wontons. Fold 1 teaspoon of meat mixture into a wonton.
Dip your finger in lukewarm water and run your finger along the edges of the wonton wrapper.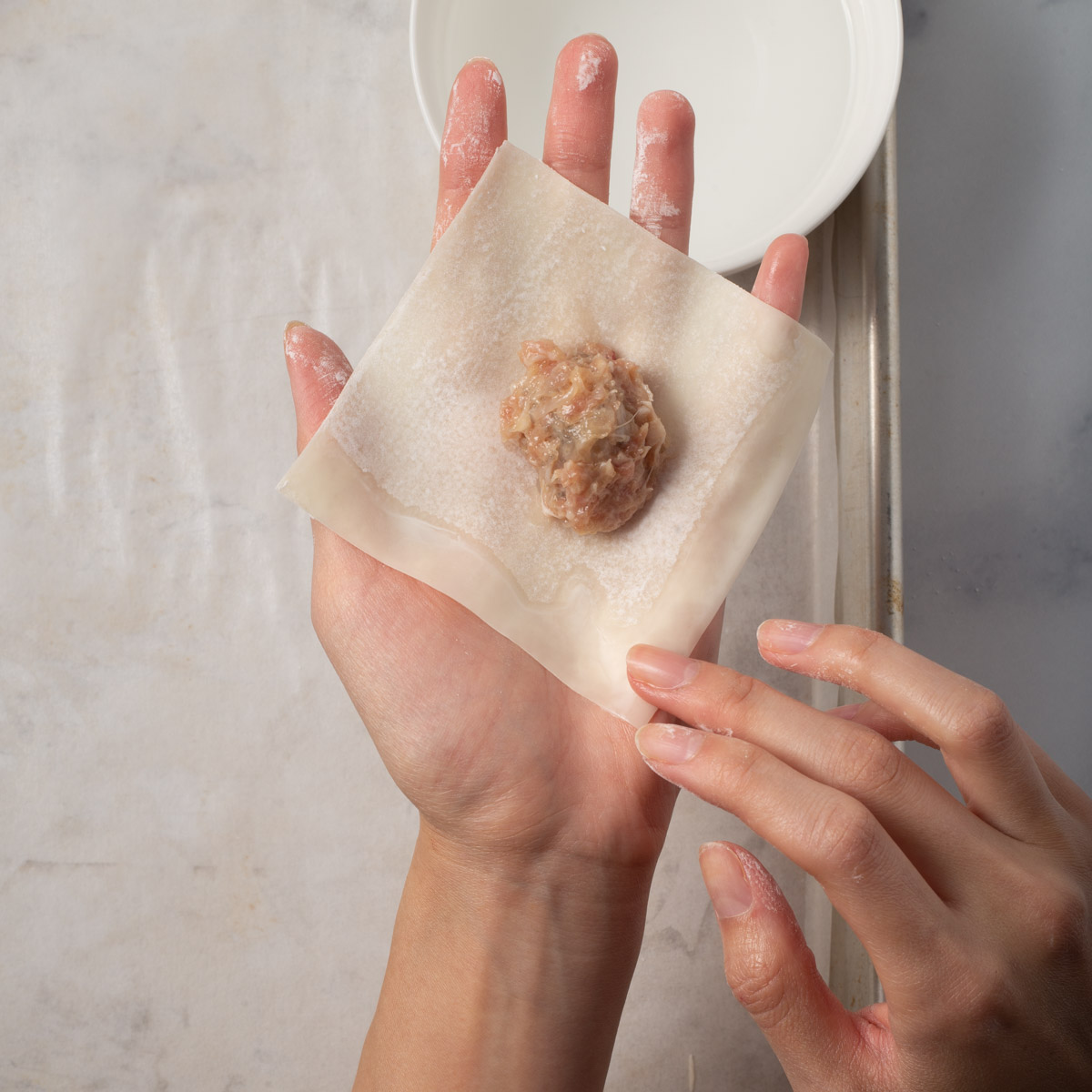 Next, fold in half to form a triangle and seal.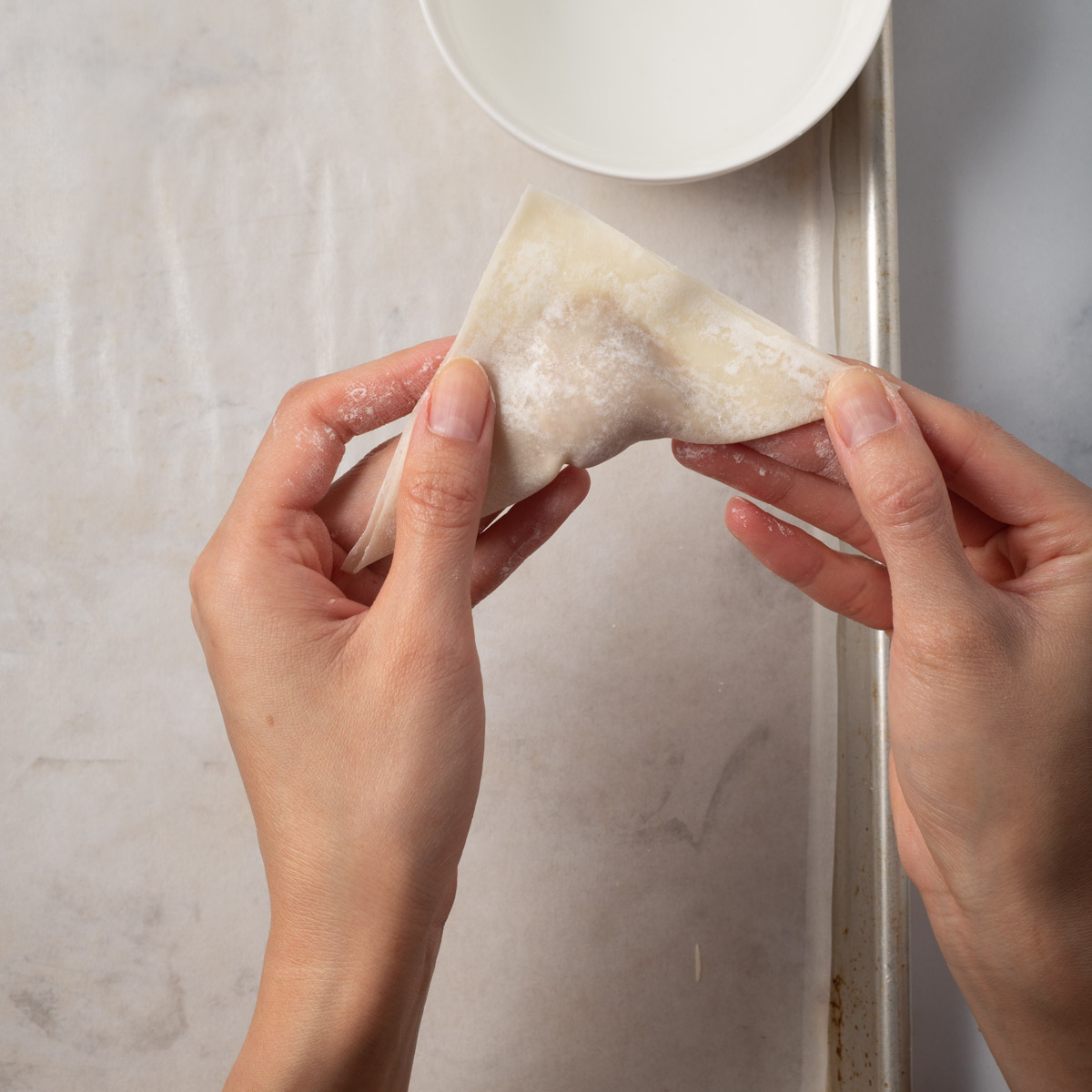 Lastly, take the two corners of the wontons and place one on top of each other to form a little boat.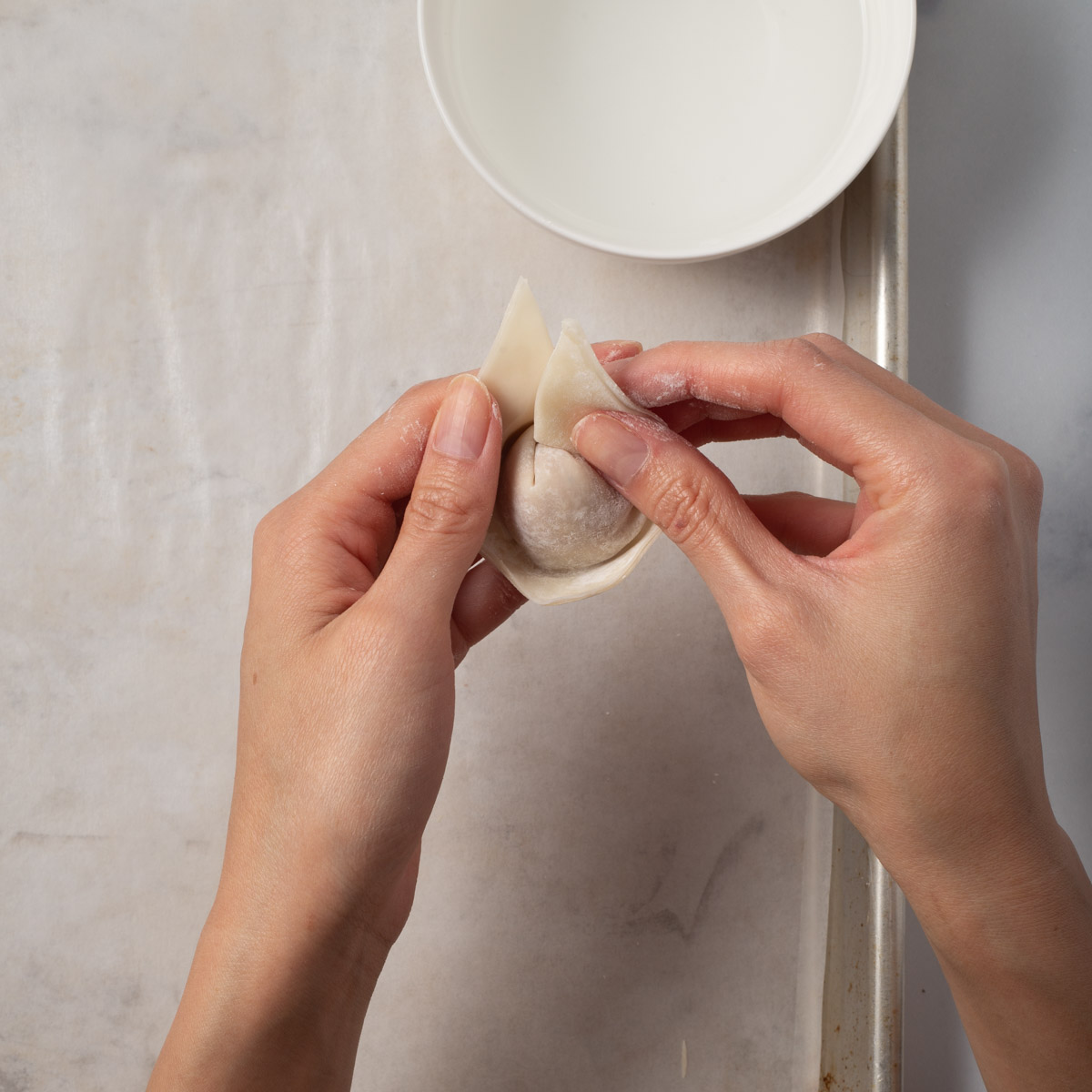 Use another dab of water to seal. Continue until all the wontons are finished.
Cook the wontons. Add water to medium saucepot and place on high heat until the water boils. Next, gently place wontons in pot about 10-15 at a time. Cook for about 3-4 minutes. They will begin to float to the surface when they are cooked through. Cut one open to check. Using a slotted spoon, scoop them out and place them on a tray.
III. Serve
Serve the bowl with wontons, broth, blanched veggies, sliced water chestnuts, diced green onions, chili oil, and white pepper to taste.
Storage Instructions
You can store the broth in an airtight container in the refrigerator for up to 1 week or the freezer for up to 3 months. You can freeze the uncooked wontons by placing them in a single layer on a tray or baking sheet not touching until frozen. After they are frozen, you can pile them up on each other in a freezer-safe ziplock or container. To reheat, simply boil them or steam them until cooked. It may take longer than fresh wontons.
Tips For This Recipe
Use a food processor to grind the shallots and shrimp. For the quickest and easiest results, use a food processor. If you don't have one you can finely mince them by hand. I like using a food processor to thoroughly combine the flavors in the wontons.
Before folding the wontons do a taste test:

place a small teaspoon of the mixture on a plate and microwave for 15 seconds and taste to see if any adjustments need to be made.

Cook the wontons in a separate pot of water and NOT in the broth. This is important to separate the wontons from the broth. Cooking the wontons in the broth will leave an unwanted slimy residue in the broth.
Cut one of the wontons open to check if they are cooked. Before scooping all the wontons out of the boiling water, cut one of the wontons open to making sure it is fully cooked.
Blanch the vegetables in the broth. If you are using vegetables, blanch in the soup broth and place it in a serving bowl.