This pork floss and scallion star bread recipe is as delicious as it is beautiful. Filled with fresh scallions, savory pork floss, and brushed with toasted sesame oil, this fun take on the traditional Chinese pork floss bun will be an instant showstopper.
This pork floss and scallion savory star bread recipe turns a traditional Chinese bakery item into a fun winter showstopper! Whether it's for the holidays or a special occasion this insta-worthy, mouth-watering bread is the way to go. Bread is my ultimate guilty pleasure, it's so pillowy soft, and always incredibly satisfying. Pair that with pork floss, scallions, and sesame oil, and I am hooked! If you love bread, make sure to check out my black sesame milk bread, milk bread cinnamon rolls, and my ube swirl bread!
This savory holiday star bread recipe is perfect for Christmas and New Year's Eve. It is fun, festive, and fabulous. I wrote out all the steps in great detail with additional tips and tricks below! I hope you love it as much as I do.
Jump to: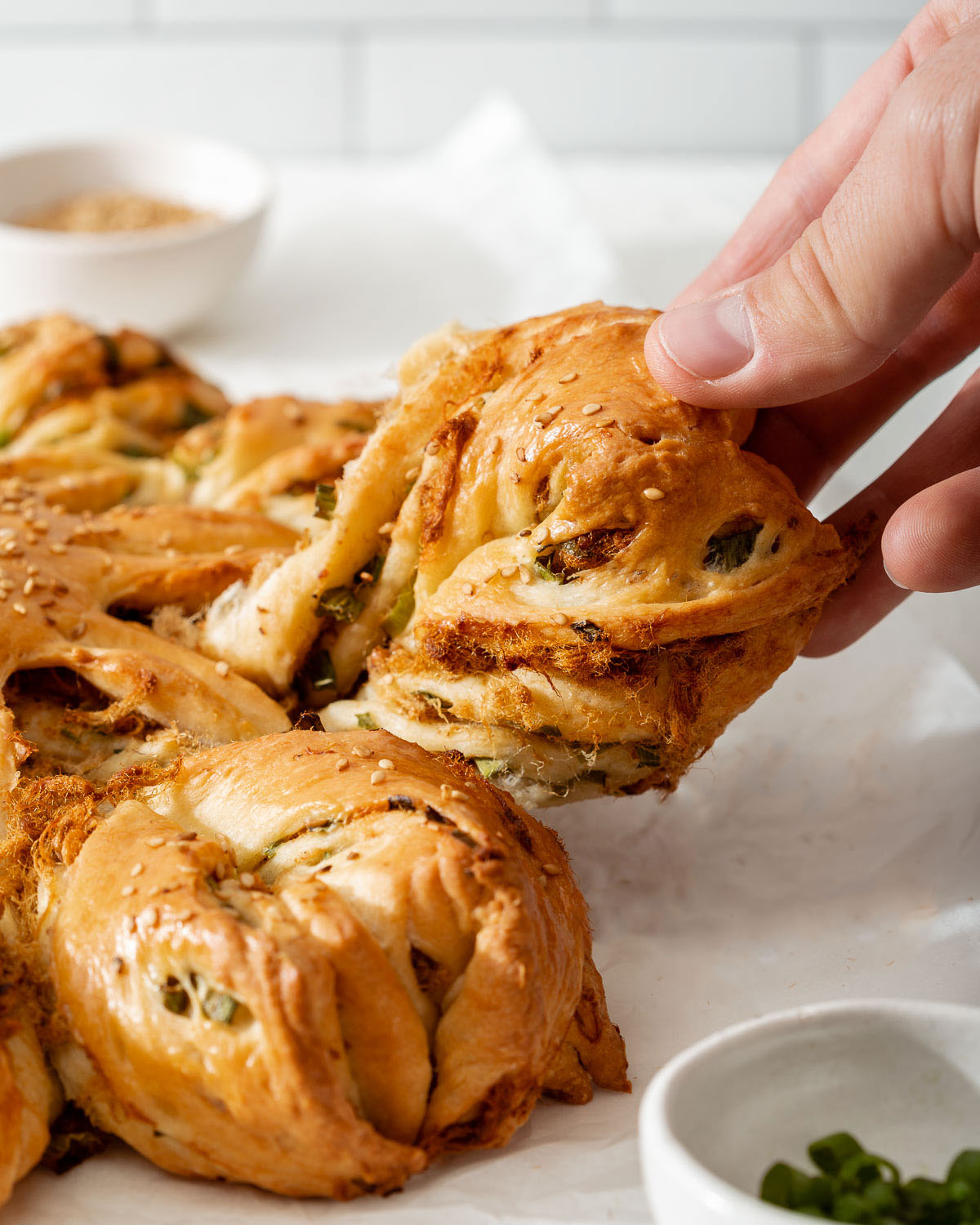 🍽 Kitchen Tools Needed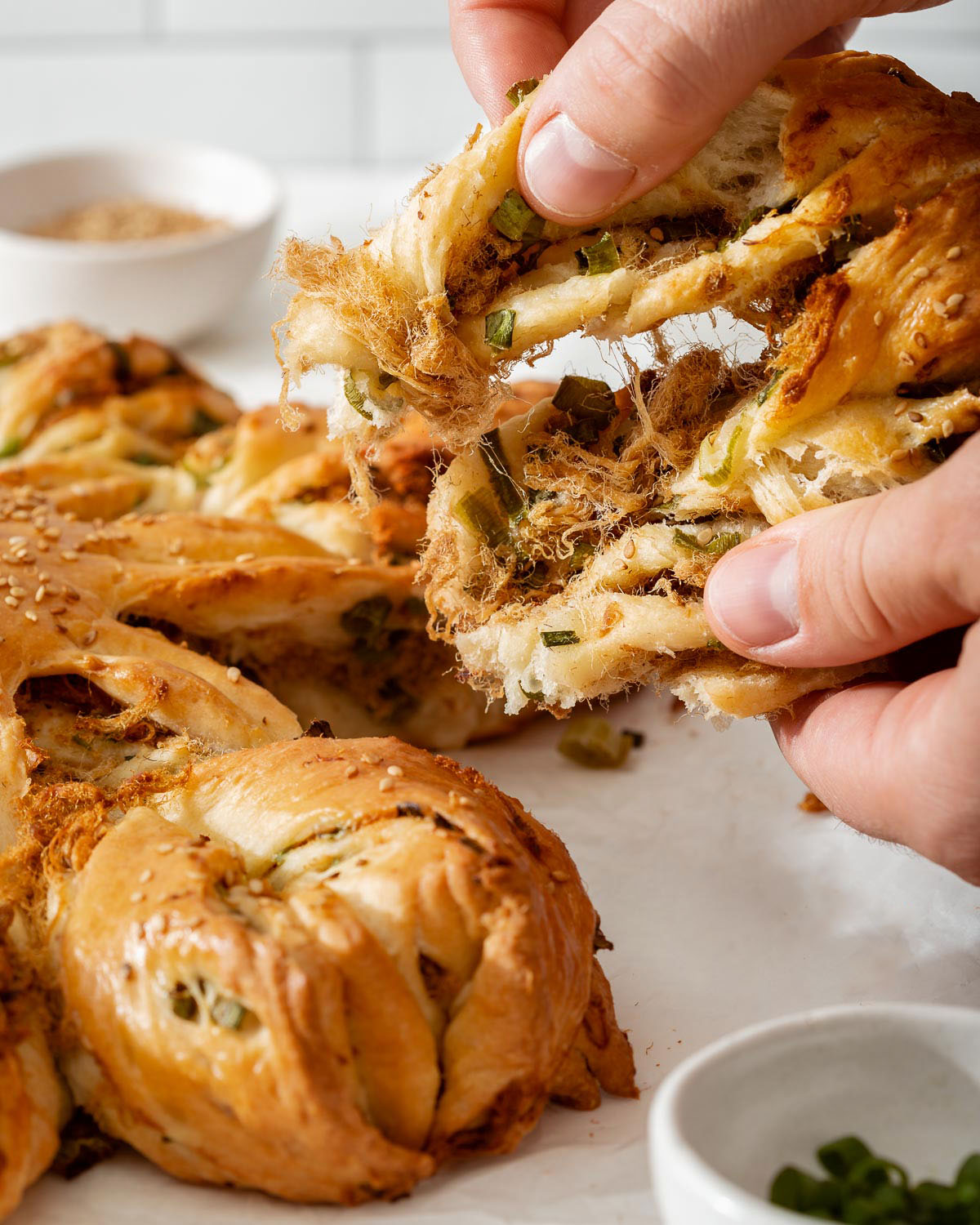 🛒 Ingredients
This pork floss and scallion star bread recipe uses a lot of pantry staples plus a quick trip to the Asian grocery store.
For the Milk Bread Dough
Bread Flour: has a higher protein level to lighten the milk bread cinnamon roll texture it is also used in the Tangzhong method. The higher protein produces more gluten which provides a slightly chewy, soft texture.
Milk: I always recommend using whole milk for that rich moist crumb. You can also use 2% or even almond milk as an alternative.
Granulated Sugar: a touch of sugar is used to activate the yeast.
Instant Yeast: I generally always use

instant yeast

because it allows the dough to rise quicker than active dry yeast. I always bloom the instant dry yeast ahead of time which acts as a foolproof way of checking if the yeast is still alive.
Salt: the salt adds a subtle amount of flavor into the cinnamon roll dough and controls the yeast.
Large Egg: the egg binds the dough together, aids in the rise and the soft texture. Make sure you bring your egg to room temperature. A cold egg may shock the yeast and prevent it from activating.
Unsalted Butter: makes the dough soft and moist. Make sure you use room temperature butter for even mixing.
For the Filling
Scallions (green onions): the scallions add the rich savory flavor to this star bread recipe. It is a must!
Pork Floss: pork floss is savory seasoned pork that is dehydrated and shredded. The texture of pork floss is light and it melts in your mouth. It is used in many Asian dishes and has been a pantry staple in my mom's kitchen for as long as I can remember. You can find pork floss at your local Vietnamese or Chinese grocery market.
Toasted Sesame oil: the

toasted sesame oil

provides a layer of fat that adds moisture to the layers of the bread. It also adds a toasted nutty flavor that is absolutely delicious. You can find toasted sesame oil online or at your local Asian grocery store.
Salt: the salt adds a touch of flavor into the filling.
📝 How to Make
This savory twisted star bread recipe may seem daunting at first glance but it is really quite simple to make. I have laid out step-by-step instructions below on how to make this star bread with tips and tricks to follow!
Tangzhong
In a small saucepan, add the water and bread flour on medium heat and using a rubber spatula mix until there are no more lumps and the mixture has thickened, about 2 minutes. Reduce heat to low and continue mixing for an additional 1 minute. Remove from heat, and transfer to a small bowl and place the plastic wrap tightly over the a plastic wrap. Make sure plastic wrap is touching the tangzhong because we don't want any air around tangzhong. Refrigerate until it has cooled to about room temperature.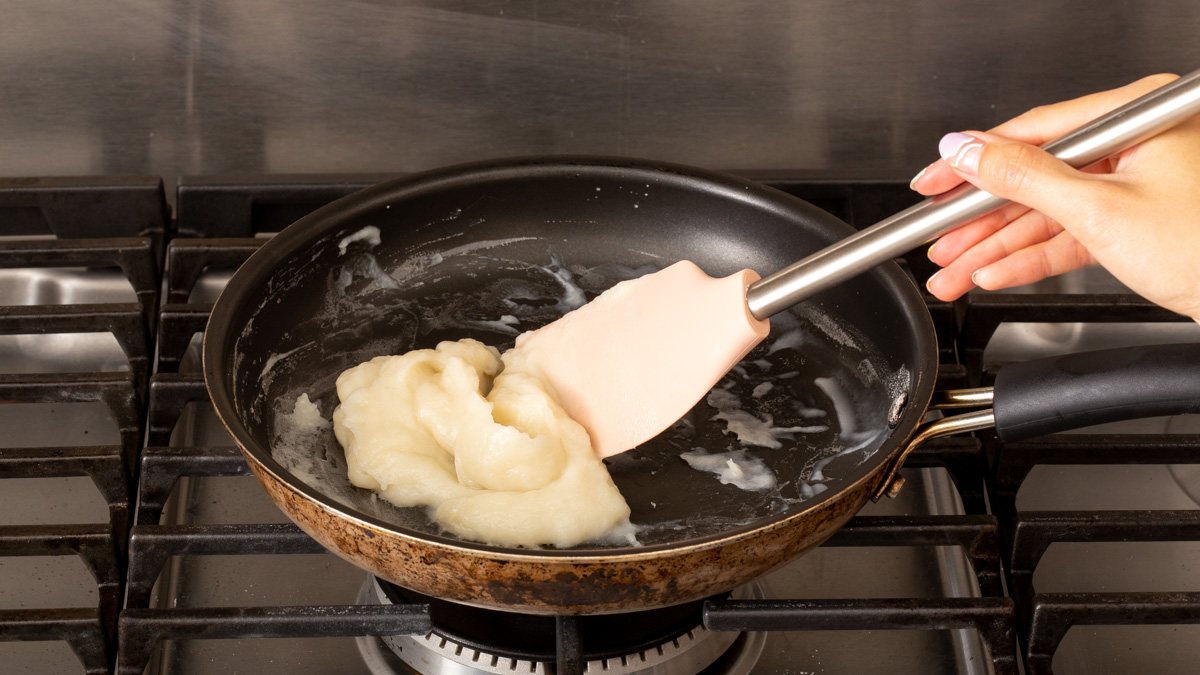 The Dough
Bloom the yeast. In a small bowl or large measuring cup, mix together warmed milk (100-105°F or 38°C) sugar and yeast for dough. Let it bloom for ~5 minutes or until it has risen and there is a layer of foam about ¼ inch thick at the top.
Make the dough. In the bowl of your stand mixer with a dough attachment, mix together the bread flour and salt. While the mixer is on low, add in the yeast mixture and tangzhong and egg. Continue mixing until the mixture forms into a dough about 2 minutes.
Add butter and knead. When the dough has just formed, add the softened room temperature butter and knead on low until combined about 1 minute. Then increase the speed to medium-high and knead until smooth, 7-8 minutes. Dough should form into a nice ball and be slightly sticky. The dough should be smooth and elastic.
1st Proof. Shape the dough into a ball and place in greased mixing bowl, cover with plastic wrap and proof in a warm place for about 1-1 ½ hours or until doubled in size. This may more or less time depending the humidity and temperature in your home.
Prepare Filling
While the dough is proofing, chop your scallions, prepare a small bowl of sesame oil with a pastry brush, and measure out your pork floss and salt. Set aside.
Assemble the Star Bread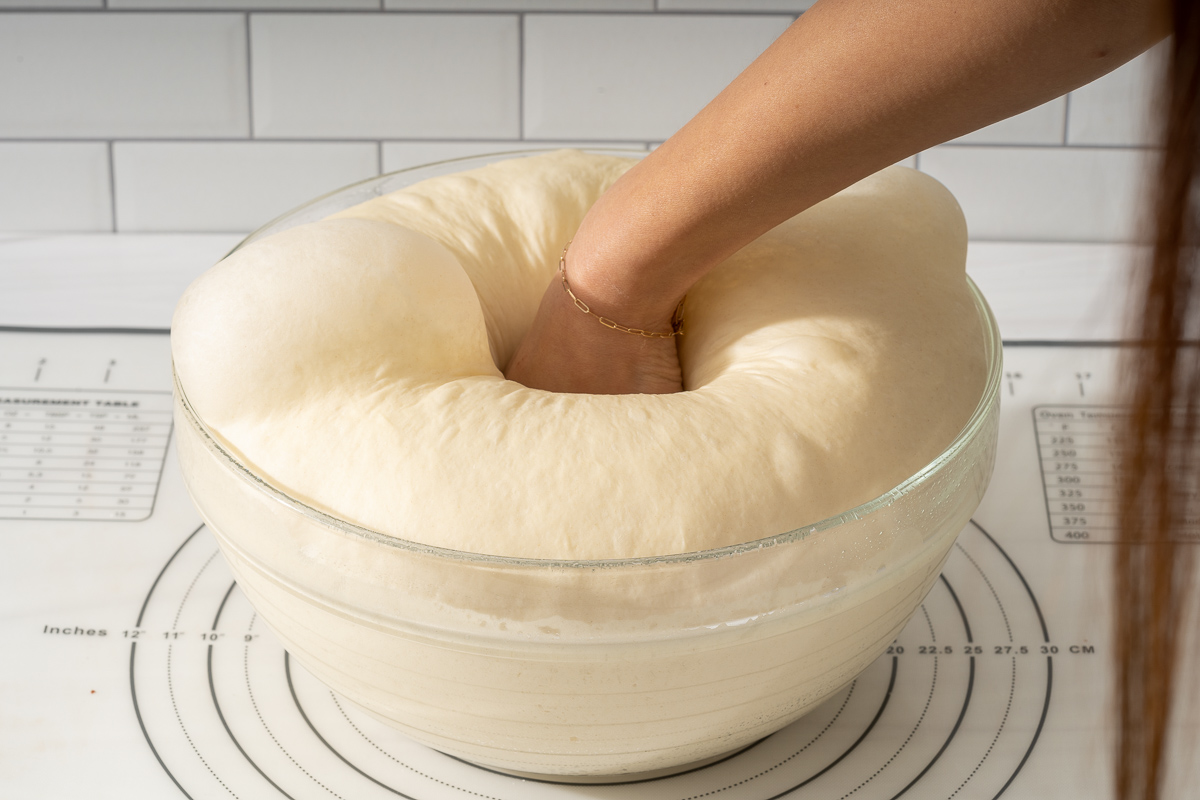 Divide and roll out the bread. Punch down the dough to release the air. Place dough on a lightly floured work surface. Divide into 4 equal pieces and using a rolling pin roll each piece into a thin 10-inch circle. Gently place the bottom circle on prepared baking sheet.
Add the filling. Using a pastry brush top the first layer with sesame oil, sprinkle a pinch of salt, and generously coat with scallions and pork floss. Then continue to layer the remaining circles and filling on top. The top layer does not have filling on it, so only 3 of the 4 circles will be topped with filling.
Create the star. Place a 3 inch round object or bowl in the center and make an indent. This is the center of the star. Cut 16 even strips from the edge to the center 3-inch circle. Using both hands, grab two strips and twist them away from each other twice, then pinch the two ends tightly together to make a point. Your star bread will have 8 points.
Second proof. Cover the shaped bread with plastic wrap or aluminum foil and let it rest for 20 minutes.
Preheat oven to 350°F (177°C). While the bread is proofing, preheat the oven to 350°F (177°C)
Bake the bread: Using a pastry brush, lightly brush the star bread with egg wash and sprinkle on the toasted sesame seeds. Pinch the edges of the star if they have come un-done. This ensures a beautifully shiny golden brown bread. Bake for about 25- 30 minutes or until golden brown on top.
⭐️ Tips
Do not overheat your milk! The ideal temperature for activating yeast is 100-110 degrees F. (My sweet spot is usually 105 degrees F) Anything hotter will instantly kill the yeast and the yeast will not rise. Measure the temperature with a

thermometer

to make sure it is at the right temperature.
Instant Yeast v. Active Dry Yeast blooming time: Instant yeast will take a considerably shorter time to bloom than active dry yeast. Instant yeast can bloom anywhere from 2-5 minutes whereas active dry yeast may take up to 10 minutes. Ideally the foamy yeast layer should be about ¼ of an inch thick. Keep a close eye on the yeast mixture to make sure it doesn't overly bloom!
Make sure to use room temperature butter. Using softened room temperature butter will allow even mixing into the dough without making the dough overly wet. Moreover, if you use melted butter for the filling it will cause the filling to leak out before baking.
Use a room temperature egg. Using a cold egg may shock the dough and may affect the yeast preventing the dough from rising.
Flour your work surface and rolling pin before rolling out the dough. The dough may be fairly sticky since it is a wetter dough. To prevent any tearing, make sure the work surface and the rolling pin is generously floured.
📬 Frequently Asked Q's & A's
What do I do if my dough is too wet?
If the dough is too wet, add 1-2 tablespoons of flour. The dough should be fairly tacky and may stick to your hands but should come off cleanly. However, if you feel like the dough is too wet to be manageable, kneed in 1-2 more tablespoons of flour.

What do I do if my dough is too dry?
If the dough seems too dry and crumbly, go ahead and add in 1-2 tablespoons of warmed water. Make sure the water is not too cold to shock the yeast.
How do I know if my dough is done kneading?
You can do the windowpane test. Pull a piece of the dough out with your fingers and keep on stretching until it becomes a thin film in the middle without breaking. The dough must be thin enough to pass light through it.
🥡 Storage Instructions
Serve this savory star bread immediately. For any leftovers, cover in an airtight container or with plastic wrap tightly and store at room temperature for up to 3 days.
💕 You may also love
If you made this dish and loved it, please leave a review and comment below. We would greatly appreciate it!

Share your dish with us on Instagram, tag us @takestwoeggs—we'd love to see and share your delicious creation!

Hungry for more? Follow us on Instagram, Pinterest, and Facebook for more tasty creations and updates 🍜
👩🏻‍🍳 Recipe