Wake up on the right side of the bed with this caramelized Spam and eggs recipe. Elevate your Spam with a soy sauce and sugar caramel glaze and give your eggs a glow up with furikake and fried garlic pieces.
This savory breakfast will transport you to a beautiful sunny day in Hawaii with not a care in the world. Our recipe has the perfect balance of flavors that creates an addictive and tasty meal in under 30 minutes!
Spam in Asian Cooking
Hormel Foods Corporation, a U.S.-based food conglomerate, produced the first can of Spam — a mix of pork, salt, water, sugar and sodium nitrite — in 1937 in Minnesota. This American iconic brand launched in 1937 in Minneapolis and grew in popularity during WWII as a source of protein for the soldiers. The American military was deployed to the Pacific, and troops made their way to places like Guam, Japan, the Philippines and South Korea. Wherever American troops went, Spam followed.
Originally when Spam was used in Asian cuisine, it was out of necessity because of the lack of food due to the destruction of war. It was coined a "poor man's food." However, Asian American chefs are contributing to elevating Spam into a gourmet culinary ingredient. By using Spam in their dishes, these Asian American chefs are embracing their histories and experiences with Spam.
Today in Asian cooking, Spam is a popular ingredient used in so many comfort food dishes. There is Kimchi and Spam fried rice, Spam in Korean stews, Spam and pepper stir fry, Spam musabi, Spam omelette, Spam grilled skewers, Spam fried rice, or Spam sandwich.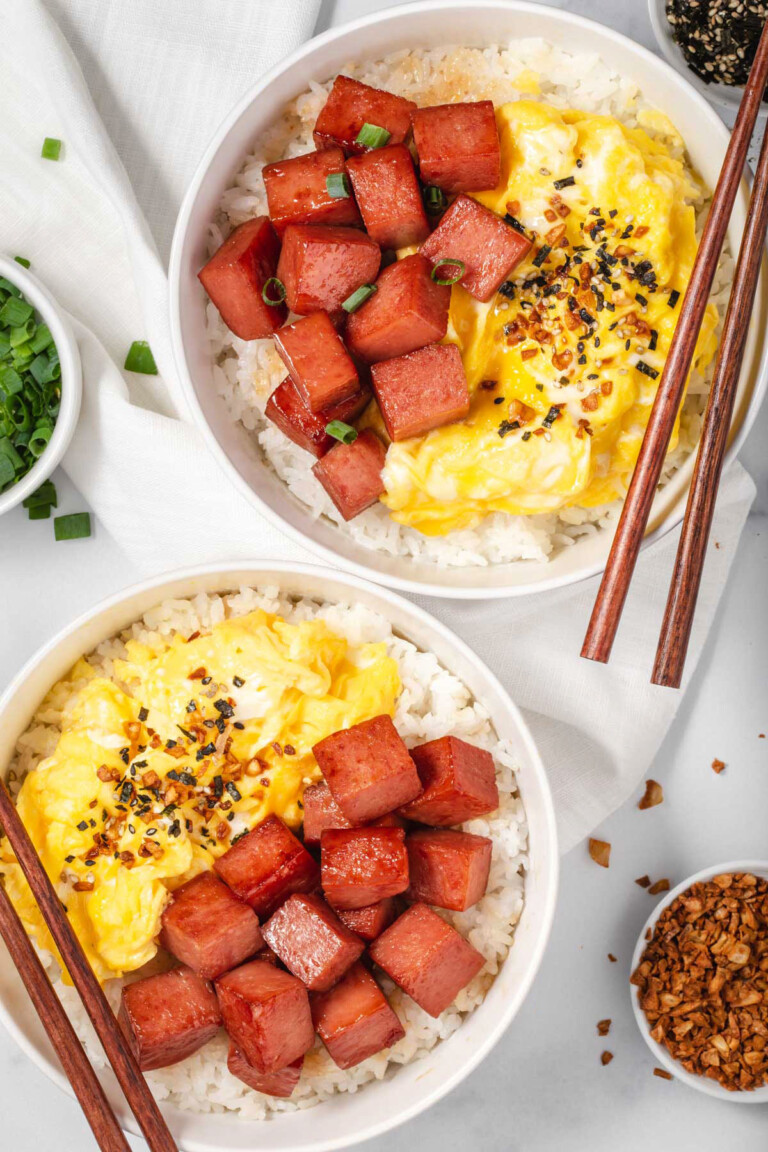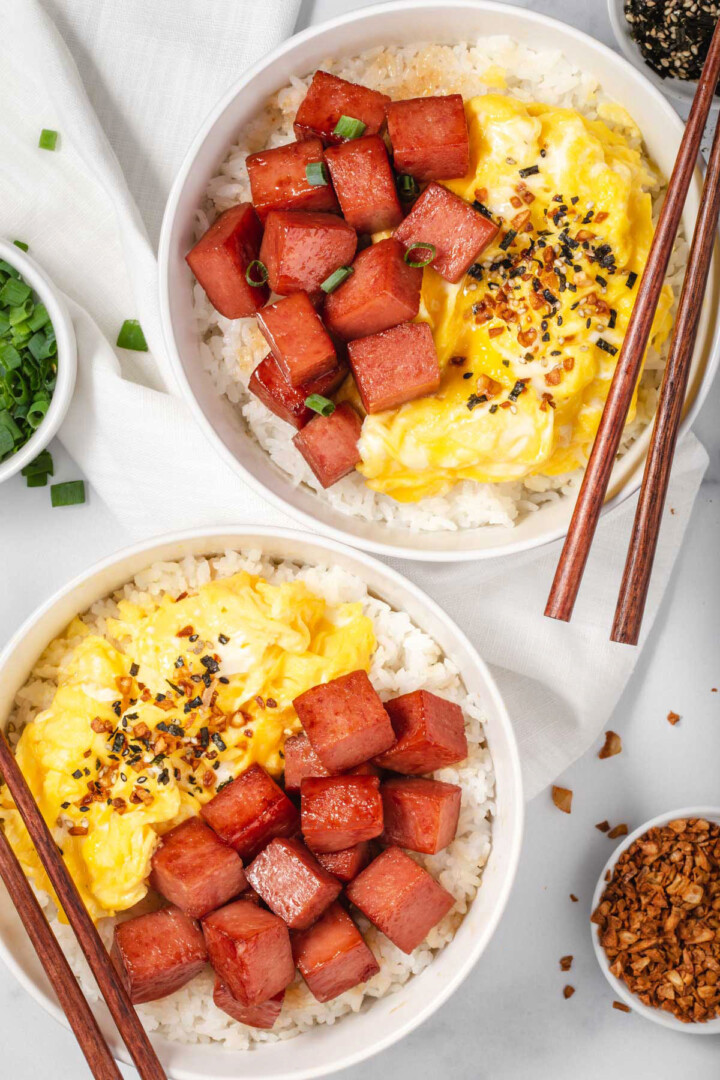 Ingredients For This Recipe
Vegetable oil: You will need neutral vegetable oil to fry the garlic. Neutral oil has a high smoke point so it will prevent the garlic from burning I used vegetable oil but you can also use any other neutral oil like peanut oil, vegetable oil, canola oil, safflower oil, or corn oil.
Garlic: the small fried garlic bits add that special flavor that makes your tastebuds come to life.
Eggs: You can make your eggs any way you prefer! However, if you want that traditional local Hawaiian breakfast scrambled is the way to go.
Spam: I used the entire 12 oz can of Spam for this dish but you can make less or more depending on how much you can eat. If you want to take a healthier route you can use the less sodium option.
Soy sauce: for this dish you want to use regular soy sauce.
Sugar: Use white granulated sugar to create that beautiful caramelized glaze texture over the Spam.
Furikake Seasoning: Furikake seasoning is a Japanese spice blend made with dried seaweed (nori), toasted sesame seeds, salt, spices. You can find this spice blend at Trader Joe's, any Asian grocery market, or even online here.
Sesame Seeds: the sesame seeds are an optional topping.
Green Onion: I love adding green onion slices to my eggs but this is entirely optional.
How To Make This Recipe
Making this caramelized Spam and eggs recipe with rice is as easy as 1, 2, 3. Literally, it only takes three major steps: 1. Cook the rice and fried garlic, 2. Make the scrambled eggs, and 3. Caramelize the Spam.
I. Cook the Rice and Fried Garlic
Cook the rice. First, cook the rice using a rice cooker or over the stove.
Make fried garlic. First, mince fresh garlic. Over a small frying pan on medium-high heat, pour in 5 tablespoons of vegetable oil. Add in the garlic and toss the garlic in the oil. Sauté the garlic for about 1-2 minutes until golden brown and crispy and take off the heat. Set aside.
II. Make the Scrambled Eggs
Prepare the eggs. In a mixing bowl, whisk the eggs with a pinch of salt and white pepper.
Make the eggs. Using a medium pan over medium heat, pour a tablespoon of neutral oil to grease the pan. Next, pour in the whisked eggs and spread the eggs over the entire pan.
For the softest scrambled eggs, use a rubber spatula and slowly and gently stir the eggs when the eggs are still runny until the eggs begin to come together.
When the eggs become soft curds stop stirring and begin to gently push the eggs together or fold the eggs on top of each other to make them extra fluffy. This should take 2-3 minutes total. Be sure to JUST undercook them. They will continue to cook off the heat.
III. Caramelize the Spam
Cook the Spam. Cut the Spam into cubes. Next, using a medium pan on medium heat, cook the Spam until browned and crispy on the edges tossing every 2 minutes. Around 4-5 minutes.
Make sauce. Mix soy sauce and water into a small bowl. Sprinkle the sugar evenly over the Spam and toss the Spam to evenly coat. Then pour in the soy sauce mixture. Swirl the sauce and toss the Spam to evenly distribute. Next, let the Spam simmer until nearly dissolved around 4-5 minutes. Flip the Spam cubes every 2 minutes.
Serve. Serve the Spam and eggs over white rice. Top with the fried garlic, furikake, sesame seeds, green onion.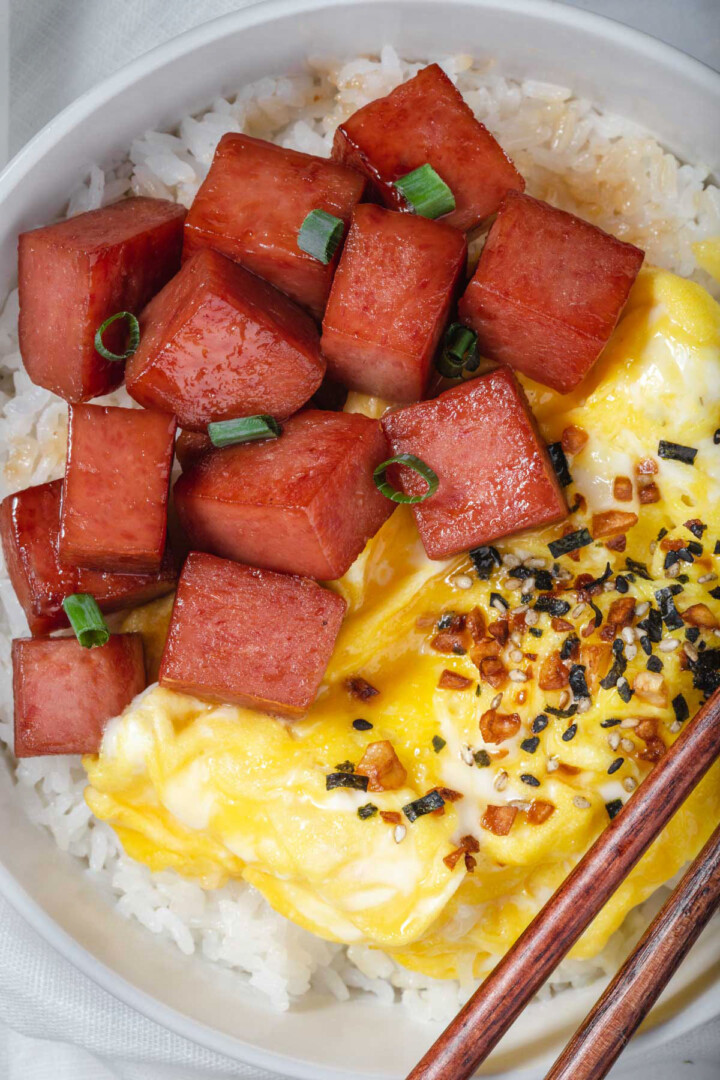 Tips For This Recipe
Use enough oil to coat the garlic. You want to pan fry the garlic with enough oil to get that crispy crunchy texture. Also, make sure to heat the oil to high heat before dropping in the garlic. The oil should cover all the garlic pieces.
Caramelize the Spam slowly. It's very important that you brown the Spam on medium-high heat first. It renders some fat and makes a very crispy crust. After you brown the Spam, you can braise the Spam with the soy sauce and sugar mixture. Remember, turn the heat down low and caramelize this part slowly. You will end up with a dark brown caramelized surface that is glossy and delicious.
For the softest scrambled eggs, use a rubber spatula and don't over stir. The key to making the softest scrambled eggs is to watch the eggs incredibly closely. You have to stir when the eggs are still runny but immediately

stop

when the eggs begin to curdle. When the eggs are slowly coming together push the eggs/fold them towards each other making a mini mountain.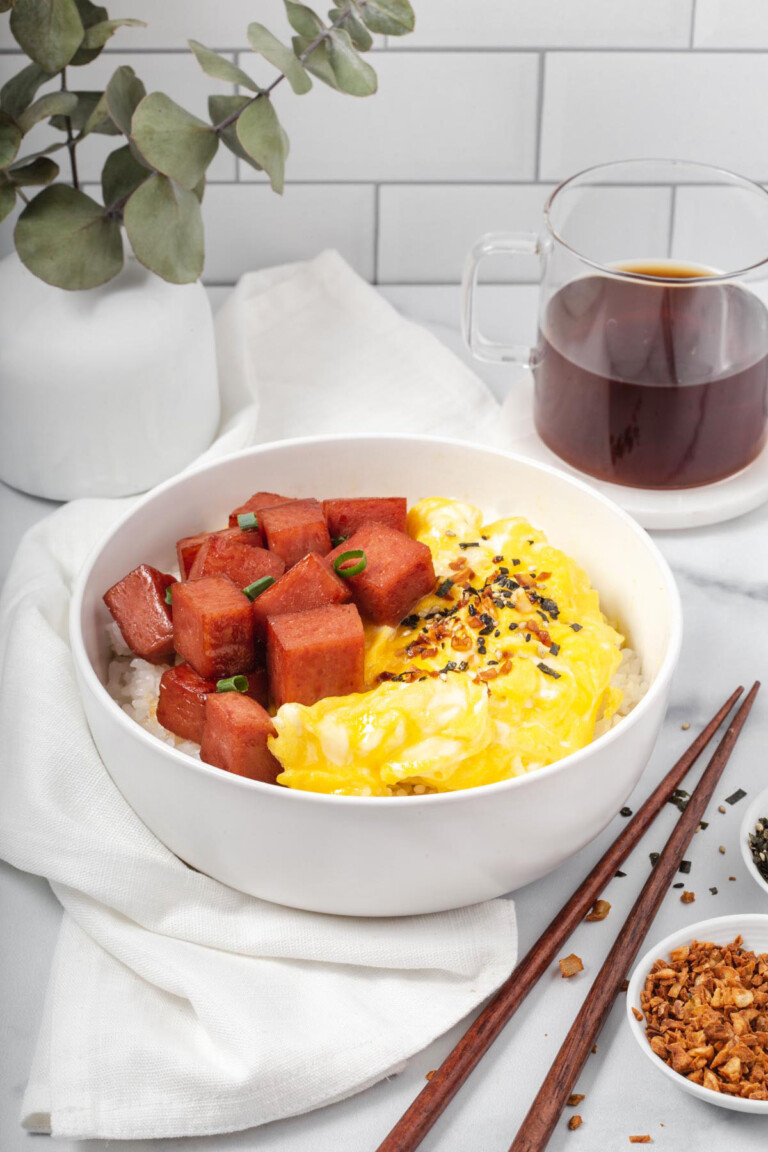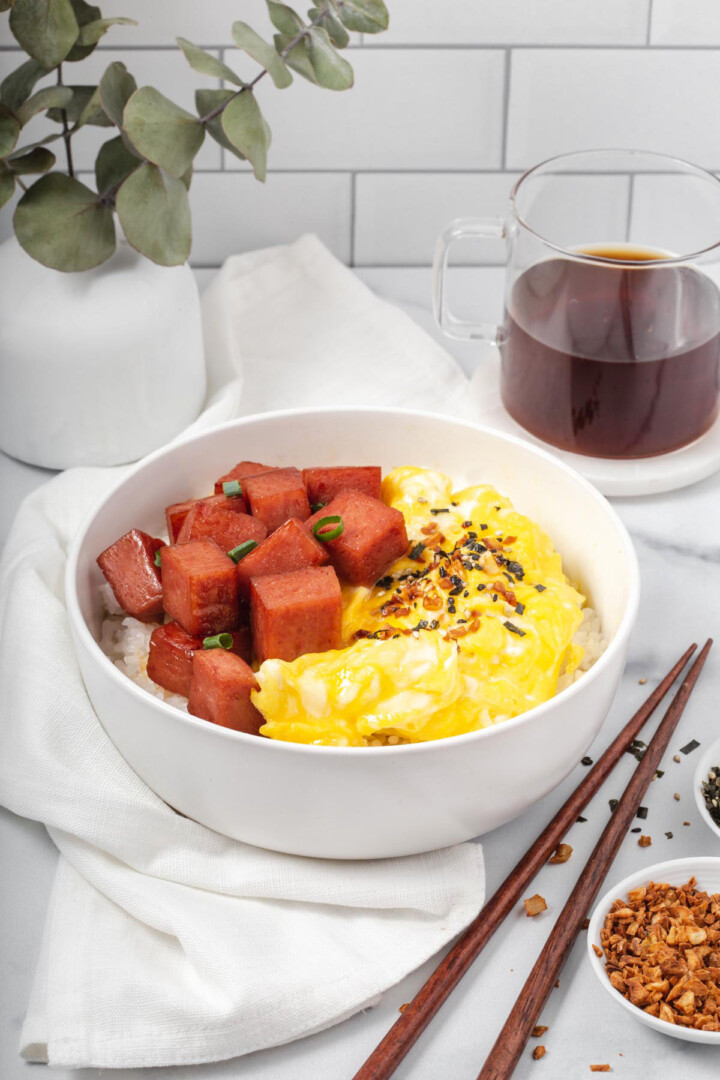 Storage Instructions
This dish is best served immediately, but you can store this Spam and eggs recipe in an airtight container in the refrigerator for up to 5 days.
You might also like...
For more Asian fusion breakfast ideas check out my browned butter miso hollandaise!