Budae Jjigae or Korean Army Stew is the comfort food you never knew you always needed. It is loaded to the brim with spam, sausage, baked beans, kimchi, vegetables, cheese, and instant noodles surrounded by a flavorful Korean chili broth. Bonus! this under 30-minute recipe is astonishingly effortless to make and doesn't require any fancy equipment.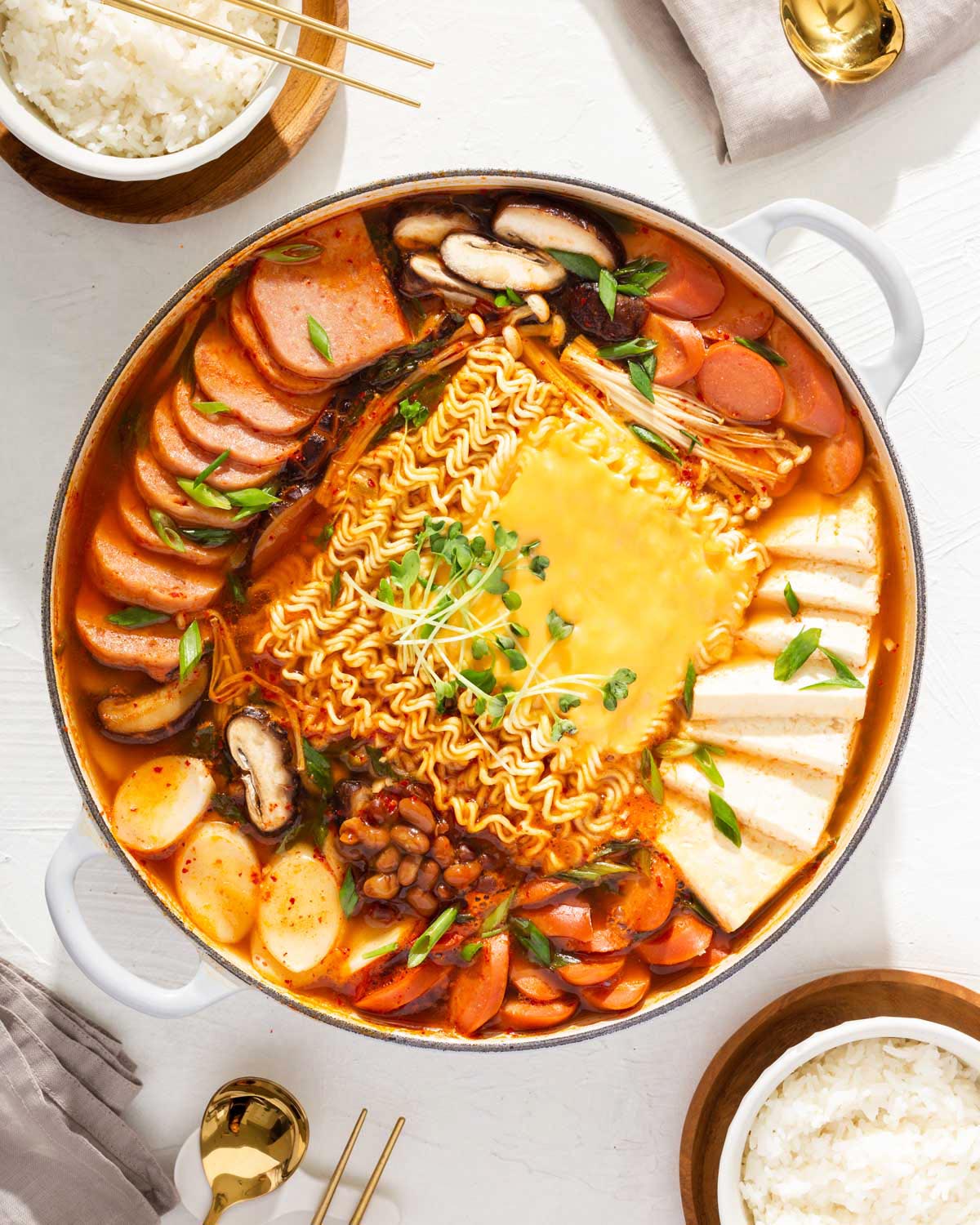 This Budae Jjigae (부대찌개) or Korean Army Stew is one of my all-time favorite Korean dishes. When the weather is cold outside, there is nothing more comforting about gathering around the table and sharing a hot pot of hot bubbling soup.
The first time I was ever introduced to Budae Jjigae, I went to dinner with one of my law school friends for his birthday. We were in a hole-in-the-wall Korean restaurant located in the heart of Oakland next to a questionable liquor store with flickering lights. I entered the dark restaurant as my friend waved at me from the booth. He said, "trust me this place has the best army stew." I had never tried it before, but I was so glad that I did. One bite into this stew and I was instantly greeted with a blast of Korean flavors along with my favorites spam and soft tofu. I soon found myself scooping out bowl after bowl even though it was incredibly spicy and I was sweating so much. It was love at first slurp.
Ever since that day, I have been dreaming about that dinner and have been itching to re-create it. Now I am so happy to share with you the humble stew made from simple ingredients that changed my life. Pair this with some Korean corn cheese, a delicious cup of Strawberry Milk or Brown Sugar Milk tea (to calm the spiciness) and you will have a meal of a lifetime.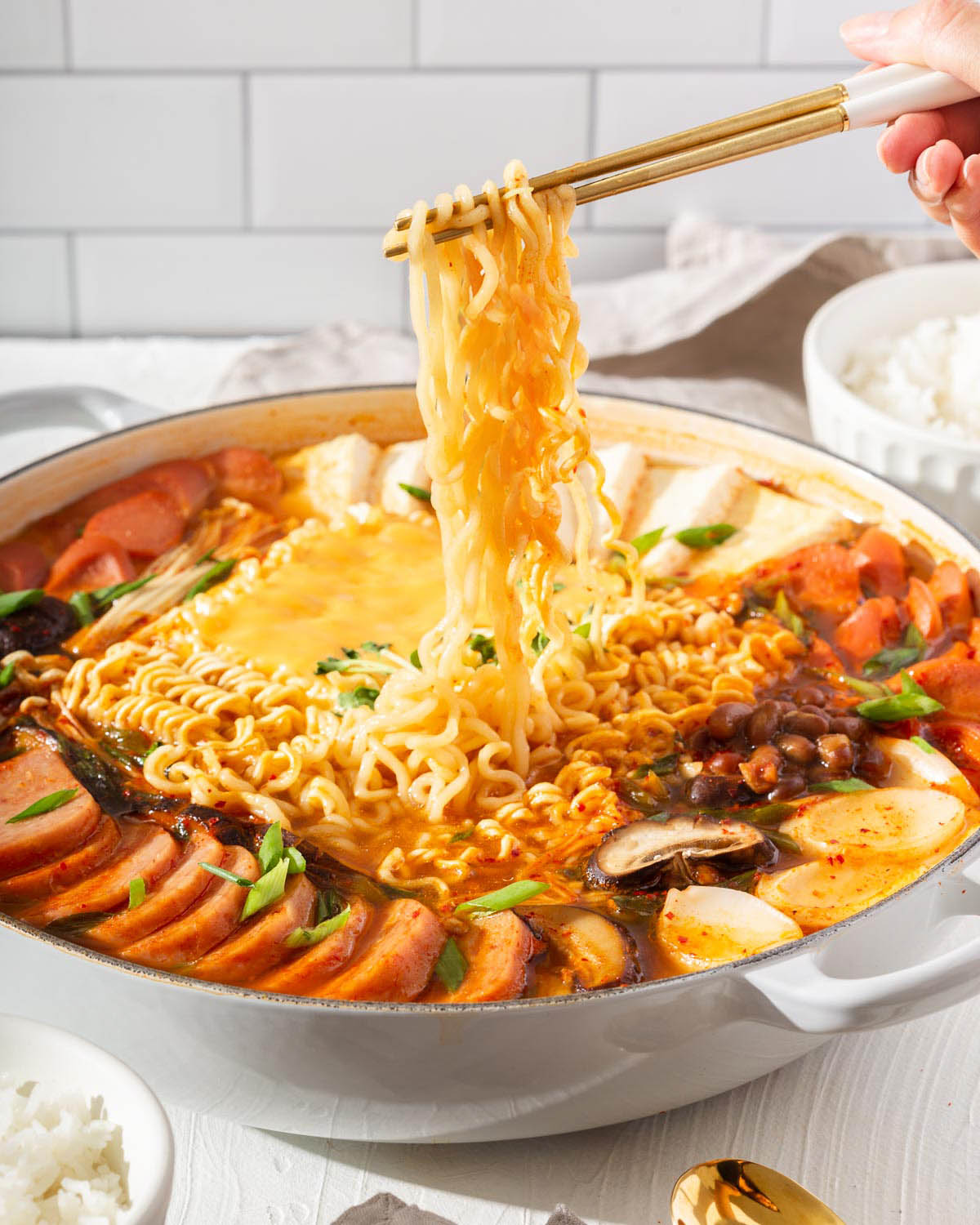 What is Budae Jjigae (부대찌개)?
Budae Jjigae was originally known as a survival stew and evolved into one of the nation's favorite comfort foods. During 1963-1979, South Korea went through a period of economic development which resulted in food scarcity and high tariffs on imported meat. Budae Jjigae was made from canned meats and leftovers all thrown together in a large pot. According to Michelin Star Chef Hooni Kim, "Budae jjigae is an honest portrayal of where Korea was and how far the country has come." It is a symbol of how the nation made lemonade out of lemons.
These days, Korean army stew can be found practically everywhere in South Korea. It is highlighted in a Michelin Guide as one of "the must-eat dishes in South Korea" for visitors. From its simple origins, it has transformed into a culinary masterpiece that is enjoyed by so many generations.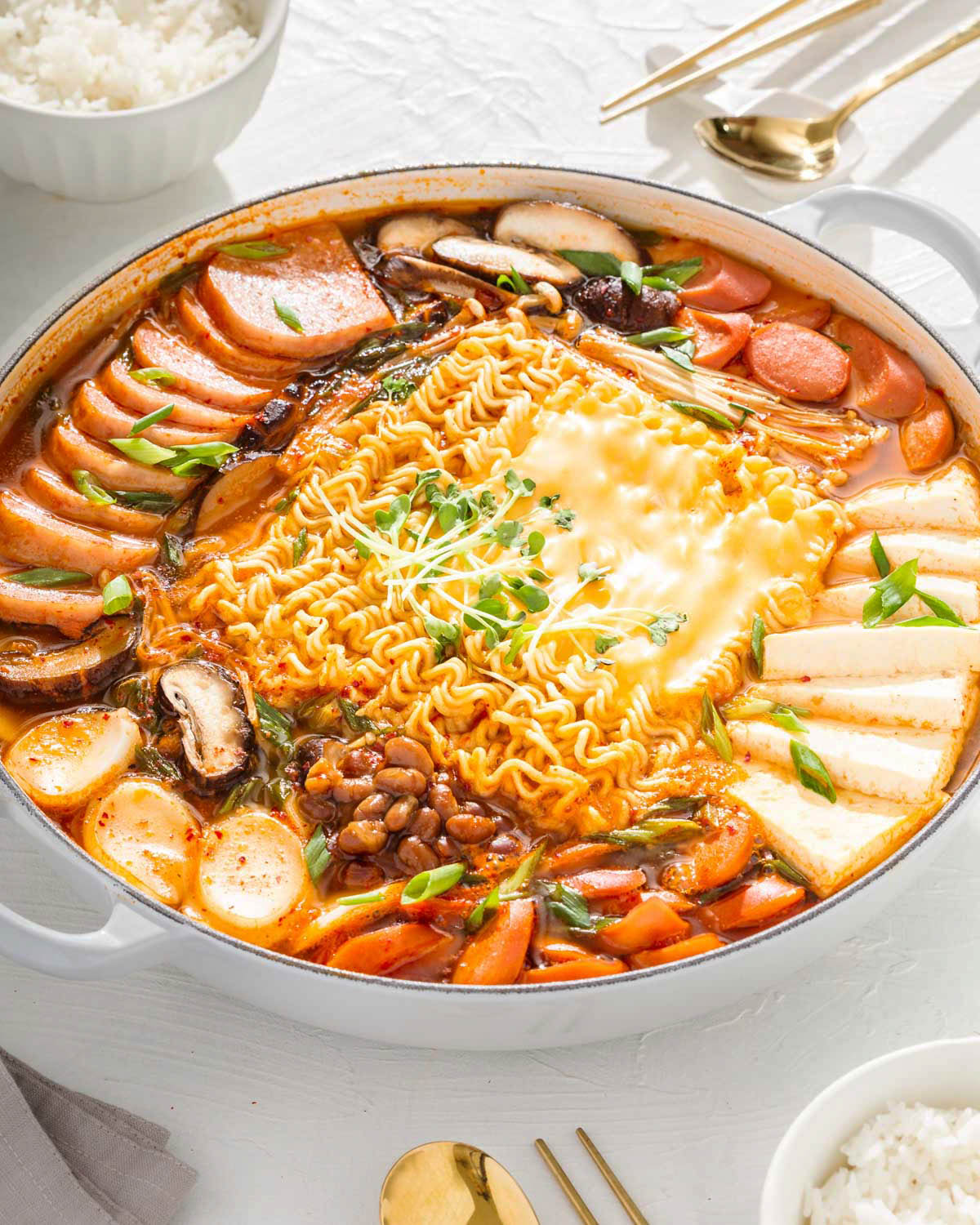 Kitchen Equipment For This Recipe
Shallow Pot or Braiser: You will need a pot that is wide and shallow. The wide pot cooks all the ingredients evenly in the soup. I used my

Le Creuset Braiser

and it worked perfectly.
Portable Stove: this is a kitchen staple for most Asian dishes. You can use this portable stove for at home Korean BBQ or Hotpot! I love my

portable gas stove

from Amazon. It is incredibly sleek, easy to use and so versatile for dinner parties. You can find the butane gas containers at any of your local Asian grocery stores.
Ingredients For This Recipe
Seasoning Sauce
You can find all of these ingredients for this budae jjigae online or at your local Korean Grocery Store (Hmart).
Gochugaru: Korean red chili pepper flakes: The peppers are sun-dried, then de-seeded and chopped to a size between flakes and powder. The flavor is hot, sweet, and slightly smoky. You can add more or less depending on your spice preference. Any other substitutions will not compare to the flavor of Gochugaru. You can buy

Gochugaru online

or at your local Korean grocery store.
Gochujang: Korean red chili pepper paste. This paste is made with sun dried chili peppers and rice which instantly elevates this dish. It has a sweet, hot, salty taste. You can buy

Gochujang online

or at your local Korean grocery store.
Soy sauce: Opt for a lighter less salty soy sauce. I used

Lee Kum Kee's Premium soy sauce

for this recipe.
Fish sauce: Fish sauce is a must to add a subtle hint of umami flavoring to the soup. I like using

Red Boat Fish Sauce

or

Three Crabs Fish Sauce.

Mirin: is a type of rice wine, similar to sake, but with a lower alcohol and higher sugar content. It has a sweet flavor, which makes it a nice contrast when used with saltier sauces, like soy sauce.

Mirin

can be found online or at your local Asian grocery store.
Sugar: the sugar balances out the saltiness from the soy sauce and the fish sauce.
Black pepper: the black pepper adds a subtle smokiness to the dish.
Garlic: adds a garlic-y aromatic to the soup base which makes it incredibly delicious.
Chicken stock: the chicken stock mixes the sauces together. You can also use water water instead.
Stew
For the stew, this is entirely up to you. In my Korean Army Stew, I used the following ingredients. You can mix and match the veggies, and alter the proteins to your liking.
Kimchi
Rice Cakes
Spam
Hotdog
Tofu
Yellow Onion
Napa Cabbage
Baked Beans
Enoki Mushroom
Shitake Mushroom
Green Onion
Ramen Noodles
American Cheese
Chicken Stock
White Rice
How To Make This Recipe
This recipe is incredibly easy and simple to make. All you need to do is mix the sauce, plate the ingredients in a shallow pot or braiser and mix it all together and serve with rice.
Seasoning Sauce
Make the seasoning sauce. In a medium mixing bowl, mix together the sauce ingredients (gochugaru, gochujang, soy sauce, fish sauce, rice wine, sugar, black pepper, minced garlic, chicken stock) until combined. Set aside.
Stew
Prepare the Ingredients. Soak the frozen rice cakes in water for 15 minutes if frozen. Slice the spam, hotdog, bacon and tofu into ¼ inch pieces. Chop the napa cabbage into bite sized pieces. Wedge cut the onion. Diagonally slice the green onion. Slice the stems off the mushrooms.
Cook the ingredients. In a large shallow pot or braiser, add the kimchi, spam, hotdog, bacon, tofu, onion, beans, mushrooms. Pour in the chicken stock and add the seasoning sauce in the center. Cover and cook on medium high heat until the stock begins to boil.
Add the ramen, rice cakes, green onion and cheese. Add the ramen, rice cakes, green onion and cheese. Continue cooking uncovered for an additional 2-3 minutes or until the noodles soften.
Serve with steamed rice. You can serve this dish with a portable burner on low with rice and other korean side dishes.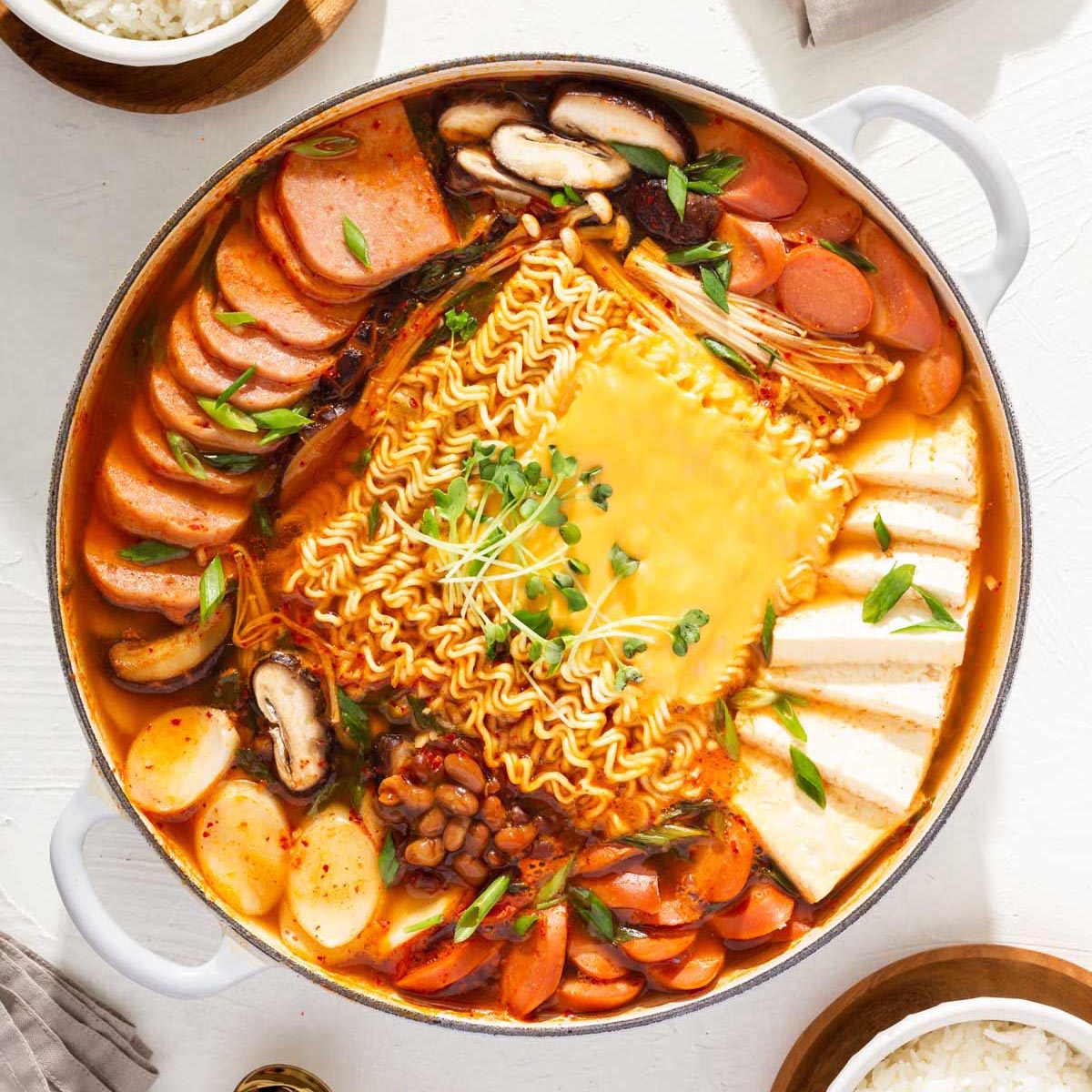 Tips For This Recipe
Mix and Match! You can literally put any kind of meat, or vegetable or noodle into this dish. This is essentially like a Korean hotpot. You can take away or add to your preference.
Use a portable stove to keep the soup from getting cold as you eat. This is optional but I always find that a hot soup is always better than a lukewarm one. It also makes the entire dining experience more enjoyable!
Chicken Stock v. Beef Broth v. Anchovy Stock. If you want to use the more traditional route, you can use anchovy stock. However, since this is not a very common ingredient, I opted to use Chicken stock which saves so much time unless you want to make your own stock from scratch. You can always opt to use beef broth instead of chicken stock instead.
The noodles will soak up the liquid the longer it sits in the broth. I advise that you add the noodles in last and try to consume the noodles first. The longer it sits the in the broth, the more it will absorb the liquid and become overly soft.
Storage Instructions
You can store this in a liquid-safe container in the refrigerator for up to 3 days. Please note the noodles will soak up the liquid and become soggy. It is best that you remove the noodles before storing them and simply add a fresh batch of ramen when re-heating.
You May Also Love...