This easy Korean spicy soft tofu soup or sundubu jjigae (순두부찌개) is made with silken soft tofu that swims in a bowl filled with sizzling hot and spicy Korean soup broth. This less than 30-minute Korean tofu soup is as deliciously addicting as it is comforting!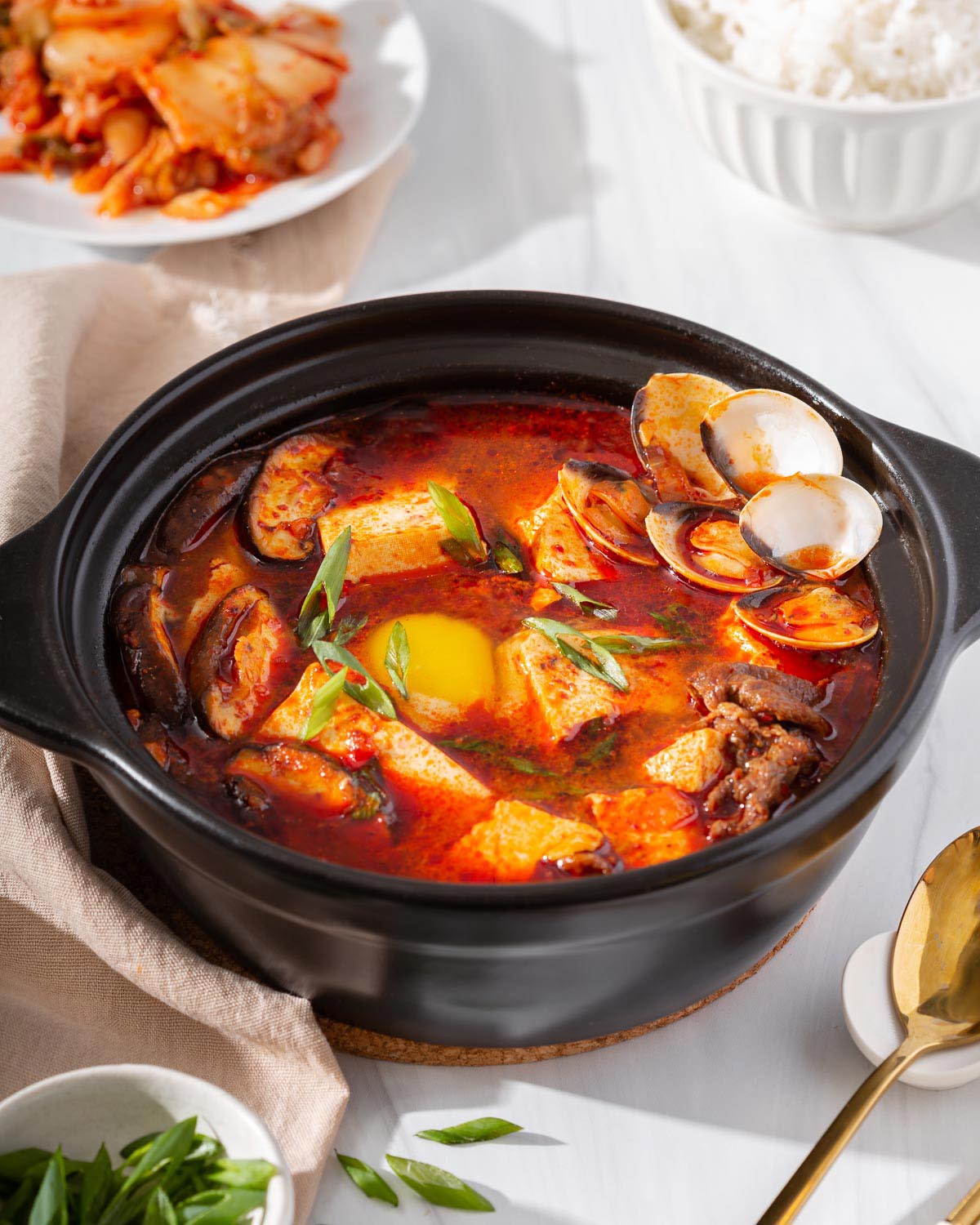 Watch out BCD's there's a new delicious soft tofu soup recipe in town. Now you can make your own personalized bowl of tofu soup right from the comfort of your home. If you ask any of my closest friends, they will tell you Korean soft tofu soup is by far my greatest addiction. In high school, my girlfriends and I would literally go to BCD's tofu house every weekend and have a bowl of this bubbling hot and spicy tofu soup filled with the softest silky tofu that is served with a variety of delicious side dishes.
So when it comes to sundubu jjigae, I take it VERY seriously. This recipe is easily customizable based on your preferred spiciness level, broth, protein, and vegetable preferences. So basically this soft tofu soup recipe is perfect for everyone (who loves tofu.) If you are looking for other warm and comforting soups, check out my Budae Jjigae (Korean Army Stew) or homemade wonton soup!
Jump to:
🔍 What is Sundubu Jjigae?
Sundubu Jjigae (순두부찌개) or Soondubu or Korean spicy soft tofu soup is a famous Korean stew that is made with soft tofu, vegetables, and your choice of protein. In Korean, sundubu translates to soft tofu and jjigae is stew. When it is served, it comes out boiling in an earthenware pot and is topped with a freshly cracked egg on top.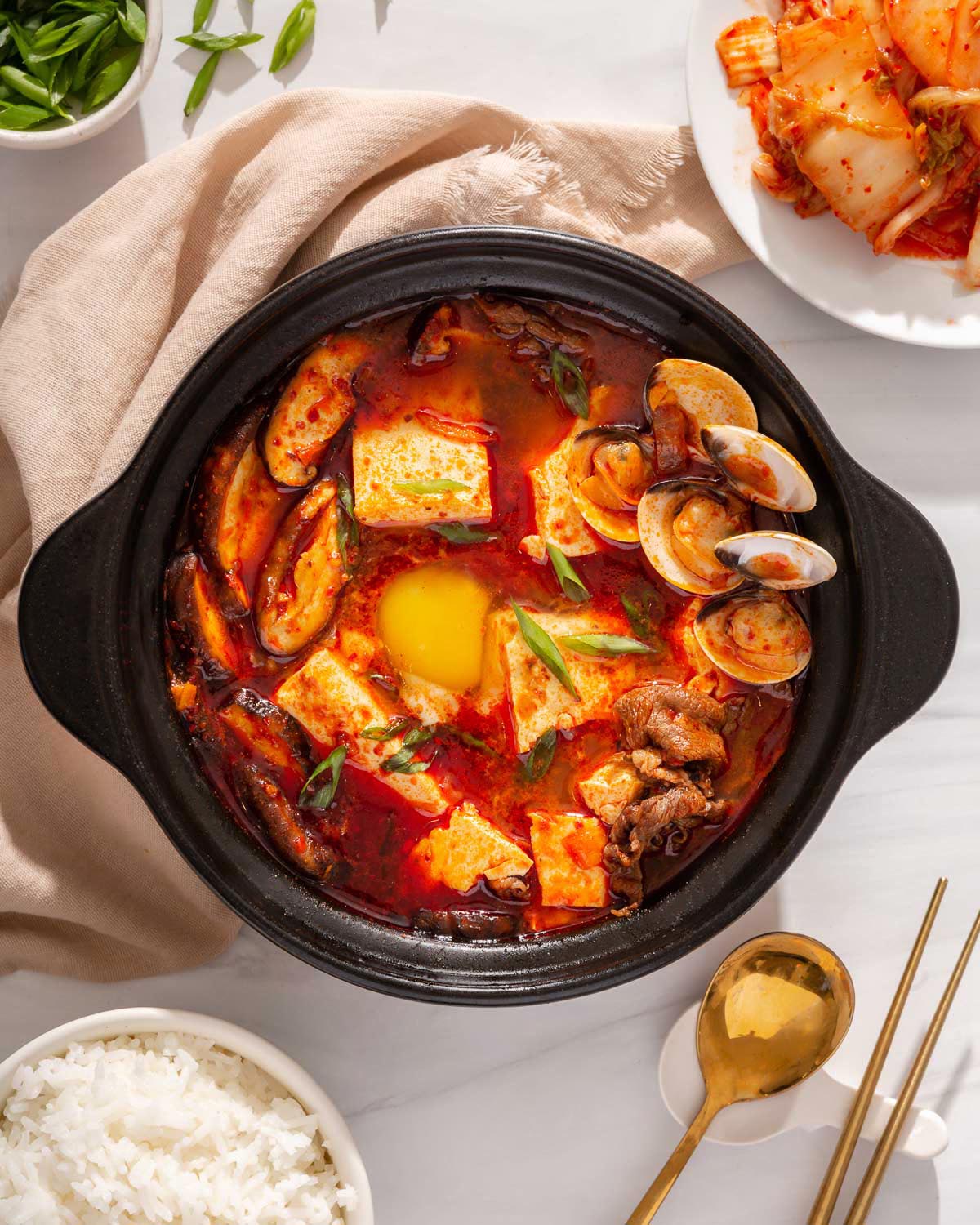 🍽 Kitchen Equipment For This Recipe
Korean Earthenware pot - Traditionally, sundubu or soondubu is cooked in these

Korean earthenware bowls

and pots called ttukbaegi. They are perfect for stews and soups because the stone helps retains the heat so the dish remains hot as you eat your meal. You can find these earthenware pots online or at your local Korean grocery store.
🛒 Ingredients For This Recipe
(Optional) Anchovy Stock
Large dried anchovies: traditionally, the base of Korean tofu soup contains anchovy broth. Boiling dried anchovies is all you will need to make the broth. You can find large dried anchovies in the freezer section of your local Korean grocery store.
Dried Kelp (dashima): make sure to get kelp (dashima) and not seaweed. Kelp is thicker and holds more flavor than seaweed. The dried kelp should be cut into 3-inch squares. You can find dried kelp (dashima) at your local Korean grocery store.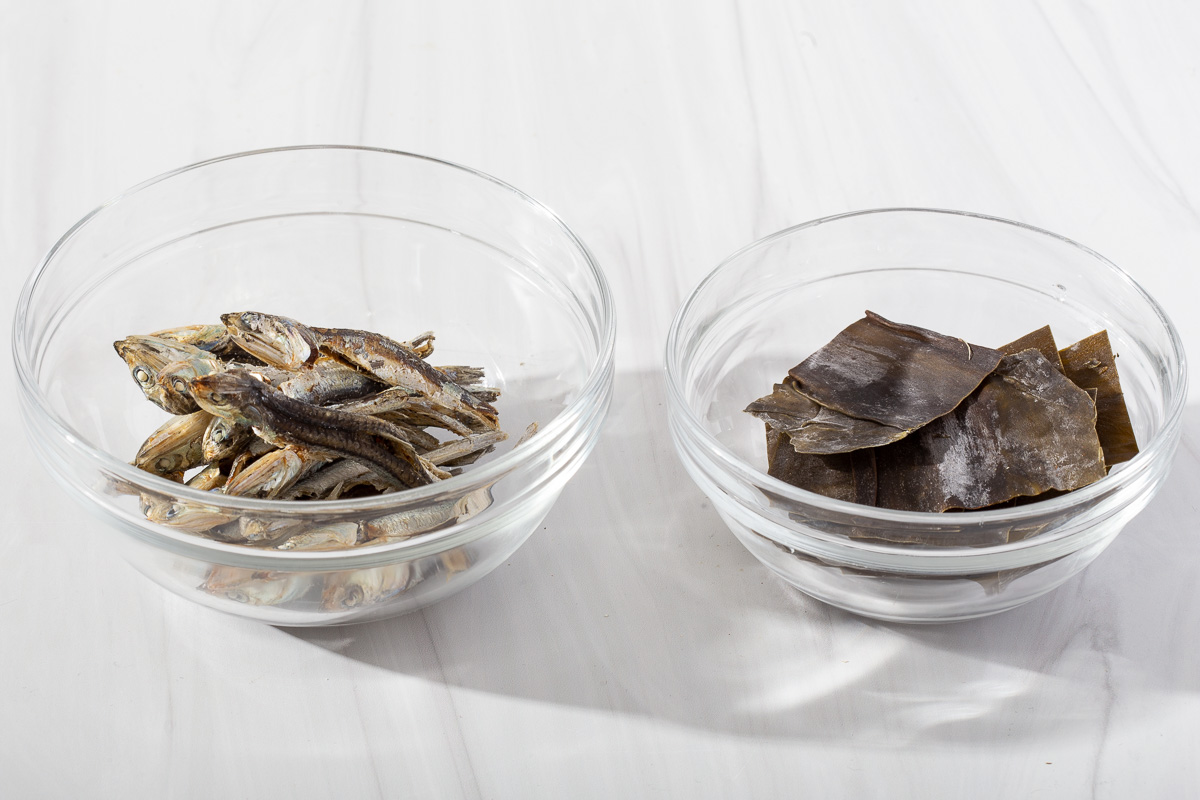 Sundubu Jjigae Soup Base
Yellow onion and garlic: are the aromatic ingredients for the soup base
Gochugaru or Korean red chili flakes: These peppers are sun-dried, then de-seeded and chopped to a size between flakes and powder. The flavor is hot, sweet, and slightly smoky. This creates the spiciness level of the soup. Any other substitutions will not compare to the flavor of Gochugaru. You can buy

Gochugaru

online or at your local Korean grocery store.
Chicken, beef, vegetable, anchovy stock: you can use any broth or stock that you prefer, but traditionally anchovy stock is what is used in restaurants. If you want to make this a vegetarian Korean tofu soup opt for using vegetable broth instead.
Fish Sauce: the fish sauce adds a depth of umami flavor to the stew. You can find

fish sauce

online or at your local Asian grocery store.
Korean Soy Sauce for soups: Korean soy sauce for soups is made to be put in soups and stews. It's saltier than other kinds of soy sauce but the color is lighter. You can find

Korean soy sauce

online or at your local Korean grocery store.
Sesame oil: the sesame oil adds a touch of nutty flavor to the tofu soup. You can find

sesame oil

online or at your local Asian grocery store.
Sea Salt and Sugar: you will add these at the end depending if you would like a saltier or sweeter broth.
Toppings
Soft tofu - You can use extra soft tofu or silken tofu. Different brands may label it as sundubu, or soondubu. Find it in the refrigerated section in Korean or Asian grocery stores next to the regular tofu. You can find them packaged in either a tube or a rectangular container.
Mushrooms: you can opt for your favorite mushrooms such as enoki, or shiitake
Protein: you can mix and match your proteins for your own personalized soup. You can use prawns, chicken, beef, pork belly, spam, hot dog, little neck clams, muscles, or even frozen dumplings.
Egg: for garnish
Green onions: for garnish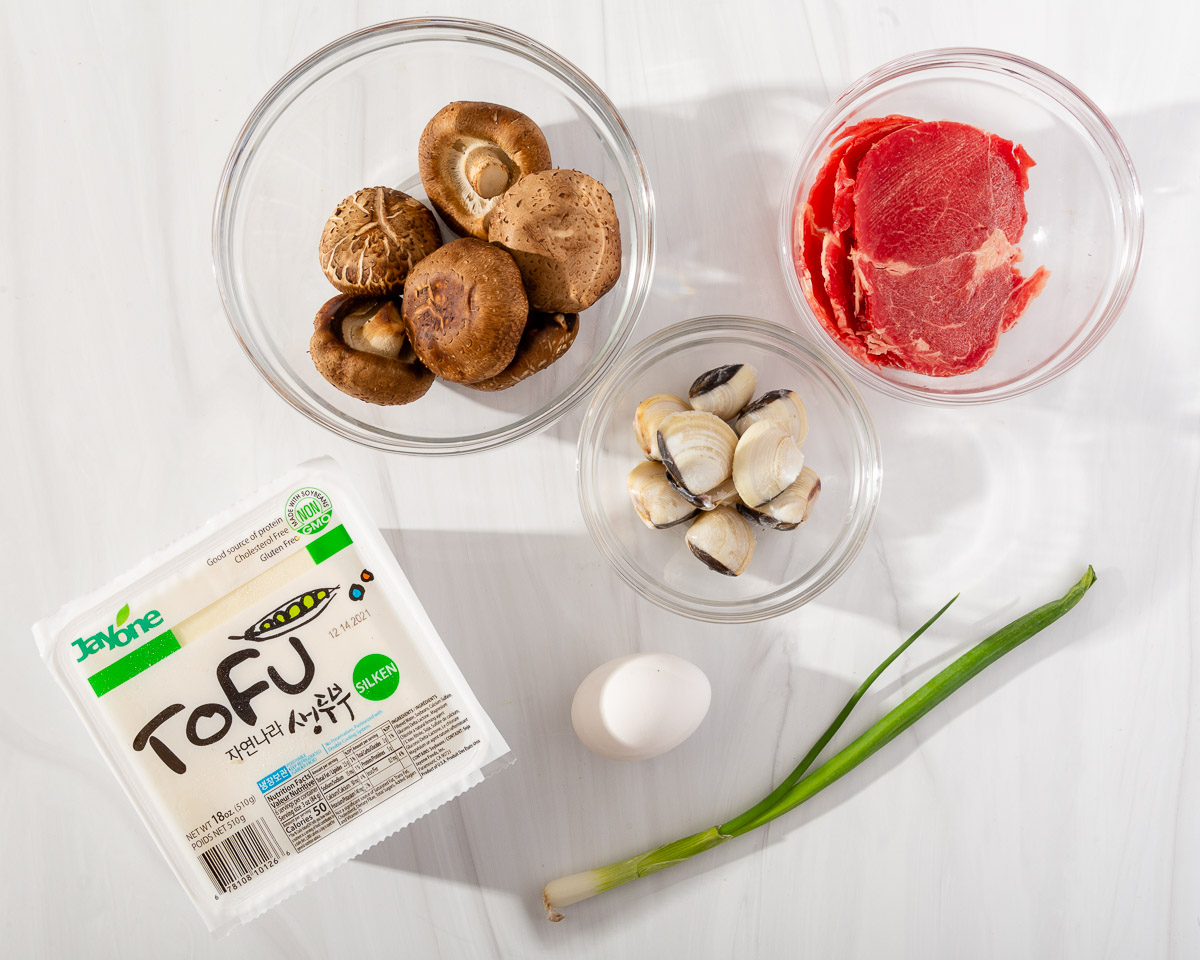 📝 How To Make This Recipe
You can whip up this comforting Korean spicy soft tofu soup recipe in under 30-minutes! If you opt for a more traditional stew, make the anchovy stock in advance and store it in the freezer to use later!
(Optional) Anchovy Stock
Prepare the dried anchovies. Remove the large anchovy guts by opening the belly and scraping them out, but leave the heads on. The guts tend to make the broth bitter, especially with the larger anchovies.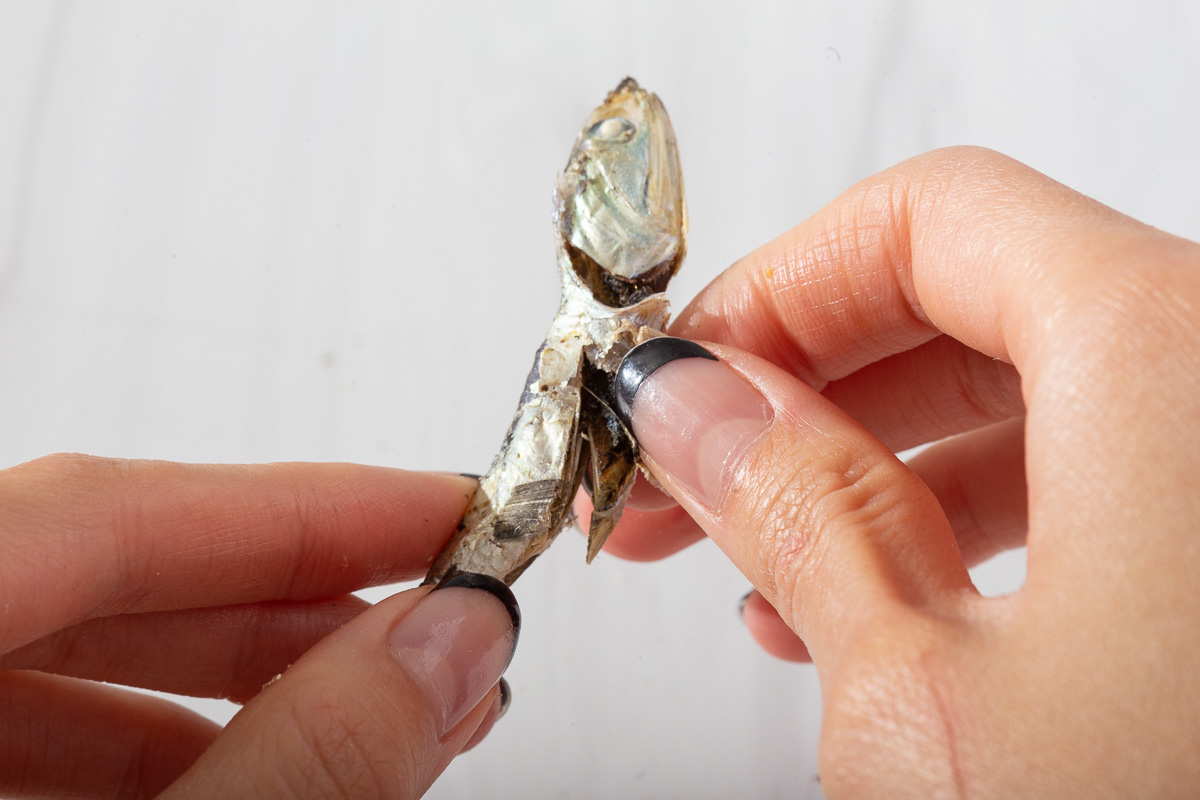 Prepare the and dried kelp (dashima). Gently wipe the dried kelp with a lightly dampened cloth to remove any sand or grit. Make sure to keep the white powder on for added flavor.
Soak the dried anchovies and dried kelp. In a medium pot, soak the dried anchovies and dried kelp in about 7 cups of water for at least 20 minutes.
Boil and simmer. bring it to a gentle boil, uncovered. Reduce the heat to medium high, and boil for 10 minutes. Strain the liquid to remove anchovies and dashima from the stock. Set aside.
Sundubu Jjigae
Heat a medium pot or earthenware pot (ttukbaegi) over medium high heat. Add the oil or vegetable oil, onions, and garlic. Stir fry until onions are transluscent and garlic is lightly browned, about 2 to 3 minutes. Then add the gochugaru (Korean red pepper flakes). Stir to combine about 1 minute.
Add the protein and stir quickly to coat them with the chili flakes. Next, the fish sauce and soy sauce and mix until combined.
Add the anchovy stock or chicken stock and bring the mixture to a boil about 3 minutes.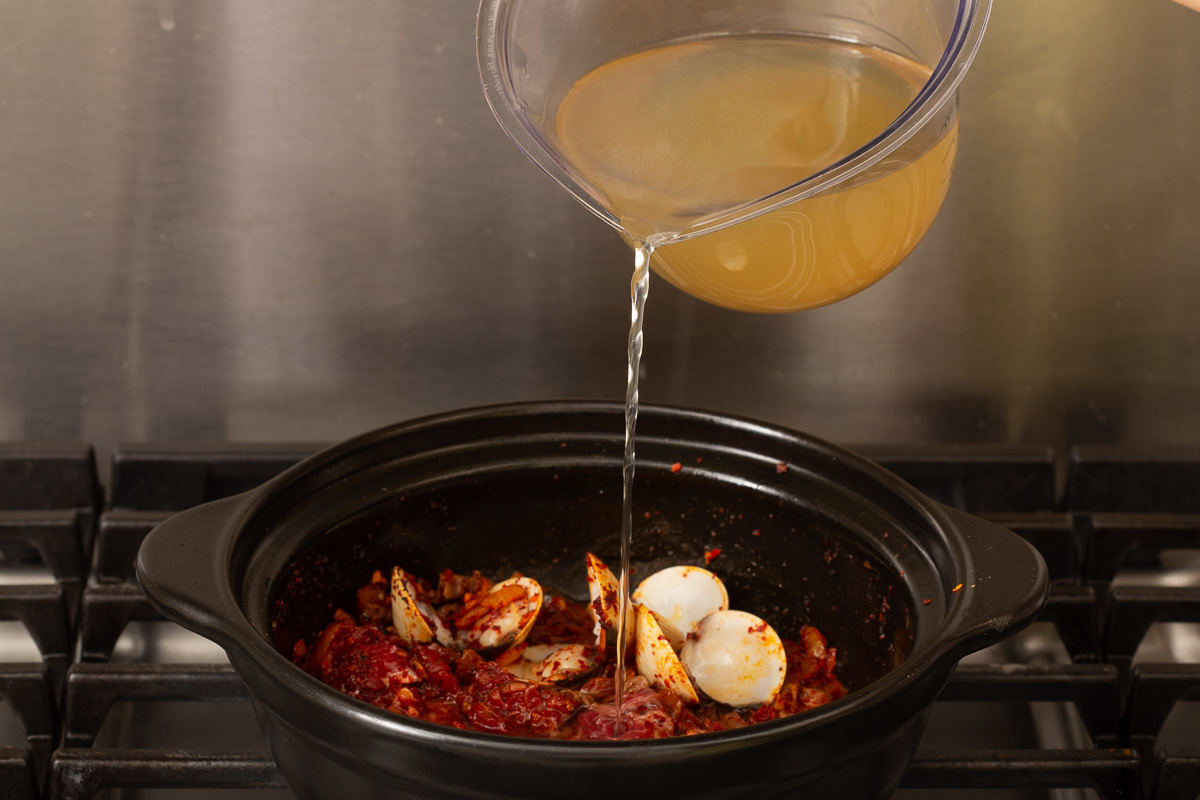 Then, add the soft tofu, mushrooms and egg and cook for an additional 2-3 minutes. Taste and season with salt and sugar, if required.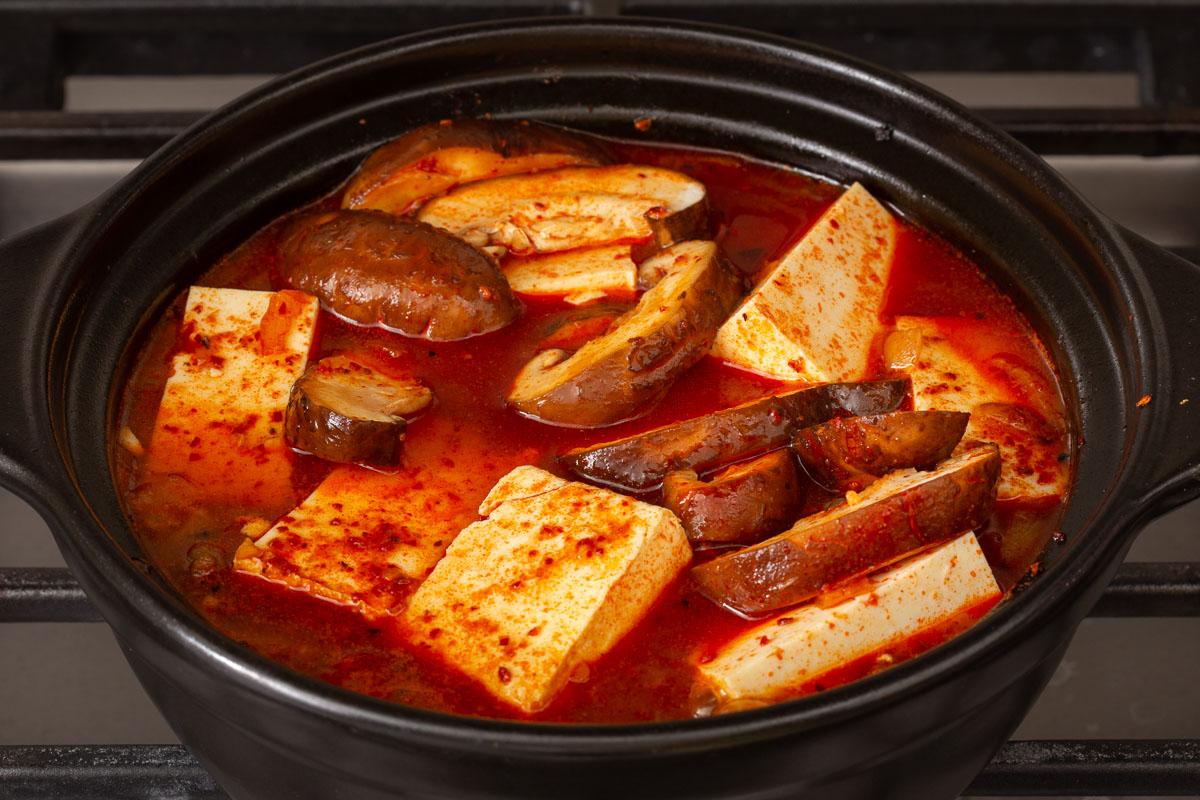 Lastly, top with sesame oil and garnish with green onions. Serve with rice and Korean side dishes. Enjoy!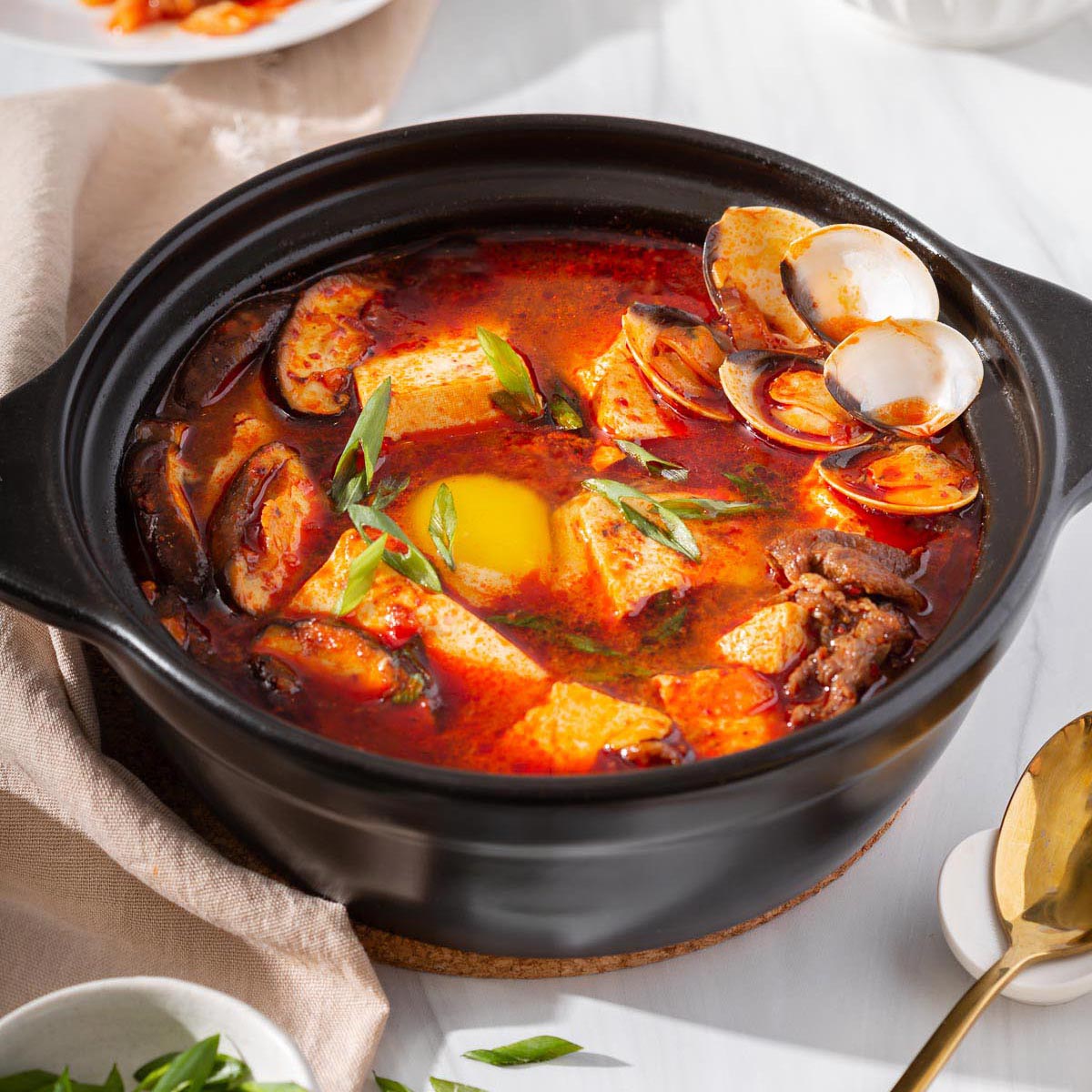 ⭐️ Tips For This Recipe
For an authentic tofu soup, make the anchovy stock from scratch. You can find dried anchovies and dried kelp (dashima) at your local Korean grocery store (i.e. Hmart or Zion)
Use earthenware bowls. Using earthenware bowls allows you to cook individual portions, customize your soup based on your preference and keeps the soup nice and hot as you eat your meal.
Customize your soup! If you want your soup to be spicier, add more Gochugaru or Korean red pepper flakes. You can add more vegetables or protein as you please.
🥡 Storage Instructions
You can store this Korean spicy tofu soup in the refrigerator in an airtight soup container in the refrigerator for up to 5 days.
You can store the anchovy stock in an airtight container in the refrigerator for up to 1 week or in the freezer for up to 3 months.
💕 You May Also Love...
If you made this dish and loved it, please leave a review and comment below. We would greatly appreciate it!

Share your dish with us on Instagram, tag us @takestwoeggs—we'd love to see and share your delicious creation!

Hungry for more? Follow us on Instagram, Pinterest, and Facebook for more tasty creations and updates 🍜
👩🏻‍🍳 Recipe