These crispy yet nutty black sesame waffles are a delicious way to start the morning! These waffles are made with toasted black sesame seeds to give it that rich beautiful black color.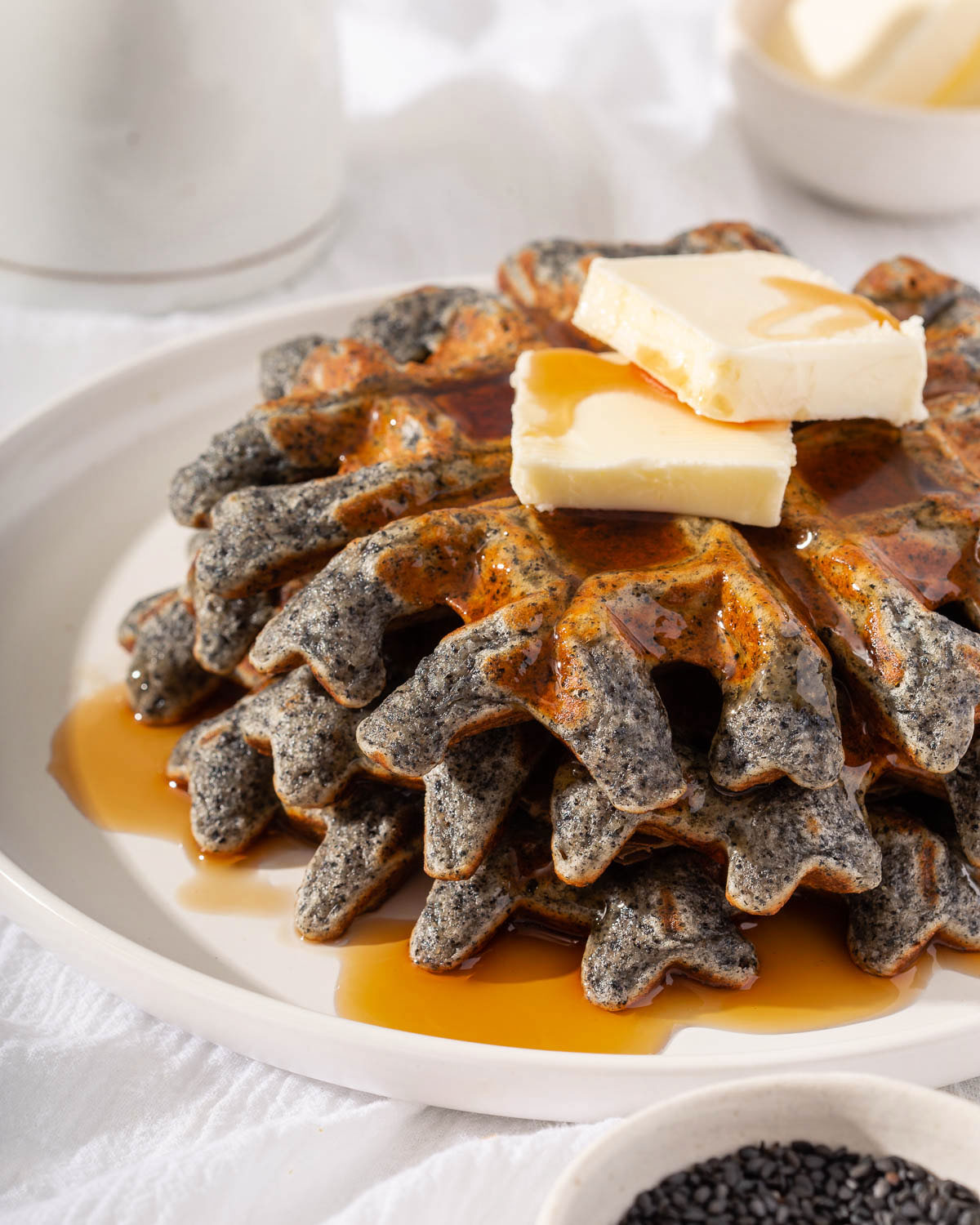 For some January is the time where people try Veganary, Whole30, juice cleanses, and all these other trendy diets. But for me, I still cook what I love, but keep in mind that I should always add in some veggies for balance. This year I want to create more inspiring brunch recipes so that I can enjoy those lazy Sunday mornings inside without having to wait 2+ hours for a brunch restaurant.
These black sesame waffles are soft, fluffy on the inside and crispy on the outside. They have a rich, roasted, nutty flavor that almost tastes like peanut butter but is in actuality 100x better. These black waffles can be whipped up in under 20 minutes! If you are looking for more Asian fusion inspired brunch ideas, check out my pandan waffles, matcha green tea pancakes, browned butter miso hollandaise, milk bread cinnamon rolls, and sriracha spam benedict!
Jump to:
🍽 Kitchen Equipment
🛒 Ingredients
The ingredients for these black sesame waffles include basic pantry items and toasted black sesame seeds.
Toasted black sesame seeds: the toasted or roasted black sesame seeds give the waffles the black sesame flavor. I like to buy already

pre-toasted black sesame seeds

since it saves time and the toasted aspect really highlights the flavor of the sesame seeds. If you don't have toasted black sesame seeds, you can always pour them onto a skillet and lightly toast them for about 30 seconds or until they are fragrant. However, since they are already black it may be difficult to see whether or not you burned them. So watch them carefully!
All Purpose Flour: contains starch, protein and gluten which is crucial for the formation and structure of waffles. It provides the soft chewy texture in the waffle.
Baking Powder: is a chemical leavener that creates the bubbles in a cooked waffle. These make the waffles airy and fluffy.
Granulated Sugar: sweetens the black sesame waffle batter.
Salt: the salt brings out the flavor of the roasted black sesame seeds.
Milk: Milk makes the black sesame waffle center tender. Use whole fat milk for the best results.
Egg: the egg is the binding agent in the batter that provides the additional structure necessary to hold the bubbles and allow the waffles to rise. The yolk also provides richness and flavor.
Vanilla Extract: provides an extra layer of flavor to the waffle.
Melted Unsalted Butter provides the fat in the batter that will make the waffle rich and moist.
📝 How To Make
This recipe for these nutty black sesame waffles is as easy as it is delicious.
Prepare the waffle oven. Turn on your waffle iron, preferably on the higher setting
Toast and grind the sesame seeds. If using un-toasted black sesame seeds, toast the sesame seeds on a skillet on medium heat until fragrant about 30 seconds. Using a food processor, grind the toasted black sesame seeds until it turns into a powder.
Whisk the dry ingredients. In a large mixing bowl, whisk the pulverized black sesame seeds, flour, baking powder, granulated sugar, and salt together until combined. Set aside.
Whisk the wet ingredients. In a medium mixing bowl, whisk the milk, eggs, vanilla and cooled melted butter together until combined.
Combine. Add the wet mixture into the dry mixture and whisk until just combined. Leaving a few bumps is okay!
Cook the waffle. Add about ¼ cup of batter to the waffle maker and cook until brown and crispy. The time will vary depending on your waffle maker. Place on a wire rack until ready to serve so they stay crisp.
Serve! Serve with butter, maple syrup, fruit of your choosing, chocolate chips or whatever your favorite toppings are! Enjoy!
⭐️ Helpful Tips
Measure the flour with a scale! Using a

kitchen scale

will 100% guarantee that you will not use too much flour for this recipe. If you do not have a scale, simply fluff up the flour with a spoon and gently drop it into the measuring cup and level it out with a knife.
Use room temperature ingredients. Do your best to use room temperature milk, melted butter, and eggs. If the cold milk and melted butter mix together it may cause the butter to curdle. Or if the melted butter is too hot it may scramble the eggs.
Don't over mix the batter. Mix the batter until it just comes together. It is okay if there are still some remaining bumps!
Make sure the waffle maker is hot before adding the batter. This will allow for an even cook of the waffles. The batter should sizzle when you pour it onto the waffle maker.
Cool the waffles on a wire rack. Cooling the waffles on the wire rack will ensure they will not become too soggy and remain crispy.
🥡 Storage Instructions
These black sesame waffles can be stored in the refrigerator for up to 3 days or in the freezer for up to 2 months.
💬 Frequently Asked Q&A's
Can you make these black sesame waffles ahead of time?
You can make a big batch of waffles and refrigerate or freeze them for later. They'll keep in the refrigerator for up to 3 days and in the freezer for two months. To reheat, simply pop them into the toaster.
Can you freeze the waffles?
Yes! you can freeze these waffles in a freezer-proof bag for up to 2 months.
How do I know my waffles are done cooking?
The waffle maker will release some steam while it is still cooking. Most waffle makers have a light indicating that it is finished cooking. You can check if the black sesame waffle is done cooking by lifting the lid and the waffle should have a golden brown exterior.
💕 You May Also Love...
If you made this dish and loved it, please leave a review and comment below. We would greatly appreciate it!

Share your dish with us on Instagram, tag us @takestwoeggs—we'd love to see and share your delicious creation!

Hungry for more? Follow us on Instagram, Pinterest, and Facebook for more tasty creations and updates 🍜
👩🏻‍🍳 Recipe