This Peppermint White Russian is the perfect holiday cocktail this season. This winter cocktail is made with vodka, coffee liqueur, peppermint schnapps, and heavy cream.
This fun and festive Peppermint White Russian cocktail is the ideal drink for your next holiday party! It is super-rich, decadent, and makes you feel like you are indulging in all the holiday spirit. This cocktail is pepperminty, creamy, and absolutely delicious. This Christmas White Russian pairs perfectly with a plate of Miso Chocolate Chip Cookies or Yuzu Linzer Cookies.
Jump to:
🔍 What is a White Russian?
A White Russian is a cocktail made with vodka, coffee liqueur, and cream and served in an old-fashioned rocks glass. This cocktail does not have a Russian origin but is named so because vodka is the primary ingredient.
This Peppermint White Russian is a Christmas spin on the classic drink with the addition of a splash of peppermint liqueur.
🍽 Kitchen Equipment Essentials
Mortar and Pestle, Food Processor or Spice grinder. You will need either a

mortar and pestle

,

spice grinder

or a

food processor

to crush the candy canes for the rim.
Cocktail shaker: you will need a cocktail shaker to shake up all the ingredients with ice in this cocktail. I bought this

cocktail shaker kit

on Amazon and have used it for all of my cocktails!
🛒 Ingredients
This Peppermint White Russian contains only five ingredients in the cocktail itself. It is so simple and so dangerously delicious!
Peppermint Schnapps: is a clear, peppermint-flavored liqueur tastes like a concentrated liquid candy cane. It's readily available at most liquor stores. A little goes a long way!
Kahlua or coffee liqueur: Kahlua is a coffee and rum liqueur that adds a delicious bold coffee flavoring to the cocktail. (You can also use Kahlua in my Tiramisu cake recipe as well!)
Vodka: use your favorite vodka it can be as fancy as you want it to be. My go-to is always Tito's.
Heavy Cream or Half and Half: this is the creamy element of a white Russian. You can either keep it traditional with heavy cream or use half and half for a thinner less creamy cocktail.
Crushed candy canes: this is for the candy rim. You can use either a food processor, mortar and pestle or a spice grinder.
Honey: this is used to stick the candy canes onto the cocktail glass for the fun candy rim.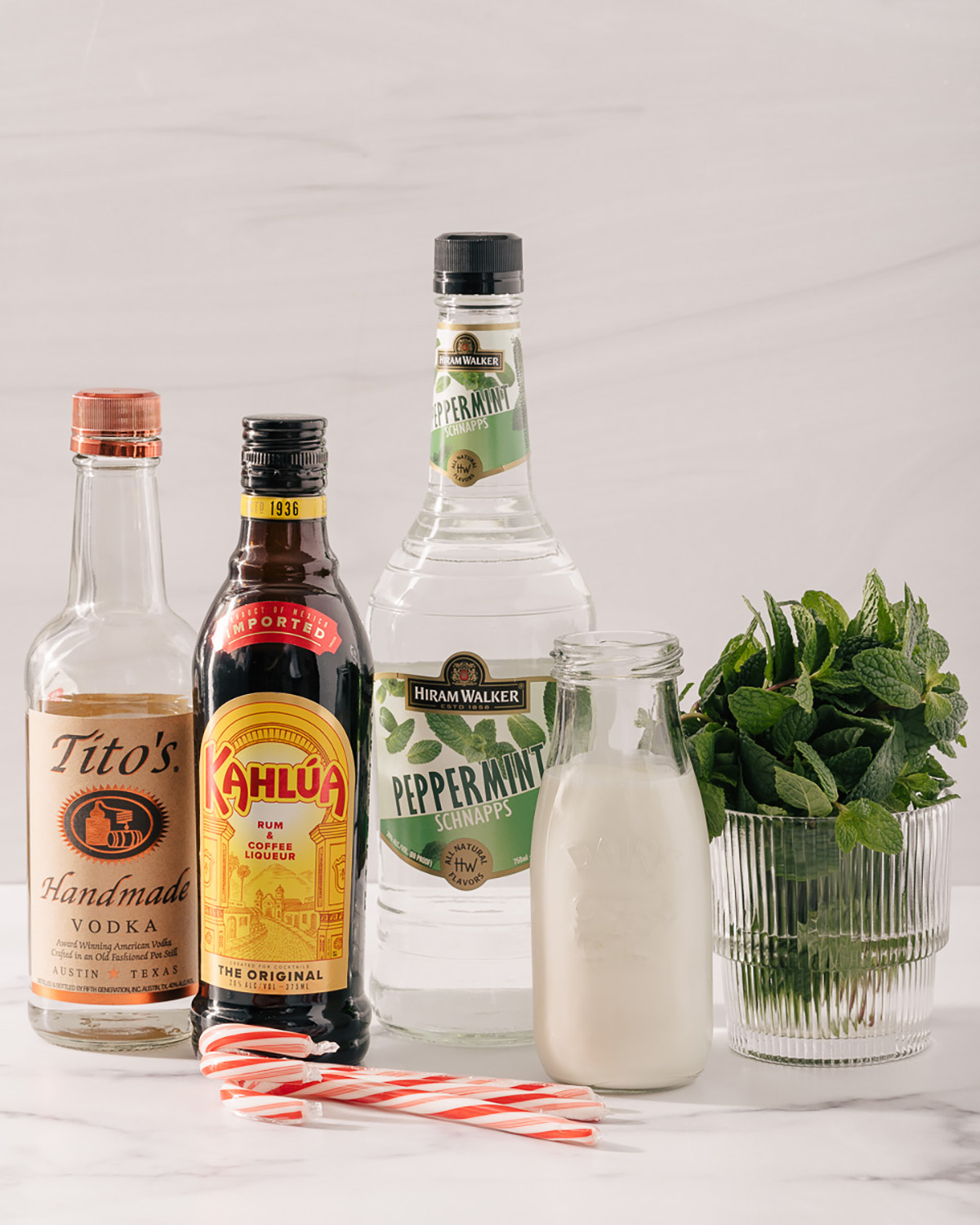 📝 How To Make this recipe
This simple ingredient list comes with even simpler instructions! All you need to do is 1) rim the glass, 2) shake, and 3) serve!
Rim the glass. Rim the edge of a glass with honey then dip in crushed candy canes.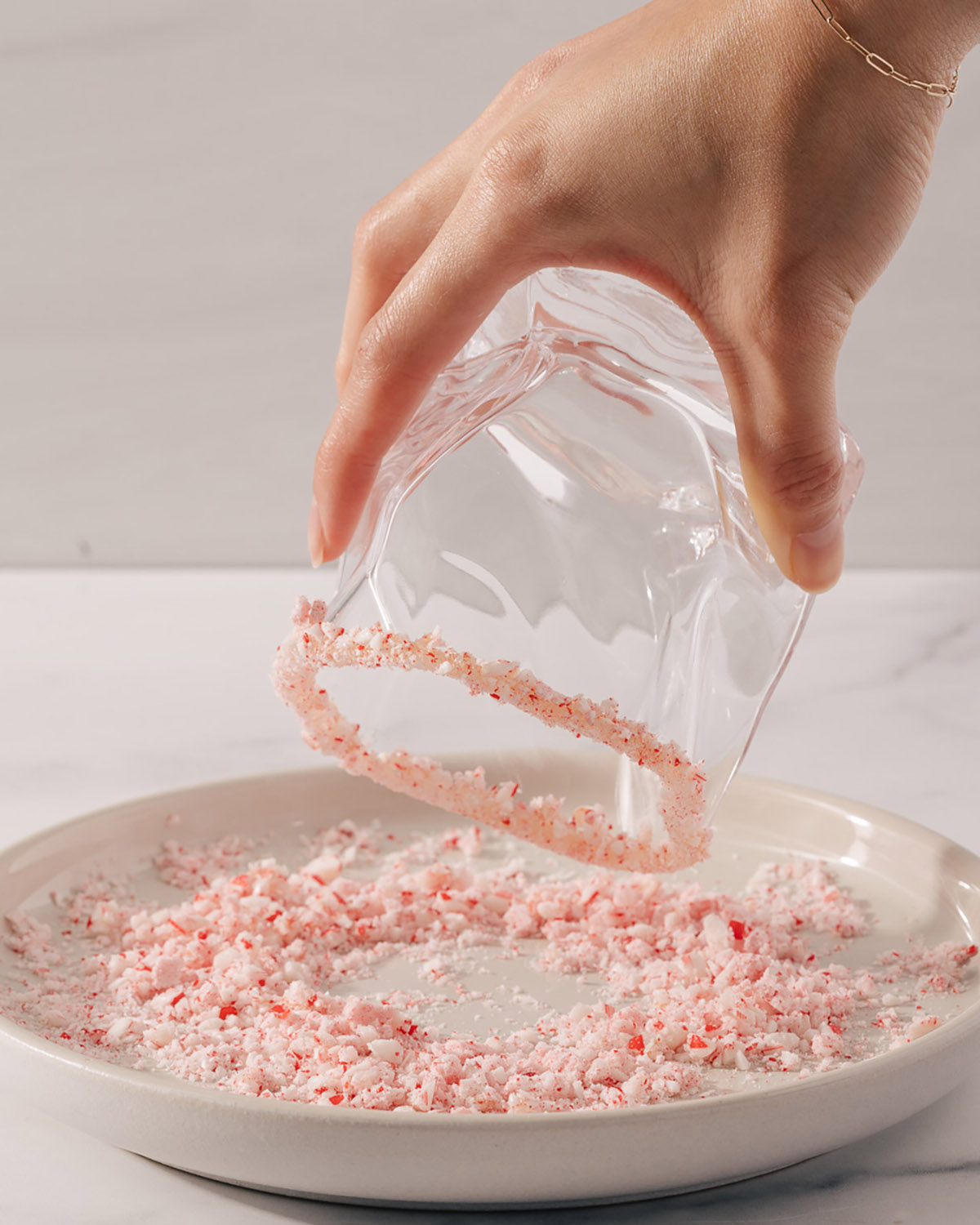 Shake. Fill a cocktail shaker with Peppermint Schnapps, Kahlúa, vodka and ice. Shake well until combined and cold. Pour into prepared glass and top with desired amount of heavy cream or half-and-half.
Serve. Garnish with fresh mint and candy cane, if desired.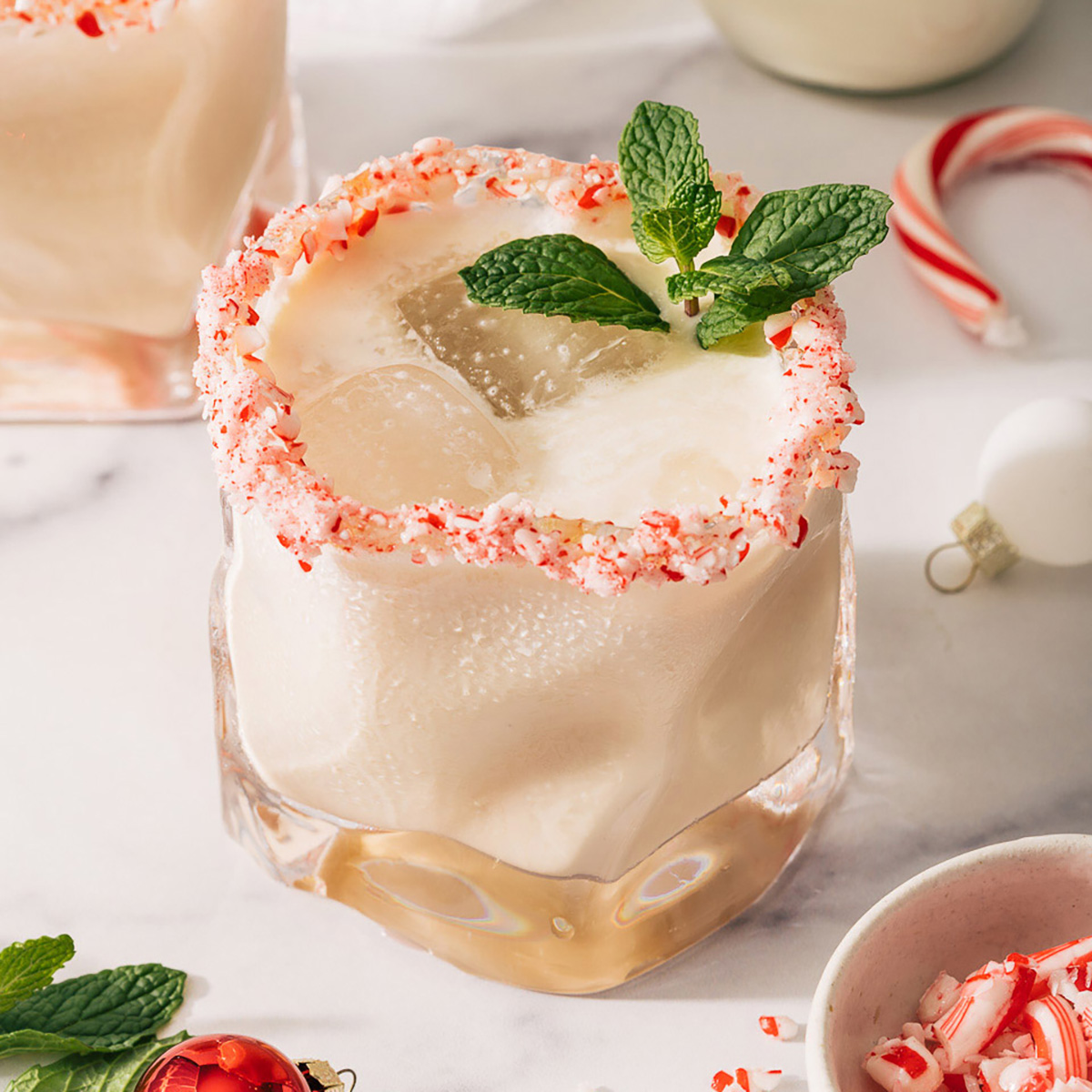 ⭐️ Tips For This Recipe
Adjust the amount of alcohol. You can add more or less vodka depending on how strong you want the cocktail.
Be careful with the peppermint schnapps. The peppermint schnapps is very concentrated and a little goes a long way. Make sure to err on the side of under pouring it rather than over-pouring it. You can always add more afterwards.
Alternatives to heavy cream: you can use half and half or whole milk as alternatives to heavy cream. It will be thinner than a traditional white Russian. Alternatively, you can also use whole fat coconut milk for a vegan white russian.
💕 You May Also Love...
If you made this dish and loved it, please leave a review and comment below. We would greatly appreciate it!

Share your dish with us on Instagram, tag us @takestwoeggs—we'd love to see and share your delicious creation!

Hungry for more? Follow us on Instagram, Pinterest, and Facebook for more tasty creations and updates 🍜
👩🏻‍🍳 Recipe