Energize yourself through the night with the best espresso martini recipe. This dairy-free bold and boozy espresso martini is made with three simple ingredients— vodka, Kahlua, espresso and is the perfect after-dinner cocktail.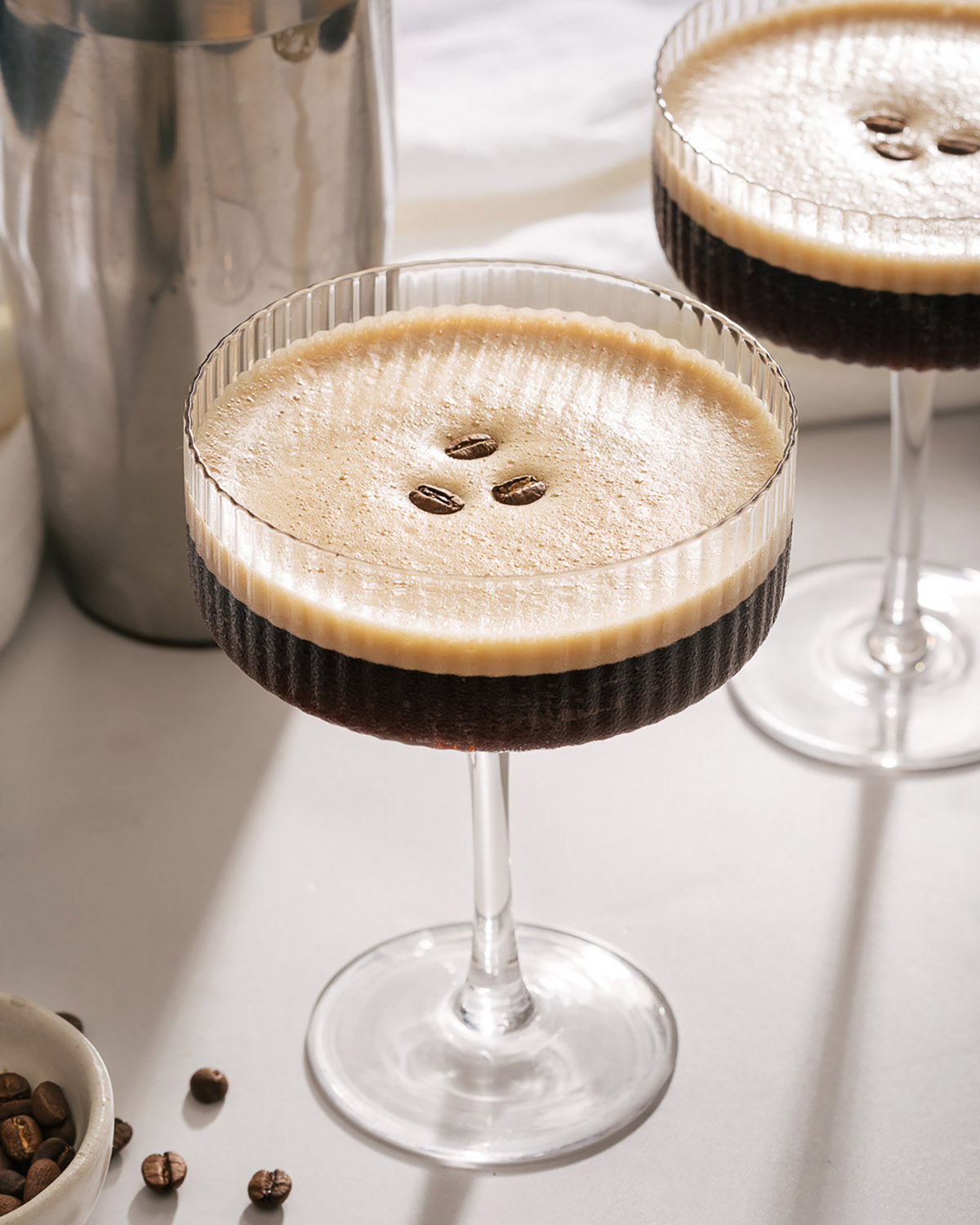 Espresso martinis are having a moment right now. I have seen them popping up all over social media, on almost every restaurant menu, and have heard rave reviews from family and friends. They are fun, flirty, bold, and delicious which is the perfect type of energy we need as we enter this new year. If "new year new me" was a cocktail it would be the Espresso Martini. If you are looking for more holiday cocktails, check out my Peppermint White Russian as well.
Jump to:
🔍 What is an espresso martini?
An espresso martini is a sweet, rich, smooth, and dangerously addicting cocktail that is made with vodka, Kahlua, and espresso. It tastes similar to a lightly sweetened iced espresso with a splash of vodka in it. The rich coffee flavor cuts the alcohol flavor making this cocktail dangerously easy to drink. So sip responsibly!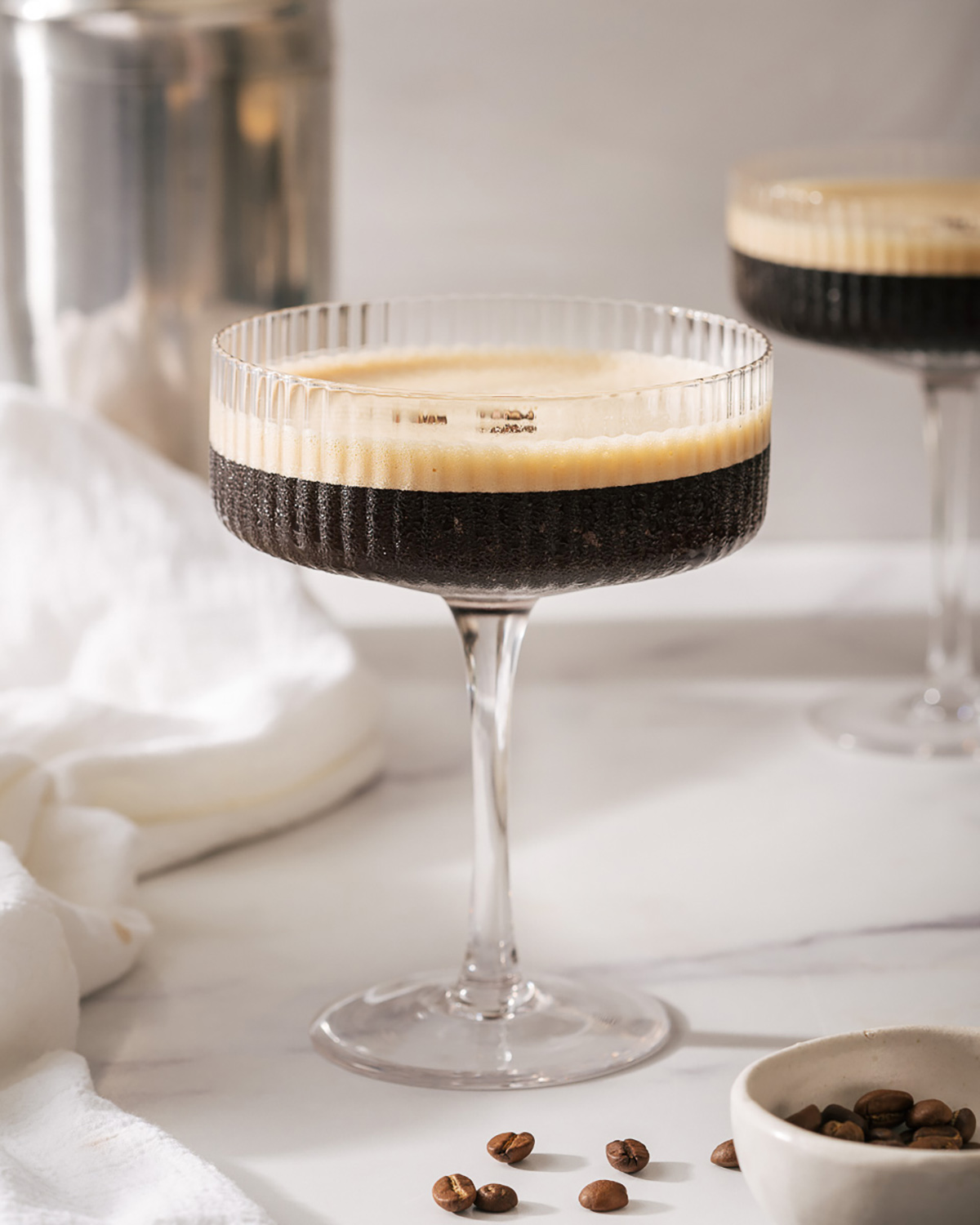 🍸 Kitchen Equipment Needed
Cocktail shaker: you will need a cocktail shaker to shake up all the ingredients with ice in this cocktail. I bought this

cocktail shaker kit

on Amazon and have used it for all of my cocktails!
Espresso Machine: you will need an

espresso machine

to create this cocktail at home. Alternatively, you can buy espresso at your local coffee shop and bring it home to create this cocktail.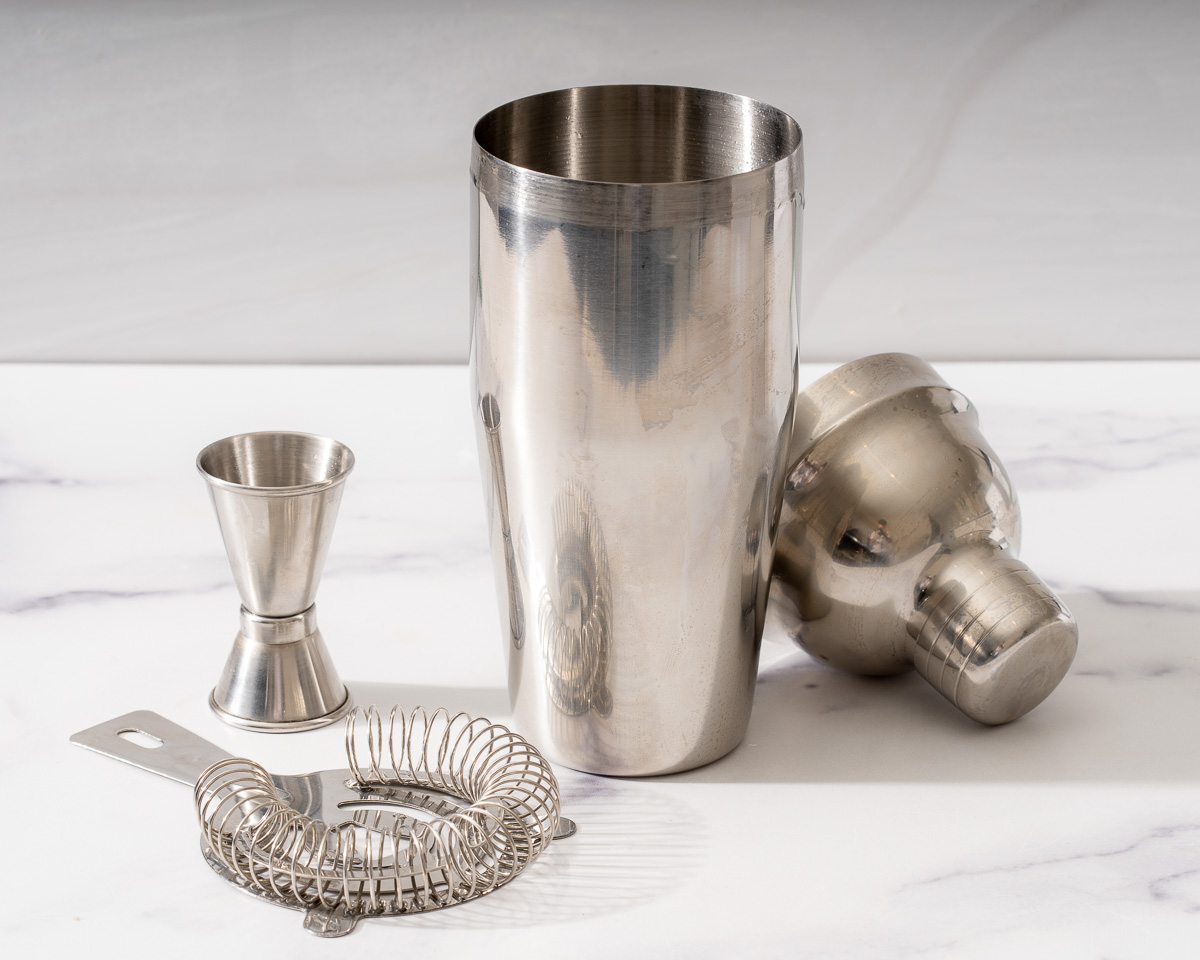 🛒 Ingredients
This espresso martini recipe only contains four ingredients.
Vodka: use your favorite vodka. My go-to is always Tito's.
Kahlua or coffee liqueur: Kahlua is a coffee and rum liqueur that adds a delicious bold flavoring to the cocktail. (You can also use Kahlua in my Tiramisu cake recipe as well!)
Espresso: make sure to use strong espresso coffee preferably brewed in an espresso machine with a lot of froth.
Simple Syrup: this is used to sweeten the cocktail. If you prefer a stronger bolder coffee flavor you can eliminate the simple syrup all together. You can buy simple syrup in bottles or make it by boiling a 1:1 ratio of sugar to water until the sugar dissolves and cooling it before using.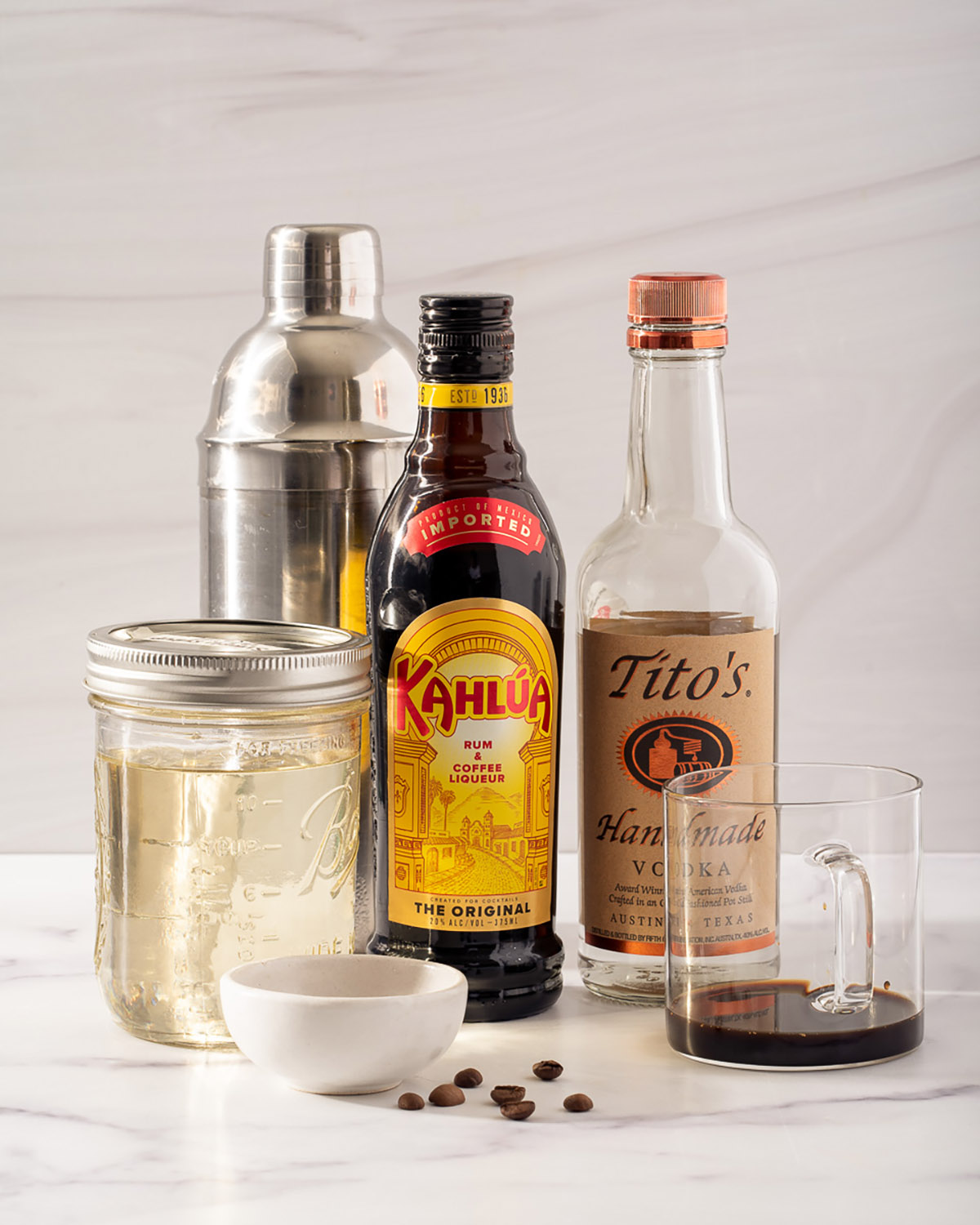 📝 How To Make
With such a short ingredient list, the instructions are just as easy to follow. Here is exactly how you make the best espresso martini:
Brew the espresso. Brew the espresso in your espresso machine, Nespresso machine or simply buy espresso from your local coffee shop. Cool and set aside.
Shake. In a cocktail shaker, combine the espresso, vodka and kahlua with ice. Shake vigorously until well mixed and the foam has formed.
Strain and serve. Immediately, strain the espresso martini into a cocktail glass. Dust with espresso powder and coffee beans for garnish. Sip responsibly!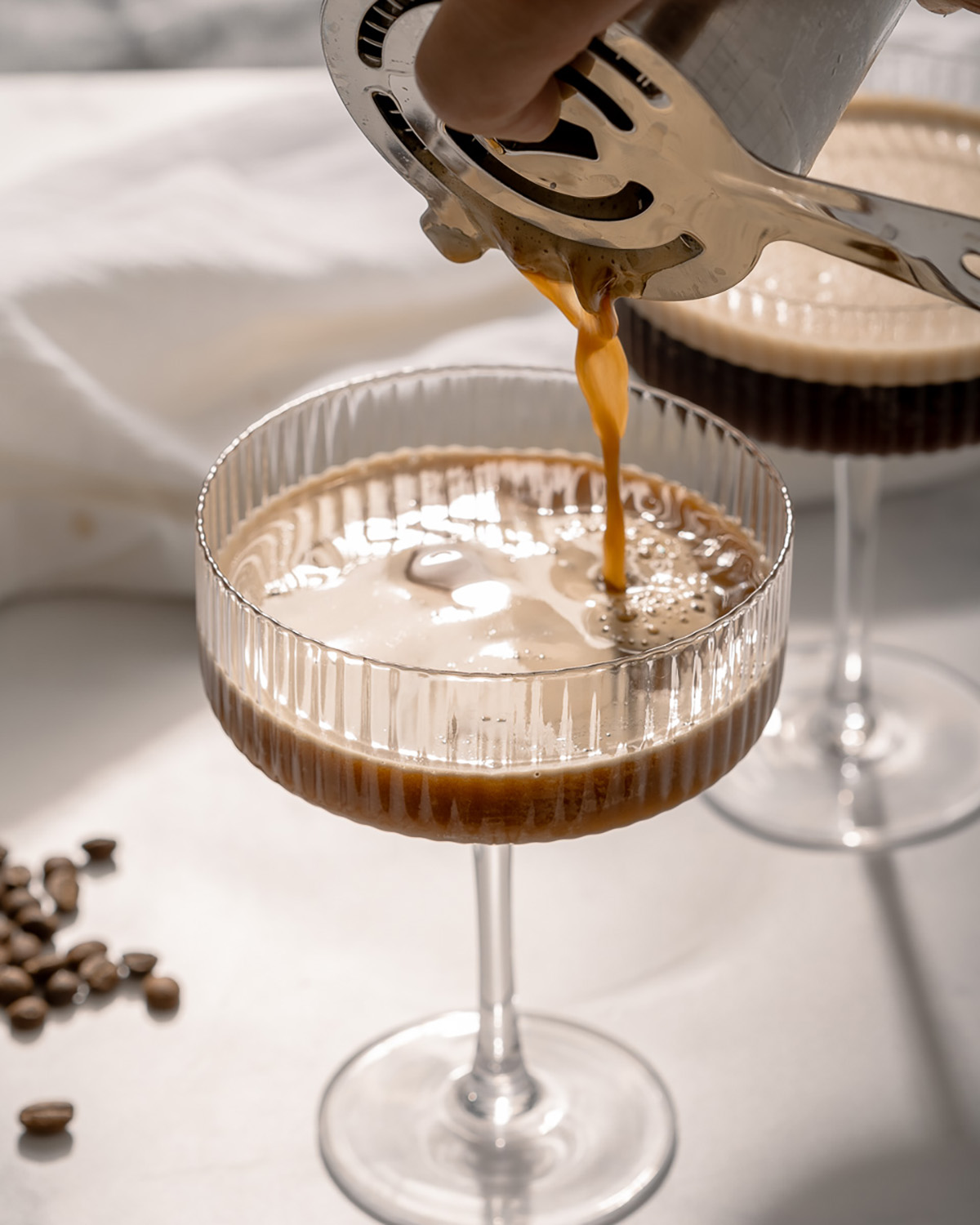 📬 Frequently Asked Q&A's
What makes the foam on top of an espresso martini?
The beautiful froth on top of this martini comes from the espresso that was used. Typically an espresso brewed from an espresso machine will naturally produce this result. You will not get this beautiful foam by using instant coffee or using a French press.
To create the foam, make sure you shake your shaker hard so that the natural oils in the coffee can combine with the air bubbles. After you shake the cocktail, tap and swirl the shaker to ensure a creamy foam on the top of your martini.
What if I don't have an espresso machine?
If you don't have an espresso machine, you can simply brew really strong coffee and add an egg white to the shaker and shake vigorously. This will generate the foam you want as well.
What is the significance of the three coffee beans on top?
The three floating beans come from the traditional serving of Sambuca in Italy. The three beans are called con la Mosca, meaning "with the fly." They represent health, wealth, and happiness.
⭐️ Tips
Cool the coffee before mixing. Make sure to cool the coffee completely before shaking it with the other ingredients for a nice chilled cocktail.
To get the nice layer of foam, shake vigorously. You will need to create the foam yourself by shaking it in the cocktail shaker.
Sift the cocktail quickly. When pouring the cocktail into the glass, make sure to do it in one pour to ensure the foam ends up on top.
To create simple syrup. Simply boil a 1:1 ratio of sugar to water until the sugar has dissolved. Turn off the heat and store in the refrigerator. Make sure it is completely cooled before using.
💕 You may also love...
If you made this dish and loved it, please leave a review and comment below. We would greatly appreciate it!

Share your dish with us on Instagram, tag us @takestwoeggs—we'd love to see and share your delicious creation!

Hungry for more? Follow us on Instagram, Pinterest, and Facebook for more tasty creations and updates 🍜
👩🏻‍🍳 Recipe