Step aside salted caramel, this homemade miso caramel sauce recipe is here to stay! This gooey, sweet, salty, and umami miso caramel will elevate all sorts of dessert or breakfast recipes. You can use it in a cake, drizzle it over ice cream or dip it with fresh apples.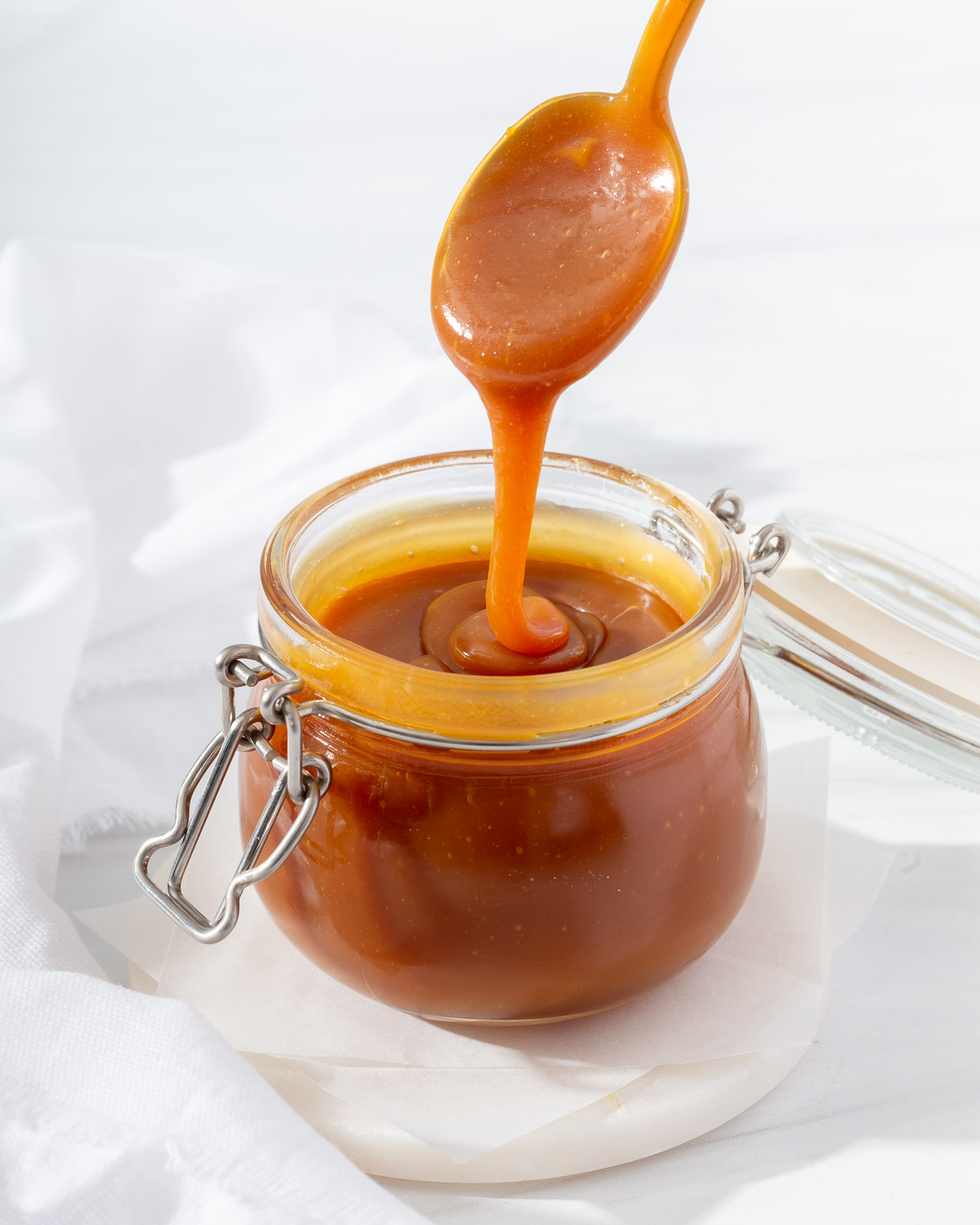 Let's de-mystify the mystery behind homemade caramel sauce. This caramel recipe only calls for 4 ingredients, 4 steps, and yields a whole lot of decadent deliciousness that will last weeks. All you will need to do is melt the sugar, add the butter, heavy cream, and miso, and voila! You will have a decadently sweet, salty, sticky, and umami flavored topping for your next dessert. This homemade miso caramel sauce recipe is a delicious Asian fusion spin on salted caramel.
This recipe will guide you step by step with photos through the process of making caramel sauce. This recipe is not as daunting as it seems. In fact, it may be the easiest candy recipe you will ever come across. Plus, it tastes absolutely phenomenal. You do not want to miss out. This miso caramel sauce pairs perfectly with my apple pie dumplings or my apple cider mochi donuts.
Jump to: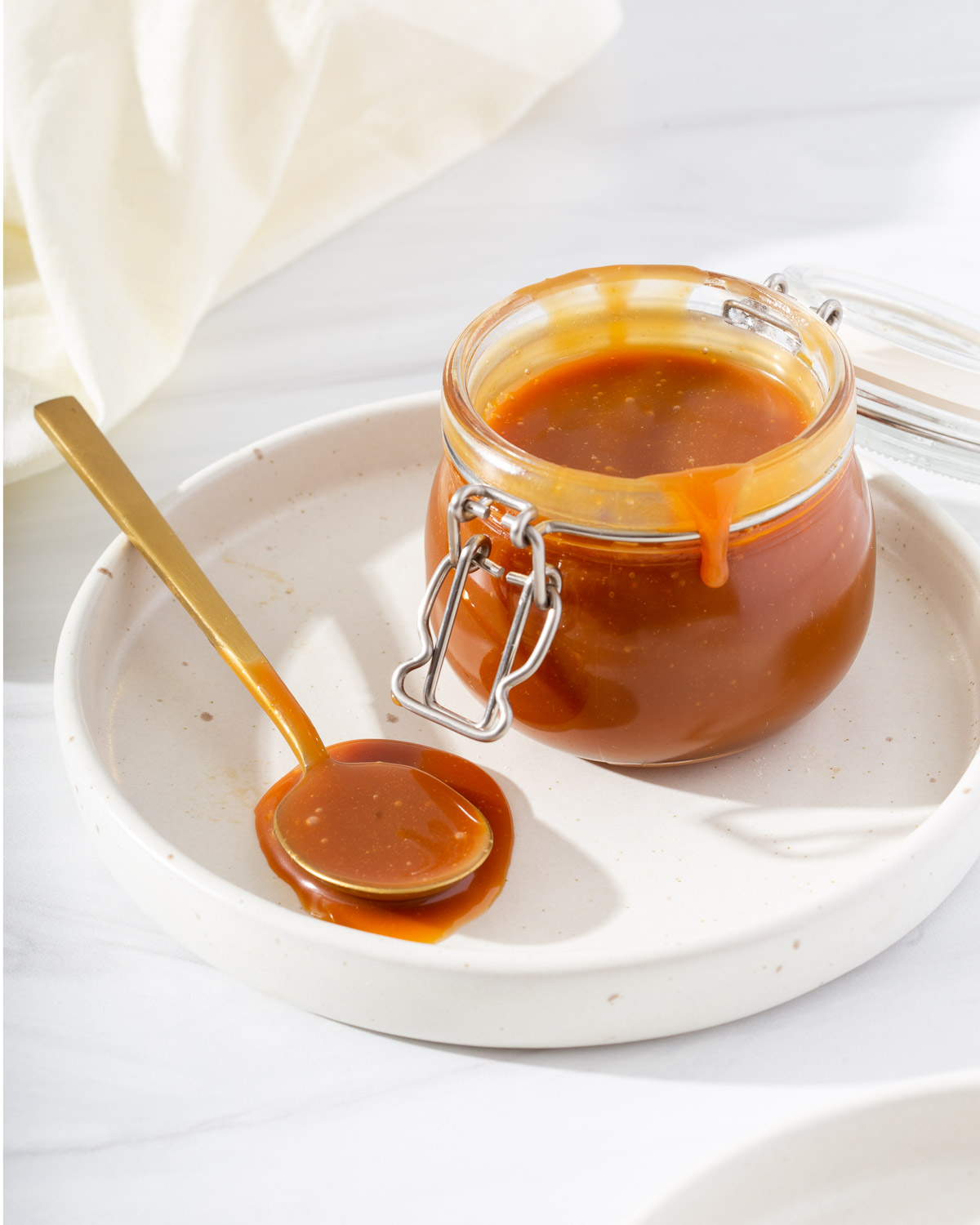 An Introduction to Miso
Miso is a fermented paste that is made by fermenting a mixture of soybeans and a mold called kohi. Over weeks, the enzymes in the koji and microorganisms in the environment will break down the structure of the beans and grains into amino acids, fatty acids, and simple sugars. The result yields a salty, earthy, umami paste that can only be made with nature and time.
There are multiple kinds of miso, white miso, yellow miso, or red miso. White miso is also known as sweet miso is the mildest. They are made from soybeans and a high percentage of rice which creates a slightly sweet taste. Yellow falls in the middle it is fermented with a smaller amount of rice than white miso and is fermented longer than white miso. Red miso is made from soybeans, barley, and other grains and is fermented the longest. It has a mature taste, rich umami flavors, and is the most pungent type of miso.
For this homemade caramel recipe, I will be using white miso for a soft mild miso flavor. You can buy miso online or at your local Asian grocery store in the refrigerated aisle.
🍽 Kitchen Equipment For This Recipe
Small Saucepan: You will need a deep enough saucepan to protect you from the splatters of the hot sugar and butter.
Whisk: you will need a metal whisk to whisk the butter, heavy cream and miso into the melted sugar.
🛒 Ingredients For This Recipe
Granulated sugar: granulated sugar is the foundation of a caramel. Once it melts it becomes the gooey finish we all love.
Unsalted butter: the rich butter adds a delicious creamy taste that turns the burnt sugar into a delicious butterscotch flavor. I recommend using high quality butter. The butter can really make or break the taste of the sauce. It is a good idea to splurge on that European butter for this recipe.
Heavy Cream: the heavy cream aids in making the caramel creamy.
White miso: is the main flavor component of the caramel giving it an umami finish. Use a

white miso

so that the flavor will not be overpowering. You can find white miso at your local Asian grocery store.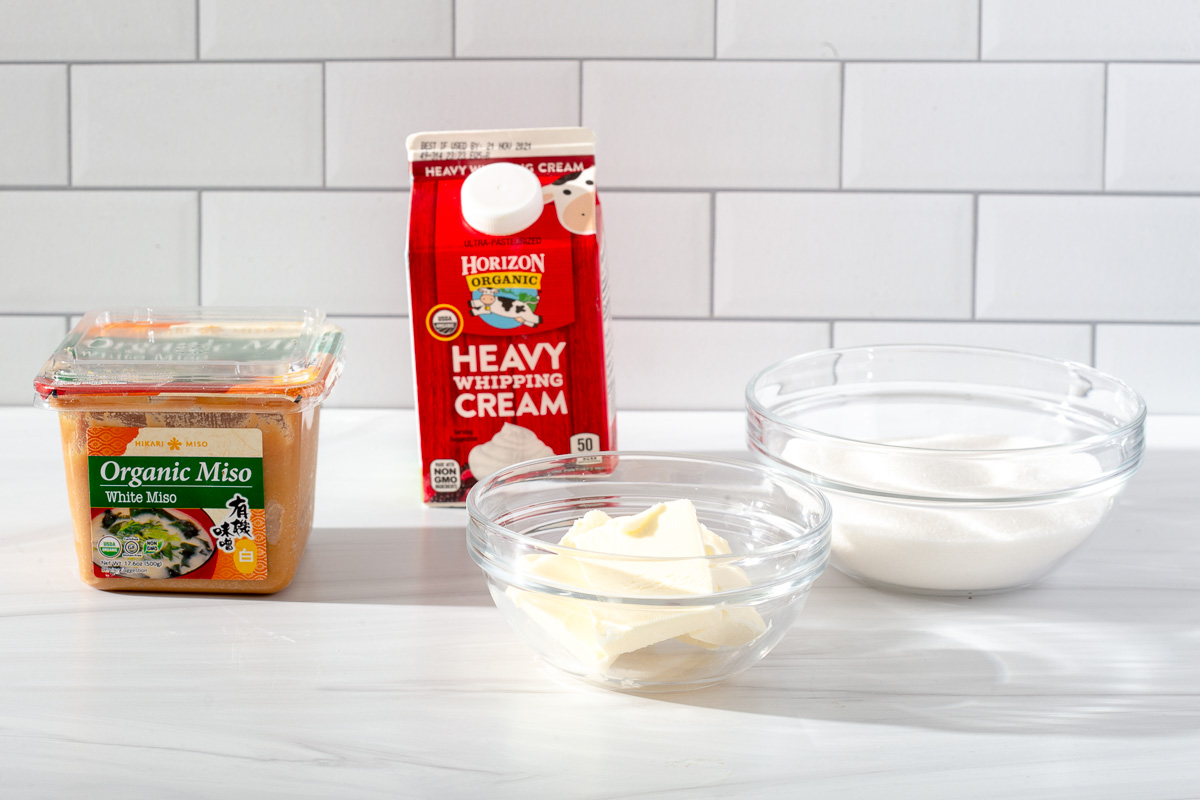 📝 How to Make
This recipe for my homemade miso caramel sauce recipe only requires four simple steps! So read closely and watch the sugar carefully to prevent it from burning.
Melt the sugar until browned. In a heavy saucepan on medium heat, add the sugar. Swirl the pan every few minutes or so to heat the sugar evenly. BUT DO NOT STIR. The sugar will form clumps before melting. Once it begins to clump and melt on the bottom you can take a whisk and occasionally stir the sugar every few minutes. It will melt in about 10-15 minutes. Once the sugar has melted and amber brown remove from heat.
Add the butter. Once melted, immediately whisk in the butter. Be careful the mixture will violently bubble. Once combined, the texture should be thicker.
Add the heavy cream. Next, add in the heavy cream and whisk until combined. If the caramel hardens with the addition of the cold cream, place the pan over low heat and stir until melted.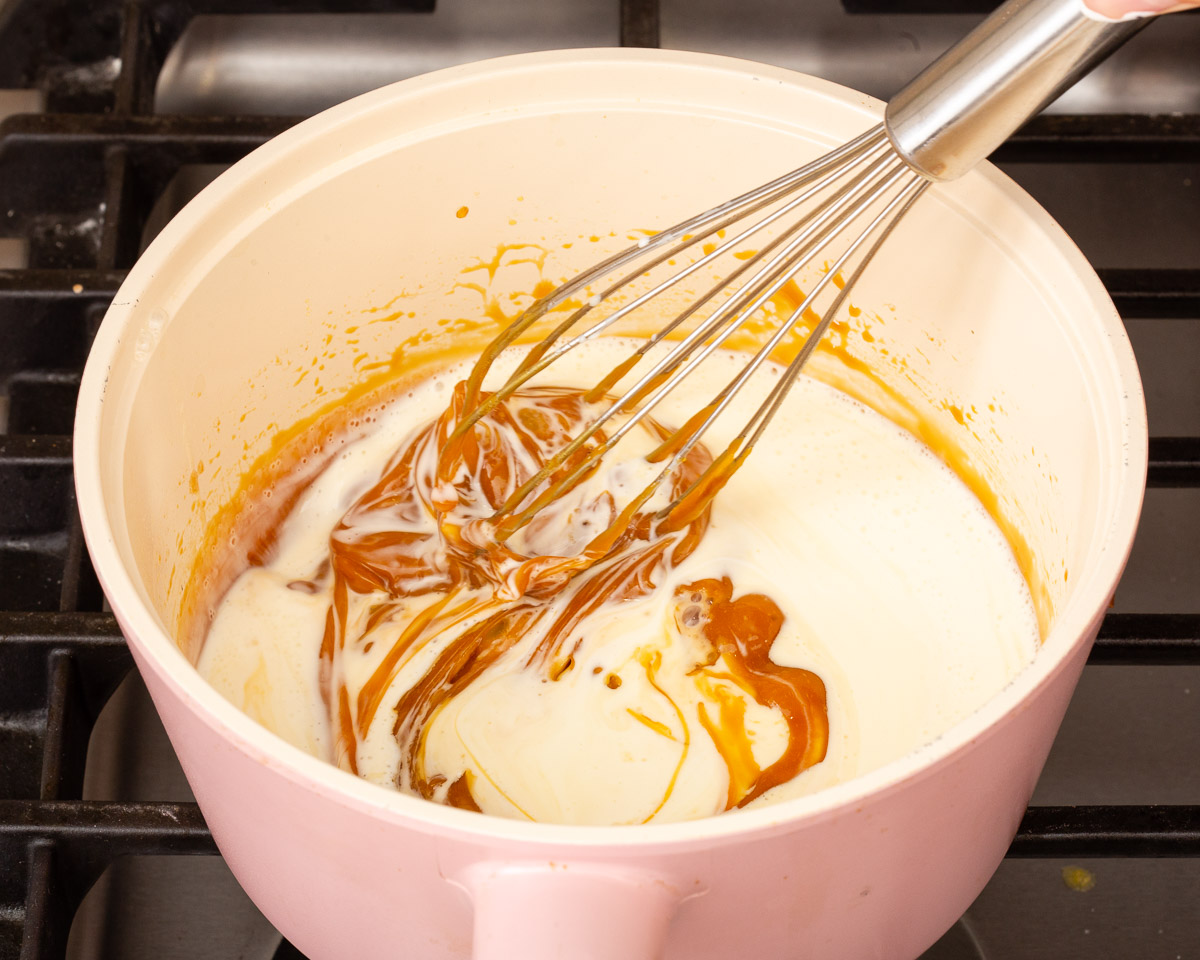 Add the miso. Whisk in the miso until combined. Allow to cool slightly before pouring into a lidded heat proof container. Store in the refrigerator in an airtight container.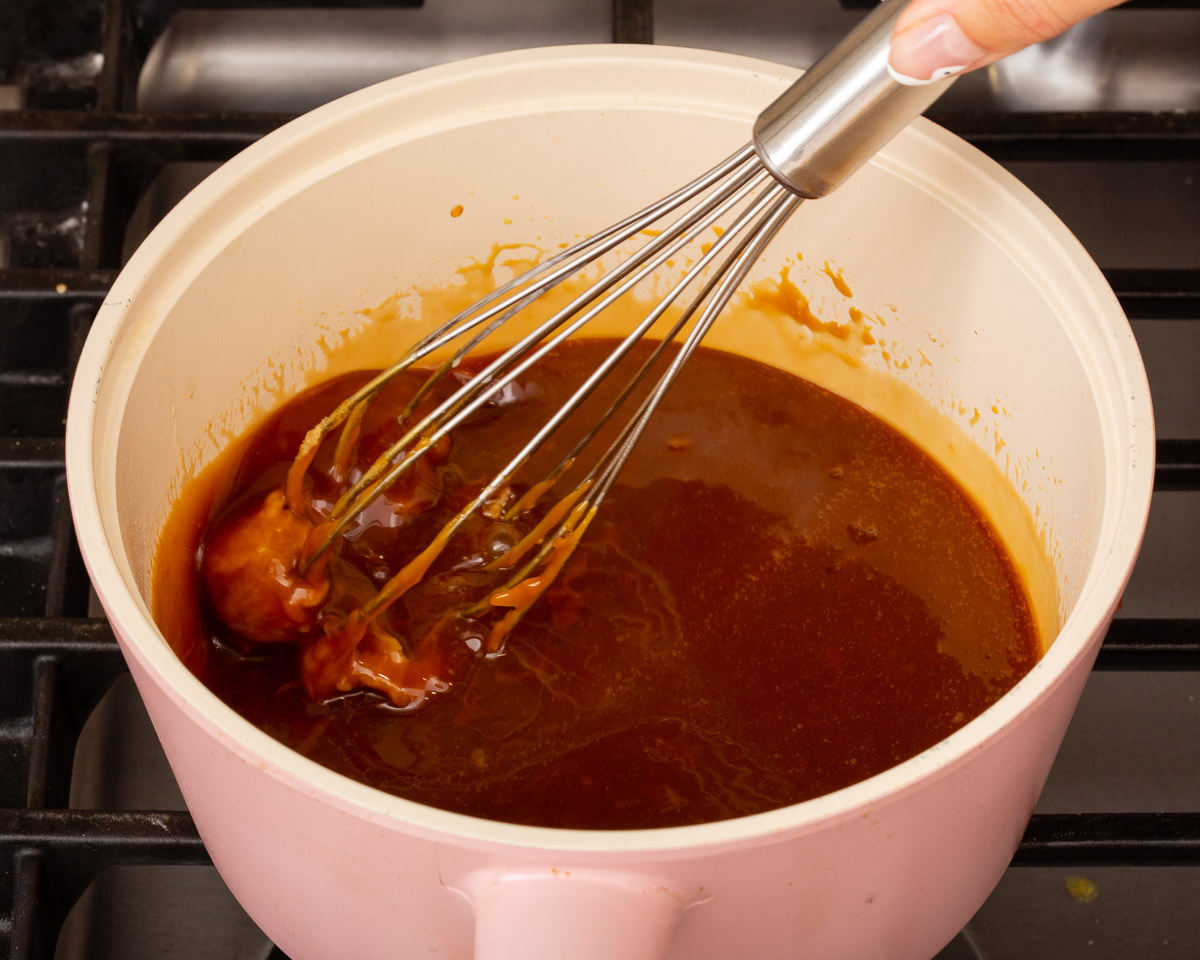 ⭐️ Tips For This Recipe
When melting the sugar, try not to whisk the sugar until it begins to melt and clump. Simply pick up the pot and swirl the sugar for even heating. Stirring causes the sugar to crystallize and not melt properly.
Do not leave your caramel sauce unattended! Caramel sugar can burn really quickly. You need to watch the sugar very closely to know when to remove from the heat.
📬 Frequently Asked Q & A's
What is miso caramel made of?
This miso caramel recipe only uses four simple ingredients—1)granulated sugar, 2) unsalted butter, 3) heavy cream, and 4) white miso.
What is Miso Caramel?
Miso caramel is an Asian Fusion spin on the traditional salted caramel. It is sweet, salty, sticky, and has a subtle umami flavor to it.
What do I serve this miso caramel with?
You can serve this miso caramel with some delicious apple dumplings or apple cider mochi donuts. Alternatively, you can serve this with anything you ordinarily put caramel on such as ice cream, cakes, cookies, desserts, or dip with fresh apples! The options are endless.
🥡 Storage Instructions
You can store this homemade miso caramel sauce in an airtight container in the refrigerator for up to 1 month or in the freezer for up to 3 months.
💕 You May Also Love...
If you made this dish and loved it, please leave a review and comment below. We would greatly appreciate it!

Share your dish with us on Instagram, tag us @takestwoeggs—we'd love to see and share your delicious creation!

Hungry for more? Follow us on Instagram, Pinterest, and Facebook for more tasty creations and updates 🍜
👩🏻‍🍳 Recipe