These super-soft, cakey, melt-in-your-mouth Ube Lofthouse cookies taste exactly like the grocery store cookies but with an Asian twist! Bring on all the nostalgia right at home with this Ube Lofthouse cookies recipe.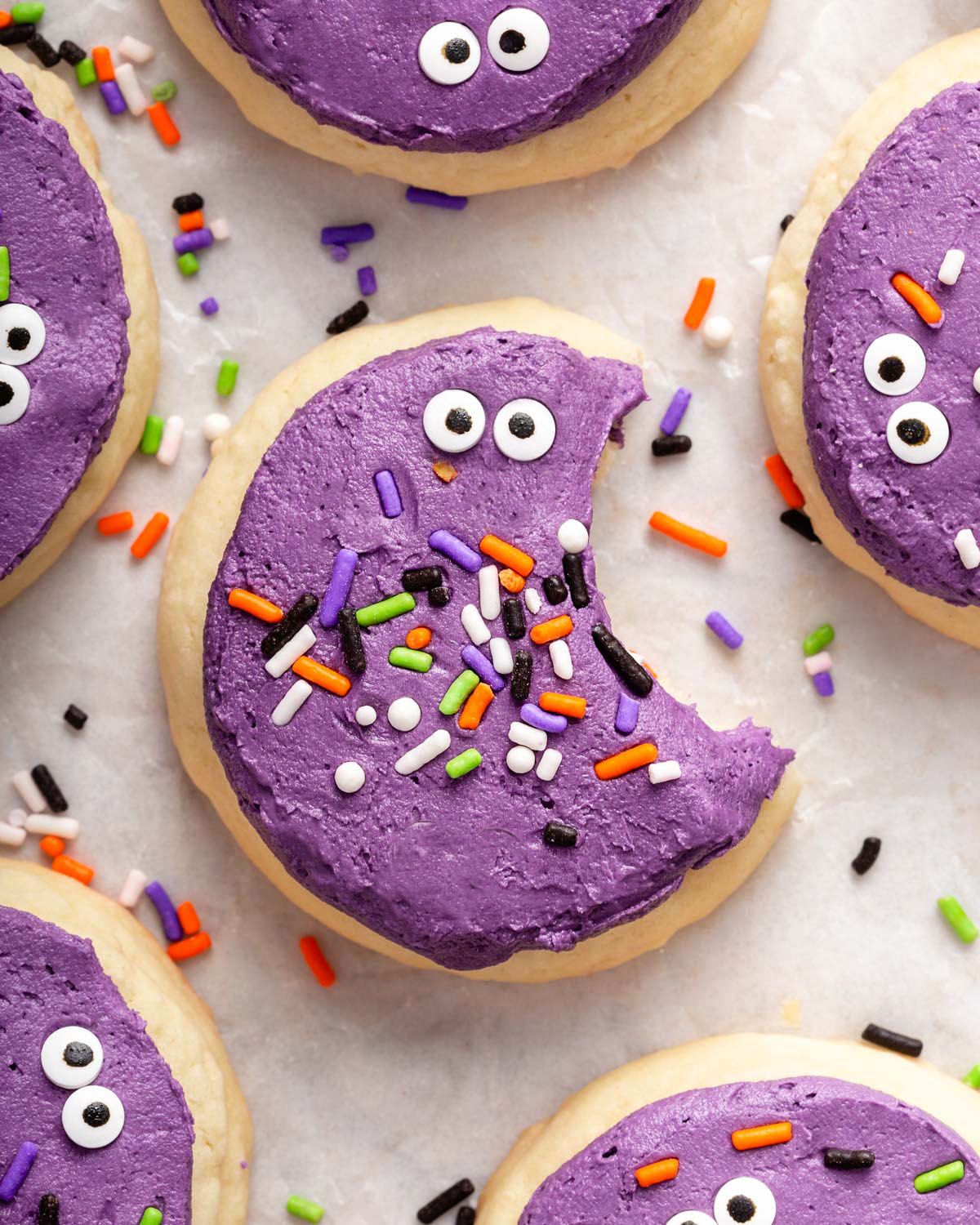 I don't know about you but growing up these beautifully soft cookies with thick frosting and rainbow sprinkles was my number one addiction. Every time I went to the grocery store, I would beg my mom for a box of these cookies and throw a complete tantrum until she said yes. I would get so excited when I saw these at birthday parties and school events, I would stash a few in my pockets. I ate them so much they are engulfed in almost all of my childhood memories.
This easy recipe will bring back all of the nostalgia from the '90s and early '00s. You will be transported to a simpler time where the sight of these cookies would light up your entire week. I thought it would be fun to take an Asian spin on a classic and add an Ube frosting instead of the original. (You can always swap out the Ube extract for Vanilla to achieve a closer to the original cookie) Pair this with some matcha pineapple drink and you have got yourself a sweet and balanced treat! These cookies are you not going to bake themselves. Let's get started!
Original Lofthouse Cookies
These beautiful pink frosted cookies were invented in 1994 by Dave and DeAnne Stone from Farmington, Utah. They cooked out of a small kitchen in nearby Ogdon and sold their cookies to local convenience stores. Now they are sold at almost every grocery store in the United States. They have different colored frostings for every season and are at the heart of almost all of our childhood memories. These cookies are a grocery store favorite with their incredibly soft cake-like texture, sweet pink buttercream frosting, and brightly colored sprinkles.
Melt-in-Your-Mouth Copycat Lofthouse Cookies
In creating this recipe, I did my homework. First, I naturally bought a box of Lofthouse cookies at the store for "research." Next, I scoured the internet and cross-referenced all of the different "copycat" Lofthouse cookies. I watched all the youtube videos on all the "secrets" that would make these cookies have the same taste and texture as the original. For this recipe, I had to achieve an impossibly soft, incredibly sweet, and almost dry yet moist cookie. I tested multiple recipes that didn't require chilling and somehow they turned all-out super flat. Finally, after all of this research and testing, I've done it. Look no further, this recipe will yield an almost identical Lofthouse cookie with a delicious new frosting flavor.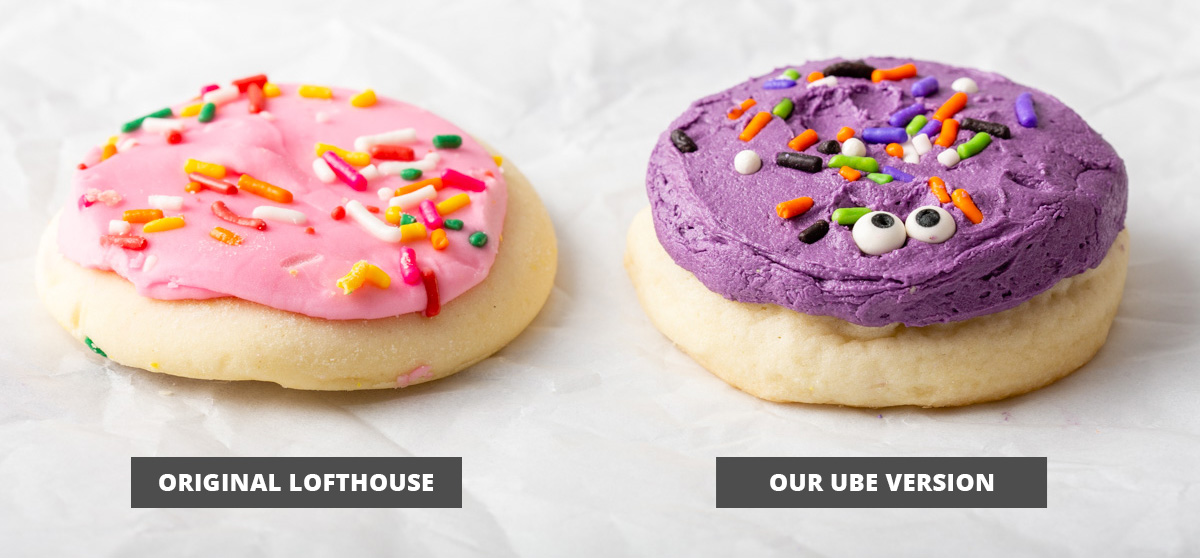 Kitchen Equipment
Ingredients for This Recipe
The ingredients for this Ube Lofthouse cookies recipe contain all of your basic staple pantry items. You can find all of these ingredients at your local grocery store.
Unsalted butter: unsalted butter is the base of these cookies. It is the foundation of the in the melt in your mouth cookie experience.
Powdered Sugar: the powdered sugar allows the cookie to not be gritty.
Baking powder + baking soda+cream of tartar: these are the rising agents that will aid in a soft rise in your cookie dough and gives the crumb a fluffier yet less crumbly texture.
Cornstarch: the cornstarch aids in softening the batter to have a soft crumb.
Kosher Salt: every sweet treat always needs a little salt to balance out all the sugar.
Egg: the egg combines the batter together and contributes to the rise and softness of the overall cookie.
Vanilla Extract: Vanilla is the main flavor of the cookie.
Almond Extract: a little almond extract goes a long way in giving the cookies that very soft subtle artificial flavor of the lofthouse cookies.
Bleached Cake Flour: bleached cake flour is KEY in this recipe to have that soft, silky and slightly delicate crumb and their signature appearance.
Ube Extract: normally, I'd like to advise against using an extract since they are overly sweet and really concentrated. However, in this case using an ube extract was simply the easiest method of getting a rich Ube flavor without changing the consistency of the frosting. You can buy

Ube extract

online or at your local Asian grocery market.
Heavy whipping cream: is used to thin out the frosting so that it is a spreadable consistency without it being too runny.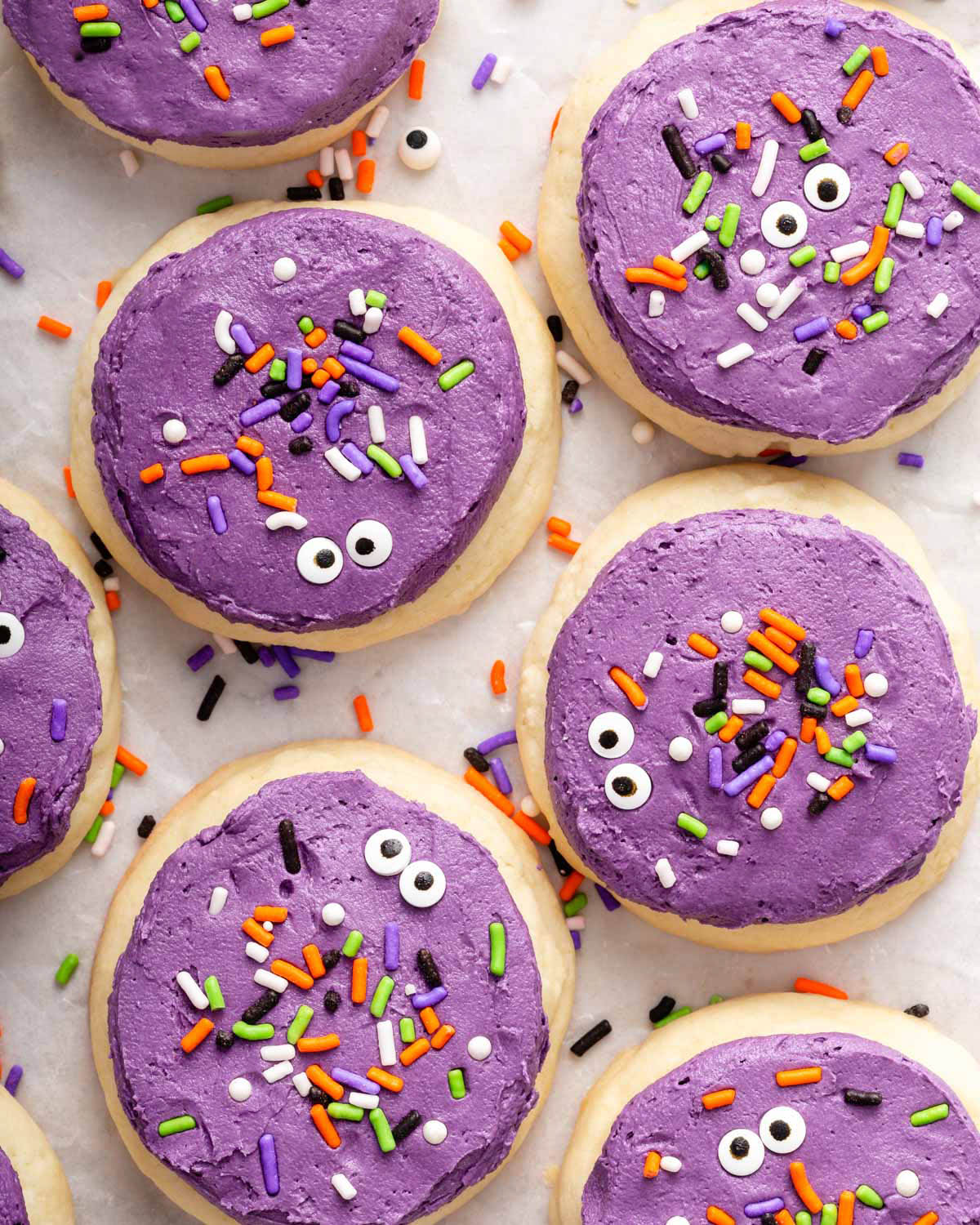 How to Make This Recipe
No need to buy store-bought Lofthouse cookies with all the artificial preservatives! Now you can make these delicious Ube Lofthouse cookies at home.
Make the Cookie
Prepare the oven. Adjust oven rack to middle position and preheat to 350°F (176°C).
Cream the butter and sugar. Using the bowl of your stand mixer, cream the butter and sugar until pale, ivory, and fluffy about 5 minutes.
Add the egg, vanilla, almond extract. While the mixer is mixing, add the egg, vanilla, and almond extract until combined. Scrape down the edges of the bowl to evenly mix.
Whisk the remaining dry ingredients and add to butter. In a large mixing bowl, whisk together the cake flour, baking powder, baking soda, cream of tartar, cornstarch and salt to until combined. Lower the mixer speed to low and slowly add in the dry ingredients until just combined. Do not over mix. Finish mixing the dough with a rubber spatula to make sure all the flour is thoroughly combined.
Scoop onto lined sheet pan. Using a 2-tablespoon cookie scoop, scoop the dough into 24 balls onto a slipmat or double parchment lined half sheet pan. Cover with plastic wrap and chill in the refrigerator for 2 hours.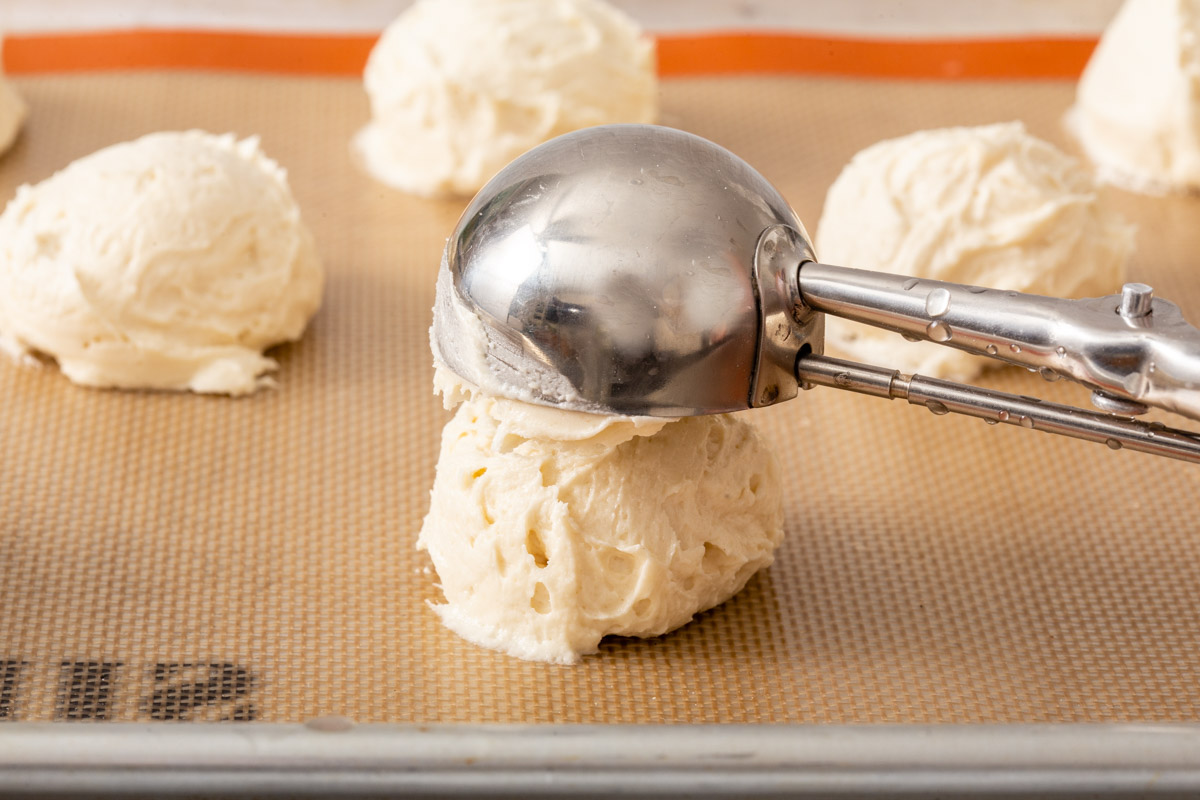 Bake at 350°F (176°C). Roll out the balls and slightly flatten with your palm into ½ inch thick cookies. Place them on the lined sheet pan about 2 inches away from each other. Bake for about 10-11 minutes or until puffed and pale. The cookies may look slightly underdone in the center. Leave the cookies to cool on sheet pans until completely cooled, about an additional 20 minutes.
Make the Frosting
While the cookies cool, make the frosting. Add the butter and ube extract to a stand mixer fit with a paddle attachment and beat on medium speed until whipped and airy about 3 minutes. Then on low speed slowly add the sugar and salt until combined. Lastly, add the milk and continue beating until creamy and slightly fluffy.
Use an offset spatula/palette knife to frost the cookies into an even layer. Top with sprinkles and enjoy!
Tips For This Recipe
Use a scale! For foolproof results in your bakes, always use a

kitchen scale

for exact measurements. Since baking is a science, using measuring cups may yield slightly different textures/flavors because the measurements will not be exact.
Do not substitute cake flour with any other flours. Cake flour has a low protein content and mild flavor, a low pH that inhibits browning, and a super soft crumb due to its starch content. Any other substitute will cause the dough to spread, rise, and brown differently, with a chewy texture.
Use room temperature butter. This allows the butter to be easily creamed by the stand mixer and evenly incorporate all the powdered sugar. If you do not want to wait 30min-1 hour to get the butter to room temperature, quickly zap the butter in the microwave for about 5 seconds.
Use room temperature egg. You do not want to shock the batter by incorporating a cold egg. Make sure the egg is room temperature before adding it to your batter. To quickly do this, place the egg in a cup or bowl with warmed (not boiling) water for about 5 minutes.
You must chill the batter in the refrigerator! This is a must. I tried multiple recipes that claimed that theres "no chill time required." But all my cookies turned out super flat and not raised at all. The chilling gives the baking powder/soda/cream of tartar time to absorb into the batter and activate. If you want that fluffy soft cookie texture, you have to wait for the results.
Storage Instructions
You can store these soft Ube Lofthouse Cookies in an airtight container on your counter for up to 3-5 days. You can also freeze the cookies individually wrapped in plastic for up to 2-3 months. Alternatively, you can freeze the batter in an airtight container for up to 3 months and bring it to room temperature before baking.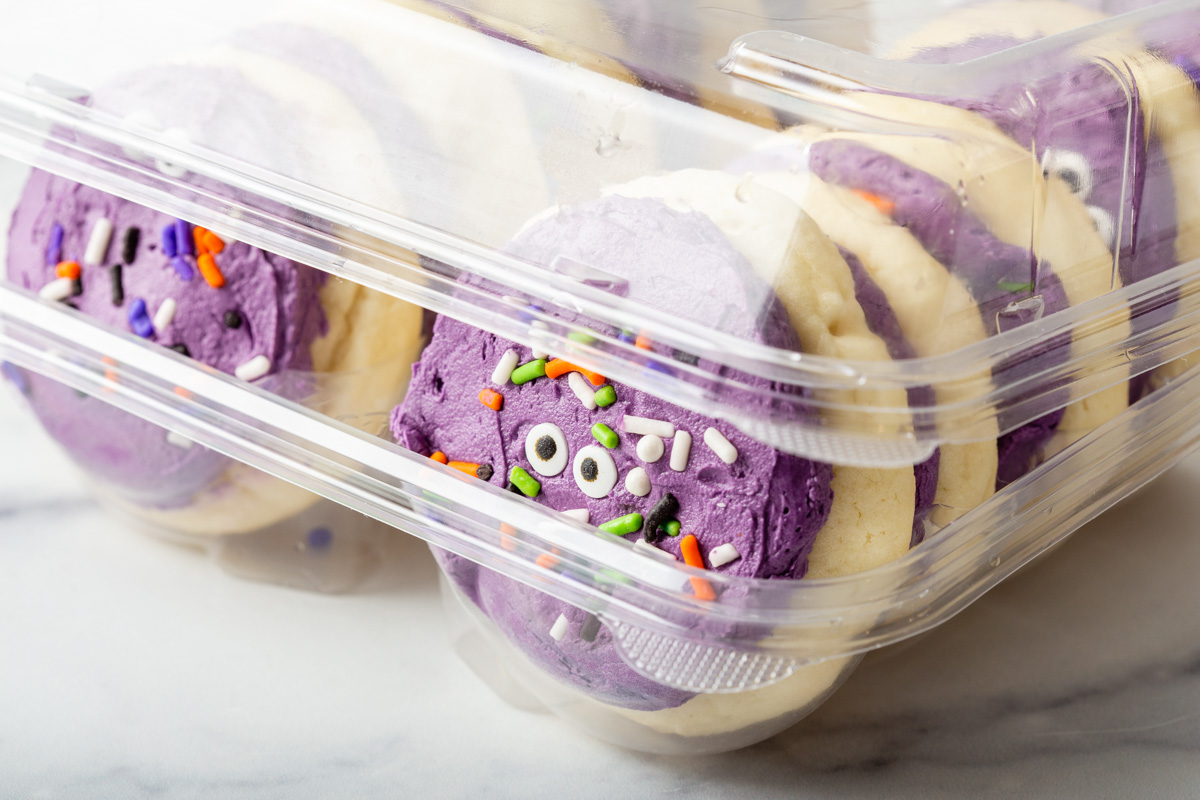 You May Also Love...