Deck the halls with these festive, delicious, and aesthetic matcha checkerboard cookies! These matcha checkerboard cookies are sweet, earthy, beautiful, and perfect for gifting this holiday season.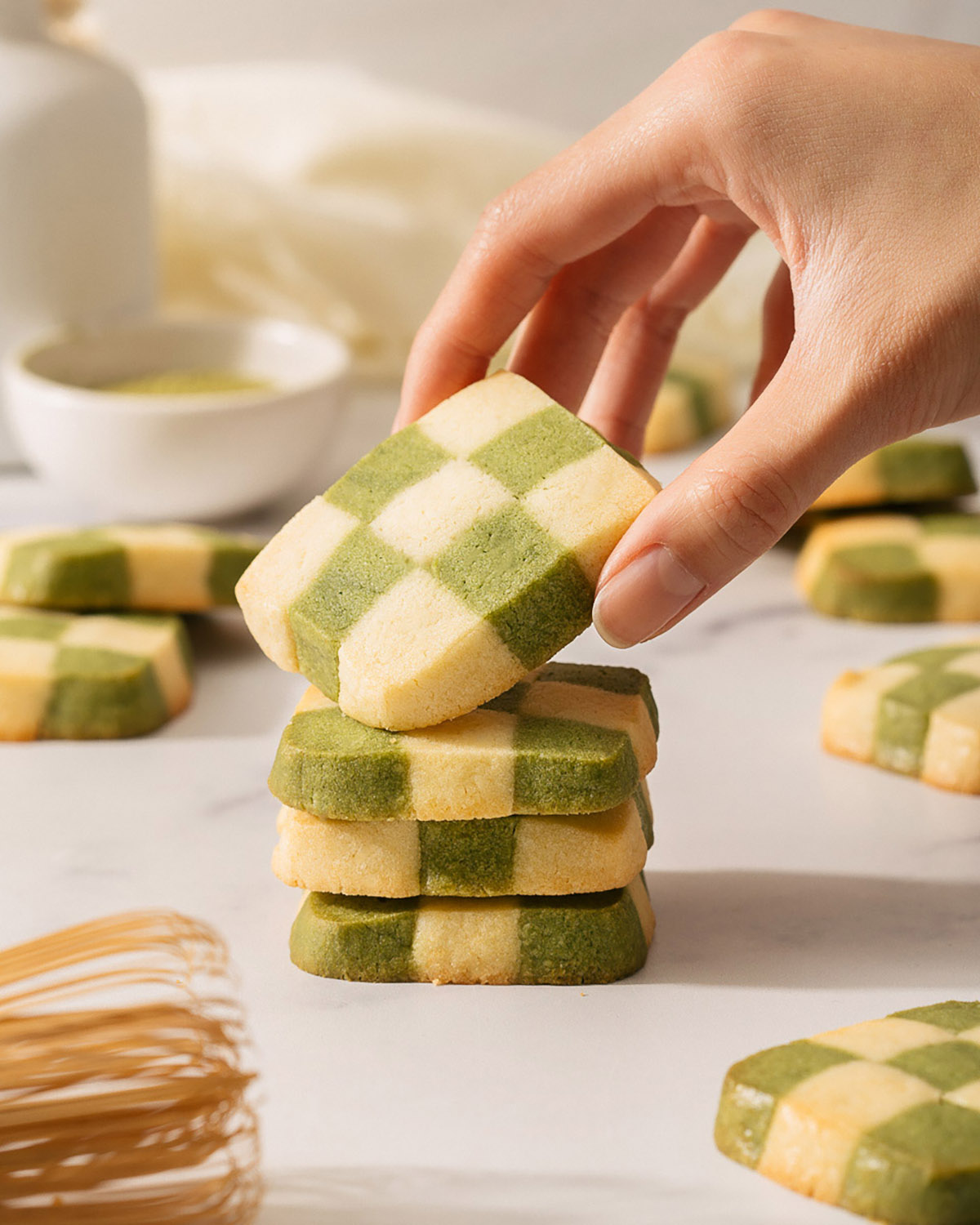 In my brain, December automatically means it is COOKIE SEASON. I love making a large batch of different cookies to package and gift to my family and friends. Next on the line-up this year are these matcha checkerboard cookies. These cookies are made with a simple butter cookie dough and then split in half and mixed with matcha powder. These checkerboard cookies are also known as slice and bake cookies, or icebox cookies. They are buttery, slightly crumbly, and packed with a brilliantly green and delicious matcha powder.
These matcha checkerboard cookies may seem difficult but all it requires is a little bit of precision. Don't worry! I will walk you through all the steps with photo guides along the way. If you love holiday cookie baking, make sure to check out my matcha crinkle cookies, homemade thin mint cookies, hojicha gingerbread cookies, and yuzu Linzer cookies!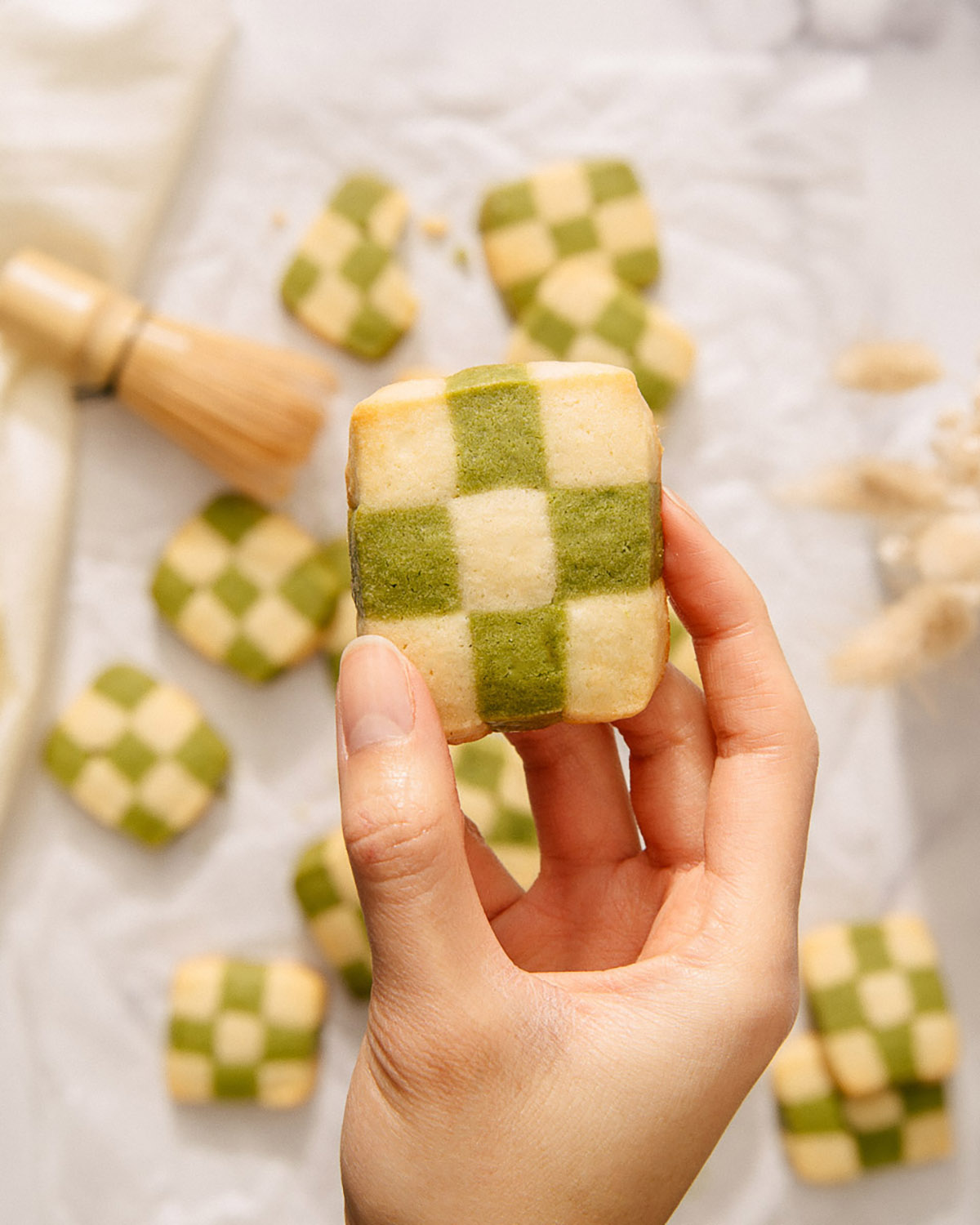 Jump to: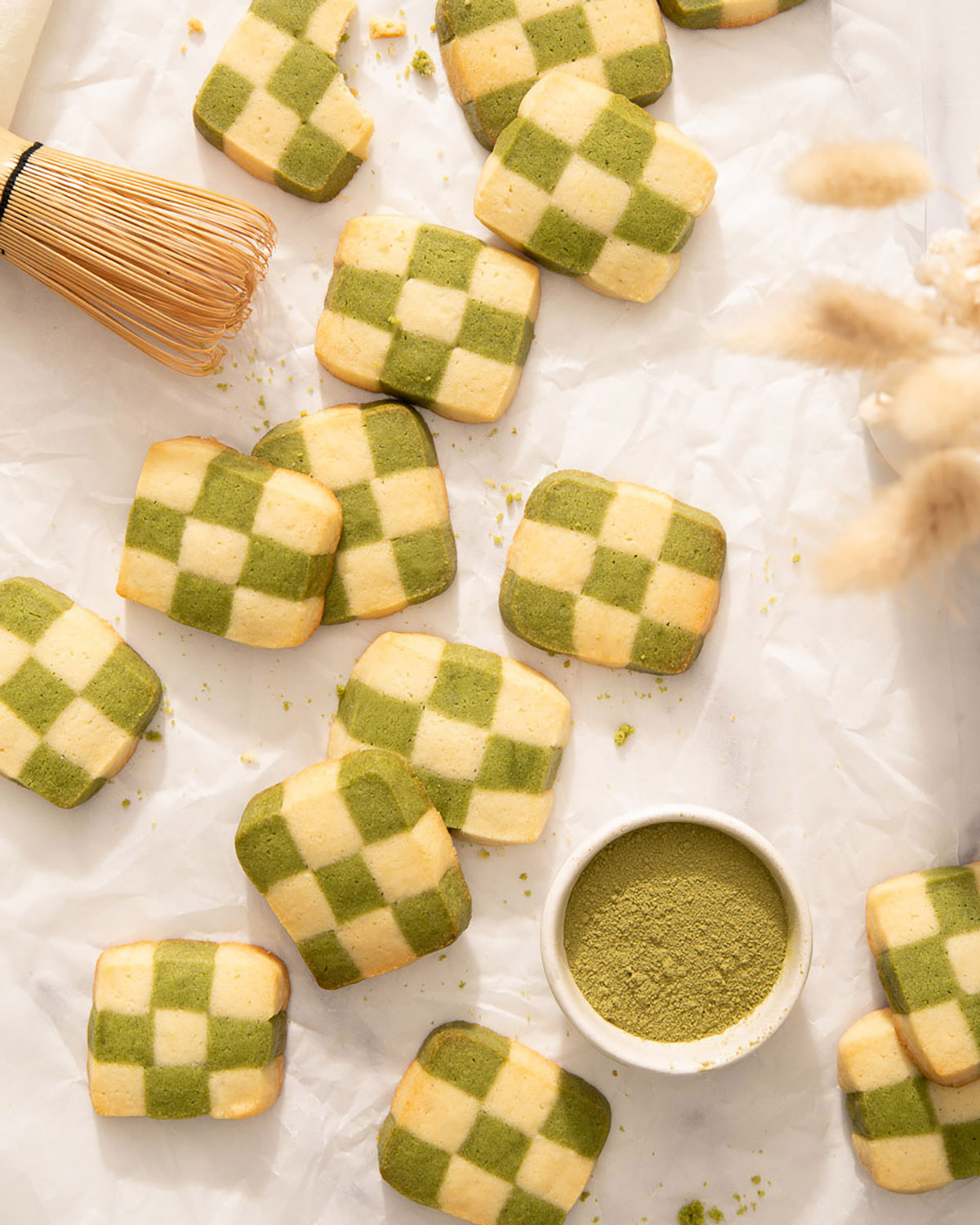 🍽 Kitchen Equipment Recommendations
🛒 Ingredients
The ingredients for this recipe require all the standard cookie ingredients that can be found in the baking aisle at your local grocery market.
All-Purpose Flour: you will need standard all-purpose flour for this bake which will yield a strong yet soft crumb.
Baking Powder: the baking powder allows the cookie to subtly rise and make the cookie less dense.
Salt: the salt balances out the sugars and sweetness in the cookie.
Unsalted Butter: you will need room temperature unsalted butter for this recipe. The room temperature allows the butter to cream easier which allows the ingredients to incorporate evenly.
Powdered Sugar and Granulated Sugar: the mix of powdered sugar and granulated sugar will sweeten the dough as well as yield more tender crumb than a standard cookie. You can always sub out the powdered sugar for just granulated sugar but make sure to measure the weight of the sugar and not only rely on a cup measurement if you do.
Egg and Egg yolk: the egg and egg yolk will bind the cookie dough together and bring a subtle richness to the dough
Egg white: the egg white will act as a glue to bind the strips together and prevent them from falling apart.
Vanilla Extract: adds a layer of flavor to these cookies
Matcha Powder: you can use either

ceremonial grade

or

culinary grade

matcha powder. For this recipe, I opted for ceremonial grade matcha powder for a deeper richer flavor and a more brilliant green color. However, be aware using ceremonial grade matcha will yield a higher caffeine in the cookie than the culinary powder.
📝 How To Make This Recipe
This recipe may seem daunting because of the number of steps but trust me the final result is beautiful and 100% worth it. Plus how can you resist that aesthetic checkerboard pattern!
Make the Dough
Whisk the dry ingredients. In a large mixing bowl, whisk together the flour, baking powder, and salt until combined.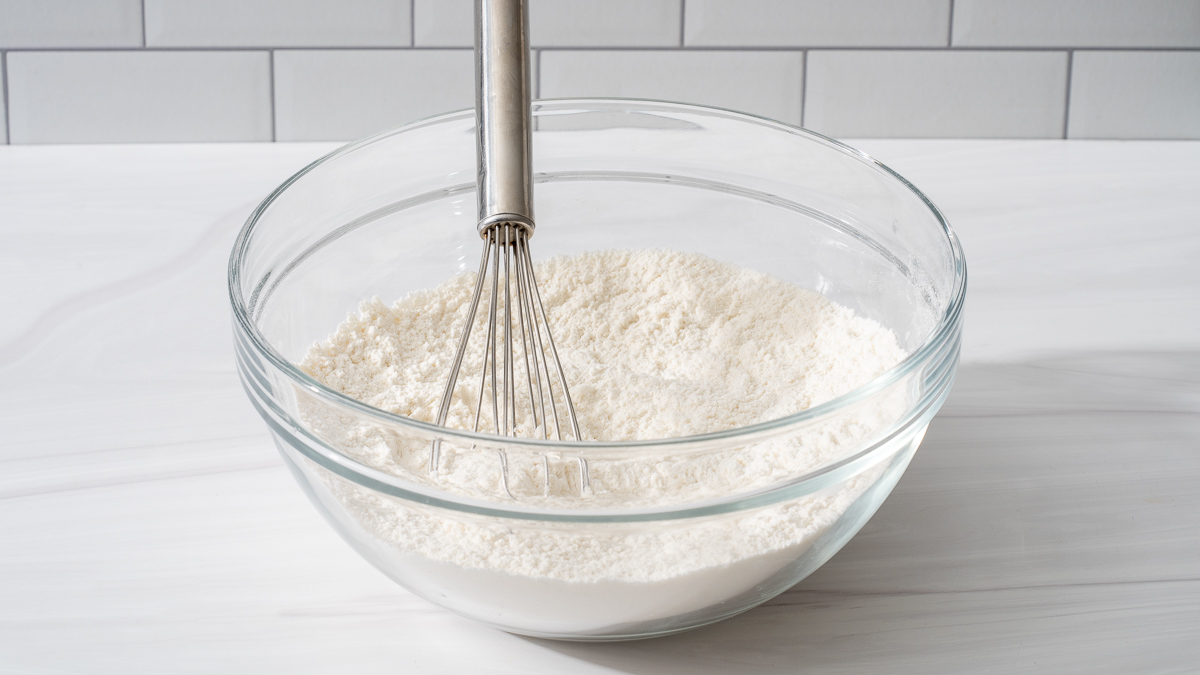 Cream the butter. In a large bowl, use a hand mixer or a stand mixer fitted with a paddle attachment and beat the butter on high until soft and creamy. Then sift in the powdered sugar and granulated sugar and beat on high until creamed about 2 minutes. Then add the egg, egg yolk, and vanilla. Continue beating at high speed until combined. Scrape down the sides of the bowl and beat again to combine for about 2 minutes.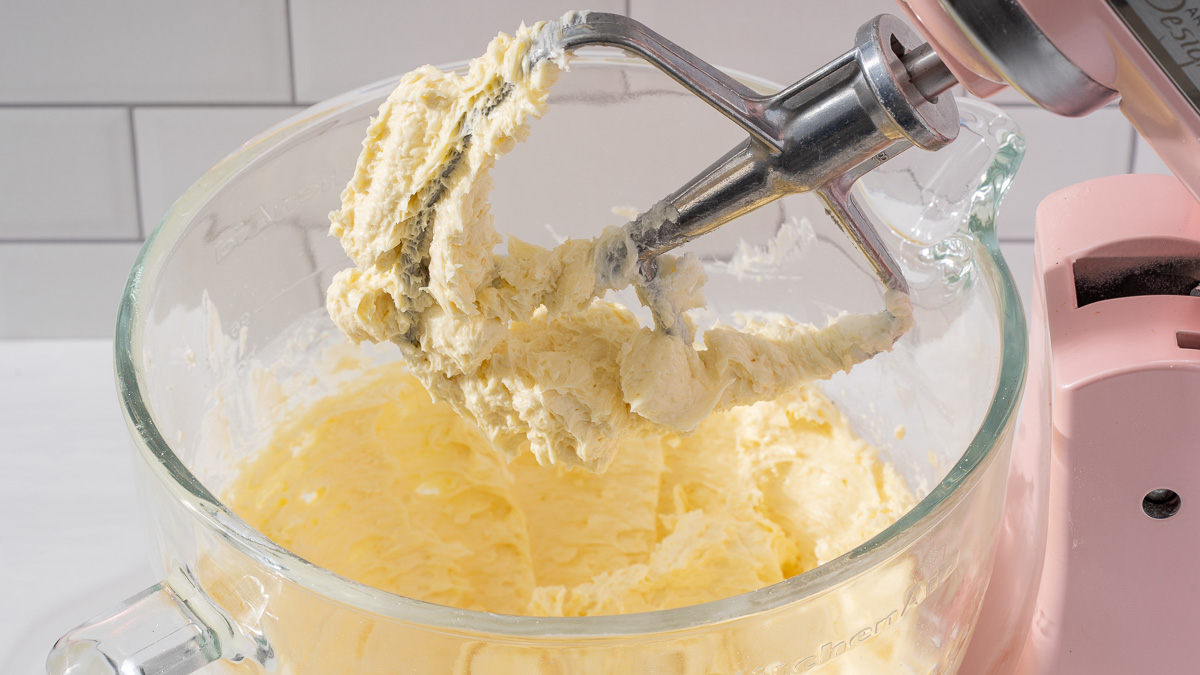 Combine. Add the dry ingredients to the wet ingredients and beat on low to combine. The dough will be thick and sticky.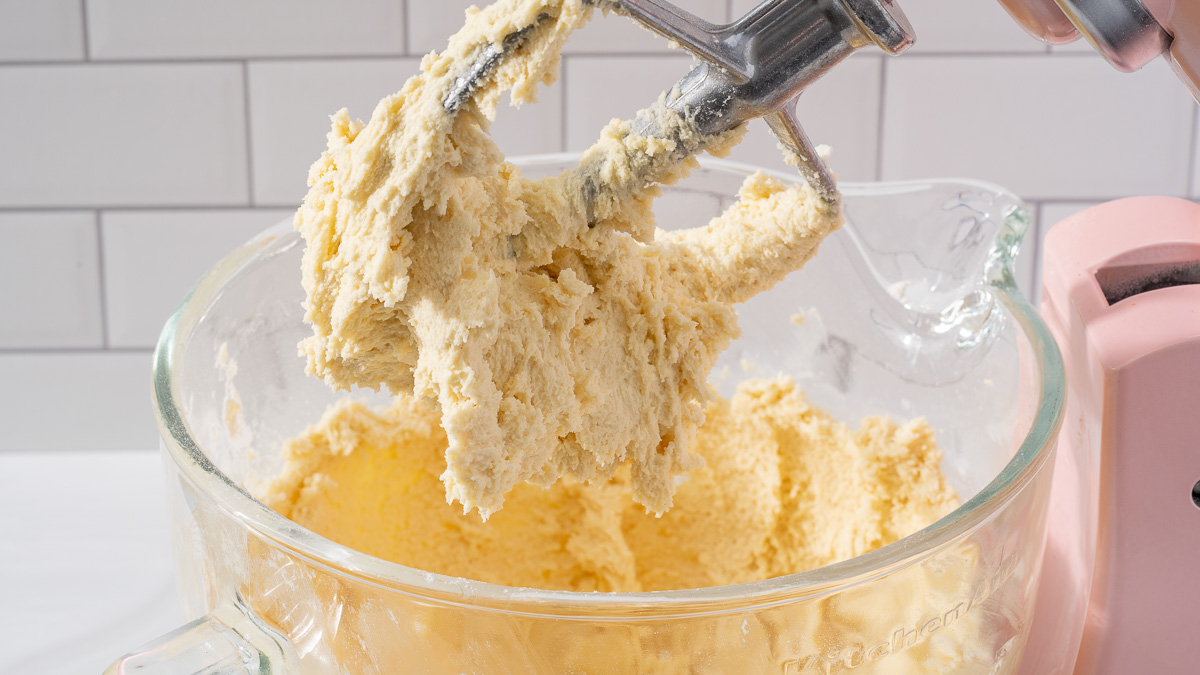 Divide the dough. Divide the dough in half. Wrap ½ half of the dough with plastic wrap into a 6-inch long x 2-inch thick rectangle block.
Make matcha dough. For the other half of the dough, sift in the matcha powder into the mixing bowl. Beat the dough on low speed until combined. Wrap the dough with plastic wrap into a 6-inch long x 2-inch thick rectangle block.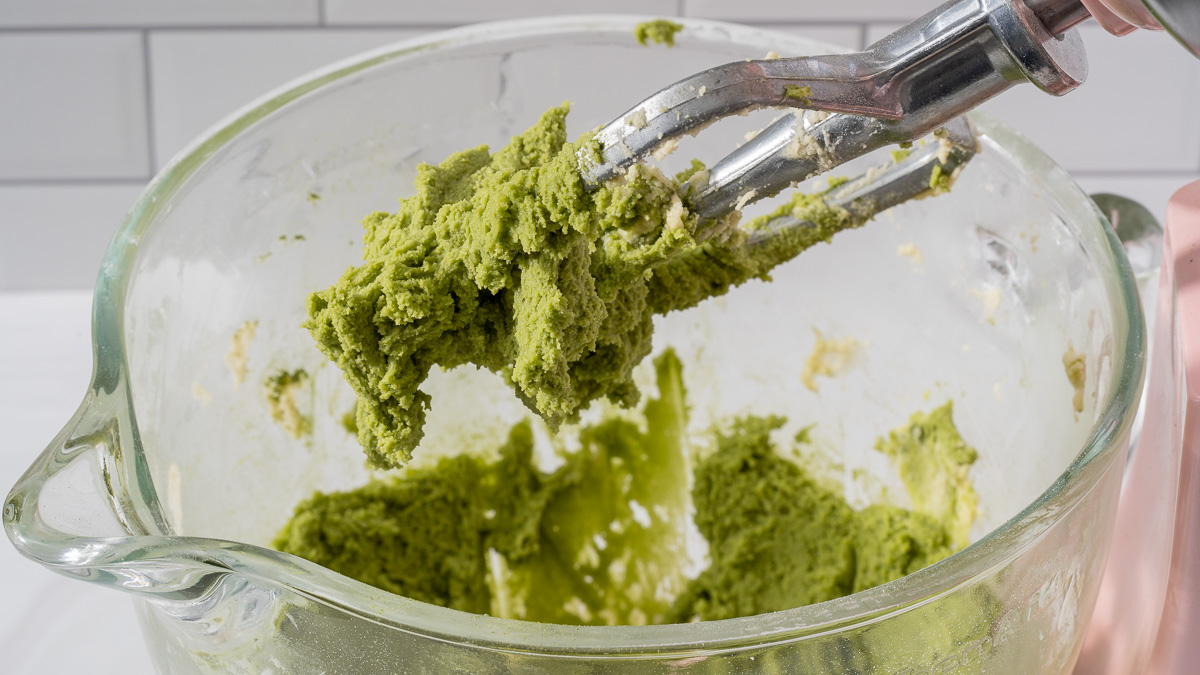 Chill in the refrigerator. Chill both doughs in the refrigerator for 1 hour.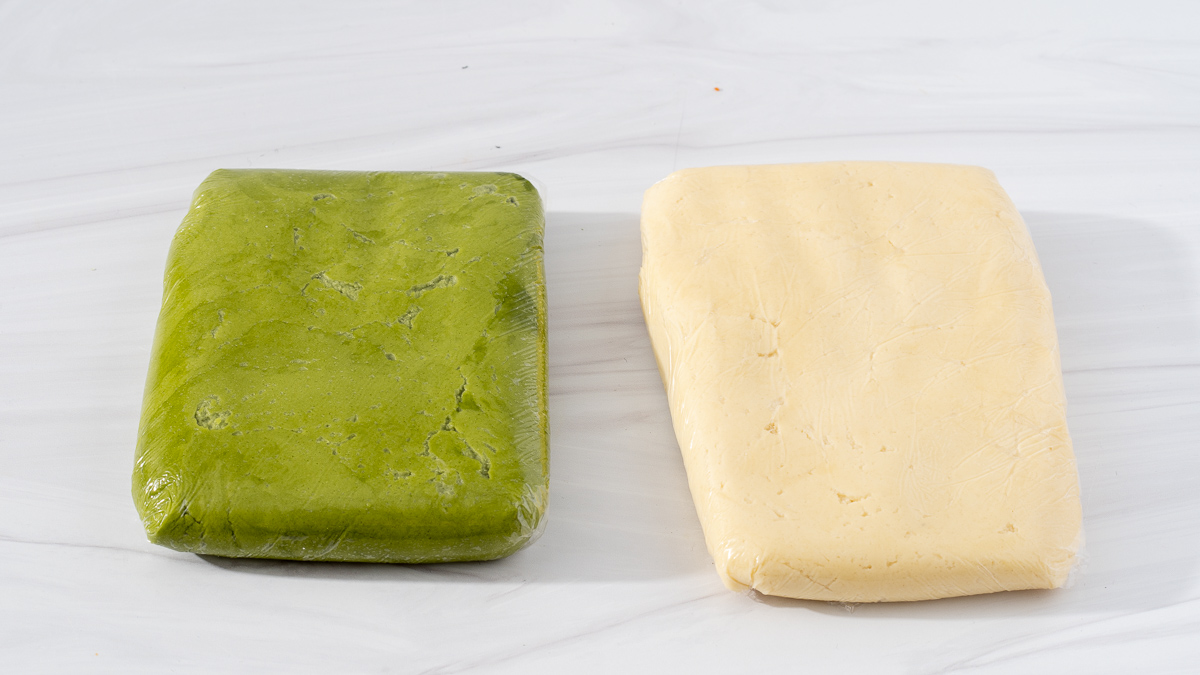 Assemble the Cookies
Roll out the dough and cut it into strips. Using two levelers, roll out each dough into rectangles about 5 inches wide x 8 inches long and ½ inch thick. Use a ruler to mark ½ inch across the dough and then slice into ½ inch strips. You should yield about 10 strips for each dough. (2 strips will be leftover)
Make the "glue". In a small bowl whisk together the water and egg white. Set aside.
Assemble. Alternate the dough strips and brush the sides of the dough with glue to hold the dough in place. Continue to top each with a row of alternating flavored dough strips and then again with another row of alternating dough strips remembering to brush the glue on the edges. For example, in the first row, I put 1 vanilla strip, 1 matcha strip, and 1 vanilla strip. Then the second row, I placed 1 matcha strip, then 1 vanilla strip and, 1 matcha strip. In the third row, I placed 1 vanilla strip, 1 matcha, and 1 vanilla. As you place the dough slightly press the dough together so to get rid of any gaps or air bubbles.
Wrap and chill. Carefully wrap the block of dough and chill for an additional 2 hours.
Prepare the oven and baking sheet. Preheat oven to 350°F (177°C). Line 2 baking sheets with parchment paper or silicone baking mats. Set aside.
Slice and bake. Slice the block about ½-inch thick. Arrange the cookies 2 inches apart on the baking sheet. Bake for 13-14 minutes or until very lightly browned on the edges.
Cool. Remove from the oven and allow the cookies to cool on the baking sheet for 5 minutes before transferring to a wire rack to cool completely.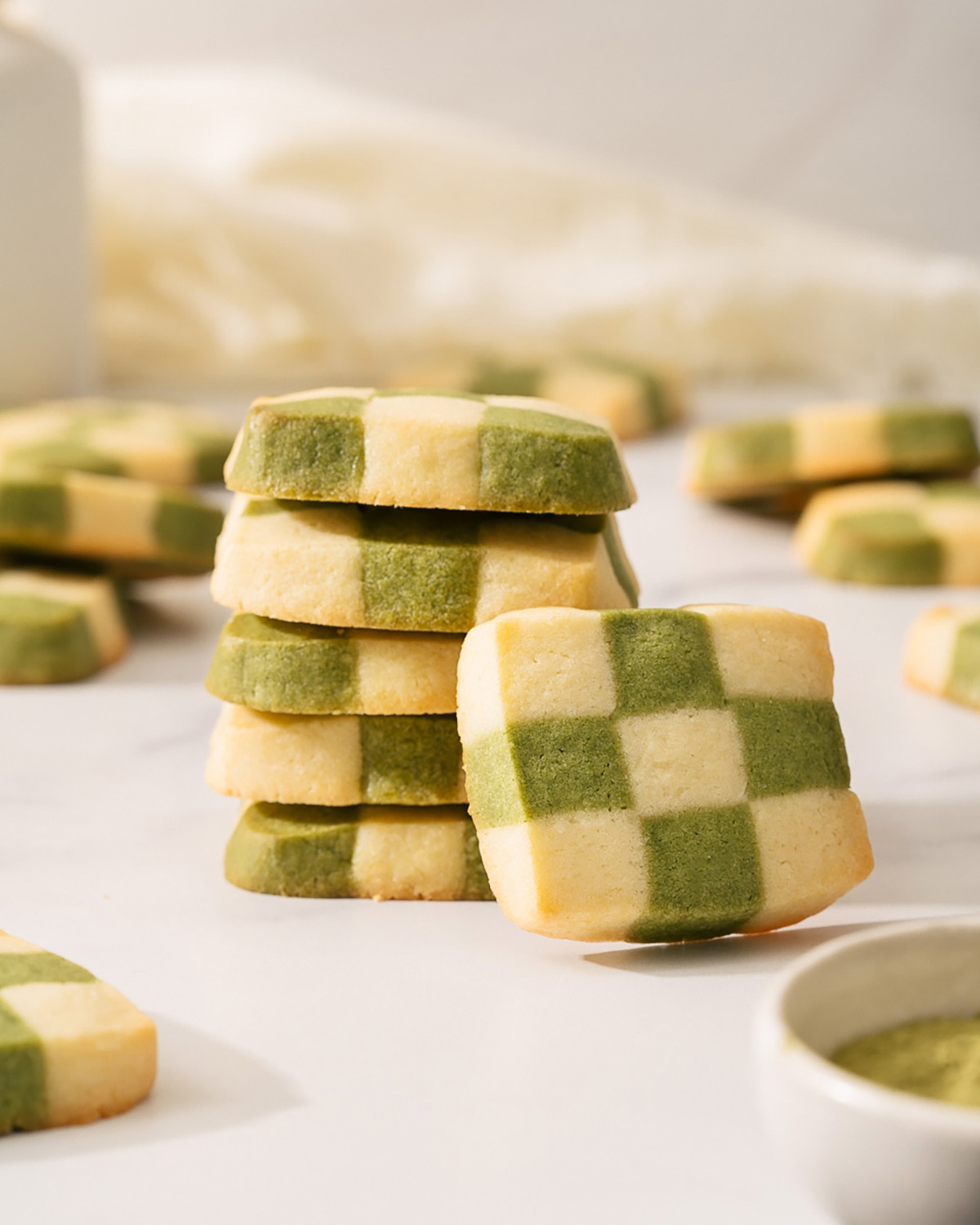 ⭐️ Tips
Use room temperature butter. Using room temperature butter will allow you to cream the butter much easier than cold butter.
Measure your dry ingredients with a scale. I will say this for every bake. The most accurate method of measuring ingredients is with a scale. That will yield the exact flavor that I have envisioned. If you don't have a scale, fluff your flour with a spoon, carefully drop it into your measuring cup and level it off. Do NOT pack the flour into the measuring cup.
Use a trusted Matcha powder. Since matcha is the star of this dish, make sure to use a high quality matcha powder for the best results. There are tons of matcha powders out there and some are made with lower quality than others. I've used brands such as

Matchabar

, Junbi and Matcha Bloom and they all have high quality grade matcha.
Make sure to chill the dough! Chilling the dough allows the butter to solidify making the dough easier to mold and roll out.
Use a leveler and ruler! You can honestly use any two rods that have equal width and that do not roll around when you use your rolling pin. You can buy fondant/baking levelers or you can do what I did and go to home depot and buy two wooden rods that are about ¼ inch thick and use those instead. This along with a ruler measuring equal widths across the dough will guarantee your edges be crisp and even.
Don't over bake: Your cookies are done when the edges are very slightly brown along the edges.
🥡 Storage Instructions
You can store these matcha checkerboard cookies in an airtight container at room temperature for up to 1 week. Alternatively, you can freeze these cookies in a freezer-safe container for up to 3 months.
📆 Make-Ahead Instructions
You can bake these matcha checkerboard cookies and freeze them for up to three months and thaw them in the refrigerator before serving.
Alternatively, you can shape the cookie dough and chill in the refrigerator for up to 4 days or freeze the blocks in an airtight container for up to 3 months. If you freeze them, thaw the dough overnight in the refrigerator and continue with step 11.
💕 You May Also Love...
If you made this dish and loved it, please leave a review and comment below. We would greatly appreciate it!

Share your dish with us on Instagram, tag us @takestwoeggs—we'd love to see and share your delicious creation!

Hungry for more? Follow us on Instagram, Pinterest, and Facebook for more tasty creations and updates 🍜
👩🏻‍🍳 Recipe