This post is sponsored by Knorr, Best Foods, and Unilever, but the opinions and text are all mine.
This sriracha mayo chicken quesadilla is cheesy, spicy, and filled with Mexican spiced marinated chicken, caramelized onions, and bell pepper. They pair perfectly with a warm, comforting, quick, and easy bowl of Knorr Sopa Mexicana Chicken and rice!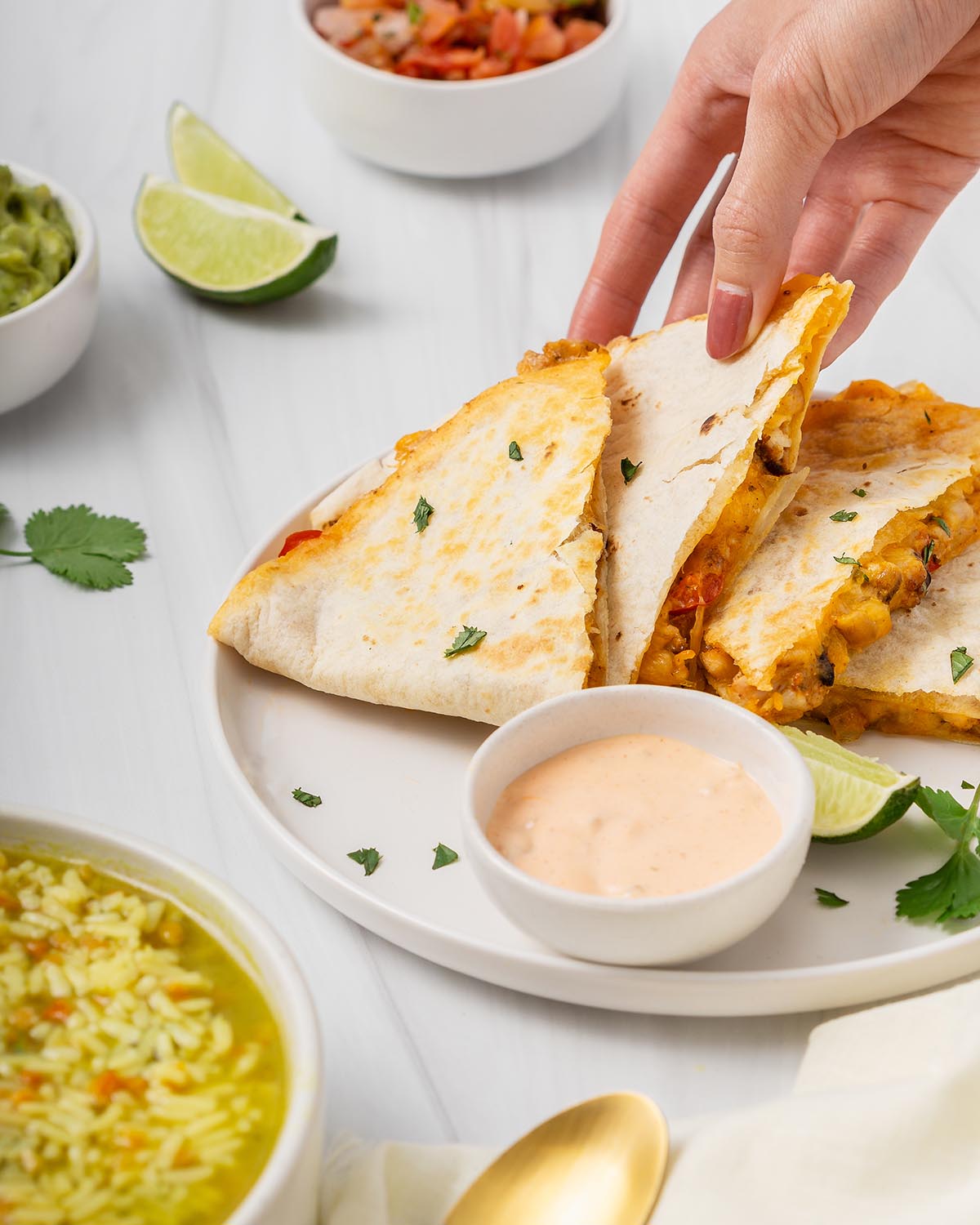 Some days, I don't feel like spending more than an hour in the kitchen. Sometimes I just want to whip up something quick and easy for dinner so that I can kick up my feet and watch the next episode of my favorite reality TV show. However, just because I want something quick and easy doesn't mean I don't want to eat something delicious and satisfying.
This sriracha mayo chicken quesadilla is the answer to all of your prayers. These cheesy quesadillas are made with diced chicken marinated with a blend of Mexican spices, caramelized onions sautéed with red bell peppers, coated with creamy and spicy sriracha mayo, and sealed together by a gooey, melty blend of cheddar and Monterey Jack cheese. Plus! Knorr Sopa Mexicana chicken and rice is the perfect quick and easy side soup to this quesadilla.
Jump to:
Quick and Easy Soup Solution

With winter right around the corner, I always like to keep my pantry stocked with quick, warm, hearty soups. I keep a few packs of Knorr Sopa Mexicana because their soups (Minestrone, Mestiza, and Chicken and Rice) are made with zero artificial ingredients and real vegetable pieces. The flavors are hearty and authentic and rooted in Mexican heritage. These soups can be enjoyed on their own or paired with another dish to create a well-balanced meal. You can find Knorr Sopa Mexicana in the soup aisle at your local Cardenas, El Super, Superior, and Northgate supermarkets.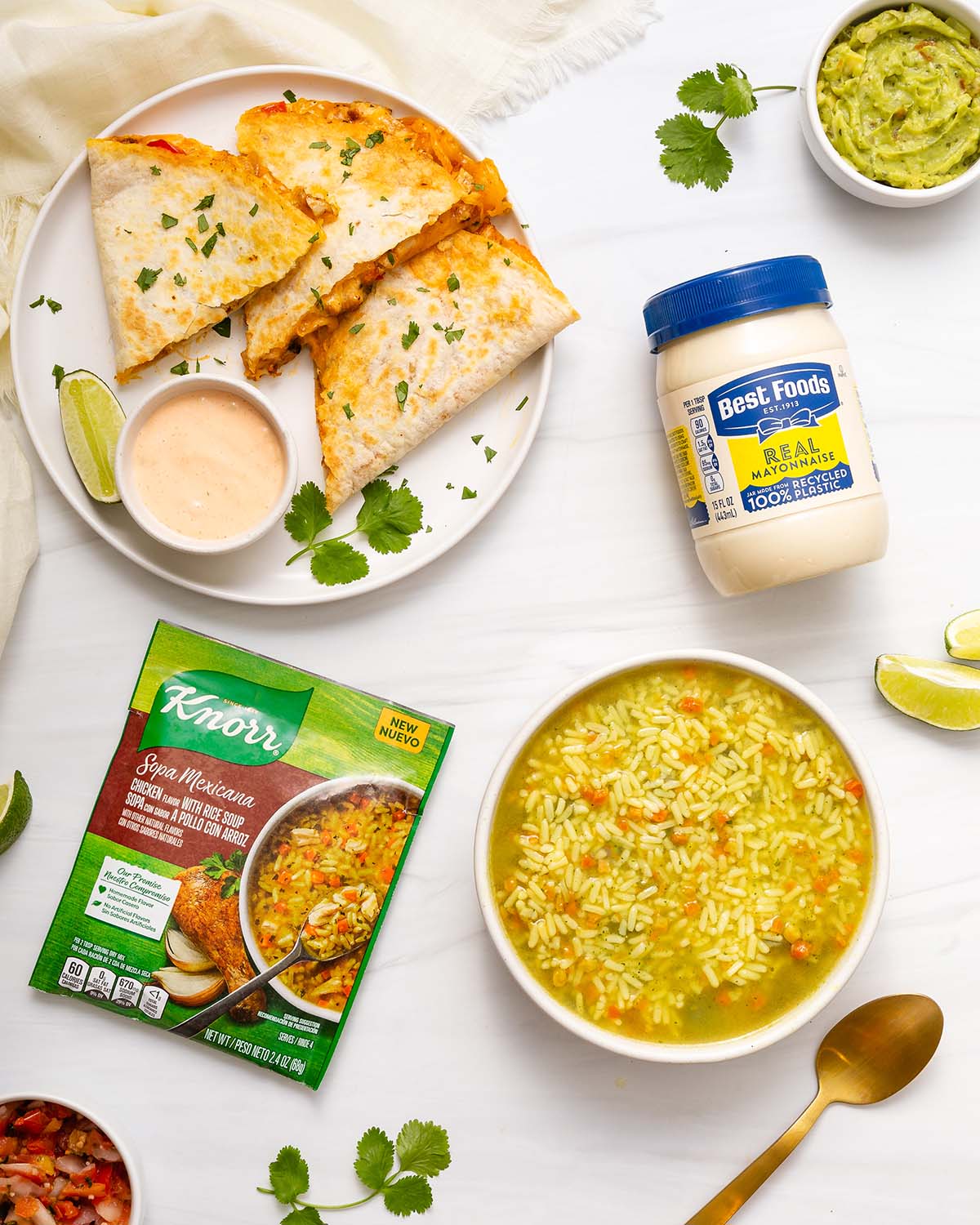 Sriracha Mayonnaise
For the sriracha mayo, I used my most trusted mayonnaise brand—Best Foods Real Mayonnaise. I grew up using this mayonnaise in all my sandwiches and in my opinion, it has the best flavor. This mayonnaise is made with real, simple ingredients: eggs, oil, and vinegar. It has the most delicious flavor that blends beautifully with the sriracha, lime juice, and pickled jalapeños.
Kitchen Equipment For This Recipe
Mixing Bowls: the mixing bowls are for making the marinade for the chicken, and mixing the sriracha mayo. I love using these glass Duralex mixing bowls because they come in 10 different sizes and compact perfectly in my cabinet.
Knife and Cutting Board: you will need a knife and cutting board to prep all of the ingredients.
Large Skillet: you will need a large enough skillet to hold the flour tortilla that you use.
Spatula: the spatula flips the quesadilla over to brown and warm both sides.
Small saucepan: you will need a small 4 qt saucepan to make the Knorr Sopa Mexicana Chicken and Rice soup.
Ingredients For This Recipe
You can find all of these ingredients at your local grocery store. You can find the Knorr Sopa Mexicana in the soup aisle at your local Cardenas, El Super, Superior, and Northgate supermarkets. The Knorr Sopa Mexicana will be on sale for $.99 from 12/8-12/28, and you can also buy Knorr 2lb Bouillon and receive two Knorr Sopa Mexicana soups free at El Super.
Best Foods Real Mayonnaise: since this sriracha mayo spread is made with very few ingredients choose the best ingredients for the best flavor. I have always trusted Best Foods Mayonnaise and that is the one I used for this recipe.
Sriracha: you can use sriracha or substitute with any of your favorite hot sauce brands for this recipe.
Lime juice: the lime juice will cut through the bold mayo and sriracha flavors and brighten the sriracha mayo.
Pickled jalapeño: this adds a subtle pickle tang to the quesadilla that brightens up the flavor.
Boneless, skinless chicken thighs: you can also use chicken breast if you prefer.
Chili powder, ground cumin, smoked paprika, dried oregano, garlic powder: used to marinate the chicken
Kosher salt and freshly ground black pepper: add more salt and pepper to taste once the chicken cooks.
Yellow onion: make sure to brown the onions in medium heat with enough oil so that it does not burn before caramelization.
Red bell pepper: dice the bell pepper into small bite-sized pieces for quicker cooking.
Shredded cheddar and Monterey Jack cheese: a blend of these two kinds of cheese is ideal. In grocery stores, sometimes this blend is labeled "Mexican blend."
Flour tortillas: you will need a large flour tortilla, preferably the ones used for burritos. You will make the quesadilla by folding the tortilla in half to seal the quesadilla together. The burrito size tortillas are perfect to achieve decently sized quesadillas.
Knorr Sopa Mexicana: you can choose from three different soup flavors Minestrone, Mestiza, and Chicken and Rice.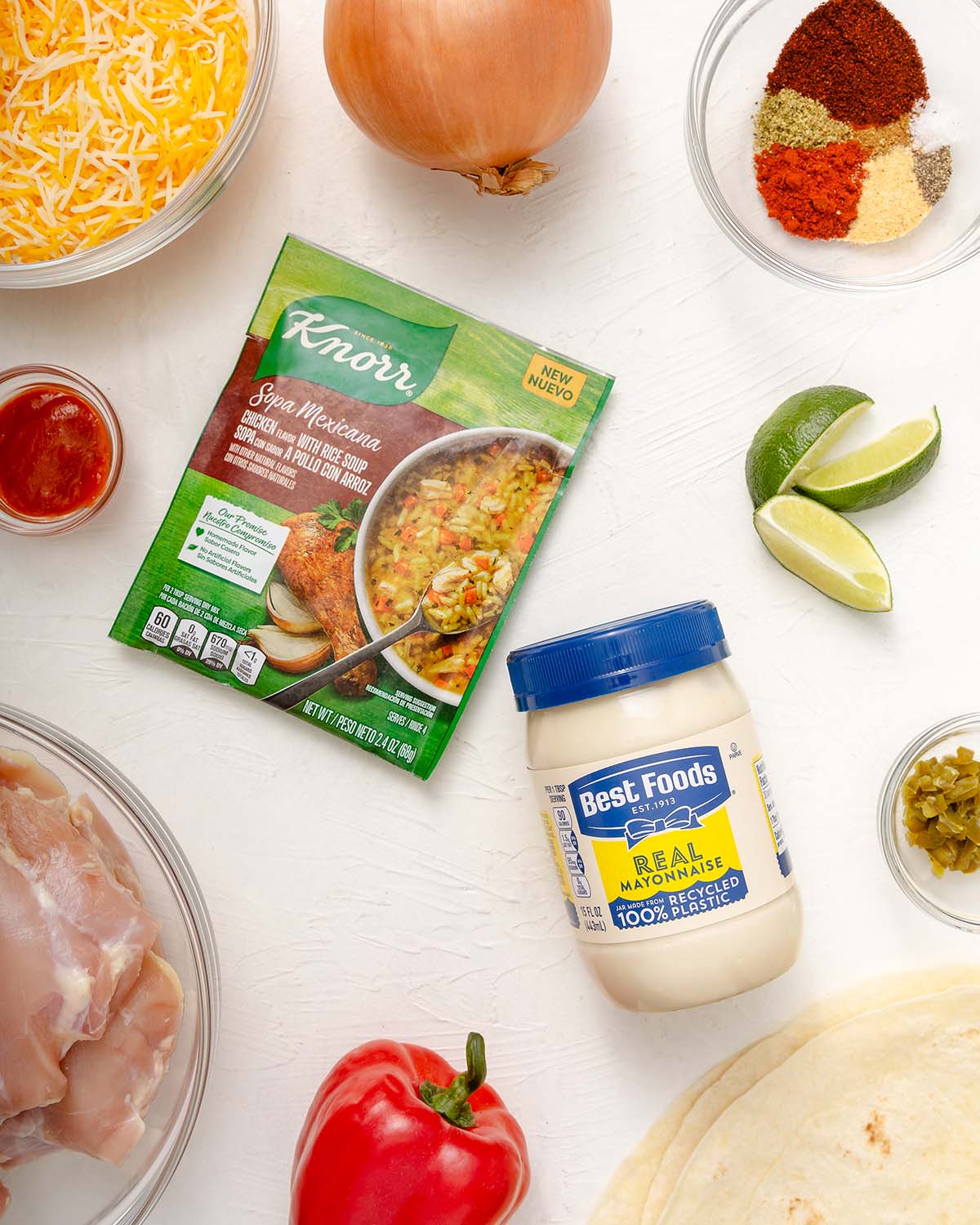 How To Make This Recipe
This under 30-minute sriracha mayo chicken quesadilla with chicken and rice soup is very simple to make. It is the perfect recipe to make when you are under a time crunch but do not want to sacrifice the flavor.
Sriracha Mayo
Mix together the sriracha mayo. In a small mixing bowl, add the sriracha, mayo, and lime juice and mix until combined. Set aside.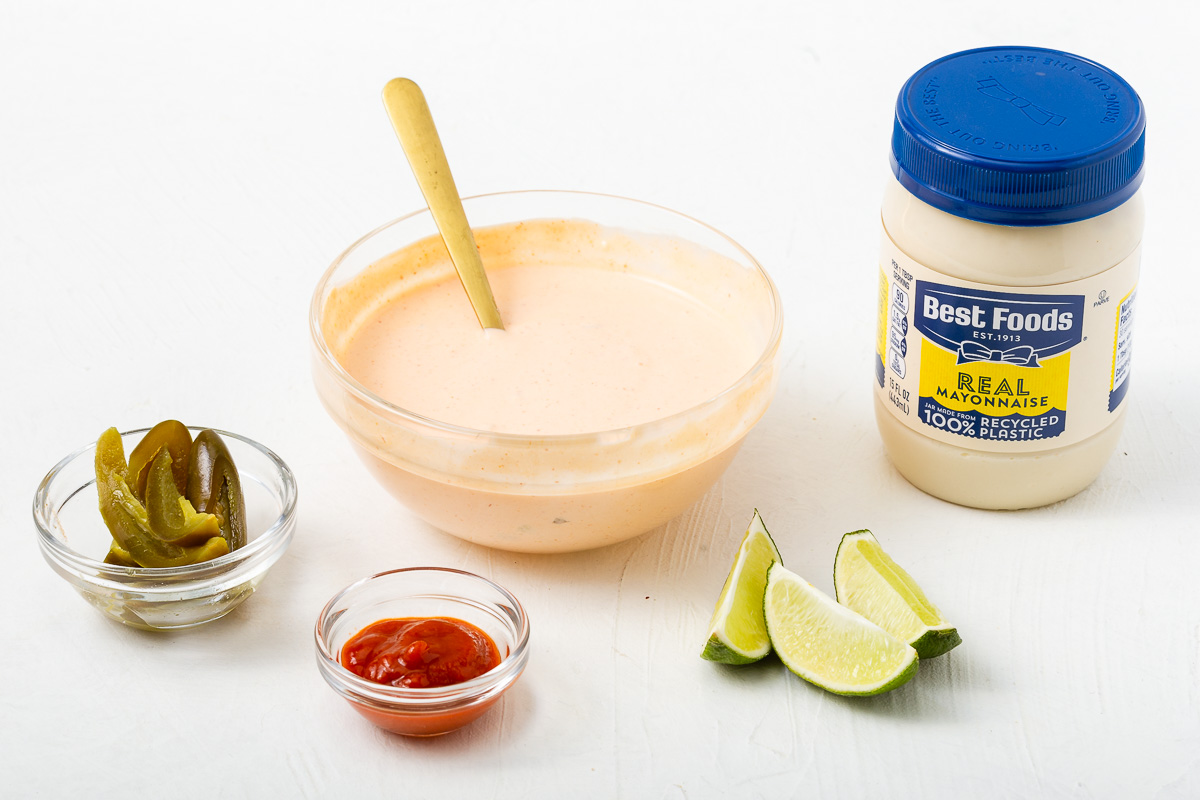 Cook the Chicken and Vegetables
Marinade the chicken. In a small bowl, combine chili powder, cumin, paprika, oregano, garlic powder, a pinch of salt, and a pinch of pepper. Season chicken with chili powder mixture.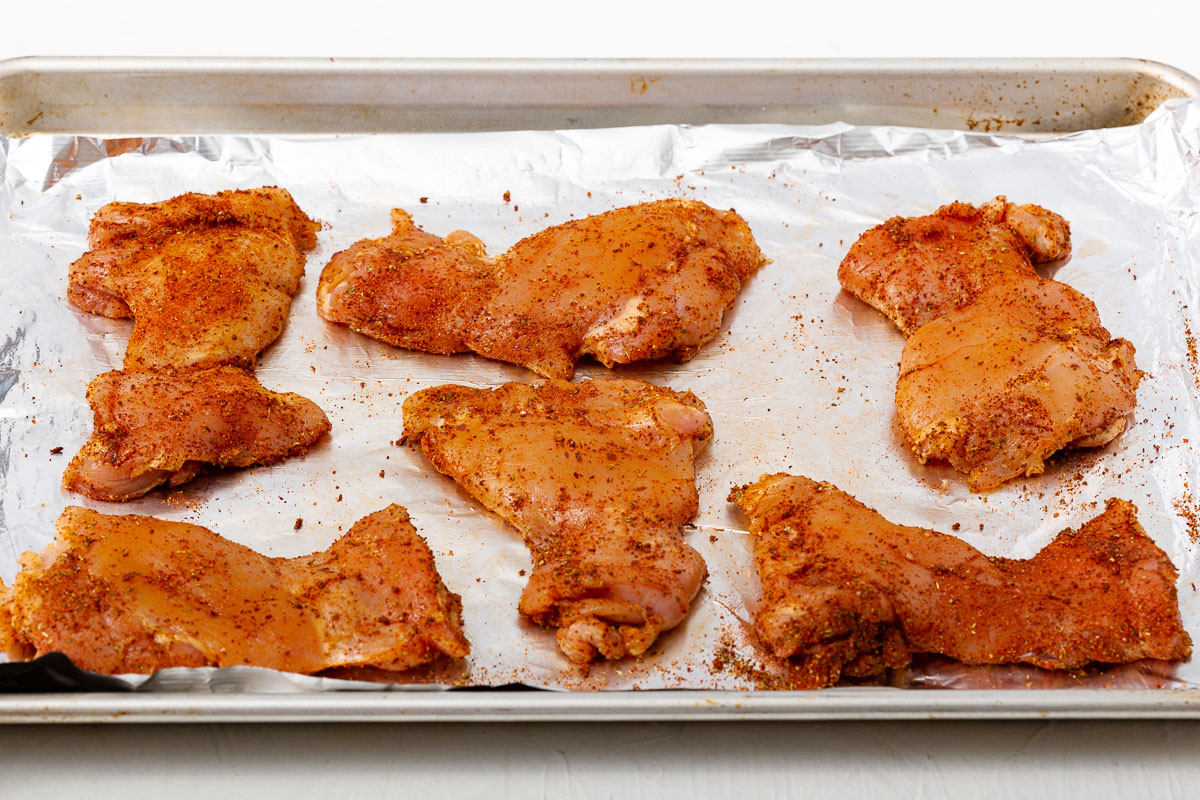 Cook the chicken. Heat vegetable oil in a large skillet over medium-high heat. Working in batches, add chicken to the skillet in a single layer and cook until golden brown and cooked through, reaching an internal temperature of 165 degrees F, about 4-5 minutes per side. Let cool before dicing into bite-size pieces. Set aside.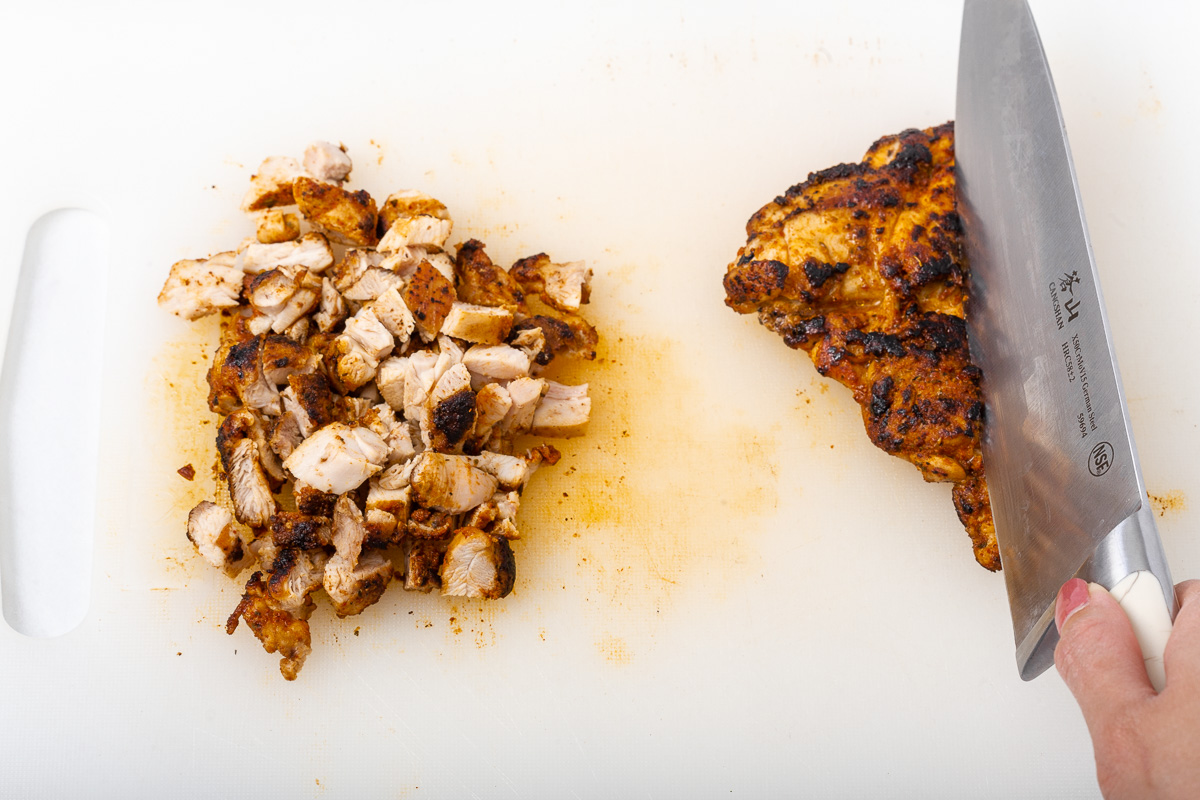 Sauté the onion and bell pepper. In the same large skillet, heat vegetable oil over medium heat. Sauté the onions until golden brown and translucent. Then add in the diced bell peppers and cook until softened for about 2-3 minutes. Toss in the chicken for 30 seconds. Remove from the heat and set aside.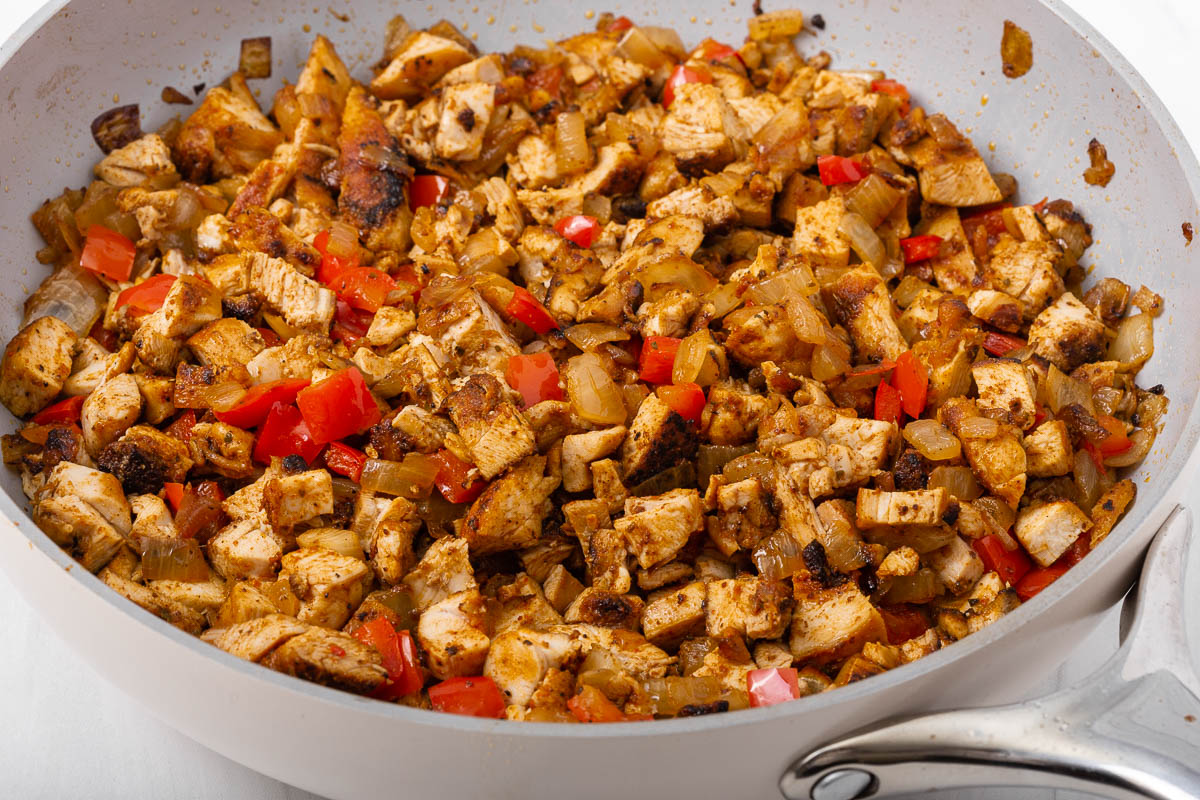 Make the Quesadilla
Assemble. In a large skillet on medium heat, add the tortilla and top with a handful of the mixed cheddar and Monterey Jack shredded cheese on half of the tortilla. Then add ⅓ cup of the chicken mixture, sriracha mayo, and then top with more cheese. Fold the tortilla in half and cook on both sides until the tortilla is crispy and golden. Remove from the pan and repeat.
Serve. Slice the quesadilla into triangles, sprinkle on some cilantro and serve with salsa, sour cream, or guacamole!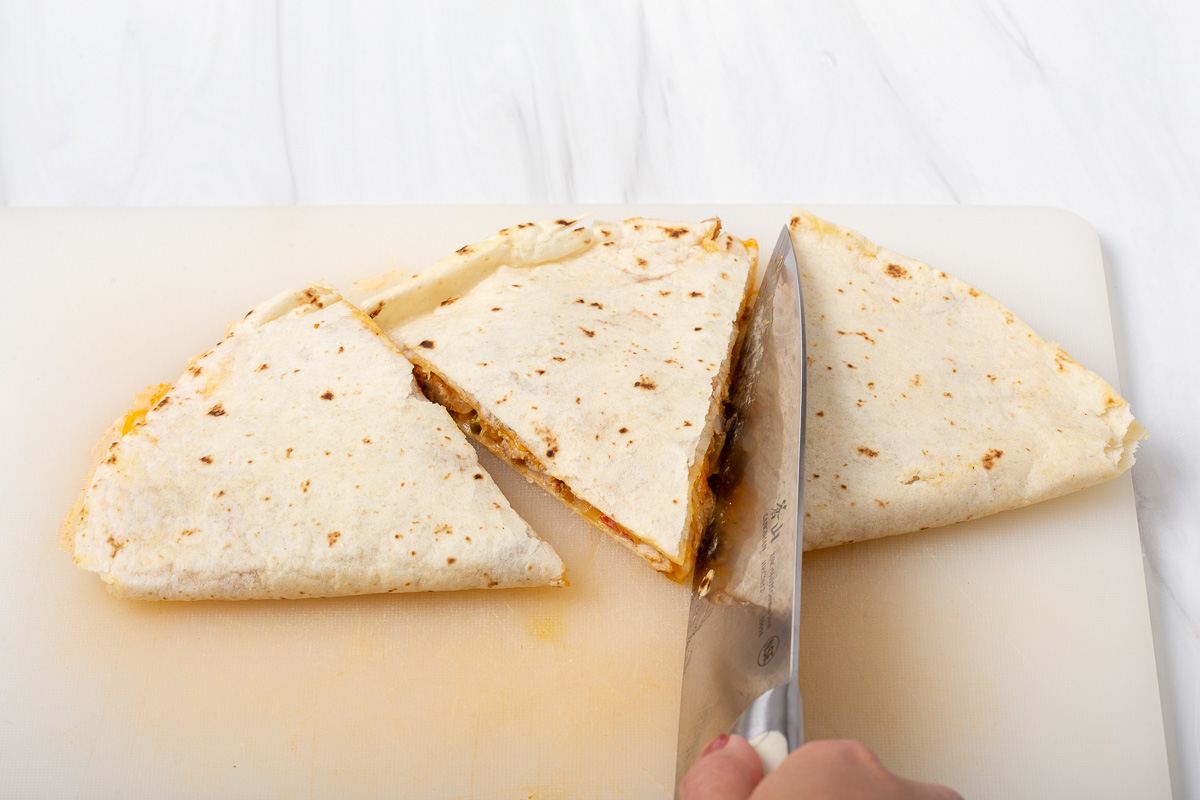 Make the Soup
In a small saucepan, boil 4 cups of water. Add the packet of Knorr Sopa Mexicana and follow the directions on the packaging. Serve immediately.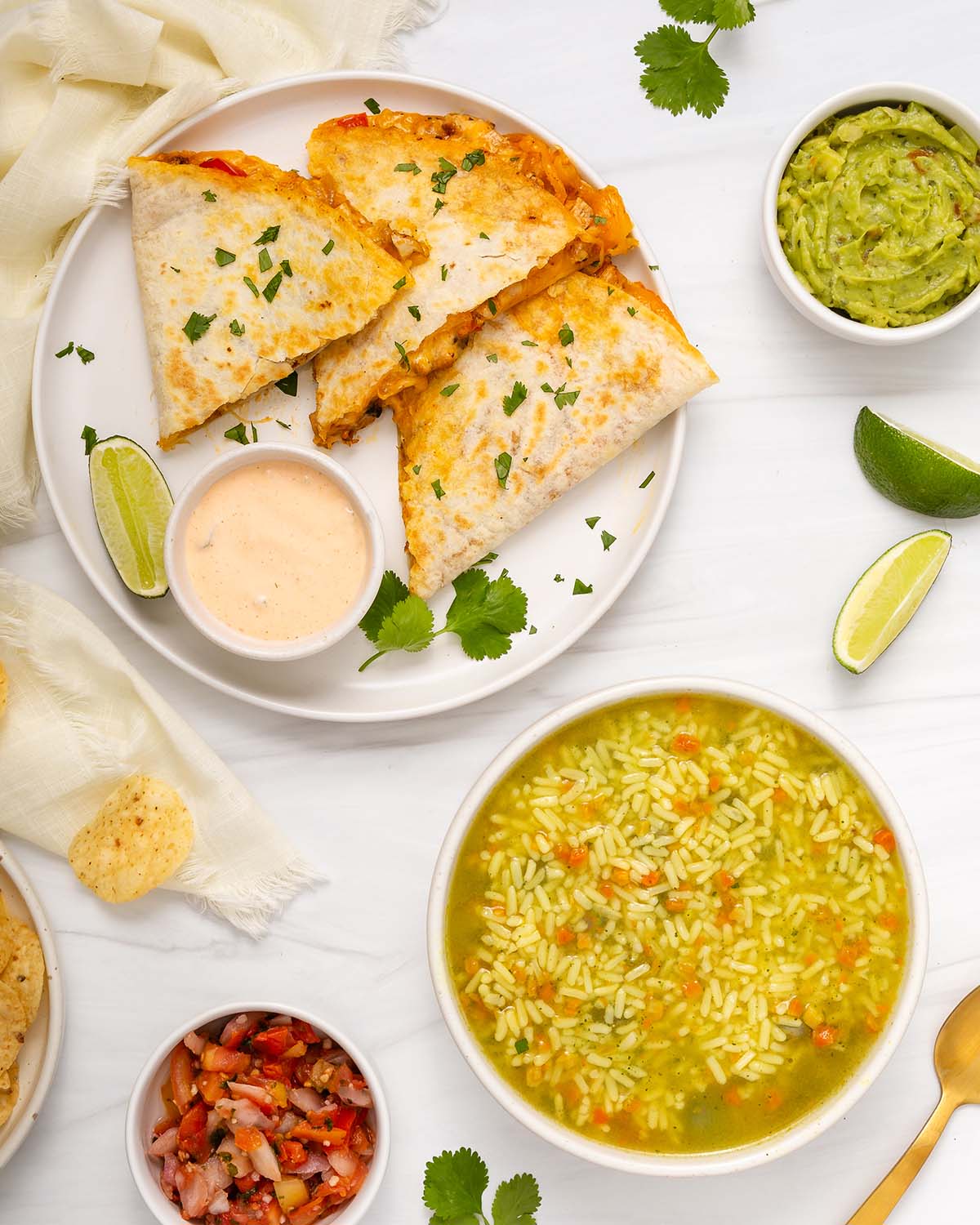 Tips For This Recipe
Caramelize the onions. Make sure to use enough oil to coat the diced onions and sauté them over the pan until browned, fragrant and translucent. Caramelizing the onions may be tedious and take a bit of time, but trust me it will improve the taste of the entire quesadilla by adding a layer of savory sweetness.
Make sure the chicken reaches an internal temperature of 165 degrees F. The heat may vary depending on your stove which means the cooking time may vary as well. For the best results, use a meat thermometer to check the internal temperature of the thickest portion of the chicken. Or you can simply slice the chicken to see if you cooked it through.
Heat the quesadilla until the tortilla lightly browns and the cheese has melted. Again the cooking time will vary depending on your stove. Keep a close eye on the quesadilla. You will know it is cooked when the tortilla lightly browns and the cheese has melted.
Storage Instructions
You can store the leftover sriracha mayo chicken quesadilla in an airtight container in the refrigerator for up to 3 days. To reheat, you can either microwave them or cook them on a skillet until warm.
👩🏻‍🍳 Recipe