This miso carbonara udon recipe comes together in under 15 minutes and is the best comfort meal of the season. This quick and delicious udon recipe contains a creamy umami miso parmesan cheese sauce tossed with crispy thick-cut bacon and green onions.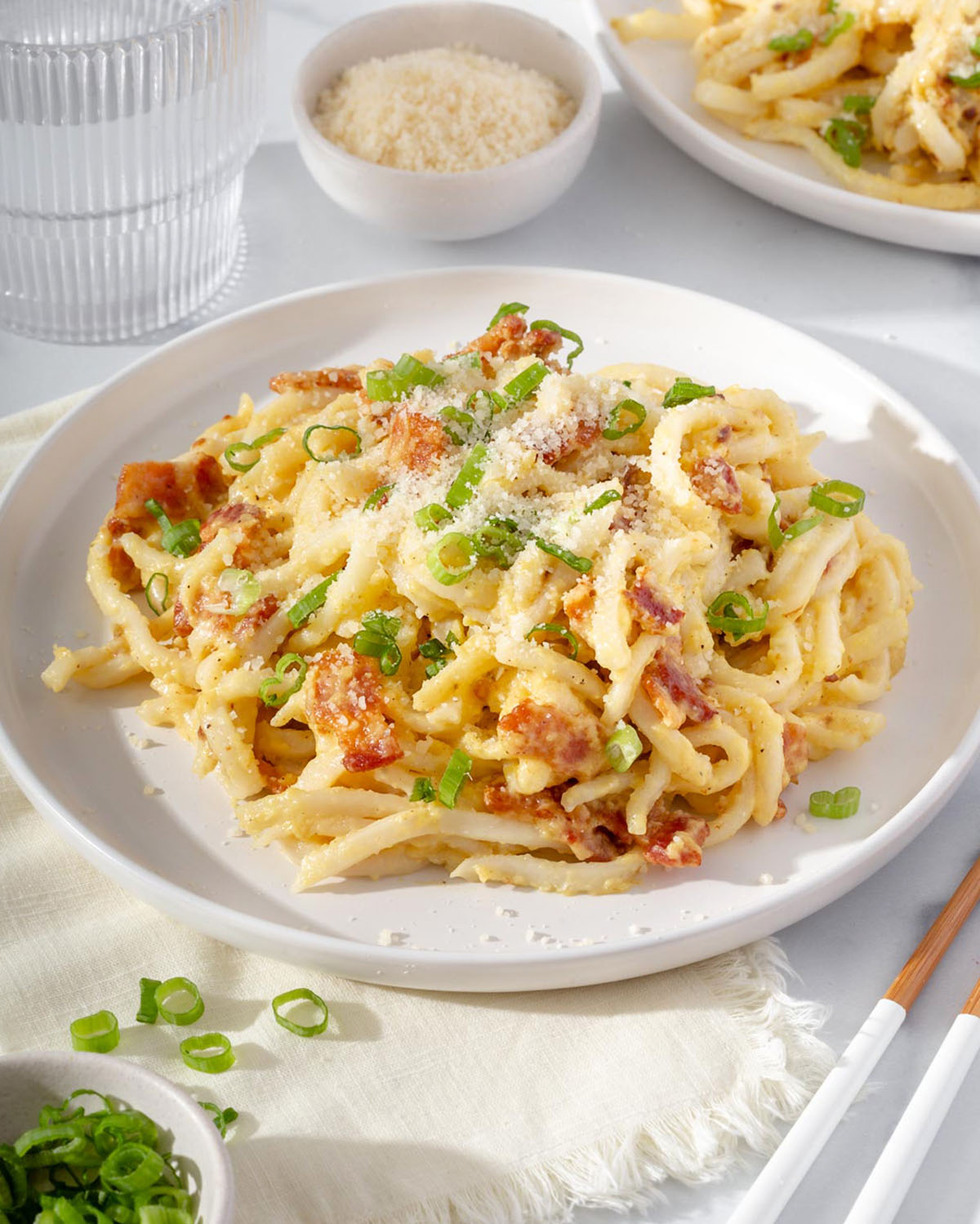 If you are looking for a quick yet incredibly satisfying udon recipe, look no further. I got you. This miso carbonara udon is the QUEEN of comfort food. This recipe contains thick satisfying udon noodles coated with a creamy garlic miso parmesan sauce and tossed with crispy thick-cut bacon pieces. Can we all take a moment to show some gratitude for the existence of all of these ingredients? This incredibly decadent udon recipe will make you feel like you are fine dining in a 5-star restaurant. Bonus: you don't have to break the bank to achieve this delicious dish at home!
This miso carbonara udon will pair really deliciously with a cold glass of matcha lemonade and a fluffy Japanese strawberry shortcake for dessert!
An Introduction to Miso
Miso is a fermented paste that is made by fermenting a mixture of soybeans and a mold called kohi. Over weeks, the enzymes in the koji and microorganisms in the environment will break down the structure of the beans and grains into amino acids, fatty acids, and simple sugars. The result yields a salty, earthy, umami paste that can only be made with nature and time.
There are multiple kinds of miso, white miso, yellow miso, or red miso. White miso is also known as sweet miso and is the mildest. They are made from soybeans and a high percentage of rice which creates a slightly sweet taste. Yellow falls in the middle it is fermented with a smaller amount of rice than white miso and is fermented longer than white miso. Red miso is made from soybeans, barley, and other grains and is fermented the longest. It has a mature taste, rich umami flavors, and is the most pungent type of miso.
For this recipe, I will be using white or sweet miso for a soft mild miso flavor. You can buy white miso online or at your local Asian grocery store in the refrigerated aisle.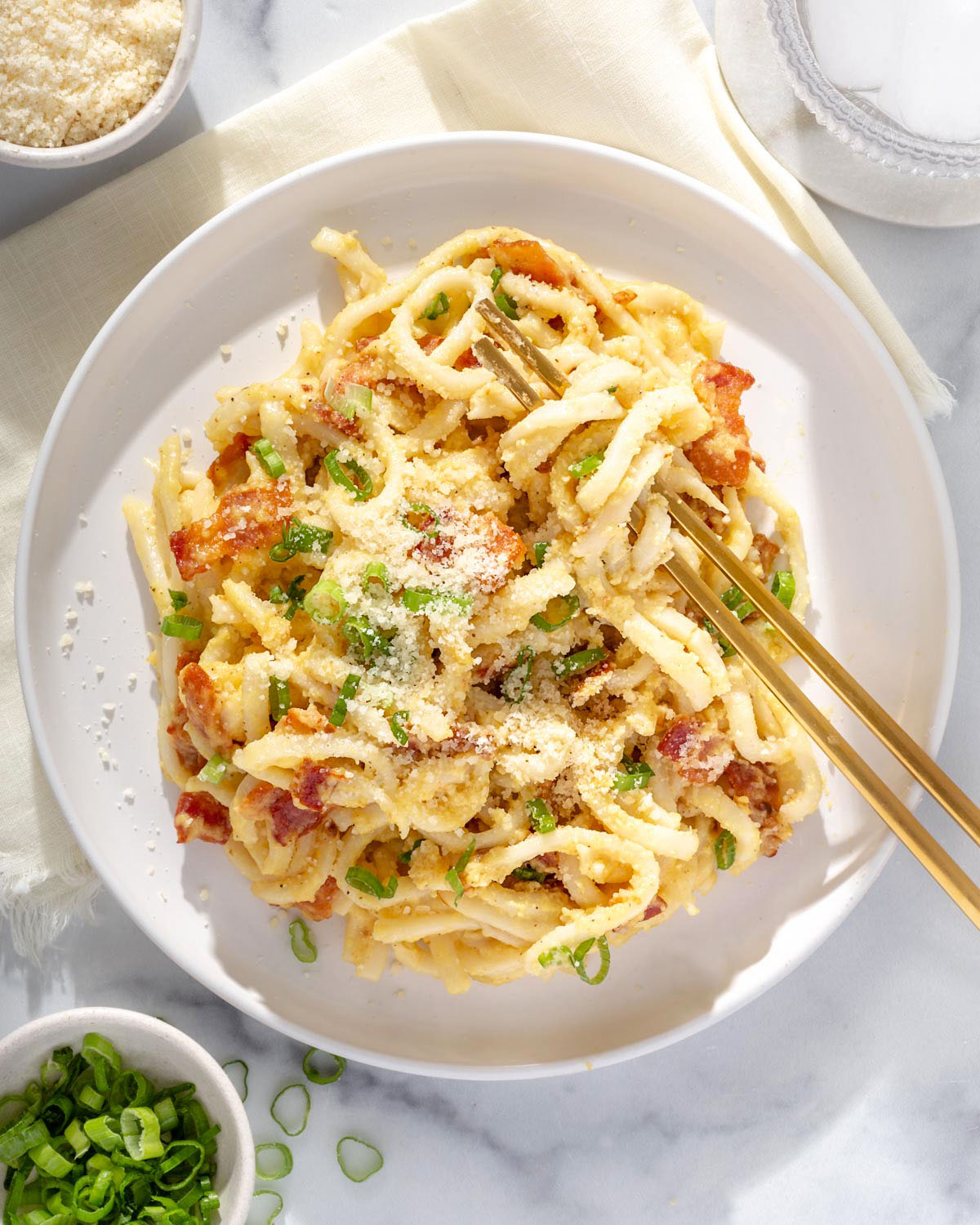 Kitchen Equipment For this Recipe
Cheese grater: for best results, I reccomend freshly grating your cheese with a

cheese grater

to get the richest flavor.
Medium sized pot: you will need a medium sized pot to cook your udon noodles
Medium sized wok or skillet: you will need a wide and thick enough skillet cook the bacon and to toss the sauce with the udon noodles. I recommend using a

stone wok

for even cooking.
Ingredients For this Recipe
Thick Cut Bacon: the best part of this dish. A thicker cut bacon will hold its shape better when you toss the noodles in the thick sauce.
Udon Noodles: try to buy fresh udon noodles at your local Asian grocery store. Frozen works as a good substitute.
Eggs: the eggs are the base of the creamy texture of this recipe that acts as a binding ingredient to the cheese.
Parmigiano Reggiano: freshly grated Parmigiano Reggiano is best for this recipe.
White Miso or Light Miso: opt for a white or light miso for a soft umami flavor addition. Miso is already pretty salty and in combination with the bacon and Parm you don't want to over power the saltiness with a stronger miso. You can buy

white miso

at your local Japanese or Asian grocery store.
Garlic: the garlic adds a hint of aromatic to the dish deepening the flavor profile.
Black Pepper: always try to use freshly grated black pepper for the most flavor.
Green Onions: the green onions add a pop of color and make a delicious garnish. You can use parsley as well for a substitute.
What other cheeses can I use?
For this miso carbonara udon recipe, you can also use Pecorino Romano, Grana Padano and aged Asiago cheese. All are hard salty and grainy cheeses that will work beautifully in your dish. You can choose one over the other or mix and match! It's your dish, customize it to your liking.
How to Make This Recipe
This miso carbonara udon recipe is super simple and only requires 5 simple steps.
Cook the bacon and garlic. Dice the bacon into small about ¼ inch wide pieces. In a large skillet on medium high heat, cook the bacon until crisp and the fat renders, about 5-7 minutes flipping every few minutes. When the bacon is just about done, add the minced garlic and saute until golden brown. Remove the bacon and garlic and reserve 1-2 tablespoon of bacon fat.
Prepare the sauce. In a medium mixing bowl, whisk together the egg yolks, whole egg, miso paste, and pepper until fully combined. Set aside.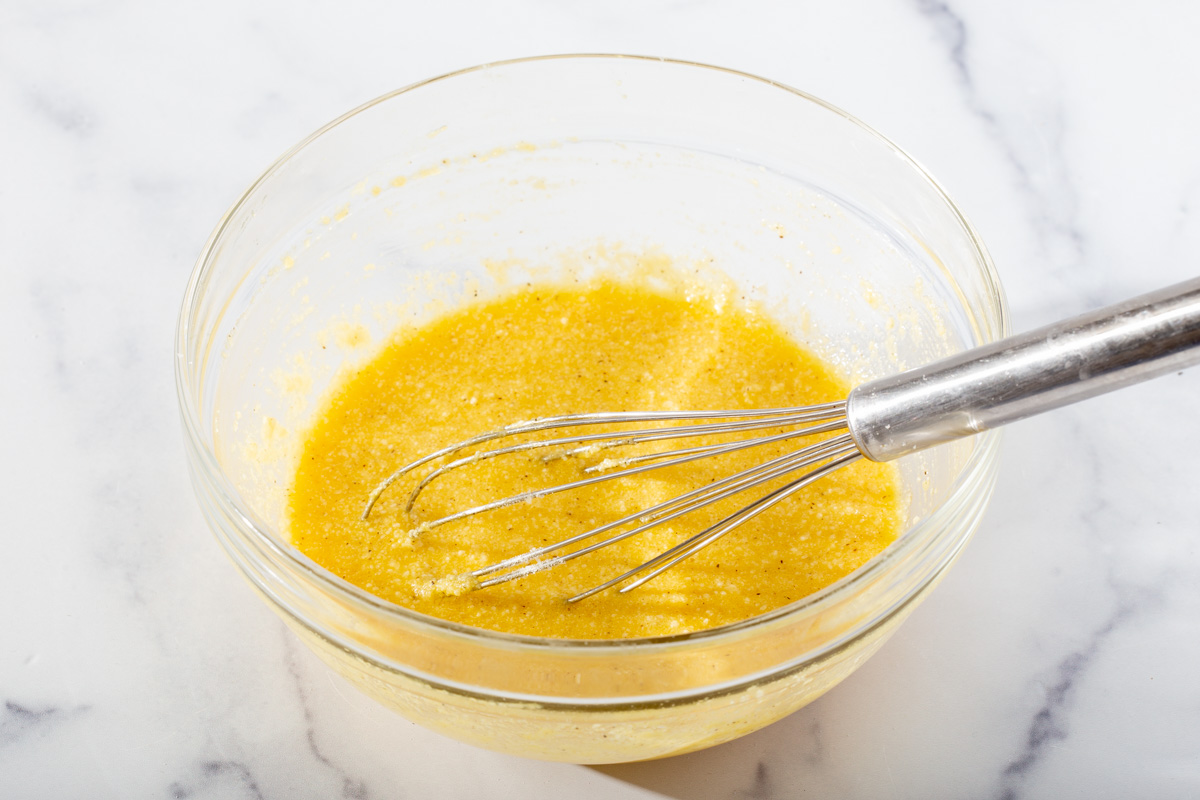 Boil the udon noodles. Bring a large pot of salted water to a boil. Cook the udon according to the package instructions. If using fresh udon noodles boil for 3 minutes or 8 minutes for dried noodles. Reserve 1 cup of cooking water. Using tongs, directly pull the udon from the pot directly into the skillet. The heat of the noodles is important! It will heat the eggs and melt the cheese without curdling it.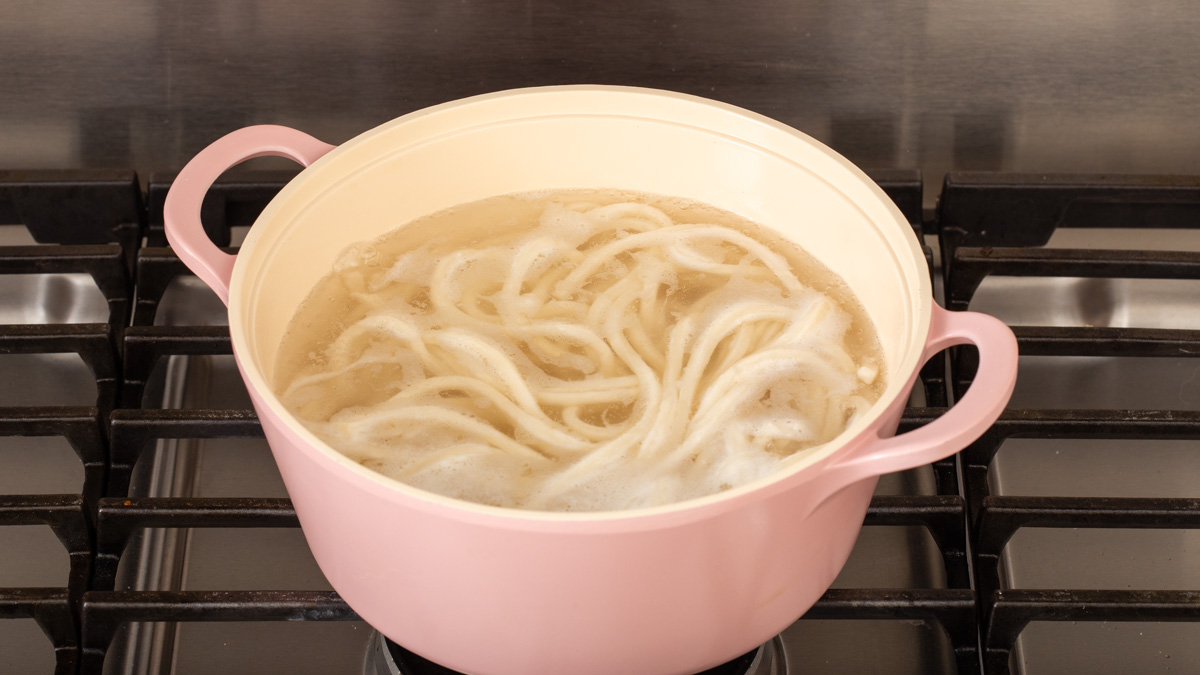 Combine the udon with bacon and sauce. In the same skillet, on medium heat add the, reserved bacon fat and bacon and toss until combined. Then pour in the egg mixture and quickly toss until the sauce coats the pasta. Be careful to not scramble the eggs. Slowly add the reserved water 1 tablespoon at a time until the sauce reaches your desired creamy consistency.
Top with scallions and a healthy amount of freshly grated parm. Enjoy!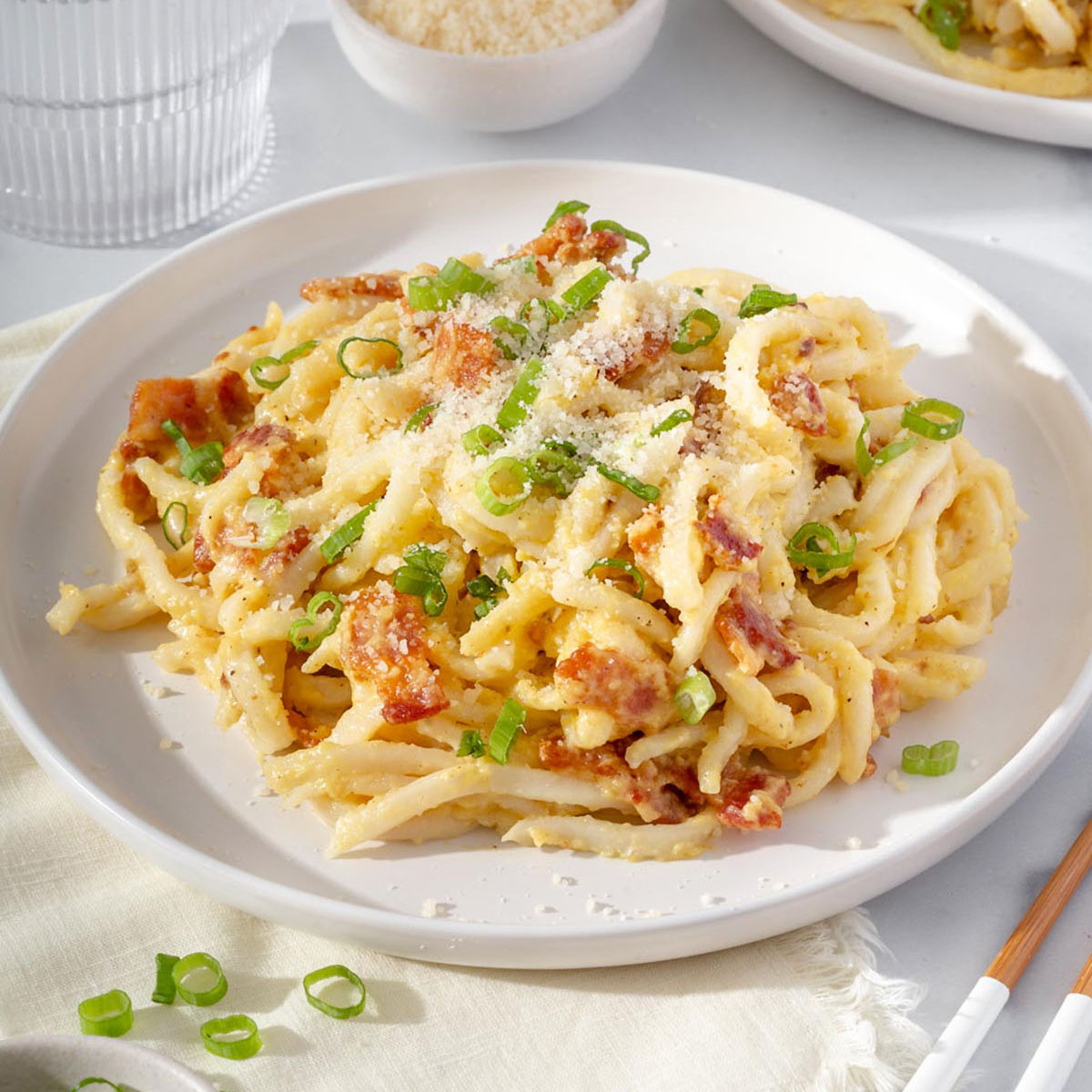 Tips For This Recipe
Use freshly grated Parmesan! Freshly grated parmesan melts better and gives the dish a richer flavor.
Remember to reserve the udon water! The udon water will help make the sauce the perfect creamy consistency. Add the reserved udon water one table spoon at a time to reach your desired consistency.
When adding the sauce to the udon noodles, turn down the heat and work quickly. You want your sauce to be creamy and smooth. If you do not turn down the heat and stir the sauce immediately into the udon noodles, you may cook the eggs and turn them into scrambled eggs. This will leave some small clumps in your sauce.
Serve this dish immediately after cooking.
Storage Instructions
This miso carbonara udon tastes best when served immediately. When you store the udon in the refrigerator the cheese and egg will separate and you will lose that creamy consistency. However, you can store it in an airtight container for up to 4 days and reheat it in the microwave. It will be just as delicious even though the texture consistency will be different.
You May Also Love...