This easy and delicious 15-minute steak Ram-Don from the movie Parasite gained worldwide popularity for a reason—it's AMAZING. Trust me the hype is real for these noodles.
Steak Ram-Don or Jjapaguri is simply a combination of two popular Korean instant ramens Chapagetti and Neoguri. When I watched the movie Parasite, my favorite part of the movie was when one of the main characters was eating this steak Ram-Don. I HAD to have it. After looking into it, this meal is 1. extremely quick and easy to make and 2. incredibly satisfying. Pair it with a refreshing glass of strawberry milk and you have got yourself a gourmet meal!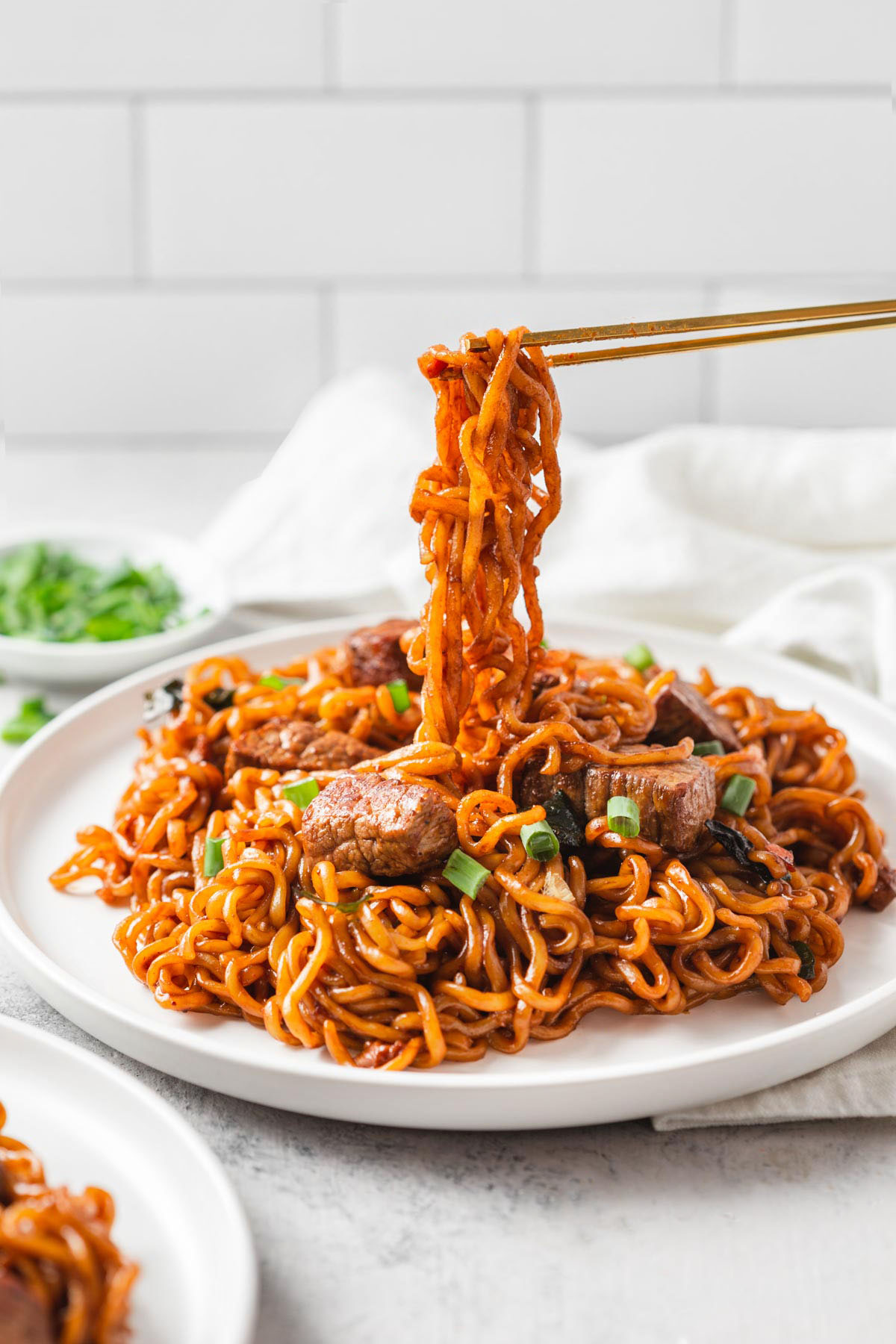 What is Ram-Don or Jjapaguri?
Ram-Don or Jjapaguri is a meal created by combining two different Korean instant noodles Chapagetti (짜파게티) Chinese-inspired jajang ramen noodles and Neoguri (너구리, Japanese-style udon reimagined in a spicy Korean seafood broth.
The term "ram-don" was invented for the film by subtitle translator Darcy Paquet, as the actual Korean name for the dish, jjapaguri—a combination of two types of instant noodles—was too difficult to translate for an English-speaking audience. Paquet figured audience members would, however, likely be familiar with "ramen" and "udon," and so he mashed up the two.
Ingredients For This Recipe
Jjapaghetti or Korean instant black noodles: You can find

Jjapaghetti Korean ramen online

or at any local Asian grocery market.
Neoguri or Korean instant spicy seafood udon noodles: You can find

Neogrui ramen online

or at any local Asian grocery market.
Steak: treat yourself to a nice cut of tender steak.
Salt and pepper: used to season the steak.
Unsalted Butter: optional for the steak
Garlic cloves: optional for steak
Green onions: optional for garnish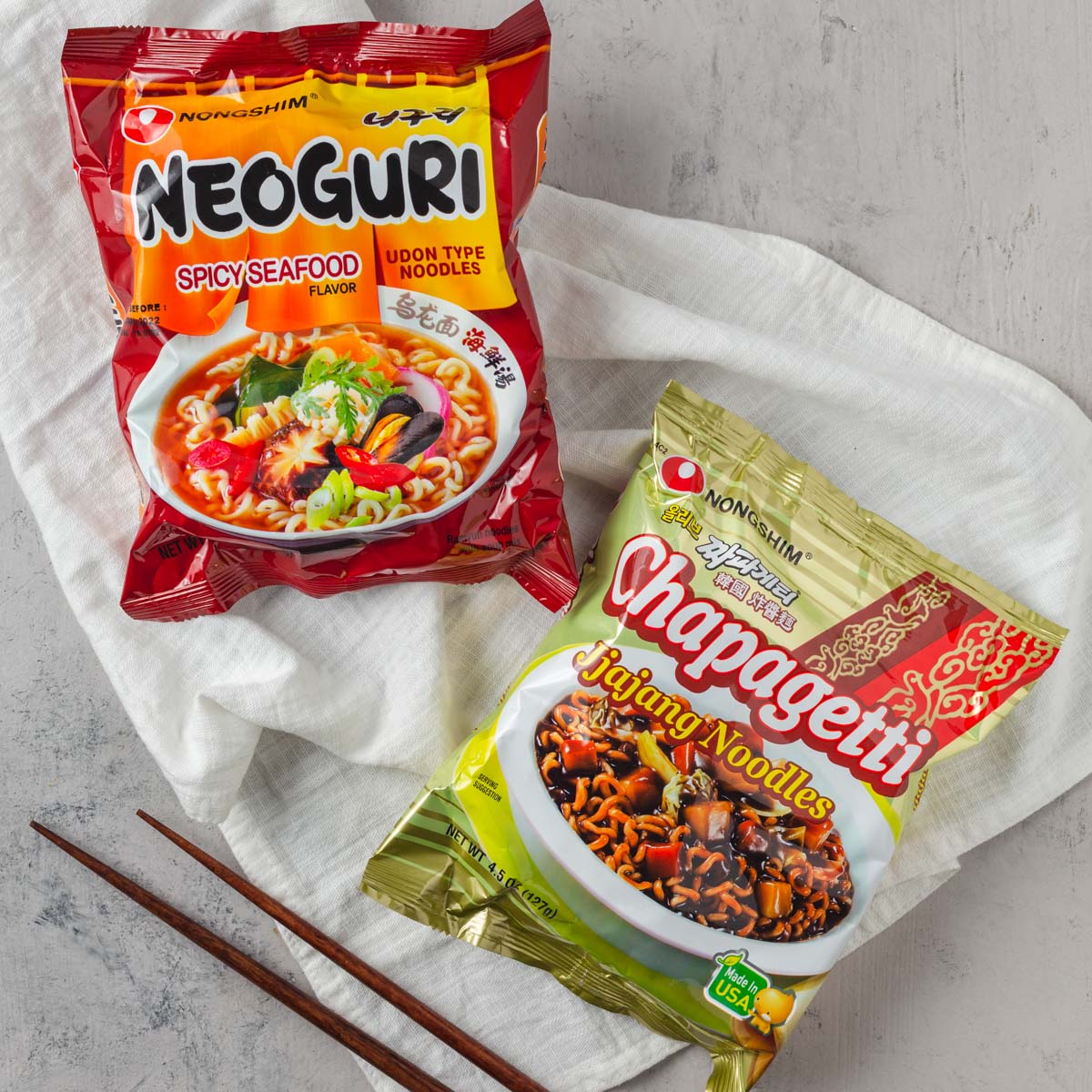 How To Make This Recipe
Making Steak Ram-Don requires only two key steps 1) sear the steak and 2) cook the instant noodles together.
I. Sear the Steak
Prepare the steak. Take the steak out of the refrigerator and dry with a paper towel. Season generously with salt and pepper. Set aside and let the steak come to room temperature for about 30 minutes.
Cut the steak into cubes. Use a newly sharpened knife for best results.
Heat the pan over high heat. Using a cast-iron pan or a medium-sized pan place on the stove and heat over high heat. You can test if the pan is hot enough if a sprinkle of water sizzles immediately when it hits the pan.
Add a touch of neutral oil and sear the meat for 1-2 minutes on two sides. After 30 seconds of adding the meat, add the butter and garlic cloves, then baste the steak by using a spoon and continuously pouring the melted garlic butter over the steak while it cooks.
Take the steak out of the pan to rest and stop cooking.
II. Cook the Noodles together
Boil 4 cups of water in a medium-sized pot on medium-high heat.
Once the water is boiling, place the Jjapaghetti noodles, Neoguri noodles, and dried vegetable flakes from both packets in the pot.
Cook the noodles for about 3 minutes. Using chopsticks or tongs mix the noodles around and lift the noodles to separate.
Scoop out about 1 cup of noodle water and set aside. Then drain the noodles.
Pour the noodles back into the pot. Then add the entire packet of Chapagetti powder seasoning and oil packet and ⅓-1/2 of Neoguri powder seasoning and mix. (If you want added spiciness, you could increase the amount of Neoguri powder soup sauce.)
Slowly add in the reserved noodle water 1 tablespoon at a time until you reach a desired thick consistency (about 6 tablespoons). Toss in the steak and mix thoroughly.
Serve with green onions and kimchi. Enjoy!
Tips For This Recipe
Season the beef generously with salt and pepper for 30 minutes before you plan to cook it. This will bring the steak to room temperature and cook evenly.
Before searing the meat make sure your pan is hot! Test with a drop of water onto the pan. It should sizzle.
Remember to save some of the reserved noodle water to loosen up the powder seasonings!
The Neoguri powder is VERY SPICY. If you can handle it add the entire packet in. If you are a spice wimp like me use about ⅓ of the packet. This is entirely based on personal preference.
Storage and Re-Heating Instructions
Steak Ram-Don is best eaten immediately. But you can also store it in an airtight container in the refrigerator for up to one week. You can reheat it in the microwave with a wet paper towel, but keep in mind the steak will also continue to cook in the microwave.
You may also love...