Fall is here! These pumpkin spice mochi muffins are crunchy on the outside and chewy on the inside and filled with deep flavors of caramel, brown butter, coconut milk, and pumpkin spice. Dive into a stack of these pumpkin spice mochi muffins for an autumnal party for your tastebuds.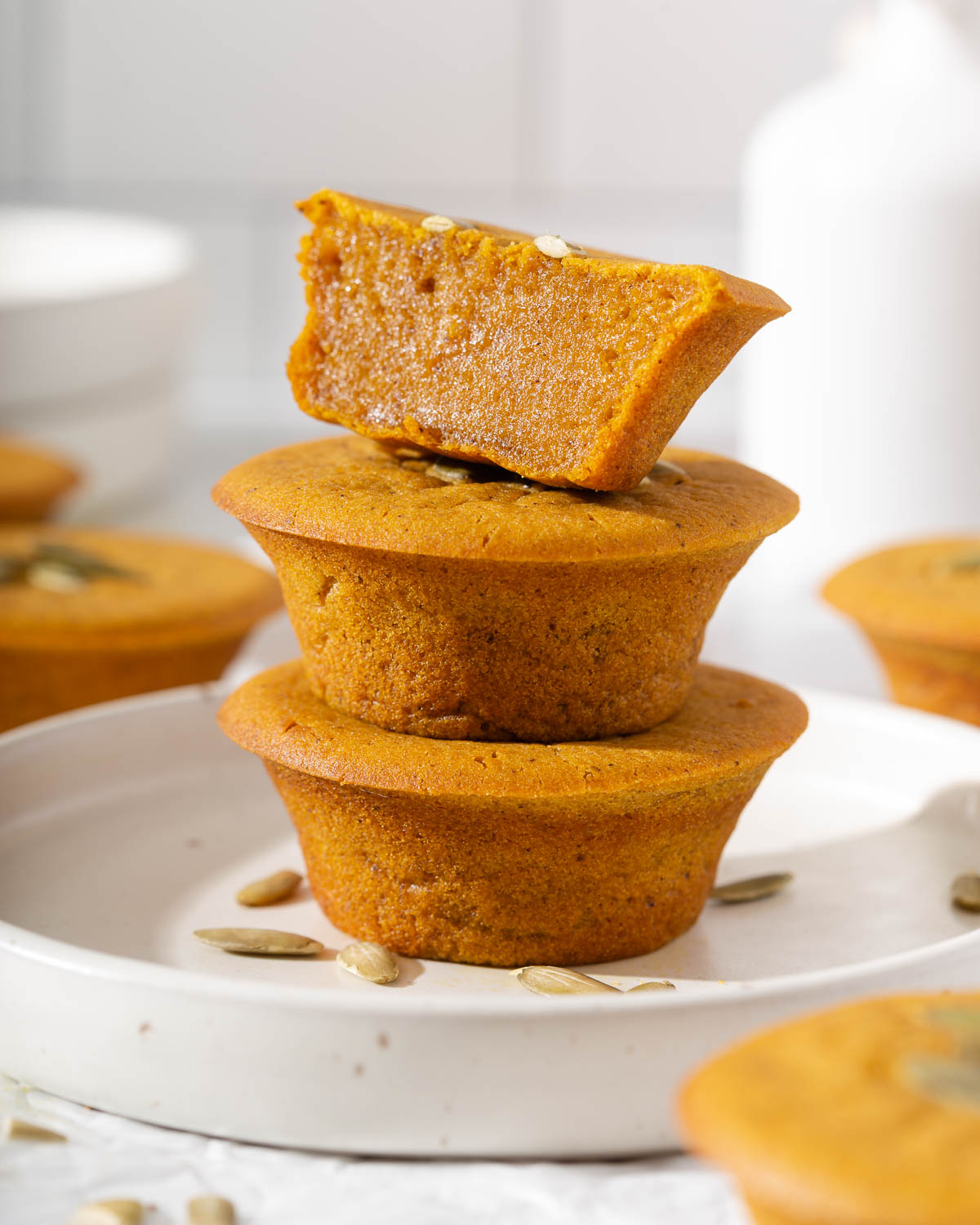 Name the first five words that come into your mind when autumn hits. I'll go first. Pumpkins. Spice. Baking. Muffins. It's officially cuffing season, which means cozying up inside with warm blankets and pumpkin spice everything. Plus it isn't really fall unless you treat yourself to pumpkin spice baked goods.
These pumpkin spice mochi muffins are here to satisfy your fall cravings while you cuddle up inside with a warm cup of tea and watch a re-run of your favorite Harry Potter movie. These pumpkin spice muffins have a slight crisp on the outside with a soft chewy interior that is packed with rich pumpkin spice flavors mixed with browned butter and coconut milk. Plus these pumpkin spice mochi muffins are a gluten-free alternative to regular muffins! If you love fall flavors, check out my apple cider mochi donuts, and my mini pumpkin basque burnt cheesecake as well.
Jump to: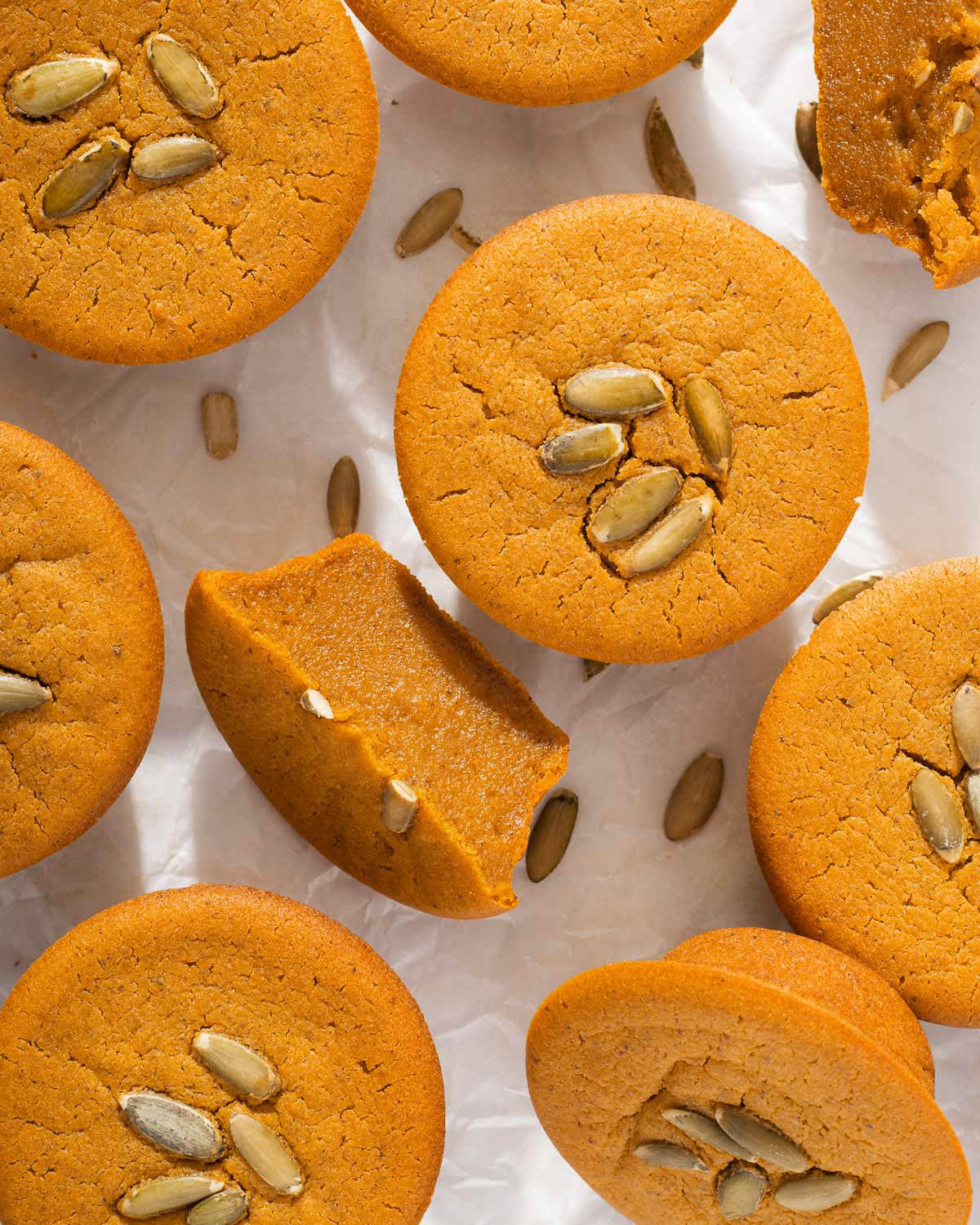 What are mochi muffins?
Mochi muffins were invented in 2014 in the bay area by Sam Burtarburtar when he was baking for his French-inspired bakery, Sam's Patisserie. His customers kept asking for a gluten-free option. He then teamed up with Wenter Shyu in 2017 and created Third Culture Bakery, a Berkeley coffee shop.
The mochi muffin's signature texture has a crispy outer layer with chewy mochi texture on the inside. It is made with rice flour, browned butter, coconut milk and is flavored with a variety of different Asian fusion flavors. For these pumpkin spice mochi muffins, I am paying homage to these absolutely delicious mochi muffins while adding my own fall twist on them.
Kitchen Tools For This Recipe
Ingredients For This Recipe
For these pumpkin spice mochi muffins, you only need a handful of ingredients most of which you can find at your local grocery store or online.
Unsalted butter: butter is slightly browned in this recipe to give it a nice nutty flavor.
Coconut Milk: coconut milk aids in the moist crumb of these mochi muffins. For best tasting results, use full-fat coconut milk, specifically

Chef's Choice coconut milk

.
Whole Milk: the mixture of coconut milk and whole milk allows a nice creamy balance without too much coconut flavor.
Dark brown sugar: the brown sugar adds a rich molasses-y sweetness to the mochi muffins that just scream fall.
Large Eggs: eggs bind the ingredients together, aid in the rise and adds richness to the muffins.
Vanilla Extract: vanilla adds another layer of warmth and sweetness to the muffins.
Pumpkin puree: this is what makes these pumpkin mochi muffins. Use your go-to pumpkin puree for best results. I love using

Libby's pumpkin puree

it always has the most consistent and rich pumpkin flavor.
Sweet Rice Flour: is what makes the mochi muffins well chewy and have that signature mochi texture. For the best results, opt for

Mochiko rice flour.

Baking Powder: aids in the rise.
Salt: balances out the sugar and sweetness
Cinnamon, ginger, cloves, nutmeg: these are the key spices for any fall bake. Whenever there is pumpkin there are spices.
Non Stick cooking spray: is important in getting the pumpkin mochi muffins out of the tin!
How to Make This Recipe
This is a very simple less than 30 minutes pumpkin spice mochi muffin recipe. All you will need to do is brown the butter, mix the wet ingredients together, mix the dry ingredients together, combine and bake!
Prepare your oven and muffin tin. Preheat your oven to 350°F or 177°C. Spray your muffin tins generously with nonstick cooking spray making sure you hit all the sides.
Brown the butter. Melt the butter in a small saucepan over medium heat. Simmer for about 4 minutes until it turns slightly brown.
Add in wet ingredients + sugar. Remove the pan from the heat and whisk in the coconut milk, milk, and brown sugar until the sugar has dissolved and combined. Whisk in eggs, vanilla and pumpkin puree until smooth. Set aside.
Whisk the dry ingredients. In a large mixing bowl, whisk the rice flour, baking powder, salt, and spices until combined. Slowly pour the wet mixture into the dry ingredients and whisk until smooth.
Fill and bake. Fill muffin tins up to just below the rim. Smack the muffin pan 1-2 times on the counter to remove any air bubbles. Top the muffins with a few pumpkin seeds. Place in the oven and bake for 35-40 minutes or until slightly browned.
Chill and serve. Remove the muffins from the oven and allow them to cool in the tin for 5 minutes before removing them onto a wire rack to cool completely. Enjoy!
Tips For This Recipe
Use a scale to measure out your ingredients! I will say this for every one of my baking recipes. Using a scale will guarantee that you will have the correct measurements for every ingredient, whereas measuring cups vary vastly amongst different brands.
Make sure to coat your muffin tin with non-stick cooking spray. This is an important step to prevent your muffins from sticking to the pan and it will also give the muffins the characteristic flat top.
Watch the muffins in the final 5 minutes in the oven. You will know that the muffins are baked if they are lightly browned around the edges of the muffins. Every oven will have varying temperature so the bake time may differ depending on how hot or cold your oven runs.
Storage Instructions
These pumpkin mochi muffins are best served the day they are baked. You can store them in an airtight container on your counter for up to 3 days.
👩🏻‍🍳 Recipe