This air fryer chicken katsu curry contains crispy panko breaded chicken on a warm bed of white rice smothered in a rich creamy curry sauce packed with carrots and potatoes. This easy yet incredibly satisfying air fryer recipe will keep you coming back for seconds and thirds.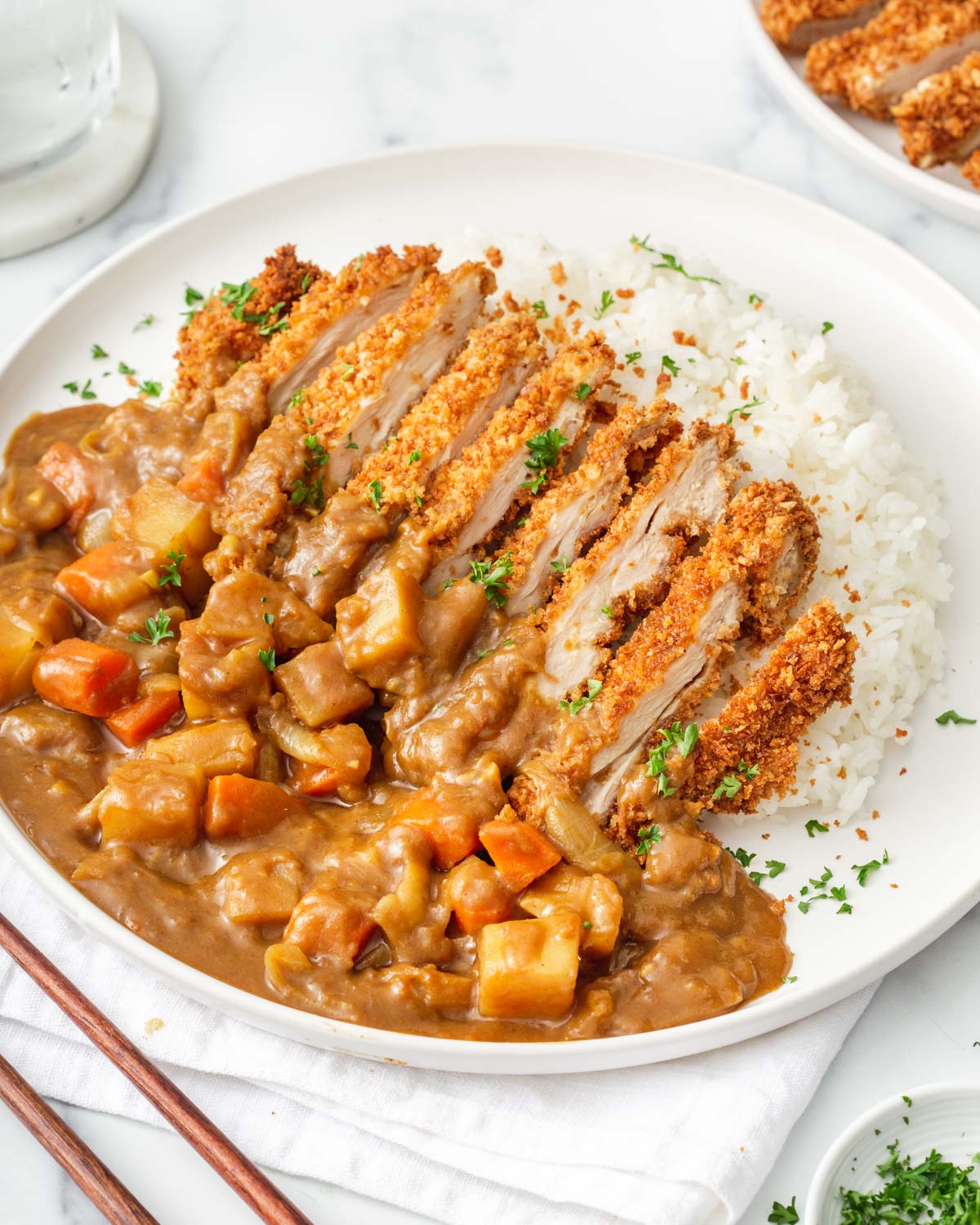 Nothing screams comfort food like a giant plate of Japanese air fryer chicken katsu curry. The warm sweet yet savory curry wraps around softened carrots and potatoes on top of a bed of fluffy white rice and crispy yet juicy slices of chicken katsu.
This recipe for Japanese air fryer chicken katsu curry has got to be one of my all-time favorite Japanese fusion dishes. This is saying a lot considering I am not a huge fan of curry. But when it comes to Japanese curry the flavors are sweeter, softer, and more nuanced. It screams comfort dish and satiates my hunger with every bite. Plus, it pairs so perfectly with air-fryer tonkatsu pork or chicken katsu cutlet that it is nearly impossible to say no to. You can serve this Japanese Chicken Katsu Curry with rice or sandwich it and turn it into Chicken Katsu Curry Sliders!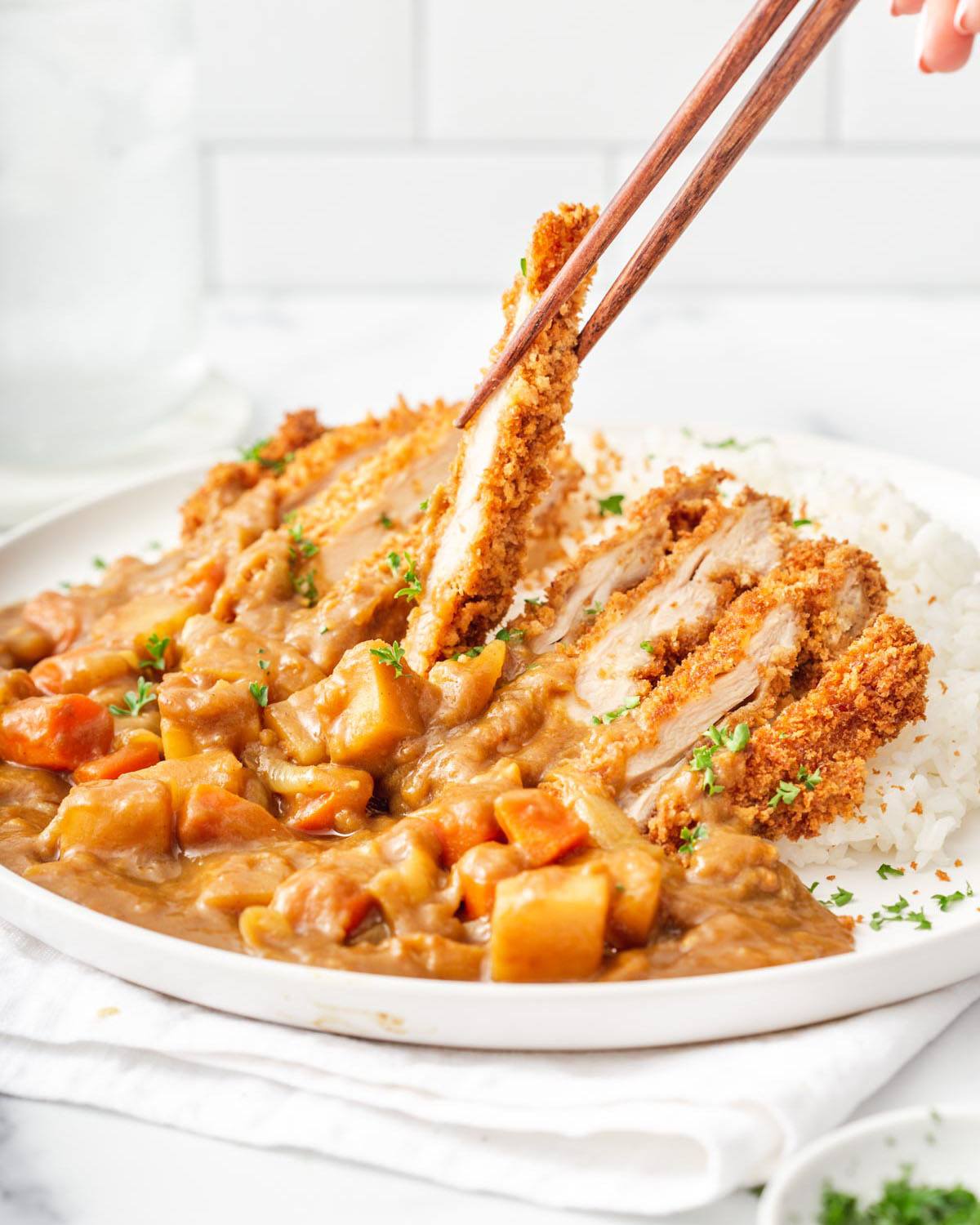 What is Japanese curry?
Japanese curry has a thicker consistency and sweeter taste than Indian curry. The sweetness stems from the caramelized onions, carrots, apples, and honey.
Japanese curry was brought over to Japan from India by the British. It gained popularity with the Japanese Army and Navy and became common in school cafeterias. By the 1950s the curry roux in block form was introduced by S&B foods so that the everyday home cook can make it quickly and easily at home.
Japanese curry is commonly served in three main forms curry rice, curry udon, and curry bread.
Japanese Curry Roux Brands
There are a variety of Japanese curry roux brands to use. There's Java curry, Golden curry, Vermont curry, and Kokumaru curry. After reading countless articles about which brand to go with, we decided on Kokumaru curry made by House Foods and we did not regret our decision. This brand has the best color, thick texture, and taste. Kokumaru is well balanced, rich, and has a toasty onion flavor with a hint of clove. It comes in medium or hot so you can select whichever spice level you can handle. You can buy Kokumaru curry online or in your local Japanese or Asian grocery market. You can experiment with the different curry roux that you find and even mix them together!
Kitchen Equipment For This Recipe
Air fryer: For this recipe, I opted for the healthier option of using an air fryer instead of deep frying the chicken cutlets. An

air fryer

is my favorite kitchen appliance that I have purchased. It gives me a crispy, juicy chicken without all the fat, grease and messy clean up of regular deep frying. If I were you, I'd invest in an air fryer if you haven't already.
Ingredients for This Recipe
Chicken: You can use chicken breast or chicken thigh for this recipe. I am a sucker for dark meat so I always use chicken thigh.
All-Purpose Flour: seals in the chicken and prevents it from being tough. Using all-purpose flour is the best choice because it can withstand the high heat.
Egg: binds the flour and the panko bread crumbs to the chicken.
Panko bread crumbs: Panko is a Japanese breadcrumb made from purely white bread. The panko flakes are larger than bread crumbs that provide a light and airy texture giving the Tonkatsu that beautiful crispy finish.
Curry Roux: the invention of the instant curry roux was a game changer for making Japanese curry at home. This dramatically shortens the time to make Japanese curry at home. Choose your favorite curry roux or my personal favorite

Kokumaru curry roux

!
Onion, potato, carrot, garlic: these are the most common vegetables used in Japanese curry. You can opt out of adding the potato and carrots if you'd like a simpler curry. The onion and garlic add more seasoning and flavor to the curry roux.
Apple and Honey: the apple and honey together are the secret ingredients to Japanese curry. They are what bring out a subtle form of sweetness that makes Japanese curry so distinct from other curries.
Chicken Broth: the chicken broth adds another layer of flavor to the curry roux. If you don't have chicken broth at hand you can also use water.
How to Make This Recipe
This air fryer chicken katsu curry only requires two separate steps you will need to prepare 1) make the air fryer katsu chicken and 2) make the Japanese curry.
Make the Katsu Chicken
Prepare the chicken. Using a meat tenderizer, pound the chicken until the thickness of the chicken is even. If you have a large chicken breast or thigh, slice the chicken in about ½ inch thick slices. Dry the chicken with a paper towel. Generously season with salt with pepper. Set aside.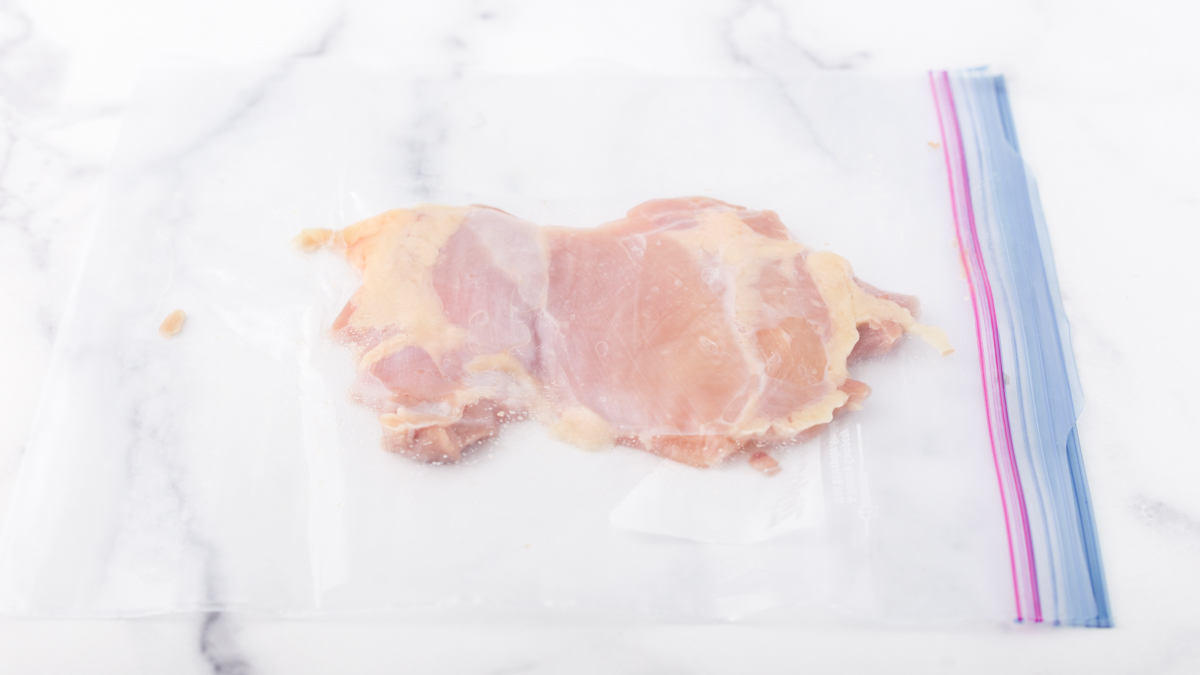 Brown the panko crumbs. Add the panko crumbs into a frying pan on medium low heat and gently toss until medium brown. Then transfer to a flat bowl or tray.
Prepare the egg and flour bowls. In a medium sized mixing bowl, whisk the eggs. In a separate bowl, add the flour.
Coat the chicken. First, dredge the chicken in flour and shake off the excess. Second, dip the chicken into the eggs and drip off the excess. Lastly, coat the chicken in the panko and remove any excess.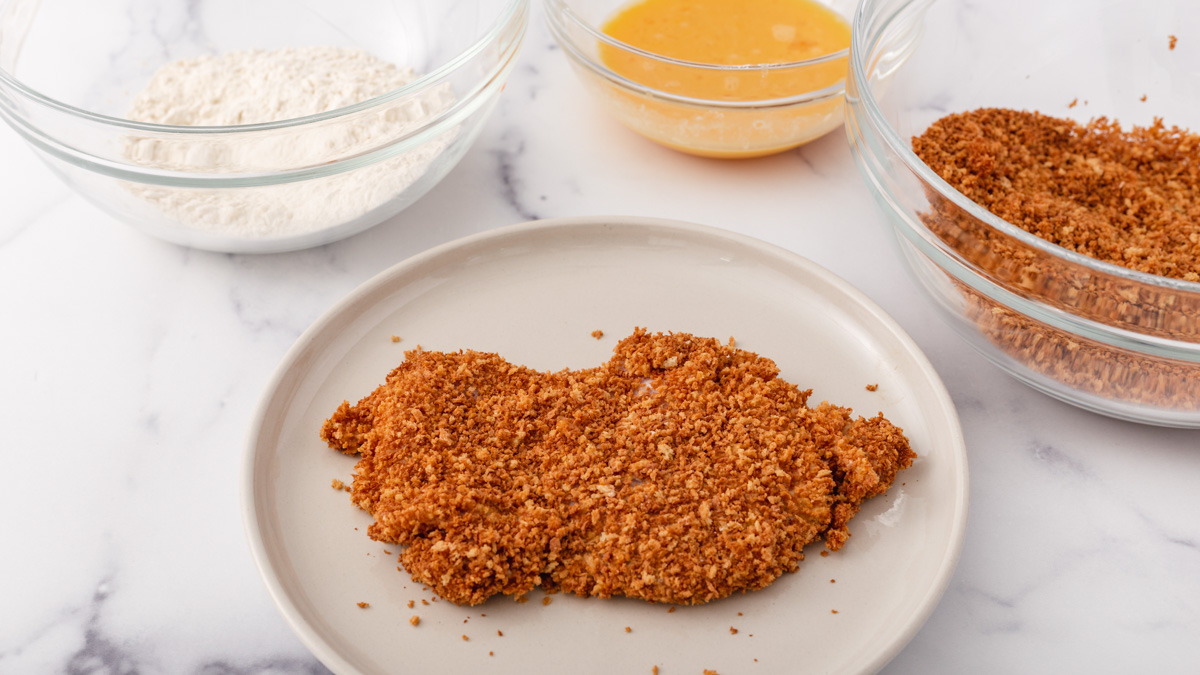 Cook the chicken. Preheat air fryer to 330ºF and cook for 7 minutes.
Then increase the heat to 380ºF and flip and cook for 4 minutes. The time might vary depending on how large your cuts are. You can test by slicing the chicken in half to see if it is still raw. If raw, cook for ano ther 2-3 minutes.
Slice the chicken. Slice the chicken cutlet into 1 inch slices.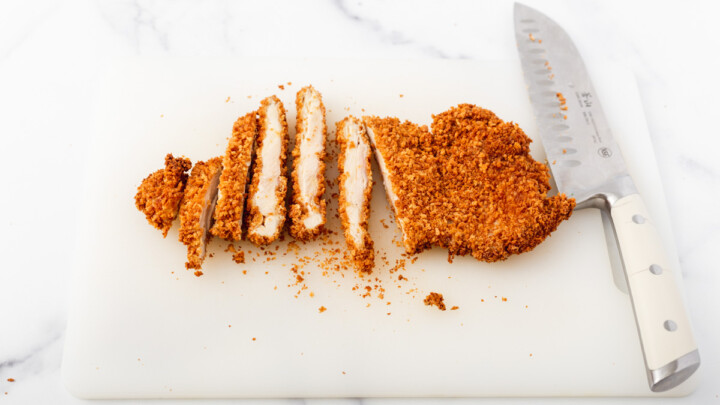 Make the Japanese Curry.
Prepare the vegetables and apple. Peel and dice the potato and carrot into diced pieces about 1 inch thick. Soak the potato in water for about 10 min to remove excess starch. Peel and wedge cut the onion. Peel and mince the garlic. Using a grater, grate the apple. Set aside.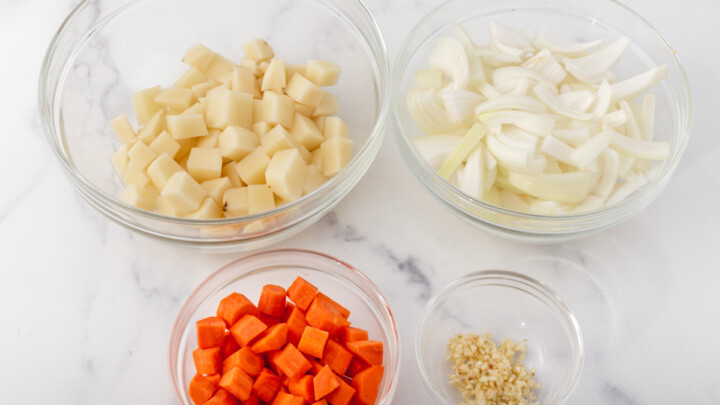 Cook the onion and garlic. In a medium pot over medium high heat, pour in 1 tbsp of olive oil in the pot and saute the onion and garlic until browned translucent and fragrant.
Cook the carrot. When the onions are translucent, add the carrot and enough oil to coat the carrot about ½ tbsp. Mix thoroughly. Cook on medium high for about 2 minutes.
Cook the potato. Add the potato and enough oil to coat the potato about ½ tbsp. Mix thoroughly. Cook on medium high for about 2 minutes.
Add in the chicken stock, honey and apple . Pour in the chicken stock, honey and grated apple. Bring the pot to a boil then turn down the heat to simmer until the potatoes and carrots are soft about 15 minutes. Cover the pot with a to prevent the moisture from leaving.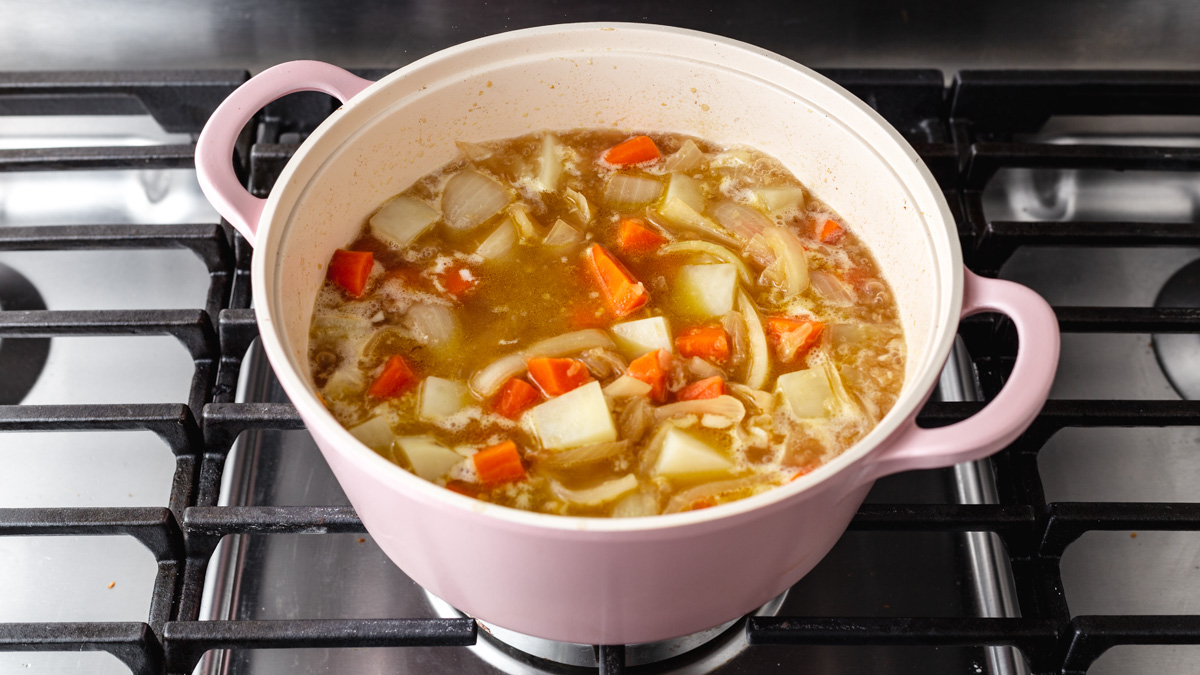 Prepare curry roux. Turn off the heat, scoop about 1 ladle of the liquid and pour it into a separate sauce pan. Break the curry roux and add it to this separate sauce pan. Stir to dissolve.
Add the roux back into the first pot. Add the dissolved curry roux back into the original pot with the vegetables and mix to combine. Simmer on low for 10 minutes until sauce has thickened. Stir occasionally.
Serve with chicken katsu and rice.
Tips for this Recipe
Dredge the chicken in the flour first. This is important so that the eggs and breadcrumbs have something to bind to and will not fall off.
Cut the carrot and potato in large pieces. It is important that the carrot and potato is cut in decently sized pieces about 1 inch squares. This prevents the carrot and potato from disintegrating too quickly.
Don't forget the apple and honey! These are the secret ingredients in Japanese curry that give it that subtle sweetness that pairs so nicely with the rich curry flavor.
Dissolve the curry roux in a separate sauce pan. This extra step will guarantee that there are no large undissolved pieces of the curry roux in your curry.
Storage Instructions
This air fryer chicken katsu curry is best served immediately for its optimal crunch factor. But you may also store the cooled chicken katsu separated from the curry in an airtight container for up to 3 days. The chicken katsu may lose its crunch but you can reheat it in the air fryer or oven to crisp it back up.
You may also love...