Have you ever wondered how to make Vietnamese pickled carrots and daikon or Đồ Chua that you see in banh mi sandwiches? Look no further. I got you. This bright and delicious pickled vegetable recipe can be made in less than 10 minutes and stay fresh in the refrigerator for weeks!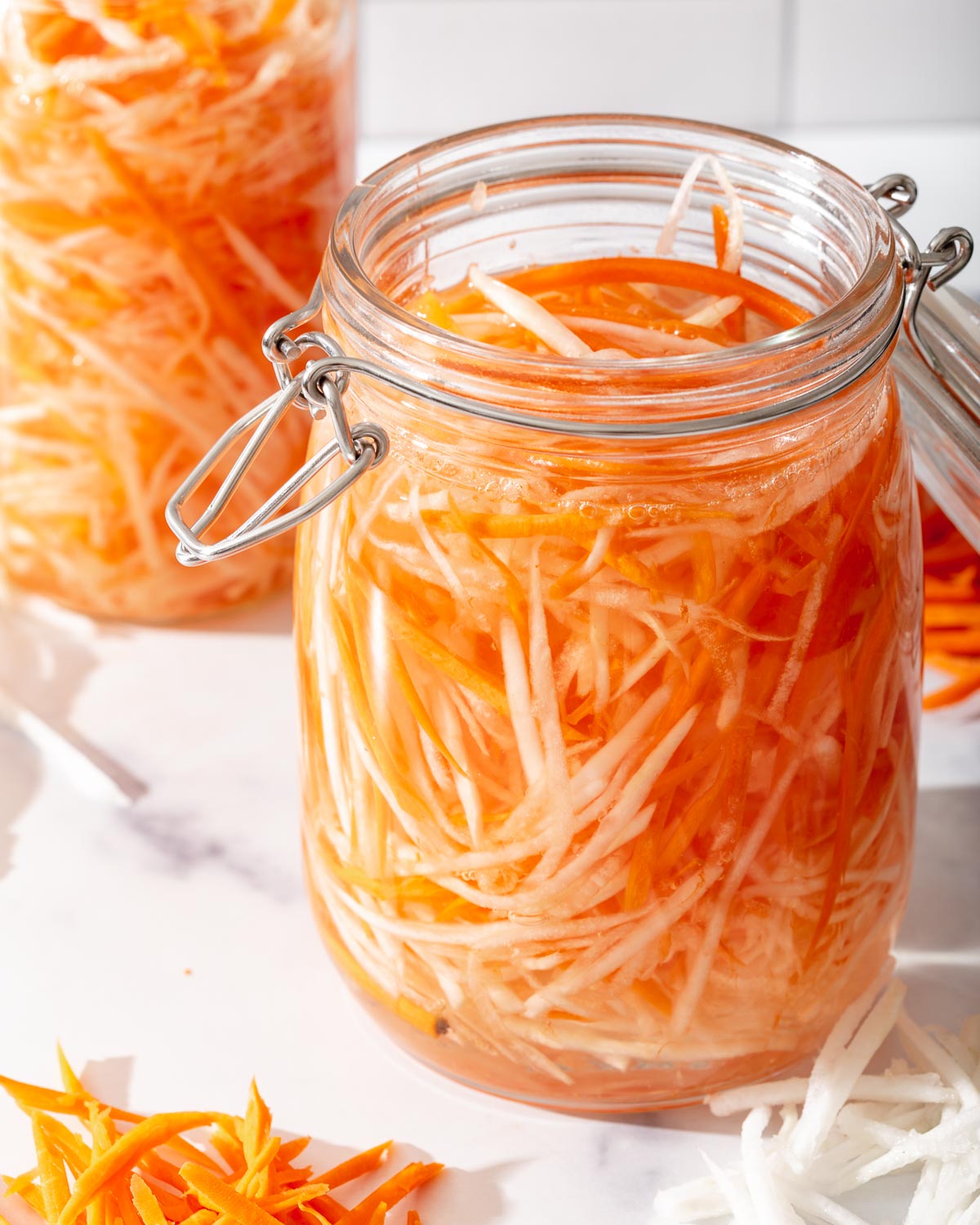 Do you have that one thing that you always have to have stocked in the refrigerator always? I always have to have a jar of Vietnamese pickled carrots and daikon (Đồ Chua) in the refrigerator always. I also have a giant bag of frozen egg rolls in my freezer in case of hunger emergencies and it comes in handy to have these pickled vegetables ready for a quick meal with some vermicelli noodles. Growing up, this was the one dish I always had to help my mom make almost every week. This recipe is forever engraved in my brain and it should be in your recipe arsenal as well if you love Vietnamese food or pickled vegetables in general.
What is Đồ Chua?
Đồ Chua consists of pickled carrots and daikon. It literally translates to "pickled stuff." It has a slightly sweet, salty, and sour taste that pairs perfectly with rich, fatty, salty dishes. It is made with six simple ingredients—1. Carrots, 2. Daikon, 3. Salt, 4. Sugar, 5. Distilled White Vinegar and 6. Water. It is most commonly seen in Vietnamese banh mi sandwiches but is also used in a lot of other Vietnamese dishes as well.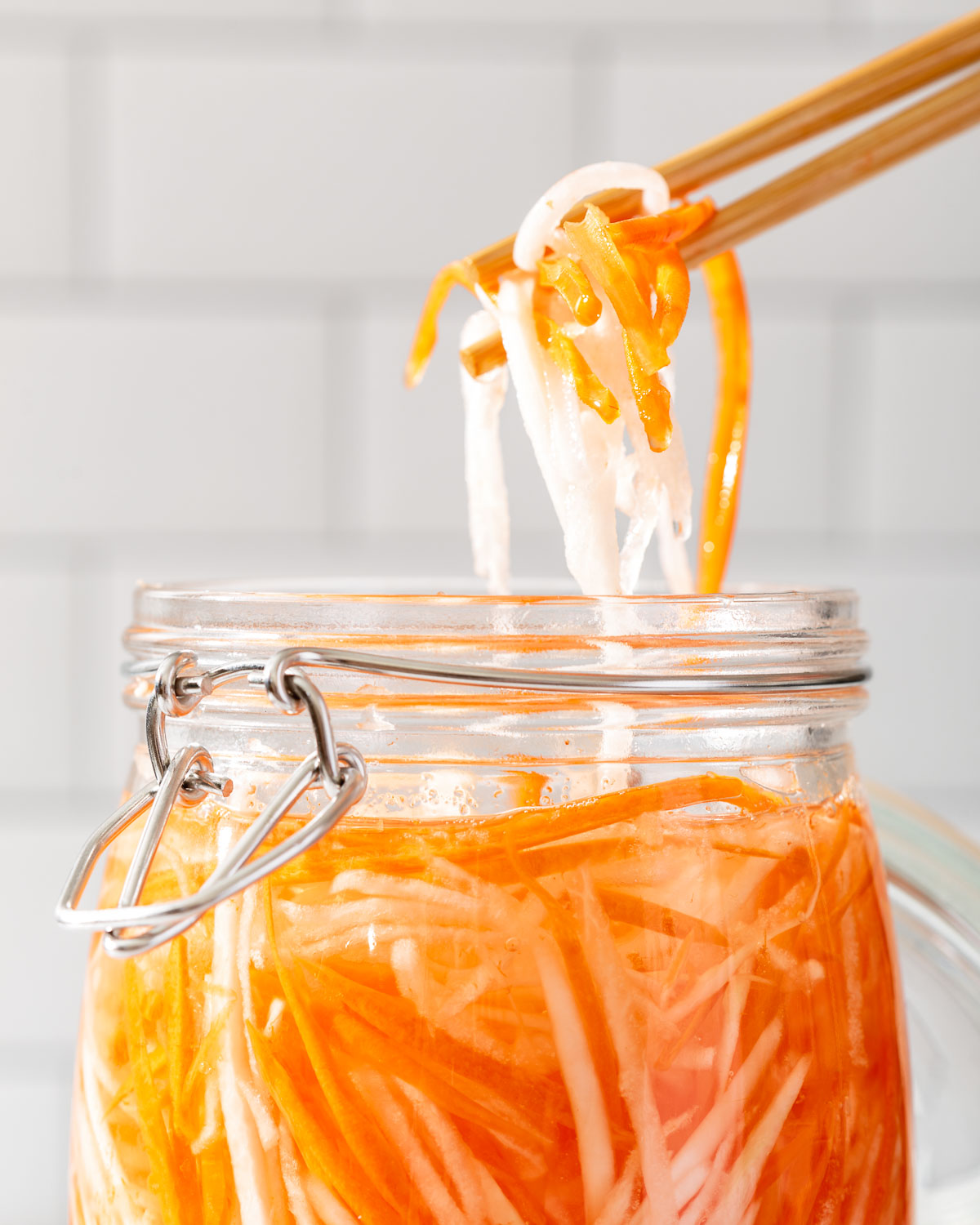 What do you eat these Vietnamese pickled carrots and daikon with?
You can most commonly find these Vietnamese pickled carrots and daikon in banh mi sandwiches or my own spin on banh mi hotdogs. You can also find them paired with Vietnamese egg rolls and grilled meats like in a popular Vietnamese dish bún thịt nướng, or Vietnamese lemongrass grilled pork noodles. Typically, these pickled vegetables pair best with salty, fatty foods and grilled meats.
Kitchen Equipment For This Recipe
Vegetable peeler: you will need a

vegetable peeler

to peel the carrot and daikon.
Korean Julienne Grater: I've been looking for the correct texture for my carrot and daikon for ever. I've used everything and the best grater I've found is the

Korean carrot grater.

It is sharp, efficient and slices the vegetables to the correct thickness.
Mason Jars or Pickling Jars: this recipe can be quite pungent and will odorize your other food in the refrigerator unless it is airtight.

Mason jars

will seal in the flavor and pickle the vegetables to perfection.
Ingredients For This Recipe
This Vietnamese pickled carrots and daikon recipe only calls for six simple ingredients half of which are pantry staples you probably already have in your home.
Carrots: the carrots add the pop of orange color and added crunch.
Daikon: also known as white radish, Japanese radish, Chinese radish, winter radish, and luobo, is popular in Japanese, Chinese, and other Asian cuisines. The vegetable resembles a large white plump carrot which pairs perfectly with carrots in this recipe. You can find daikon in the vegetable section of your local Asian grocery market.
Salt: the salt balances out the sugar and white vinegar.
Granulated Sugar: the sugar aids in softening the acidity in the white vinegar making it more palatable.
Distilled White Vinegar: distilled white vinegar is the main ingredient used to pickle the vegetables which give it that sour taste.
Water: the water dilutes the vinegar and sugar for a less pungent taste.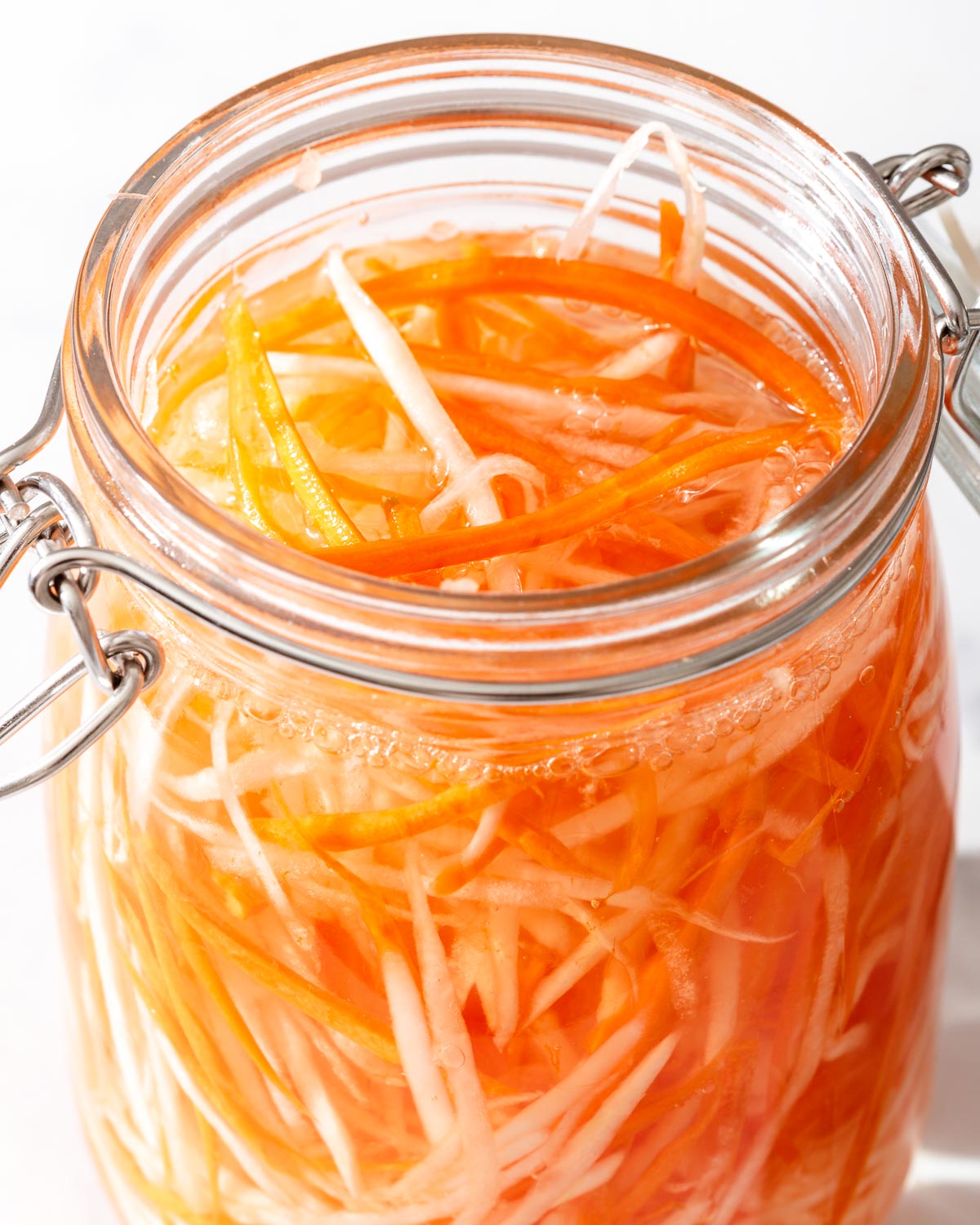 How to Make This Recipe
This recipe is incredibly simple to make and you can make it in bulk for meal prepping or large events. All you will need to do is peel and julienne the vegetables, mix the pickling juice and combine! Easy as 1, 2, 3.
Prepare the vegetables. Peel and julienne the carrots and daikon into thin sticks.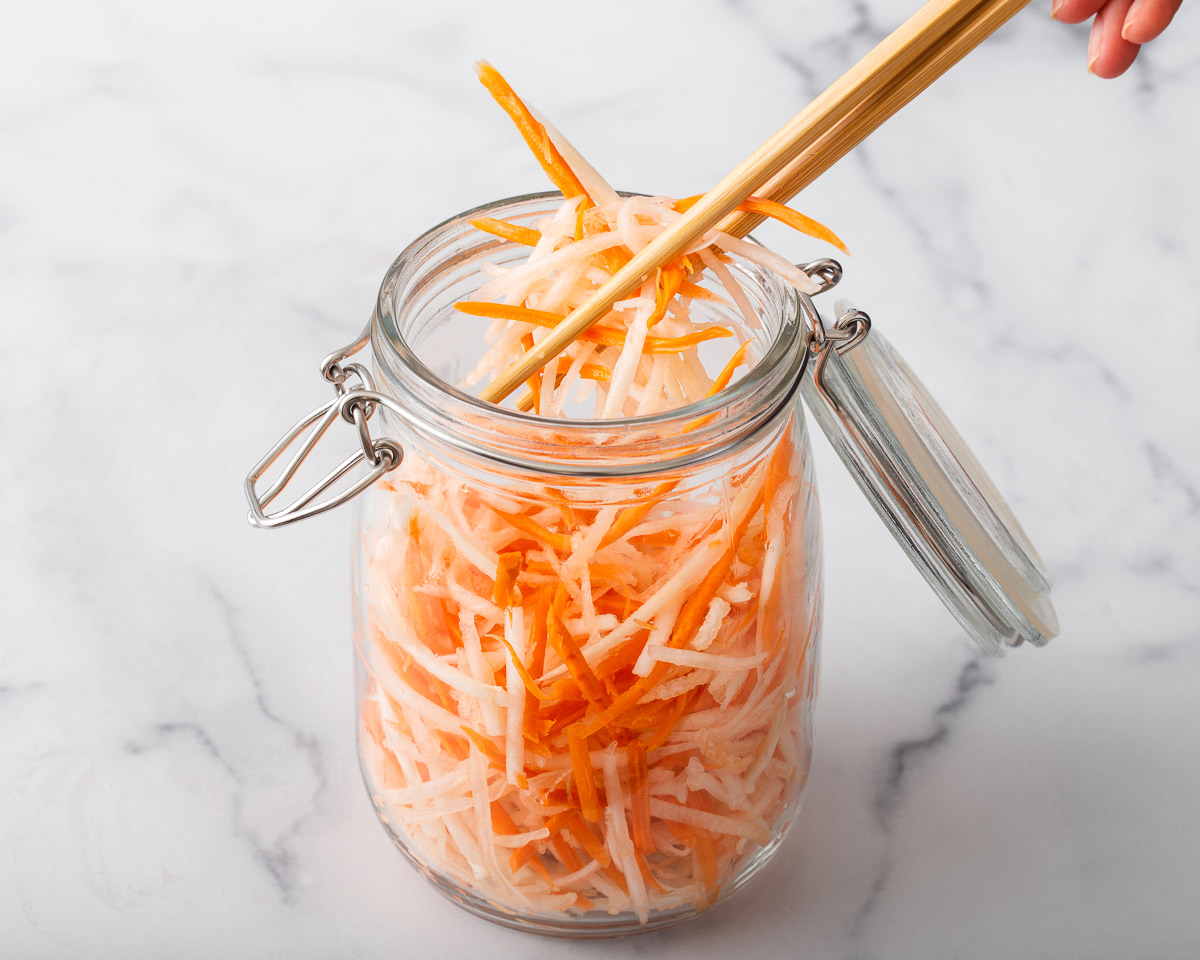 Mix the pickling juice. In a mixing bowl, mix together the salt, sugar, distilled white vinegar, and lukewarm water. Mix until the sugar and salt dissolves.
Pickle the vegetables. In a pickling jar, add the shredded carrots and daikon until ¾ full. Pour in the vinegar mix until the carrots and daikon are completely covered in the liquid. Cover the jars and pickle in the refrigerator overnight. The pickles can last up to 3 weeks in the refrigerator.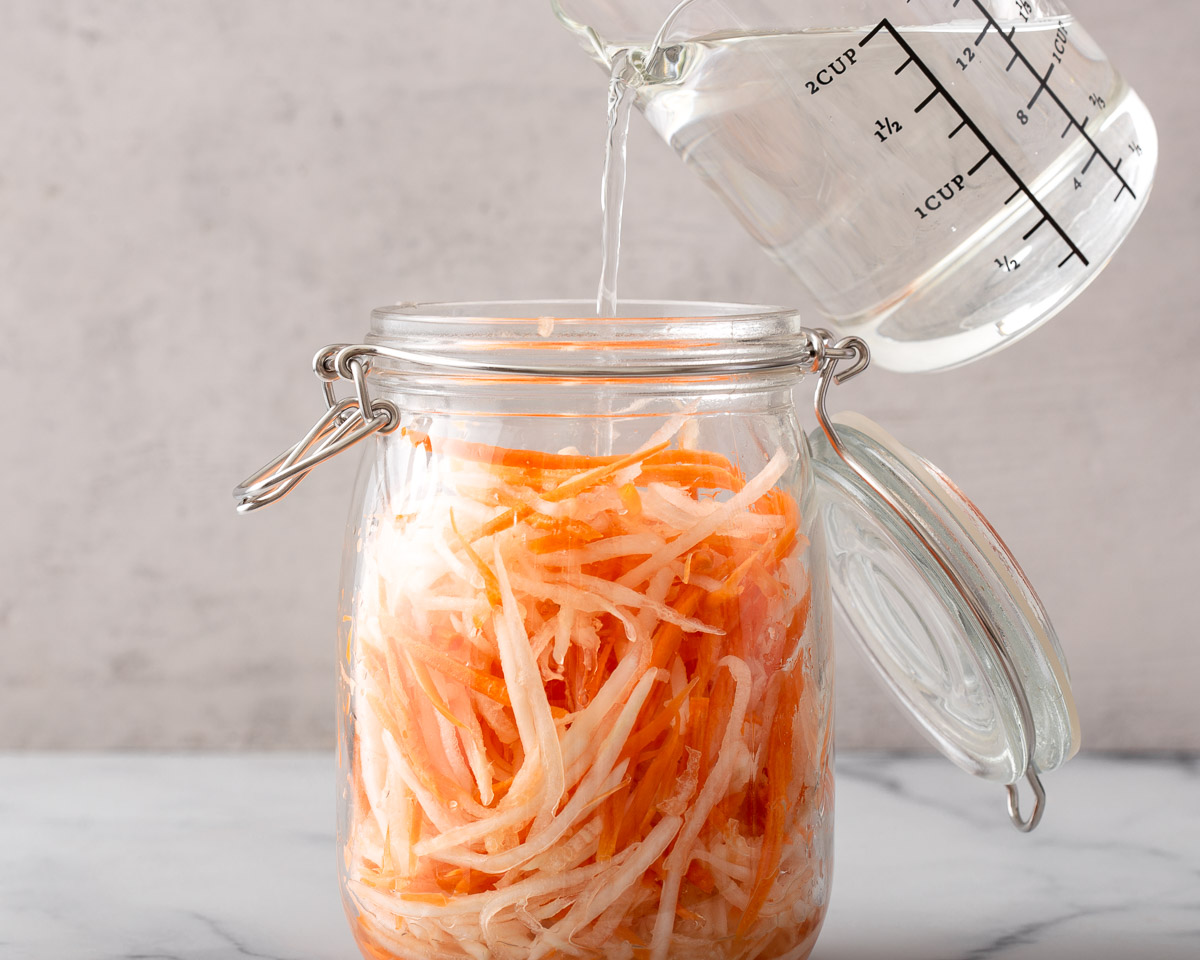 Tips For This Recipe
Use mason jars for storage. I found that my favorite pickling jar are

mason jars

. They are cheap, durable, airtight and so easy to use and clean. They keep my Đồ Chua fresh for up to 1 month.
Use a Korean Vegetable grater. I've used so many different types of mandolines, peelers, and graters and the

Korean graters

have always been the sharpest, most efficient, cheapest and simply the best. You can not go wrong.
You can double or triple the recipe as you please! This recipe will make a pretty large amount of pickled vegetables but if you are anticipating needing more you can simply double or triple the recipe.
You can alter the ratio of carrot to daikon. I prefer to have an equal ratio of carrot to daikon. But you can always add more carrot and less daikon or vice versa.
Storage Instructions
You can store these Vietnamese pickled carrots and daikon in an airtight jar or container in the refrigerator for up to 1 month.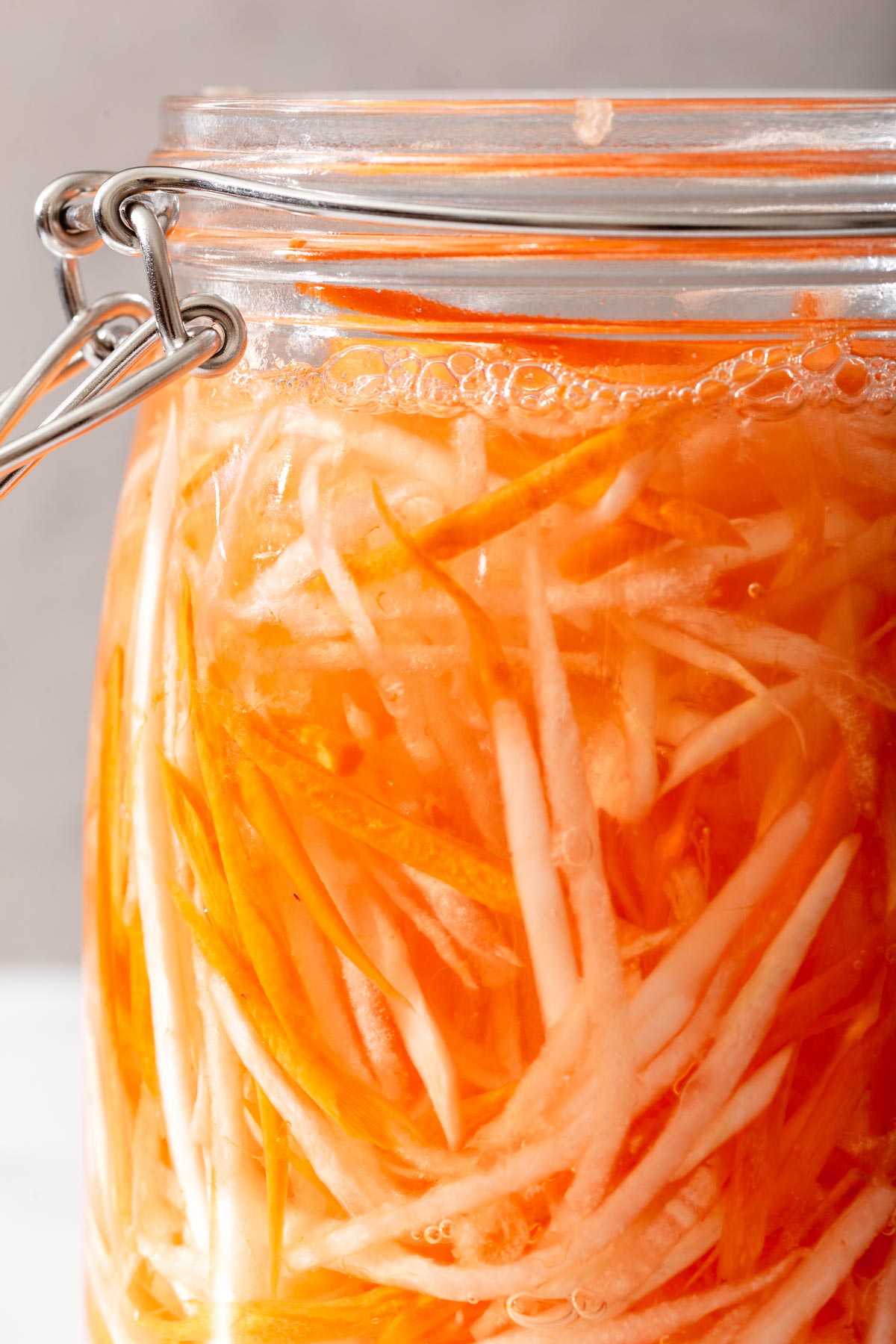 You May Also Love...