Sponsorship Disclosure: This post is sponsored by USA Rice.
This Thai pineapple fried rice is an explosion of umami, sweet and savory flavor. Made with long grain Jasmine rice, garlic, cashews, vegetables, and chicken, this pineapple fried recipe is as healthy as it is delicious.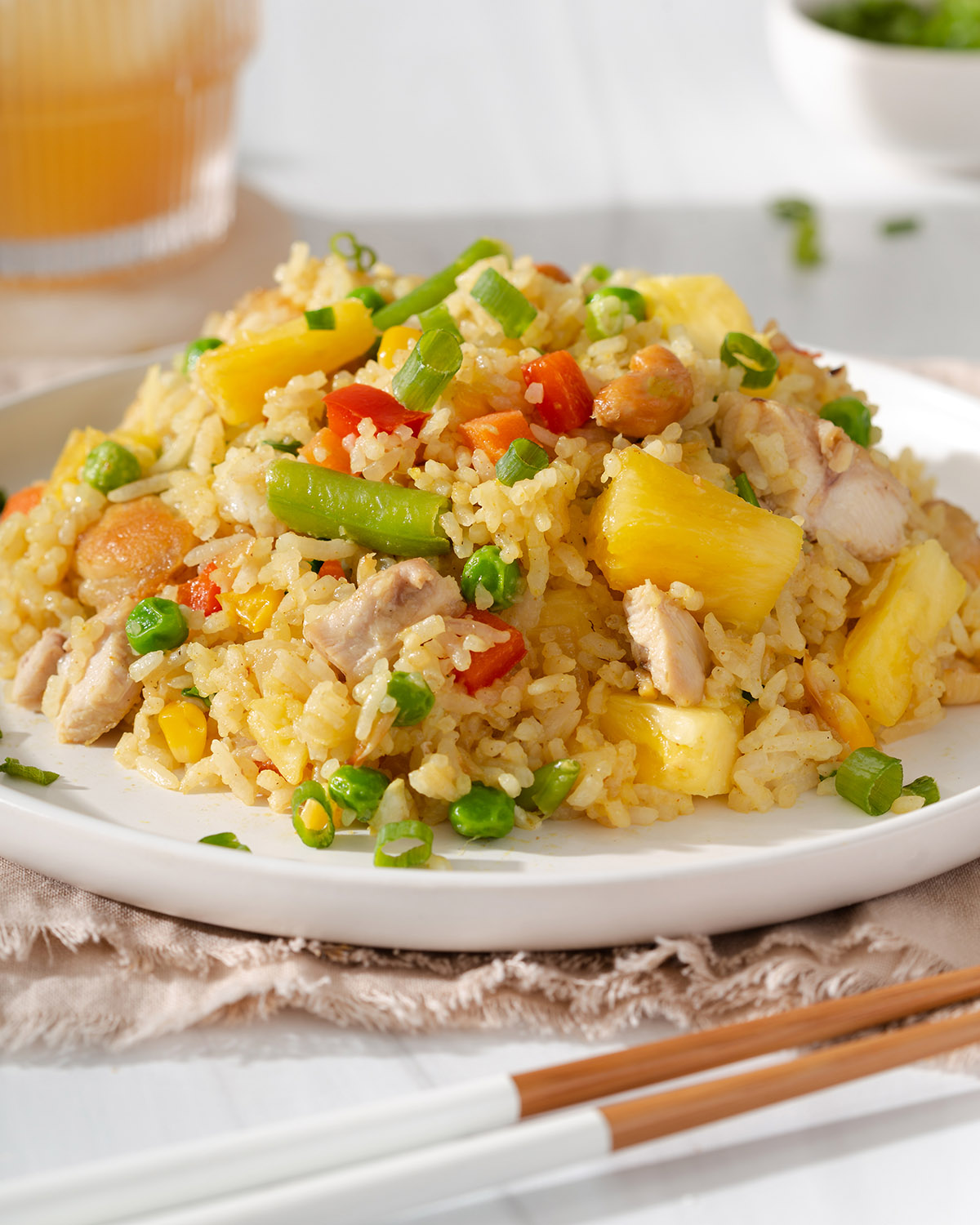 Thai pineapple fried rice is everything that I could ever hope for in fried rice. It has protein, vegetables, cashews, an addicting savory sauce, a touch of curry powder, and of course sweet juicy fresh pineapple chunks! Adding pineapple to savory foods is my kryptonite. The acidity and sweetness of the pineapple simply blend with the umami flavors of the rice and vegetables so well. Also, the added texture contrast from the cashews and the vibrant medley of vegetables checks all the boxes of taste, texture, and appearance. If you love Thai food, check out my delicious Thai Basil, Mango Sticky Rice, and Thai Tea recipes for a satisfying and well-rounded Thai meal!
Jump to:
🍚 Jasmine Rice
When it comes to fried rice, choosing the best quality rice is crucial in creating a delicious dish! For this Thai pineapple fried rice, I highly recommend using Jasmine rice. U.S. jasmine rice is an aromatic long-grain rice with a 3:1 length to width ratio and a delicious flavor. The USA grows jasmine rice in Arkansas, California, Louisiana, Missouri, and Texas. When cooked the rice grains are soft, moist, and cling together making it perfect for fried rice dishes. Jasmine rice is fragrant like popcorn, moist and soft with a slightly sweet flavor. The aromatic rice provides the ideal base for the pineapple, savory flavors notes, and cashews to deliver one of our favorite comfort foods.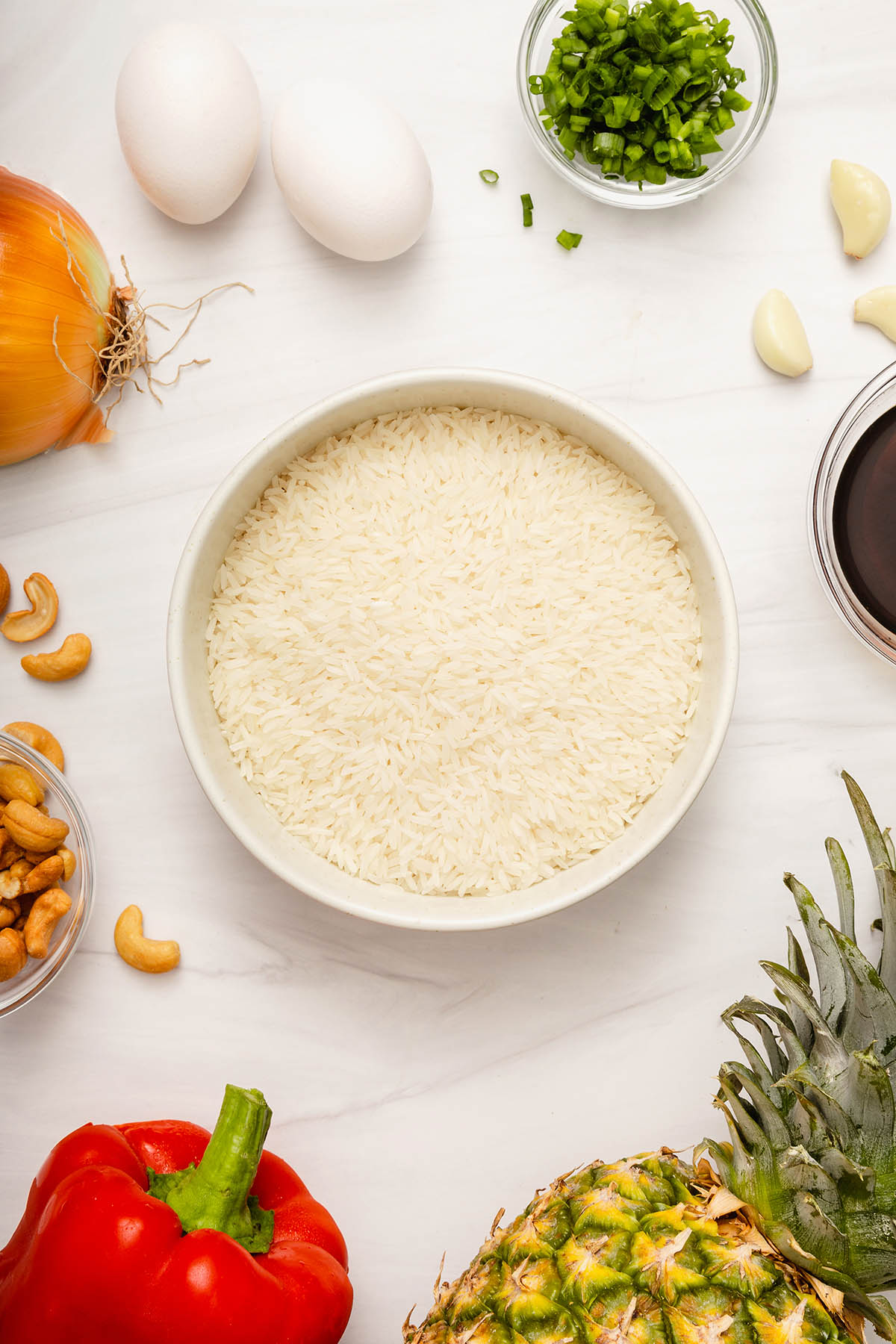 🍍 Thai Pineapple Fried Rice
In Thailand, fried rice is called khao phat which translates to stir-fried rice. Thai fried rice originates in central Thailand. Thai fried rice differs from Chinese fried rice in that it is prepared with jasmine rice instead of regular long-grain rice. It typically contains chicken or shrimp, egg, onion, and garlic. Thai fried rice also incorporates the use of fish sauce into the dish for a burst of umami deliciousness.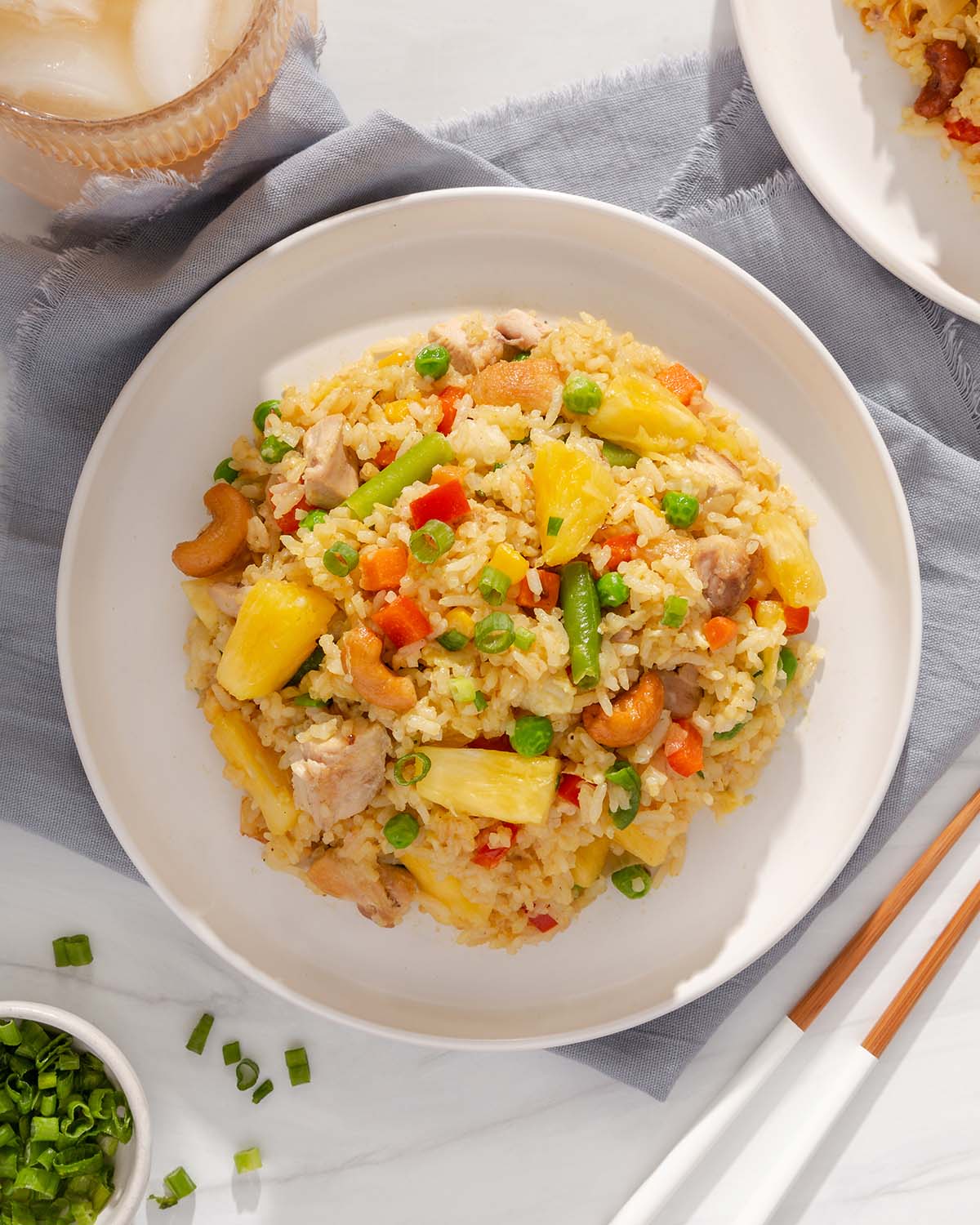 🍽 Kitchen Equipment Recommendations
Rice Cooker (Optional): I am team rice cooker all the way. It is quicker, easier and more consistent in producing the right texture for my sticky rice. I have been using my

Tiger Rice cooker

since college and it is my absolute favorite kitchen appliance.
Wok: a deep

stone wok

makes this dish 100x easier. It heats everything evenly while having ample room to hold all the vegetables and rice so you can toss everything with ease.
Wooden Spoons: when it comes to tossing stir fry dishes, the best and easiest way to do it is with two

long wooden spoons.
🛒 Ingredients
Vegetable oil: or neutral cooking oil that doesn't add flavor yet has a high smoke point.
Eggs: you can add or omit the eggs based on preference.
Salt: the salt adds a touch of flavor to the eggs.
Chicken thigh or breast: you can use any protein you prefer such as shrimp, beef, pork, tofu etc.
Garlic Cloves and Yellow Onion: the garlic cloves and yellow onion are the base of the aromatics
Red Bell pepper: you can use any bell pepper or omit it all together if you'd like, I prefer the flavor and taste of red bell peppers.
Green beans, peas, carrots, corn: for the quickest and easiest route, buy the frozen pack that is a medley of these vegetables.
Cashews: the cashews add a touch of crunch to the dish.
Jasmine Rice: white Jasmine rice is the best option for this Thai pineapple fried rice dish. It has an aromatic flavor and is the right amount of stickiness for tossing the flavors. Make sure to use day-old slightly dried white rice.
Pineapple: this is the star ingredient! Find the ripest, juiciest pineapple at the store.
Green Onion: used for garnish
Sauce and Spices Ingredients
Light soy sauce: Light soy sauce is thinner and lighter in color and adds a gentle saltiness to the dish. I like to use

Lee Kum Kee's Premium Soy Sauce

.
Fish Sauce: the fish sauce adds a depth of umami flavor to the fried rice. You can find fish sauce online or at your local Asian grocery store. I prefer to use

Red Boat Fish Sauce

or

Three Crabs

brand.
Sugar: the sugar balances out the salt from the soy sauce and fish sauce.
Curry Powder: this is the secret ingredient in my opinion. The

curry powder

adds a touch of warmth and spice to the fried rice.
White pepper: white pepper is more subtle than black pepper but still retains the flavor. You can sub out for black pepper if you do not have white pepper.
📝 How To Make
This Thai pineapple fried rice recipe is quick, easy, and delicious. All you will need to do is chop all the ingredients and toss them over a hot work! Simply follow the steps below and you will have a delicious sweet and savory dish for you to enjoy.
Scramble the eggs. In a small bowl, beat the eggs with ¼ teaspoon salt. Heat your wok over medium heat until hot. Add 1 tablespoon vegetable oil, and scramble the eggs for 1 minute—until just cooked. Turn off the heat, break the egg into small pieces, transfer to a dish, and set aside.
Cook the chicken. In a wok or a large frying pan, heat 2 tablespoons of vegetable oil on high heat. Salt and pepper both sides of the chicken thigh. Cook the chicken thigh in the wok for about 4 minutes on each side or until done. Rest the chicken for 5 minutes then slice. Set aside.
Stir fry the vegetables and cashews. Add 2 tablespoons of vegetables to the wok. Saute the diced onion until translucent and golden brown for about 3 minutes. Then add the garlic and saute until lightly browned for about 1 minute. Next, add the bell pepper and toss for 1 minute. Lastly, add frozen green beans, peas, carrots and corn, and cashews for 1 minute.
Mix in the sauces, sugar, curry powder and pepper. Add rice and soy sauce, fish sauce, sugar, curry powder and white pepper. Toss together for 2 minutes or until rice grains caramelize. Add in the chicken and scrambled eggs and toss until combined for about 30 seconds.
Toss the pineapple and green onion. Finally, add the diced pineapple and green onion and toss for just 30 seconds until combined and warmed.
Enjoy!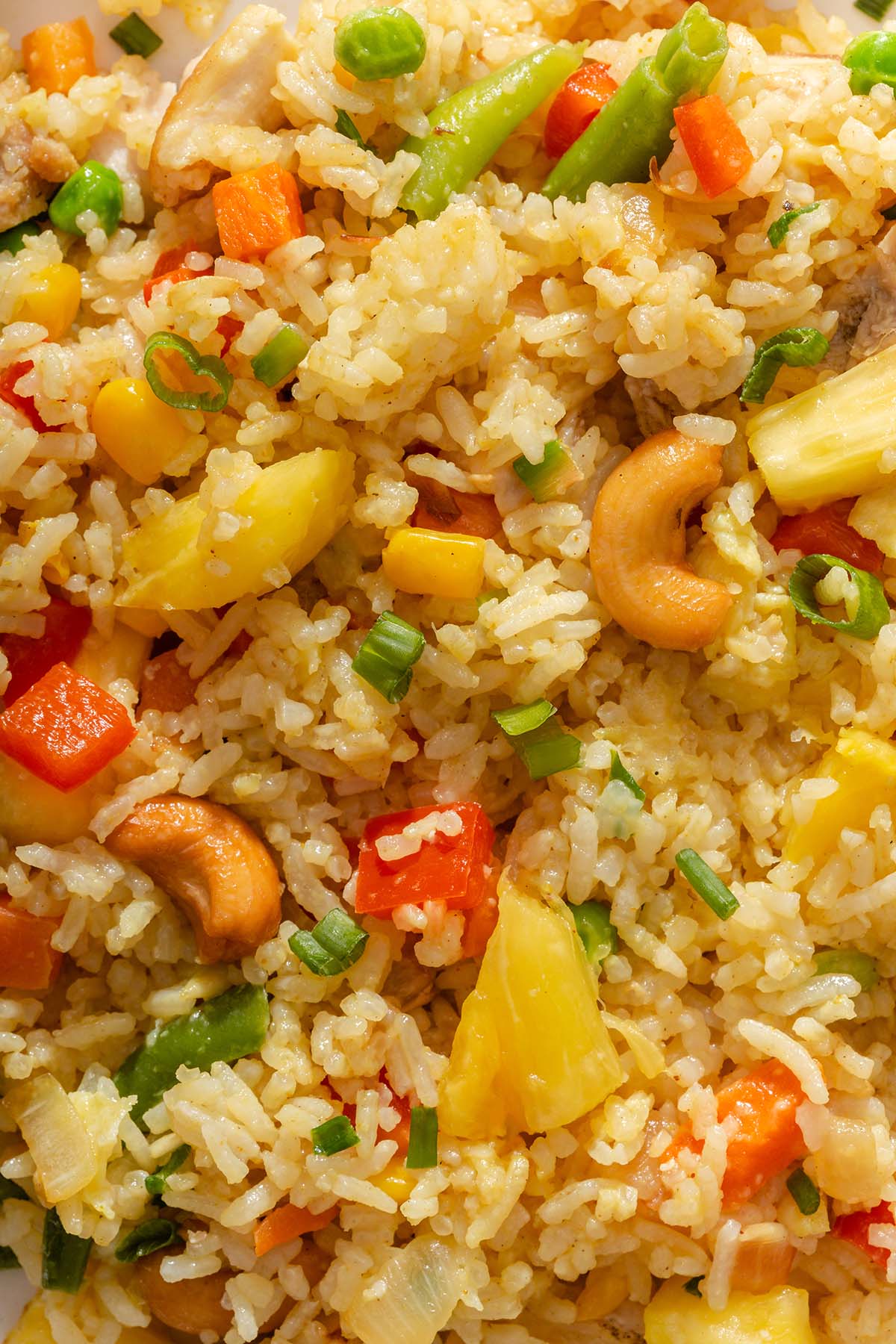 ⭐️ Tips
Make the rice the night before. You will need Jasmine rice that is slightly dried out so the grains will hold its shape and not stick together when you toss it with the vegetables and sauce. Toss the rice immediately when you remove it from the refrigerator so that it is still cold and will not become overly sticky when tossing.
Prepare all the ingredients before you start cooking on the wok. This will streamline the process of cooking and allow you to cook everything with ease and less stress.
Use a wok! A deep wok allows for easy tossing and allows all the flavors to seep through the entire dish.
🍴 How to Customize Your Thai Pineapple Fried Rice
This Thai pineapple fried is incredibly versatile. You can customize it depending on your preference or whatever you have in your fridge!
Pick your own protein: the best proteins to use for this dish would be shrimp, chicken, beef, pork or for a vegetarian option tofu. You can also eliminate the protein all together if you'd like.
Customize your vegetables: you can add or subtract the vegetables in this recipe based on your preference. You can add snow peas, mushrooms, broccoli, cauliflower etc. Simply stir fry the vegetables in step 3.
Add more or less egg: traditionally pineapple fried rice does not contain egg but I think it adds a nice flavor and texture contrast to the rice. You can omit or even add more eggs if you'd like.
Change the crunch! This pineapple fried rice uses cashews because it adds a buttery nutty flavor. You can sub out the cashews for peanuts, almonds or even water chesnuts.
Make it spicy: you can make it spicy by adding sriracha, hot sauce or chili oil.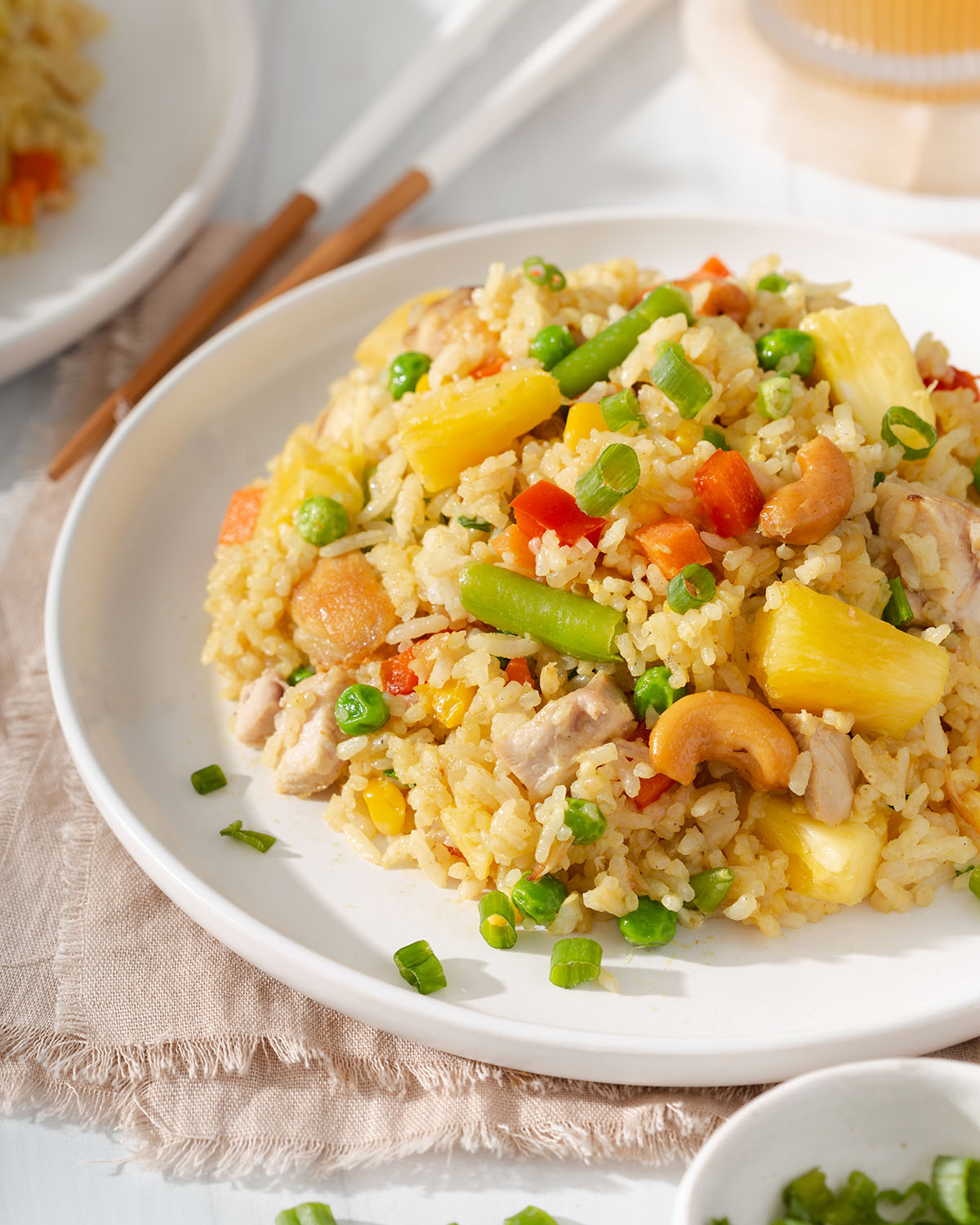 🥡 Storage Instructions
You can store this pineapple fried rice in an airtight container in the refrigerator for up to 5 days. To reheat simply microwave until warm.
💕 You May Also Love...
If you made this dish and loved it, please leave a review and comment below. We would greatly appreciate it!

Share your dish with us on Instagram, tag us @takestwoeggs—we'd love to see and share your delicious creation!

Hungry for more? Follow us on Instagram, Pinterest, and Facebook for more tasty creations and updates 🍜
👩🏻‍🍳 Recipe