Customize your own Thai Iced Tea at home with this recipe! This recipe will guide you on how to steep and flavor your Thai Tea to achieve a brilliantly orange, boldly aromatic, and refreshingly sweet drink that we are all equally obsessed with.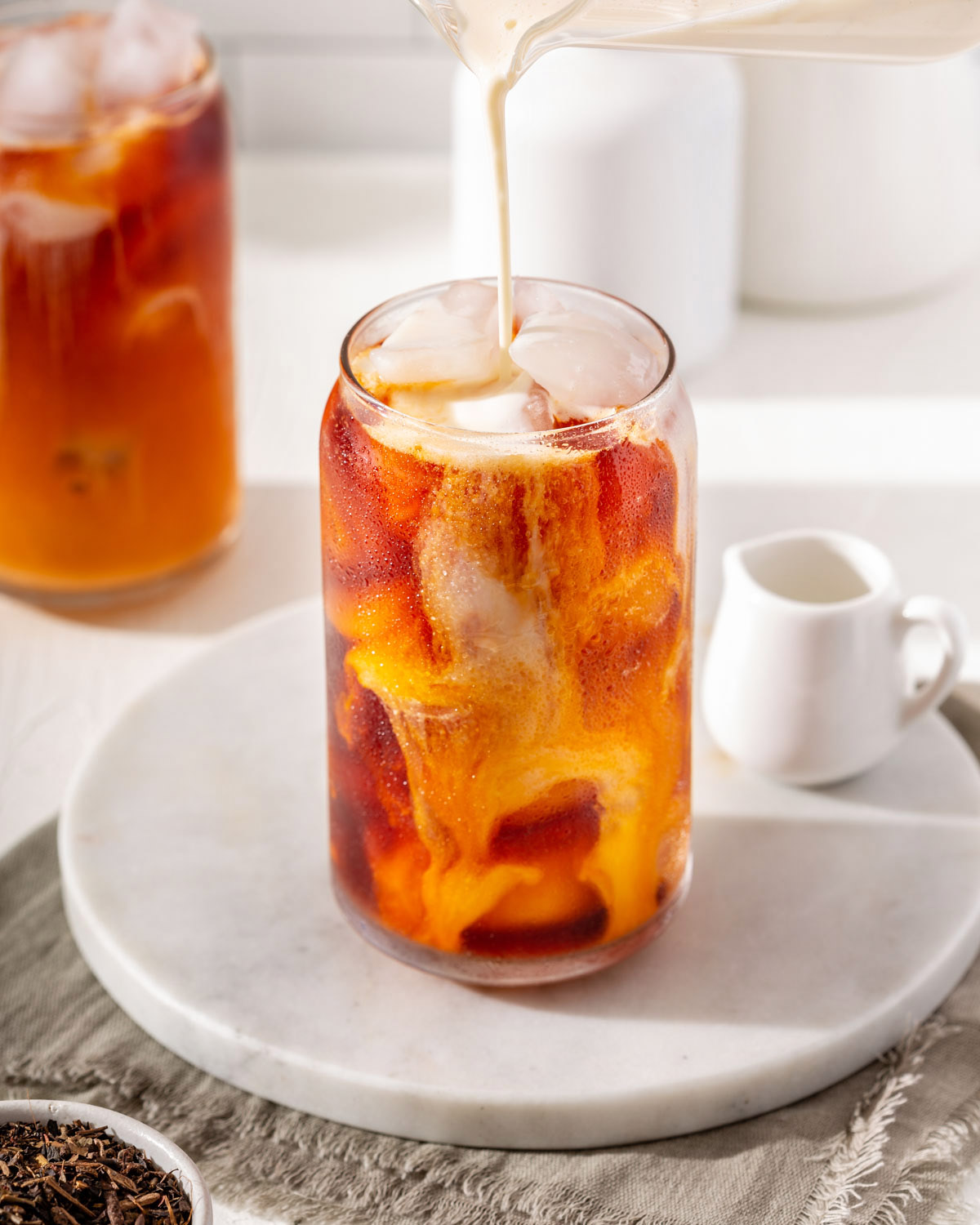 What is your go-to Thai order? I'll go first. I start off with a refreshing Thai Iced Tea, followed by some Thai Basil and I'll finish with a delicious Mango Sticky Rice dessert. Everything about Thai Iced Tea makes me so happy—the bright bold orange color, a bold aromatic flavor, and the sweet and creamy finish.
This five-ingredient Thai Iced Tea tastes just like your local Thai restaurant's Thai Iced tea. It is made with a pre-made Thai Tea mix and sweetened with brown sugar, condensed milk, and evaporated milk. If you are anything like me, I like to be able to control the sweetness level of my drinks. You can adjust the level of condensed milk and evaporated milk to create your very own personalized sweet and creamy Thai Iced Tea.
What is Thai Tea?
Thai Iced Tea also known as Cha Yen in Thailand is a Thai drink made from Ceylon tea, spiced with star anise, condensed milk, and sugar, and can be served hot or cold. It is a popular drink in Southeast Asia and is served in many restaurants. This tea became a staple of Thai street food, sometimes spiced with star anise and orange blossom water, but more often than not, served without any additional flavorings.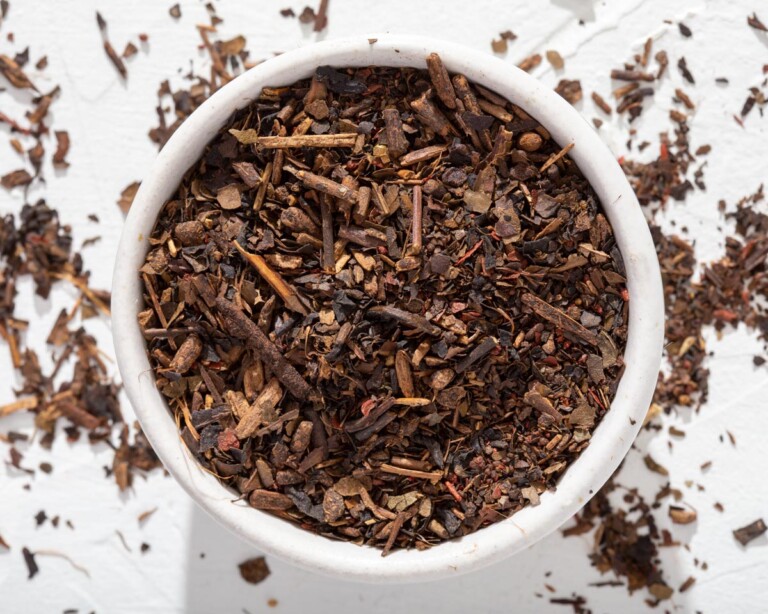 Why is Thai Tea So Orange?
The bright orange color of Thai Iced Tea comes from food coloring added to black tea in the Thai Tea Mix. If you decide to make the tea from scratch, the brewed tea is a deep red. When you stir in the sweetened condensed milk the tea will turn into a beautiful creamy orange.
There are also other varieties of Thai Tea that are not orange. I have also come across a Green Thai Tea which is made from green tea mixed with jasmine and other flavors instead of the black tea in the more popular orange Thai Tea. It has a more fruity and floral flavor in comparison to the original Thai tea. If you are interested in buying Green Thai Tea you can buy it on Amazon.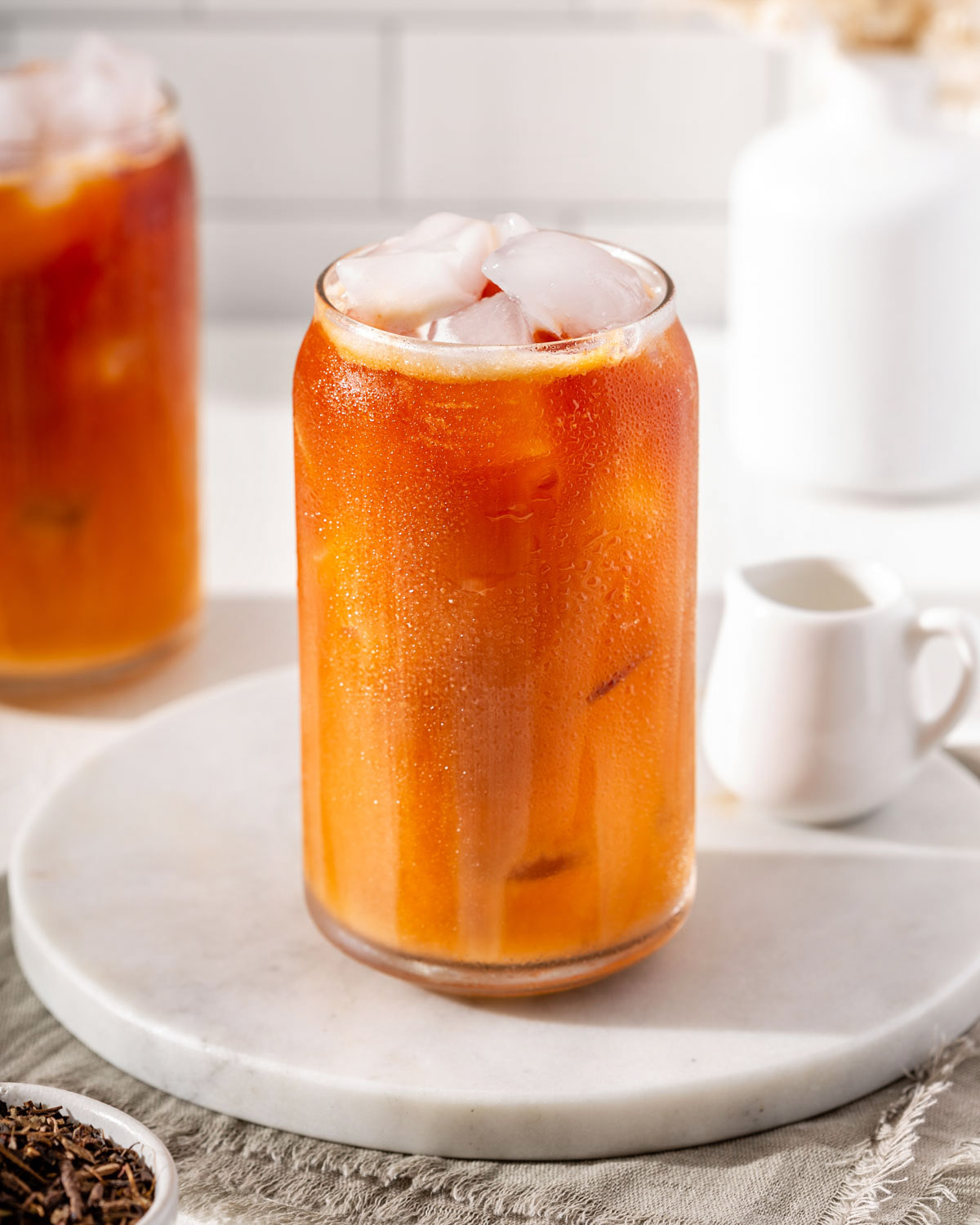 Is Thai Tea Caffeinated?
Yes! Thai tea contains approximately 20-60 mg of caffeine since the tea leaves are Ceylon black tea. The total amount of caffeine will depend on how much the tea is diluted from the milk, water, and ice.
Kitchen Tools For This Recipe
Kettle: Technically, you can use whichever method you prefer for heating up the water to a boil. However, when I bought my

white electric Stag kettle

I fell in LOVE. It is incredibly chic, the water heats up really quickly and comes in so many cute colors!
Large Mixing Bowl: you can use any large heatproof mixing bowl for steeping the tea. Alternatively, if you want to make a single portion you can cut the recipe by ¼ and steep the tea in your mug.
Tea Strainer or Cheese Cloth: Using a

tea strainer

will make steeping the tea a breeze. I did not have a tea strainer so I resorted to a fine mesh sieve and

a cheese cloth

which did the trick!
Metal or glass straws: save the Earth. Use re-usable

metal

or

glass straws

.
Ingredients for This Recipe
For this Thai Iced Tea recipe, I opted to use a Thai Tea Mix for the most authentic flavor. You can make the tea from scratch but that will require you to buy a few extra aromatics.
Pantai Thai Tea Mix: After scouring the internet, the most recommended Thai tea Mix was this

Pantai brand

. It has the boldest rich flavor and a brilliant orange tint. The second runner up for a Thai Tea Mix was this

Original Thai Tea mix

.
Water: you will need to heat up the water to a boiling temperature 208°F (98°C).
Brown Sugar: brown sugar adds another depth of sweetness with a hint of molasses. You can alternatively use granulated sugar instead.
Sweetened Condensed Milk: the sweetened condensed milk provides the rich creamy and sweet flavor in the Thai tea.
Evaporated Milk: evaporated milk is what is traditionally used in Thai restaurants. However, you can substitute this with regular milk or half and half.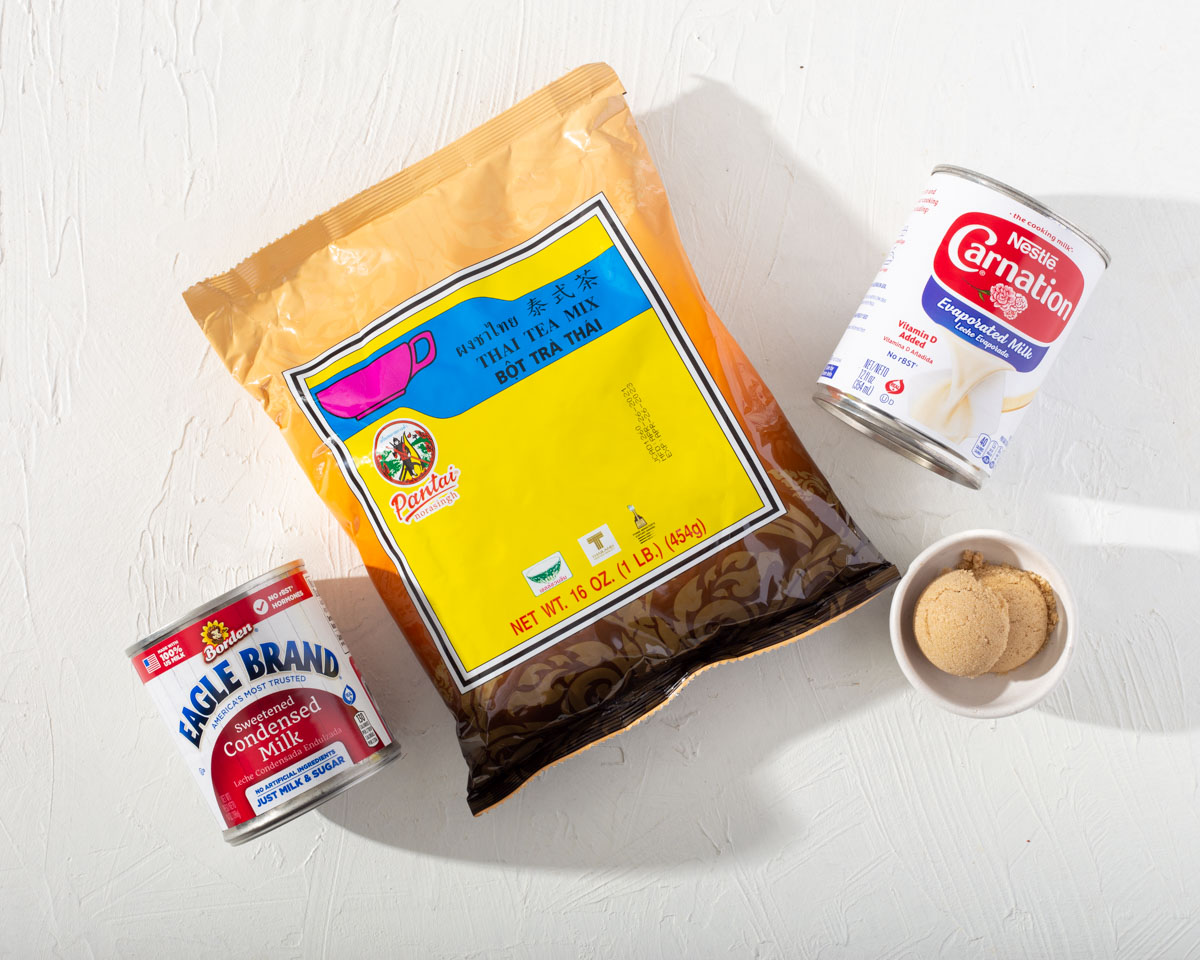 How To Make This Recipe
This Thai Iced Tea recipe is incredibly easy to make. All you need to do is steep the tea in sugar, and pour in the sweetened condensed milk and evaporated milk blend.
(Option 2) If using a homemade Thai Tea blend, using a mortar and pestle or a mallet, gently crush the star anise, cardamom and cinnamon stick. Mix these with the tea leaves. Continue with the following steps.
(Option 1) Mix the sugar and Thai tea blend in a heatproof bowl. Add boiling water at 208°F (98°C), cover with plastic wrap and let the tea steep for 25 minutes.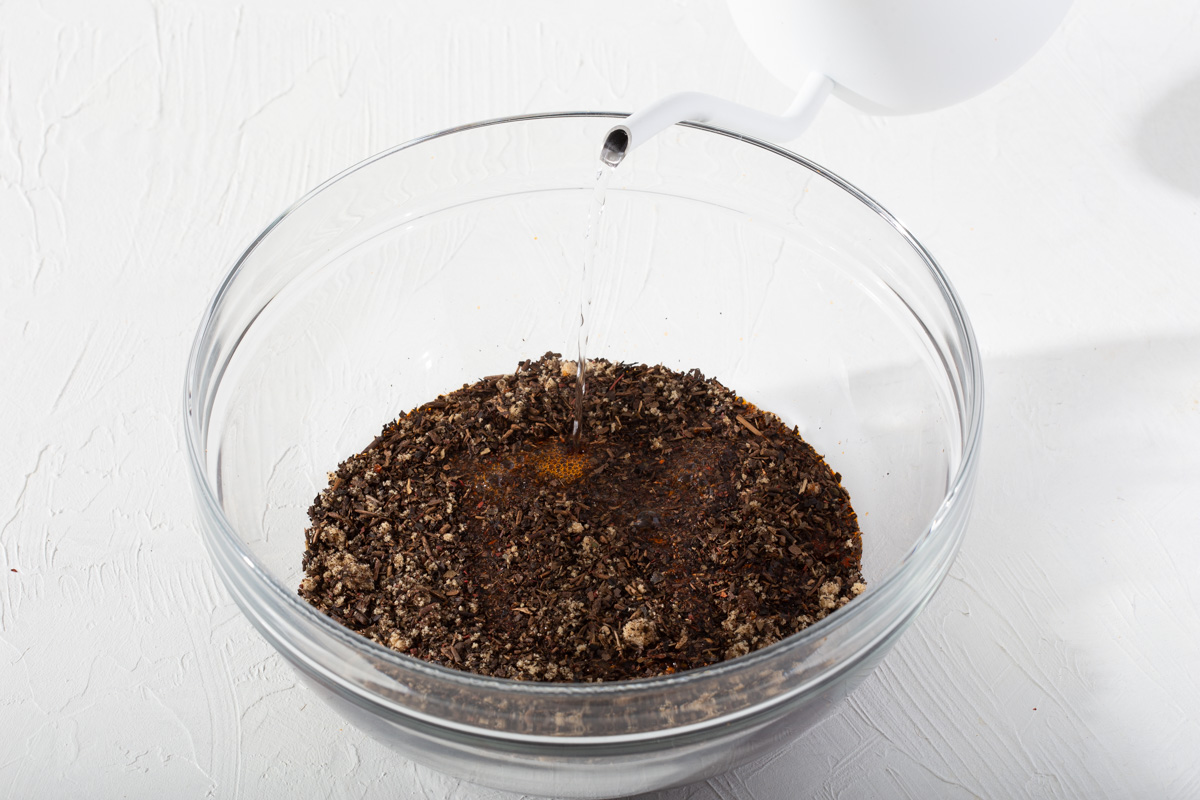 After the tea has steeped, using a mesh strainer or tea sock strain to remove the tea leaves. Chill in the refrigerator.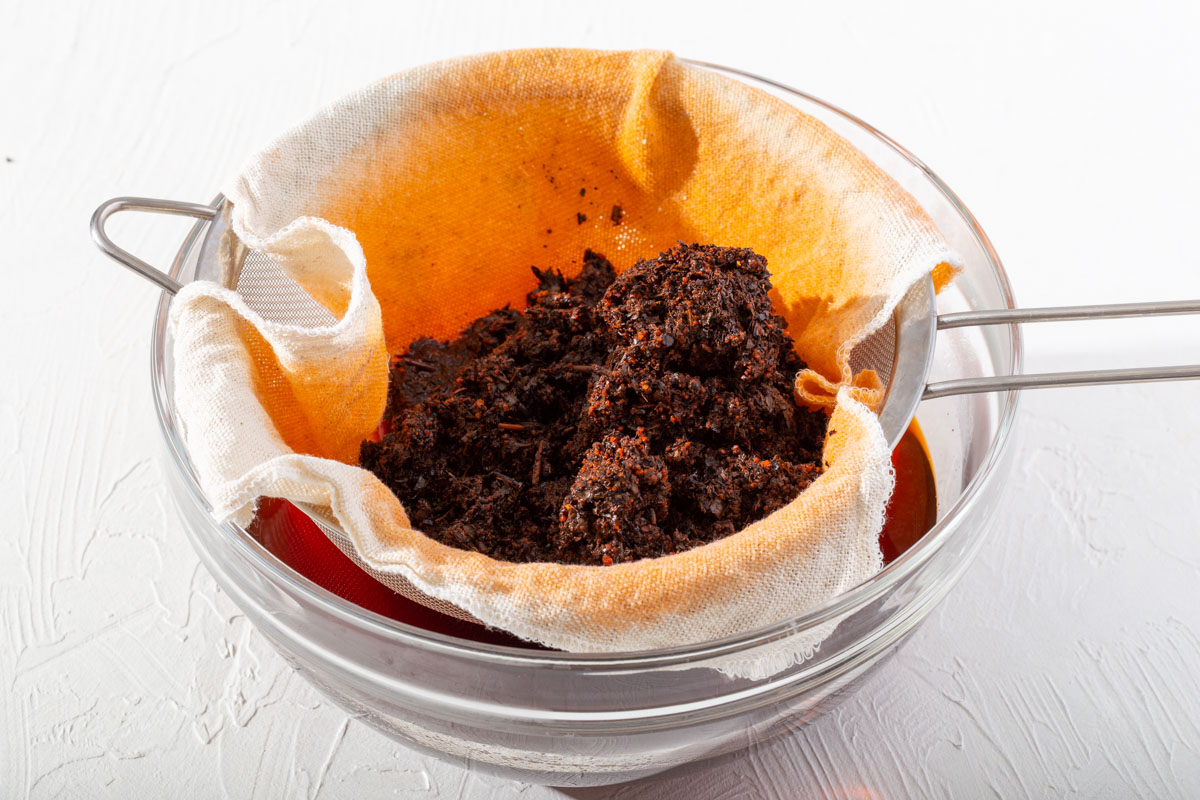 In a separate bowl, mix together the condensed milk and evaporated milk.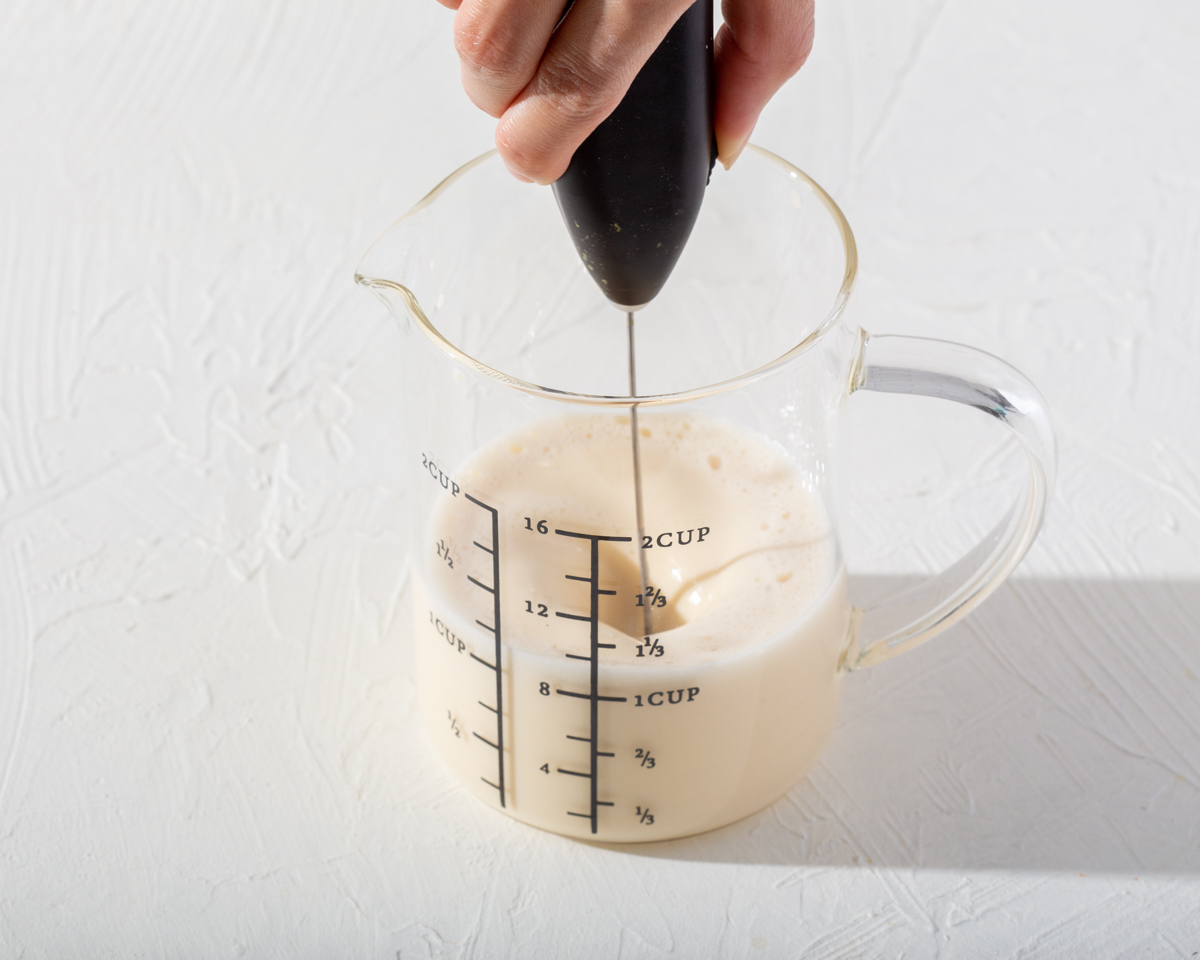 When the tea is cooled, pour the tea over ice and add in the evaporated milk mixture mix thoroughly and enjoy! For an 8 oz glass, add about 2-3 tablespoons of milk for a rich creamier flavor.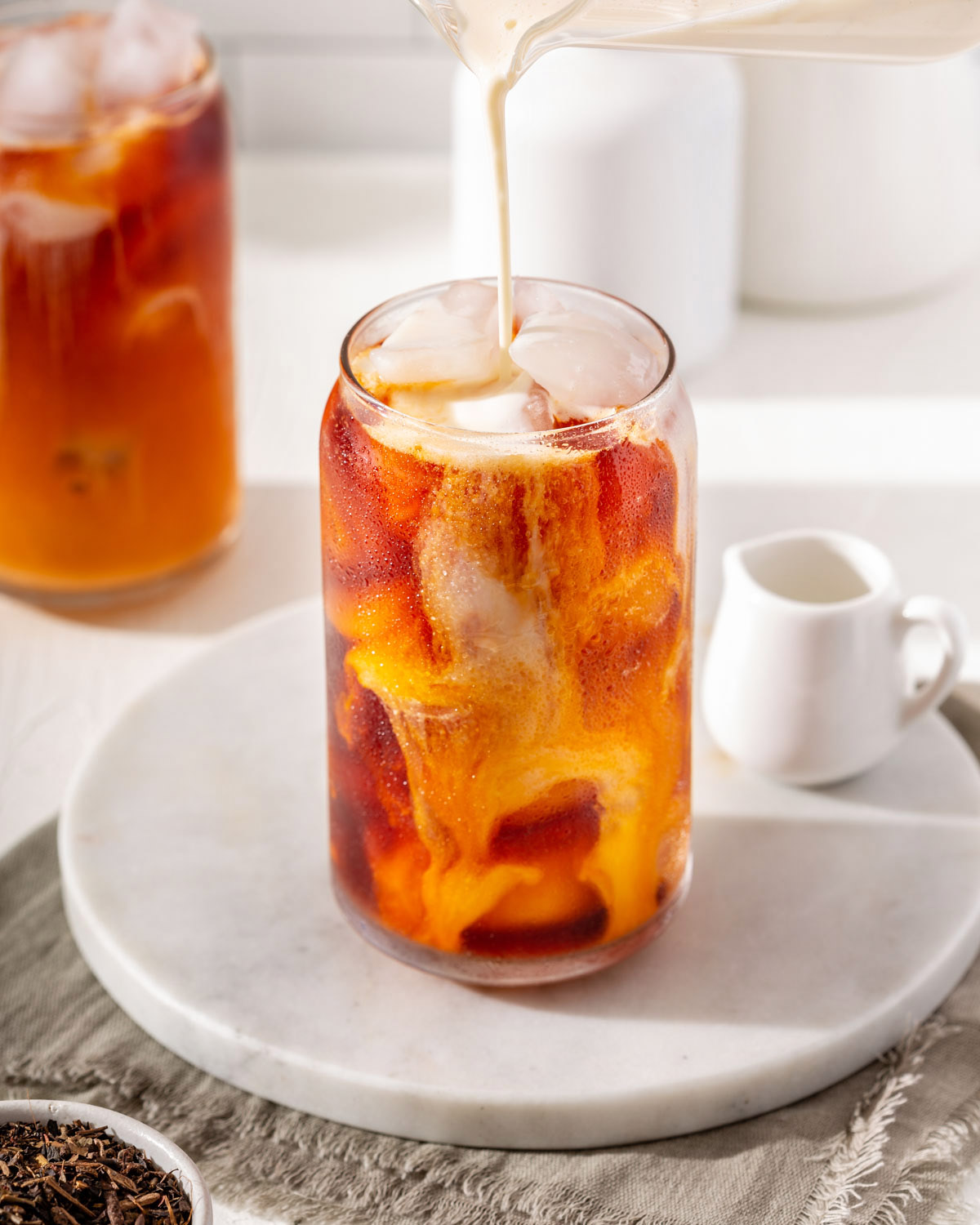 Tips For This Recipe
Make sure to steep the tea for at least 20 minutes. This will ensure a rich deep tea flavor in the tea that is not overpowered by the sweeteners.
You can adjust the level of sweetness by adding less evaporated milk+condensed milk. I like to shy on the less sweet side for drinks so I typically add the milk and evaporated milk 1 tablespoon at a time until my preferred sweetness.
You can substitute the condensed milk for more sugar. If you do not have condensed milk, you can alternatively add 1-2 more tablespoons of granulated sugar instead depending on your sweetness preference.
Storage Instructions
You can make this Thai Iced Tea in advance and store it in a pitcher or airtight container with a lid in the refrigerator for up to 7 days.
You May Also Love...