This is the BEST matcha puppy chow (muddy buddies) recipe you will find on the internet and it is SO easy to make! Let's level up your holiday snacking with this matcha chocolate cereal treat. It is perfect for gifting to your loved ones this year!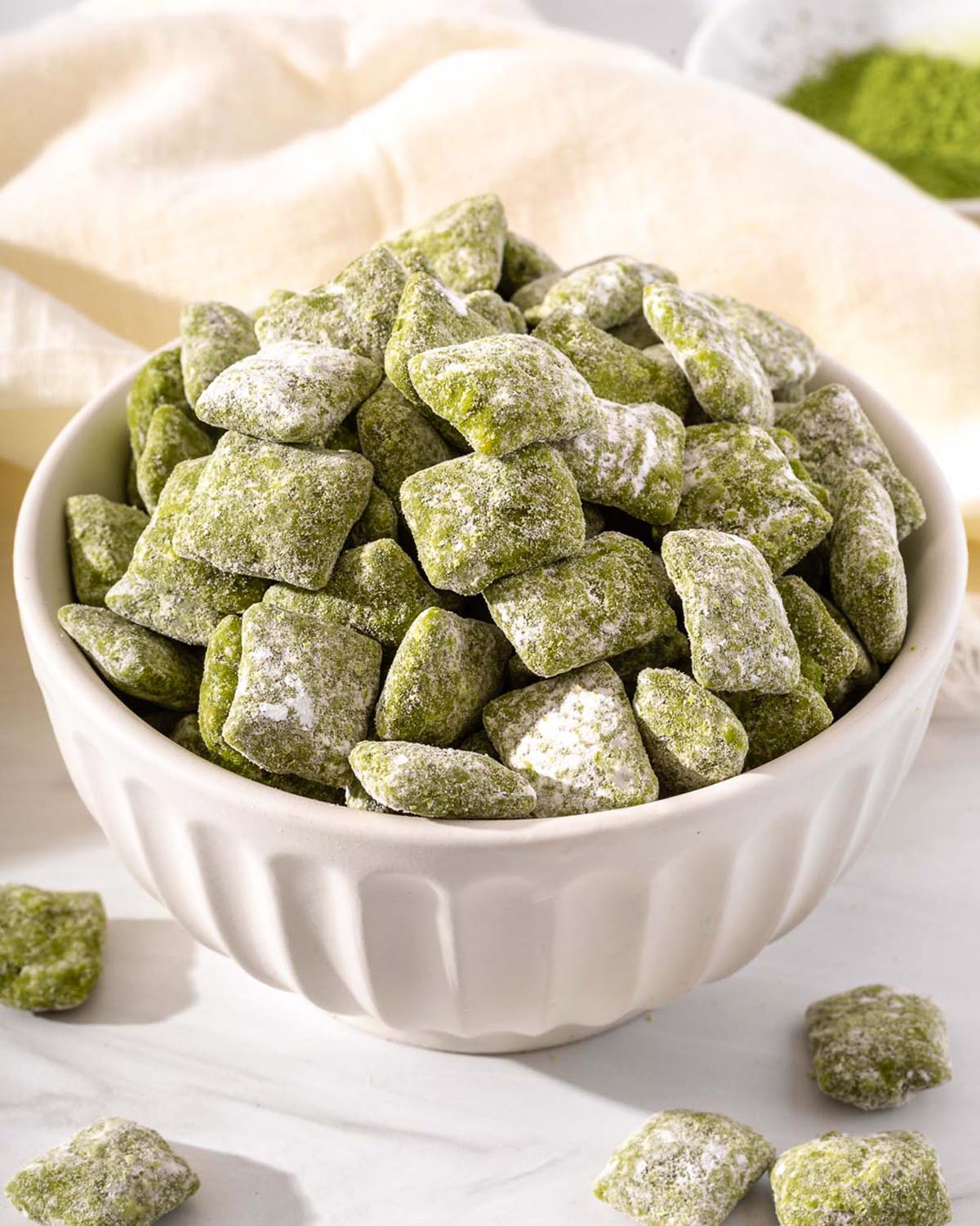 Puppy chow is one of my favorite things to make during the holidays. It is delicious, only needs 6 ingredients and it can be done in under 15 minutes. I mean what more can you ask for! Plus, it is the easiest and cost-effective treat to make in bulk so that you can gift it to your family and friends. Honestly, it may take some serious restraint for you to be able to part with these delicious matcha treats.
This recipe is for all those matcha lovers out there. This matcha puppy chow recipe is not similar to the traditional puppy chow recipe in that it uses white chocolate instead of milk/dark chocolate and does not have any peanut butter in it. The white chocolate is infused with an abundance of matcha powder and the powdered sugar has some additional matcha powder for a delicious double matcha flavor.
If you loved this matcha holiday snack, check out my matcha crinkle cookies, matcha madeleines, or vanilla matcha basque cheesecake!
Jump to: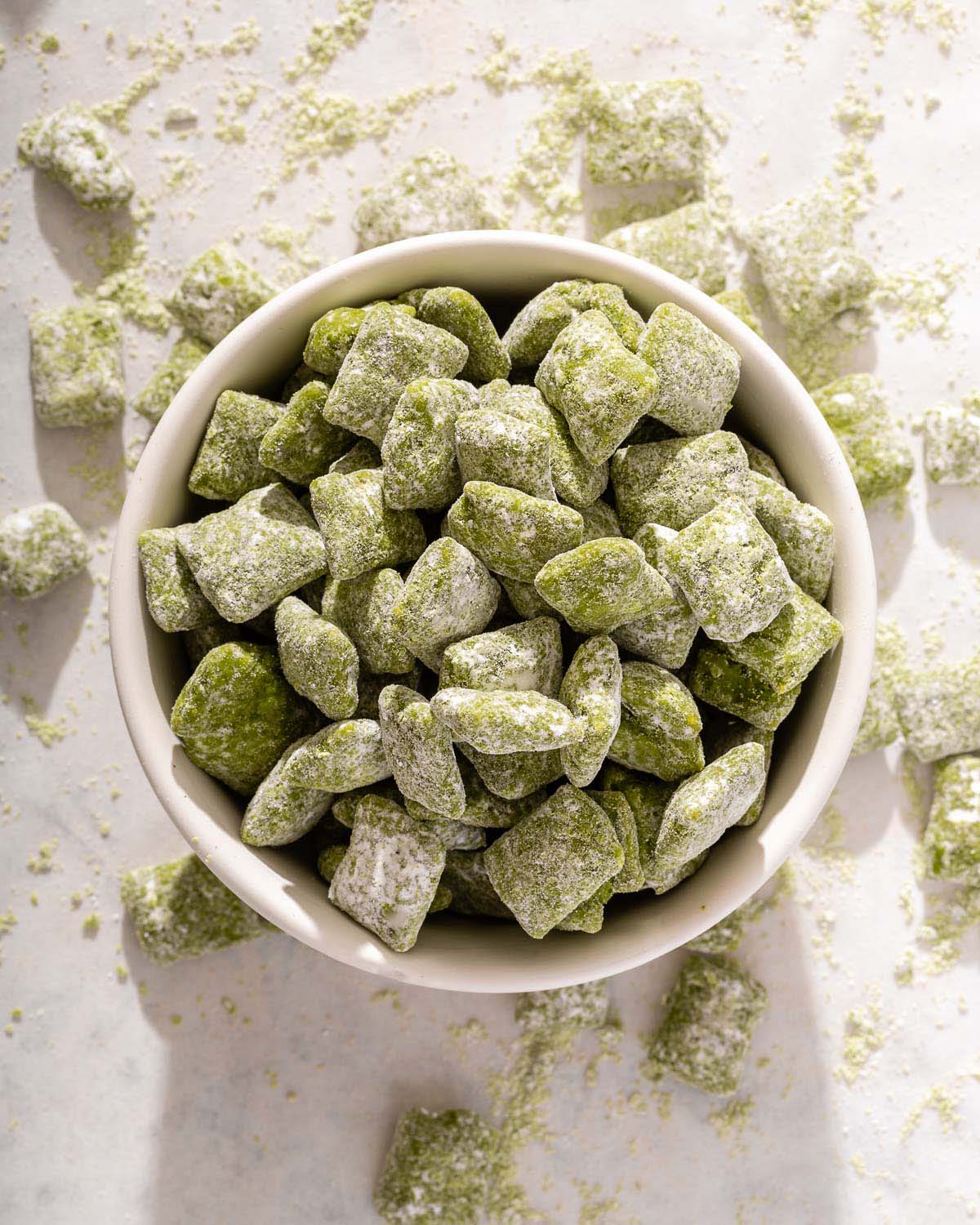 🍽 Kitchen Equipment Recommendations
Nesting Glass Mixing Bowls: You will need

glass nesting bowls

to measure out the ingredients and a large mixing bowl to toss the chex with the matcha chocolate. This Duralex nesting glass mixing bowl set has all the bowls you will need for this recipe.
Rubber Spatula: you will need a

rubber spatula

to fold the ingredients together
Small Saucepan: you will use a small saucepan to heat up the heavy cream with the honey.
Large gallon size ziplock bag: you will need a large gallon sized ziplock bag to coat the puppy chow with the powdered sugar
Baking Sheet: a

half-sheet baking sheet

will allow you to spread the puppy chow onto an even layer to chill in the refrigerator.
Parchment Paper: you will need parchment paper to line the baking sheet to chill the matcha puppy chow.
🛒 Ingredients
This recipe only calls for 6 ingredients! That means you should source high-quality ingredients for the best-tasting snack!
Couverture white chocolate: Since this recipe calls for few ingredients make sure you use high quality, great tasting white chocolate. I prefer to use

Callebaut's white chocolate chips

. Their chocolate is milkier and a less sweet than other brands I have tried. Alternatively, Lindt white chocolate works just as well.
Matcha powder: When using matcha powder, ensure that you are using the best

culinary grade matcha powder

that you can find. I love using Matcha bar, Matcha love, Matcha Bloom or Junbi matcha my matcha recipes. I used

ceremonial grade matcha

for a deeper and richer matcha flavor with a more brilliant green color. However, you can use culinary grade as well.
Heavy Cream: the heavy cream subtly thins out the white chocolate making it easier to toss.
Honey: the honey adds a subtle sweetness to the matcha chocolate.
Chex Cereal: I used Rice Chex cereal for this recipe. Alternatively, you can use Corn Chex, or wheat chex cereal.
Powdered Sugar: the powdered sugar is used to coat the chocolate covered chex.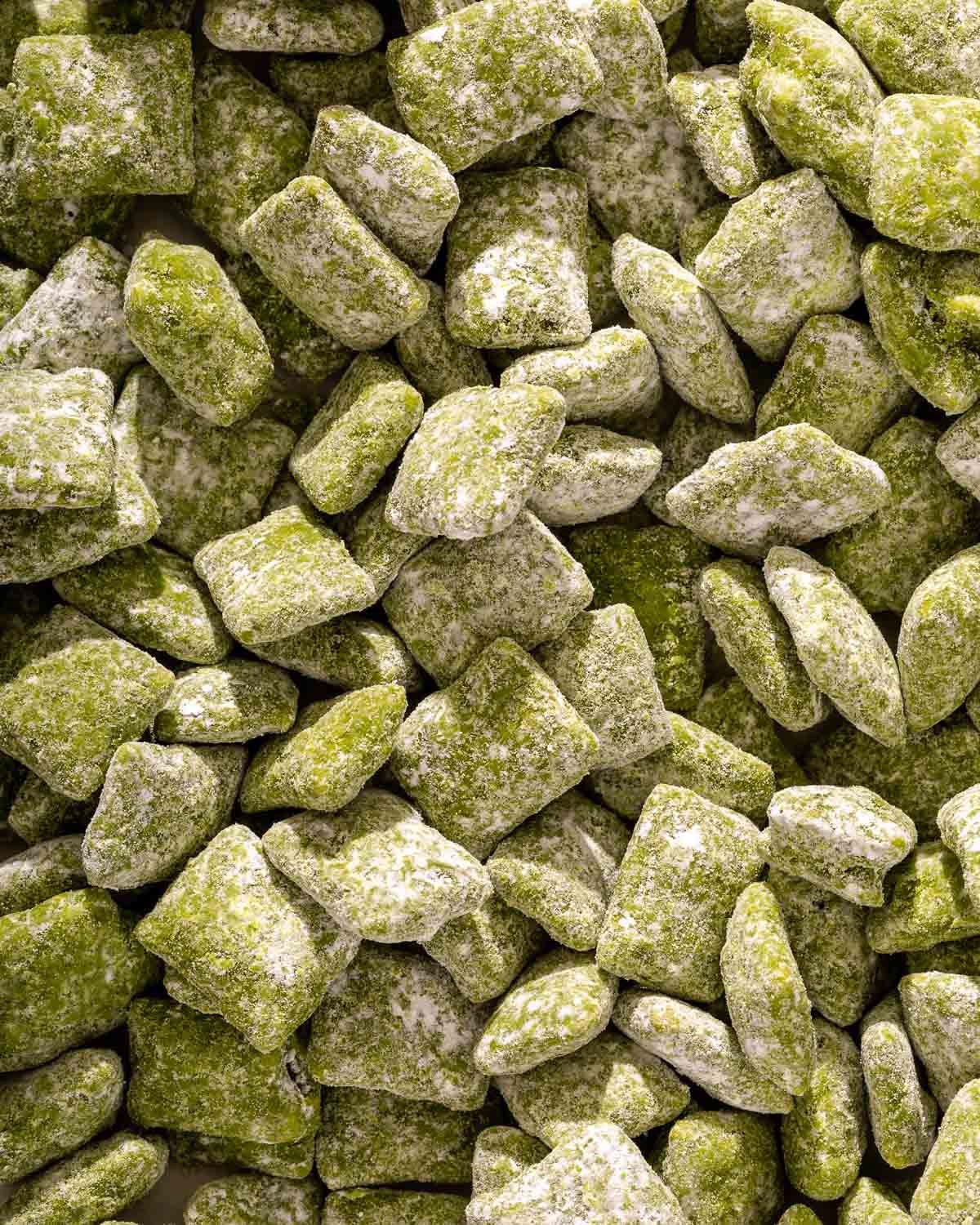 📝 How To Make
This nostalgic holiday snack is incredibly easy to make. All you need to do is make the matcha white chocolate mixture, toss with the Chex and toss with matcha powdered sugar!
Melt the white chocolate. For the double boiler method, in a heatproof bowl add the white chocolate, heavy cream and honey. Place over a pot filled water making sure the bowl doesn't touch the bowl. Heat on the stove on low gentle heat and stir until the chocolate melts. Alternatively, you can microwave the white chocolate and honey in 15 second increments for about 1- 1.5 minutes. Make sure to stir the chocolate every 15 seconds so the chocolate melts evenly.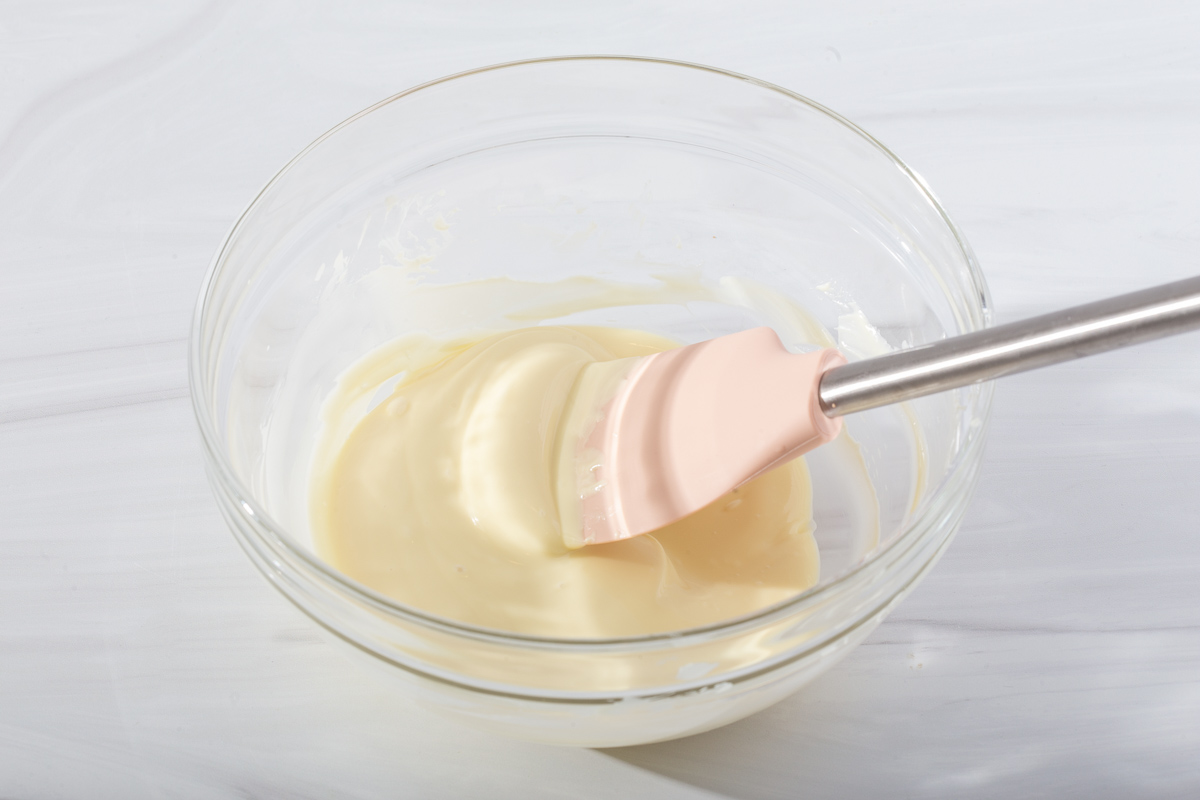 Sift in the matcha powder to the white chocolate. Using a fine mesh sieve, sift in the matcha powder to remove any clumps and mix with spatula until smooth.
Pour the melted matcha chocolate onto chex. In a large mixing bowl, add the chex cereal. Then working in 3 batches, pour in the matcha chocolate, and gently fold with a rubber spatula until the chex is evenly coated. Set aside to cool slightly to room temperature.
Whisk together the powdered sugar and matcha powder. In a separate bowl, whisk together the powdered sugar and matcha powder until combined.
Toss the powdered sugar with the matcha coated chex. When the chex has reached room temperature, pour in the powdered sugar mix and matcha covered chex in a large gallon ziplock bag. Seal and shake the bag until the chex is evenly coated with the powdered sugar. Add additional powdered sugar if necessary to coat the chex.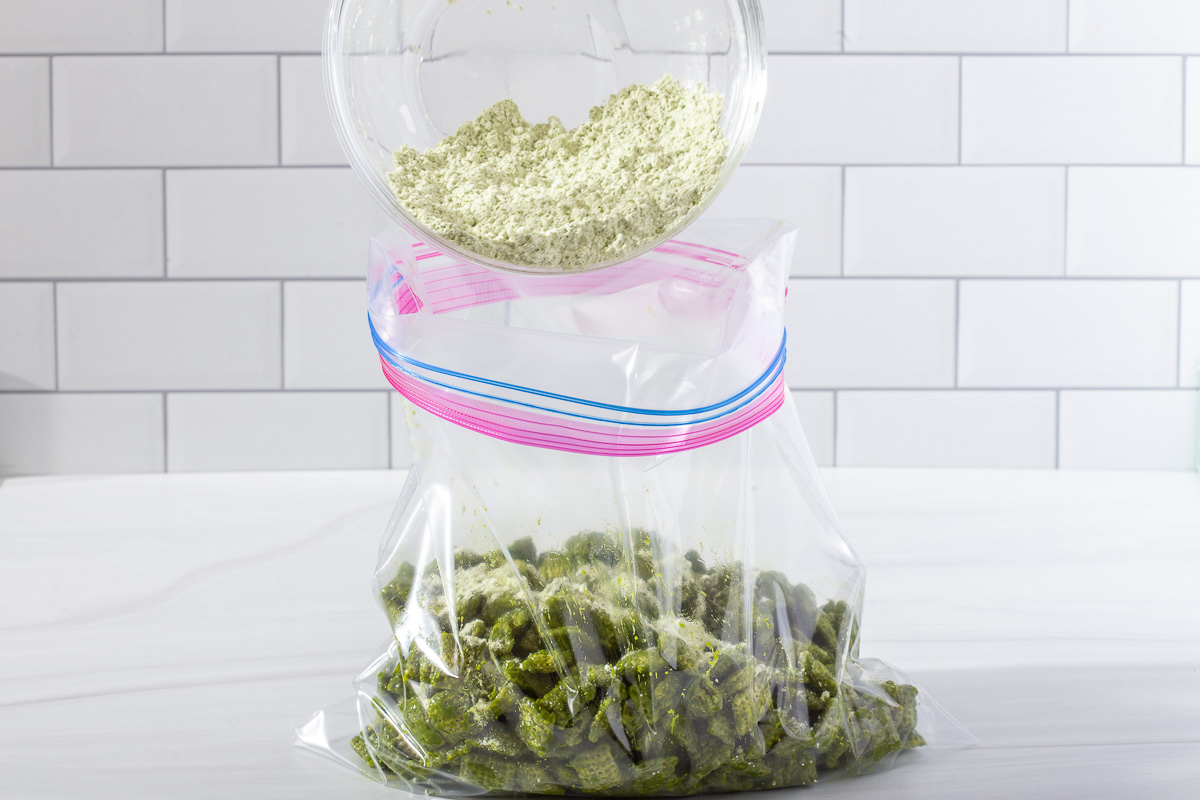 Chill and serve. Pour the mixture onto a large parchment lined cookie sheet and refrigerate uncovered for 15-30 minutes, or until dried. Store in an airtight container in the refrigerator.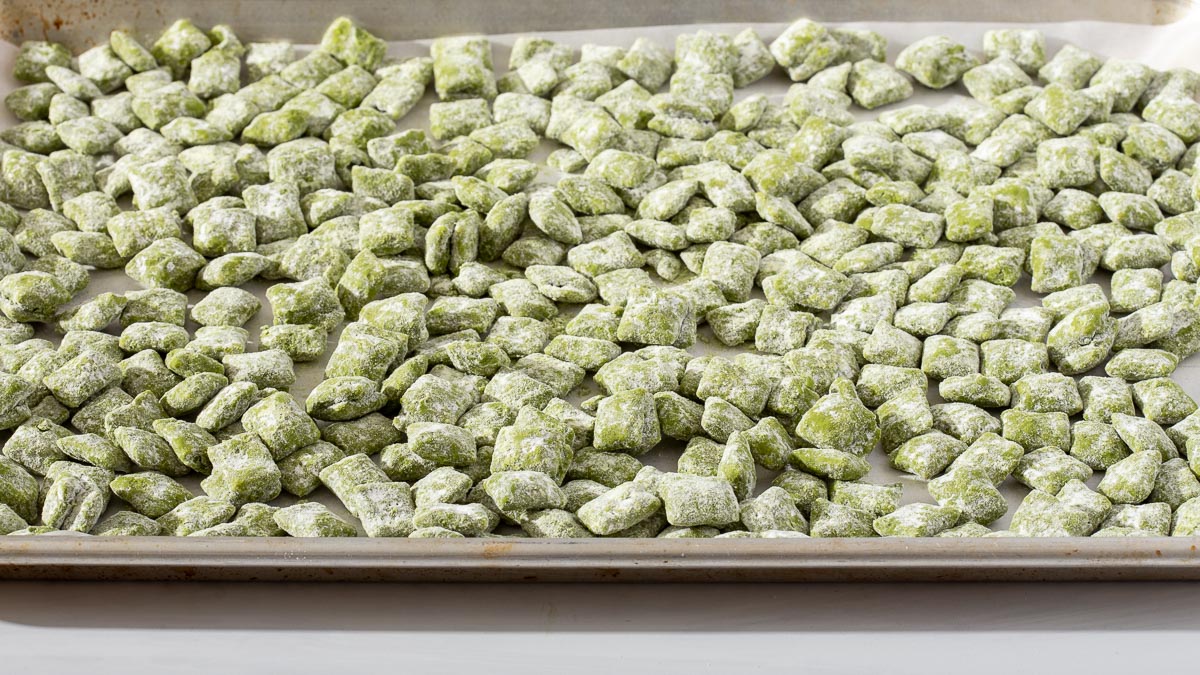 ⭐️ Tips
Use a trusted Matcha powder. Since matcha is the star of this dish, make sure to use a high quality matcha powder for the best results. There are tons of matcha powders out there and some are made with lower quality than others. I've used brands such as

Matchabar

, Junbi and Matcha Bloom and they all have high quality grade matcha.
Use Callebaut White Chocolate melting chips.

Callebaut white chocolate chips

are the only white chocolate chips I ever use for my recipes. The white chocolate is rich, its creamy, and it melts so easily.
If microwaving the chocolate, use a medium, microwave safe bowl to melt the white chocolate chips. Microwave the chocolate in 15 second increments and mix the chocolate in between for an even melt and to prevent from burning the chocolate. I was able to melt the chocolate within 1 minute but this may vary depending on the heat of your microwave.
Evenly coat the chex with powdered sugar to prevent from melting. The powdered sugar protects the chex from melting into one large blob so use enough powdered sugar to evenly coat each cereal square.
🥡 Storage Instructions
This puppy chow recipe is best served immediately. It can be stored in an airtight container on the counter or in the refrigerator (if you have a warm environment) for up to 1 week. *Since there is heavy cream in the chocolate, the moisture may make the chex cereal soft the longer it sits out.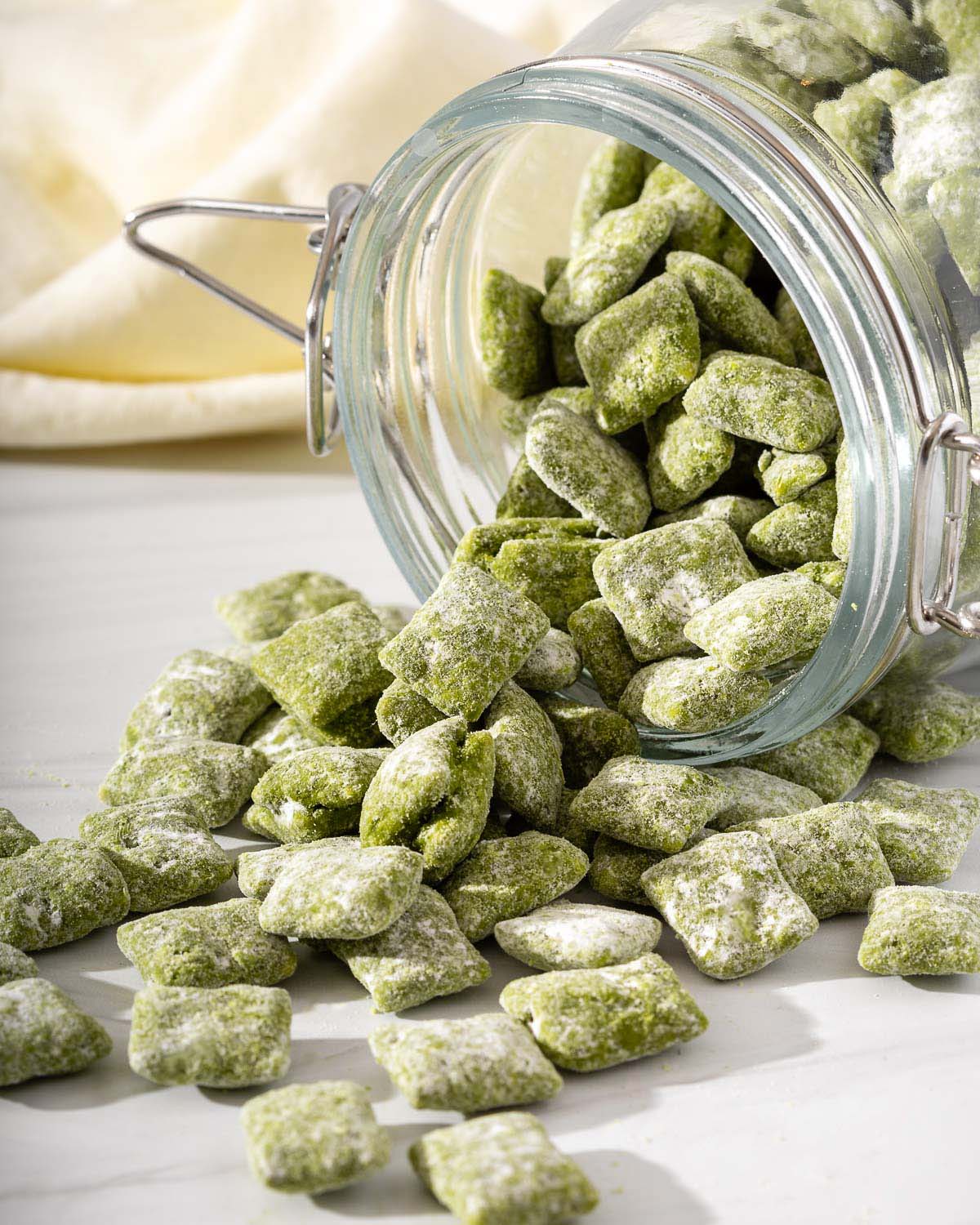 📬 Frequent Q & A's
What type of chocolate do I use?
When a recipe calls for so few ingredients, the quality of the ingredients should be the utmost priority. I have had my best results using high-quality couverture white chocolates, specifically these Callebaut white chocolates. They contain stabilizers that ultimately provide the velvety texture that you want and need.
If you are looking for the next best thing at the grocery store, buy a brand that has fewer additives in the ingredient list besides cocoa, milk, and chocolate. Also, make sure that it contains cocoa butter instead of vegetable fat. True white chocolate has an ivory color instead of a pure white color. I found that Lindt white chocolates work as a second-best alternative.
What are other names for puppy chow?
Puppy chow has also been called muddy buddies, monkey munch, muddy munch, reindeer chow, or doggy bag.
Why "puppy chow"?
The name "puppy chow" stemmed from the fact that this snack closely resembles dog food. Typically, Americans have made the original puppy chow with Chex cereal, peanut butter, chocolate, and butter and dusted with powdered sugar.
💕 You May Also Love...
If you made this dish and loved it, please leave a review and comment below. We would greatly appreciate it!

Share your dish with us on Instagram, tag us @takestwoeggs—we'd love to see and share your delicious creation!

Hungry for more? Follow us on Instagram, Pinterest, and Facebook for more tasty creations and updates 🍜
👩🏻‍🍳 Recipe