Say hello to this gorgeous double-layered vanilla matcha basque cheesecake with an irresistible vanilla wafer cookie crust! Take one bite into this luxurious cheesecake and you will instantly fall in love.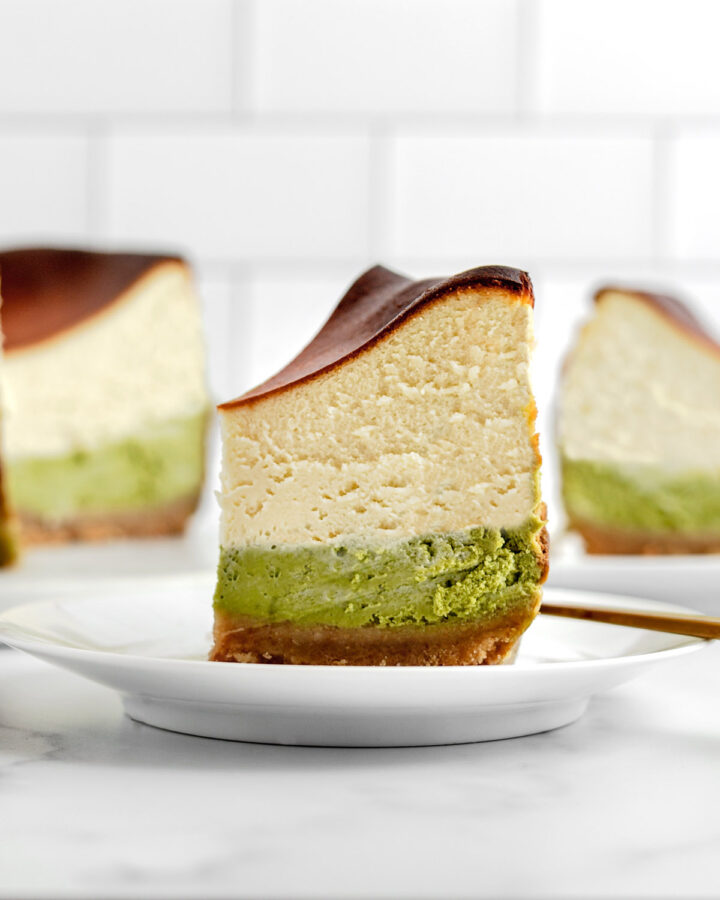 This double-layered vanilla matcha Basque cheesecake recipe is so uniquely light, creamy on the inside, and caramelized on the outside. Plus, it is so incredibly easy to make. Our rendition of this popular Spanish cheesecake has an added matcha layer and a vanilla cookie crust. What are we waiting for? Let's dig in.
What is Basque Cheesecake? And how is it different from American Cheesecake?
Simply put, basque cheesecake is a caramelized cheesecake. This cheesecake originated in 1990 in San Sebastian, Spain. The original recipe uses cream cheese, cream, sugar, eggs, and flour. The "basque" name refers to its beautifully browned rich dark surface.
Ordinarily, the American cheesecake does not have such a beautifully browned surface. Also, American cheesecake is baked low and slow in a water bath. Alternatively, Basque cheesecakes are baked on high heat and rise quickly. Furthermore, a traditional Basque cheesecake does not have a crust.
Ingredients For This Recipe
Cream Cheese: for optimal flavor and texture, I recommend using full-fat block cream cheese. My favorite brand that always brings consistent results is Philadelphia cream cheese. Using whipped or reduced-fat cream cheese will not produce the same texture.
Matcha: is a powdered green tea made of top-quality tea leaves. It provides a deep, earthy green tea flavor. There are three grades of matcha: ceremonial, premium, and culinary. Culinary is generally sufficient but the premium and ceremonial grades will provide a richer green color. However, the premium and culinary grades tend to be more expensive.
Vanilla Wafer Crust: the vanilla wafer cookie plays on the caramelized flavor of the cheesecake. This crust is extremely simple to make. All you need are vanilla wafers, butter, and a pinch of salt. The butter browns when you bake it and brings out a rich hazelnut flavor in the vanilla wafer. You can also substitute the Vanilla wafers for graham crackers if you'd like.
Sugar: adds the sweetness that breaks through the rich cream cheese flavor. I used classic granulated white sugar as the sweetener.
Eggs: this recipe calls for large eggs. The eggs thicken and provide that smooth rich texture in the basque cheesecake. Also, it assists in the rise of cheesecake too.
Heavy Cream: the fat in the heavy cream is necessary to achieve the right texture.
Vanilla Extract + Lemon Juice: these ingredients can be optional, but I love the bright and warm flavor notes that both of these ingredients bring to a cheesecake.
Flour: I used all-purpose flour as the binding ingredient to give the cake the extra rise it deserves.
Salt: if using iodized table salt, you should use ½ as much salt as listed.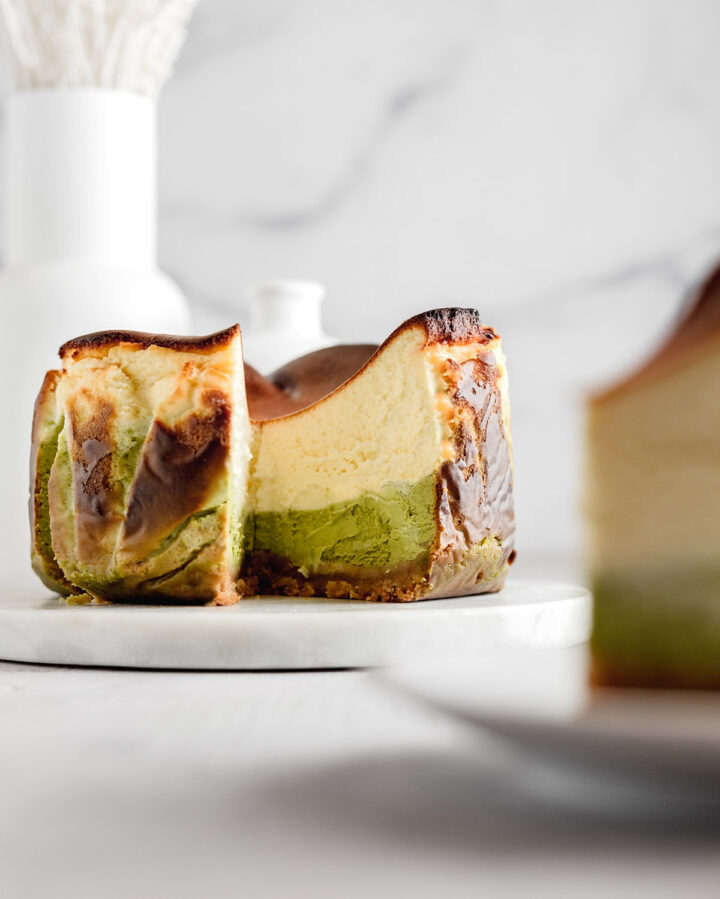 How to Make This Recipe
For this double-layered vanilla matcha basque cheesecake, I decided to combine the Spanish and American cheesecake by adding the traditional American cookie crust. Then, I took it to the next level by incorporating a matcha cheesecake layer. The end result: MIND BLOWN.
(If you would like to make a more traditional basque cheesecake, simply make the vanilla cheesecake layer throughout the entire cake and omit the crust!)
Prepare the oven and pan.
Preheat oven to 425°F. Line 3-inch deep 6-inch round cake pan with 2 layers of parchment paper, allowing the paper to extend about 2-inches above cake pan rim.
Make the Crust:
Blend the vanilla wafers. Using a food processor or blender.
Mix the crushed vanilla wafers, melted butter, and salt.
Transfer to the prepared cake pan. Then, press an even layer into the bottom of the pan.
Prepare the Two Fillings:
Make the vanilla cream cheese filling. Place cream cheese and sugar in a stand mixer fitted with the blade attachment. Next, beat on medium until the mixture is smooth.
Add in vanilla. With the mixer running, add eggs one at a time. Scrape down the sides of the bowl. Separate into 2 bowls of equal portions.
Make Flour and heavy cream. In a small bowl, stir together flour, salt, and about ¼ cup of cream until paste forms. Then slowly add the remaining cream, a little at a time, until the mixture is smooth and has no lumps. Next, separate into 2 bowls of equal portion.
Pour one of the flour and heavy cream bowls into the vanilla cream cheese filling bowls. Then whisk thoroughly until incorporated
Make the Matcha cream cheese filling. In a small separate bowl, mix the 12 g matcha and 3 tbsp of heavy cream. Next, mix this into one of the flour and heavy cream bowls.
Pour the matcha and heavy cream mixture into the second of the cream cheese mix bowls. Then whisk thoroughly until incorporated.
Assemble the layers. Pour matcha mixture into prepared cake pan on top of crust. Put the vanilla cheesecake batter into a piping bag and pipe on top of the matcha batter.
Bake. Place filled cake pan on a baking sheet to catch any spills during baking. Place in the center of the preheated oven. Lastly, bake for 35-40 minutes until the top is browned yet the center is jiggly.
Tips for this Recipe
Use room temperature ingredients! This helps in creating that smooth, evenly-baked cheesecake.
Use the right pan: this cake will rise an absurd amount over the pan. Then it will set as it cools. I used a 3 inch deep 6-inch round cake pan with a removable bottom for this recipe. If you use an 8 inch or 9-inch pan, I highly recommend multiplying the recipe by 1.5 to not have a short and shallow cake.
Double line the pan: Line the entire cake pan with two sheets of parchment paper. Allow two to three inches of parchment paper to extend past the cake pan rim. The basque cheesecake will rise past the cake pan.
Skip the water bath: this basque cheesecake does not require a water bath. The cake is supposed to rise, and fall and have all of those beautiful imperfect ridges and rustic cracks.
Keep an eye on the top of the cheesecake: Different ovens will brown cheesecakes at different rates. So, I recommend keeping an eye on the cheesecake during the final 15-20 minutes of baking to reach your optimally desired level of burnt color. If it starts to get too dark, just gently lay a piece of aluminum foil over the cheesecake. Alternatively, if it is not dark enough, turn on the broil for 30 seconds to a minute.
Storage Instructions
You can store the leftover cheesecake in an airtight container or tightly covered with plastic wrap in the refrigerator for up to 5 days.
You may also love...
If you love matcha layered desserts, I recommend checking out my matcha tiramisu!