One bowl, twelve chocolate mini bundt cakes, one fulfilled decadent chocolate dream. One bite into these chocolate cakes drizzled with an ultra velvety chocolate ganache will make you check in to chocaholics anonymous.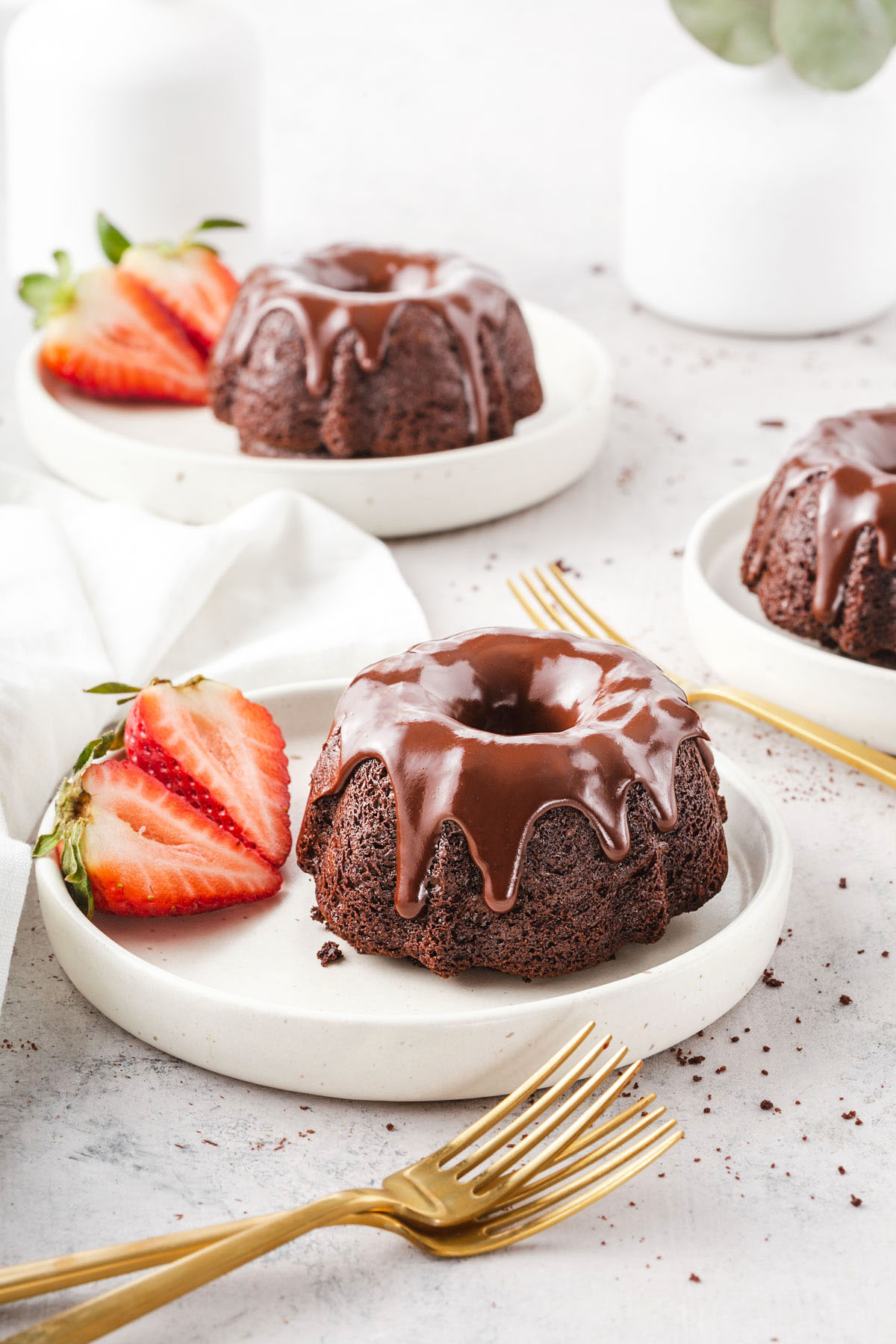 These mini chocolate bundt cakes are my FAVORITE recipe. The chocolate cakes are rich, but not overly rich, and chocolatey but not too overpoweringly chocolatey. It sits on that beautifully fine line of moist and fluffy. For an added bonus, the Vietnamese coffee enhances the cake for a moist, rich chocolate experience.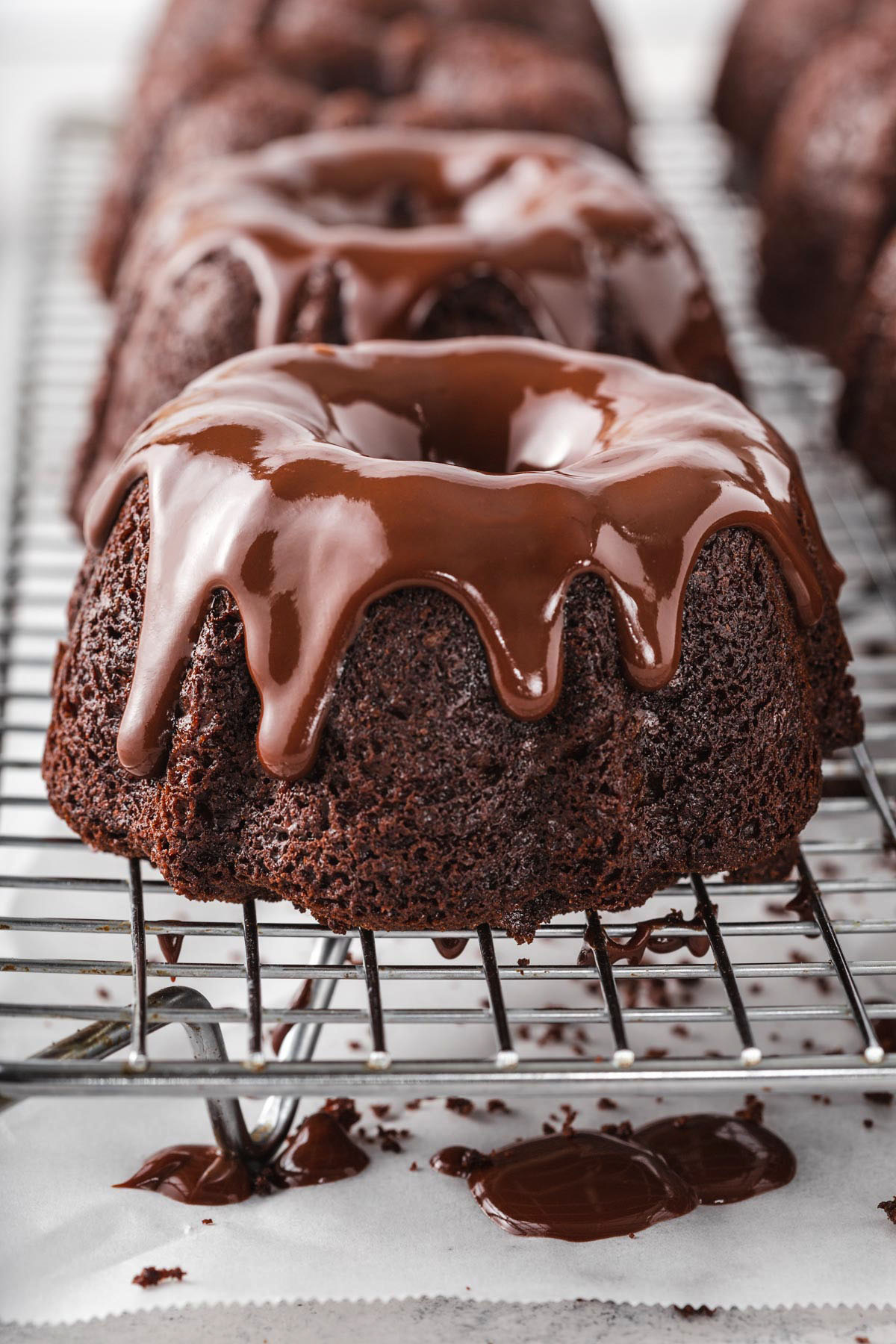 The BEST chocolate cakes. Ever.
When it comes to the internet and you Google chocolate cake there will be thousands of recipes online claiming their superiority. I know that this may seem bold and conclusory, but this recipe really is the best. Why? Because it uses the best quality, yet easy to find ingredients, it has a deep rich chocolate flavor and a moist fluffy crumb, it is layered with a silky chocolate ganache and well it is so incredibly easy to make.
I have included all the ingredients I've used, my detailed steps and tips and tricks you will ever need to make foolproof, no-fail, easy bake mini chocolate bundt cakes.
Ingredients For This Recipe
This chocolate cake recipe uses all your pantry staples you probably already own in your kitchen. You really have no excuse not to make these mini chocolate bundt cakes.
Granulated Sugar: the main sweetener for this chocolate cake.
Cocoa Powder: the cocoa powder is the star of this cake. It gives the cake its rich deep chocolate flavor. Make sure you use the highest quality cocoa powder. I always use Rodelle's cocoa powder because it simply is the best.
All-Purpose Flour: the classic all-purpose flour will give the cake its velvety crumb.
Baking Powder and Baking Soda: this combination creates the rise you need and deserve in this chocolate cake.
Salt: the salt subtly balances out the sugar.
Vegetable oil: use neutral vegetable oil for this cake. You don't want any flavored oils to interrupt your date with this chocolate beauty.
Vanilla extract: the vanilla extract provides a subtly flavored sweetness layer to the cake. I love using Rodelle's Vanilla.
Eggs: the eggs bind the ingredients together and assist in the rise of the cake. Make sure to use room-temperature eggs for an even rise in your cakes.
Buttermilk: real buttermilk is a key ingredient in this recipe. It provides moisture and adds a very subtle tang to the batter balancing out the sweetness.
Vietnamese Coffee: if you want a rich chocolate cake, you will need a rich strong Vietnamese coffee. The coffee deepens the chocolate flavor without even changing the flavor profile. You will not taste the coffee at all. I PROMISE. I love using Nguyen Supply Vietnamese coffee. You will also need a phin filter which is super easy to use and is reusable. Make sure the coffee is at room temperature to prevent scrambling your eggs.
Ingredients for Velvety Chocolate Ganache
Chocolate Chips: Since the ganache only requires two ingredients and the chocolate chips will dominate the flavor, use high-quality chocolate chips. I personally love using Callebaut's semi-sweet melting chocolates because they melt easily and have a bold rich chocolatey flavor.
Heavy Whipping Cream: the heavy whipping cream is what gives the chocolate its smooth, soft, velvety, silky texture.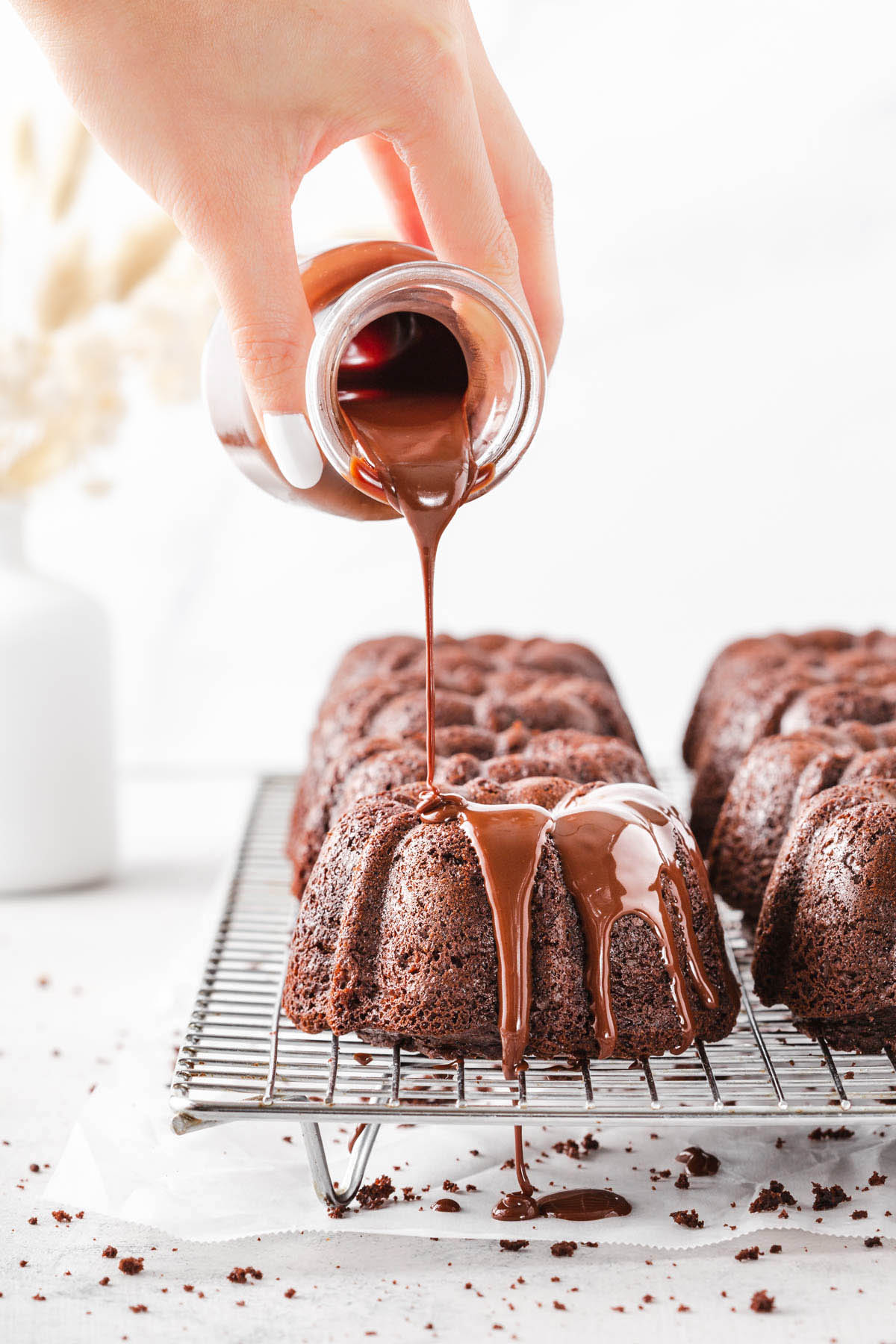 How To Make This Recipe
Prepare the oven and grease the pan. Preheat oven to 350°F. Grease the mini bundt pan.
Whisk the dry ingredients. In a large bowl, whisk together sugar, cocoa powder, flour, baking soda, baking powder, and salt.
Whisk the wet ingredients. In a separate bowl, whisk oil, vanilla, eggs, and buttermilk.
Combine the wet and dry ingredients. Pour the wet ingredients into the dry, whisking until no lumps remain. Then, pour in room temperature Vietnamese coffee and mix until just combined.
Pour batter into prepared pan and bake at 350°F for 20-25 minutes, or until a toothpick inserted in the cake comes out clean (with a few crumbs on it).
Let cool on a drying rack in the pan for 15 minutes before removing it from the pan. Cool the cakes completely before adding the ganache.
Make the Ganache. In a saucepan on medium heat, bring heavy cream to a simmer, stirring occasionally. Next, remove from heat and pour chocolate chips into the pan. Place lid on chocolate chips and let sit without mixing for 5 minutes. Lastly, mix until combined. Let the ganache sit uncovered for 15 minutes or until it is room temperature before pouring it over your cakes.
Tips For This Recipe
Use high-quality cocoa powder. The cake will taste as good as you invest in it. The cocoa powder is the main flavoring agent of the cake. Low-quality cocoa will produce a low-quality cake. High-quality cocoa will produce an award-winning, everyone's all-time favorite cake.
Measure your flour correctly. Adding too much flour to the recipe is the most common mistake. The best and easiest way to measure flour is by using a kitchen scale. Alternatively, you can fluff the flour with a spoon, then using that same spoon lightly scoop it into your measuring cup, and then use a knife to level it off.
Make sure all refrigerated ingredients are at room temperature. This is important for your cakes to have an even high rise.
Bring your coffee to room temperature. This prevents the coffee from cooking the eggs too early on and making scrambled eggs in your batter.
Try not to over-bake your cake. When you over-bake a cake, it will lose its delicious moisture that you absolutely NEED. To prevent this, take your cake out of the oven the second the toothpick comes out mostly clean, and not completely dry. Having a few crumbs of chocolate cake on it is OK as long as the crumbs are not wet.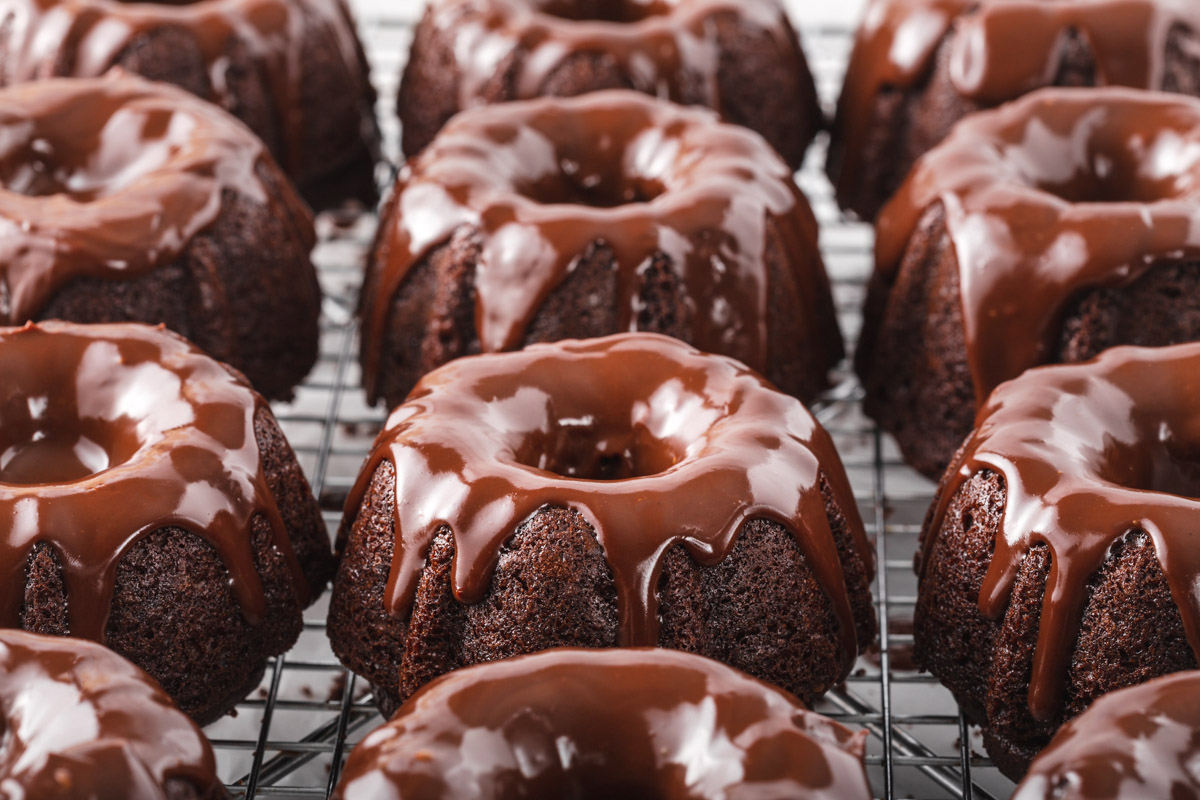 What other sized cakes can you make from this Double Chocolate Cake recipe?
I love using my mini bundt pan for this recipe because it creates a little mini well inside the cake that is perfect to fill with that soft and creamy chocolate ganache making a mini molten lava cake. However, you can make this recipe into different sizes in shapes and sizes if you don't have a mini bundt pan at home!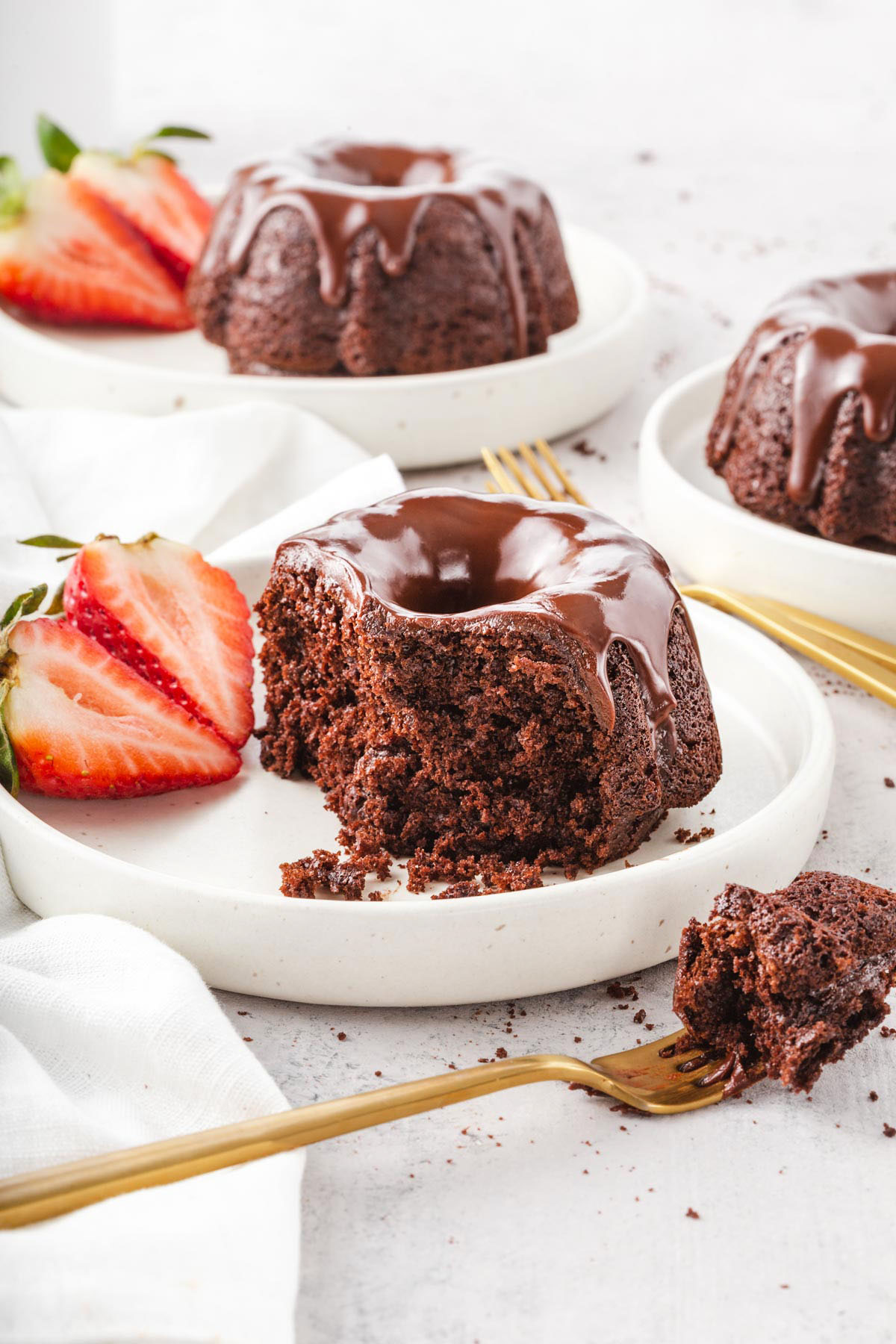 Storage Instructions
Do not store your cake in the refrigerator. Refrigerating the cake will make the cake go stale faster. Wrap the cake with plastic wrap or place it in a container with an airtight lid and leave it on the counter for up to 3 days.
You may also like...