Beautiful burgundy moist crumb topped with a smooth cream cheese frosting these red velvet cupcakes are delicious bites of perfection. These easy cupcakes make the best dessert for any special occasion!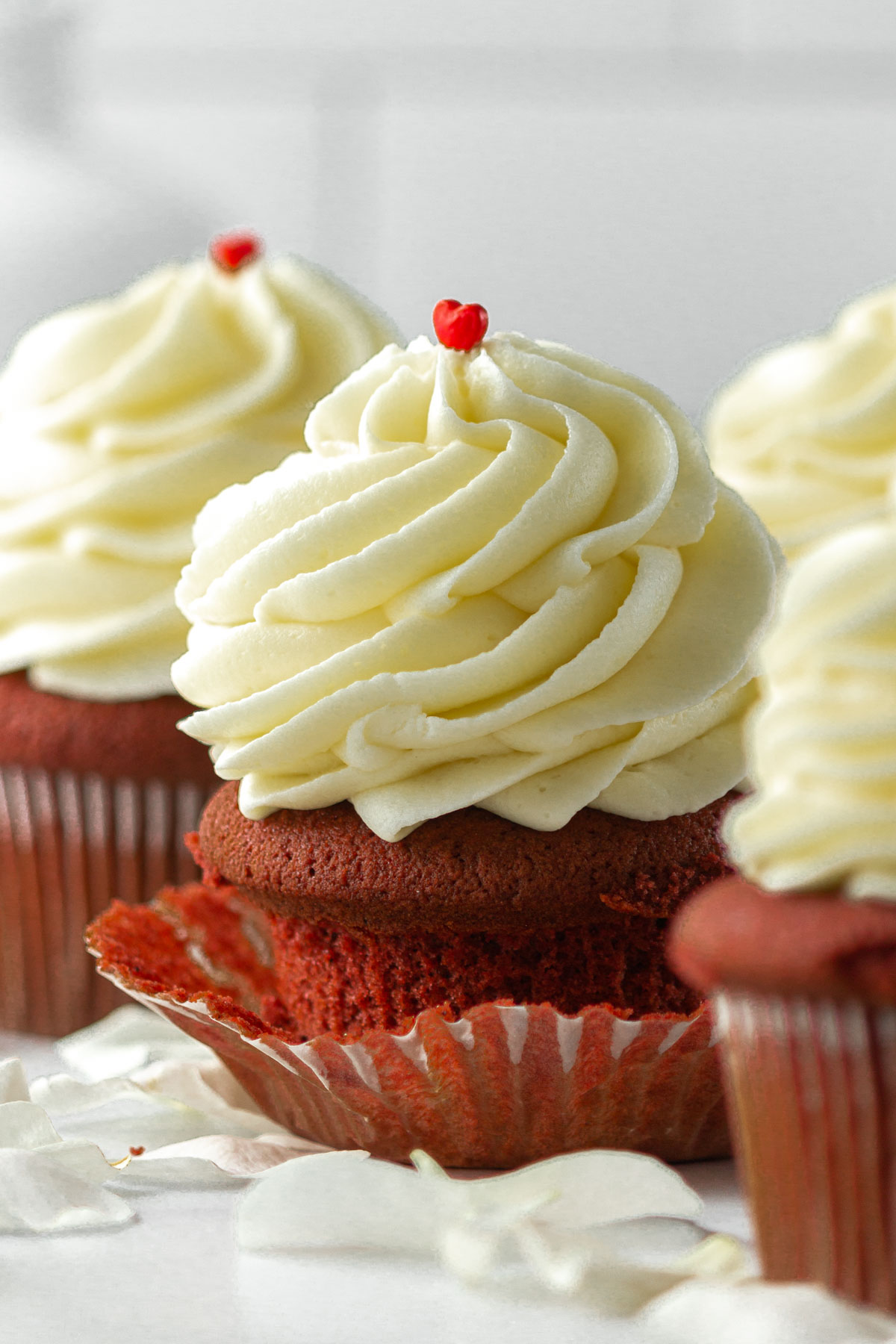 I remember the first time I saw red velvet cupcakes. There they stood right before me with their elegant cream cheese crowns and mysterious burgundy-colored bases. When I took a bite, my tastebuds started dancing. The cake, moist and fluffy, had subtle hints of cocoa but was not entirely too chocolatey and the cream cheese frosting added a layer of sweet tanginess that I fell instantly in love with. At that moment I knew I had to find the perfect recipe to re-create this beautiful confection.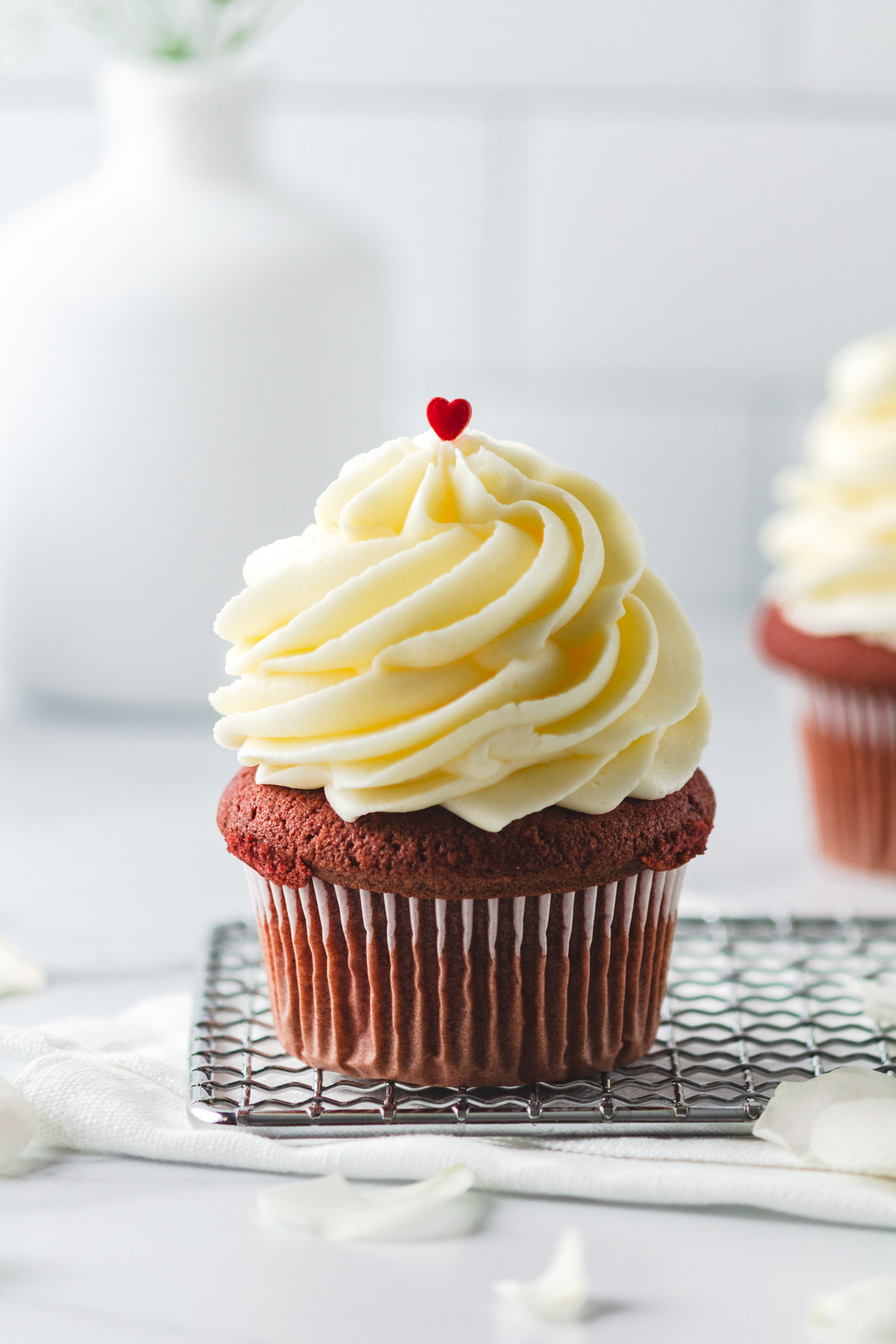 What does Red Velvet Taste Like?
Red velvet cupcakes are truly a mystery when it comes to taste. I like to call it a chocolate-lite cake. They resemble chocolate cake but with less chocolate intensity. It is not entirely chocolate but not entirely vanilla either. The subtle hint of cocoa is also balanced out with a slight tanginess from the buttermilk. The cupcake should have a moist and tender crumb that is buttery and rich. Red velvet cupcakes are one of my all-time favorite cakes right next to carrot cake and chocolate cake.
Ingredients For the Cupcakes
Butter: Butter provides the rich moist crumb to the cupcake. When it comes to butter, unsalted and room temperature butter is a must. The unsalted butter allows you to control the level of salt you add to your cake. Whereas, the room temperature helps provide an even rise.
Vanilla Extract: to make the best cake, you will need the best ingredients. My favorite vanilla extract is Rodelle's. They use quality ingredients which is evident in the quality taste.
Buttermilk: buttermilk is a must-have ingredient. It adds a subtle tanginess, does the heavy lifting in adding the moisture, and reacts with the cocoa powder to create a subtle pink hue. The buttermilk acts as an agent to activate the baking soda.
Vinegar: the vinegar also activates the baking soda and makes red food coloring a deeper red. You will not be able to taste it!
Eggs: for all baking recipes I always use large eggs. They are usually about 50 g each. Use room temperature large eggs for the best results and an even rise.
Cocoa Powder: the subtle hint of cocoa powder is what makes red velvet cupcakes a fan favorite. Use high-quality cocoa powder for the best results. I use Rodelle's Dutch-processed cocoa powder. It is my all-time favorite cocoa powder. Trust me, you will not be disappointed in using this cocoa powder.
All-Purpose Flour: the all-purpose flour is all you need to make this red velvet cupcakes recipe, no fancy cake flour required!
Granulated Sugar: simple white granulated sugar adds sweetness to the cake.
Red Food Coloring: the red food coloring yields that beautiful rich red color. I prefer to use Wilton's gel food coloring so as to not change the consistency of the batter too much.
Kosher Salt: the salt balances out the sugar in the cake
Baking Soda + Baking Powder: baking powder and baking soda are both rising agents that help the rich dense cake rise to create that fluffy crumb.
Ingredients for the Cream Cheese Frosting
Unsalted Butter: room temperature butter makes it 10x easier to whip the butter.
Cream Cheese: Use full-fat block cream cheese at room temperature for the best results. Using pre-whipped cream cheese will not yield that smooth creamy consistency that we all love.
Powdered Sugar: the powdered sugar adds sweetness to the cream cheese frosting without leaving any grainy texture behind.
How to Make This Recipe
For the Red Velvet Cupcakes:
Preheat the oven and prepare the cupcake pan. Preheat the oven to 350 degrees F. Line cupcake tin with cupcake paper
Cream the butter and sugar. In a stand mixer with a paddle attachment, cream your room temperature butter until light and airy. Slowly add in sugar and mix on medium until fluffy, about 5 minutes.
Mix in eggs and vanilla. While the mixer is on low, add eggs in one at a time. Then add vanilla extract.
Sift the dry ingredients. In a large bowl, sift the flour, baking soda, baking powder, cocoa powder, and salt.
Mix wet ingredients. In a third bowl, mix red food coloring, vinegar, and buttermilk.
Slowly mix in wet and dry ingredient bowls into the butter and egg mixture. While the mixer is on low, pour ½ of the dry flour mix and ½ of the wet buttermilk mix to the butter mixture until combined. Then repeat until all incorporated.
Scoop into cupcake pan until ⅔ filled. This cake batter will rise pretty high. Try not to fill to the brim.
Bake for about 15-20minutes or until the centers are springy to the touch and a toothpick comes out clean. Place on a cooling rack for 10 minutes before removing from pan. Let the cupcakes cool completely before adding the frosting or the frosting will melt off.
For the Cream Cheese Frosting:
Cream the butter until light and airy. Add the room temperature cream cheese. Add vanilla and a pinch of salt. Whip until creamy together.
Add the powdered sugar one cup at a time. Mix until combined. If you're wanting a stronger frosting, keep adding more sifted powdered sugar until stiff. If you want a softer frosting add in milk 1 tbsp at a time.
Tips for This Recipe
Measure your flour correctly: adding too much flour is always the most common mistake. To properly measure your flour, fluff the flour with a spoon and gently pour it into your measuring cup. Then use a butter knife to level it off.
Sift the dry ingredients. When it comes to getting a soft evenly distributed velvety crumb it is crucial to distribute the baking soda/powder and to make sure there are no flour clumps.
Do not over-mix the batter. When you over mix the batter you may overwork the gluten in the batter and create a dense and gummy cupcake. The trick is to stop mixing the moment the batter looks JUST combined.
The amount of food coloring is up to you. How red you want to go is entirely up to personal choice. Of course, you can always omit the food coloring if you prefer to!
You can alter the consistency of the cream cheese frosting. This recipe calls for a firm cream cheese frosting. If you want to make the frosting even firmer, add more powdered sugar. Alternatively, if you want to soften the cream cheese frosting, add milk in 1 tbsp at a time.
Storage Instructions
The cupcakes can be made in advance and stored in a covered container at room temperature. However, the frosting must be stored in an airtight container in the refrigerator because it contains cream cheese. If the cupcakes are already frosted they must be refrigerated for up to 3 days.
You may also love...