Made with four simple ingredients, this luxurious matcha nama chocolate is so incredibly smooth and silky. It will instantly melt in your mouth. This luxurious truffle is so easy to make and will 100% impress all of your friends and family!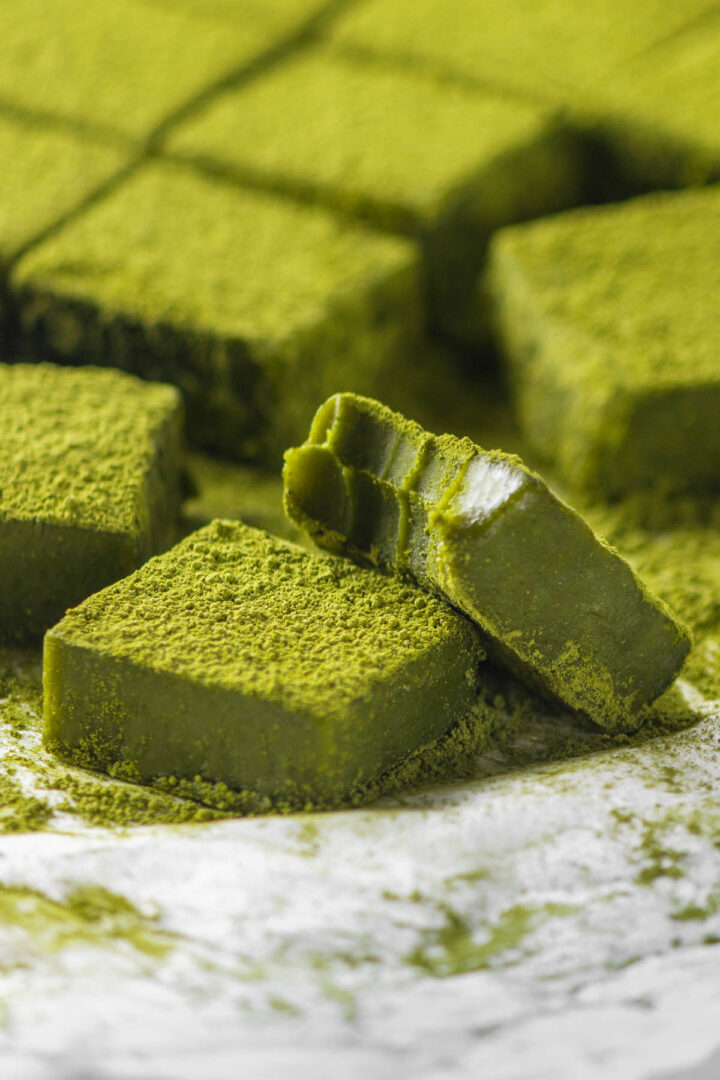 These heavenly matcha chocolate squares are perfect for special occasions, a gift for your loved ones, or hell for treating yourself because YOU DESERVE IT. You do not need an excuse to indulge in these chocolates. What are you waiting for? Dig in!
What is Nama Chocolate?
Nama (生, pronounce [na-ma]) means raw or fresh in Japanese. The name "Nama" Chocolate refers to the plentiful use of rich cream.
In Japan, these Nama chocolates are everywhere—in the airport gift shops, shopping malls, grocery stores, etc. You can't miss them! They were made popular by Royce confectionery in Japan along with Meiji Melty Kiss. They are packaged to perfection and keep you coming back for more.
I have to admit, this recipe for Matcha nama chocolate, while it is smooth, silky, and delicious is not the exact copycat for Royce or Meiji Melty Kiss chocolates. The exact texture and flavor are too difficult to perfect considering we use everyday ingredients we can find on Amazon or our local grocery store.
What type of chocolate do I use?
When a recipe calls for so few ingredients, the quality of the ingredients should be the utmost priority. Nama chocolate focuses mainly on the consistency and texture of the chocolate so buying the right melting chocolate is key. I have had my best results using high-quality couverture white chocolates. I used Callebaut's White Chocolate. They contain stabilizers in them that ultimately provide the velvety texture that you want and need.
If you are looking for the next best thing at the grocery store, buy a brand that has fewer additives in the ingredient list besides cocoa, milk, and chocolate. Also, make sure that it contains cocoa butter instead of vegetable fat. White chocolate should be ivory-colored instead of pure white-colored. I found that Lindt white chocolates work as a second-best alternative.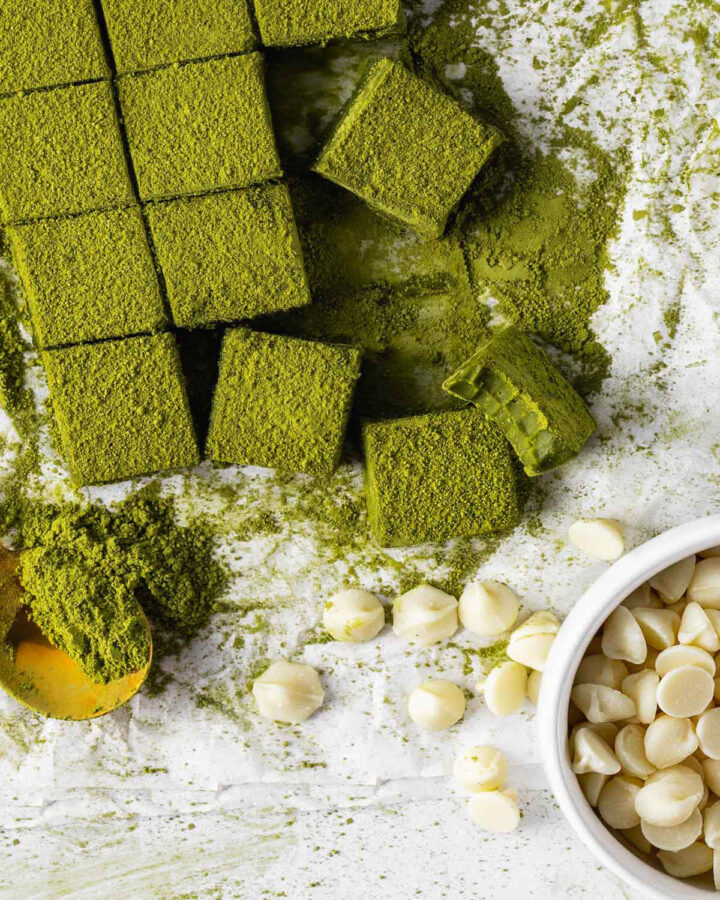 Ingredients For This Recipe
Couverture white chocolate: I am a FAN of these Callebaut White Chocolate. Their chocolate is milkier and less sweet than other brands I have tried. Alternatively, Lindt white chocolate works just as well.
Matcha powder: When using matcha powder, ensure that you are using the best culinary-grade matcha powder that you can find. I love using culinary-grade matcha for all my matcha baking recipes. Alternatively, if you have the budget, you could spend the extra money on ceremonial grade matcha.
Heavy Cream: The heavy cream smooths out the chocolate and creates the melt-in-your-mouth effect. The more heavy cream you use the softer and meltier the chocolates will be. The less heavy cream you use the firmer and denser the chocolates will be.
Honey: the honey adds a slightly chewy texture to the Nama chocolate.
How to Make This Recipe
Prepare the pan. Line an 8x8 inch baking pan with parchment paper.
Heat the heavy cream and honey. In a small saucepan, heat the heavy cream and honey until it gently simmers. Be careful to not let the heavy cream reach a boil.
Add simmered heavy cream to white chocolate. In a heatproof bowl, add the white chocolate chips. Next, slowly pour in the simmered heavy cream. Stir with a rubber spatula until thoroughly combined and the chocolate has melted and is creamy.
Sift the matcha powder into the mixture. Gently fold with a rubber spatula and mix until the color is homogenous and there are no more lumps.
Pour the melted matcha chocolate into the prepared tin, cover with plastic wrap, and chill in the refrigerator for 3-4 hours until firm or overnight.
Cut the chocolate. Using a hot knife (Dip the knife in hot water, then wipe the water with a kitchen towel), slice the chocolate into squares. I used a ruler for perfect 1x1 inch squares.
Dust matcha powder. Using a fine sieve, dust with matcha powder on the top of the chocolate.
Store and serve. Package the chocolate in an airtight container and store it in the refrigerator. For best results, serve cold.
Tips For This Recipe
Use good chocolate! I cannot emphasize this enough. If you want the best results, use the best ingredients. The end result speaks for itself.
Must use heavy cream: I use a thickened heavy whipping cream that has about 35-38% fat percentage. The ratio of heavy whipping cream and chocolate should be approximately 1:2.
Make sure your bowls and utensils are dry. Any bit of moisture on the utensils will alter the consistency and affect the melting process. It will alter the consistency of the liquid chocolate to a lumpy, grainy mass disaster.
Avoid oil separation from the chocolate by slowly melting the chocolate. Usually, when chocolate gets too hot, the cocoa butter separates from the cocoa, and there is no way to turn it into liquid chocolate. The best way to prevent separation is to use gentle heat and stir frequently. If using a double boiler, melt on low heat. If using a microwave, stir the chocolate every 15 seconds so the chocolate melts evenly.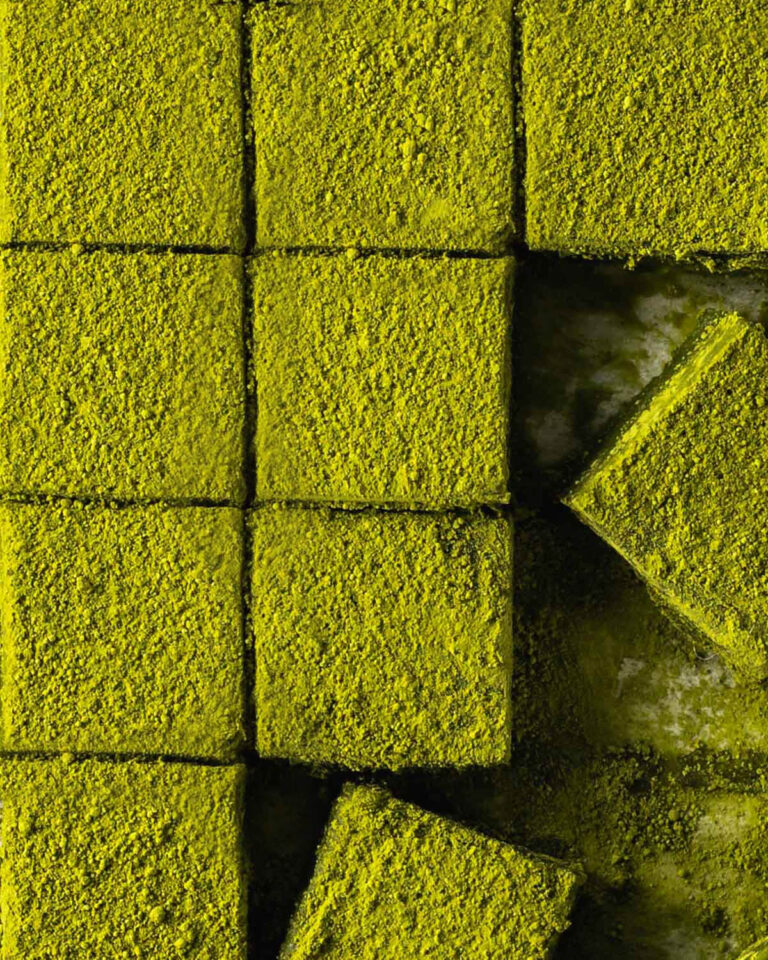 Storage Instructions
Store in an airtight container in the refrigerator for up to one week. Be sure to not leave them out on the counter! Since the texture and consistency are velvety smooth, there is a risk that the chocolates may melt.
You may also love...
If you loved this matcha nama chocolate, check out my other matcha recipes like my matcha basque cheesecake!