Who said popsicles were only for kids? These boozy pretty in pink Lychee Rosé Popsicles are an absolute MUST for those girl's nights with your BFFs. These Lychee Rosé Popsicles are filled with lychees, strawberries and blended with an elegant Rosé from the South of France.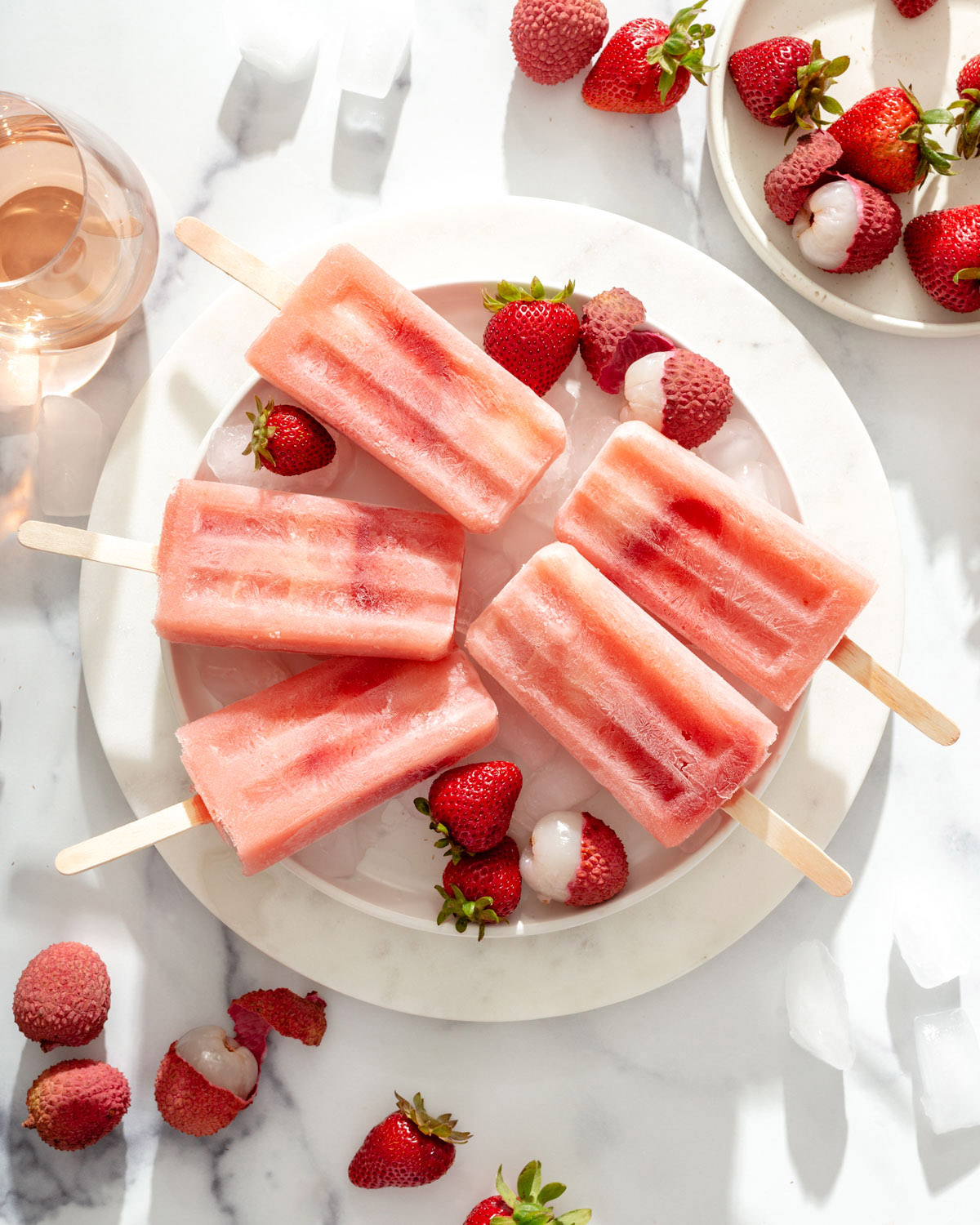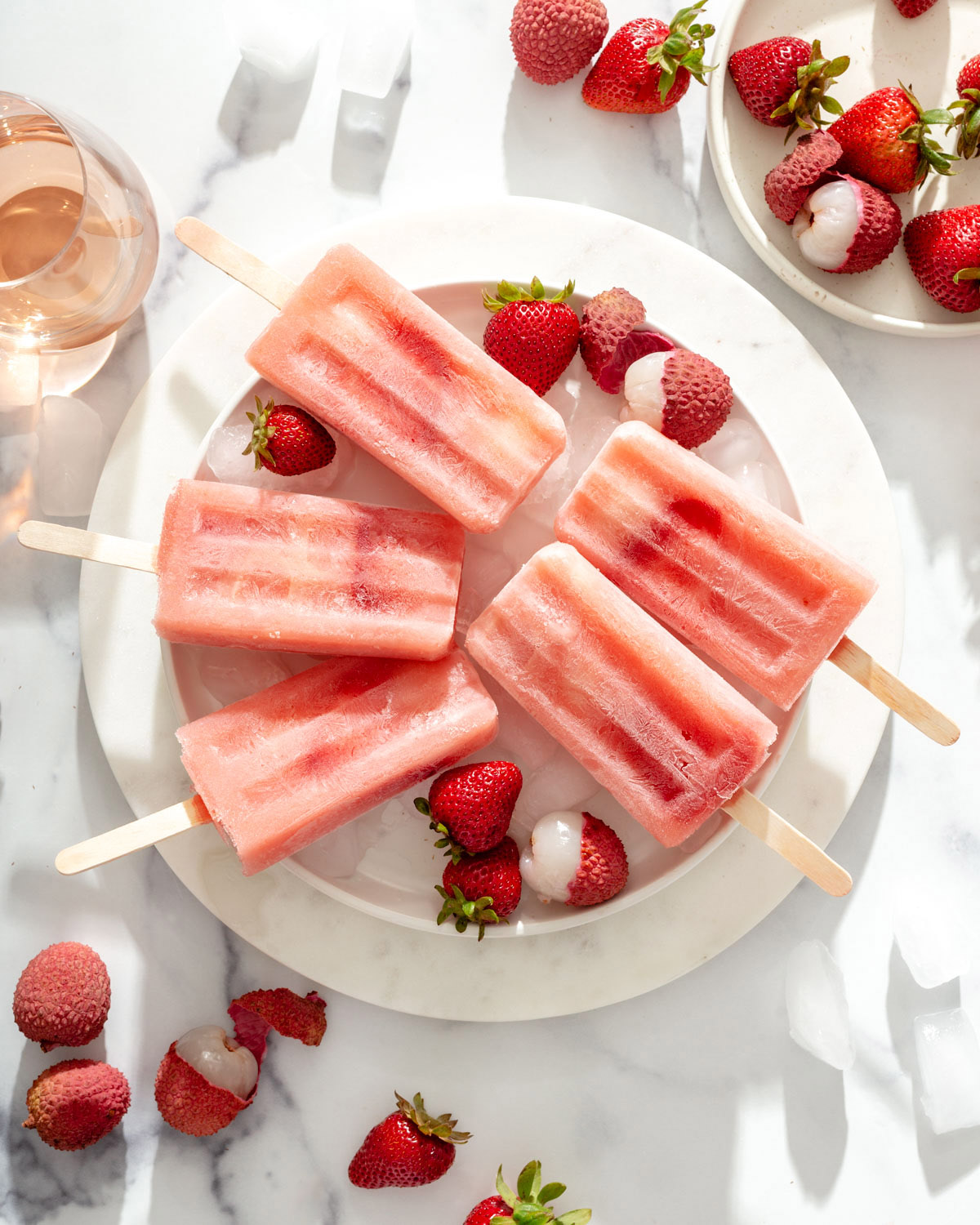 Ladies do I have a treat for you! These fruity and delicious boozy Lychee Rosé Popsicles are the perfect pairing to your charcuterie board on your next girl's night along with your favorite rom-com and some nama chocolate. This recipe only requires 3 ingredients and you can whip it up in under 5 minutes (+ a little patience to freeze them overnight)!
So the next time you want to impress your friends or hell treat yourself to a fruity and delicious boozy popsicle that will take the edge off of a hard week, think of these Lychee Rosé Popsicles!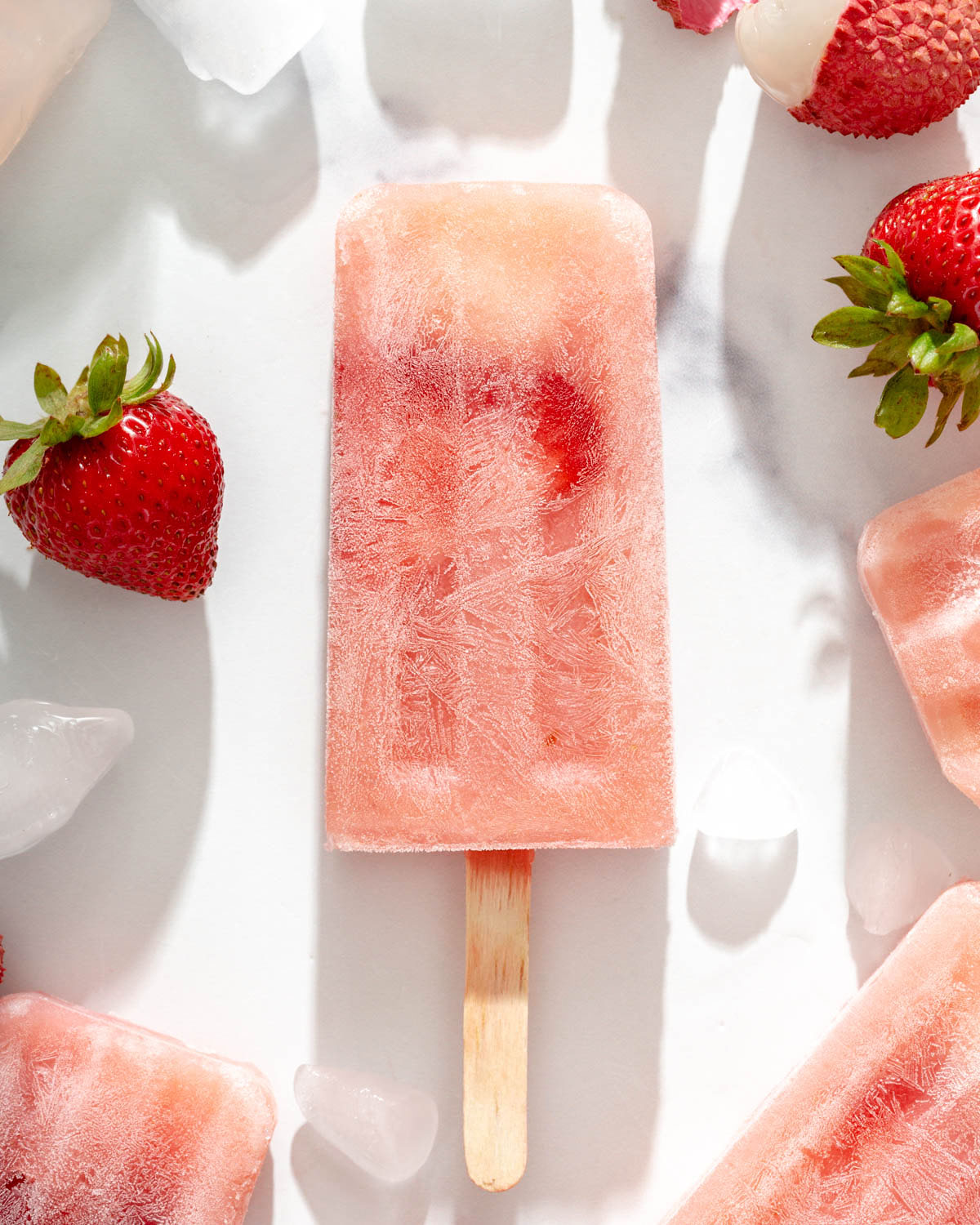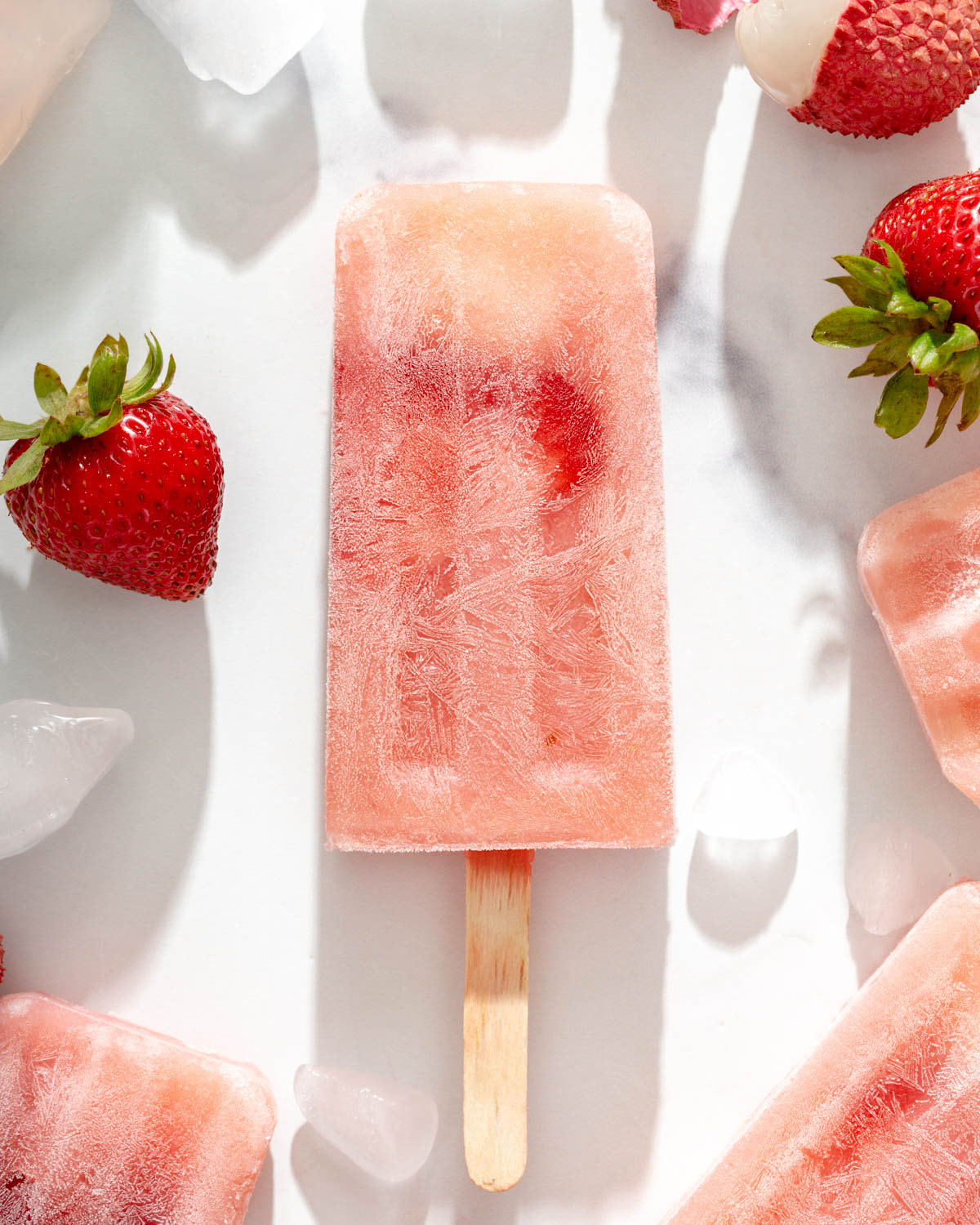 What is Rosé?
Rosé is a light pink-colored wine that generally has fruit and floral notes. It is made by incorporating some of the colors from the grape skins, but not enough to qualify it as red wine. Because it is typically chilled and its pretty pink color, rosé is popular in the summer months. A crisp, dry rosé will have refreshing acidity and lively effervescence to help accent most dishes, especially cheese plates.
What is the difference between Old World and New World rosé?
Rosé wines can typically be either sweet or dry but tend to be on the dry side overall. The rosé produced in the Old World (aka Europe) are typically bone dry. The réose produced in the New World (aka North America, South America, Australia) are often sweeter and have a more pronounced fruit flavor.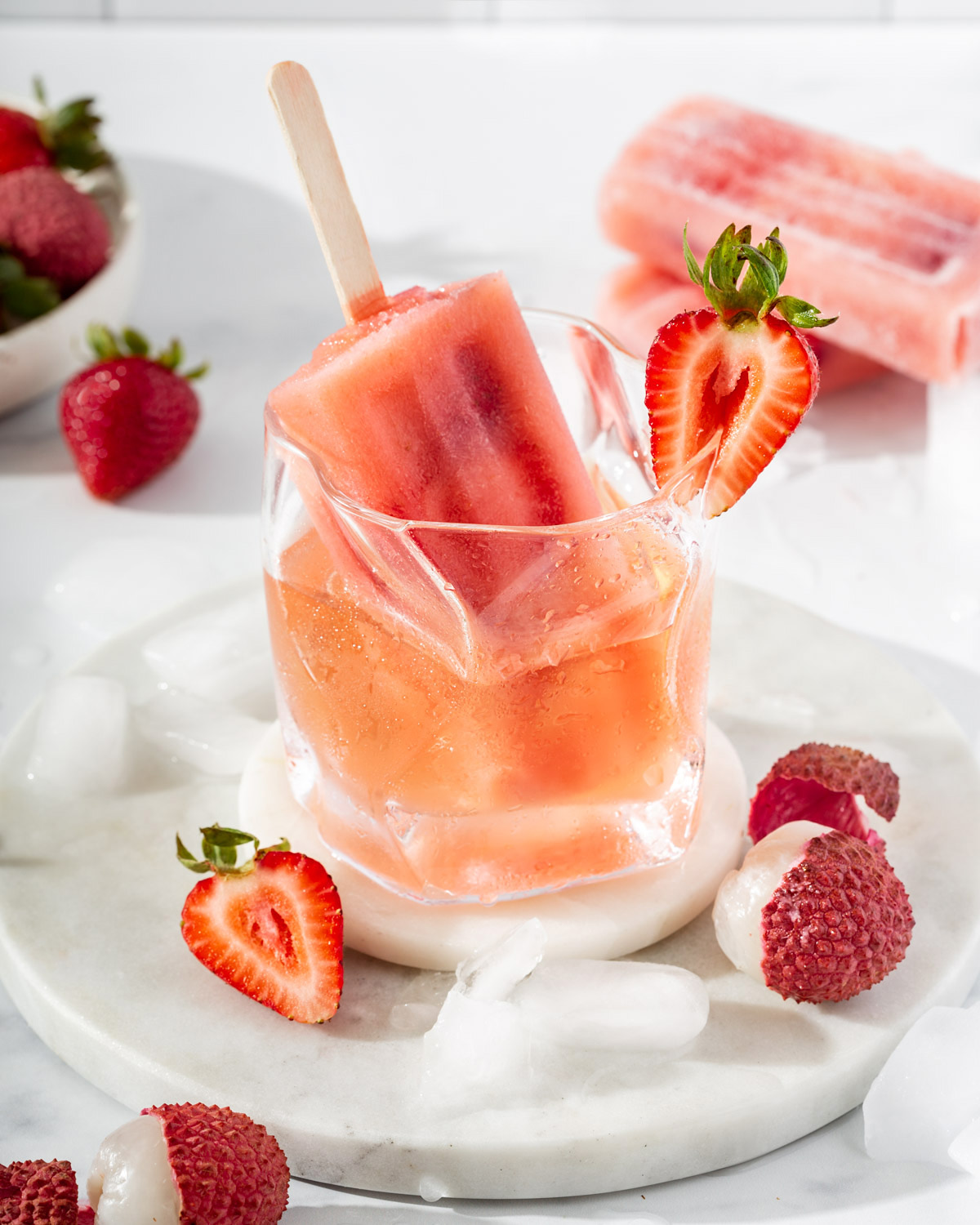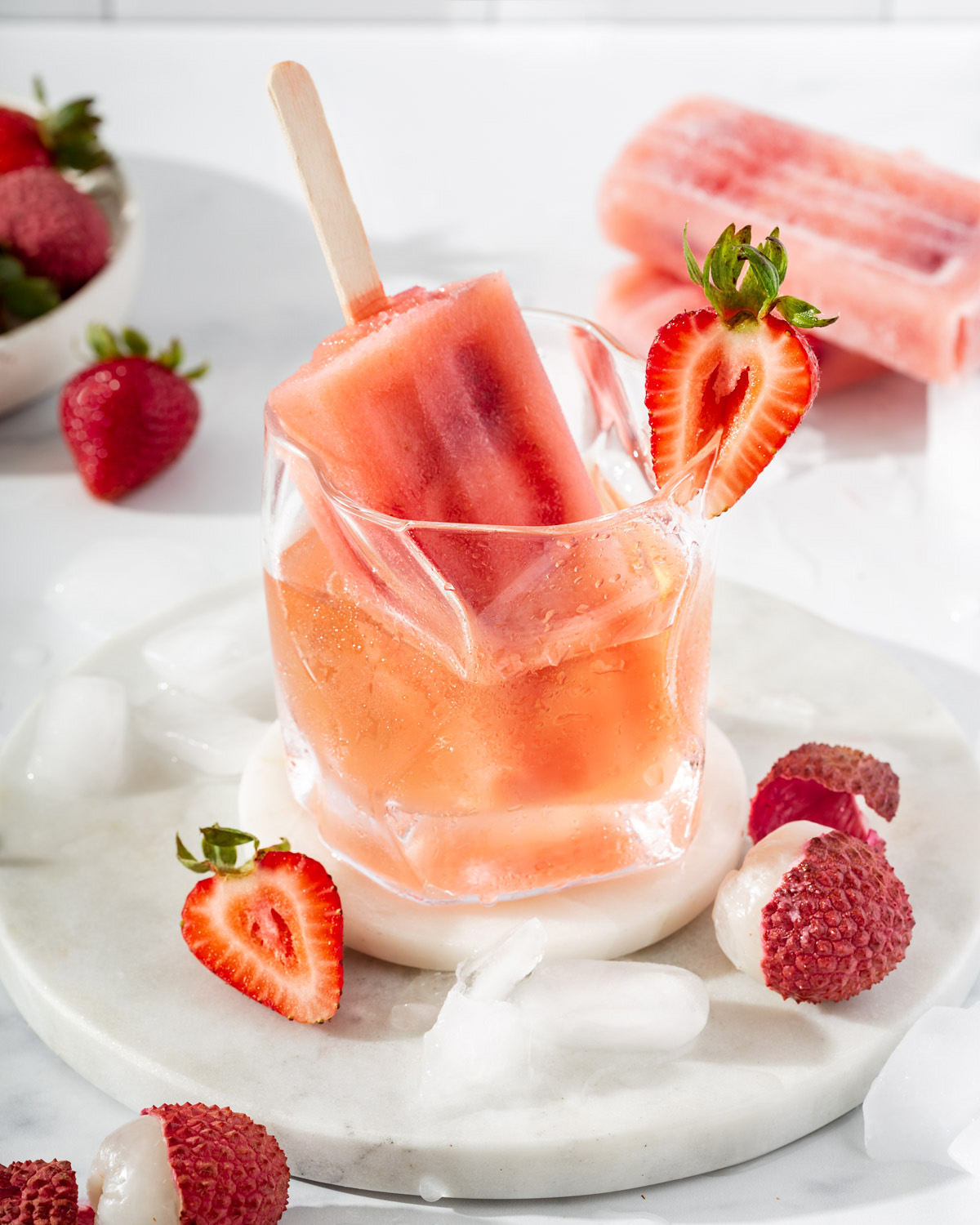 Ingredients for This Recipe
This recipe only requires 3 simple ingredients that pack in so much delicious flavor!
Canned Lychee/Lychee Syrup: Using canned lychees is the way to go for this recipe. You will get a 2 for 1 deal with the canned lychees. The lychees AND the delicious lychee syrup it sits in. You will need both for the delicious lychee flavor to come through in this recipe. You can find canned lychees at any Asian Grocery market in the canned fruit aisle. I used

Arroy-D Lychees

for this recipe.
Strawberries: You can use fresh or frozen strawberries for this. I recommend picking the ripest sweetest strawberries to blend so that the sweetness and bold strawberry flavors come through.
Rose: I recommend picking your favorite Rose for this recipe. This is your recipe and the base of the popsicle will be the Rose wine. If you can, pick a rose that is not overly sweet or sparkling. For this recipe,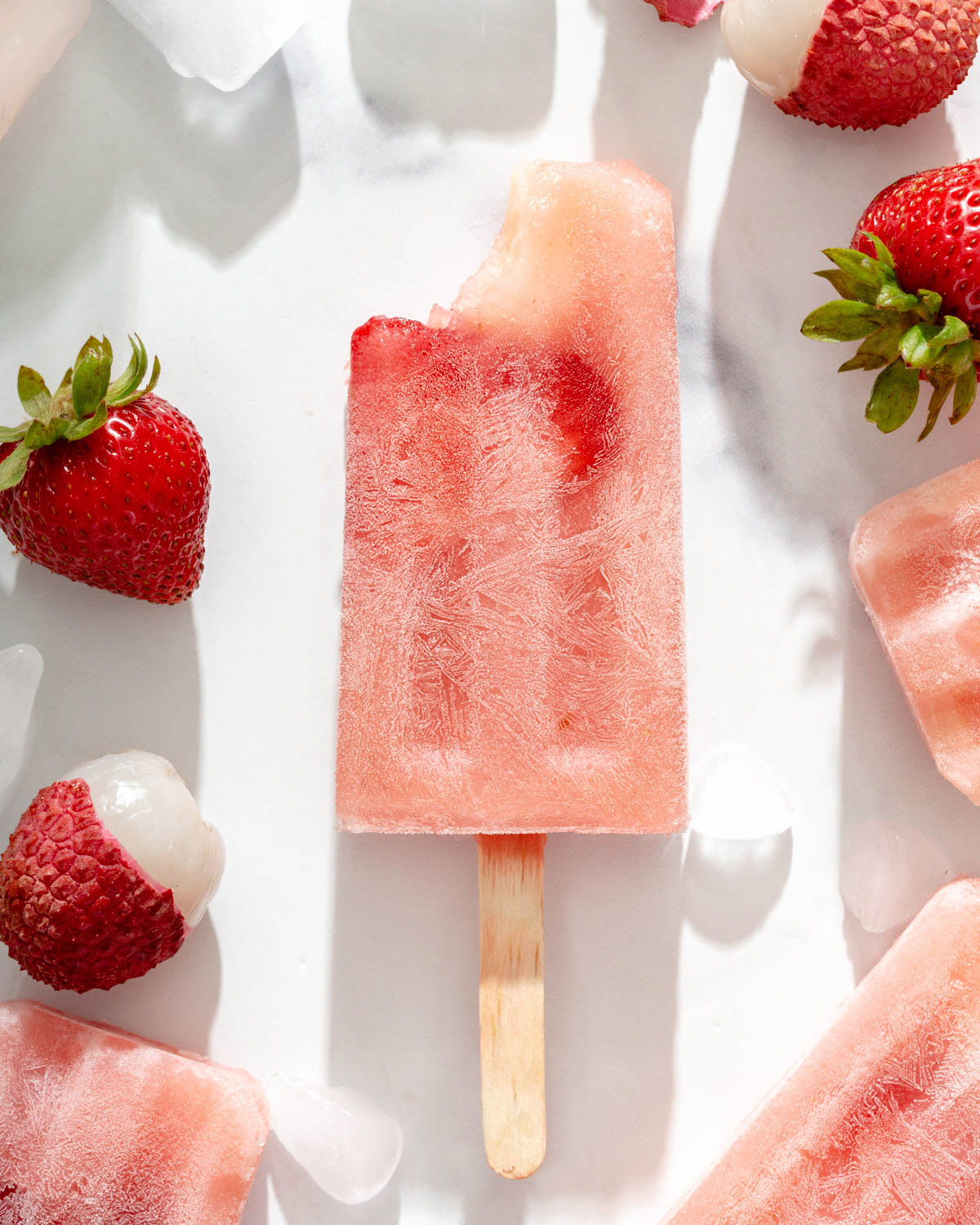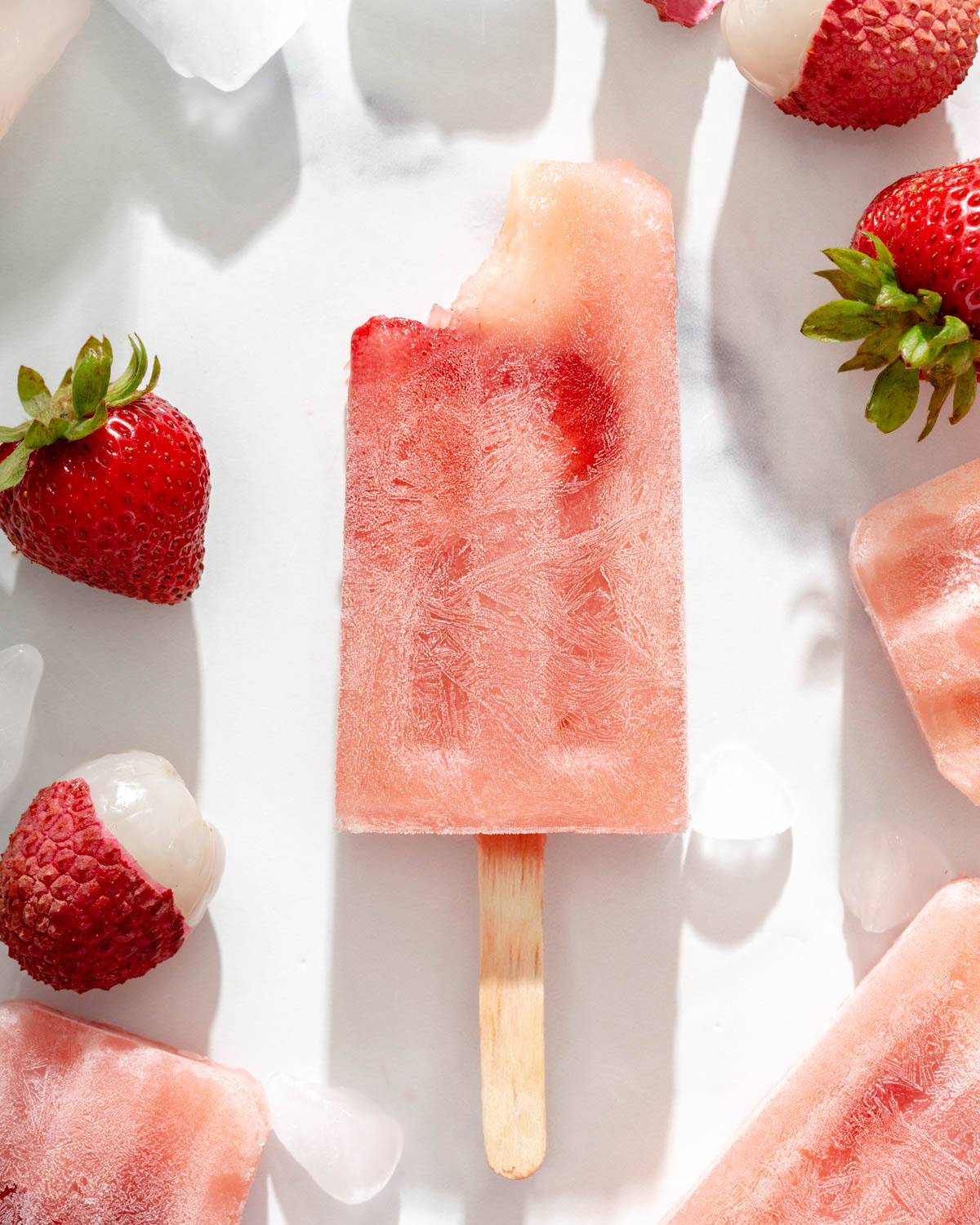 How To Make This Recipe
This recipe is incredibly easy to make. All you will need for this recipe is a good blender and popsicle molds.
Blend the ingredients. Combine all the blended ingredients in a blender and process until the strawberry and lychee bits are smooth.
Pour the mixture into the popsicle molds. Divide the mixture between 10 popsicle molds about ¾ of the way. Then add the strawberries and lychee. Cover with lid or plastic wrap, add the popsicle sticks and freeze until solid about 8 hours.
Un-mold the popsicles. If your popsicles don't come out easily, gently run your popsicle mold under warm water for about 10-15 seconds. Un-mold the popsicles and enjoy.
Tips For this Recipe
Use a blender: Using a blender will pulverize the seeds and thoroughly mix all the ingredients together nicely. I use a

Vitamix blender

and it has never let me down.
Use a silicone popsicle mold: I recommend using a silicone popsicle mold for this recipe. The silicone makes it easy to un-mold the popsicles from the mold. I used this

popsicle mold

from Amazon. It makes ten 2.5 ounces popsicles. Your yield may change if you use different popsicle molds but the preparation and ingredients will be the same.
The alcohol in these popsicles will cause them to melt faster than regular popsicles. Make sure to keep them frozen until you are ready to enjoy them.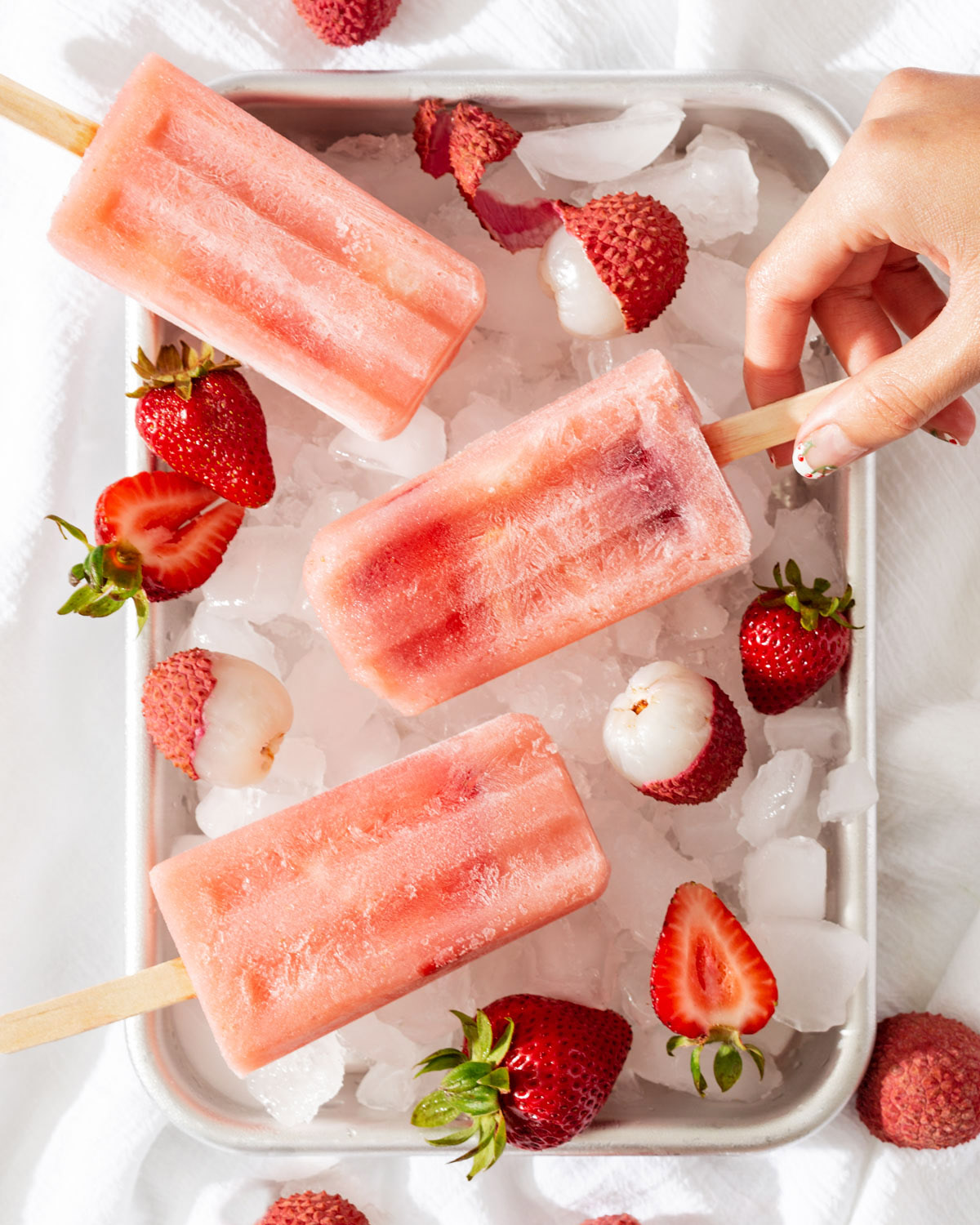 Storage Instructions
You can store these lychee rosé popsicles in the popsicle mold or in individually sealed plastic bags in the freezer for up to 3 months.
You May Also Love...