These melt-in-your-mouth Danish butter cookies are synonymous with nostalgia and the holiday season. These simple and delicious butter cookies are perfect for gifting this year!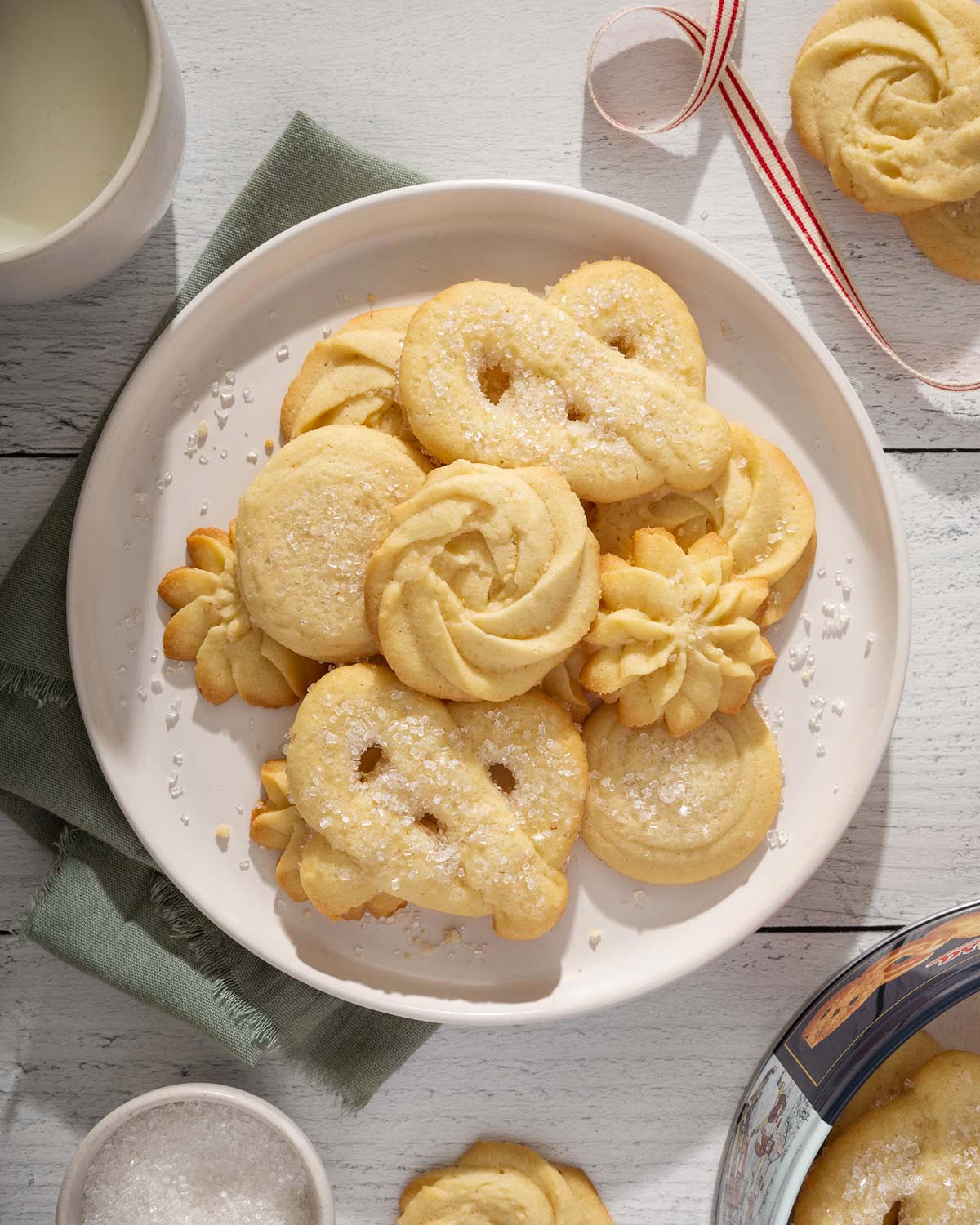 Classic, delicious, and straight-to-the-point cookies are a must! These holiday butter cookies are a staple cookie that I make every year. Growing up, my grandma would always have a circle tin of Danish butter cookies in her pantry that I would have to fight my cousins for. Even though all the cookies taste the same, I loved the pretzel-shaped ones the most. In my mind, they just tasted better than the rest. Now, every year I associate the holiday season with these cookies. This Danish butter cookies recipe is even better than the classic grocery store cookies, they are crumbly, melt in your mouth, not overly sweet, and absolutely addicting.
If you are in the cookie baking mood, check out my popular browned butter chocolate chip cookies, yuzu Linzer cookies, thin mints, hojicha gingerbread cookies, matcha checkerboard cookies, and matcha crinkle cookies!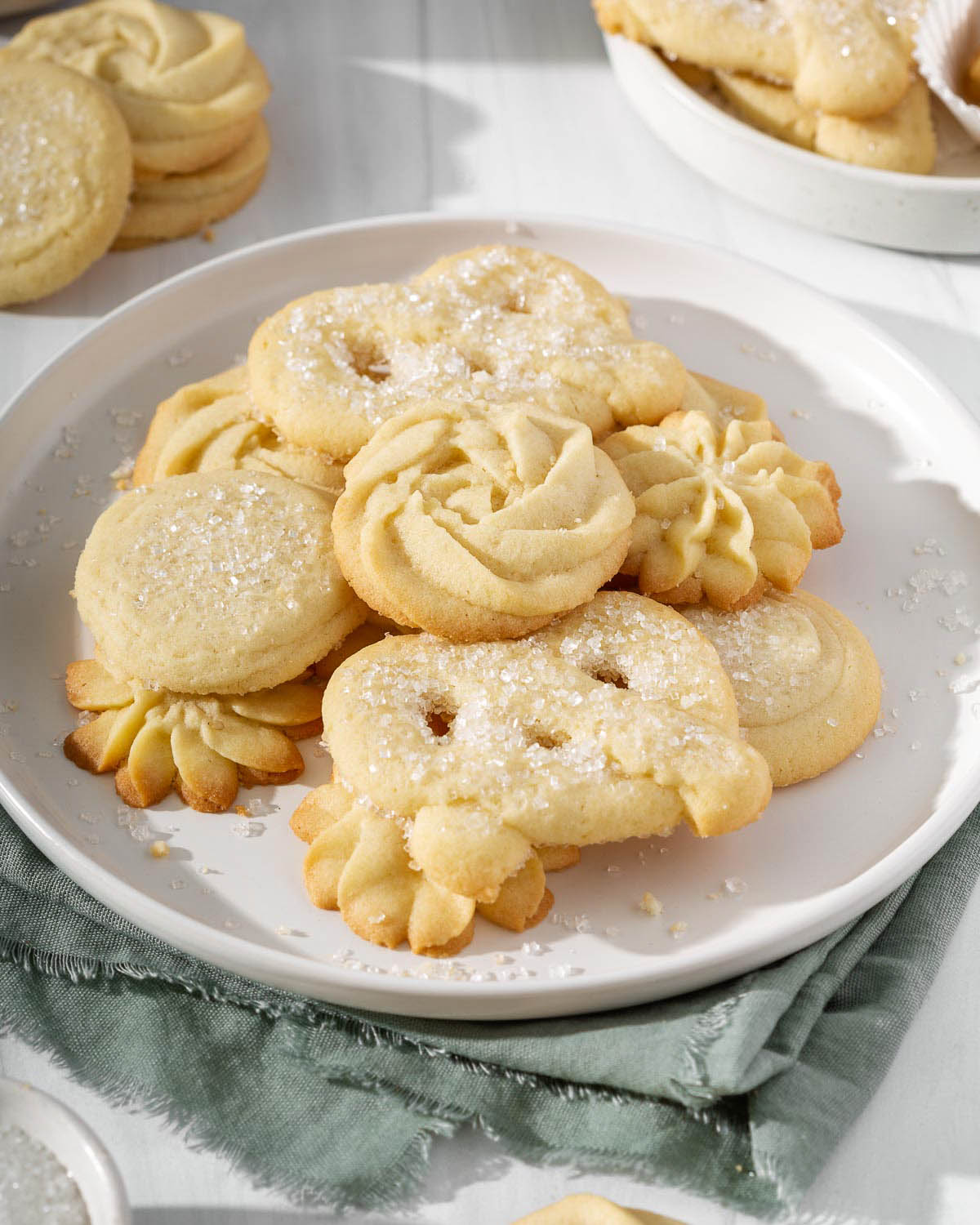 Jump to: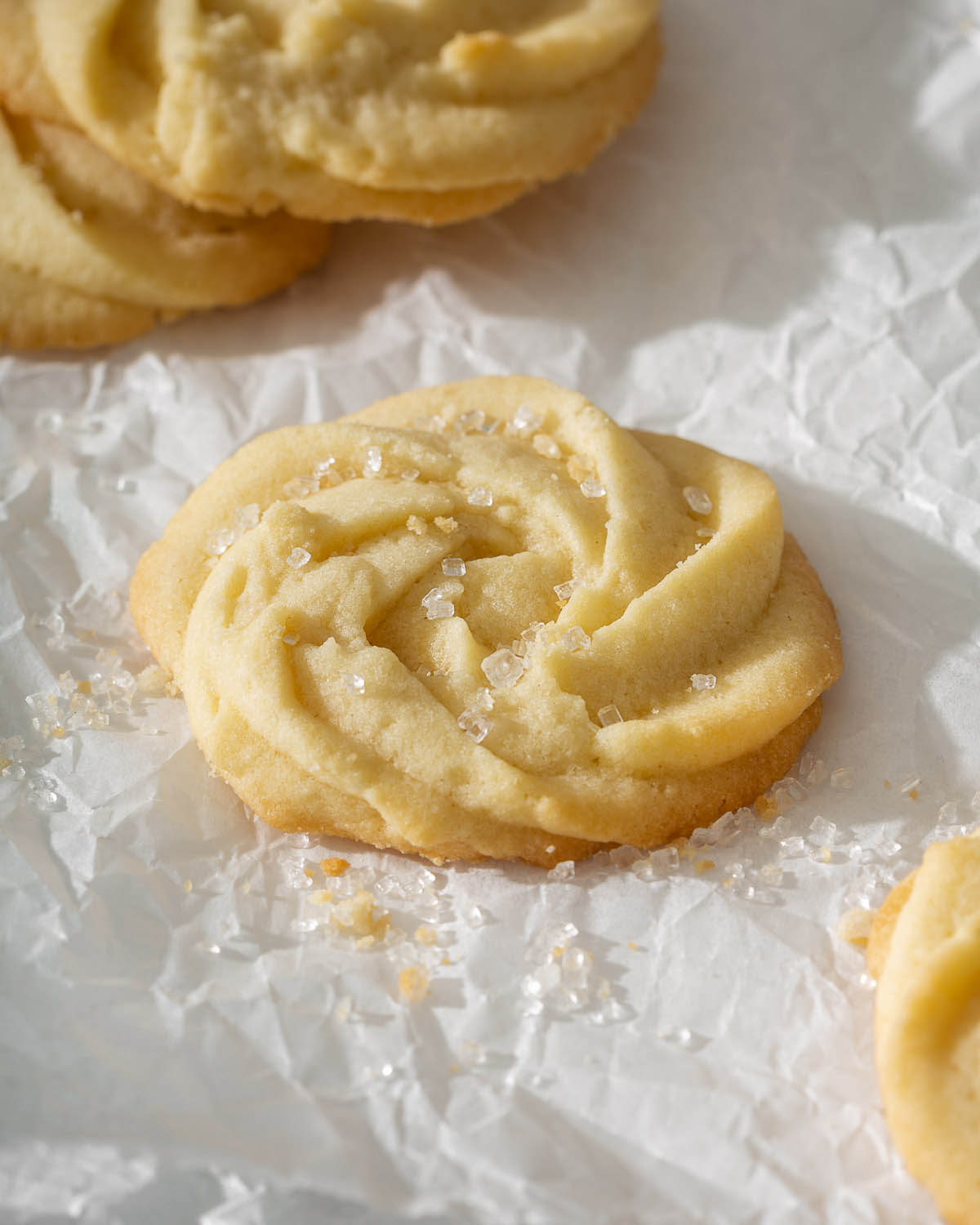 🍽 Kitchen Equipment Recommendations
🛒 Ingredients
These Danish butter cookies are only made with 7 ingredients, thus the quality of EVERY ingredient matters.
Butter: these are called BUTTER cookies. You need high quality butter for the most delicious flavor. I recommend splurging an extra dollar for European style butter which has more butterfat=more flavor.
Granulated Sugar: what are cookies without a little sugar? The sugar adds the sweetness to the cookies.
Egg yolks: the eggs binds the ingredients of the cookie together.
Vanilla Extract: the vanilla is one of the main components of flavor in these cookies. Make sure to use high quality vanilla extract.
Milk: the milk loosens up the dough allowing it to be more pipeable. It also adds a creamy flavor to the cookie.
All Purpose Flour and Cake Flour: this recipe combines both all-purpose flour and cake flour to give the cookies a crunch yet crumbly texture. Make sure to measure your flour correctly with a scale or fluff your flour and level it off with a knife.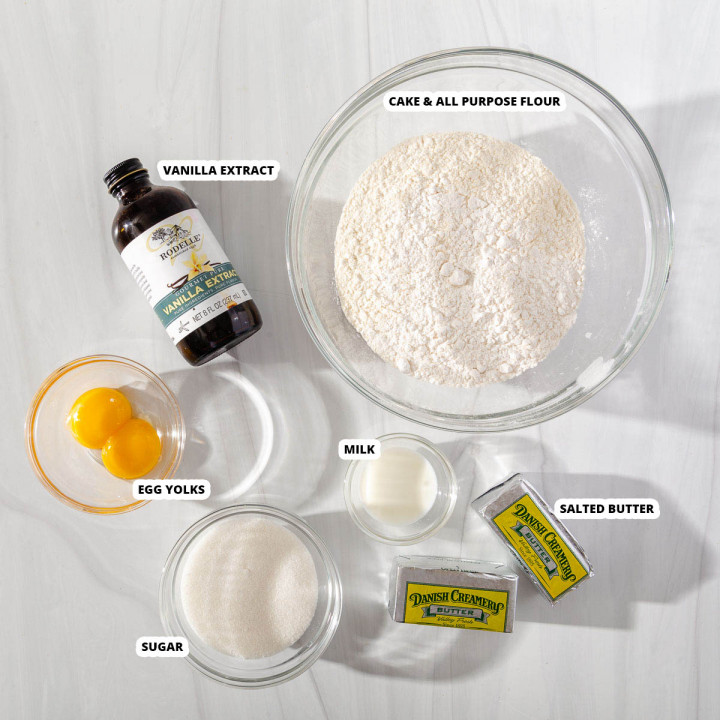 📝 How To Make
This Danish butter cookie recipe is probably the easiest cookie recipe that you will ever come across and it is so buttery and delicious!
Make space in the refrigerator and prep the baking mats. Make room in your refrigerator for a baking sheet so the shaped cookies can chill for 20-30 minutes. Without chilling, the piped cookies may over-spread. Line two baking sheets with parchment paper or silicone baking mat. Set aside.
Cream butter, sugar salt. In the bowl of a stand mixer fitted with a paddle attachment, cream butter on medium speed until smooth. With the mixer still running on low, slowly add in sugar and salt. Mix on medium speed until light and fluffy.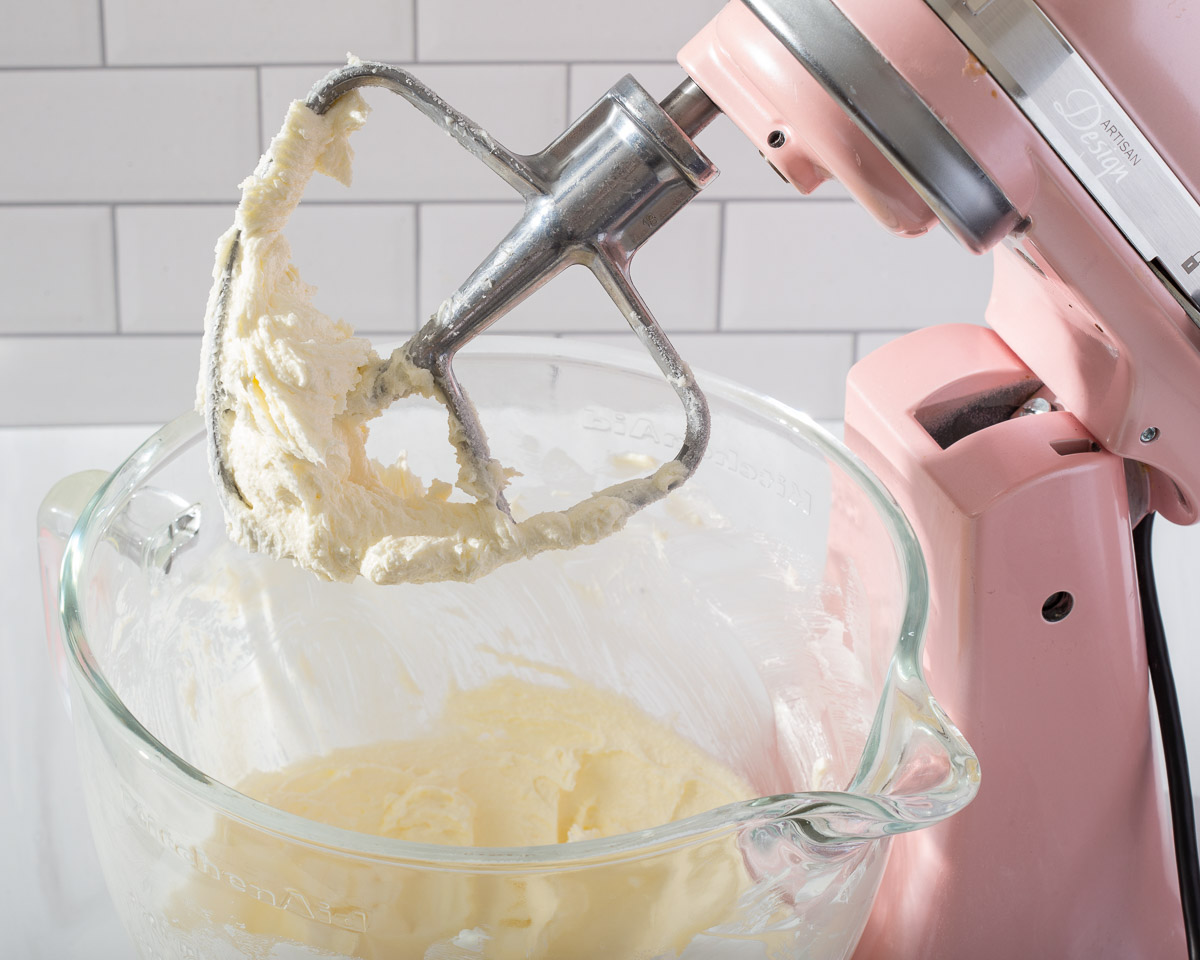 Incorporate egg yolks, vanilla and milk. While mixing, add egg yolks, vanilla and milk. Continue to mix on medium speed until well combined. Scrape down sides of bowl for thorough mixing.
Mix dry ingredients and add into mixture. In a medium sized mixing bowl, whisk the flour, and cake flour. Add flour mixture to mixer in two additions, and scrape down the sides of the bowl. Mix on low speed until combined and no traces of flour.
Pipe the cookies. Transfer cookie batter to large piping bag with fitted a ½-inch open star tip. Pipe 2-inch cookies (rosettes, pretzels, circles, squares) on prepared baking sheet. Space cookies at least 2-inches apart. If desired, sprinkle the dough with festive sprinkles and/or coarse sugar. Chill in the refrigerator for 20-30 minutes.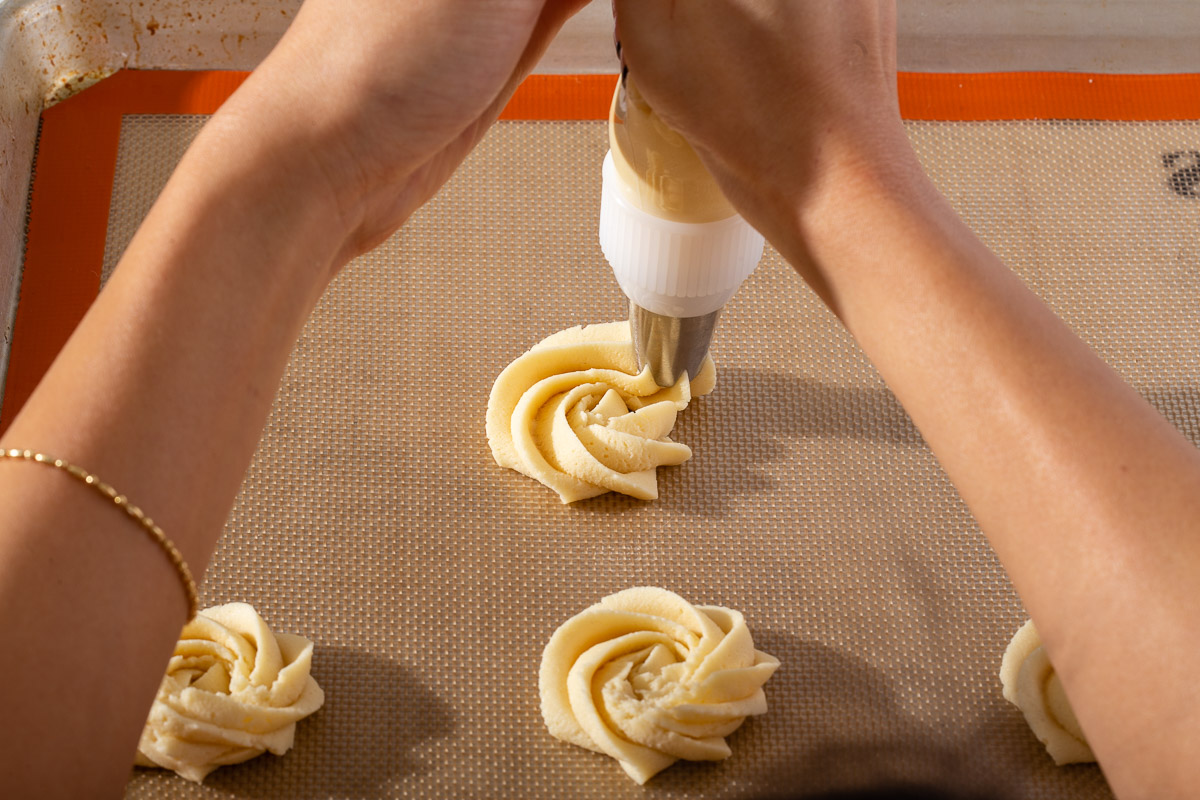 Prepare the oven. Preheat oven to 350°F. Make sure the baking rack is in the middle of the oven.
Bake. Bake for 10-15 minutes or until edges are JUST lightly golden brown. Let cookies cool in baking sheet for about 5 minutes before transferring to wire rack to cool to room temperature.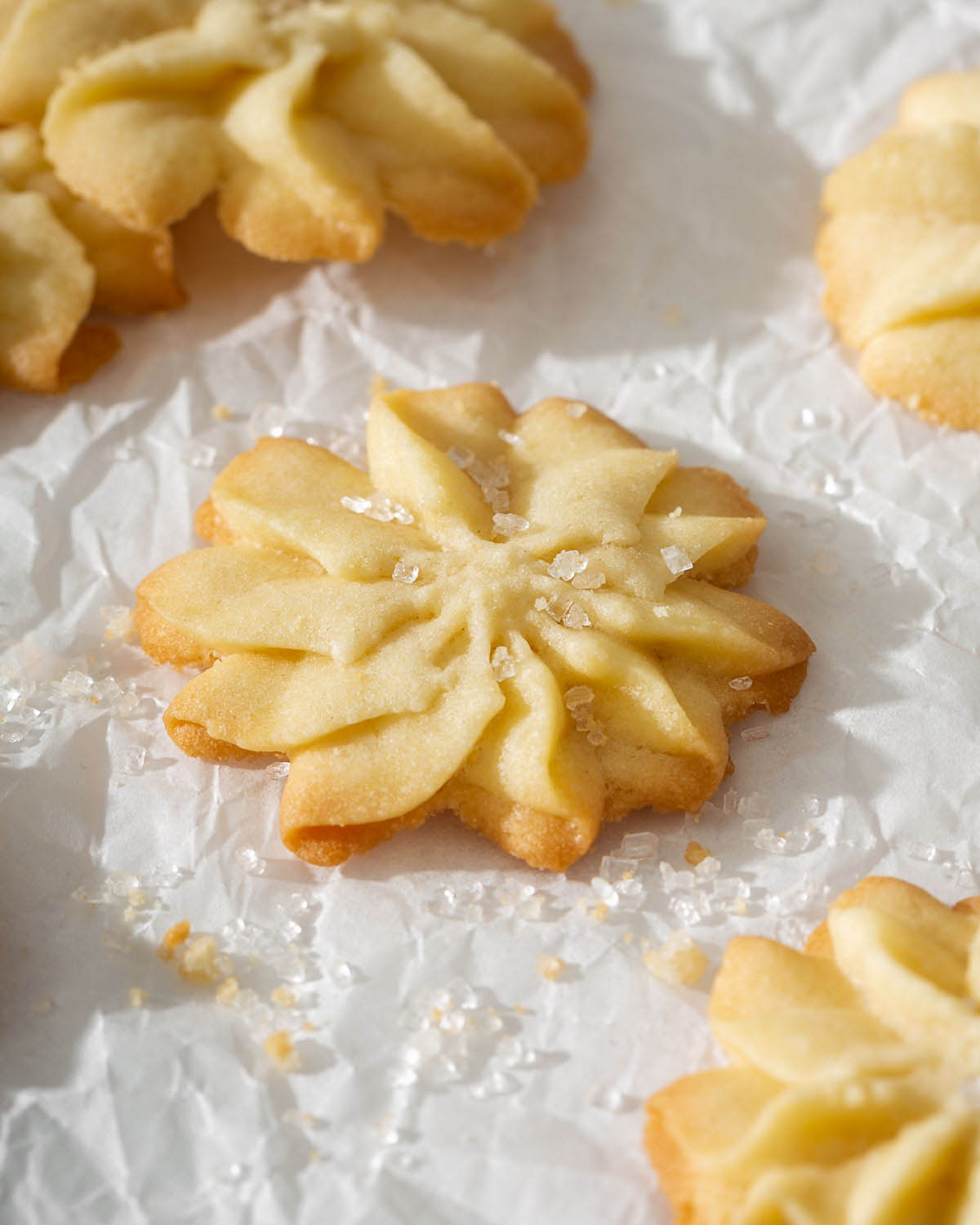 ⭐️ Tips
Use room temperature butter. Leave your butter out of the refrigerator for about 45 minutes. Having room temperature butter allows for easy mixing and allows all the ingredients to incorporate seamlessly. The butter should be slightly cool (about 67°F or 19°C), but your finger should leave an indentation when you press the butter.
Use room temperature eggs. You want the eggs to be at room temperature so that the cookies will bake evenly. To quickly bring cold eggs to room temperature, place eggs in slightly warm water for 5 minutes.
Don't over mix the batter. The more you mix the more gluten develops in the batter. It will cause the batter to toughen up and be difficult to manage.
Watch your cookies in the oven! The baking times will vary depending on the sizes and shapes of the cookies.
You can alternatively just use all-purpose flour. The combination of all-purpose flour and cake flour provides a nice crisp yet melt in your mouth consistency. However, you can always omit the cake flour and use 260 grams of all-purpose flour instead.
Measure your flour correctly! I like to use a kitchen scale for the most accurate measurements. Adding too much flour to the recipe is the most common mistake. If you don't have one then fluff the flour with a spoon and lightly sprinkle it into your measuring cup, and use a knife to level it off.
If you use unsalted butter, add ¼ teaspoon kosher salt.
🥡 Storage Instructions
You can store these Danish butter cookies in an airtight container at room temperature for up to 5 days. Alternatively, you can store these cookies in the freezer in an airtight container for up to 3 months.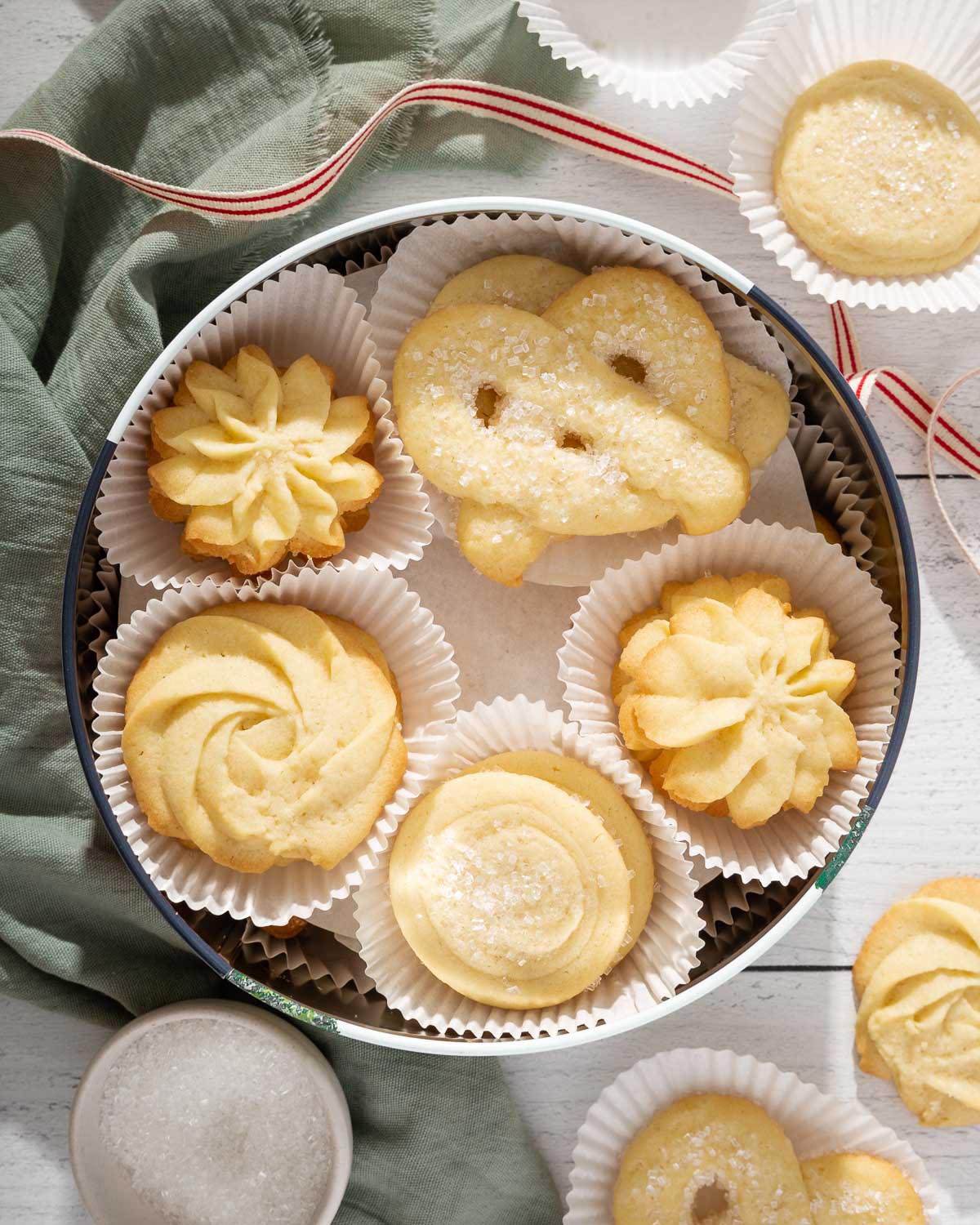 📆 Make Ahead Instructions
You can chill the shaped cookies on the baking sheet in the refrigerator for up to 2 days before baking. Cover with plastic wrap or aluminum foil if chilling for longer than 30 minutes.
You can also freeze the un-baked-shaped dough for up to 2-3 months. Bake the frozen-shaped dough for an extra couple of minutes. You do not need to thaw the dough.
📬 Frequently Asked Q & As
What's the best butter to use for butter cookies?
I recommend using European salted butter at room temperature for butter cookies. European butter has a higher fat content which means more butter flavor. Since these cookies only have a few ingredients the quality of your ingredients matter for the final taste of the cookies. You can always opt for using unsalted butter and adding ¼ teaspoon of salt.
Why do I need to chill my cookie dough before baking?
Chilling the cookie dough before baking amplifies the flavors, hardens the butter which will prevent overspreading, and allow the cookies to hold their shape in the oven.
💕 You May Also Love...
If you made this dish and loved it, please leave a review and comment below. We would greatly appreciate it!

Share your dish with us on Instagram, tag us @takestwoeggs—we'd love to see and share your delicious creation!

Hungry for more? Follow us on Instagram, Pinterest, and Facebook for more tasty creations and updates 🍜
👩🏻‍🍳 Recipe